News
League of Pantheons: Battle Alongside The Gods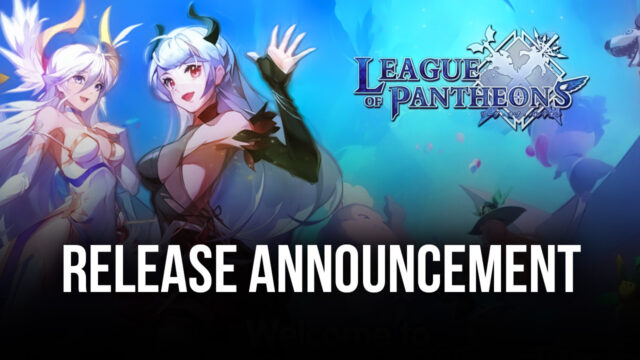 Neocraft Limited recently announced the pre-registration for their upcoming Idle RPG game League of Pantheons. The game will feature a host of gods, characters, and content from multiple mythologies.
If you haven't heard of Neocraft, they are the ones behind games such as Tales of Wind, Guardians of Cloudia, and Eternal Sword M. You can pre-register for the game on the Google Play Store and the App Store.
A Brief Description
"Guess who will win the fight among Zeus, Odin, Wukong, and Susanoo? Ancient immortals from Greek, Norse, Japanese, Egyptian, and other mythologies, are gathered in this League of Pantheons. Will you be the Summoner to bring back their mighty power"
League of Pantheons did get a closed beta test a while back in September. The test was held in Canada, Mexico, and Argentina and lasted for a week.
When the game finally launches, players will receive 100 free summons, unlimited rerolls. Then depending on the pre-registration milestones, more gifts will be distributed.
100k pre-registrations – 500k Gold

200k pre-registrations – 200x Enhancestone

300k pre-registrations – 5x Grand Summon Scroll

400k pre-registrations – 1x Seerstone

500k pre-registrations – Akabane Fire Skin
The game is expected to release sometime around New Year 2022, but there could be delays.
Game Features
Chill out with Auto-grinding
One tap to get XP, Gold, and Epic Loots, works when you're idle or offline
Completely Destressing game, with no meaningless grinding
DIY a Unique Hero Squad
5 Elements + 4 major Positions = Infinite Combination Strategies
Customize each Hero with unique Gears, Runes, and Artifacts
Summon all the Ancient Legends
100+ Legendary Heroes from 8 major Mythologies
Free 200 draws in the first 7 days help you summon ideal Heroes.
Devise Strategies in various Gameplay
Combos, Hero synergies, Metas, Countermetas
Use Simple yet Deep Strategies in ever-changing battles.
Triumph in countless PVP/PVE Modes
Single-player, Multiplayer, Cross-server, Endless…All included
Champion titles, 5★ Heroes, Skins – Epic Rewards await
The League of Pantheons team has already prepared game strategies and guides, which you can check out. They also offer rewards to players who can find bugs and other mistakes in-game.
Game strategy: Hero's Guide
League of Pantheons has prepared hero guides for the following heroes
Valkyrie, Poseidon, Jormungand, Sphinx, Darlord, Hel, Raphael, Gai'ming, Nidhogg, Hera, Abaddon, Divine High Priest, Nezha.
That's it for now; stay tuned for more gaming-related content.