News
My Hero Ultra Impact Global Version: Now Open for Pre-Registration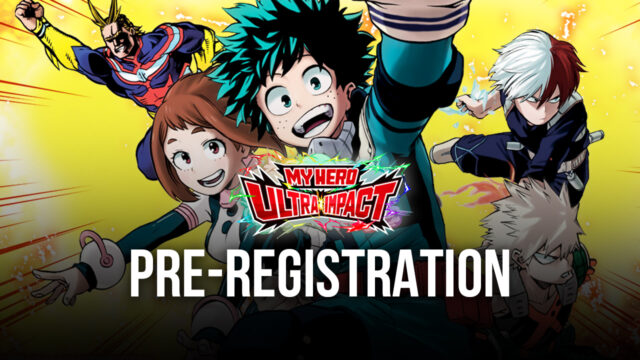 My Hero Ultra Impact is a battle RPG style gacha game based on the popular manga and anime series My Hero Academia. Bandai Namco, the company behind this game, has recently announced pre-registration for iOS and Android devices.
There is also a Japanese version of the game, now an English version for the global audience; after all, the MHA has a massive following outside Japan. My Hero Ultra Impact English Version is expected to be released this year, but as of now, there is no mention of an exact release date. The anime MHA is also currently on track for season 6, which is expected around October 2022.
Pre-registration Milestone Reward
For every 30,000 players who pre-register for the game, players will receive x50 Nero Gems (enough for one Recruit) as a gift. This gives players the chance to get up to x500 Hero Gems.
My Hero Ultra Impact Game Features
Like the anime, the game will feature an explosive battle RPG with heroes and villains you know and love. Players will be able to use the heroes' iconic Quirks and let them shine, and you can climb the ranks to be the number one hero like Almight and Endeavor.
The Main Story/Quest For My Hero Ultra Impact
Relive the tale of My Hero Academia in "Main Quest."

Follow the story from Izuku Midoriya's first encounter with All Might, the No. 1 Hero.

See the students of U.A. High-Class 1-A grow, watch as USJ faces an onslaught, and compete at the U.A. Sports Festival!

The League of Villains comes striking down, even as Shie Hassaikai becomes a threat.

Experience familiar, memorable scenes from the TV anime and enjoy each and every battle as Deku and his friends aim to become Pro Heroes.
A casual 3-on-3 Quirk battle with your trained heroes and fierce opponents
Activate Quirks with the tap of a finger.

Build skill chains with your heroes' Quirks

Break out your flashy Plus Ultra Moves for the final punch
It's on you to develop your favorite heroes' Quirks
Train up with U.A. High teachers and Pro Heroes at the Unforeseen Simulation Joint (USJ)

Formidable enemies await at the never-before-seen VE Tower
Put together your team of heroes, use the Quirks to your advantage, and stand bravely against the heinous pursuits of the villains looming ahead.
Check out a collection of exclusive illustrations.
Display your favorite Ultra Rare character on your Home screen and watch them come alive with the "Cinematography" feature!

Train your characters to awaken them and unlock new original illustrations.
Customize your Hero Base as U.A. High School, a villain hideout and Invite your heroes and villains to your space.
Test your skills in Ultra Arena!
Challenge other players and battle against their hero teams.

Leverage the Quirks of your carefully trained heroes to win!

Master the game and claim your spot at the top of the rankings.
That's it for now about the MHA anime based gacha game; stay tuned for more gaming-related content.