News
NCSOFT Teaser Trailer Reveals 5 New Games For 2022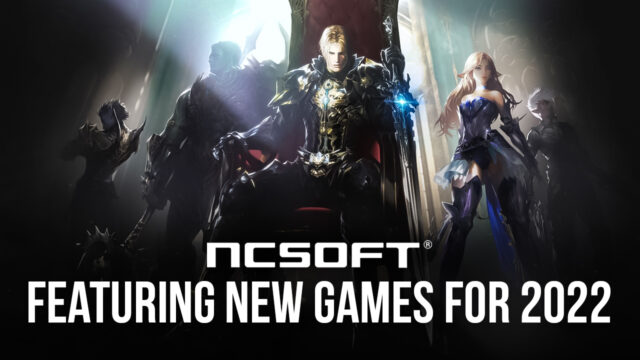 The South Korean video game developer NCSOFT recently released a new teaser trailer, "Work In Progress: Play The Possibilities," featuring 5 upcoming games/IPs for 2022. These 5 games will cover various genres like action battle royale, MMORPG, interactive movie, fantasy martial arts, and collectible RPG. These new games/IPs are currently in development with plans for a global launch on multiple platforms like mobile, console, and PCs.
The Five New Games In 2022
As we saw in the trailer, there are five new titles; Project E, Project R, Project M, BSS (Blade and Soul S), and TL (Throne and Liberty). It's common for NCSOFT to give code names (temporary titles) to games in their early development phases, then change them a few months before the launch.
Project E looks straight out of a Korean drama series featuring detailed Korean historical art style and design. It feels similar to the recent Korean Netflix hit Kingdom or The Crowned Clown. Project R, on the other hand, Project R is a standard battle royale title with RPG-style gameplay.
Project M is a modern interactive story game, the one in the trailer featuring an assassin /gangster pursuing a child and possibly her father. This game will likely feature tons of movie-like cutscenes, choices, and maybe an aspect of horror.
BSS (Blade and Soul S) is an upcoming mobile title based on the original Blade and Souls PC version but with a chibi art style. This game was first announced way back in 2018, set three years before the events of the PC game.BBS will feature an open world, a character collection system, real-time combat, and all the quicks we come to expect from modern RPG games.
And finally, we have TL (Throne and Liberty), an MMORPG from NCSOFT featuring Unreal Engine 4. This new game is part of the Lineage series, to be more precise, a sequel to the first Lineage game.
TL (Throne and Liberty) is also the first game among the five to launch in 2022, it is expected to release in the second half of 2022, which is around July.
That's all we know for now about the 5 new games from NCSOFT. But we will soon see more of the game content and structure in March 2022, as mentioned at the end of the trailer.
Moon Young Choi, PDMO (Principal Development Management Officer) of NCSOFT, said, "Starting from March, NCSOFT plans to unveil a series of videos and contents regarding the new IPs. We value our users' voices and wish to build games together. Going forward, we will proactively interact with them in various ways during the development phase and incorporate their opinions in the games we make."
The statement indicates that they will conduct thorough beta tests before making the games available to the public.
That's it for now about NCSOFT's latest teaser trailer, but do stay tuned for more gaming news.