News
Progress Faster in Puzzles and Conquest with This Redemption Code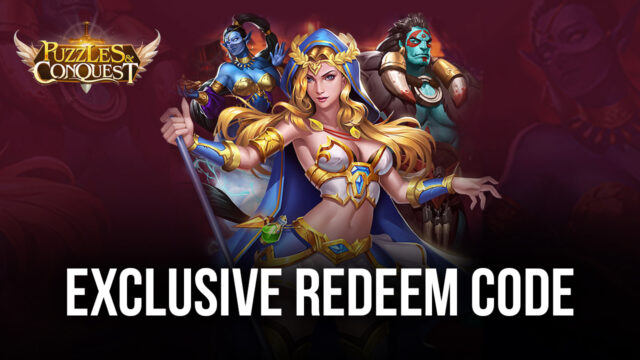 Puzzles and Conquest, the Match 3 RPG which reinvented mixing genres as it mixed Match-3 battling style with City-Building aspects is still going strong after 2 years since its inception in the global market. The 37Games produced title doesn't reinvent in the storyline department, as it tells the same old forgotten tale of how the land of Saurland which was once flourishing has been now in a dreadful state after the Undead army has struck it down. Now, as the demons and undead are waking up from their graves, other species feel threatened and are under attack. The humans, elves, mages, dwarves, etc all have made an alliance to reclaim Saurland and defeat the Undeads.
Puzzles and Conquest is a great game that puts strategy into use but for a new player, this can be a hassle as the city-building aspects hamper the progression of players because they wait for buildings to upgrade. Do not worry as we have just the perfect solution to it with this new redemption code that can drastically lower the time taken.
The Redeem Code is – BLUESTACKS
Contents
–
Players can Redeem this code any time before 9th April 2022 as this is when the code expires. If you're wondering how you can redeem the code, here is a short guide on how to do it –
Players can avail of the redemption codes by going to the World or to your Home -> Click on the More menu at the bottom -> Settings-> Click on Pack -> Type the code and click on Claim. Players can get the rewards for the code in their in-game mailbox.
Puzzles and Conquest is a combination between Match 3 RPG and City-Building. The battles that take place in Puzzles and Conquest use the classic Match 3 style where players need to match gems of similar color to damage the enemies. The city-building aspect of Puzzles and Conquest takes place in the homeland of Saurland and most of the progression is dependent on how well upgraded your buildings are as they provide more resources to players. Players can also recruit different heroes from different races/classes as we talked about above. They can further train troops and assign heroes to lead them.
Puzzles and Conquest is a great mix of 2 different genres which gives it the strength of attracting more players. The game is set in stone with it completed over 2 years and continues to release fun events with new updates consistently. We recommend playing Puzzles and Conquest on a PC using BlueStacks with a keyboard and mouse for a 60 FPS Full HD lag-free experience on a bigger screen.