News
Robot Tactics X: A Mech Themed JRPG, Pre-Register Now!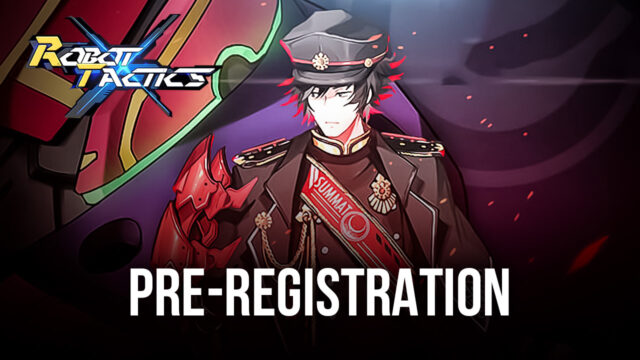 Robot Tactics X is a brand new mech-themed JRPG mobile game published by Game Hollywood Hong Kong Limited. This new mobile game is now open for pre-registration and has already completed 3 beta tests. And as per their latest posts, Robot Tactics X is expected to be released sometime around January 2022.
You can pre-register for Robot Tactics X simply by filling out your details at their official site.
Pre-Registration Events & Rewards
Join the Recruitment with your correct email ID on the official website to get a Beginner Pack (Gold x10,000).

Invite 3 friends to get G3 Tranquilizer x3, Update Replenishment 1.0 x2, Planning Scheme x3.

Rewards will be unlocked once your friends register successfully through your invite link or join your team with your invite code.
Milestone Rewards
Over 10K registrations- Receive 5★ G3 Tranquilizer

Over 30K registrations- Receive 10★ Dye

Over 50K registrations- Receive 5★ Update Replenishment 1.0

Over 80K registrations- Receive 10★ Planning Scheme

Over 100K registrations- Receive 10★ Adv. Dye
Robot Tactics X Story & Features
Robot Tactics X revolves around the conflicts between two continents, their secrets and conspiracies will be revealed by a group of outlaw heroes – the Squalorers.
Robot Tactic X has inherited the highly customizable mecha system and the chessboard-style gameplay from the original game, players will be able to strategize their way to victory.
Moreover, experience the brand new features like the effect the terrain has on the battle and the countering between races, making the game more dynamic and diverse.
Here are the gameplay features of Robot Tactics X;
Mecha Soul Awaken
100+ Mecha parts available in the highly customizable mech assemble system. Change the colors of your robots to match your style.
Incredible Tactics and Endless Strategies
Be tactical in the classic turn-based strategy battles! Introducing the new gameplay based on countering Race's effects and different Terrains. Think before you make your move!
Gotta Gacha'em All!
Exquisite original characters designed by famous illustrators from all around the world. Collect them all in the gacha system.
Epic Battles in Story-Driven Levels
An intricate storyline mixed with strategic battles will present you with an exclusive gaming experience.
A Few Characters & Their Personalities
Elizabeth
Force: the Weingss. Come on! Commander! Elizabeth is secretly feeding her sister sugar cookies again! Honestly I don't care if Mira is getting fat or ugly, it's just…not quite healthy eating snacks that her sister makes all the time! Staying healthy is important to the organization right? (Unless she gives some to me too.)
As the captain of the Hayabusa Team, she always takes care of her sibling Mira. Elizabeth cooks very well for a Pryatanese, she can cook many delicious meals besides fish and chips.
Cristina
Force: Thales. Every sci-fi story has a genius hacker, Daisy in Agents of Shield, T-bug in 2077, and there's also a high-tech criminal in RTX.
She's a member of the recon team in Thales army, she possesses unparalleled hacking skills. When Cristina was studying in high school, she broke the firewall of Thales military under a bet with her friend. After being arrested, she was immediately discharged and enlisted into the army.
Lacus
Force: Freedon. She is the most intimate pilot with our dev team, after all we're being stared at all day by her. She's saying:"Don't look at me, go do your job!"Lacus is the leader of the Freedon Defense troop. After learning that the Weingss had obtained a hazardous substance, she set out to seize it. After that, she began to act alone, and for unknown reasons has been sneaking around the Weingss.
As an officer in one of the most powerful countries on the planet, her combat skill is without doubt. Also because of the Freedon Military Industries, Lacus has many interesting gadgets that can pose a great threat to her enemy.
The one thing gacha games do well is create characters with good backstories, and they have put in the effort here. The mech designs are also very good, extremely detailed models, afterall the first mechs did originate from Japan.
That's it for now about mobile mechs, stay tuned for more gaming related content.