News
Activision Blizzard To Launch Warcraft Mobile Game In 2022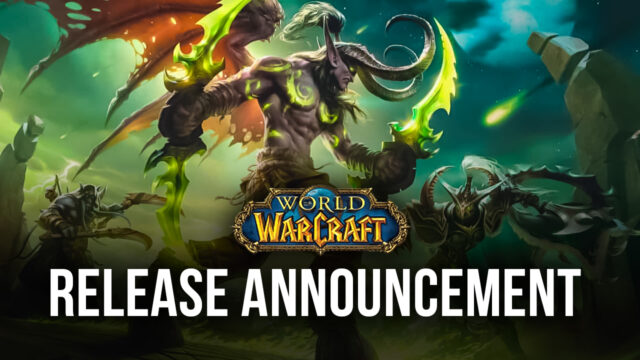 In the recent 4th quarter, 2021 financial press release, the American video game company Activision Blizzard officially revealed their plans to release a new Warcraft mobile game in 2022.
"Blizzard is planning substantial new content for the Warcraft franchise in 2022, including new experiences in World of Warcraft and Hearthstone, and getting all-new mobile Warcraft content into players' hands for the first time."
As you can see, Blizzard described this new mobile game as "Warcraft content," not "World of Warcraft" game. This means that although this new mobile title will be based on the Warcraft universe featuring familiar characters and lore, the game itself will not be a continuation of the WoW PC version.
So instead of a full-blown World of Warcraft MMORPG mobile title, we might get something like the Hearthstone card game or a virtual reality-based one like Pokemon Go. Games like these are small, easy to develop, and don't carry much weight, at least not enough to distract anyone from the upcoming Diablo launch.
That's not all. In the Q2 2021 earnings call, there was mention of two new "Warcraft mobile experiences."
"Blizzard continues to make progress in its work on ambitious new Warcraft mobile experiences that can attract entirely new players to the franchise as well as offering new ways for existing fans to engage. Two Warcraft mobile experiences are in varying stages of internal testing with the team looking forward to sharing more about these titles soon. "
Warcraft Mobile Game: When Will It Launch?
As per the previous earnings report, we know that Blizzard has been working on a Warcraft mobile game for a while now. This game was in their advanced stages of development way back in Q4, 2020.
"In our Warcraft franchise, we intend to deliver more frequent premium content to sustain and expand the World of Warcraft community and we've made multiple mobile free-to-play Warcraft experiences and they're now in advanced development, based on our franchise's beloved IP."
So, the mobile games must be near completion by now in 2022 or at least ready for beta. There is also the possibility that Blizzard was focused on finishing Diablo Immortal and WoW: Shadowlands 9.2.
Even so, with a 2022 launch, we don't have much to go on concerning Warcraft Mobile except the financial reports. And Blizzard isn't doing any kind of major marketing for Warcraft Mobile.
This is strange because the first cinematic trailer for the upcoming Diablo Immortal mobile game was released way back in 2018, with initial release plans for 2021 (later postponed to 2022). In short, Blizzard started hyping up Diablo Immortal three years before the planned release date, but in the case of WoW Mobile, we got nothing.
This leads us to believe that the soon-to-release Warcraft mobile game may not be such a big RPG-style game. So Blizzard might be planning to launch Warcraft Mobile alongside a big release like WoW: Shadowlands 9.2 or Diablo Immortal in February or March 2022. And the 2nd game, Warcraft mobile game (likely the bigger and better of the two), towards the end of the year after Diablo, picks up steam.
Usually, the quarterly financial press releases are accompanied by an earnings call/ conference. But this time, because of Microsoft's announcement to buy Activision Blizzard for $68.7 billion, there likely won't be an investor conference call; this is all we got for now.
That's it for now about Activision Blizzard's Warcraft Mobile updates; you can check out all the quarterly financial reports of Activision Blizzard here. Stay tuned for the latest gaming news from us.