News
World of Warships: Legends Mobile Beta Version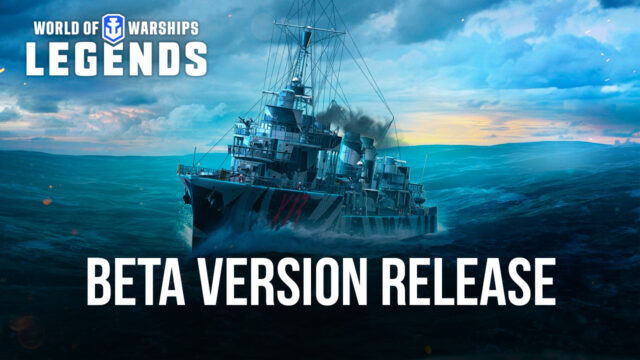 The popular strategy game World of Warships: Legends is set to make its way into mobile platforms soon. Wargaming, the company that developed the game recently announced the release of WoWS: Legends beta in Canada for Android and iOS devices.
If you haven't heard of Wargaming, they are the ones behind other "World of" games like World of Tanks, World of Warplanes & World of Warships Blitz.
The original WoWS Legends was released way back on 21 December 2018 for PlayStation 4, Xbox Series X and Series S, Xbox One, and PlayStation 5. The mobile version is intended to keep the players in touch with the game when away from their consoles, which means that once complete, WoWS legends mobile will have cross-platform support.
"Legends mobile is going to (eventually) bring you the same battle-tested experience from consoles to your pocket device, so you'll be able to transfer from the big screen to compact experience and back at will."
The beta version is intended to help the developers mold the game for mobile devices paying close attention to the multitouch controls. As the company points out, "For the test's purposes we will offer a choice of three nations of ships and commanders and the pioneers among you will have to start from the ground up to help us iron out all the kinks and finish up the mobile version to the same standard that the console game is."
World of Warships Legends: Mobile Requirements
GPU: Adreno 640 or newer
OpenGL: at least v3.1
RAM: at least 3 GB
In real-world terms, an iPhone 8+/ iPad Air (2019 3rd generation) or newer device with iOS 14.8+ will do just fine. And for Android Samsung S20 & Android 10+, or newer devices. And as per WoWS Legends, the size of this mobile beta version will be around 8 Gb.
As the tests go on, the game will slowly become more optimized and efficient, enough to run smoothly on most modern mobile devices.
WoWS: Legends Mobile What We Know
Moving from the console to mobile will change the way players perceive the action, most obviously the change of field of view and controls. Not to mention the smaller screen will reduce the visible details and text commonly used in battle. However, this is perfectly fine as the mobile version is only intended to only act as an extension to the console game for now.
Here are a few FAQs from WoWS: Legends about the mobile version; this will clear most of your doubts for now.
Will there be crossplay functionality between consoles and mobile devices?
Yes, the mobile players will collide head-on with their console peers.
Will console and mobile players be able to communicate?
There are no direct means of communication for mobile players yet, but down the line, we plan to introduce quick commands and voice chat, much like there is between the two console platforms.
Is cross-progression between mobile and console going to be a thing?
Yes, one of our main targets is to make the experience shared and transferable between the mobile and console. It means that once we're out of the test phase, we plan to have cross-progression, so you'll be able to continue gaming on any device, be it your phone or console.
Important to note, however, is that during the beta phase, there will be no cross-progression, so those participating will start with blank accounts, and after the test ends, we will reset those accounts.
Will I be able to limit my matchmaking to mobile-only/console-only?
Mobile players will not be able to disable crossplay during the test phase. On the other hand, console players can exclude external players from their matchmaking, but that would include other consoles as well. We do not plan to introduce further limitations to this for the duration of the test phase.
What about WoWS: Blitz?
At the current stage, we're only testing Legends' opportunities as a mobile game. It's a big ocean, so to speak, and we see this as a great opportunity to challenge ourselves, to provide a new experience to our console audience; Blitz players will likely keep on blitzing, and that's totally fine.
If you are in Canada, you can sign up for the beta version on the Google Play Store. And if you are an Apple user, sign up here and fill out the form.
That's it, for now, stay tuned for more gaming news.