App Reviews
Blade & Soul: Revolution – Game Review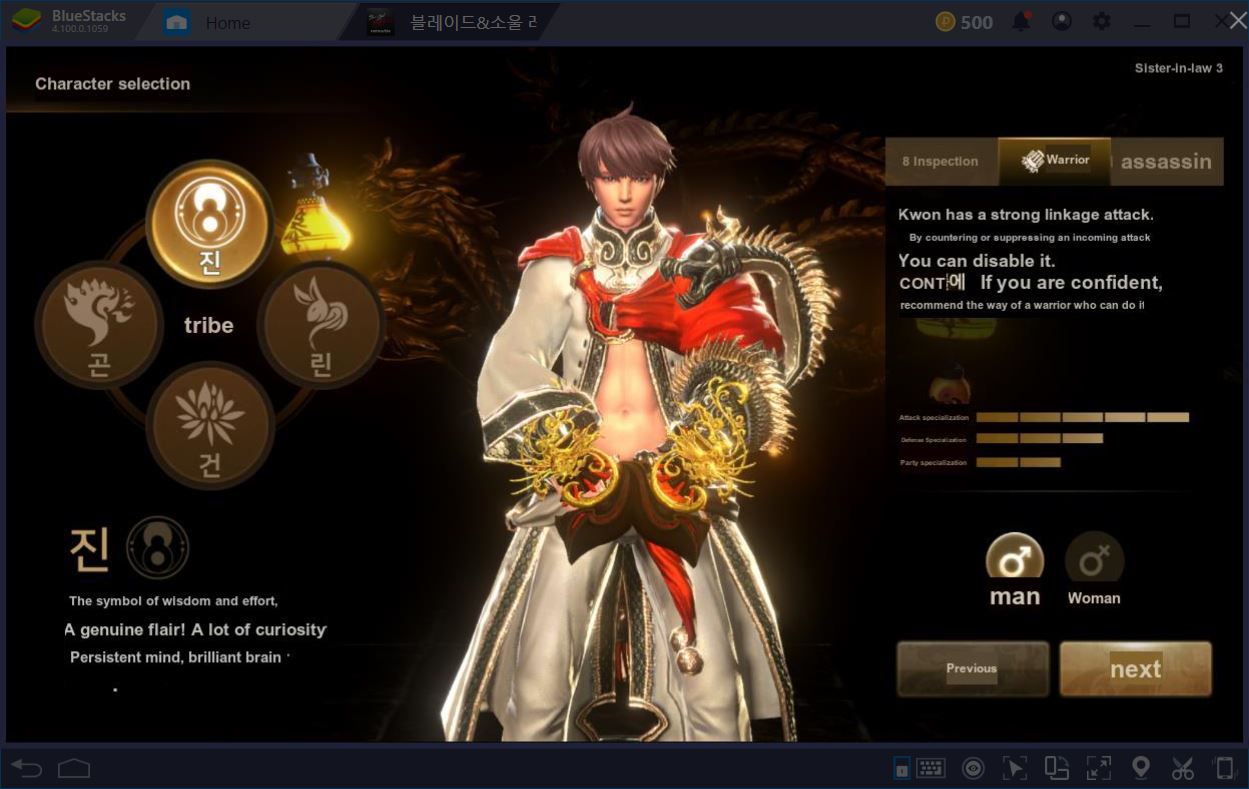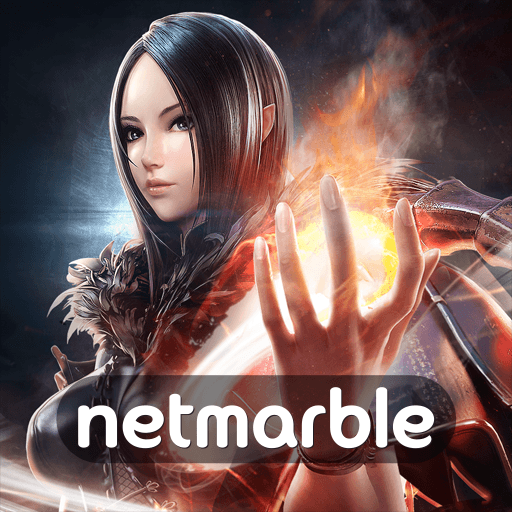 This is our most difficult review yet. It's not that Netmarble's Blade & Soul: Revolution is bad in any way, quite the contrary. The game is nothing short of gorgeous: it was developed on Unreal 4 and you can tell every single second of play. But we're not trying to be cute here.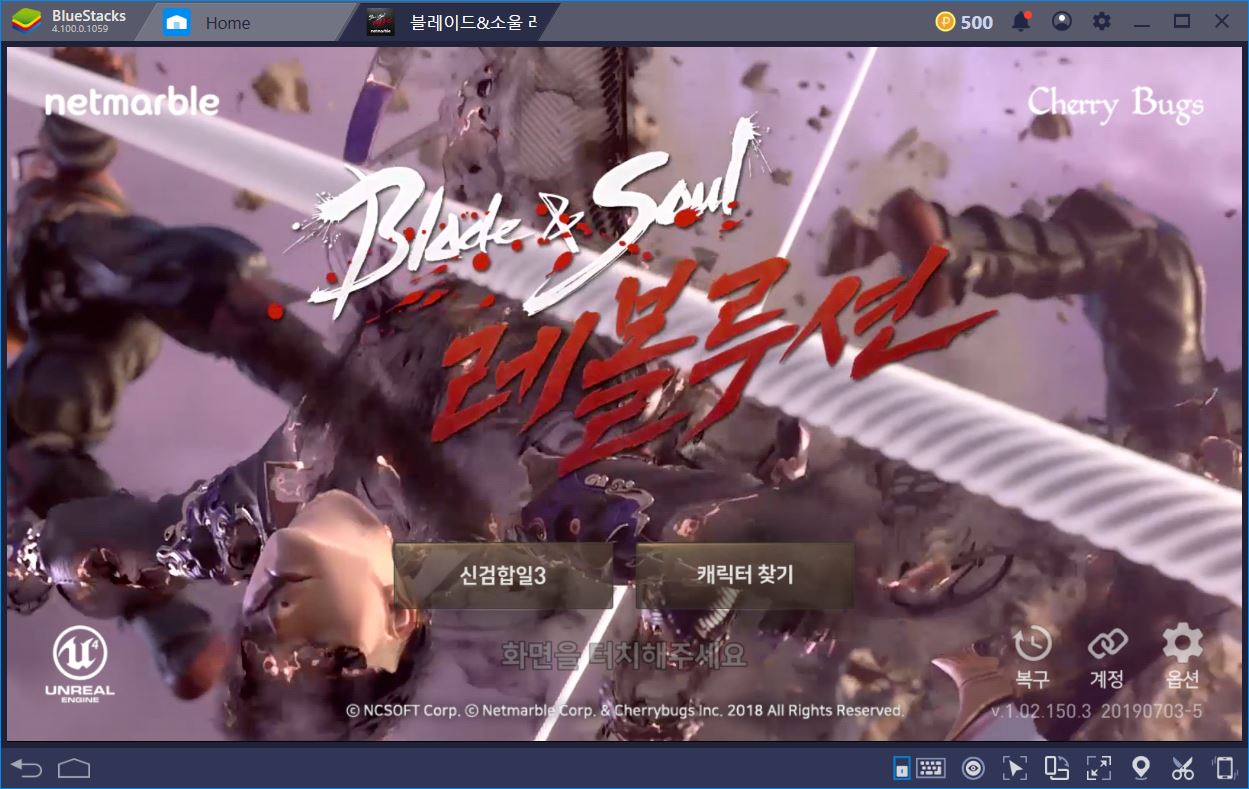 We're just amazed at how awesome the mobile version of B&S is. Netmarble, the people behind Lineage II: Revolution and Marvel Future Fight, have clearly outdone themselves. After 5 hours of non-stop playing, we have nothing but praise for this game. That's saying something because we're some of the pickiest reviewers you'll meet.
This might just be the title that will raise the bar on all Android games when it hits the Western markets. We're talking "jaw-dropping, epic-feeling, so addictive people are playing it non-stop"-good. Something in the lines of the Opening of the Gates of Aahn'Qiraj, if you know what we mean.
Character Creation and Game World
We whine about everything. Faulty textures, iffy combat mechanics, pay to win systems, lack of depth in storytelling… you name it. If there's something to rant about, we will rant about it. However, B&S has given us absolutely nothing to complain about. We'll give it some more time, for sure, but its only fault seems to be the fact that you can't switch the language to English… yet.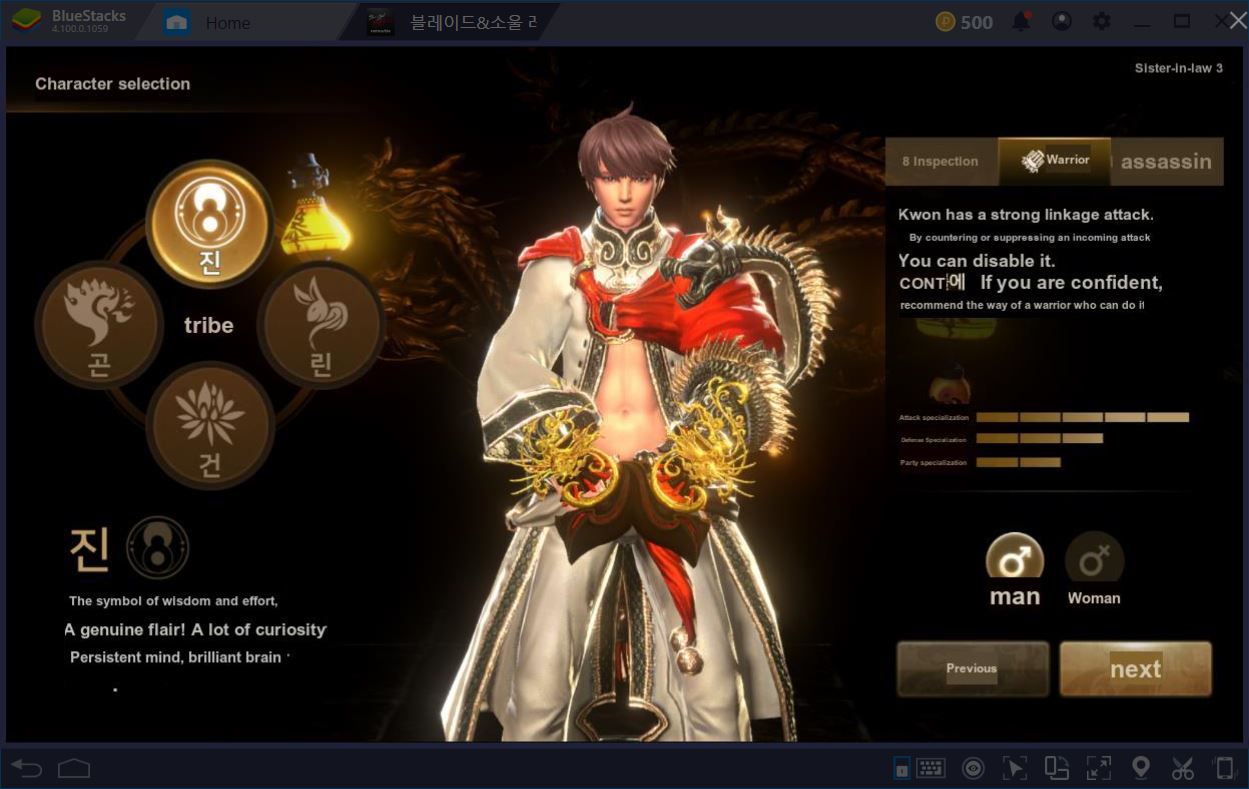 First things first. Every good MMORPG delivers on character creation. This might seem trivial to most players, but it's one of the subtler ways in which we're introduced to the game world. A good character creation phase gives us the chance to decide what we want to look like and how we want to interact with the other players. Aside from having some of the best presets for your face and body, B&S lets you chose from a ton of hairstyles and over 45 colours for it.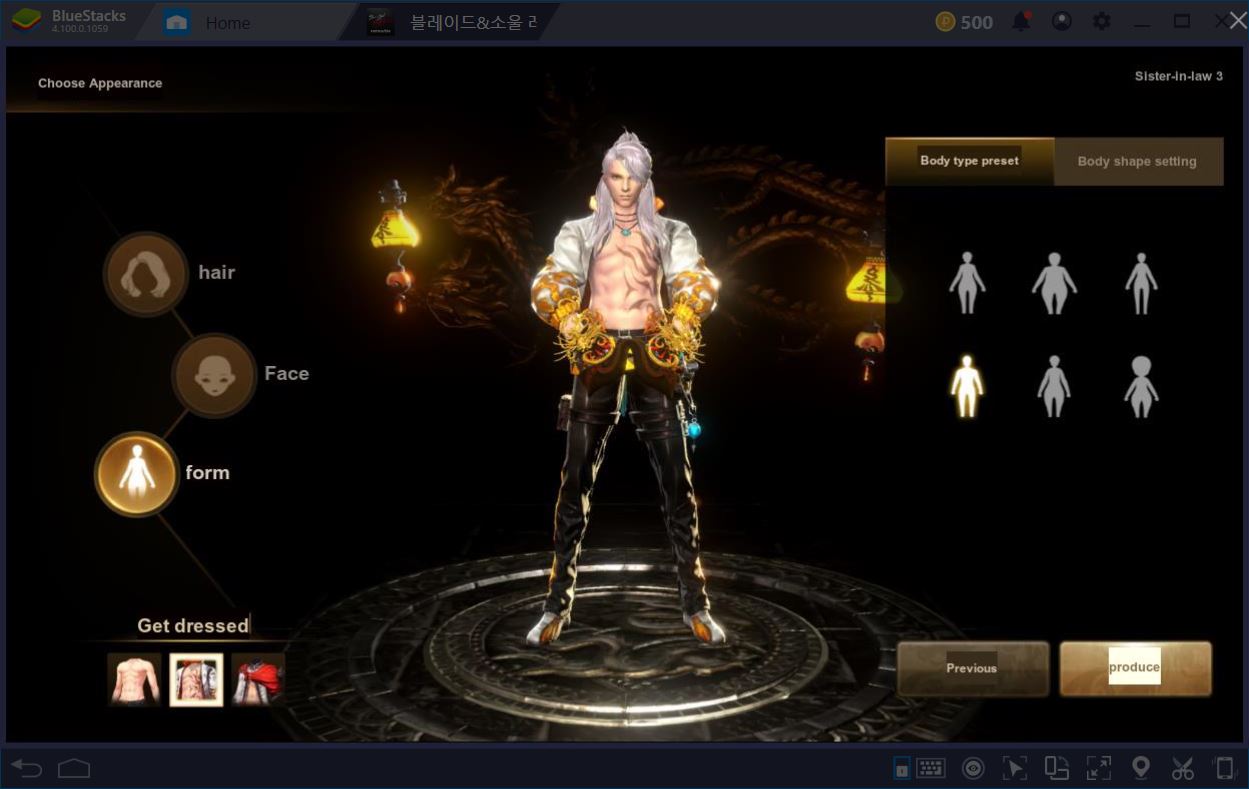 We were trying to go for Geralt here, as you can probably tell. Or not. But you feel free to rock the Keanu-2077 look or that of your favourite anime character. Now, you might think immersion is pretty difficult with a game whose language you do not speak. We thought so too. But we were wrong.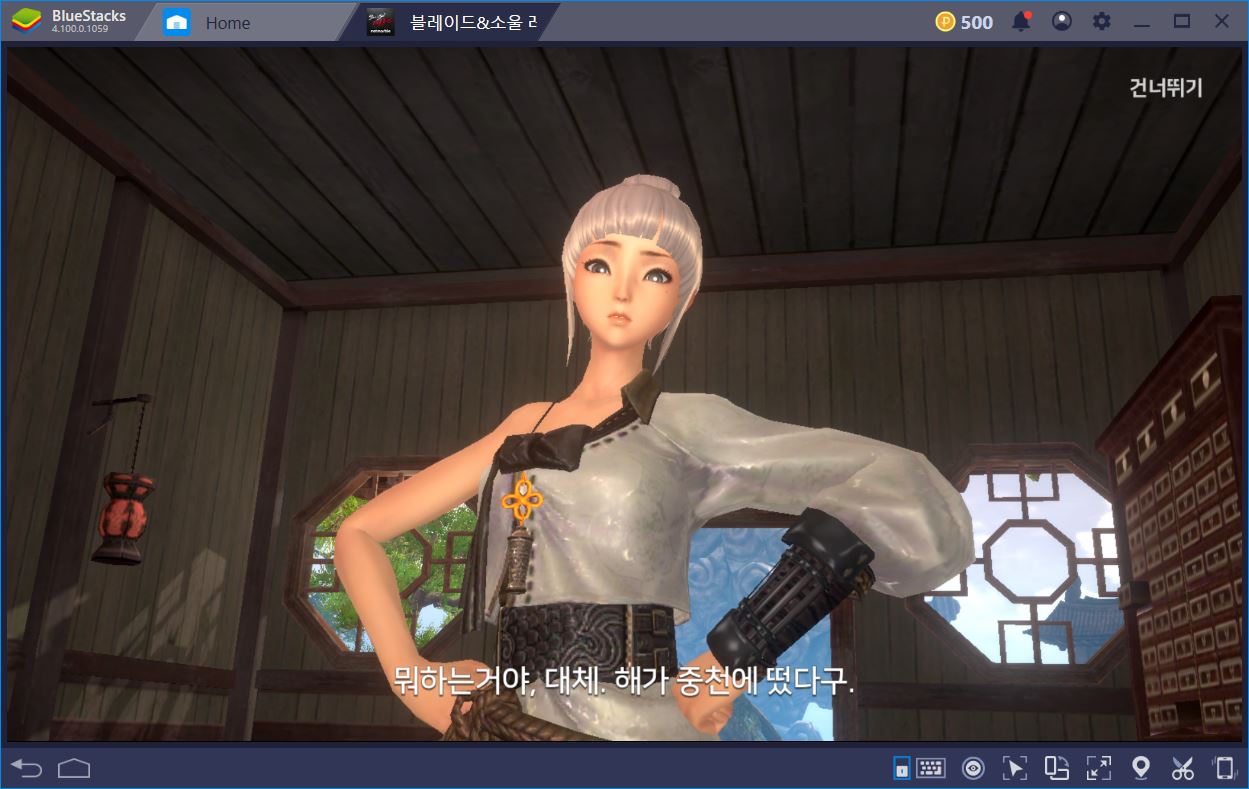 Once you give up the need to understand every single thing, you start to create your own story out of the playthrough. It was actually fun. Of course, we also had a neat linguistic edge because we were playing on BlueStacks, and the emulator helped us translate things on demand. Sure enough, the translation was rough, but it was enough for us to get by. All you have to do while playing Blade and Soul on BlueStacks is to press Ctrl + Shift + L in order to benefit from real-time translation into your very own language.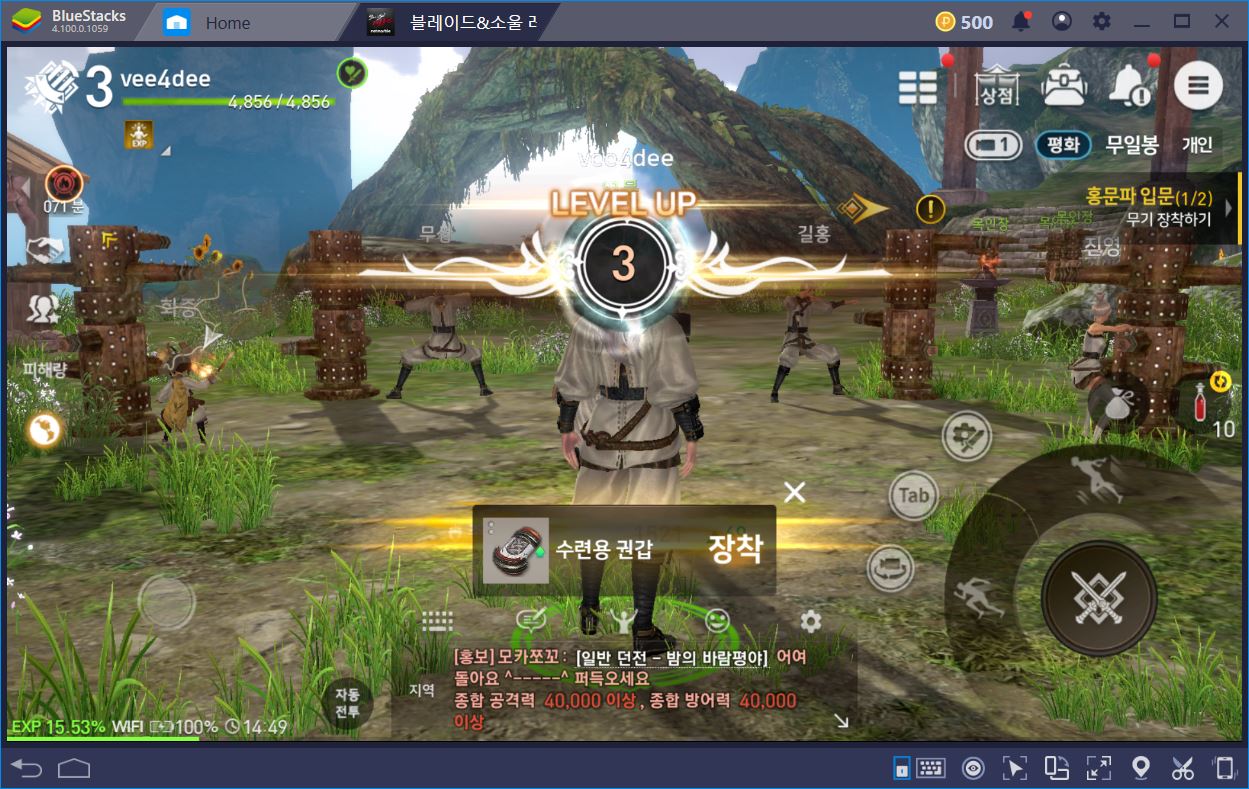 From our "visual" and literal translations, BS has a truly captivating story behind it. You wake up in an area where all the other characters you could have created are living and training under the guidance of an old, wise master. We'll call him Master Shifu because of his resemblance to Dustin Hoffman's cute, tiny red panda.
Getting through the Starting Zone
Here, we learn how to throw our first punch, equip our first item, and dish out our first fighting combo. We told you the graphics were stunning. They're every bit as incredible as the print screens show. We are talking about the Unreal 4 engine, in case you forgot. This baby's no joke. The quality of the cut-scenes, as well as that of the gameplay easily emulates what PC games can achieve. It's not 4K just yet, but it gives you the feeling that mobile games are almost there.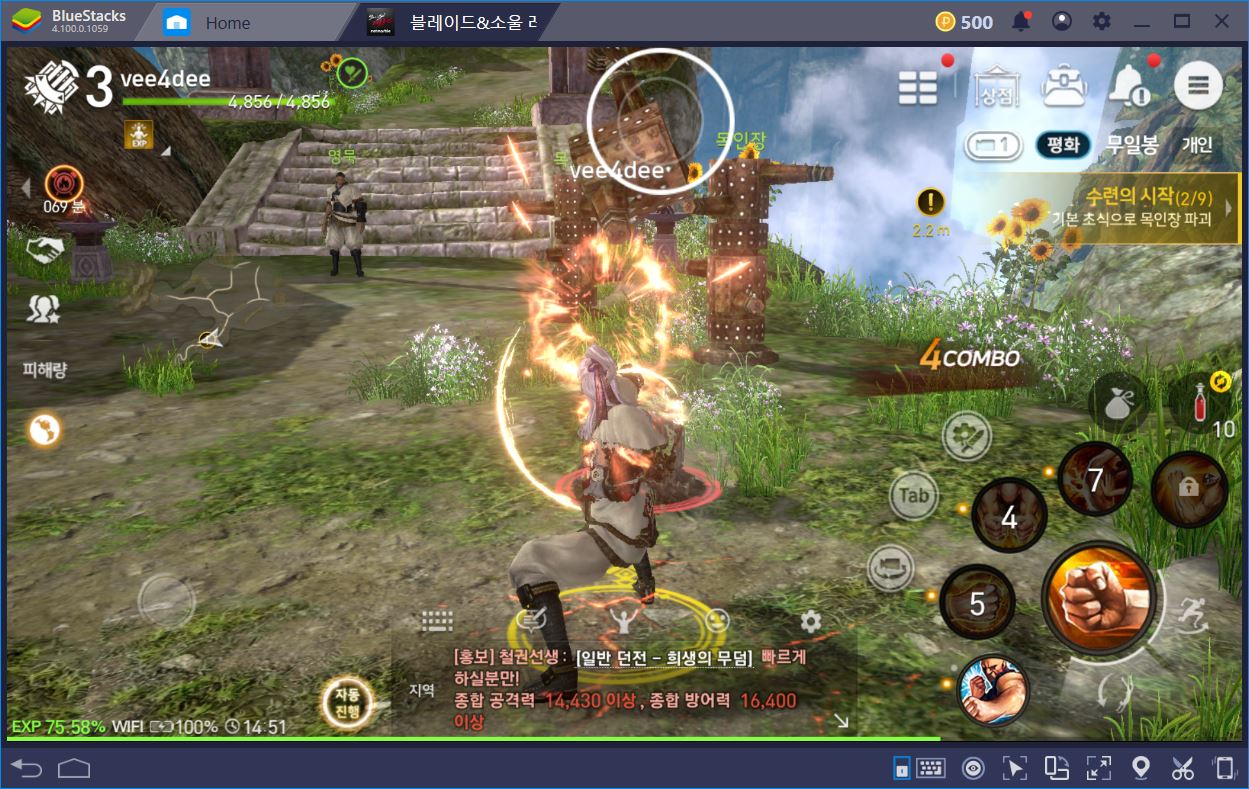 Then, the most awesome thing happened to us. It's like our best dreams came true. In the next part of our training, we learned how to jump and, get this, fly. Shut the front door! Sheer juvenile joy overcame us and we were squealing all the way until we landed. You bet your sweet-roll you can do this in-game whenever it pleases you. We tried!
Pro tip: do it downhill to increase gliding and fun-having time.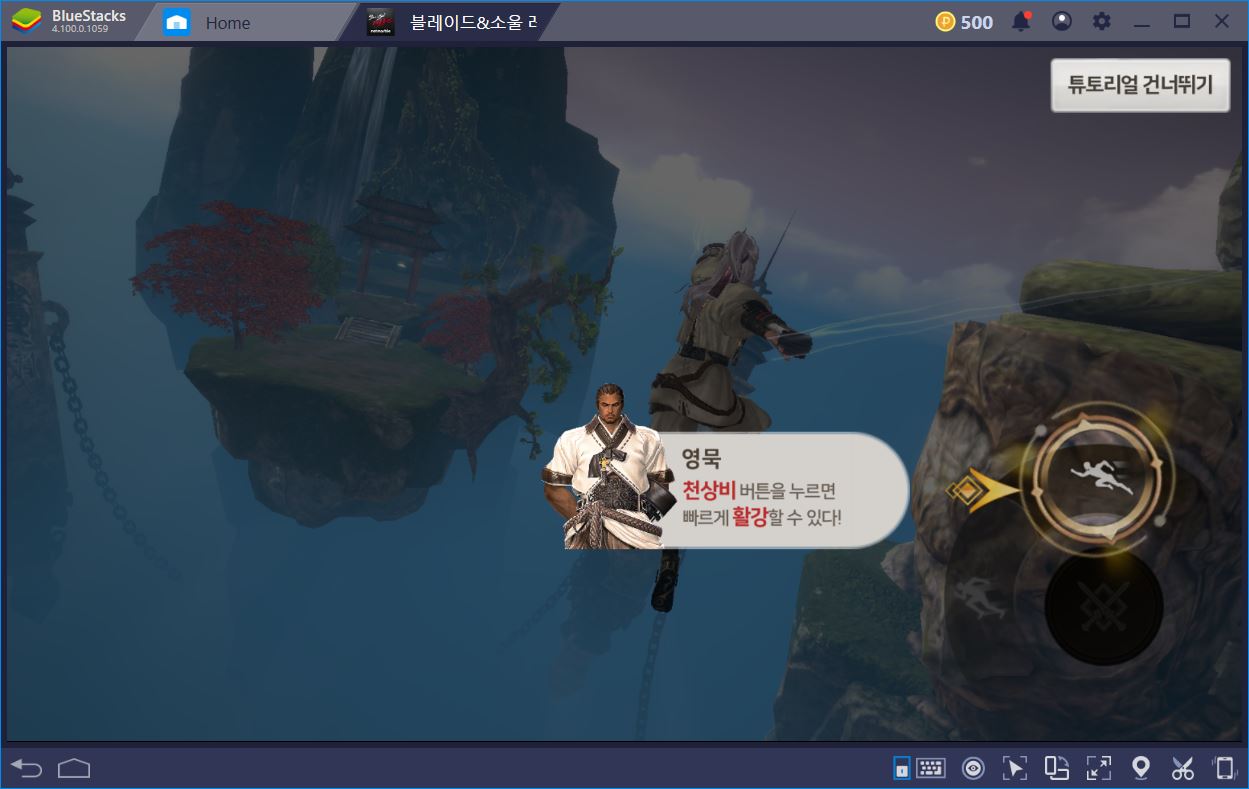 Story-wise, from what we could tell, our village was attacked by a group of charming, good looking bad guys (possibly another tribe) and everyone was killed with the exception of ourselves and Shifu. It turns out, one of the people that taught us how to PvP betrayed the village. Shifu tries to oppose the evil squad, but he is bested. Then, out of nowhere, his sword turns him 40 years younger and 40 times brawnier (the old man also rocks a perfect tan) and we've got a fight on our hands.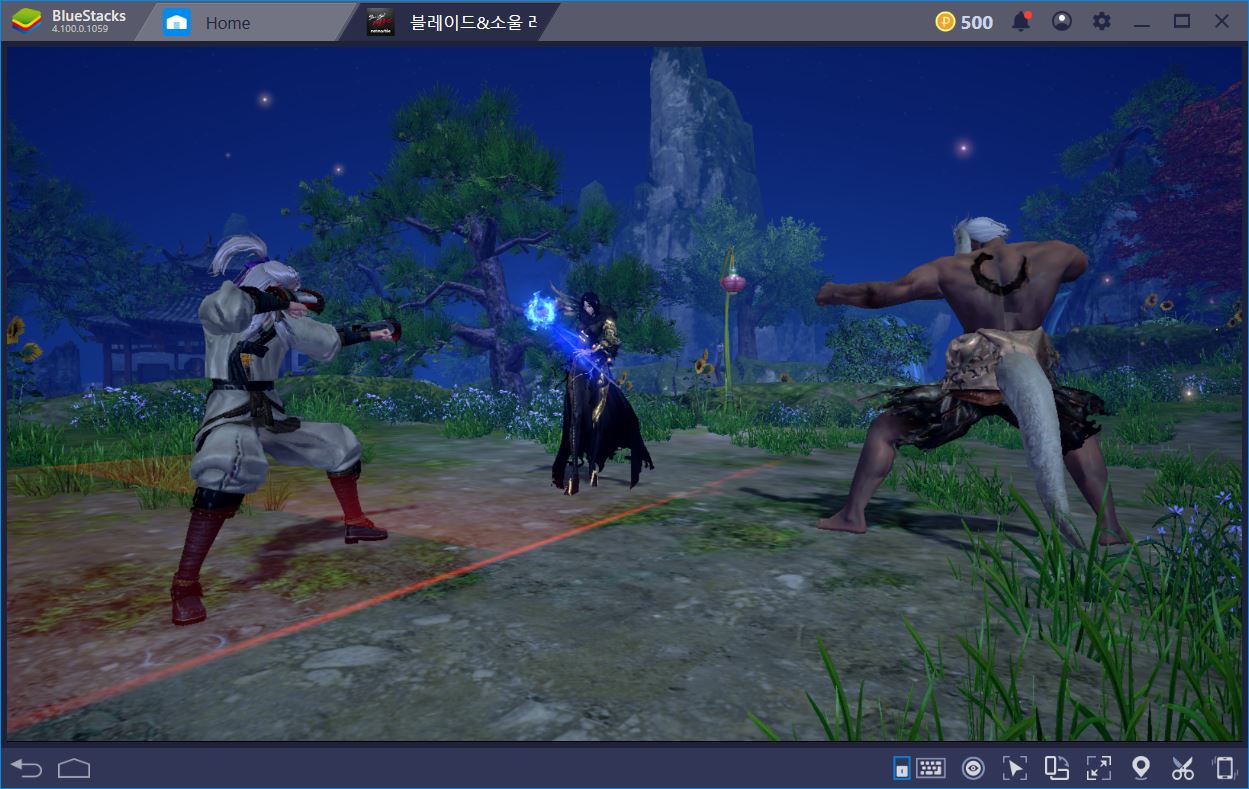 Sadly, we're still inexperienced and they take us hostage, thereby forcing Shifu to give up his brawny form, as well as the powerful sword that made him so. We try to engage them in a desperate attempt to avenge our friends, but we end up injured and on our way down from a cliff. Things couldn't have been worse.
Luckily, we are rescued and suddenly wake up in the starting zone. Here, our tutorial of the game continues, as we learn more awesome combat moves, how to equip items, as well as more complex fighting techniques. Just the combat itself got us fangirling/fanboying over the game. Between the crisp performance, polished graphics, and awesome martial arts moves, we were addicted.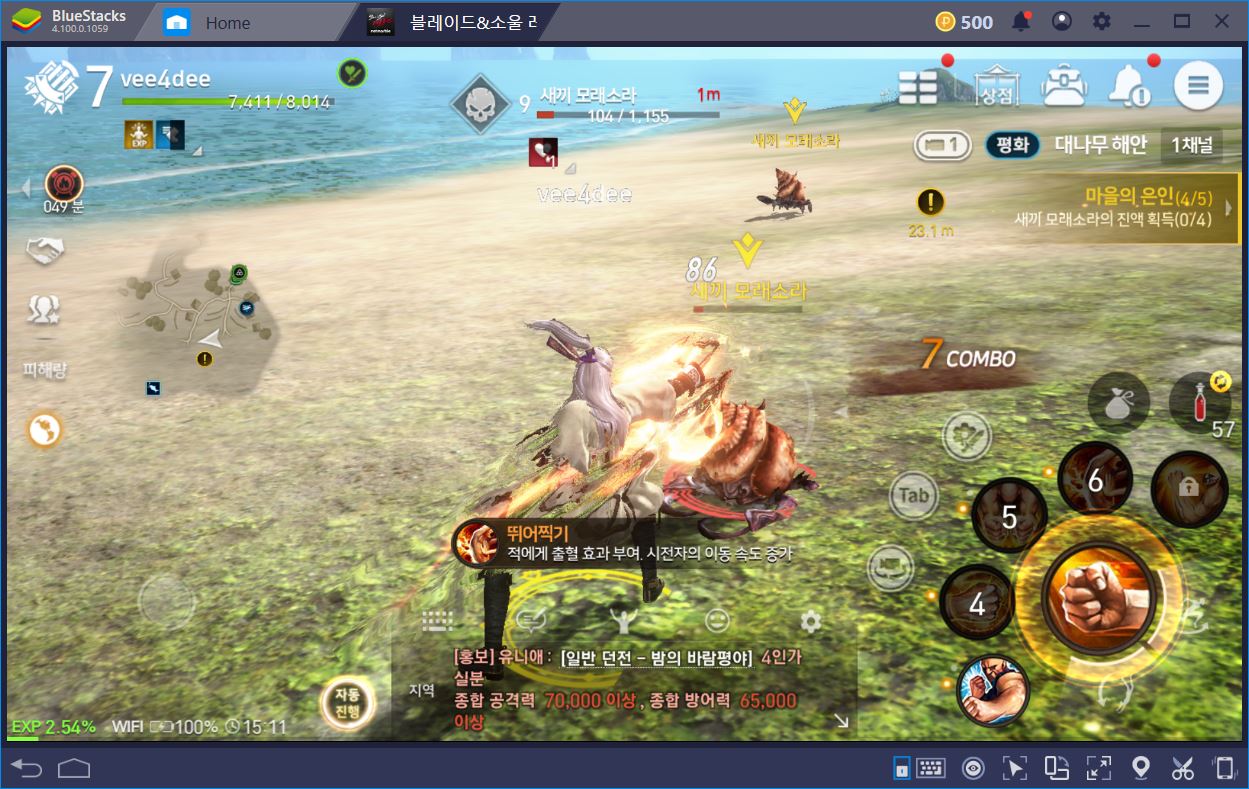 Enter the World of Blade & Soul Revolution with BlueStacks
Although we're only level 20, the game's complexity is awe-inspiring. Aside from your regular main quests, you have secondary assignments, dungeons to roam, materials to gather for crafting and improving items, as well as an immense world to explore. And we haven't even started on the best part of BS – the breathtaking PvP system.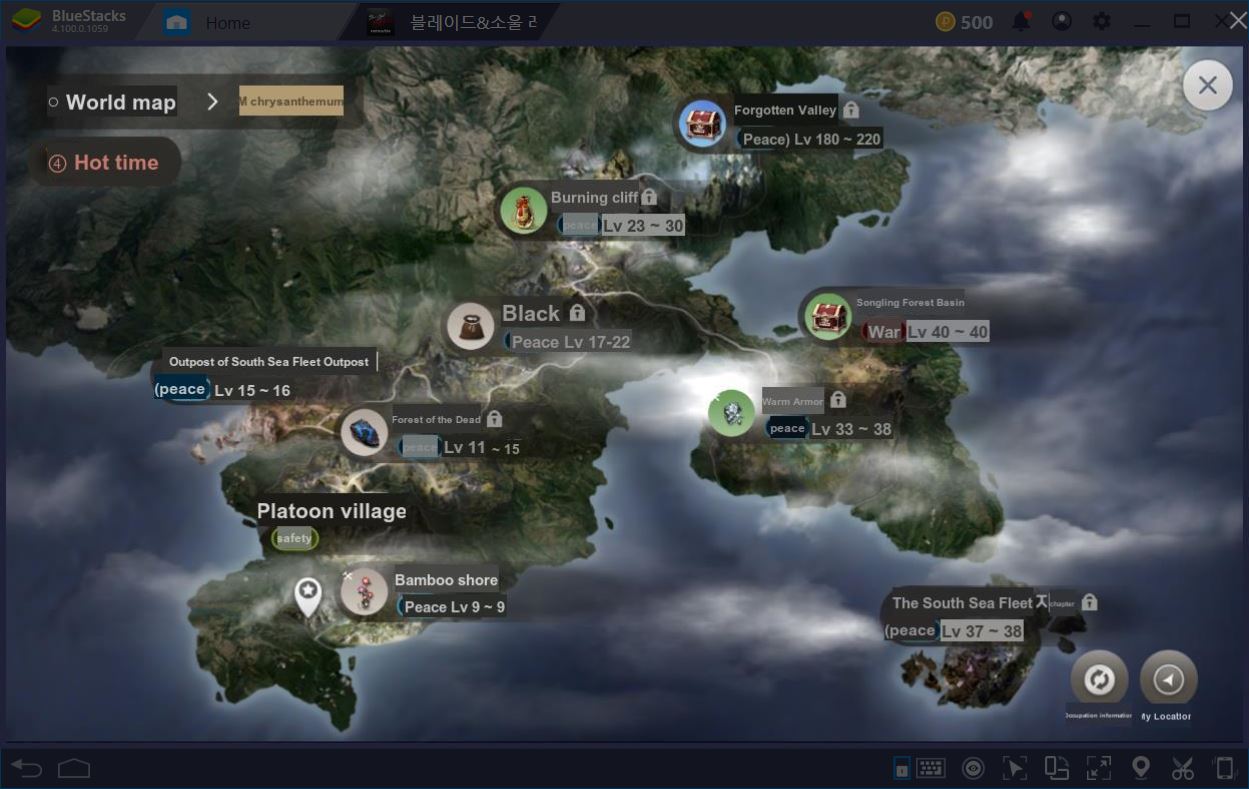 2v2 and 4v4 PvP Arenas were officially introduced a while back. Still, the most thrilling experience of B&S is to join one of those 500vs500 clan PvP battles in true, Asian-MMORPG fashion. This is one game we'll definitely take home with us. Frankly, we don't even care about when the game will be released in the Western markets anymore, we just want to play it now. The developers announced in March that they intended a Western (thus, also English) release to happen soon, but a date was not yet specified.
No worries, though, we're having tons of fun already!