App Reviews
Disney Frozen Adventures on PC—A New Match 3 Game: Fun on PC With BlueStacks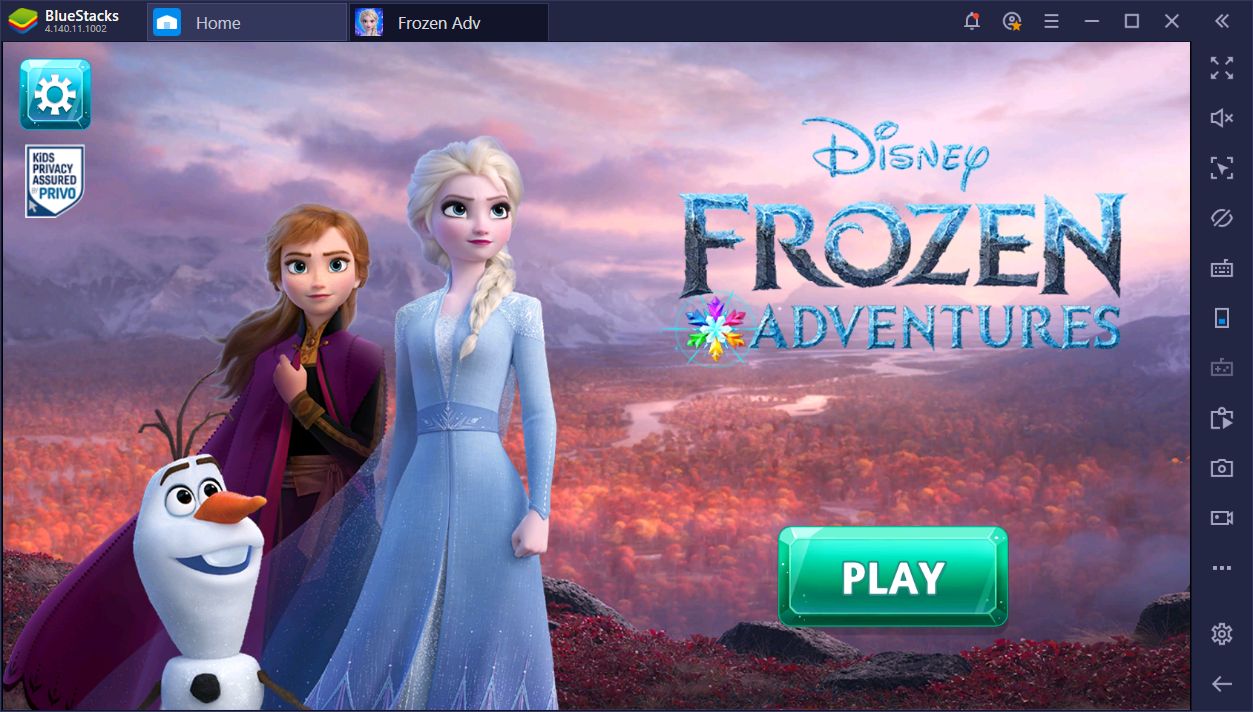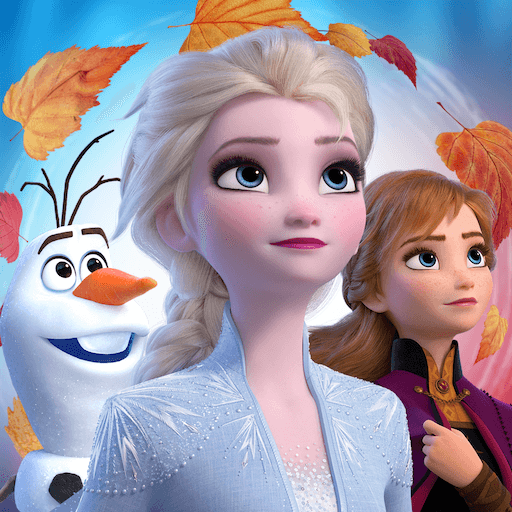 Every once in a while, we like to step back and enjoy the more gentle things in life. Don't get us wrong, we're not going soft or anything. However, it's good to take a break from all the running and gunning, zombie hunting, or the warfare that is prevalent in so many other mobile games. And with the new Frozen movie just around the corner, what better time to talk about the newest match 3 game starring the lovable Elsa, Frozen Adventures?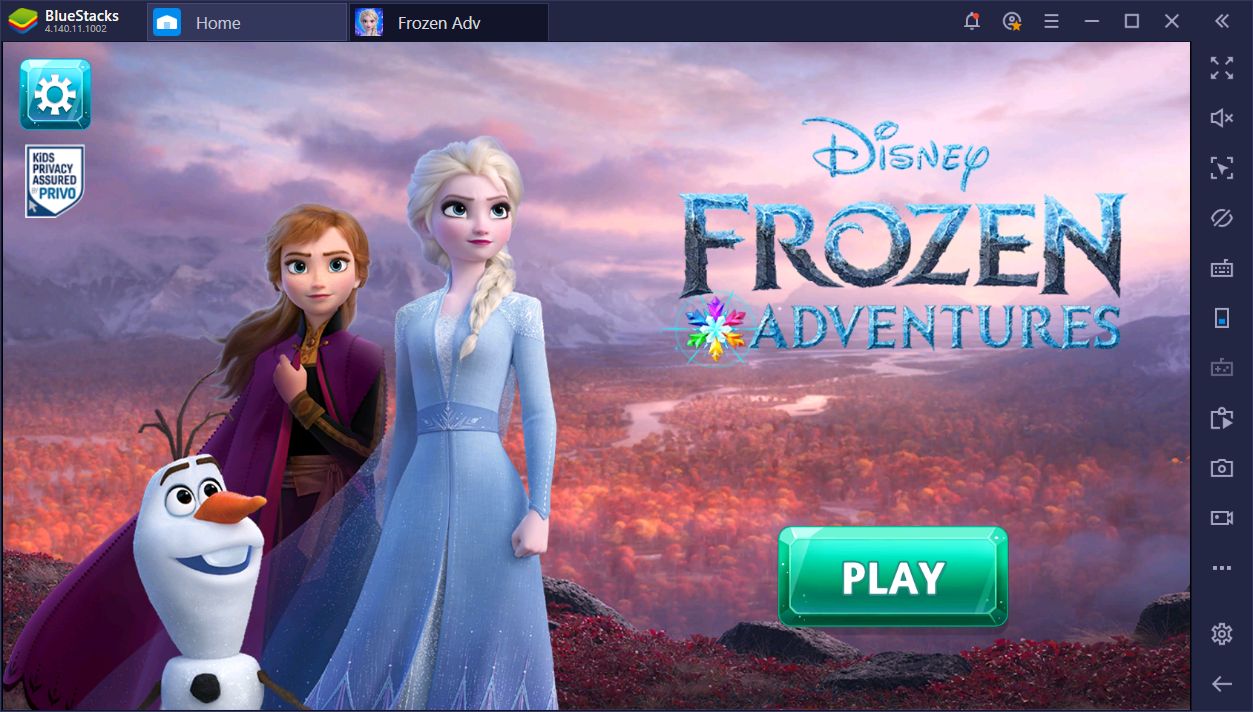 Now, Frozen needs no introduction. It's simply one of the biggest phenomenons ever created by Disney, except maybe aside from the beloved characters of our childhood like Mickey Mouse and his friends. However, Frozen is in a whole new category; it's a film that enraptured its audience, and then went on to capture the love and attention of even those outside the target demographic. In other words, it's just one of those fun, charming, and endearing movies that you can't help but enjoy.
Become the Royal Event Planner
In Frozen Adventures, you play as the royal event planner in charge of beautifying Castle Arendelle in preparation for a great ball, and what better way to fix up the place than by playing a traditional match 3 game? In this sense, the premise of Frozen Adventures is similar to the one of Matchington Mansion, which we wrote about a few months ago. However, instead of restoring and decorating a big mansion, you're fixing up a castle. For every board you successfully complete, you collect snowflakes, which is a form of currency used in the restoration and decoration of the castle.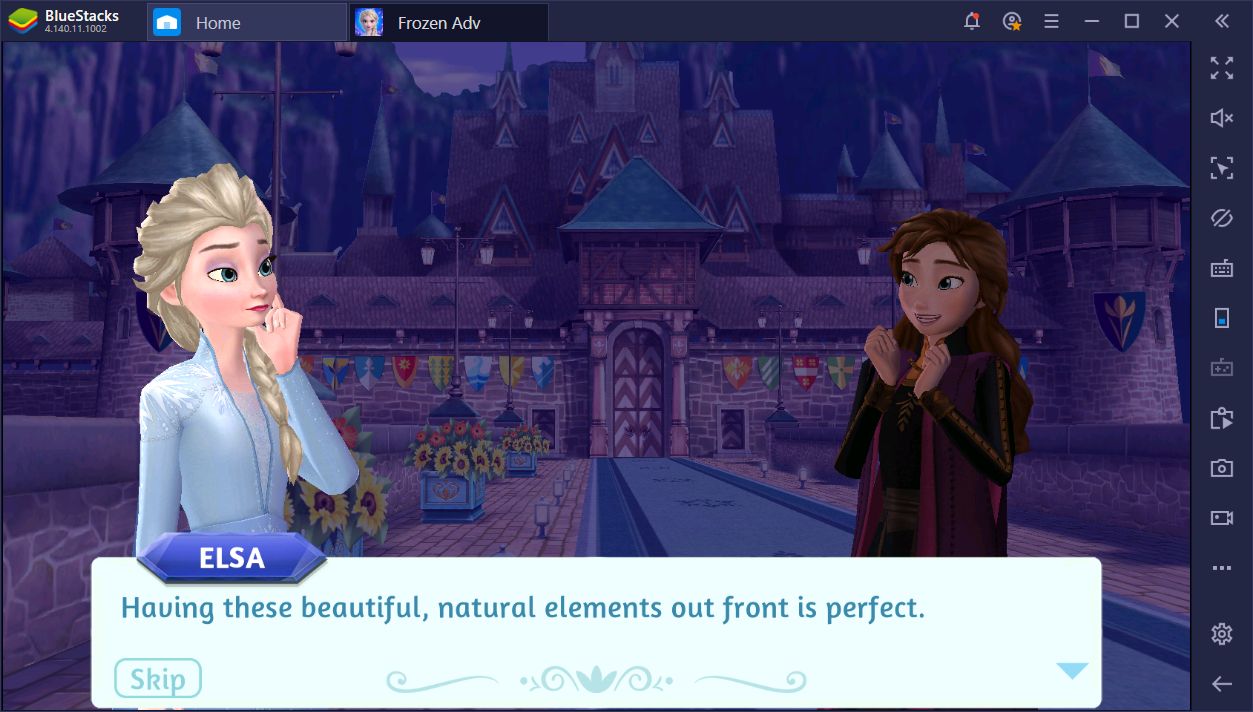 When it comes to unlocking and placing decorations on the various chambers of the venue, you will often be prompted to choose between different types and colors to use. This liberty allows you to create unique looks suited to your preferences. Your adventure through Arendelle will take you to many of the castle rooms as you continue to decorate and embellish the place. From the main castle entrance bridge, to the great hall, to the advisor's chambers, and even the royal chocolatier; you'll have to decorate every single room.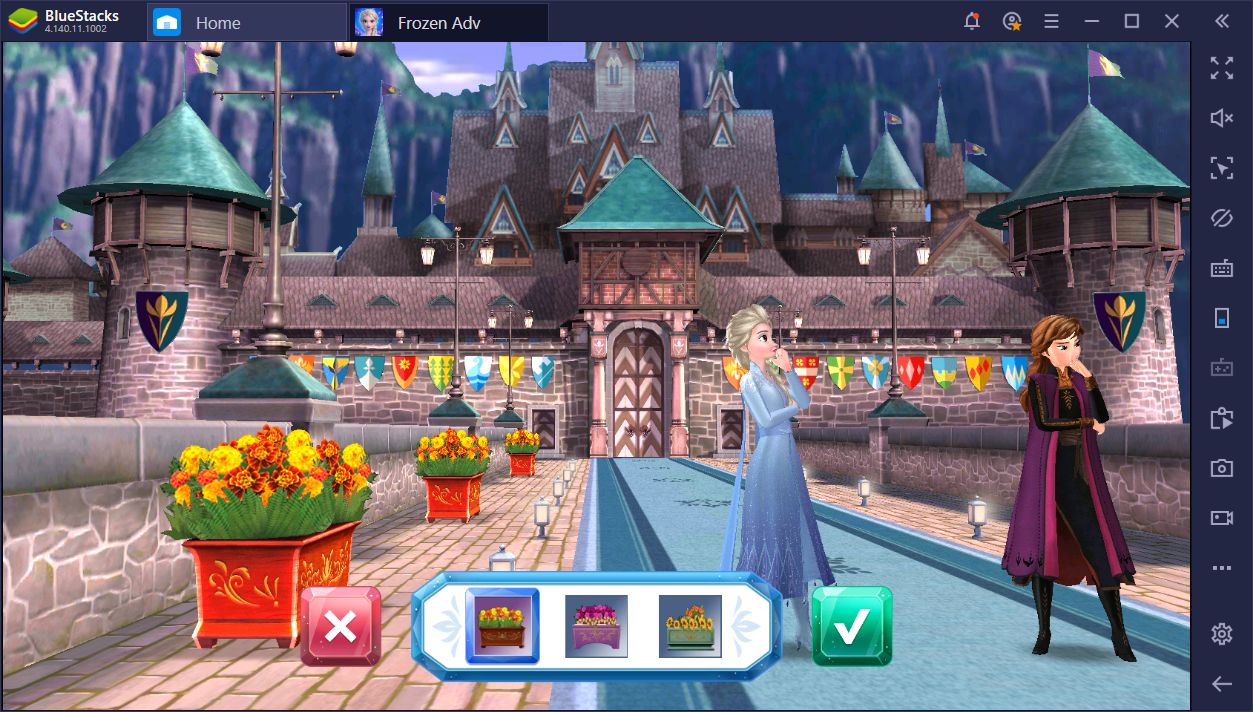 Once you're done decorating a part of the castle, you can even share your creation with your friends via a screenshot. However, remember that these pictures always look better when taken at high resolutions.
Experience the Best of Frozen Adventures with BlueStacks
And speaking of high res pictures, those looking to have the best experience with Disney Frozen Adventures would benefit greatly from taking a look at what BlueStacks has to offer. The main point of playing on BlueStacks is, by far, being able to enjoy your favorite Android games from the comfort of your PC. Forget about small screens, and constant lag and slowdowns from playing on your phone, and let BlueStacks take advantage of your hardware to create the best and smoothest visuals.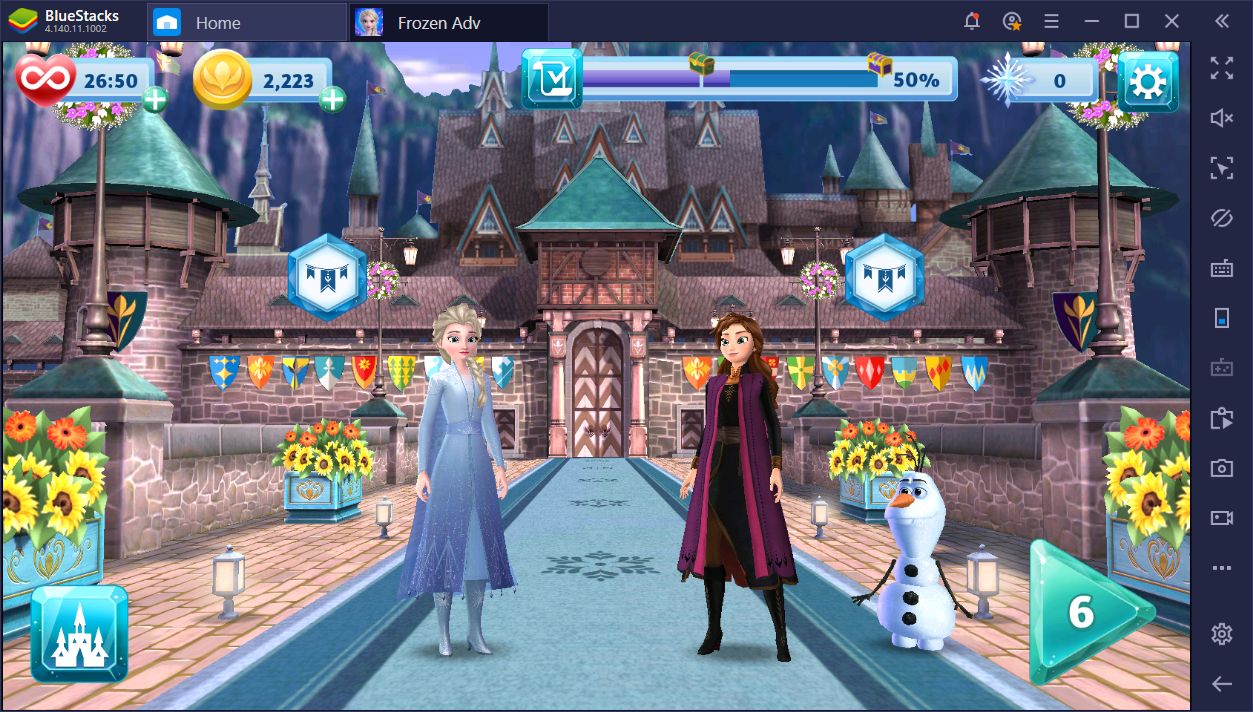 Aside from the performance that BlueStacks provides (which you won't find anywhere else, by the way), our emulator also has several handy tools that will help to enhance your experience with any game, including simple match 3 titles like Frozen Adventures.
While the basic gameplay of this title is simple enough on its own and doesn't really require any additional tools to make it better, the fact that you can play on BlueStacks using your mouse will make it so much easier to pick the right jewels and create the best combos at all times. Especially if you like to make fast movements and not waste any time like us, BlueStacks allows you to make many moves back to back, and clear levels in record time.
However, one of the main drawbacks of these types of games is that they have an energy system implemented, which prevents you from playing for extended periods. Once you run out of lives, that's it. You'll have to wait until your lives refresh before being able to play again. Luckily, with BlueStacks, you can extend your play time indefinitely through the use of multiple instances.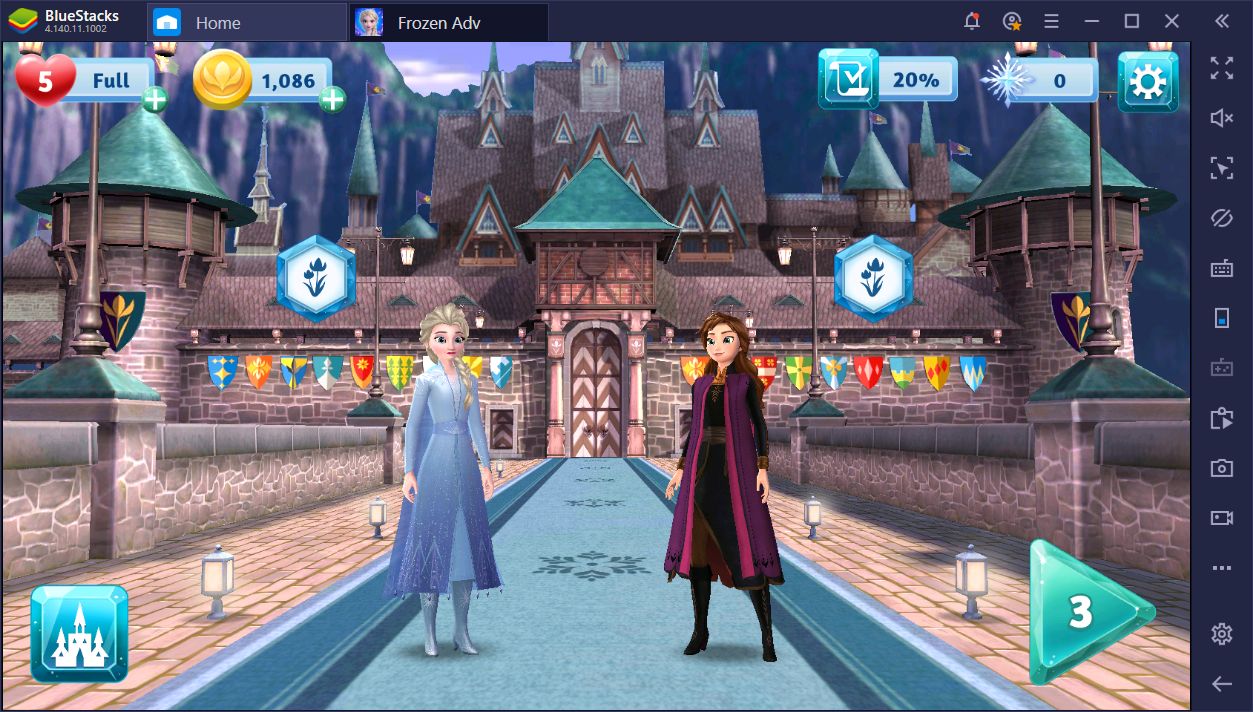 These types of games like Candy Crush where you match pieces to create combos on a board are quite entertaining, but they frequently cut the player off with their pesky energy systems. With our BlueStacks Instance Manager, however, you can create many iterations of BlueStacks, each with a different Google account, and install Disney Frozen Adventures on all of them. In this sense, you can access the same game using multiple accounts, and play for how long you want. Once your lives run out on one of the instances, simply switch to the next, and so on.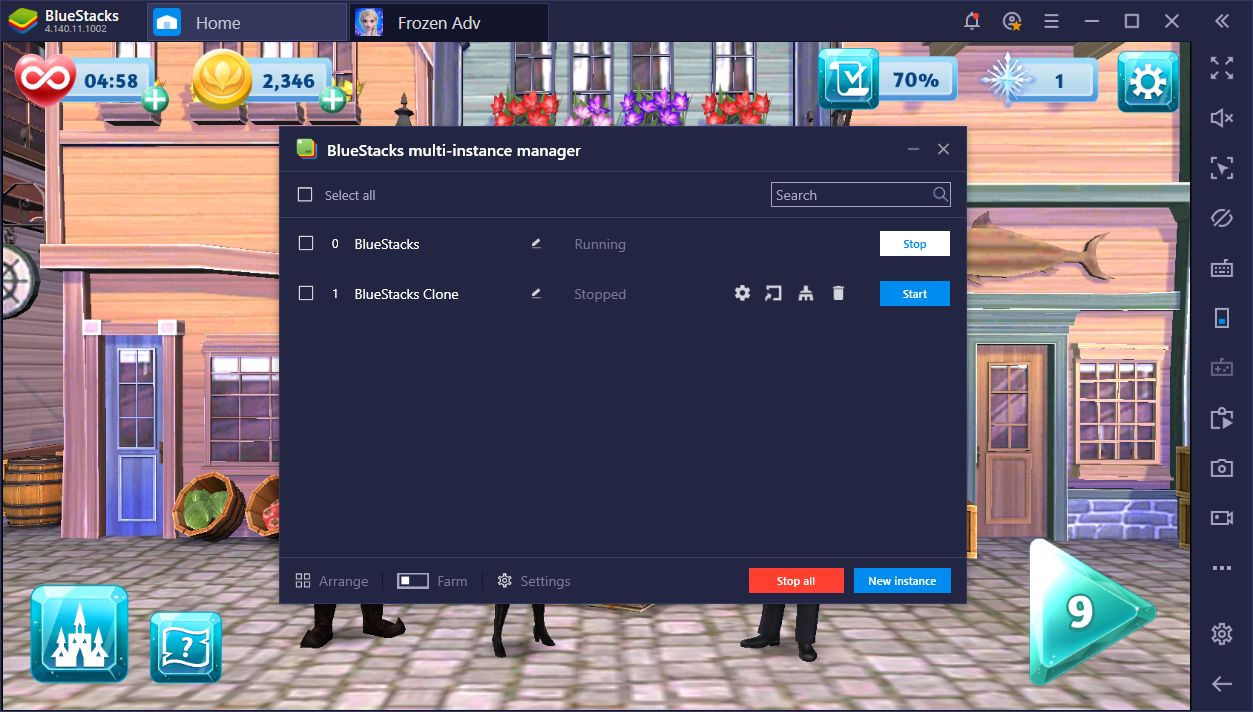 We mentioned above how you can share screenshots of your creations in Frozen Adventures. However, this only applies to the castle rooms you help decorate, but doesn't include the main gameplay sections since you can't really capture the action on each board through pictures. Instead, the best way to show off your combo skills would be through videos which, coincidentally, is also something BlueStacks can do.
The BlueStacks Recorder is one of the latest additions to our ever-expanding repertoire of tools, which allows you to capture your best gameplay moments and combos in Frozen Adventures, save it on your PC as standard .mp4 files. Afterward, you're free to do whatever you want with them, whether editing them, or simply sharing them with everyone on social media.
We always love watching a good combo in these types of games. There's something quite soothing about seeing those pieces explode on the board as the chain reaction resolves. Speaking of which, if you want to get better at comboing in this game, we suggest reading our tips and tricks for Frozen Adventure. Anyway, if you have any gameplay clips, feel free to share them with us!
The new Frozen movie is shaping up to be quite the experience. We can't wait to see what fun adventures await Elsa and Anna and all their friends. However, while the film is still a ways off, we'll just have to play Disney Frozen Adventures to pass the time.