App Reviews
The Best Civilization Clone You Can Find: Let's Play Hexonia on PC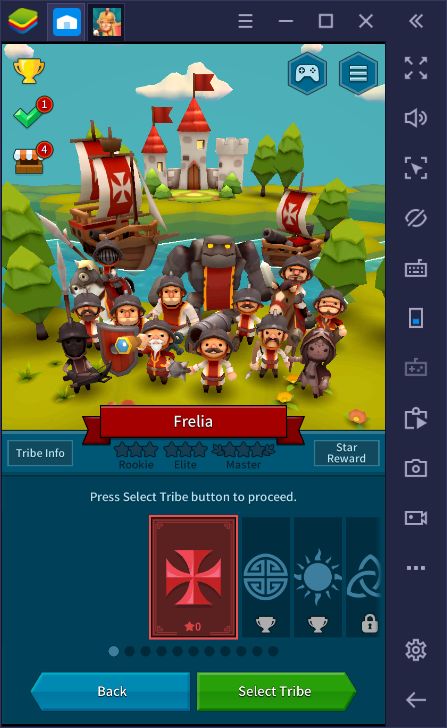 Nope, we are not kidding. Hexonia is really the best Civilization clone you can find on PC. If you have no idea what Civilization is, it is probably the most famous 4x turn-based strategy game in the history of PC games. Developed by Sid Meier, Civilization divides the world map into grids and gives you the option to do something on every hexagon: You can build a city, create a road, construct a farm, train an army, or, you know, just leave it as it is. Basically, Civilization is an empire simulation and all of the actions happen in turns. This is a very difficult system to replicate on mobile platforms but Hexonia game seems to have done it. Well, let's start playing and find out how good it really is, shall we?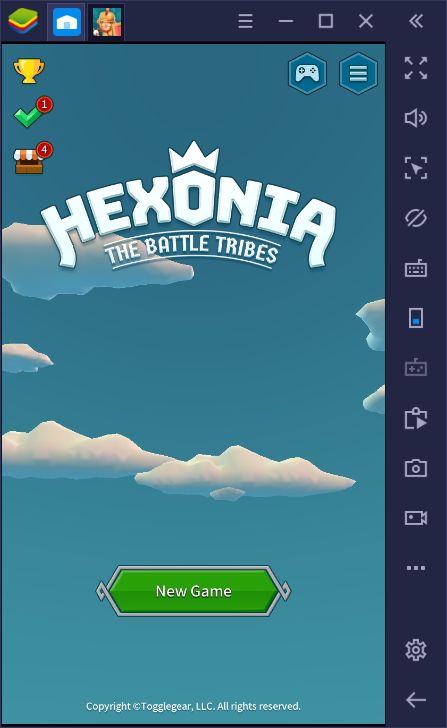 Let's Start With The Installation of Hexonia Game
This part is very easy and it will be very fast – Hexonia game is only 60 MB big. And it does not make any additional downloads after the first launch. So, yes, even if you are on a slow connection, you can start playing the game in no time. Start by searching the name of it on BlueStacks App Center and select it on the results screen. The next step is clicking the "install" button: After this, BlueStacks will take over and download & install Hexonia game automatically. You will see a notification when it is ready to play.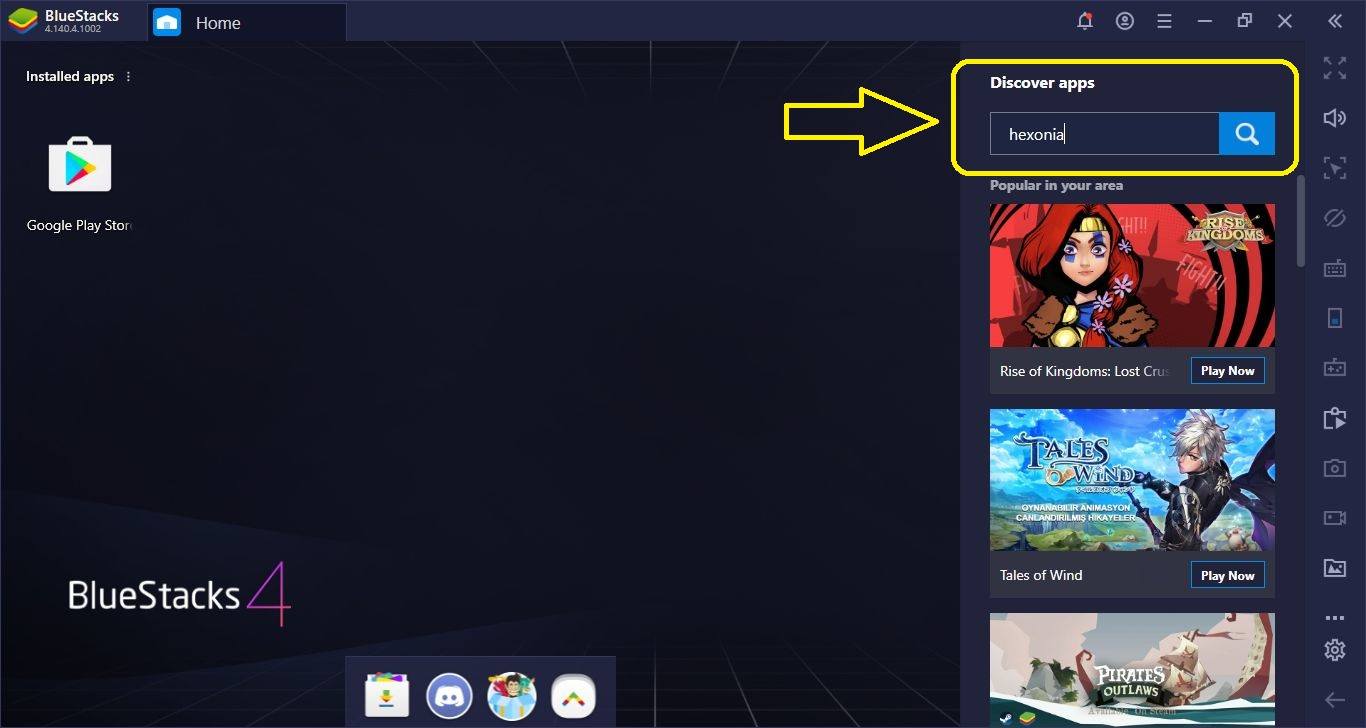 Write the name of the game here and press "Enter".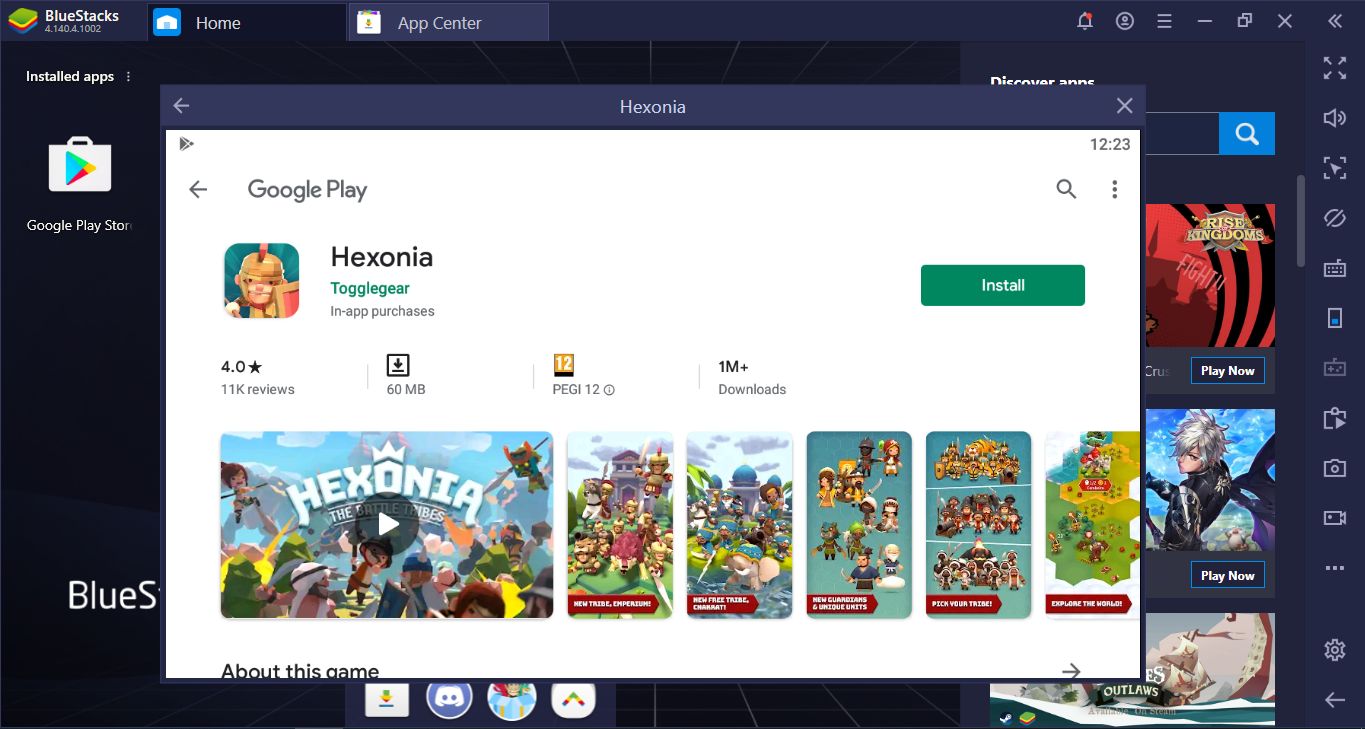 Click the "install" button – you will download only 60 MB.
You can create a personal control scheme for Hexonia game if you want, but we don't recommend it. You give commands to your units simply by clicking with your mouse, and the game interface does not have too many buttons. While assigning a tap spot to all of these buttons is possible, it isn't practical. You should just use your mouse, which is supported by BlueStacks by default.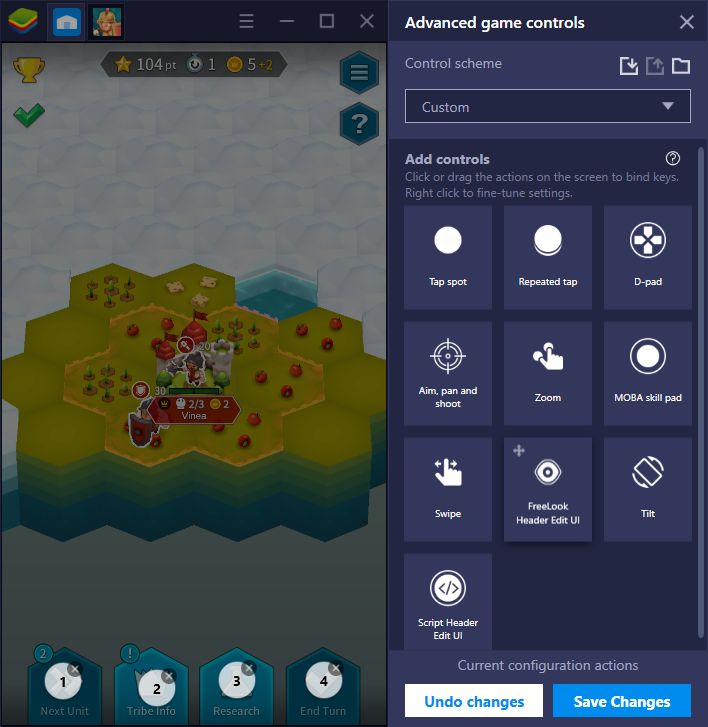 There is no real need to use the Tap Spots feature, but it is your choice as always.
Hexonia has no "fixed" maps, each and every map is procedurally generated with every new game. Maps are available in three different sizes and they start from 127 tiles/hexagons. So, when you click the "play" button, all of these tiles are randomly generated. This means our Macro Recorder key won't be that useful, and because of the game mechanics we will explain below, using more than one instance does not make any sense. These are normal features for 4x strategy games: Instead of rushing for the "victory", you need to think about your every decision. Basically, you will play Hexonia game with "default" features without getting special help from BlueStacks and this is not a bad thing: Some games are meant to play like this and Hexonia is one of them.
Hexonia Tribes & Basic Mechanics
You can start a new game after deciding the difficulty level and how many opponents you will play against. (The maximum number of opponents is 3, by the way.) But before that, you will be asked to choose a tribe. Just like Civilizations asking you to choose a nation, you must pick a tribe first. In the beginning, you have only one choice: The Frelia tribe. But there are 11 tribes in the game and you can unlock the rest by completing some achievements or simply by purchasing them. Each tribe brings a different advantage to the battlefield, and some are better than the rest. First, let's take a look at the Hexonia tribes table:
| | | | |
| --- | --- | --- | --- |
| TRIBE NAME | SPECIAL UNIT | TRIBE TECH | HOW TO UNLOCK |
| Frelia | Arbalist | Fruit Collection | Free |
| Hann | Turtle Ship | Gem Collection | Achievement |
| Arabis | Assassin | Cheese Collection | Achievement |
| Ragnar | Berserker | Clam Collection, Coral Farms | Purchase (Real Money) |
| Katumba | Jaguar | Meat Collection | Purchase (Real Money) |
| Ironclad | Hover Rider | Mineral Collection, Tile Climbing | Purchase (Real Money) |
| Amazon | Valkyrie | Meat Collection | Purchase (Real Money) |
| Yamano | Ronin | Clam Collection, Bomber Training | Purchase (Real Money) |
| Bazael | Immortal | Horsemen Training | Purchase (Real Money) |
| Chakrat | Gurkha | Meat Collection, Lumber Mills | Purchase (Gems) |
| Emperium | Legion | Fruit Collection, Road Building | Purchase (Real Money) |
"Tribe Tech" column this column shows which research is not necessary. Let us explain: In order to collect fruits on the map, for example, you need to research this ability first. But if you pick the Frelia tribe, there is no need because Frelia already knows how to collect fruits.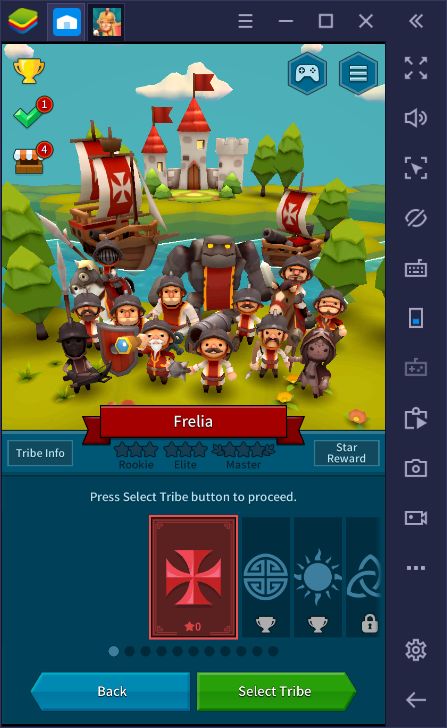 This is the tribe selection screen.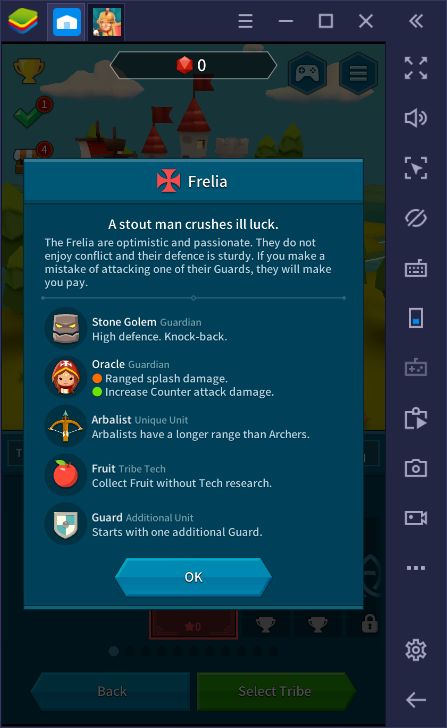 And you can see the special features of tribes from here.
So, which one is the Hexonia best tribe? To be honest, there is no "fixed" answer to this question, it all depends on how you play the game. But if you want to achieve military strength before anything else, Bazael will be the best option because you don't need to research horsemen to train them. Yamano will also be a good option because they get access to water tiles/hexagons before other tribes, and they can attack from the sea. Here is a good tip: Your opponents won't be ready for naval attacks until the later stages of a game – pick Yamano, use all your resources to build ships, and attack from the sea for a fast victory.
The Gameplay Of Hexonia: What Is Your Goal?
You start the game at a random location with two units and a single city. The first thing you should do is exploring the map: It is covered with fog and you can uncover it by moving your units. Speaking of which, you do this in turns. Your units can move one tile/hexagon per turn, and according to the contents of the tile, they can do different things on every hexagon. Let's start with the movement.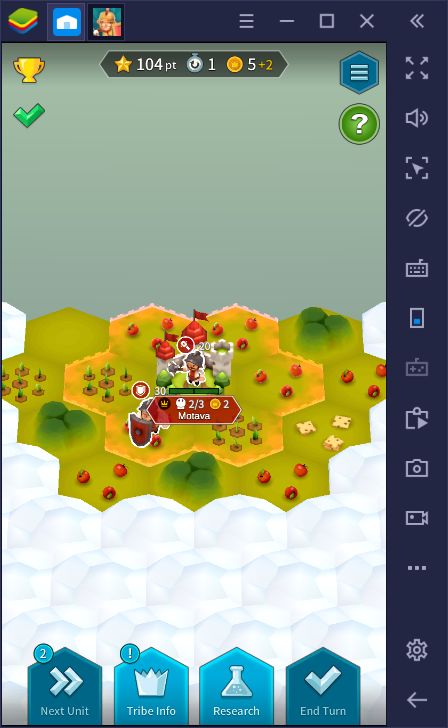 This is the first thing you will see. The map and the starting location will be different each time.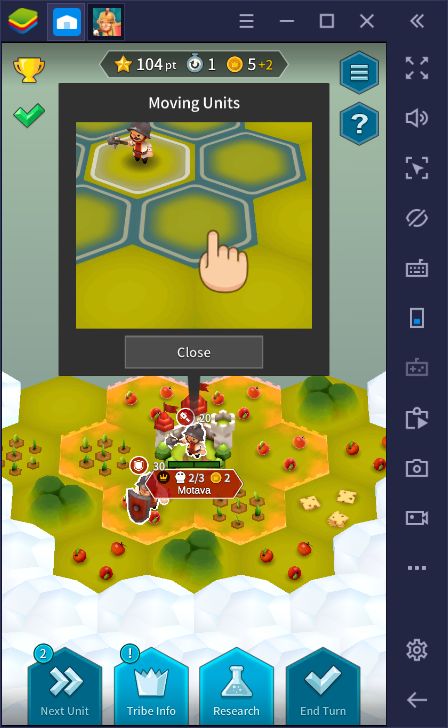 And this is how you move your units: Click on them first, and click on the target hexagon next.
You can use the things that are on the hexagon where your unit stands. For example, if there is a city on the tile, you can conquer and start controlling it. You can set up a farm if there is a food source. Or, if this is a water hexagon, you can start fishing. The decision is yours: Hexonia sets you free and your decisions are based on how you want to play the game.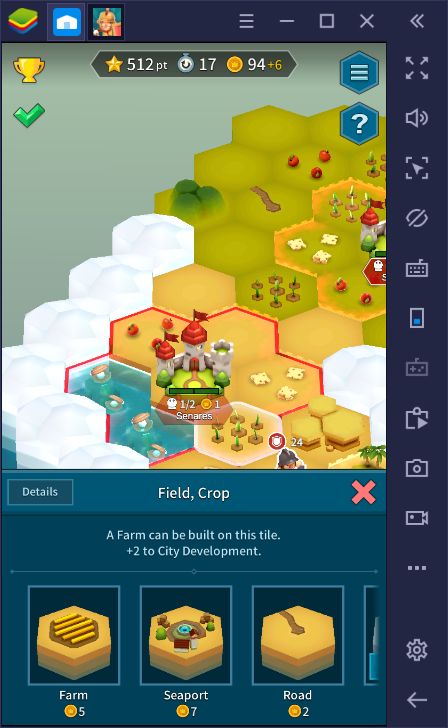 This hexagon is close to the sea – you can build a city or a seaport on it. And since your construction is close to the city, it will contribute to its development.
Your ultimate goal is defeating all your opponents. You do this by conquering every city on the map. If your opponent does not have a city, it will lose the game, even it still has units. Unlike Civilization, there is no "diplomatic" victory: Defeating your opponents is your only option.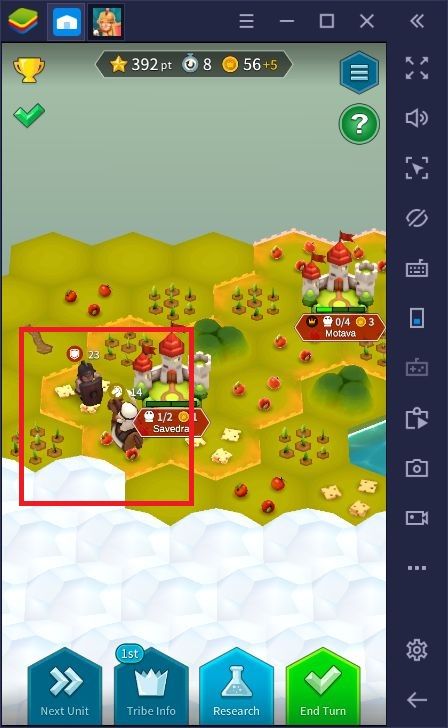 Battles between units are simple and automatic.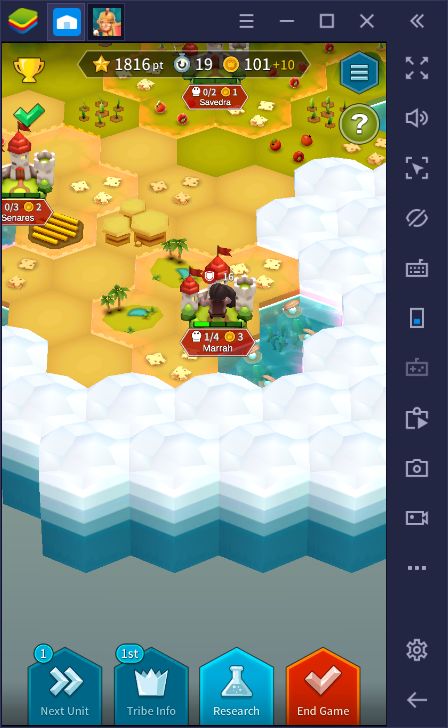 This is the end of the game – we won. When we want to play again, a completely different map will be generated.
City Management & Research Options
You do not have to deal with the happiness of your residents, but you must improve the cities they live in and make lots of research to gain victory easier. When you click on any of your cities, a menu that shows all the things you can do in that city will open. You can train troops or improve the city defenses. Some of your actions may require research. Speaking of which, this is quite detailed: There are lots of things to discover and all of them give you an economic or military advantage.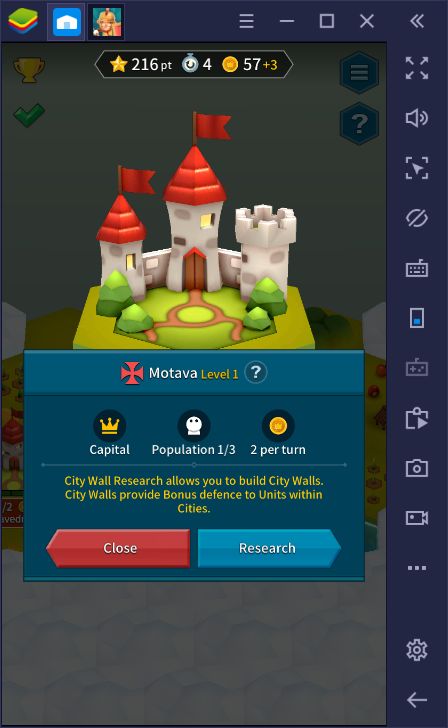 You should start by improving the defense of your cities.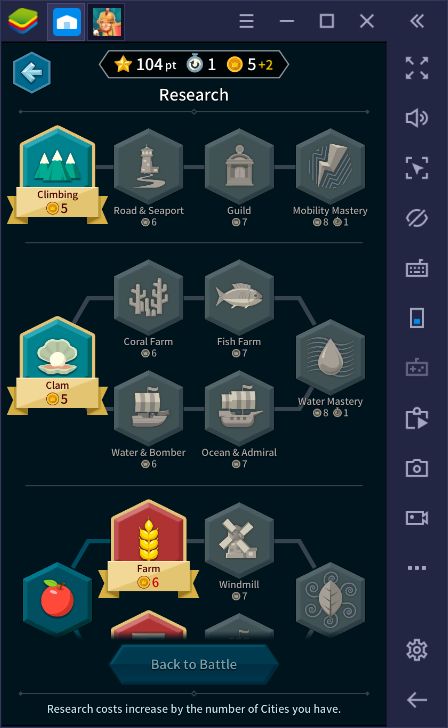 The research screen. Opening the map as fast as possible will be the best tactic you can use, because you can easily see the location of your opponent and focus on destroying it. For this reason, complete "climbing" and "road" research first, if you don't have them already.
Hexonia is a very simplified mobile version of Civilizations and that's more than alright. It is impossible to adapt Civilizations to mobile platforms with all of its features. But, Hexonia game is the next best thing: It offers the best parts of a 4x turn-based strategy without the boring details. You can complete a game while on a short break and still get that satisfaction. There are not many 4x strategy games on Android, so Hexonia game is definitely worth taking a look. Download it and start playing on BlueStacks today: Good luck!