App Reviews
Transcend the Language Barrier and Dominate the Competition in LifeAfter with BlueStacks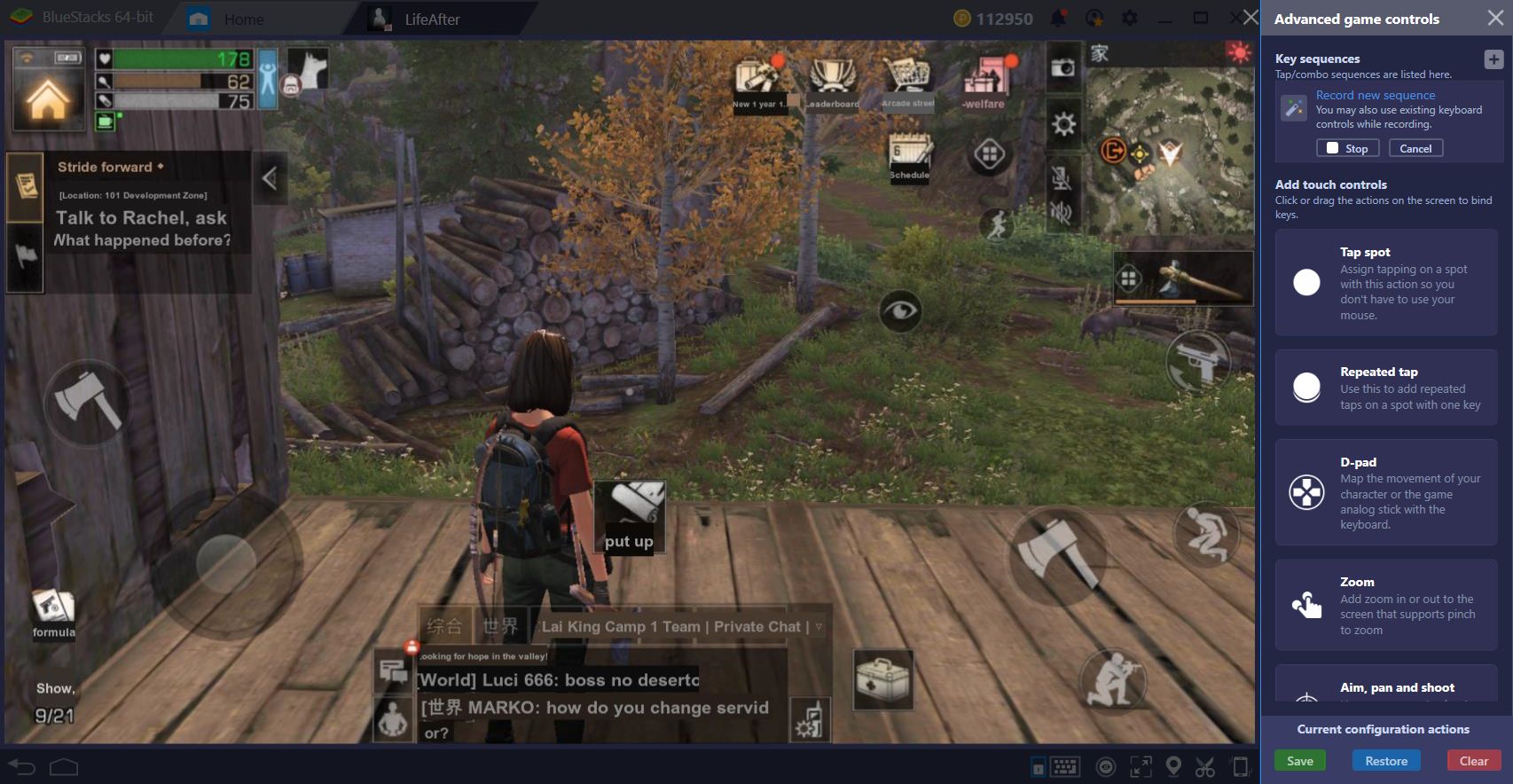 LifeAfter is a new game by NetEase that aims to revolutionize the traditional sandbox formula by incorporating social interaction and MMO elements. The resulting product is a unique game that shines both for its combat and its gameplay, as well as from the myriad fun experiences that you can have alongside your friends or even total strangers. In LifeAfter, having to play by yourself while you build your bases is a matter of the past since you can always meet new people, make friends, and create hunting groups to take down the mutant hordes and help each other to build the best encampments.
PS: Some images in this post show English text, because they have been taken using the Real-Time In-game Translation feature of BlueStacks. The game, however, is in Chinese. Read on to know more about it.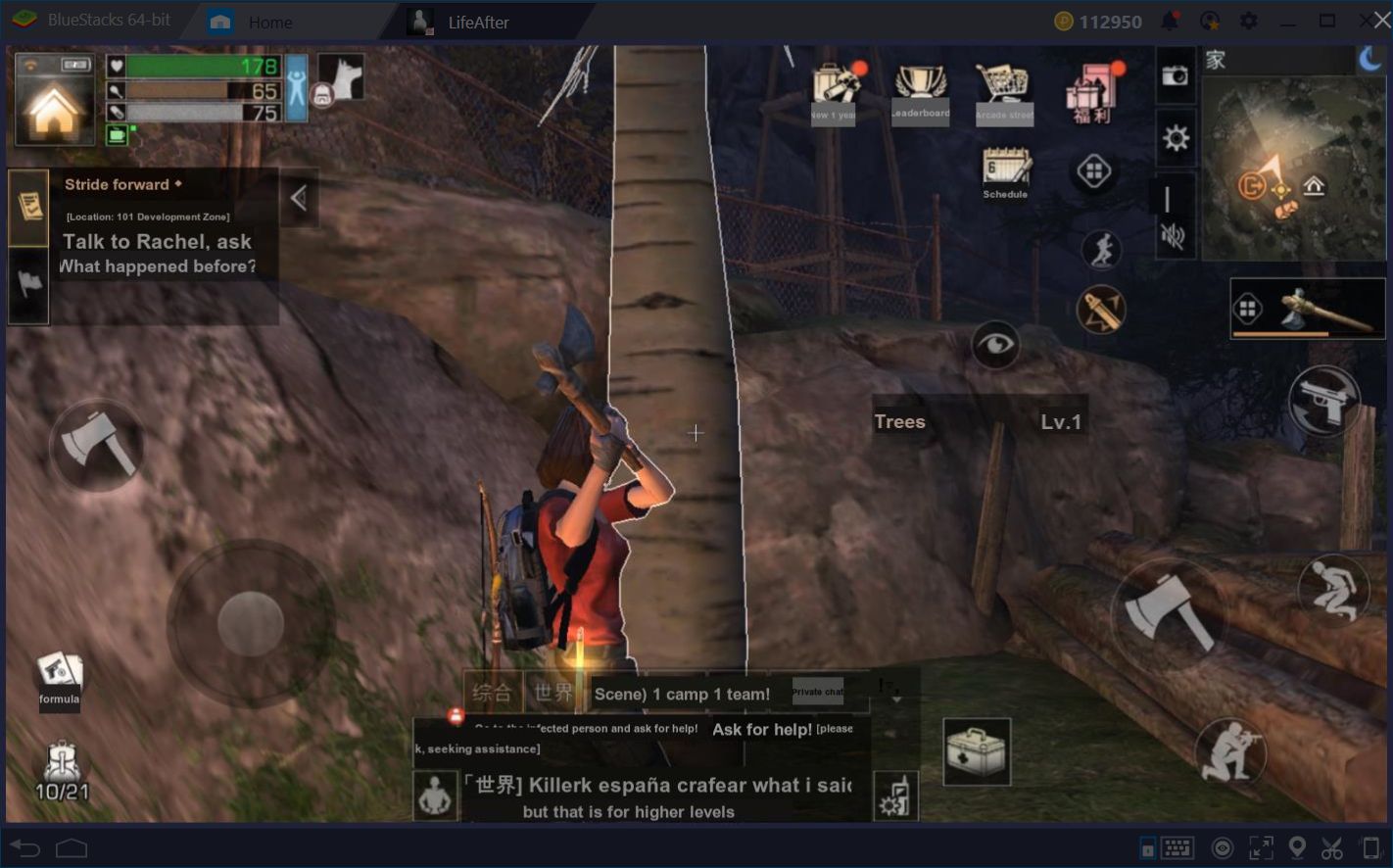 However, all the fun elements that this game provides due to its innovative concept and mechanics, it still suffers from the same restrictions of any other game in this platform, such as having to struggle with unresponsive touchscreen controls, among others. Furthermore, as we mentioned in our LifeAfter review, since the game has not received a global launch as of writing this article, the only way to play it is by using the Chinese client which, as many of you may know, does not have the option to switch the language to English.
Luckily, today we've come to talk about BlueStacks. Specifically, we will discuss how our platform can help you to enjoy this game despite the language barrier, as well as how to use the other tools it offers to improve your performance and help you to become the best player in the server.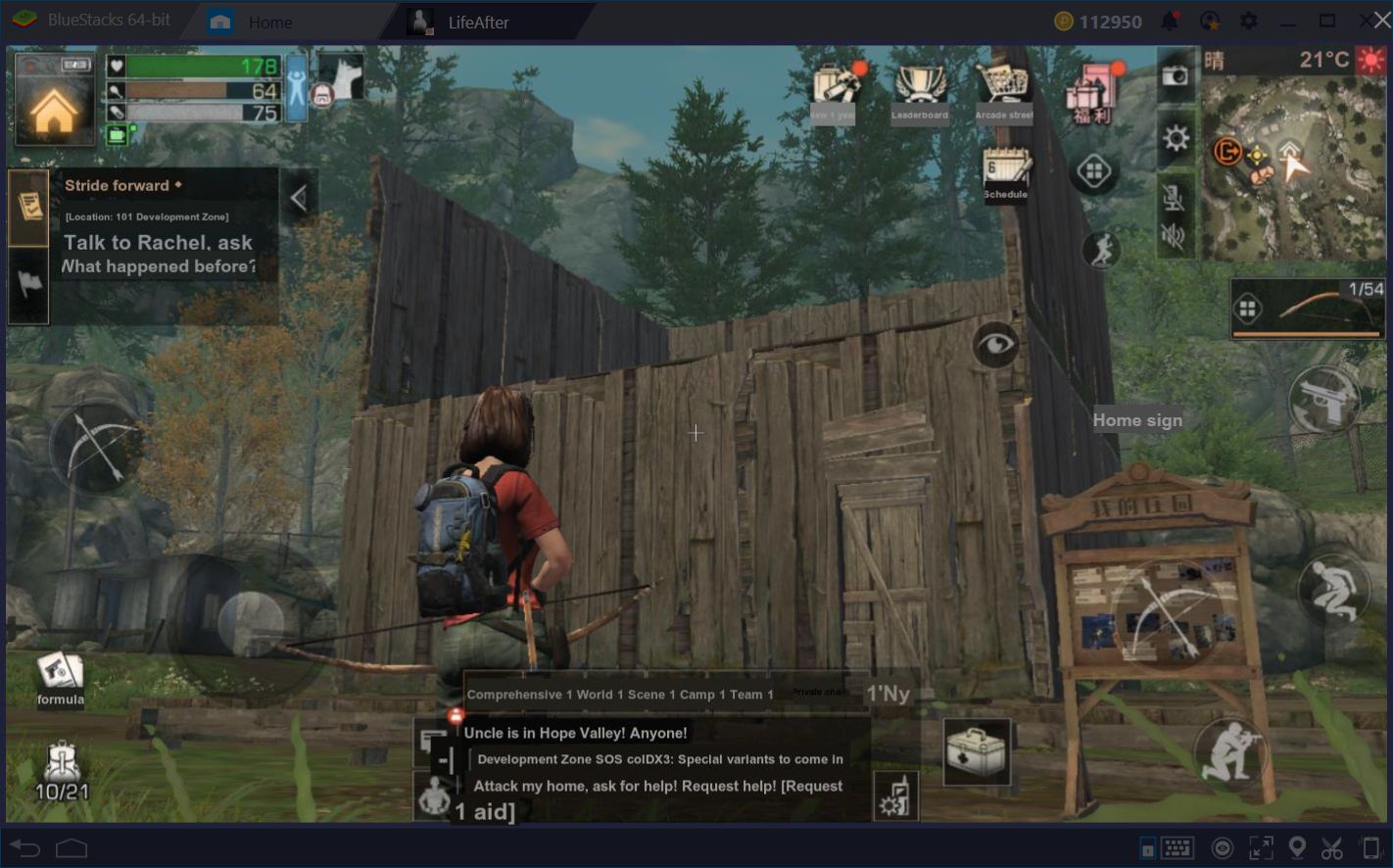 Installing the Game
Since LifeAfter still doesn't have a global launch, you won't be able to find it in the BlueStacks App Center, nor in the Google Play Store. Because of this, if you want to enjoy this game, you will have to install it directly in BlueStacks using the .apk archive. Once you have this file in your possession, installing it is as easy as clicking on the ellipsis in the home screen, and then on "install apk." After a few minutes, your game should be installed and playable.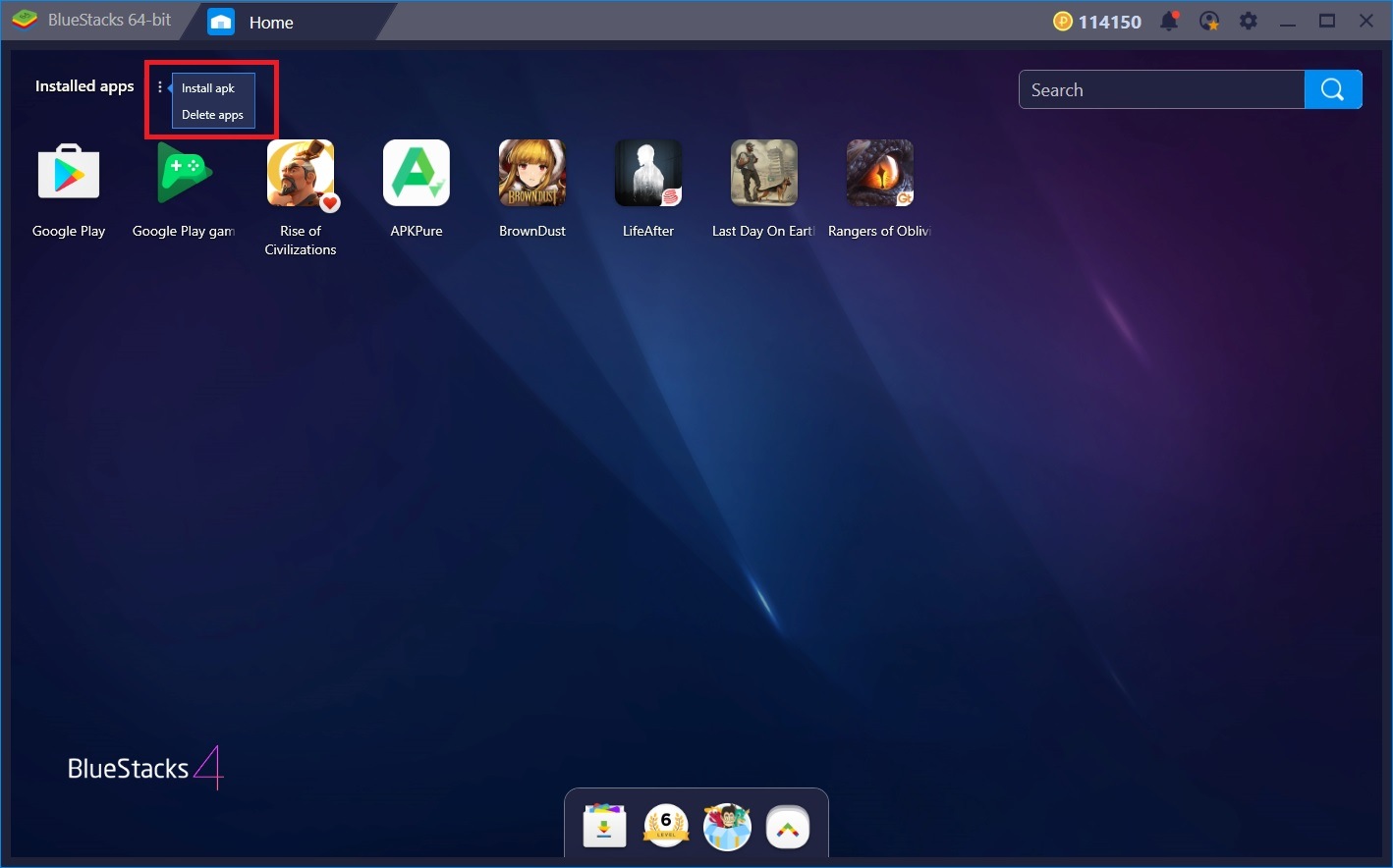 Getting Over the Language Barrier
One of the most noteworthy features that our development team has implemented recently to BlueStacks is the Real-Time In-game Translation feature.
The BlueStacks Translation feature consists of a versatile tool that allows you to translate all the text onscreen via a simple command input. By pressing CTRL + Shift + L, BlueStacks will take a capture of the current screen and, in a new window, will show you a translation of each body of text. In this manner, trying to extrapolate the meaning of sentences in foreign languages from context alone is a thing of the past, and you will be able to fully enjoy the story of any game, including those that are not yet available in your native tongue.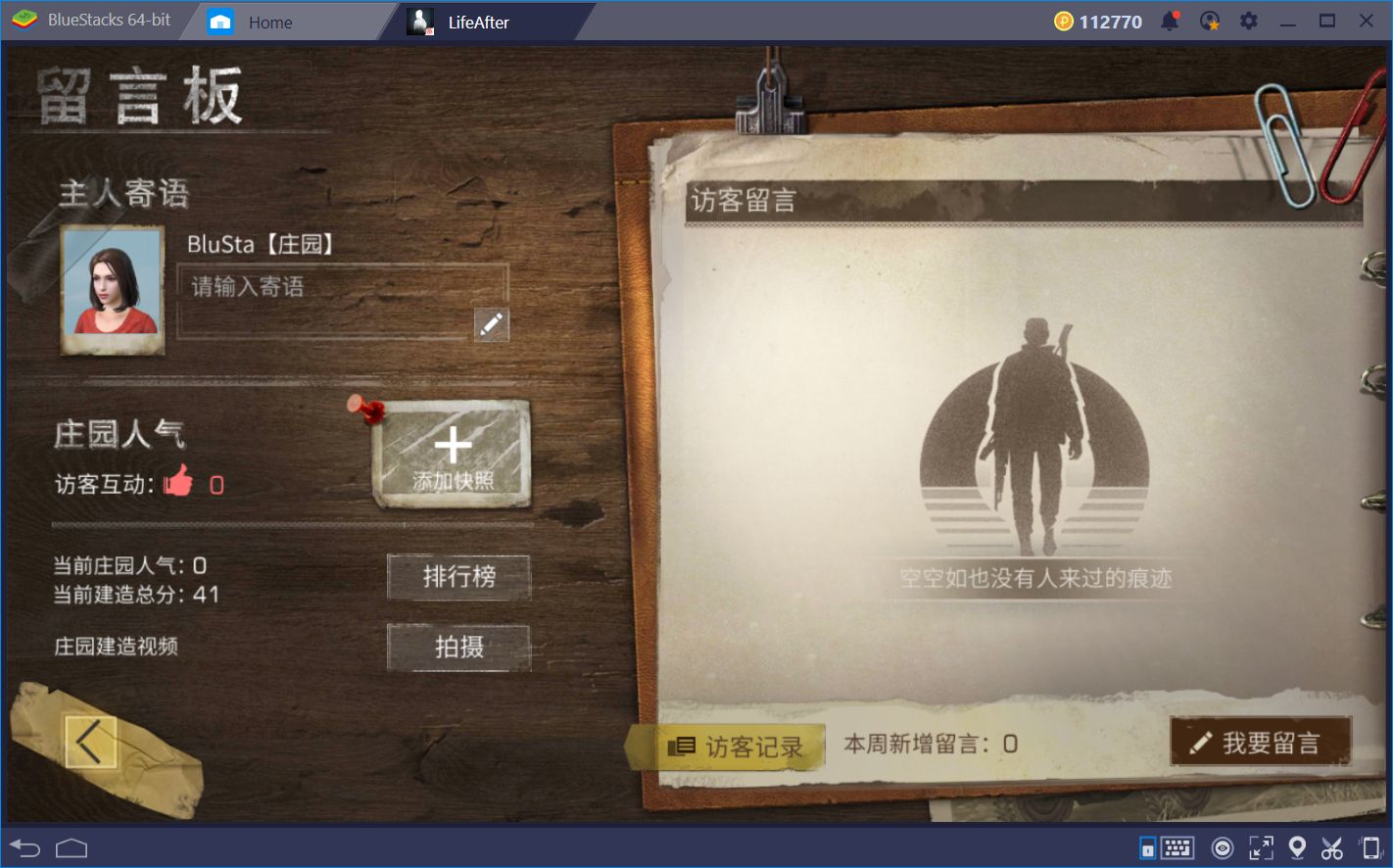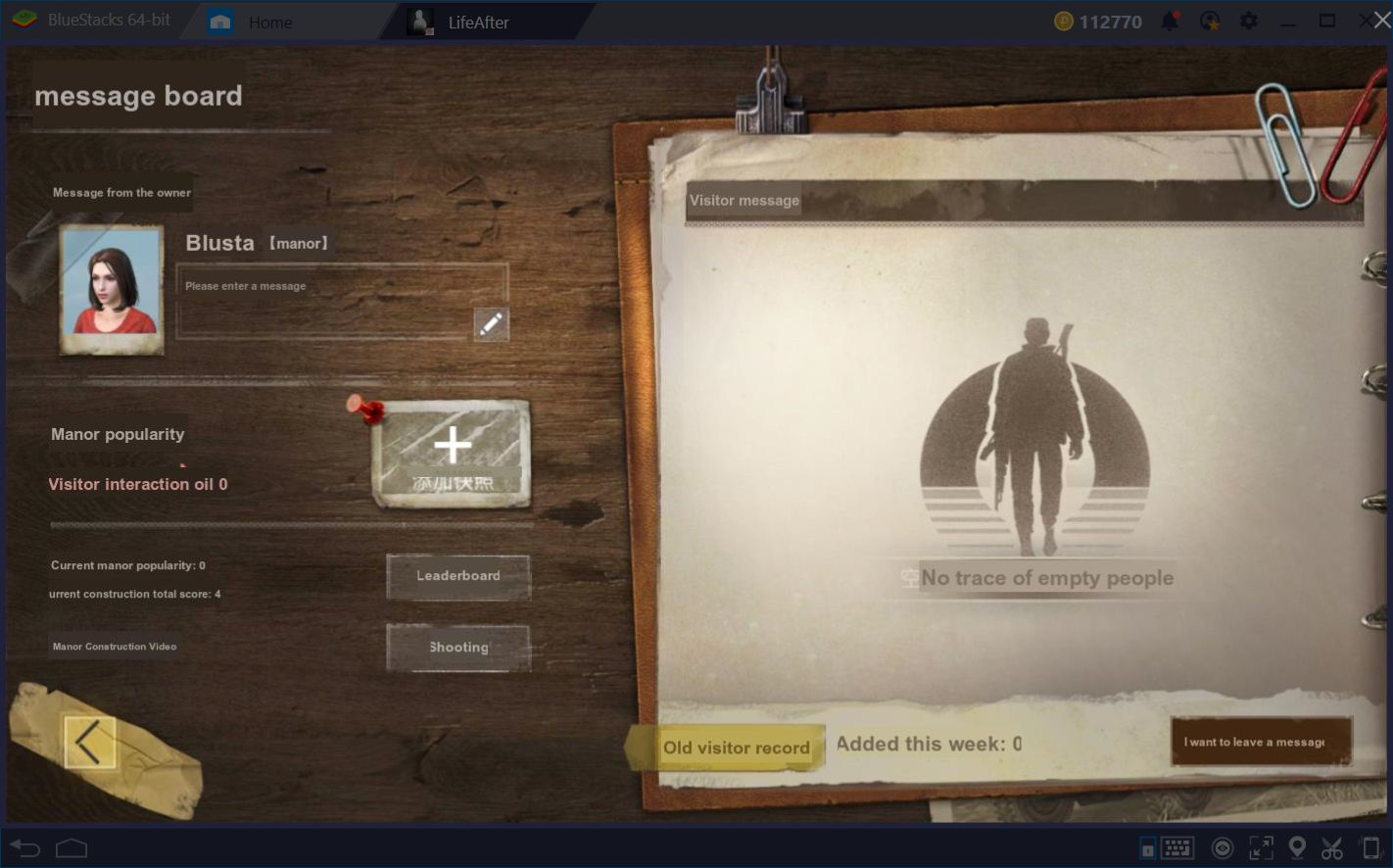 However, due to the interpretative nature of some languages, this tool has a small limitation in some games, especially those in Japanese, or Chinese, which could cause the translator to output out-of-context translations. If in some cases you observe that the translation is not correct, all you need to do is to simply close the window and input the command again. By the second or third time, you should receive a correct translation. Keep in mind that this only happens in screens with a lot of text, such as in the configuration menu, and usually doesn't happen during conversations or in other scenes with little text.
Increase Your Precision and Reaction Time with the Keymapping Tool
In shooter games like LifeAfter, your reflexes and reaction speed are essential for staying alive, especially during those ambushes that your enemies could set for you in each corner. However, the problem with reacting appropriately is that, in most cases, this depends heavily on the type of controls you use. In this sense, if you're using the awkward mobile controls, it's very likely that you'll have a hard time reacting to ambushes or attacks, and will end up losing every encounter.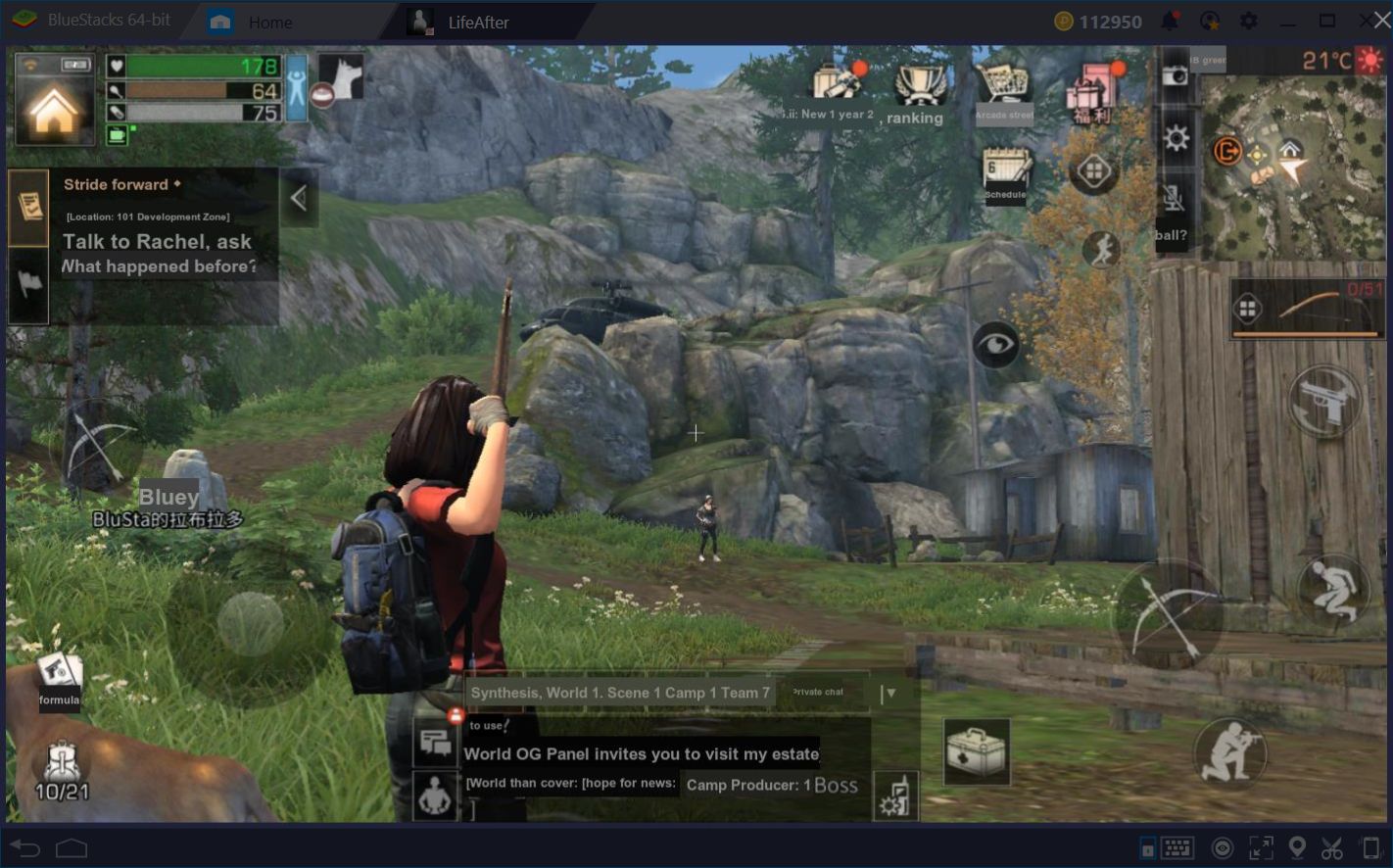 BlueStacks can help you overcome this limitation with the keymapping tool and all the benefits that this function provides. Through the use of this tool, you can create control schemes that take your mouse and keyboard and combine them to provide better handling of the game's mechanics and save you the hassle of having to drag your cursor across the screen to aim and move the camera. Furthermore, since you'll be using both your mouse and your keyboard, you will be able to dodge with ease your enemy's attacks, and even retaliate with your own gunfire without having to stop to aim.
To learn how to access and make proper use of this tool, we recommend first taking a look at our keymapping tool guide. However, if you're already acquainted with the tool, you can go ahead and create a suitable scheme for this game. If you need a reference, you can take a look at our own control scheme, which involves most of the important commands in this game.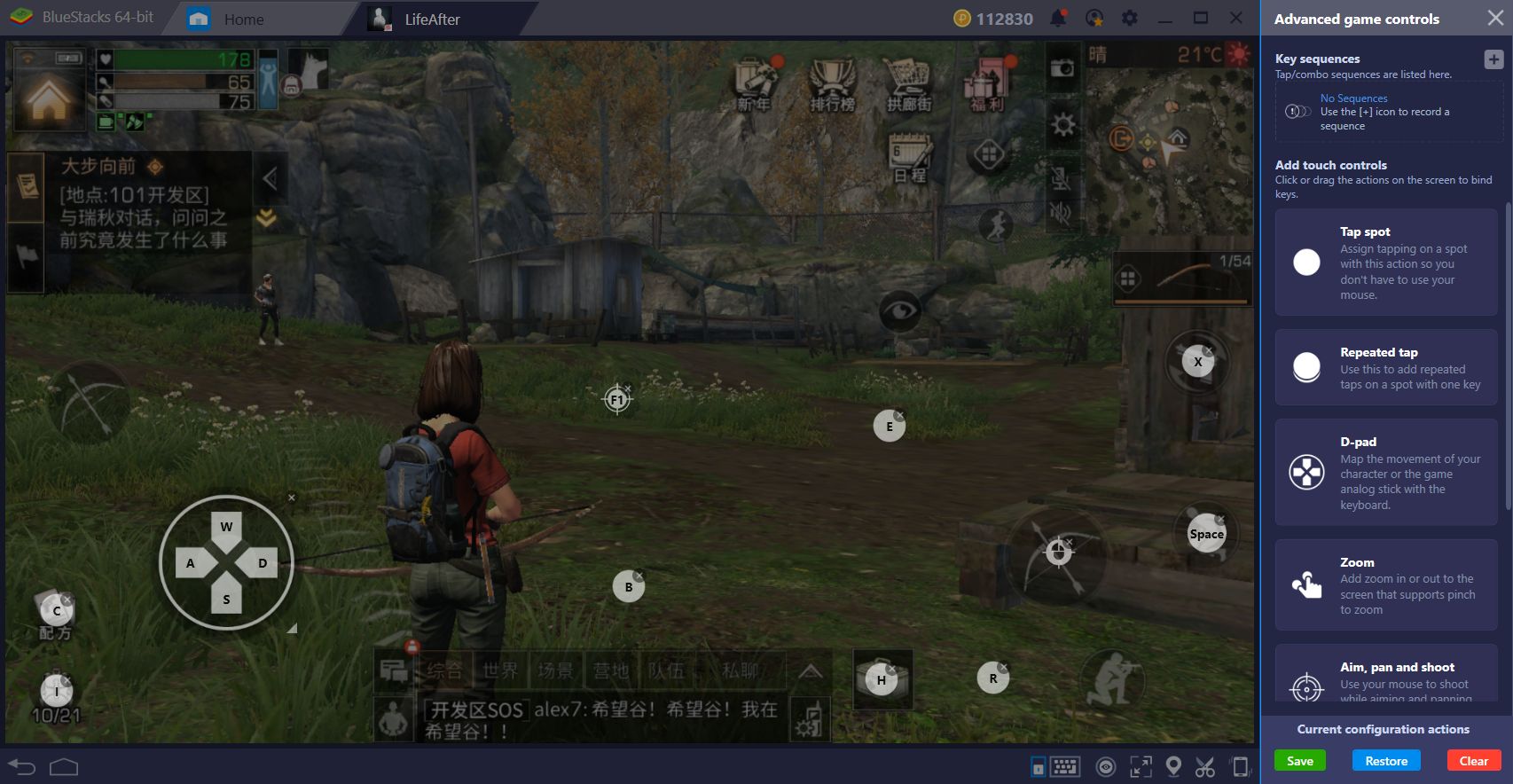 Simplify Base Building with the Combo Key
Building in this game is very fun, especially if you share the experience with the friends you meet along the way. However, there are times in which you will not want to sit down and dedicate several hours to building the perfect base, and would rather simply look to build a temporary shelter. If this is the case, the BlueStacks combo key can help you tremendously in this task by allowing you to record command strings and replay them with the push of a button. Take a look at our combo key setup guide to learn more about the basic usage of this tool.
If you already know how to access and use this tool. Let's go ahead and put it to practice in LifeAfter. Stand in front of the wall that you want to build, and start recording: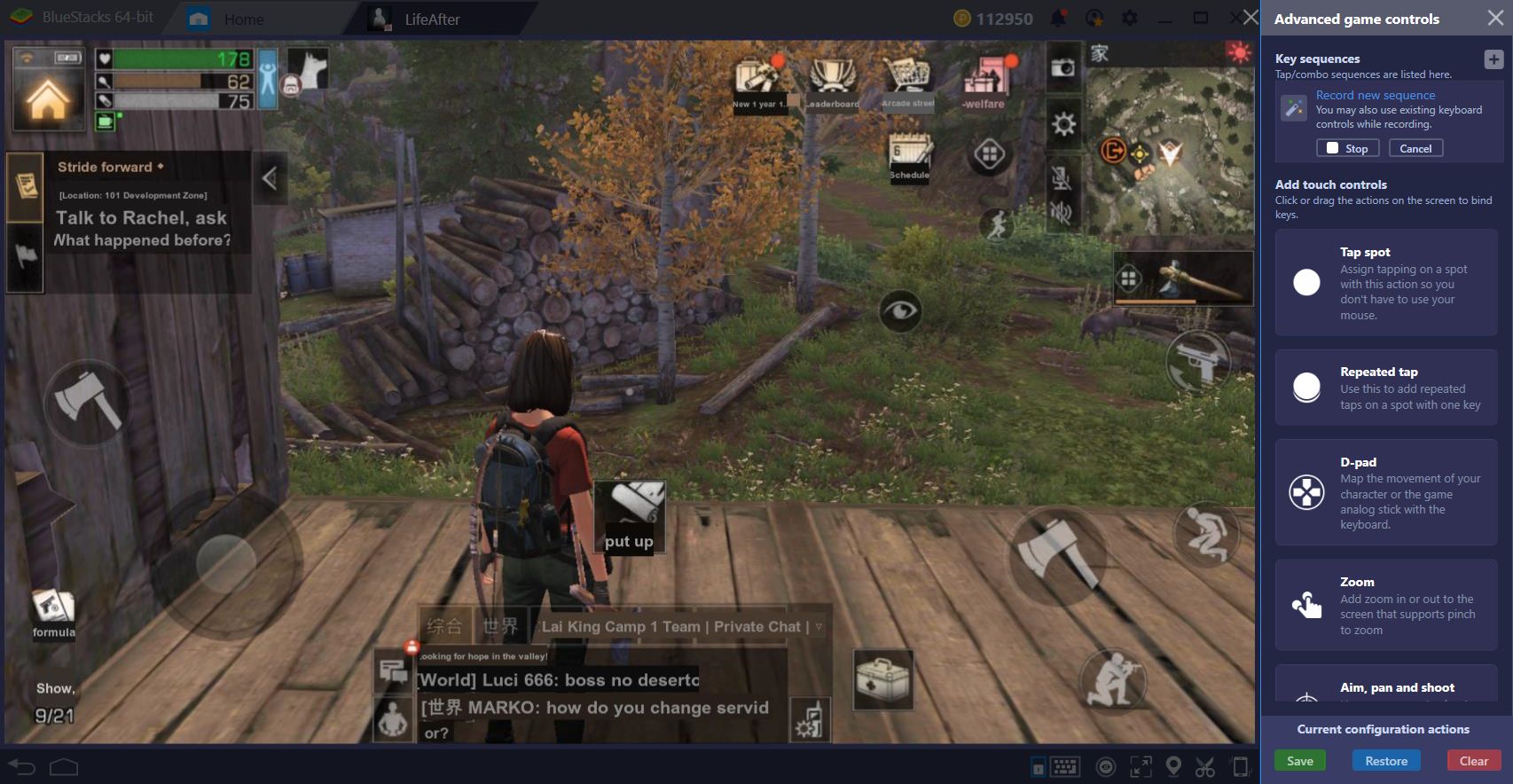 Go into the construction menu and build as many walls as you want.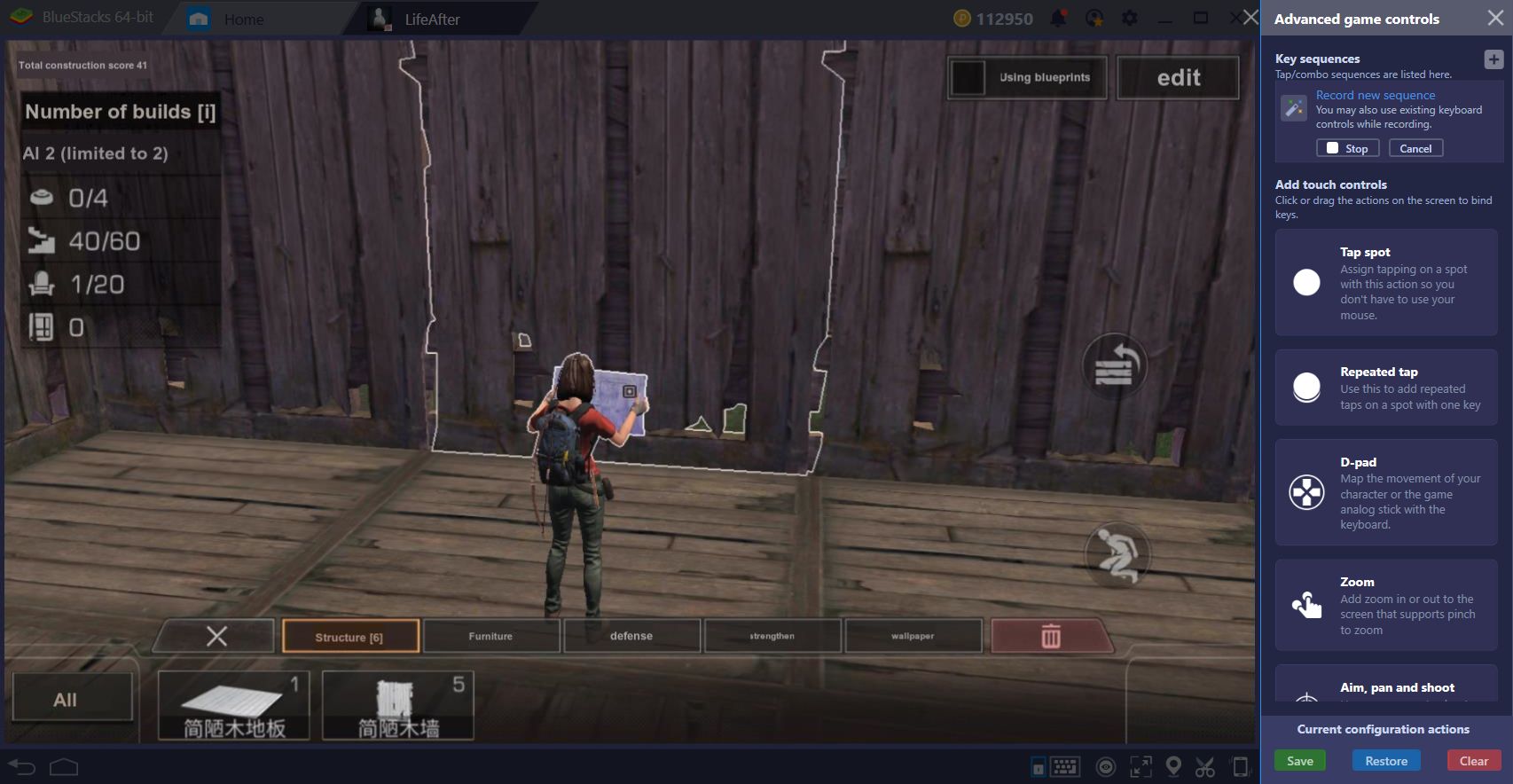 Once you're done, stop the recording and give it a name that describes exactly what you just did. Furthermore, bind the combo to a key in your keyboard.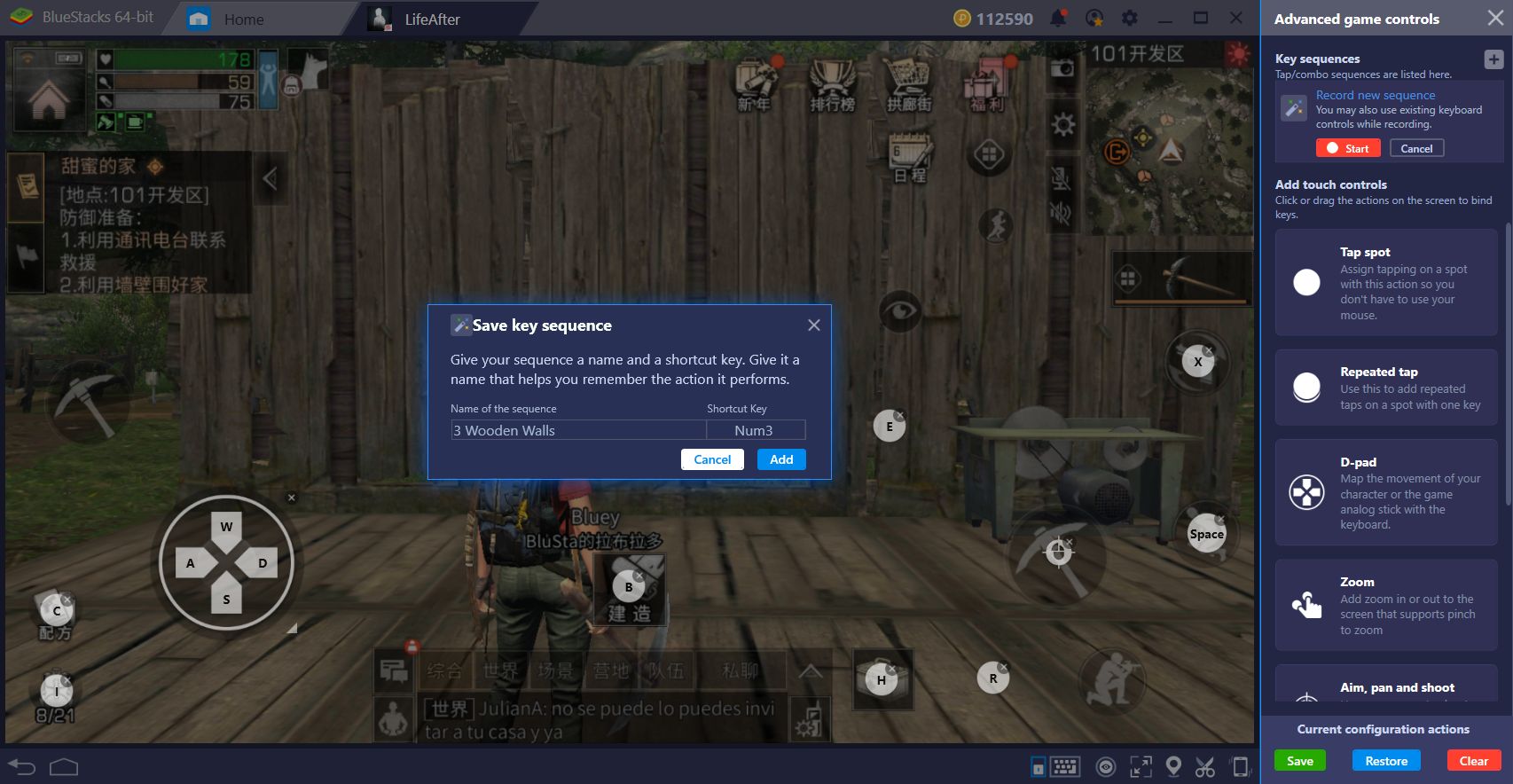 From now on, if you want to build another wall in the manner, all you need to do is stand in the same place and press the corresponding button. Nevertheless, remember that you must have the required materials in your inventory or else the combo will fail. For this reason, it's a good idea to name your macro with the ingredients required to perform it, so that you always know exactly what materials you need.
Of course, the combo key is useful not only in construction as it can help considerably in any repetitive or monotone task in the game. Regardless of the context, your creativity will always be the limit of the utility that you can obtain from this tool, so get out there are start experimenting!
Here in BlueStacks, we're always working to bring you the latest innovations and tools so that you can enjoy your favorite Android games. Do you like LifeAfter? If so, check out our blog to discover numerous guides with the best tips and advice for this game.
Good luck!