BlueStacks Exclusives
New BlueStacks Update Allows Launching Games in Fullscreen by Default For a More Immersive Experience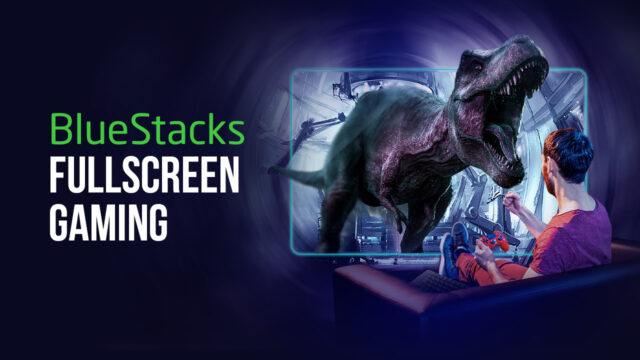 With the latest BlueStacks update, we're giving our users a more immersive gaming experience by allowing everyone to launch their favorite mobile games in fullscreen by default. This new feature was designed to increase immersion by letting you easily appreciate all the details of your games. Particularly whenever you're playing on a large monitor, gaming in full screen will not only give you the best image, but it might also give you the upper hand in games where map awareness and visual clarity is key.
How to Access Fullscreen by Default
While it was always possible to play in fullscreen on BlueStacks by pressing F11, or by clicking the fullscreen button on the BlueStacks side panel, this feature is aimed at automating the process whenever you launch specific games.
Accessing this new feature is quite easy, and all you need to do is follow these steps:
Run BlueStacks and launch any game.

Press F11 or click on the fullscreen button on the side panel to enable fullscreen mode.

On the prompt that appears on the top of the screen when switching to fullscreen, click on the box that says "Always launch this game in fullscreen".

From that moment, every time you launch this specific app, it'll open in fullscreen mode.
Keep in mind that you can always exit fullscreen mode at any moment by pressing F11, or by pressing the ESC key. Additionally, you can also manually configure which apps launch in fullscreen by default through the settings menu, by following these steps:
Go to the BlueStacks settings and navigate to the "Game Settings" tab.

Enable the apps you wish to launch in fullscreen by default, by checking the boxes next to them.
These settings are applicable to ALL apps that you run on BlueStacks, though they're exclusive to the instance you're currently running. As such, if you play on multiple instances via the Instance Manager feature, you'll need to configure the fullscreen settings for your apps on their respective instances. Lastly, these settings remain saved even when you update your BlueStacks client, so you don't have to worry whenever it's time to upgrade to a new version.
What do you think about the new default fullscreen mode in BlueStacks? Remember to update to the latest version of our Android app player to start enjoying this new feature!