BlueStacks Exclusives
BlueStacks 5.5 Update – Organize your Instances with the New Multi-Instance Manager Organizer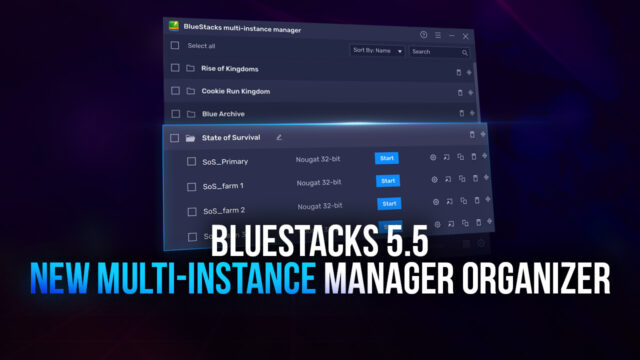 The BlueStacks Instance Manager has been a vital part of our Android app player for years now, allowing players to create as many instances of BlueStacks as their PC can handle, and use them to run multiple games simultaneously or to access the same game with different accounts at the same time.
Particularly for conquest games like Rise of Kingdoms or State of Survival, this feature is excellent since it allows gamers to develop several cities at the same time, and use these to become a one-person army without having to rely on other players. Similarly, in gacha games, the Instance Manager is also a great element for similar reasons, being able to create a clan with multiple accounts and tackle group content without the hassle of coordinating with other gamers. Alternatively, this tool is pivotal in gachas since it also allows users to reroll with multiple accounts at the same time, allowing them to unlock powerful units from the very beginning with ease.
And this is just scratching the surface as far as what gamers can achieve with the BlueStacks Multi-Instance Manager, and only in two genres of games. However, with the latest BlueStacks update 5.5, this feature is getting even better with the arrival of the Multi-Instance Manager (MIM) Organizer.
Organize Your Instances With Ease
The Instance Manager is a versatile element that lets you create as many BlueStacks instances as you want, and use them as separate BlueStacks clients. Users might want to do this for several reasons, such as the ones we mentioned above. And while running multiple instances simultaneously requires a decent PC, you can create as many as you wish and keep them closed in the Instance Manager for when you actually need them.
Some players have instances solely dedicated to running a single game, with the precise tweaks and adjustments needed for the title in question. In this sense, the most committed users might have a staggering number of instances created, and sifting through them in the Instance Manager can get quite tedious. This is where the MIM Organizer comes in, as this new feature lets players sort all their instances into folders and keep their lists tidy and organized.
After updating to BlueStacks version 5.5, you can find this new feature in the Instance Manager, which you can access at any moment by pressing Ctrl + Shift + 8.
How to Create a Folder in MIM Organizer
To create a new folder, you simply need to click on the "Folder" button, after which you can rename it by clicking on the pencil icon beside it on the list, just like you would with your instances. To add elements to a folder, you can click and drag instances using the button to the far right beside the delete button, and drop them on top of the corresponding folder. You can remove instances from a folder in the same manner, but by dropping them outside.
The new MIM Organizer gives you an edge by helping you declutter your list of instances and letting you sort them by your preferred scheme. If you're an avid gacha player, you could create a folder with instances for that specific game, and then quickly run or close them with a couple of clicks. This will come in handy when rerolling, or for simply playing one game on multiple accounts, and then switching to another by closing all the instances in a folder and launching other instances from another folder, and so on.
The applications of the new Multi-Instance Manager Organizer are endless. Let us know what you think in the comments below!