BlueStacks Exclusives
BlueStacks 5.8 Gives The Best Minecraft Experience on PC, at a Lower Price Than the Windows Version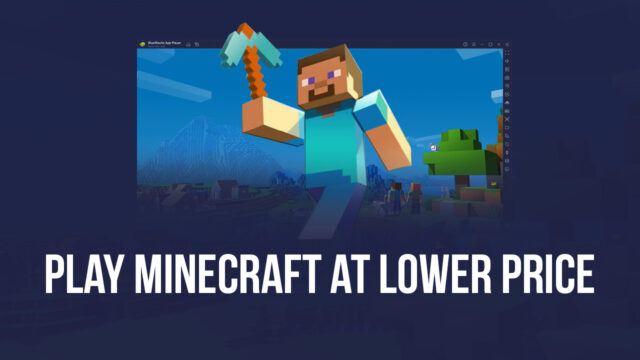 Minecraft is, in many ways, the most popular video game in history, surpassing even the great Tetris in sales and popularity. This title is so successful that it's become practically ubiquitous, having been ported to a wide variety of platforms, including numerous consoles, as well as to mobile devices. Nevertheless, when it comes to getting the best experience with Minecraft, the PC platform has been regarded as the go-to version: not only do you get the best experience with proper graphics and performance, but it's also the easiest version to mod and install resource packs on.
However, there's a big caveat when it comes to playing the Windows version of Minecraft, namely that it's not possible to do so without paying an entry fee. This is because there is no demo for Minecraft, and users must pay at least $26.99 on their official website to purchase the game client. And while this doesn't seem like a bad investment, considering that you might get thousands of hours of fun out of it, what if we told you that you could play Minecraft on PC, for much cheaper? What if you could play the Pocket Edition of Minecraft on your computer, while getting the same perks and benefits, as well as the performance, graphics, and controls of the PC version?
With BlueStacks, this is not only possible, but with the latest version of our Android app player, you can get the authentic PC experience, but while playing Minecraft Pocket Edition, and at a much lower price.
How BlueStacks Lets You Play Minecraft For Much Cheaper Than the Windows Version
As mentioned above, Minecraft typically has a fairly sizable entry fee to gain access to the Windows and Java versions of the game. This game costs around $27 in most cases if you want to play it on your computer, for both the Windows and the Java version. Meanwhile, when it comes to consoles, the price varies depending on the platform, going from $19.99 to play it on PlayStation 3 and 4, Xbox 360, and Xbox One, and $29.99 to play it on Nintendo consoles like the Wii U, the Switch, and the 3DS. This is in contrast to its price on mobile devices, which float around the $7 mark, making it a much cheaper alternative than its counterparts on consoles and computers.
With these prices, while you won't be able to play exactly for free, we can glean that the best bang for your buck when it comes to playing Minecraft is with the mobile versions, since they offer basically the same amount of content and features as the console and Windows counterparts, but around 75% cheaper. Of course, the main issue would be the fact that you're limited to playing on a small screen, and with possibly worse performance and visuals… Or are you?
With BlueStacks, you can install and play Minecraft almost for free, and enjoy the authentic PC experience thanks to the exclusive features that our Android app player has to offer.
The New Minecraft Cursor and Crosshair for BlueStacks 5.8
For the past few years, BlueStacks has been the go-to place to enjoy Minecraft on PC. Not only were we among the first to support this game on our Android App player, but we also offered the best performance and visuals, along with the most robust suite of features to optimize your gameplay. However, BlueStacks, just like other app players, had a significant limitation: The camera and aiming controls were still uncomfortable.
Just like with the mobile version, the only way to move the camera was by clicking and dragging on the screen. In this sense, if you played Minecraft on PC with BlueStacks, while you had a much better control scheme for movement using the WASD keys, you still had to click and drag to pan the camera. However, with the BlueStacks update version 5.8, we introduced the brand new Minecraft Cursor and Minecraft Crosshair, among other awesome features.
These couple of new features are designed to dramatically enhance the way you can enjoy the mobile version of Minecraft on PC by addressing the issues we mentioned above: On the one hand, the Minecraft Cursor is more of a cosmetic enhancement, and simply changes your mouse cursor to the authentic cursor that you get when playing the Windows version. However, on the other hand, the Minecraft Crosshair is the bigger enhancement here, which lets you move the camera simply by moving your mouse, just like on the PC version of the game, without having to hold down the left mouse button. We suggest reading our Minecraft Cursor and Crosshair article to learn more about this awesome feature.
Both features are the newest additions to our Android App player, and are available on BlueStacks version 5.8 and above. You can download and start playing Minecraft on PC for a much cheaper price, but with similar controls, visuals, and overall gameplay, compared to the Windows version. And while it's not currently possible to play Minecraft for free, since there's no demo, this is as close as you'll get, considering that the mobile version can be purchased for just $7.
If you want to play Minecraft on PC for virtually free, then BlueStacks, now more than ever, is your best bet. If you want to start playing, swing by the Minecraft app page on BlueStacks and click on "Play Minecraft on PC" to download our app player. Afterward, it's just a matter of following the instructions, and you'll be playing this awesome survival crafting game on your computer, with a much more affordable entry fee.