BlueStacks Exclusives
BlueStacks Update Version 5.8 – 4K and Custom Resolution Settings, MOBA Cursor, and Everything Else That's New In This Update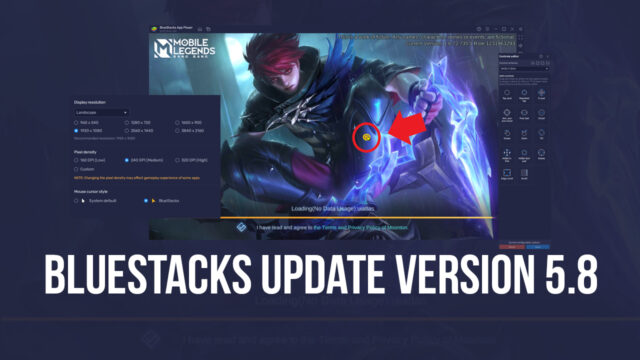 Another day, another big update for the BlueStacks Android App player, this time focusing on vastly improving the visual fidelity of our emulator, as well as giving our users quality of life features for some of the most popular games on the mobile platform. Update 5.8 was designed to bring some of the most requested features by our users, as well as other improvements that have been in our personal pipeline that, in short, were created to enhance everyone's experience when enjoying Android games on PC.
For more than a few reasons, BlueStacks has been the fastest and lightest Android emulator on the market since its inception, and this gap just keeps getting larger with every new update. With that being said, we'll be giving an overview of everything that's arrived with the latest BlueStacks update version 5.8 in this brief article.
Enjoy Your Favorite Games in Crisp 4K Resolution
It's taken quite a while, but 4K resolution has slowly become a standard in most gaming communities nowadays, with the latest consoles being able to provide a relatively smooth gaming experience at this enormous resolution setting. And with the latest BlueStacks update, this standard is also coming to your favorite mobile games, as our Android App player can now be easily set to 4K resolution. Moreover, if the game you're playing actually has its own settings for these resolutions, you can enjoy the crispest, clearest images possible. And the best part about this is that setting your BlueStacks to 4K takes no more than a couple of clicks.
This addition was inspired partly by you, dear users, as it was one of the most requested features for games like Free Fire, PUBG Mobile, and Call of Duty: Mobile. With this update, you'll be able to run, loot, and shoot your way to victory, while also getting a much better view of the battlefield at all times thanks to this higher resolution setting.
It goes without saying that, in order to enjoy your games at 4K with BlueStacks, you'll obviously need a compatible display that can render images at this resolution. If you have this, activating 4K can be done with just a few clicks. Check out our dedicated 4K article to learn more about this awesome feature.
Set Your Own Custom Resolutions For Streaming
While 4K is great for getting the best possible resolution when playing mobile games on PC, there might be times when you won't need this resolution, nor 2K, nor 1080p, but rather a custom resolution setting. Whether you're a streamer that requires a specific resolution size for your BlueStacks client, or simply need to adjust your resolution to a specific setting in order to tweak the size of the elements on your screen, the new BlueStacks version 5.8 will let you set custom resolutions presets for your emulator, letting you freely swap between them with a single click, as the situation demands.
Just like with the 4K resolution, you can set your own customized resolution settings with just a few clicks, only instead of choosing a predetermined resolution, you can input your own settings and have BlueStacks adopt the exact resolution that you need. You can even create several different resolutions presets and swap between them as much as you want.
Feel free to read our new custom resolutions settings article to learn more about how this new resolution swapping feature works.
Never Lose Sight of Your Mouse Cursor With the MOBA Cursor
Ever since their inception and rise to popularity with the first DotA custom map for Warcraft 3, MOBAs have become essentially a staple in the competitive gaming community. Whether you're playing them on PC or on your mobile device, these games are some of the most fun you can have, regardless of whether you're a casual gamer, or a pro ladder-climber.
However, in the most intense matches, it's not uncommon for teamfights to devolve into a mass of pixels, explosions, and particle effects, where even spotting your mouse cursor can be a real challenge. Particularly in the case of the latter, losing sight of your cursor is actually a fairly common occurrence that happens to both pros and newbies alike, and that can easily cost you the victory in your matches. This is why, with the newest BlueStacks version 5.8, we've decided to implement the MOBA cursor, an easy and simplistic tool that will help you keep track of your mouse cursor, even through the most hectic of battles.
The MOBA cursor launches automatically whenever you run a compatible game, and requires no updates or tweaking of any kind. To use it, you simply click and hold your right mouse button, which will place a large yellow indicator around your cursor, making it stand out much better even during combat. This seemingly small addition makes it much, much easier to keep track of your mouse cursor at all times.
It's worth mentioning that the MOBA cursor is available only for Mobile Legends at the moment, but we're working on implementing it in other mobile MOBAs.
Stay on Top of Updates to Your Controls With the CFG Updates Feature
The Keymapping Tool has been one of the defining features of our emulator for the longest time, giving our users a fast and easy way to create their own customized mouse and keyboard control schemes for their favorite games. However, if you've ever played mobile games on PC with BlueStacks, you'll notice that the vast majority of the games already come pre-packed with their own control schemes, with no additional configuration required.
For the most part, these default control schemes cover the most important functions of their respective games. However, it's not uncommon for us to sometimes update these control schemes behind the scenes to make them even better. In this sense, if you've ever played a game on BlueStacks, and then notice that the controls have seemingly changed out of nowhere, it was probably us updating them for your convenience.
With the newest BlueStacks update, you'll now get a popup at launch notifying you when we update a control scheme for any given game. This is more of a quality of life feature as you won't be left scratching your head as much if you ever find that your control schemes have changed seemingly at random.
The New Cursor and Crosshair for Minecraft
The ever-popular survival crafting sim game, Minecraft, has been available on BlueStacks for quite some time, giving users access to all its gameplay goodness without actually having to pay a single dime. However, this availability came with some minor limitations, namely that the camera controls were a bit sluggish when playing with mouse and keyboard since you needed to click and drag to move your view, which also made things like aiming and fighting with ranged weapons quite complicated. Luckily, with BlueStacks 5.8, we're introducing a feature aimed at addressing this limitation and giving our users the Minecraft experience they deserve.
We're talking about the new Minecraft cursor and crosshair which, automatically upon launching the game, presents the user with a cursor reminiscent of the one on the PC version of Minecraft. Moreover, the crosshair feature essentially functions as the "Fire Mode" in other shooter games, which lets users freely move the camera simply by moving the mouse, without having the hold down left click.
These two new features are designed with one purpose in mind: completely streamlining and optimizing the Minecraft mobile experience on PC.
The BlueStacks 5.8 update was carefully designed to make your gaming experience even better. We invite you to leave your own thoughts and comments about the new features in the section below!