BlueStacks Roundups
Top 20 Among Us YouTube Videos – Crazy Impostor Moments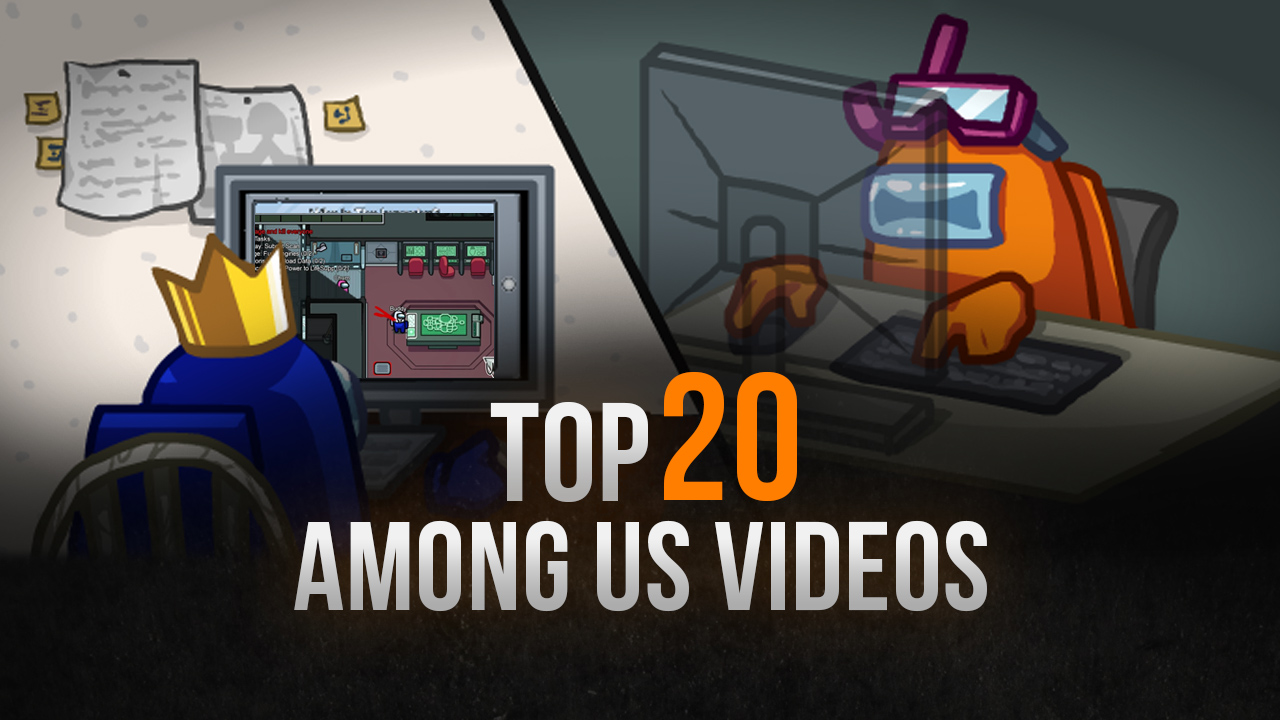 Among Us is an online multiplayer social deduction game in which players have to finish tasks with their crewmates. Meanwhile, there are 1-3 impostors in the match whose sole mission is to kill the crewmates. Developed by InnerSloth, the game was first released on June 15, 2018. Because of its unique concept, the game is getting appreciation from players worldwide.
Here are the top 20 Among Us YouTube videos/game plays with funny and crazy impostor moments:
1. The Craziest 8,000 IQ Among Us outplay ever!
We all know who Mr. Beast is; one of the most popular YouTubers out there who takes on crazy challenges with his friends. At times, he even gives away a huge amount of money to make his challenges more exciting. Similarly, in this gameplay clip, Mr. Beast decides to send $1000 to all the 10 players if they can find the impostor. But, if the impostor wins the game, they get $10,000. What's even more interesting is that another popular YouTuber, KSI is in the same lobby, and he's the impostor!
2. Among Us Memes That Actually Work!!
In this clip, the YouTuber talks about some of the popular Among Us memes that actually works in the game. He even showcases the working of some of the memes with his gameplay.
3. AMONG Us, but with 99 IMPOSTORS
This animated video features a lobby of 100 players, out of which 99 are impostors. Steve is trying his best to stay out of impostor's sight of vision. Can Steve take down all the 99 impostors all by himself? Watch this video to find out.
4. Testing EVERY GLITCH In Among Us.. (IT WORKS)
As a player, we all have atleast once thought of using the in-game glitches and bugs to easily win the games. This YouTuber is on a mission to test every glitch in Among Us. With these glitches, it becomes way easier to catch the impostor in the game.
5. Back to Back Impostor Wins – Among Us
Popular YouTuber Valkyrae plays Among Us with other famous YouTubers like Disguised Toast, Pokimane, Sykkuno, Neytiri, Natsumiii, and Quarter Jade. In this video, she wins two games in a row as an impostor.
6. We Played Among Us But in Real Life!! (Impostor IQ 999)
FaZe Rug, co-owner of the FaZe clan, played Among Us with 8 people in real life. The crew members are supposed to perform their tasks in the house, whereas there are 2 impostors in the game whose objective is to take out the crew members. Each player can blow an air-horn if they find a crew member's dead body or call an emergency meeting. What happens next?
7. How I Admitted I Was An Impostor And STILL Won Against The BEST Among Us Players…666 IQ Plays
This is one of the rarest gameplay videos where a player admits that he/she is an impostor and still wins the game. Watch this exciting gameplay of Among Us in the video.
8. The Ultimate Among Us Impostor Duo
While playing with Corpse Husband, Valkyrae, Mr. Beast, and others, PewDiePie is assigned an impostor role in the second game with none other than Mr. Beast. Watch the iconic-duo play as impostors in Among Us.
9. The craziest double vent-kill in Among Us!
In this video, Sykkuno killed a crew member, but no one reported the body. Later on, Grease and Sykkuno killed two crew members one by one simultaneously in the vent. They ended up winning the game while still alive.
10. eliminating ALL SUS by voting myself with 6400 IQ…
In one of his Among Us gameplay videos, Disguised Toast voted himself as one of the game impostors. Surprisingly, through his smart strategy, he won that match.
11. SIDEMEN AMONG Us VS MR BEAST
Mr. Beast and his friend 'Chad' were trying really hard to catch the impostor and win the game. But did they succeed? Watch this video to find out!
12. I AM THE BEST IMPOSTOR – AMONG Us #1
KSI gets to be the impostor again and again in this particular Among Us gameplay clip. With his incredible decision making and smart strategy, he bags two wins in a row as the impostor.
13. Among Us impostor flawless win
YouTuber rex0998 puts on a clinic and shows how to win games as an impostor with utter ease. Learn some of the critical aspects of how to play the impostor role in Among Us by watching this clip.
14. Perfect Timing, FAILS – Among Us #1
It's a fun video that shows some of the epic timings in Among Us that led to the impostor getting caught by the crew members. Watch this video for some other funny Among Us moments as well.
15. Among Us Impostor Level Expert
Struggling to win games as an impostor? Make sure you watch the entire video to learn a superb trick to win the match with ease in the 'Electrical' room.
16. all your among us happiness in one video
This gameplay clip showcases a flawless win as an impostor. Through this video, a lesson can be learnt by all the players who get the impostor's role in their matches: 'Patience is the key to victory.'
17. 12 Among Us Glitches in 1 Video
Well, the title says it all. Learn how to exploit these Among Us glitches to win games with little to zero effort.
18. Top 10 Tips & Tricks in Among Us | Ultimate Guide To Become a Pro
If you're new to the game, then this is the only guide you'll ever need to get a good grip on the game. Watch this video completely to learn some of the basics of Among Us. You'll also get to learn a few tips and tricks along the way.
19. 10 Types of Among Us players
A game can have all sorts of players with different skill sets and awareness levels. Some can be beginners, while sometimes you may come across a 'braindead' player. This video showcases the different types of players you'll actually meet in a game like Among Us.
20. Among Us – Sad Animation | Son and Dad
Last but not least. This video showcases the loving relationship a son can have with his dad. The YouTuber showed the bond between dad and son with animated Among Us characters, with certain humorous elements!
Let us know which one out of these 20 Among Us YouTube videos you liked the most in the comments section below.