BlueStacks Roundups
Top 10 Android Games To Play On PC 2022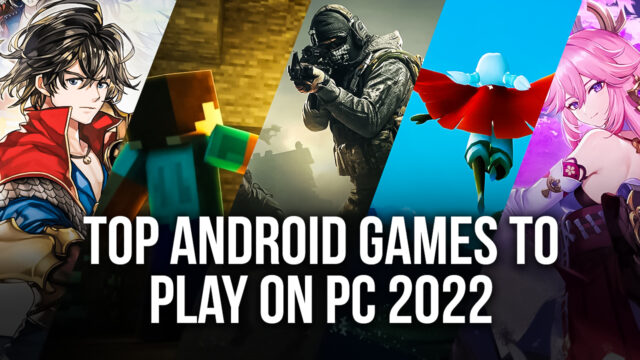 Video Games have become available on several platforms now. From PC to mobile, to consoles, there is no dearth of platforms to play on or video games to play on them. However, there are some games that are only available on particular platforms which you wish you could play on others. While this was not really possible up until a few years ago, with apps such as BlueStacks now available, it is incredibly easy to play Android games on PC. In this article, we list out the top Android games that are a must-play on PC.
1. Among Us (Free)
Among Us, a 2018 release by Innersloth, has lately exploded in popularity amid the pandemic and the resulting lockdowns. The game is a social deduction and mystery game similar to board games like Mafia, except it takes place on a spacecraft, and the players must find out who is killing all of the ship's crew members. The fact that Among Us is a social deduction game that requires at least four people to play made it extremely popular in recent years. At a period when it was hard for individuals to leave their houses and there was no other source of social connection, games like Among Us gave people a delightful opportunity to engage with their loved ones while also passing the time.
As previously stated, Among Us is a multiplayer game that requires at least four people to play and may support up to fifteen players (known as crewmembers in the game). The game begins with one or two players becoming "imposters" in outer space. Throughout the game, imposters have just one goal: to disrupt the spaceship's operation in any manner they can and murder as many crew members as they can without being discovered. Imposters may induce problems in the spacecraft, such as power outages that force lights to turn off and automated doors to close, trapping certain crew members in places with imposters, giving the latter the perfect chance to kill the former. The impostor must wait a certain amount of time after each kill before using the "Kill" button again. This cool-down interval allows crew members to evacuate in time while also preventing the impostor from gaining too much strength. Imposters may also "vent," which means they can go from one section of the spacecraft to another without being noticed, such as to escape being spotted with a dead corpse or to find their next victim.
When another crew member discovers a dead corpse, they can convene an emergency meeting in which all members of the team, including the imposters, can indict one person as the impostor. When the crew members have finished debating and deciding who the impostor is and who killed the crew member whose corpse was discovered, the subject is taken to a vote, and the crew members must select whether or not to boot out one person who they believe is the imposter. Abstaining from voting is also an option for crew members. If a majority of the crew decides that someone is an imposter, that individual will be fired from the ship, and the game will tell you whether they were an impostor or not. Completing the duties assigned to the crew members at the start of the battle is another method the crew members can use to defeat the impostor. Body scans, turning off and on switches, and other little tasks are among them. Apart from the impostor, every crew member is given such chores, and if all of the jobs are done before the imposter can murder the majority of the crew members, the crew members win the battle automatically.
Users can play on numerous maps in the game, each with a unique layout and set of conditions to which players must adapt. Before entering a match, users can also personalize their characters in the lobby. They may modify the color of their character's costume, as well as give them new skins, caps, and pets. Some of the extra material is chargeable and must be purchased in-game.
With over one hundred million downloads, Among Us is rated 3.6 out of 5 stars.
2. Crossy Road (Free)
Next on our list is Crossy Road, which is based on the hugely popular arcade game Frogger. The game's objective is self-explanatory. You play as a character (a chicken by default) who must avoid obstacles for as long as feasible. Hipster Whale invented the game as a spoof of the joke "Why did the chicken cross the road?" in 2011. In contrast to Frogger, Crossy Road has no end and can continue endlessly as long as the player avoids obstacles.
The controls are, likewise, simple: a single press on the top or bottom of the screen moves you up or down, and a swipe left or right moves you in either direction. Autos, rivers, and railroad tracks are among the hazards that the player must overcome. You can be taken by a bald eagle and the game will end if you take too long to reposition your character. There are a variety of characters to meet and interact with within this game, ranging from the Chicken to the Android Logo. There are around 204 characters that can be unlocked with in-game currency, with another 12 characters that can only be unlocked using green tokens earned by watching advertisements or obtaining high scores on the scoreboard. Its visuals and musical effects transport you back to the golden age of arcade gaming, which explains why it has amassed over 50 million downloads in less than three months since its initial release.
Crossy Road also has a local multiplayer mode, which allows up to four people to play the game simultaneously. While the objective of the game remains the same—to achieve the highest possible score—you will now be able to play with your friends. Because the game only ends when all four players have perished. If you're the only one remaining, you can go back in time and revive your friends who have died before continuing. The game also offers a split-screen multiplayer mode, which allows two players to play the game on the same device.
With over one hundred million downloads, Crossy Road is rated 4.6 out of 5 stars on Google Play Store.
3. Fire Emblem Heroes (Free)
For a long time, Nintendo has been a major player in the mobile gaming industry, relying on the popularity of titles like the Super Mario franchise. They've done the same thing with Fire Emblem Heroes, building an excellent mobile-oriented RPG game on top of the original Nintendo game. As of January 2020, the game is incredibly successful on both Android and iOS, with over $650 million in revenue.
The game is set in a world where the countries of Askr and Embla are at odds, and the protagonist leads the Kingdom of Askr and its heroes against the Kingdom of Embla. The player may summon characters from other worlds to battle alongside them in the game, and these other worlds are all the settings of previous Fire Emblem games, therefore all of the fan-favorite characters from previous Fire Emblem games can be employed in this one. The gameplay is straightforward, consisting of turn-based combat with a focus on placement and strategy. On an 8×6 grid, the player can deploy up to four characters in a match against foes of different powers. The characters in this game are divided into many classes and categories, each with its own set of advantages and disadvantages, including variances in how far they can travel on the grid and which tiles they may go to. Cavalry troops, for example, can go further than armored units, but they are not permitted to enter forest tiles, whereas armored units can. Flying units may penetrate practically any tile, including ones that are immune to other units, such as mountains or water. When it's your turn, you can opt to attack if an adversary is within range. Because the game is played in turns, if your opponent's character survives your attack, they will do the same to you.
In this game, your character will be subjected to both physical and magical harm. The tale of the game is broken into chapters, with numerous maps and opponent teams of varied sizes to contend with. A training tower is also included in the game, which may be utilized to improve the strength of your heroes through random combat. In the Arena component of the game, you may combat AI-controlled teams of other real-life gamers.
The game's in-game currency is known as orbs, which can be spent to unlock characters. While it is possible, unlocking high-level characters using orbs collected during combat is incredibly time and energy-intensive. However, this may be avoided with in-app purchases. Real money may be used to purchase orbs, which can then be used to unlock high-level characters, which enhance your team and help you win more matches. The in-game visuals are fantastic, and the fighting and animations are very seamless.
With over five million downloads, Fire Emblem Heroes is rated 4.5 out of 5 stars on Google Play Store.
4. Call of Duty: Mobile (Free)
Activision's Call of Duty: Mobile is a mobile shooter game that brings the famous Call of Duty franchise to your phone. Call of Duty: Mobile is a console-style HD game with intuitive and adjustable controls. Each season builds on the previous season's story while also providing new content for users to enjoy. PvP and Battle Royale gameplay are available in Call of Duty: Mobile, as well as intriguing multiplayer modes including Domination, Kill-confirmed, and Team Deathmatch. Classic maps such as Raid, Shipment, and Standoff, which have all appeared in prior Call of Duty games, are included in the game.
Users can acquire and access guns, outfits, operators, scorestreaks, and gear components as they move through the game, allowing them to quickly personalize their loadouts and play the way they want. You can choose to engage in competitive or social play, play in competitive rank mode, or join a team in which you can interact and play with other users from around the world.
Credits and COD Points are the two types of in-game currency in Call of Duty: Mobile. COD points must be purchased with real money, and credits are gained as you play through the game. COD points are used to get access to special upgrades. Prop Hunt, One Shot, Rapid Fire, Capture the Flag, Gun Game, Attack of the Undead, and Snipers Only are some of the game's limited and unique multiplayer modes that run for long periods of time. You can play in a two-person squad or a four-person team in the Battle Royale mode. At the start of the game, each player is given the choice of selecting an ability, and each team is assigned a jump leader who is in charge of picking where the team will land on the battlefield. Each player starts with only a knife, but the area contains a variety of weapons, vehicles, and provisions that the players can employ to improve their team's survival prospects. Up to 100 individuals can participate in the Battle Royale mode. Battle Royale Alcatraz, Battle Royale Blackout, Battle Royale Blitz, 20v20 Warfare, and the Sniper Challenge are all limited modes in Call of Duty: Mobile's Battle Royale game. In 2019, the game received an Undead mode, which requires players to gather supplies for survival while battling off hordes of zombies.
You can also play Call of Duty: Mobile on your PC to enjoy it even more since it provides a diverse range of experiences without requiring a large financial investment. It's a game worth playing because of the enormous array of finely designed modes, the leveling route, the exciting Battle Royale feature, the fast-paced combat, and the breathtaking graphics and audio-visual quality, which are just as gripping as the original Call of Duty.
With over one hundred million downloads, Call of Duty: Mobile is rated 4.3 out of 5 stars on Google Play Store.
5. Genshin Impact (Free)
The next game on our list is miHoYo's Genshin Impact, which is currently one of the most popular games on the market and for good reason. Genshin Impact, which was released in September of 2020, has quickly climbed the charts, generating over $2 billion in its first year. One of the main reasons why the game has become so famous is because of how beautiful it is to look at. The graphics are among the greatest you'll find right now, and you'll never get tired of looking at the magnificent scenes that surround you.
Genshin Impact takes place in the fictional world of Teyvat. Teyvat is home to seven different nations, each of which is ruled by a God and is linked to a specific element, such as water, fire, or air. At the start of the game, the player finds himself in Teyvat's realm. The plot centers on a pair of twins who are in a hurry to leave Teyvat after learning that one of the seven nations is under attack and about to be destroyed. However, they are challenged by a God on their way out, who separates the twins, taking one with them and shutting the other away. Five hundred years into the future, the sealed twin, controlled by the user, awakens and starts out on a quest to reunite with their separated twin. This mission will take them across Teyvat. They meet and fight a variety of opponents, make new friends, unlock playable characters, and face a variety of bosses.
The game is quite simple to learn and play. Running, swimming, climbing, and gliding are the basic controls. All of these moves, however, necessitate stamina, which is limited at the start of the game, but which you may improve as you play and increase your overall stamina. As previously stated, as the game advances, the player unlocks a variety of playable characters. You can swap between these characters at any moment, but you can only have four characters equipped at a time. When fighting foes and bosses, switching between characters is particularly important since you can send in a different character who is fully charged with their special ability after your current player is tired, causing massive damage to your opponents. Aside from the main storyline and exploring the game on your own, there are other tasks scattered around the area that you can complete. Completing these tasks not only improves your rating but also grants you various goodies that will come in handy during your main quest. Additionally, you can play Genshin Impact in multiplayer mode, which allows you to connect with up to three additional players who share your current objectives.
With over fifty million downloads, Genshin Impact is rated 4.3 out of 5 stars on Google Play Store.
6. Sky: Children of the Light (Free)
Sky: Children of the Light is an adventure role-playing game from thatgamecompany.inc, the creators of well-known games like Flower, and Journey. Sky was first released as a mobile game in 2019, but due to the positive reception it received, the game was relaunched in 2021 with a console option and is now available on the Nintendo Switch. This is fortunate, because a game like Sky, with its beautiful graphics and simple gameplay, is best enjoyed with a controller or on a PC. Sky is a game set in a beautiful kingdom and it entails going to different landscapes in order to meet spirits and the Children of the Light. The former assists you in customizing your appearance by providing capes, haircuts, and accessories in exchange for in-game currency, while the latter assists you in improving your flying skill as you go. The more of these gifts you have, the further you can progress in the kingdom. Sky is a simple game with tranquil visuals and an artistically attractive background, with no cutthroat fights or tactical play. It is an extremely relaxing game that you can load up after a long day when you just want to relax and enjoy playing a soothing video game.
In some aspects, Sky is similar to Journey, in that the players glide across the kingdom in a pleasant fashion. However, Sky is significantly broader and includes a fantastic multiplayer strategy. You can journey around the realm's seven diverse regions, each with its own breathtaking scenery. What's most impressive about Sky is its social interaction component – social interaction is an essential component of the game; you'll encounter many players on their own journey, and you can engage and become friends with them as you progress through the game (and give them a nickname of your choosing!). The socialization isn't pushed; you just form a natural bond with other players, and you can help each other save the spirits, explore the realm and find valuable riches, and exchange 'Gifts of Light.' With players opting for the mobile version of the game, Sky also supports cross-play. Sky leverages a charming growth of friendship and interaction between players to hook you — and it works; your buddies join you on your voyage of discovery. When you come across the dangling spirits, your main goal is to set them free, which is a relaxing experience. The game has a powerful element that keeps the player emotionally committed.
Sky: Children Of The Light is an appealing game that blends both adventure and interaction to create the ideal voyage. It features great visuals and a beautiful soundtrack. It also contains beautiful lens flare effects to enhance the visual attractiveness, and you may modify the visual resolution to your liking. A 'Starter Pack' is available, which includes 75 candles (Sky's in-game currency), capes, a haircut, and a flute. To keep things interesting, the game introduces new seasons on a regular basis. A free-to-play game with such advanced features, aesthetics, and gameplay is quite rare.
With over ten million downloads, Sky: Children of the Light is rated 4.7 out of 5 stars on the Google Play Store.
7. Another Eden (Free)
Another Eden is a role-playing game created by Masato Kato and Yasunori Mitsuda, both of whom worked on the legendary RPG game Chrono Trigger (which is also a part of this list). It's no wonder that Another Eden is on our list of the best Android games to play on PC, given the collaboration of these two legendary personalities in the gaming world. The user takes on the role of a hero from a tiny hamlet who must go back and forth in time to rescue the world. The game is a side-scroller, unlike most current RPGs, in which players may only move left or right. Although this may appear to be a disadvantage at first, it rapidly becomes second nature and contributes to the overall gaming experience.
The game revolves around Aldo and Feinne, who have the potential to wipe humanity off the face of the earth. The Beast King kidnaps Feinne in order to trigger her dormant skills, which would destroy all humans, leaving the Earth vulnerable to the Beast King and his kind's wrath. With the aid of numerous personalities he encounters along the road, Aldo must save his sister. While on his attempt to save Feinne, things go wrong, and Feinne is sent eight hundred years into the future owing to a space-time continuum distortion. Because Aldo now has to time-travel to both the past and the future to save his sister and the fate of humanity, the gameplay becomes much more exciting.
Many people were skeptical when it was revealed that Another Eden would be a free-to-play Gacha game because Gacha games are renowned for their pay-to-win inclinations. Thankfully, Another Eden avoids the pitfalls that other jRPGs and Gacha games do. To progress in the game, the user must work hard, and in-app purchases do not take over the entire game. The game's visuals are fantastic, and despite the fact that it is only in 2D with side-scrolling, it is amazingly well-made and engaging once you start playing. The game's entire environment, of which Mitsuda's music is a large part, is exceptionally well-crafted and enjoyable to play in.
Another Eden's gameplay is turn-based, and it lacks auto-play, so players must battle manually throughout the game, contributing to the general lack of fanservice, with Kato harkening back to the early 90s RPGs and jRPGs. After a few hours of gameplay, you'll acquire Another Force, which allows you to stop time and launch many assaults at once. There are no daily quests, PvPs, or energy systems in the game, which is a welcome change, given that most other current RPGs rely heavily on all of the aforementioned. By removing all of the unnecessary distractions, Another Eden allows you to focus only on the plot and battle, completely immersing you in the tale and the game's ambiance.
With over one million downloads, Another Eden is rated 4.4 out of 5 stars on Google Play Store.
8. Monument Valley 2 ($4.99)
Monument Valley 2, the sequel to Monument Valley, was released in 2017 by Ustwo Games. It is a spruced-up version of Monument Valley, with more characters and chapters than its predecessor. The basic gameplay concept remains the same: Ro, the protagonist (this time joined by her daughter), must travel through beautiful constructions while learning the laws of Sacred Geometry by solving puzzles and discerning whether or not the routes are truly illusions created to deceive them.
Monument Valley 2 is distinguished from its predecessor by the addition of four more chapters, bringing the total number of chapters to fourteen, making the game slightly longer. It differs from Monument Valley in that it includes the nurturing aspect of parenting, giving it an emotional component; Ro embarks on this journey with her daughter and meets a lot more people than she did in Monument Valley. The purpose is straightforward: progress through each level by learning to navigate the way through complicated, maze-like buildings and architecture using visual navigation techniques to find the best possible path. You must solve puzzles that resemble wonderfully crafted artworks in order to determine directions. From time to time, obstacles in the form of enormous trees that grow from within potted plants when exposed to sunlight may appear. When a level is completed, the player is rewarded with a stunning kaleidoscope, the game's one-of-a-kind award.
The tranquil and surrealist visual experience, the awe-inspiring puzzles, the whimsical aspect of the characters, and the profound interplay between Ro and her daughter are just a few of Monument Valley 2's most captivating qualities. While Monument Valley 2's gameplay and touch-friendly elements look to be far too intricate to deliver a pleasurable experience, they are very simple and easy to learn. The additional mother-daughter bonding element, combined with the touching plot, captivates the player without demanding too much input. The game also soothes you with calming pastel-hued pictures and an alluring tune; in fact, the images are representative of the circumstance- drab and low in color when Ro and her daughter are apart, bright and serene when they are together. Visual illusions present a minimalistic challenge, a new style of gaming that is subversive and exciting since, while not difficult, it does need a certain degree of attention oriented toward the game, guaranteeing that the player remains committed without exerting excessive effort. The images have an incredibly appealing and pleasing aesthetic style, and the creators consciously blended elements of several art movements, architectural styles, and paintings to induce feelings of awe, wonder, and comfort in the players. Not to mention Ro and her daughter's emotional bond, which is maybe Monument Valley 2's most admirable feature. They are very emotionally invested in one another and clearly care for one another, even exchanging a meaningful hug before Ro's daughter embarks on her own quest at the conclusion. It portrays Monument Valley's daring spirit while also integrating a touching family dynamic. Playing Monument Valley 2 is perhaps the simplest approach to producing a sense of tranquility in yourself.
With over one million downloads, Monument Valley 2 is rated 4.8 out of 5 stars on Google Play Store.
9. Chrono Trigger ($9.99)
Chrono Trigger is a famous role-playing game that was first released for the Super Nintendo Entertainment System in 1995. Hironobu Sakaguchi, the creator of the Final Fantasy series, Akira Toriyama, the creator of Dragon Ball, Yuji Horii, the creator of the Dragon Quest series, Masato Kato, who wrote the majority of the game's story, and Yasunori Mitsuda, who was involved in the creation of the game's brilliant soundtrack made up the team that worked on this game.
As a result of all of these giants getting together to create this game, it was a critical success and is today regarded as one of the finest RPGs ever developed. Every aspect of this game shines brilliantly, from the exquisite visuals to the unique plot, combining to produce a wonderful game that is more than the sum of its parts. Crono, a little child who lives in a universe similar to Earth, is the protagonist of the game. Crono is thrust into an adventure after a fortuitous encounter with a woman at a fair, in which he must journey across time, meet a slew of intriguing personalities (many of whom become pivotal characters in the plot), and fight in combat to preserve his planet.
While there are several copies of the game accessible to play online using emulators, this version, which is available on the Google Play Store, is a transfer of the game's 2010 Nintendo DS edition, which includes additional cutscenes and objects. The game is transferred identically to your mobile device, with the only difference being that the control mechanisms have been optimized for your mobile device. The game has an on-screen joystick that works anywhere you push on the screen. Despite being two-dimensional, the game does not have a diagonal-only movement mechanism. Foes can be seen on the overhead map and are waiting to ambush you as you approach them, which is a departure from standard jRPGs where enemies are encountered randomly.
The gameplay in this game is exceedingly seamless, and it includes numerous components that transformed video-game combat techniques when it was initially launched. In the game, you can deal magical and physical damage, as well as use potions and other healing items to restore your character's health. The game also features the "Active Time Battle" system, which would eventually become a Final Fantasy series mainstay. You may also use time travel to complete objectives and progress through the game, as previously indicated. In the game, there are seven different eras or periods to explore, and every event in the past and every decision made by the player in one of these eras has an impact on future eras. You can travel across time with the use of time gates and Epoch, a time machine.
Beautiful vistas await you in this iconic game, and the different gameplay features only add to the entire pleasure of playing Chrono Trigger. There are no in-app purchases, and the game costs only $4.99.
With over one hundred thousand downloads, Chrono Trigger is rated 4.1 out of 5 stars on Google Play Store.
10. Minecraft ($7.49)
The final game on our list of the best Android games to play on your PC is Minecraft, the hugely popular sandbox game beloved by gamers all across the world. With over 140 million active users as of 2021, Minecraft, which was first released in 2011, has risen to become the best-selling game of all time. It's a sandbox game with blocky 3D graphics in which players are free to do whatever they wish. While this may appear unusual, it is precisely what draws people to Minecraft. There are game modes such as survival mode, in which players must do their best to maintain their health and survive in the Minecraft world, and other modes in which users must fight AI-controlled mobs, but the most popular and most played game mode is the creative mode, in which users have unlimited resources and the ability to fly.
Users collect raw materials by mining the environment around them, collecting dirt, stone, various metal ores, water, and other such items, which they can then use however they want, whether it's to build a specific structure, such as a house, or to craft these various materials into something new, such as a tool that they may need in the future. The game is nearly unlimited, with users having the ability to roam as far as they like, interacting with other players, cooperating with them, or fighting with them.
There are two multiplayer modes in Minecraft. The first lets up to ten people join your realm, which is a private server hosted by Minecraft for its users. Players can join your world from any device and play with you on your own private server with no other distractions. Using their free Xbox Live account, up to four players can play Minecraft together in the second multiplayer mode.
With over ten million downloads, Minecraft is rated 4.6 out of 5 stars on Google Play Store.