BlueStacks Roundups
Top 5 Gacha Games to Play on BlueStacks this Fall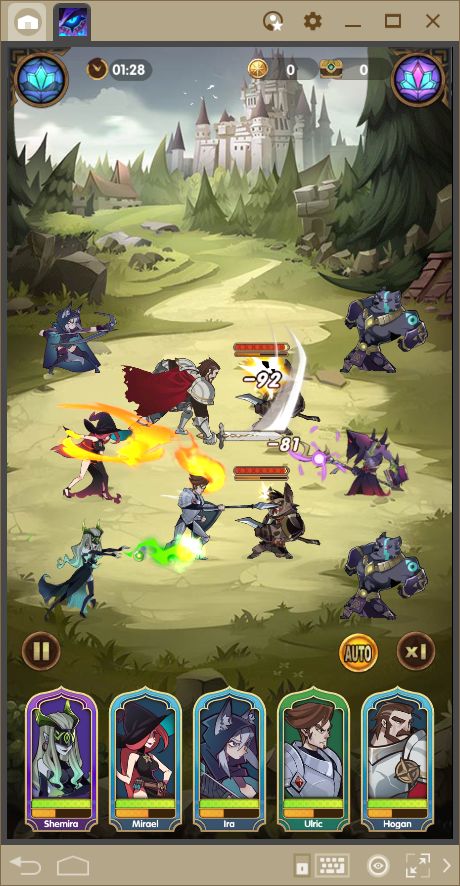 Gacha games are popular for many reasons, especially because they're games that can easily be played on the go, without the need to sit through hours upon hours of content. Sure, they often require lots of grinding for you to unlock the best features, but the grind consists of completing simple tasks that are finished in a few minutes at a time. The combination of fast, rewarding gameplay, combined with numerous unlockable features and hundreds of summonable characters makes these gacha games a great source of entertainment with lots of replay value.

With the Fall season coming in fast, and people starting to spend most of their time indoors to get out of the cold, there's no better time to get into a good ol' gacha game. Unfortunately, there are many, many titles in this genre available for downloading in our App Center, so how can you know which ones are worth your time? Leave it to us to sift through the thousands of titles, and conveniently bring you a list with the 5 best gacha games to enjoy this Fall season on BlueStacks.
A Note on BlueStacks and Gacha Games
Before we jump into our list, though, we wanted to quickly address one of the main reasons why you should be playing ALL the best gacha games on BlueStacks—the Instance Manager.
When it comes to gacha games, you'll probably need to reroll your account constantly until the RNG gods favor you and you manage to get a powerful team to carry you through the game. This process can take one, five, fifteen, or more attempts as the results from the summonings are utterly random. However, with the Instance Manager and the Multi-Instance Sync features, you can effectively summon and reroll with multiple accounts simultaneously, significantly decreasing the time and effort it takes to reroll effectively in these games. If you're looking to enjoy the optimal experience with the best gacha games out there, then you'll definitely want to play them on BlueStacks.
Now that we got that out of the way, let's move onto the list!
1. Idle Heroes
One of the oldest gacha games in this list, Idle Heroes has won a spot in our hearts (and our BlueStacks storage) due to its simplistic take on the gacha formula. This title offers everything you'd expect from a game in this genre, including the ability to summon hundreds of powerful characters to bolster your formation. Additionally, it's also one of the first games that introduced us to AFK farming, as your team can gather resources, experience, and other useful materials even while you're offline going about your business.
Idle Heroes is a very hands-off type of game that is enjoyed, preferably, in short bursts. Given the AFK design of the game, each session will likely consist of logging in, completing several tasks, finishing a few levels, and then leaving your team AFK farming while you go about your day. This design makes the game ideal for gamers with a busy schedule that need to get their fix during commutes or lunch breaks.
2. RAID: Shadow Legends
Unlike our previous title, RAID: Shadow Legends has a more serious tone to it and even offers us an interesting narrative, ideal for those who are interested in learning more about the game's world. While the plot itself boils down to a pretty cliché confrontation between good and evil, there are quite a few funny moments that got a chuckle out of us, which is something we can hardly say for other games in the genre.
RAID's strengths, however, lie in its presentation. The combat system is nothing new and consists of levels featuring several turn-based battles each that players must complete in order to advance. This is par for the course when it comes to gacha games. However, RAID features some of the most stunning graphics, animations, and overall art style we've seen in a mobile game. For gacha standards, this game definitely breaks the mold and deserves a spot in this list, just because it looks so pretty!
3. Epic Seven
Transitioning over onto the East with this anime style gacha game, Epic Seven is another title that adds a great story to the standard formula. This game follows the adventure of Ras Elclare, the Heir of the Covenant destined to put an end to the Archdemon's path of destruction, and bring peace back to the world. However, after 200 years of slumber, Ras awakens with no signs of his former allies, and you must help him recruit new allies, recover his strength, and prepare for the showdown against the forces of evil.
Epic Seven, like its name implies, takes you on an epic journey through the world, where you'll be summoning powerful heroes of legends to create unstoppable teams. In terms of gameplay, this gacha game follows your standard turn-based format with the actors taking turns to attack, heal, buff, and otherwise perform all sorts of actions in combat. Like Raid, Epic Seven plays through different missions and stages that you must complete to advance in the story. Additionally, there are many other game modes where you can farm for upgrade materials, gold, and all sorts of useful items.
4. AFK Arena
Swinging back to the idle games, AFK Arena provides a more simplistic take on the formula that Idle Heroes brought to the table. This title is like a "light" version of a gacha title, featuring tasks that can be completed in minutes, which is ideal for gamers on the go. The battles here are very quick, finishing in less than a minute, with the characters attacking automatically and the player controlling the timing of the special skills. However, you can even set the skills to execute automatically for those pesky standard battles that don't merit your full attention.
In AFK Arena, you can wrap up all your daily tasks in less than 30 minutes, and then leave your team farming automatically while you're offline. The next time you boot up the game, you'll find tons of resources and goodies waiting for you. This design makes AFK Arena ideal for those gamers with very little time to spare as it requires even less attention than Idle Heroes.
5. Marvel Strike Force
Who doesn't like playing alongside the world's best and most powerful superheroes? Marvel Strike Force is a turn-based gacha game that allows you to recruit some of the most iconic marvel heroes to your roster and take the fight to the forces of evil threatening to end life in the multiverse. While the combat system is pretty par for the course, this game has some stellar graphics, including some awesome versions of our favorite superheroes.
Strike Force is an all-around great game and, while there certainly exist more advanced titles out there in terms of gameplay mechanics (Raid, for example), it's an excellent game for those who want to scratch that superhero itch.
With so many gacha games out there for download in our App Center, which are your favorites? We'd love to know your thoughts, so leave us a comment in the section below.