BlueStacks Roundups
Top 10 Games To Play On BlueStacks in 2022 (Part 1)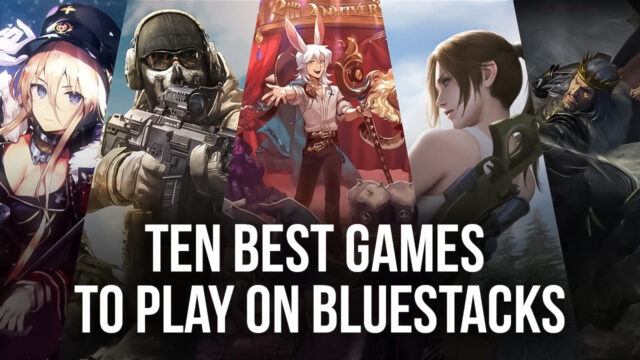 One of the most popular Android emulators available on the market today, BlueStacks has become a household name for those that love Android games but would like to play them on their computer or laptop devices. Founded in 2009, BlueStacks quickly rose through the ranks of the top emulators of the world and cemented its name as one of the best Android emulator apps. BlueStacks has thousands of apps for you to use on your Android device, but out of these the most popular genre is definitely the Gaming genre. The name BlueStacks has become eponymous with Android gaming, and for very good reason. The app has thousands and thousands of great games for you to play on your Windows or iOS device, from the most popular games on the Android charts to more indie games that have a small but dedicated following.
In this article, which is part 1 of 2 articles, we'll be listing out 5 of the 10 best games for you to play on BlueStacks. Check out part 2 of the article for more.
1. AFK Arena (Free)
Kicking off our list of the 10 best games to play on BlueStacks is LillithGames' AFK Arena, which was released in 2019. In essence, AFK Arena is a Gacha game. Gacha games are games in which you must collect certain heroes in order to build a team of heroes who will fight for you. As the name of the game might suggest, you don't necessarily have to do much when you play AFK Arena (AFK stands for Away From Keyboard). The game has a multitude of characters for you to collect, each with its own pros and cons, and you must put these characters into different formations so that they can optimally fight the enemy. Each hero has a special power that needs to be activated by the player once the bar fills up. The formations, too, have their individual pros and cons, but the way a formation works out in battle also depends on the types of heroes you have on your team and how well they interact with one another.
The game has six main factions of heroes, namely, Lightbearers, Maulers, Wilders, Graveborn, Celestials, and Hypogeans. The introduction of these factions is where the strategy aspect of the game begins. This is because each faction is stronger than one faction and weaker than another. For this reason, you must be very smart in the way in which you choose your team as well as your formation in order to give yourself the best chances of winning. The heroes in the game are further divided into several classes, including Tank, Warrior, Mage, Ranger, and Support. All of these classes have their own strengths and weaknesses. For example, Tanks are great if you're looking for a durable character that is good at both offense and defense. Warriors are great offensive characters and deal a lot of damage to their enemies. Mages use magic and spells to either disarm their opponents or attack them from a distance. Rangers are great at defending because of how quick they are and how easily they can dodge attacks and get a hit on an opponent quickly. Finally, Support characters help in healing other characters so that their health lasts longer and they are able to fight for more time. On top of this, characters are also divided according to three other abilities: strength, agility, and intelligence. Characters with the strength ability are great at dealing damage using brute force, while those with more agility rely on quickness in order to deal damage and defend. Characters with more intelligence tend to use spells and other such methods to neutralize their opponents instead of relying on strength or speed.
AFK Arena is also a wonderful game in terms of aesthetic appeal. With a wonderful art style and a pastel color palette, the game is incredible to look at. The character design of all of the heroes and enemies of the game only adds to this aesthetic appeal.
With over ten million downloads, AFK Arena is rated 4.5 out of 5 stars on Google Play Store.
2. Call of Duty: Mobile (Free)
Activision's Call of Duty: Mobile brings forth the classic Call of Duty franchise on your mobile phone as a mobile shooter game. Call of Duty: Mobile features console-type HD gaming with a set of intuitive and customizable controls. Each season extends the story from the previous season and boasts fresh content for players to enjoy. In Call of Duty: Mobile you can engage in PvP and Battle Royale gameplay, and you can also opt for exciting multiplayer modes such as Domination, Kill-confirmed, and Team Deathmatch. The game features classic maps such as Raid, Shipment, and Standoff, all of which have been featured on the previous Call of Duty games.
As you progress through the game you will unlock and access weapons, outfits, operators, scorestreaks, and gear pieces that can be used to easily customize the loadouts that enable you to play the way you want to. You can opt to indulge in some competitive and social play, you can play in competitive rank mode or become a part of a clan to gain a sense of community.
Call of Duty: Mobile contains two categories of in-game currencies: Credits and COD Points. Credits are earned as you progress through the game and COD points have to be bought with real money. COD points allow access to exclusive upgrades. The game also contains limited and special multiplayer modes that can last for extended periods of time such as Prop Hunt, One Shot, Rapid Fire, Capture the Flag, Gun Game, Attack of the Undead, and Snipers Only. In the Battle Royale mode, you can play in a two-person team or a four-person team. Each player is allowed the option to choose a healing ability at the beginning and every team is given a jump leader responsible for deciding where the team will land on the map. Initially, each player only has a knife, but the map contains a wide range of weapons, vehicles, and provisions that the players can use to increase their team's chances of survival. The Battle Royale gameplay can accommodate up to 100 people. Battle Royale mode in Call of Duty: Mobile also features limited modes like Battle Royale Alcatraz, Battle Royale Blackout, Battle Royale Blitz, 20v20 Warfare, and the Sniper Challenge. In 2019, a Zombies mode was introduced within the game – which requires players to collect supplies for survival while simultaneously fighting off hordes of zombies.
Call of Duty: Mobile is one of the best games to play on Bluestacks because it offers a wide range of experiences without the need to spend too much money. The incredible collection of intricately created modes, the leveling path, the exciting Battle Royale feature, the fast-paced action, and the breathtaking graphics and audio-visual quality, which is just as absorbing as the original Call of Duty, make it a game worth playing.
With over a hundred million downloads, Call of Duty: Mobile is rated 4.2 out of 5 stars on Google Play Store.
3. King of Avalon: Dominion (Free)
Created by Century Games Publishing, King of Avalon: Dominion is a real-time conquest strategy mobile game. King of Avalon is based on the fantasy medieval legend of the great King Arthur and the Knights of the Round table; when Arthur is murdered by his nephew Mordred on the sacred isle of Avalon, a new king needs to be crowned in order to mobilize the kingdom – this can only be done if this king attains Excalibur, King Arthur's legendary sword, which now lies next to his body in a fortress in Avalon. The Kingdom is divided into factions and they begin to fight each other to gain the rights to Excalibur. Only one can succeed – and become the King of Avalon.
To fill the throne, you must construct an expansive city, strategize against enemies during battle, train dragons, and engage in war against your medieval foes. You can join a multiplayer alliance to brave enemy attacks and increase the probability of survival during war. Essentially, you have to build an Empire that makes you worthy of ascending King Arthur's throne. The task at hand is clear, you have to take the city and enrich it by constructing impressive architecture, including farmhouses, sawmills, hospitals, a university building, military tents, and an embassy, and you have to upgrade these buildings as well. You also have to build a solid military force to battle enemy forces. In addition to this, you'll need a seamless flow in the production of materials and resources required for the upkeep of the city and the army; these include food, iron, silver, crops, wood, etc. These tasks, however, are secondary objectives in King of Avalon. The most important portion of the gameplay is PvP and alliance-building. Because King of Avalon is a game of strategy, you need to be able to choose who to battle, and who to cooperate with. The PvP feature is instrumental for when other players attempt to seize control over your assets and resources, you need to have the strategic ability to withstand and respond to any attack. On the other hand, building an alliance is just as instrumental. You cannot progress through the game without allies. You can forge alliances that enable protection and strength for your kingdom – because protecting yourself and your kingdom alone would be very difficult to do.
In King of Avalon, every castle comes with a dragon of its own, and every dragon is unique to its castle. These dragons are customizable, so you can raise and develop them to become the most powerful versions of themselves. Each player gets one dragon. To attack an enemy, you will have to pinpoint their location on a map, and march onto that location. Your victory depends entirely on the strength and numbers of your troops, which is why you need to ensure that your troops are well prepared. What makes King of Avalon impressive is the set of features it boasts, you can play the global PvP option, which allows you to travel to other kingdoms to wage war and help allies, you can get your own equipment made at the forge to arm your heroes and forces, you can train and equip military units (archers, cavalry, foot soldiers), you can forge useful alliances and raise a dragon to be a threatening force by strengthening its offensive and defensive capabilities.
With over fifty million downloads, King of Avalon: Dominion is rated 4.1 out of 5 stars on the Google Play Store.
4. Crossfire: Legends (Free)
Developed by Tencent games, Crossfire: Legends is an extension of the original Crossfire.
A continuation of its predecessor, Crossfire: Legends is a fast-paced action game that involves fighting groups of threatening enemies and combatants. It's a classic First-Person Shooter game with exceptional and crisp graphics and great audio-visual quality. You can access an armoire of dangerous weapons and take down mobs across the world. You don't necessarily need to use every weapon accessible to you; in Crossfire: Legends, you can choose the weapon best suited to your gaming style and specialize in using that particular weapon. You have access to a wide variety of weapons; assault rifles, shotguns, pistols, machine guns, snipers, among others. The best way to try out the different weapons available to you is by duly completing all the daily missions you have been assigned. Doing so results in rewards of weapons, gold, and gems. Crossfire: Legends also has a distinct currency – 'Silver Bullets'. You can easily earn a maximum of 12 silver bullets each day, and the more you accumulate, the more weapons and equipment you have access to.
Crossfire: Legends can be played in three gaming modes: Team Death Match, Demolition, and a Battle Royale mode. In Team Death Match, two teams wage a battle against each other, each aiming to score the maximum amount of kills. In demolition mode, two teams are pitted again pitted against each other, one team is tasked with setting an active bomb off and the other with defusing that very bomb to prevent it from going off. The Battle Royale mode consists of all the features of an FPS game, like squads, duo, and solo. You can opt for a setting from among the various themed maps: Military Base, Desert Storm, Cargo Ship, and Broadcast Station. The gameplay, which can be in Death arena, World Boss Hunt, Tower Defense, and Special Hide and Seek Mode is exceptionally fluid, while the graphics induce nostalgia for vintage games, and the characters are quite retro as well. You can also choose to engage in a more social mode of gameplay by creating friend lists, joining clans, and inviting others to join your clan. Essentially, what makes Crossfire: Legends so appealing is its excellent gameplay. It is fast-paced, contains a lot of action, and the wide range of activities keep you occupied and invested.
5. Azur Lane (Free)
Yostar Limited's Azur Lane is a naval warfare game with an eclectic mixture of RPG, tactical and 2D shooter elements. Essentially, in Azur Lane, naval warships are represented by 'kansen' which is a term used to refer to the female characters. There are over 300 warships in the game, each with a specific set of stats and characters assigned to it. Each kansen boasts a unique and specific skill set. Azur Lane is set in an alternate reality during the Second World War. This premise is based on the show of the same name; sirens have taken over the seas and humans have created female humanoids that embody the warships.
These humanoids emerge into two warring factions, Azur Lane and the Red Axis. The Red Axis represents Nazi Germany (Ironblood) and Imperial Japan (Sakura Empire). Now, it is up to the fleets of Azur Lane to command a naval fleet to wage war against the Red Axis. Each fleet is composed of two teams, a vanguard team on the frontlines and a main fleet at the back. The vanguard is responsible primarily for using the destroyers and cruisers to shoot at the enemy, while the main fleet boasts the battleships, aircrafts, and battlecruisers responsible for dispensing artillery and air support. As you construct your fleet, you can embark on either a daily special mission, a story mission, an exercise against other players, or an event stage for special occasions. After your fleet is constructed, you choose a story and event stage and chart the best possible course toward taking down the enemy flagship. It's essential for you to decide on a foolproof strategy while you progress through the game because you will encounter several enemy fleets and airstrikes attempting to threaten your fleet. The more damage that is caused to your fleet, the less likely you are to succeed in taking down the enemy flagship. This is why each fleet is provided with an ammo counter that keeps track of the fleet's stamina.
Each mission is assigned a three-minute duration for completion and your fleet's performance is decided based on a grading system: 'S' being the highest possible grade, while 'D' being the lowest possible grade. A good grade results in rewards, and you can use these rewards to purchase currency, new ships, or upgrade existing items. While engaging in battle against enemy fleets, you can opt to manually avoid incoming fire, use a cooldown timer to evade damage, use special skills to cause damage to the other fleets, which include torpedo barrages, airstrikes, and heavy cannon fire. There's also a gameplay mode for PvP battles which depends entirely on your level and firepower ratings. You also have to maintain the non-active ships in the shipyard. You can use the rewards you earn through battles and upgrade the equipment on these ships. The game features live 2D action and allows you to choose from either AI or manual battles. The gameplay allows you to play with the relative ease that comes with the 2D side-scroller.
With over a million downloads, Azur Lane is rated 4.5 out of 5 stars on Google Play Store.