BlueStacks Roundups
Top 10 Games To Play On BlueStacks in 2022 (Part 2)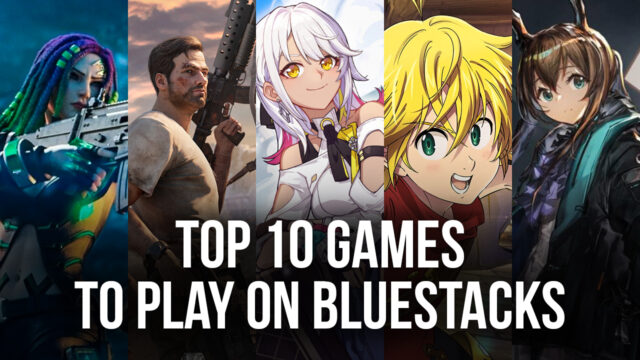 BlueStacks is an Android emulator with thousands of apps for you to access using your laptop or computer device. However, BlueStacks pays special emphasis on games and gaming, since many Android games are very fun to play on a bigger screen, using keyboard controls. The former allows you a better view of the game and enhances the atmosphere, while the latter allows you better control over your characters and more precision in your movements.
The first part of this article detailed 5 games that are must-play for any Android gaming fan, and this article continues that list, with 5 more games that are fantastic when played using BlueStacks.
1. Arknights (Free)
Created by Chinese game developer Hypergryph and released by Yostar, Arknights is a tactical RPG that also functions as a Tower Defence game in many respects. Released in 2020, the game also features several Gacha-type mechanics. The story of Arknights revolves around a degenerative disorder that plagues the population of the planet Terra. This disease comes about because of a mineral known as Originium, which also allows people on Terra to make use of magic and spells. However, using Originium also leads to the disease mentioned above, known as Oripathy which has a mortality rate of 100% and is also extremely contagious. Because of these reasons, a large population of Terra is placed in quarantine, creating socio-economic disparities and tensions between those who have Oripathy and those that don't. The player of the game must take on the role of a Doctor who commands a team of Operators in order to find a cure for Oripathy before it is too late.
The gameplay functions similarly to most Tower Defence games. The characters in the game – also known as Operators – serve as the "Towers" that must make use of various weapons and forms of offense and defense in order to ward off enemies. Gameplay takes place on an area covered in tiles on which Operators can be placed in various strategic formations. Operators in the Arknights are of two types; Melee Operators, and Ranged Operators. Melee Operators deal damage from close range and physically stop opponents from attacking your base, while Ranged Operators deal damage from long range. Ranged Operators also have the ability to heal Melee Operators and support them in other ways.
While this serves as the basic gameplay for Arknights, there are other interesting elements to the game that make it worth playing. The first among these is the difficulty level of the game itself. Arknights is not an easy game and it makes no illusions about it being one. You have limited tiles on which to place your Operators, and most of the time there are only a handful of "correct" ways to complete a level. This means that you will most likely have to play a particular level over and over in order to complete it. The game also has a rating system in terms of level completion, with three stars being the highest and one star being the lowest. If you complete a level with three stars the game records your moves so that you can auto-complete the level later if need be. Arknights also has a base-building element that lets players add elements to their base in order to extract resources. This is a great way to get the resources you need to advance in the game, but one must be wary of the fact that these bases, too, need security and that you must place operators near the base in order to defend it. The game also features daily login rewards, limited-time events, and other such elements that make it more exciting.
If you want more information on the classes and subclasses of characters in Arknights, check out this article. If you are looking for a guide on how to upgrade your Operators in Arknights, check out this guide.
With over one million downloads, Arknights is rated 4.4 out of 5 stars on Google Play Store.
2. The Seven Deadly Sins (Free)
Released by Netmarble in 2018, The Seven Deadly Sins is the next game on our list of the top games to play on BlueStacks. Based on an anime of the same name, which, in its turn, is based on an anime of the same name, Seven Deadly Sins is a turn-based strategy game that has both RPG and Gacha elements in it. The story is based on the manga/anime, which means there is much in terms of a rich plot for players to follow and play through. One of the main disadvantages that come with other RPG/Gacha games is that although the game itself may be stunning, it does not have a strong enough plotline to keep the player engaged throughout the course of the game. Seven Deadly Sins is the opposite of that, with a great storyline that fans of the manga and anime will already be familiar with. This also lends the game a feeling of nostalgia, with long-time fans of the series being able to interact with the characters and locations that are so beloved by them.
In terms of gameplay, Seven Deadly Sins offers fast-paced turn-based combat. This may sound like a contradiction since turn-based combat is usually quite slow, but Netmarble has switched things up with this game, with exciting turn-based combat that will keep you hooked the entire time. Players can make use of skills to fight their opponents. An interesting addition to the combat mechanics of Seven Deadly Sins is the Skill Synthesis feature, which allows you to combine two skills of similar strengths to make a new skill that is upgraded to the next tier. This opens up many new possibilities in terms of contact strategy since now players can make use of their characters in new ways and come up with new techniques to battle their opponents.
As mentioned earlier, Seven Deadly Sins also has great RPG elements that allow players to interact with their environment, other significant characters, and NPCs. Players can move around the Tavern area and look for quests that will allow them to earn extra in-game currency which is very useful in Seven Deadly Sins. There are mini-quests and mini-games scattered all around the map and if you want to take a little break from the main storyline in order to explore the game's environment or earn a little extra coin, you can always finish these mini-games and quests. The game has a strong Gacha feature which could turn off some potential fans. However, the Gacha mechanics are balanced well and it doesn't feel like you can simply pay your way to victory. Seven Deadly Sins requires some grinding from its users, which is great for those who want to complete the game in an organic way, without spending real money. In terms of graphics and soundtrack, it is hard to find a match for Seven Deadly Sins. The character designs are intricate and filled with little details, and so are the surroundings. Character costumes serve different purposes too and you have the ability to customize your characters as well. The soundtrack brings all the elements together and is a great addition to an incredible game.
With over ten million downloads, The Seven Deadly Sins is rated 4.1 out of 5 stars on Google Play Store.
3. Honkai Impact 3rd (Free)
Created by miHoYo and released in 2018, Honkai Impact 3rd is an action RPG that includes many different genres of gaming such as shoot 'em up, dungeon crawling, hack and slash, and social simulation. The game is considered a spiritual successor to Houkai Gakuen 2, since it uses many of the same characters but puts them into a different storyline. Speaking of storylines, Honkai Impact 3rd is set in an alternate version of Earth in which a malevolent force known as Honkai plagues humanity each time it gets too advanced. Honkai has the ability to corrupt humans and turn them into undead creatures which leads to the eventual destruction of the human race. This destruction and the rebirth of humanity happens in a cyclical way, with the last occurrence of such an event happening 50,000 years before the time in which the game is set. In this world, a group of elite female warriors known as the Valkyrie are trained to fight the effects of Honkai and must face many adversities and challenges in order to keep humanity safe and away from extinction. The user must take control of a group of Valkyries who are also in charge of the battleship known as Hyperion in order to contain the effects of Honkai and save humanity from collapsing.
In terms of gameplay, the main objective of the game is for the user to defeat the Honkai through any means necessary. You will need to control several different Valkyries who have varying combat styles, and, as can be expected, different strengths and weaknesses. Some prominent Valkyrie you will need to control are Kiana, the first Valkyrie you will take control of, who has excellent offensive moves and good defense too, making her a great all-round fighter, and Mei, who is more nimble and agile than Kiana but lacks the strength to attack the way Kiana does. Mei, on the other hand, makes use of her agility to dodge blows from her opponents and find openings during which she can attack her enemies and cause damage. In this way, there are Valkyries of various kinds that you will need to control and fight with. Some are great at close-range combat, while others are great at using weapons and mechs to deal blows from a distance. Staying true to its RPG roots, Honkai Impact 3rd allows you to upgrade your characters as well as the weapons and artillery they use. Boosting the abilities of the Valkyries can be done using an element called Stigmata, which allows you to increase certain stats of the character. Leveling up weapons can be done by breaking down various elements and materials and then using them to reinforce your weapons. This is an essential aspect of the game and one mustn't upgrade only one character or weapon since they are all useful at various levels.
Honkai Impact 3rd is completely free-to-play with the allocation of certain in-game microtransactions such as those of extra stamina, etc. The characters and the settings in the game look fabulous. That combined with its excellent gameplay and storyline makes Honkai Impact 3rd a must-play Android game.
If you are looking for combat tactics for Honkai Impact 3rd, check out this article.
With over ten million downloads, Honkai Impact 3rd is rated 4.2 out of 5 stars on Google Play Store.
4. Garena Free Fire MAX (Free)
Released by Garena International, Free Fire MAX is a Battle Royale game that is part of the hugely successful Free Fire franchise. The predecessor to Free Fire MAX was Free Fire, and upon the release of Free Fire MAX, many fans wondered what the difference between the two games was. In essence, Free Fire MAX is a complete graphics overhaul of the previous game, with exceptional visual effects, better gameplay, and improved combat.
The core aspects of both games remain the same. Free Fire MAX, just like Free Fire, is a Battle Royale game similar to PUBG or the Battle Royale mode in Call of Duty: Mobile, in which 50 players land simultaneously on a given map and fight it out until only one player or team survives. The game begins with a plane flying over an island which is the designated map for that match. The island has several pockets with varying elements and structures such as bridges, lakes, etc. Across the spread of the island are placed weapons and artillery of various kinds. From shotguns to pistols to automatic rifles and snipers, you can find it all in Free Fire MAX. You can also find grenades and safety vests in order to extend your life and minimize the damage caused by other players' weapons. Once you have found the weapons and artillery you need in order to kill enemies and survive, you can go hunting for other players and kill them as you find them or build a strategic plan in order to lure enemies to your hiding place and kill them once they're within view. The different geographic and architectural elements in various parts of the island keep players on their toes and force them to adapt to the conditions they face on an immediate basis. Players must learn to tweak their strategies according to the needs of the game and the immediate threat posed by other players.
As mentioned, one of the major changes Free Fire MAX brings with it is much-improved graphics. This also means that the game requires more space on your device and higher device specifications in order to run it optimally. For this reason, playing Free Fire MAX on your computer or laptop device using BlueStacks is a great option in case your phone is not capable of handling the specification requirements of Free Fire MAX. Playing on a laptop or computer also allows you better control over your character and your weapons, increasing precision and accuracy which are the two basic things you require in order to be good at Free Fire MAX.
With over one hundred million downloads, Garena Free Fire MAX is rated 4.1 out of 5 stars on Google Play Store.
5. State of Survival (Free)
The final game on our list of the top games to play on BlueStacks is State of Survival, released by FunPlus International in 2019. A strategy game, State of Survival is set in a post-apocalyptic world in which a zombie apocalypse has left millions dead, and millions undead. Now, a small group of survivors must do everything they can in order to not get killed by zombies and also to find other survivors near them.
As mentioned, State of Survival is a strategy game, and this one will see right as the game begins. The main agenda of the game is to collect resources and finish tasks in order to expand your headquarters, or the area where all the survivors now live, safe from the zombie apocalypse. The player must clear areas of zombies, collect resources such as food, gas, iron, wood, energy, etc., and finish tasks such as rescuing survivors from a zombie-infested area. Finishing these tasks reward you with Biocaps, which are an essential in-game currency, necessary for you to upgrade buildings and expand your headquarters. The combat in the game is also complex and rewarding. Players must strategize and make use of their resources in the best way possible in order to get rid of zombies in a particular area. The fighters you have access to have special abilities which must be utilized in the correct manner if you want to be able to fight off zombies. For example, there are certain characters who are great at fighting zombies from a distance, using weapons of various kinds to attack zombies which are far away. On the other hand, there are characters who prefer to use melee weapons to take the zombies head-on. In this scenario, the player must use strategic skills and place the characters in such a manner that they can make use of their skills effectively and neutralize all the zombies in the area. The zombies attack in waves, and as you progress in the game you find that killing the zombies becomes increasingly difficult. For this reason, it is important to train your troops regularly so that they can keep up with the increasing difficulty levels.
State of Survival also has a multiplayer aspect in which players can interact with other players of the game in real-time and form alliances which will help both parties progress faster in the game. The multiplayer mode also allows you to attack other players and raid their headquarters which is great if you want to collect resources. This also means that other players could attack your headquarters and loot all your resources, which is why one must form alliances and upgrade their defenses as fast and as much as possible in order to survive in the game.
With over fifty million downloads, State of Survival is rated 4.5 out of 5 stars on Google Play Store.