BlueStacks Roundups
Top 10 Anime Android Games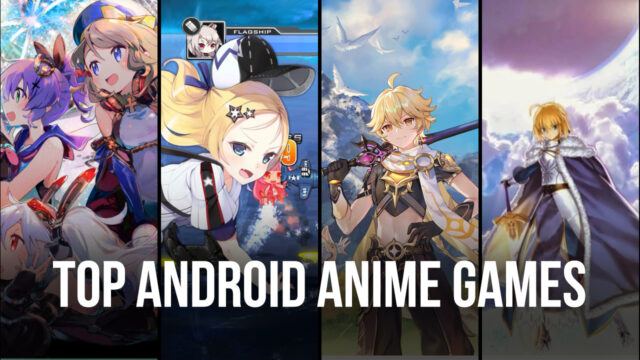 Anime is a beloved art form, one that has gained huge popularity and has been a staple of pop culture since the 60s and 70s. In recent decades, a wide variety of games have been released that base their visual aesthetics on anime, or are based entirely on various anime series themselves. In this list, we highlight ten anime games for Android that any gamer or anime lover should play.
1. Azur Lane (Free)
The naval combat game Azur Lane by Yostar Limited combines tactical, 2D shooter, and RPG features. The female characters known as "kansen" in Azur Lane serve as representations of naval warships. The game features over 300 vessels, each of which has a unique set of attributes and characters. Every kansen has a distinct and specialized skill set. The game is based on the events of World War 2. In the show of the same name, the Second World War is depicted in a different reality, where sirens have taken over the seas, and humans have produced female humanoids that represent the warships.
Thus emerge Azur Lane and the Red Axis, two warring groups of these humanoids. Nazi Germany (Ironblood) and Imperial Japan (Sakura Empire) are symbolized as the Red Axis. Now, it is up to Azur Lane's fleets to take leadership of a naval fleet and fight the Red Axis. A vanguard team on the front lines and a main fleet at the back make up each fleet. The vanguard's primary role is to engage the enemy with fire utilizing destroyers and cruisers, while the main fleet's battleships, planes, and battlecruisers are in charge of providing artillery and air support.
Your fleet's success is determined by a grading system, with "S" being the highest possible rating and "D" being the lowest possible rating. Each mission has a three-minute time limit for completion.
You have the option of manually dodging incoming fire, using a cooldown timer to avoid damage, or using special skills to deal damage to the opposing fleets, such as torpedo barrages, airstrikes, and heavy cannon fire. Additionally, Azur Lane has a PvP gameplay mode that is solely based on your level and firepower ratings. In the shipyard, you must also maintain inactive ships.
With over five million downloads, Azur Lane is rated 4.6 out of 5 stars on Google Play Store.
2. Honkai Impact 3rd (Free)
Honkai Impact 3rd, an action role-playing game developed by miHoYo and launched in 2018, combines various gaming genres, including shoot 'em up, dungeon crawling, hack-and-slash, and social simulation. Since it incorporates many of the same characters from Houkai Gakuen 2 into a new plot, the game is regarded as its spiritual successor. In terms of plot, Honkai Impact 3rd is set in a parallel universe where humanity is constantly dogged by the evil Honkai force whenever it advances too far. The ability of Honkai to corrupt people and transform them into undead creatures will ultimately result in the extinction of the human race.
Humanity is periodically destroyed and then reborn; the most recent instance of this cycle occurred 50,000 years prior to the time in which the game is set. In this universe, a corps of skilled female fighters known as the Valkyrie are trained to combat Honkai's influence and must overcome numerous hardships and difficulties to save humanity. In order to contain the effects of Honkai and prevent the extinction of humanity, the user must assume control of a group of Valkyries who are also in charge of the battleship known as Hyperion.
The user's primary goal is to eliminate the Honkai by any means necessary. You will be in charge of a number of distinct Valkyries, each of them having a unique fighting style as well as different strengths and weaknesses.
Using an element called Stigmata, which enables you to raise specific character stats, you can enhance the skills of the Valkyries. By disassembling various components and materials, you can strengthen your weapons while also leveling them up. This is a crucial part of Honkai Impact 3rd, and as each character and weapon has varying levels of usefulness, one shouldn't only enhance one of them.
With over ten million downloads, Honkai Impact 3rd is rated 4.4 out of 5 stars on Google Play Store.
3. Genshin Impact (Free)
MiHoYo's Genshin Impact is the next game on our list. The game's stunning visual appeal is one of the key factors contributing to its popularity. The visuals are some of the best you'll find right now, and you'll never get bored of taking in the breathtaking scenery all around you.
The setting for Genshin Impact is the fictional continent of Teyvat. There are seven nations in Teyvat, each of which is ruled by a different God and is associated with a certain element, such as water, fire, air, etc.
The player initially finds themselves in Teyvat's realm. A pair of twins, who are eager to escape Teyvat after learning that one of the seven nations is being attacked and is likely to be destroyed, serves as the plot's central characters. On their way out, they are confronted by a God who divides the twins, taking one with them and locking the other away. The sealed twin awakens in the future, under the direction of the user, and sets off on a mission to find their separated twin. They will travel across Teyvat on this assignment. They make new friends, unlock playable characters, battle a variety of foes, and confront a variety of bosses.
Learning how to play the game is very easy. The fundamental controls include running, swimming, climbing, and gliding. However, each of these actions requires stamina, which is scarce at the beginning of the game but which you may build up over time to enhance your overall stamina. As the game progresses, the player, as previously said, unlocks a number of playable characters. Only four characters can be equipped at once, though you can switch between them at any time. Overall, Genshin Impact is an amazing open-world RPG that any fan of mobile gaming should play.
With over fifty million downloads, Genshin Impact is rated 4.3 out of 5 stars on Google Play Store.
4. The Seven Deadly Sins (Free)
The Seven Deadly Sins is a turn-based strategy game with RPG and Gacha components that is based on an anime series of the same name. Because the story is based on manga/anime, there is a rich plot that players can follow and experience. One of the biggest drawbacks of other RPG/Gacha games is that, despite the fact that the game itself may be visually attractive, it lacks a compelling enough story to hold the player's attention for the entire game. The complete antithesis of that is Seven Deadly Sins, which has a fantastic plot that fans of manga and anime will already be familiar with.
Due to the fact that longtime series fans may engage with the characters and settings they adore so much, this also gives the game a nostalgic vibe. Seven Deadly Sins' gameplay features swift turn-based fighting. Turn-based combat is typically very slow, so this may seem contradictory, but Netmarble has changed things up with this game by using engaging turn-based combat that will keep you fascinated the entire time. Players can use their skills to battle other players. The Skill Synthesis feature, which enables you to combine two skills with comparable strengths to create a new skill that is upgraded to the next tier, is an intriguing addition to the combat mechanics of Seven Deadly Sins.
Since players can now employ their characters in new ways and develop new strategies to engage their opponents in combat, this opens up a wide range of possibilities in terms of contact strategy.
Strong Gacha elements in the game may turn off some potential players. However, the Gacha mechanics feel well-balanced and prevent you from feeling as though you can just pay your way to success. Seven Deadly Sins asks its players to grind, which is perfect for people who wish to finish the game without using real money. The Seven Deadly Sins is difficult to compare in terms of visuals and music. The character designs as well as the surroundings are intricate and rich with small details.
With over ten million downloads, The Seven Deadly Sins is rated 4.3 out of 5 stars on Google Play Store.
5. Arknights (Free)
In many ways, Arknights is a tactical RPG that plays similarly to a Tower Defense game. The game, which was released in 2020, also has a number of Gacha-style mechanisms. The degenerative disease that afflicts the Terra populace is the central theme of Arknights.
This sickness is caused by a material called Originium, which also enables individuals on Terra to cast spells and use magic. However, consuming Originium also increases the risk of the sickness known as Oripathy, which has a 100 percent fatality rate and is also very communicable. Due to these factors, a sizable portion of Terra is quarantined, resulting in socioeconomic differences and conflicts between people who have and don't have oripathy.
In order to find a treatment for Oripathy before it's too late, the player of the game must assume the position of a Doctor in charge of a group of Operators.
The way the game plays is typical of most Tower Defense games. The game's protagonists, often referred to as Operators, operate as the "Towers" that must repel enemies by using a variety of weaponry and strategies for assault and defense. The playing field is a tiled space where Operators can be arranged in a number of tactical arrangements.
Arknights also features a star rating system, with three stars being the highest and one star being the lowest, for level completion.
With over one million downloads, Arknights is rated 4.5 out of 5 stars on Google Play Store.
6. DRAGON BALL LEGENDS (Free)
The next game on our list of the best anime Android games is Bandai Namco's DRAGON BALL LEGENDS. The game is based on the massively popular anime Dragon Ball, which features Goku and his crew fighting warriors from different planets and searching for Dragon Balls.
The game features all of the major characters from the various Dragon Ball animes, including Dragon Ball, Dragon Ball Z, Dragon Ball GT, etc. Some of the characters featured include Goku, Vegeta, Trunks, Krillin, Piccolo, Gohan, etc. The game also has some of the great villains of the series' including Frieza, Majin Buu, and Cell. In DRAGON BALL LEGENDS, you get to use the characters mentioned above to fight 1v1 against these villains and more.
DRAGON BALL LEGENDS has three-dimensional gameplay in which users can move freely in all directions. There are light and heavy attacks that can be used to kill the enemy, and along with this, the game features various cards that can be used to create attack combinations, incapacitating your enemy. The game features a story mode in which you get to play the character of Shallot, a rising young Saiyan, who is fighting hard to get stronger and win more battles. As you play through the story mode, Shallot will become increasingly strong, and unlock various capabilities.
DRAGON BALL LEGENDS also features a live PvP mode in which users can take on other players of the game from around the world to see who is the best warrior amongst them. Winning battles means climbing the global leaderboard in the game. DRAGON BALL LEGENDS features excellent graphics, various gameplay modes, and excellent character design as well as voice acting.
With over ten million downloads, DRAGON BALL LEGENDS is rated 4.4 out of 5 stars on Google Play Store.
7. Bleach: Brave Souls (Free)
The next game on our list is KLab's Bleach: Brave Souls, a hack-and-slash game based on the popular anime and manga by the name of Bleach. The game allows fans of the anime to relive episodes and storylines through the story mode, in which players can recreate and play through scenes of the show and take on the role of various characters.
The game has multiple layers and different areas for players to explore, much like the anime and manga. From the human world to the Soul Society, to Hueco Mundo, and others, Bleach: Brave Souls has all the locations and settings that a fan of the series might want to play through. The game also lets players form guilds to go on co-op quests with up to four players in total. There are also several super-hard quests for those players who really want to challenge themselves and become hack-and-slash masters. You can also play online and take part in three-on-three battles with players from across the world.
Bleach: Brave Souls features a host of characters for you to play as, all of them fully voice-acted and intricately made character designs. From Ichigo, to Aizen, to Byakuya, you can play with your favorite characters, learn their playstyle, and conquer your enemies.
With over ten million downloads, Bleach: Brave Souls is rated 4.3 out of 5 stars on Google Play Store.
8. ONE PIECE TREASURE CRUISE (Free)
Bandai Namco's ONE PIECE TREASURE CRUISE is a beautiful, and well-made RPG that any fan of the anime will enjoy. The game has over 2000 characters for you to choose from, and you can recruit any of them to create the crew of your choice.
The game has a story mode that begins at the point the anime starts, and the story mode takes us through all of the major arcs of the anime, with many familiar characters coming into play. You also get to relive and play through some of the major battles of the One Piece universe. The game features a simple, turn-based combat system in which you can use tap-timing to create chain attacks and devastate your enemies.
The game is set in a two-dimensional world, and the character models look brilliant and intricate. You can also explore all the major areas of the One Piece universe in ONE PIECE TREASURE CRUISE.
With over ten million downloads, One Piece Treasure Cruise is rated 4.6 out of 5 stars on Google Play Store.
9. Yu-Gi-Oh! Duel Links
Yu-Gi-Oh! is a Japanese manga and anime series that follows a boy named Yugi Mutou who solves an ancient Egyptian puzzle known as the Millenium Puzzle which awakens within him an alter-ego that uses games to solve his conflicts. Konami's Yu-Gi-Oh! Duel Links is an Android game based on this manga and anime series in which users get to duel and battle using Yu-Gi-Oh! cards.
The game uses a dueling style known as Speed Duels in which the number of cards, decks, and spell/trap zones is reduced in order to make the dueling more expeditious. The game lets you duel against NPCs as well as Legendary Duelists. The game comes with various levels and stages. Unlocking these stages and playing through them allows players to unlock more difficult opponents, as well as unlock Character Unlock Missions. These latter missions, as the name might suggest, unlock Legendary Duelists, including the likes of Joey Wheeler, Maximilion Pegasus, Chazz Princeton, and Dr. Vellian Crowler.
Players can also unlock new cards through Legendary Duelists, Card Packs, or the in-game Card Trader. Yu-Gi-Oh! Duel Links also features a PvP mode in which players can duel against other players of the game. You can invite your friends and see who is the best duelist amongst you.
With over fifty million downloads, Yu-Gi-Oh! Duel Links is rated 4.4 out of 5 stars on Google Play Store.
10. Fate/Grand Order (Free)
The final game on our list of the best Anime games for Android is Aniplex's Fate/Grand Order. Fate/Grand Order is a turn-based RPG, in which the user plays the role of a Master who is in control of a group of people known as Servants. The main plot line revolves around the extinction of humanity in the year 2019, and how a group of individuals must save the human race by going back in time to erase space-time Singularities, which are found to be the cause of the predicted extinction.
The gameplay for Fate/Grand Order is quite simple. The user creates a team of six Servants, who are historical figures from various cultures. Out of the six, three are active players, while the other three are reserve players. The user is presented with five Command Cards, of which only three can be used in one turn. Each Servant has five cards for the user to utilize, and these cards are shuffled and dealt to the Servants before the match starts. There are three types of cards in the game: Buster, Arts, and Quick, each with varying power and ability to reach a Critical hit. Mixing up the cards and using certain cards in sequence unlocks a range of attacks that can reduce the enemy's health greatly.
Fate/Grand Order has beautiful and intricate graphics, smooth gameplay, and an engaging storyline, making it a must-play for any fan of Anime games.
With over one million downloads, Fate/Grand Order is rated 4.2 out of 5 stars on Google Play Store.