BlueStacks Roundups
Top 5 Android Games For Easter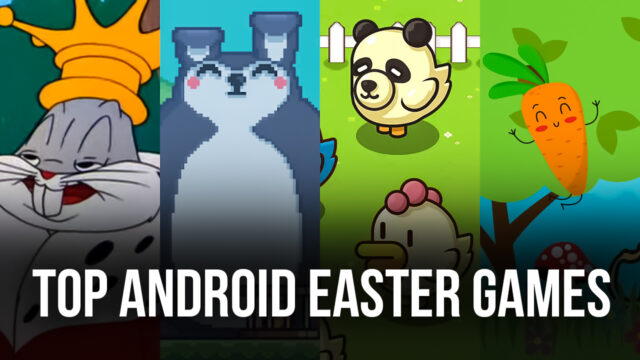 Easter is one of the most important Christian holidays. Since it has been celebrated for thousands of years, it has become very entwined with popular culture. From books to movies, to songs, to video games, Easter is everywhere. Here are five video games that are perfect to play on Easter.
1.Bu Bunny (Free)
Bunnies have been a part of Easter lore for centuries. Originally a judge of children, evaluating whether children have been good or bad and giving them presents accordingly, the Easter Bunny has become entangled in pop culture and the legend of Easter, so much so that you can't mention one without mentioning the other. In this regard, this list contains a few games related to bunnies, and kicking things off is Bu Bunny, a pet care game in which users must take care of a bunny, raise it, feed it, etc. and treat it like their own pet.
This game is especially great for parents whose children often pester them about getting real pets. Pets can be quite disruptive sometimes, and knowing how fast kids get bored of things, it is often not feasible for parents to bring pets into their homes. A lot goes into taking care of these pets and not many have the time or the energy to do so. Bu Bunny provides a virtual alternative to this dilemma. In Bu Bunny, you must adopt the titular character, Bu, and become her best friend. In the game, you adopt Bu when she is young and help nurture her growth so that she can become the star of Rabbit City. You can give Bu a pretty and diverse wardrobe since the game has dozens of different clothes to try out. From Rock Star to Princess, there are many different outfits to put on and accessories to mix and match as well. In the game, Bu will also have a house that you can decorate as you please. Move around furniture, add more tables and chairs, change the colors of the walls, add paintings and other display items, the game allows you to do all this and more.
Since Bu lives in a city populated by rabbits, you can also find and unlock several other cute and magical characters in the game. Unlocking characters also helps you unlock other unique clothes which you can then use to expand your wardrobe. Apart from taking care of Bu, the game also has other fun things for you to do such as starting your own sticker collection from the sticker store in town. The beauty salon can be used to give Bu a makeover, and after that's done, you can go to the town's photo booth and click pictures to memorialize your various looks and the various stages of Bu's growth. The game also has several other missions, mini-games, and other exciting things for you to partake in.
The game's art style is fancy and detailed, and the gameplay is smooth. The user interface is easy to get used to, which means even younger children can play the game by themselves.
With over ten million downloads, Bu Bunny is rated 4.1 out of 5 stars on Google Play Store.
2. Egg, Inc. (Free)
Egg, Inc. is an idle clicker game by Auxbrain Inc, in which the main objective is to build the most profitable egg farm. The game begins with a red button with the illustration of a chicken. This button changes sizes from time to time and pressing the button releases chickens into the farm. Releasing chickens by pressing the button means that these chickens will produce eggs, which can then be sold on the market at a profit. The main aim is to keep growing your farm and the various aspects of it so that you can continue housing more chickens and selling more eggs.
In order to house a large number of chickens, you must enlarge your hen houses. This can be done using the profit gained from selling eggs. In order to feed the chickens, you must also construct large grain silos. Doing this will also ensure that the chickens are fed by themselves for a longer period of time, and you will still be able to gain a profit and have the chickens continue producing eggs even when you are offline. Transporting eggs to the market requires large trucks which can also be bought in-game using in-game currency.
Another interesting aspect of Egg, Inc. is the epic research. Research is conducted in-game using golden eggs, and these do not get reset even when the user upgrades the different parts of their farm. Conducting research will decrease the price of buildings and hatcheries, and ensure that you have a constant supply of soul eggs too. You can also gain in-game currency by watching advertisements that pop up every so often in the game.
With over ten million downloads, Egg, Inc. is rated 4.6 out of 5 stars on Google Play Store.
3. Yeah Bunny 2 (Free)
Yeah Bunny 2 is a 2D platformer created by Adrian Zarzycki, and is the sequel to the immensely popular platformer Yeah Bunny! The game begins with an introductory sequence in which a mother bird hysterically runs towards our protagonist, pleading with him to find her stolen eggs. This, essentially, is the main plotline of the game. While it may not sound very interesting, there are so many elements in the game, and so many levels to play through, that it is difficult to find yourself bored of this adorable 8-bit platformer.
The game's controls are very simple. Tap the screen in order to make the bunny jump. Tapping while he's in mid-air will make him double jump. Tapping the screen while the bunny is sliding down a wall will make him jump off the wall. There are over fifty incredible levels for you to complete, each different, and usually more difficult than the previous one. There are so many varied elements for you to play through in Yeah Bunny 2. From locked doors and massive springs to teleporters to giant pigs, this game has a lot going for it. The game can also get incredibly difficult at times. There are usually no narrow escapes, and one false move can cost you your run. Once you die in the game, you have two options, one is to restart the entire level, while the other is to munch on your stash of magical carrots which will take you to your last checkpoint, from where you can continue your run. This is incredibly helpful since levels can be long, challenging, and demanding, and having to restart the entire level when you're very close to the end can be very disheartening.
Apart from the fifty levels for users to play through, Yeah Bunny 2 also has seven different worlds for users to explore, each with its unique design, landscape, and elements of play. Every world is different and the strategy you use to play the game in every world must change according to the demands of the world. Due to this, the game never feels monotonous and you always have something new to look forward to, whether it be a new level or a new world. The game also entails several boss battles in which your tiny little bunny must go up against huge, monstrous creatures in order to complete a level. Every level has a leaderboard that includes players from across the world, so you can see how well you match up against other Yeah Bunny 2 players, which gives you an extra push of motivation to be faster, more agile, and collect as many coins and rewards on the way as possible. The retro art style and music are also incredibly atmospheric and add to the overall nostalgic quality of the game. You will often find yourself lost in the world of Yeah Bunny 2 and that will be not just because of the incredible gameplay, but also because of how great the game looks and how engaging the soundtrack is.
With over one million downloads, Yeah Bunny 2 is rated 4.5 out of 5 stars on Google Play Store.
4. My Egg Tycoon (Free)
We've all heard of, seen, and played simulator games where one must build an empire building some sort of a product, managing its marketing, selling it, making millions, and then investing all the profit back into the company to make it larger and beat all the competition. While these games are fun, what if there was a game where you could become a billionaire selling the most modest of products: eggs! StormX's My Egg Tycoon gives you that exact opportunity.
My Egg Tycoon is an idle simulator game in which the main objective is, as the name of the game might suggest, to become an egg tycoon. This is done by farming hundreds and thousands of chickens, selling their eggs, and then buying more chickens and more farmlands in order for you to expand your business and become the biggest egg tycoon in the world. As mentioned, My Egg Tycoon is an idle game, which means there isn't much for the user to do and also that the game will continue to run and you will continue to reap profits and rewards even when you're not playing the game or when you're offline. You begin with a modest number of chickens, eggs, and a farm, and as you contend to become the biggest and richest egg tycoon of all time, you must use strategies in order to maximize your productivity so that you can gain the most amount of profit from the capital you already possess. As you advance through the game you will find new chickens of different kinds, all differing in the way they look and all possessing different abilities. These different chickens can be used in various ways to unlock the potential of your farm and push you to the top and make you the premier egg tycoon. The game has over a hundred different chickens to unlock, so you can be sure to strap into this game for a long time.
The chickens in My Egg Tycoon can also be upgraded, meaning you don't have to be stuck with your chickens' current abilities, and you can advance them as and when you have the resources or when you think it is necessary to upgrade your feathered friends. Chickens' productivity can also be increased by tapping on them, allowing you to get many extra eggs simply by tapping on your screen for a few minutes. While this isn't compulsory, and the chickens will continue to produce eggs without you tapping on them, the extra boost can go a long way and help immensely in your journey to becoming an egg tycoon.
With over one million downloads, My Egg Tycoon is rated 4.5 out of 5 stars on Google Play Store.
5. Rabbit Evolution: Merge Bunny (Free)
Rabbit Evolution: Merge Bunny is a clicker game created by Tapps Games. The main objective of the game is to mix and match bunnies of the same kind in order to create new species of bunnies. The game has a pantheon of bunnies for you to unlock, with some mutations being cute, fluffy, and adorable, while others may be monstrous and terrifying, or, as the game likes to call it, 'hare-fying'.
The gameplay for Rabbit Evolution: Merge Bunny is extremely simple. The user must simply drag and drop bunnies of similar kinds onto each other in order to make them mutate into another kind of bunny. You must unlock as many bunnies as you can. The game has hundreds of different bunny mutations for you to unlock so you can be sure that Rabbit Evolution: Merge Bunny will keep you and your family occupied for several hours. The game's reward system functions on the basis of coins, which can be gained through rabbit eggs. Unlocking new bunnies and new kinds of mutations also provide you with coins. However, there is another interesting way for you to earn coins in this game. Simply tap the bunny! Continuously tapping a bunny will gain you eggs which you can then pop to get coins.
This isn't simply a drag-and-drop game with nothing else to it. Rabbit Evolution: Merge Bunny also has an incredibly interesting and sometimes spooky story for you to dive into as you play the game. While mixing and matching bunnies and unlocking new species of bunnies, be sure to be aware of imposters pretending to be bunnies. While many kinds of bunnies exist, several intruders will also try to take the spotlight away from the bunnies, and it is the user's job to catch these tricksters and put them in their place. Rabbit Evolution: Merge Bunny also does not have a fixed ending, meaning every decision you make counts immensely and will decide your fate at the end of the game. This also gives the game a high replay factor, since you can go back and change the decisions you made in hopes of getting a new, and different, final outcome.
The game's art style is simple and cartoonish, making it perfect for children. The cartoonish art style also makes the monstrous mutations of rabbits all the more terrifying since users generally don't expect to find such things in such a cute-looking game. Rabbit Evolution: Merge Bunny also allows in-game purchases in case you want to buy more coins or unlock more bunnies quickly by buying them.
With over five hundred thousand downloads, Rabbit Evolution: Merge Bunny is rated 4.3 out of 5 stars on Google Play Store.