BlueStacks Roundups
Top 10 Android Games under 1 GB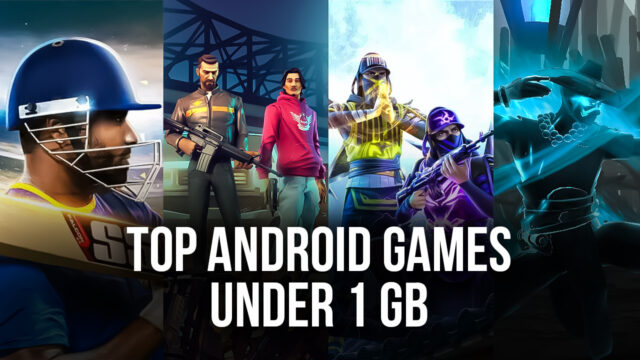 Mobile has been a popular platform, regardless of genre, owing to the large audience and increase in ports and new IPs by well-known developers. As time goes on, the handheld platform will be flooded with new and exciting experiences. When producing big games like GTA and Asphalt on mid-range smartphones, optimizations can be challenging, and not everyone has a beast of a device, which causes game developers to work on games with constrained requirements while maintaining quality and nature.
However, if your smartphone has limited storage and you want to get the most out of your gaming without compromising quality, downloading games uses a lot of Internet traffic these days, making it tough for us to check out games on the go. We've made it simple for you by producing a list of the best Android games that are under 1GB in size. So, if you're running out of space and want to kill some time with a new adventure, you may download and play these games right away.
1. Gangstar New Orleans [ Free ]
Gangstar New Orleans is a free-to-play open-world action game with over 10 million downloads and a 4.3 average star rating on Google Play.
Gangstar New Orleans is an open-world game that reintroduces the fun of wandering around an action-packed city while also introducing a nostalgic perspective on exciting challenges. The game is set in the amazing capital of "New Orleans". The game gives you all the opportunity to gather skills and become a true Gangstar, with hundreds of cars, incredible armament, explosive action, and unlimited freedom to explore this gigantic metropolis.
You could do essentially everything you can do in GTA games including driving cars, flying helicopters, driving monster trucks, playing street racing, fighting, wandering about the city, and much more in this game. The game is incredibly appealing and can be played both online and offline.
If you're searching for a game with an expansive world and plenty of action, this is worth looking into. Although the game was first released in 2017, it has been refined over time to become one of the greatest in the category. On your Android device, Gangstar takes up about 1GB.
2. PUBG MOBILE LITE [ Free ]
PUBG MOBILE LITE is a basic low-end version of the famous PUBG MOBILE game, which has over 100 million downloads and a 4.1 star rating on Google Play.
PUBG MOBILE LITE is a Tencent Games open-world first-person shooter that, like the popular PUBG MOBILE Fighting Royale game, combines massive settings with intense fighting conditions. All of the functions are available, with the exception that the version will be devoid of the majority of the high aesthetic aspects that make the original version so hefty.
This version of PUBG MOBILE is lower in size and compatible with more devices, including those with less RAM and storage. It is powered by the powerful Unreal Engine 4. You may join your friends, invite and team up with them, strategize using voice chat, and destroy your foes just as in the original edition, but it only needs up to 500 MB of storage.
3. Shadow Fight Arena – 3D Ninja [ Free ]
With over 10 million downloads and a 4.6-star average rating in the Google Play Store, Shadow Fight Arena – 3D Ninja is one of the greatest 3D fighting games presently available on the market.
Shadow Combat Arena is the most recent installment in the renowned shadow fight franchise. The game features a new 3D version of the game's original 2D silhouette graphic style, as well as deep but intense gameplay. The animations have been completely reworked, making it the greatest in the series. Slow motion animations are also included during select strokes, evoking the original lethal fighting approach.
The lack of a story option is compensated with the amount of enjoyment provided by the real-time online PVP bouts. More characters may be unlocked and tested against other competent fighters in Shadow Fight Arena. Shadow battle never disappoints in terms of combat quality and is well worth a try. The game requires only 350 MB of storage, making it simple to install and play.
4. The Wolf Among Us [ $15 For Episode (2-5) ]
Telltale Games' The Wolf Among Us is an unrivaled story-telling game with over 5 million downloads and a 4.6 average star rating on Google Play.
The Wolf Among Us is a five-part episodic adventure from the creators of The Walking Dead, a Game of the Year winner with over 90 nominations. As the protagonist "Bigby Wolf", you'll learn that a terrible, gory murder is just the beginning of a gaming series in which every action you make has far-reaching consequences. Fairytale characters are being killed in this hard-boiled, violent, and sophisticated thriller based on Bill Willingham's award-winning Fables comic book series.
The game's tale is engrossing and has extremely developed characters; it's the ideal spot to discover a new aesthetically beautiful universe. This game's first episode was released in 2013, with more to come, and it's still one of the greatest story-telling games on the platform. The Wolf Among Us uses up to 680 MB of space every episode, which may be removed and replaced with the next when it is finished.
5. Garena Free Fire [ Free ]
With over a billion downloads, it is the most popular app on the market. Free Fire, sometimes known as Garena Free Fire, is an Android Battle Royale game with a 3.9 average star rating on the Google Play Store.
Garena's Free Fire is a third-person action game where 50 players battle it out to the death on a large island filled with weapons and vehicles. Only one player makes it to the opposite side of the island alive. In addition to the well-known Battle Royale, the game offers a range of modes like Team Deathmatch (TDM), Rush Hours, and Ranked mode, and it continues to expand in terms of gameplay and has a significant esports component. If you enjoy battle royale games, you should certainly check it out.
Free Fire is a fun and engaging game, but what sets it apart is the incredible environment that you can explore with only a low-end smartphone. The size of a Free Fire depends on the device you're using, however, it can be up to 1 Gigabyte.
6. Real Cricket 20 [ Free ]
Real Cricket 20, The latest entry in the Real Series has received over 10 million downloads and a 4.2-star rating on the Google Play Store.
Real Cricket is one of the most realistic cricket games on Android, with high-fidelity visuals, authentic player faces, great-looking team jerseys, and the most exact live venues, including Mumbai, Melbourne, and London, each giving a distinct experience. All of the regular match formats, including ODI, T20, and Test, as well as real-time multiplayer games, are available to the player.
There's also a completely new auction mode where you may place bids on your favorite players and assemble your dream team. Real Cricket 20 has set the bar for all future cricket games, yet being only 600MB in size and compatible with any Android device.
7. Hitman Sniper [ $0.99 ]
Hitman Sniper is a mobile version of the iconic Hitman FPS series, with over 10 million downloads and a 4.1 average star rating on Google Play.
Square Enix's Hitman Sniper is a first-person shooter game. The game features simple controls, stunning visuals, and an engaging plot. Long missions that transport you to different regions of the globe will keep you occupied for days. The sights and motions are fluid throughout the game, resulting in addicting gameplay and a gripping tale. There are 16 different firearms in the game that may be obtained through blueprints and weapon components.
You may also use classic creative hitman kills to boost your score and climb the contract killer ranks, allowing you to become the world's best silent assassin and brag about your achievements in front of your buddies on the current leaderboard.
For those seeking a traditional shooting game, this is one of the greatest options. Hitman Sniper was released in 2014, yet it is still one of the most popular games on the platform. After installation, the game takes up about 750 MB on your mobile device.
8. Sky Children of the Light [ Free ]
Sky: Children of the Light is one of the most ambitious indie open-world social games, with amazing visuals and a gripping narrative. It has over 10 million downloads on Google Play and a 4.7-star rating.
Sky is a breathtaking experience about exploration and the wonders of the world. The music and graphics of the game really immerse you in the experience. It's an amazing experience that will make you question whether the game is actually operating on your phone. While you may also play the game with a friend, in which case you'll both enjoy flying into the air, carried by the wind, while listening to wonderful music. It never ceases to exhaust you in its vast world.
It is undoubtedly a one-of-a-kind game that also made our Top Android Games in 2022 list, and we highly encourage you to give it a try. The game was released in 2019, but after a few upgrades and enhancements, everyone realized what a treasure it is. On your Android smartphone, the game merely takes up about 1GB of storage space.
9. Into the Dead 2 [ Free ]
Into the Dead 2 is an action-packed endless runner Zombie game with over 10 million downloads and a 4.4-star rating on Google Play.
The simple purpose of this game is to survive the zombie apocalypse by escaping. Travel through oil fields, military bases, and other locations while avoiding zombies. You play as James, a guy on a last-ditch attempt to rescue his family. You'll gain a number of fighting and ranged weaponry as you go through the game, which you may use to destroy zombies in your path.
It's one of the newest zombie games, with unique elements including a horrific atmosphere and demanding challenges, as well as an adorable dog companion, providing a lot of bang for your dollars. This is an excellent alternative if you're seeking a different style of runner game to pass the time. On an Android device, the game only uses up to 1 GB of space.
10. Life is Strange [ $8.99 For Episode (2-5) ]
Life is Strange is a five-part episodic game that revolutionizes the story-based choice genre. It has over one million downloads and a 4.3-star average rating on Google Play.
Life is Strange establishes the bar for any platform-based choice-based storytelling game. The game features Max Caulfield, a photography senior who finds she has the ability to reverse time in order to save her closest friend Chloe Price. Soon after, the two are tasked with investigating the inexplicable disappearance of Rachel Amber, a fellow student. With its aesthetically amazing graphics and in-depth characters, the game tells a serious and somber narrative that paves the path for future story-telling games.
The game is without a doubt one of the greatest on the list, and it works well on a mid-range device. For a time, the controls may feel a little difficult, but as we progress through the episodes, they grow easier. Each episode is roughly 700MB in size, and you may install it once you've finished the previous one.