BlueStacks Roundups
Top 10 Soulslike Games For Android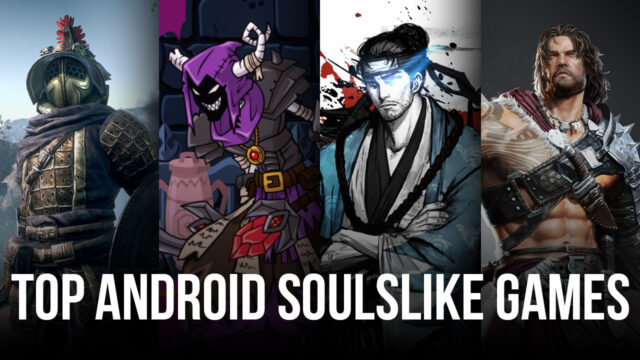 The Souls franchise is one of the most popular and critically acclaimed game franchises of recent times, and for good reason. With an amazing plotline, immaculate combat mechanics, and detailed graphics, the Souls franchise is a must-play for any fan of video games. The Souls games, however, are not available for mobile. You can play these ten games instead, which have been massively influenced by Dark Souls.
1. The Elder Scrolls: Blades (Free)
Both critics and players agree that Bethesda did an excellent job with The Elder Scrolls: Blades, their entry into the mobile RPG market. The Elder Scrolls V: Skyrim and The Elder Scrolls IV: Oblivion are set in the same universe as the rest of the Elder Scrolls series, and the game is a spin-off. The first-person perspective role-playing game is playable in both landscape and portrait modes, the latter of which greatly facilitates one-handed play.
The Elder Scrolls: Blades fighting system and overall game design make it clear that Bethesda intentionally designed the game for mobile devices, in contrast to other large PC game ports that have attempted to jam the PC version of the game into a mobile device. Unlike all the previous PC/Console Elder Scrolls games, this one is linear and not open-world. This is a result of the technical restrictions of mobile devices, demonstrating that the game's developers took care to completely mobile-optimize this game.
The player fights in one-on-one battles via swiping, tapping, or using the dual-stick controls that are displayed on the screen. This game is for you if turn-based fighting is too monotonous for you and you like to play a game where you can engage in real-time action. The player has access to a wide variety of weaponry as well as a large selection of unlocked characters. As was previously said, the game is linear, so the player's primary goal is to move from point A to point B while eliminating anything in the route. Despite the game's apparent simplicity—which it undoubtedly has—the seamless fighting mechanics, the recognizable Elder Scrolls soundtrack, and how impressive the game looks even on mobile devices make up for it.
The settlement construction in the game is another noteworthy feature that distinguishes it from its open-world console/PC predecessors. In Elder Scrolls: Blades, you construct your own village according to your preferences utilizing resources you've gathered, as opposed to searching for settlements. If you run out of materials, you may always use real money to purchase gems, the in-game currency, to purchase the supplies you need for your town-building endeavour. Users have appreciated the game's Guilds and PvP modes. In The Elder Scrolls: Blades the guilds can be used to communicate with other players, conduct business with them, or engage in combat with them in the Arena to earn more rewards.
With over five million downloads, The Elder Scrolls: Blades is rated 3.9 out of 5 stars on Google Play Store.
2. Grimvalor (Free)
Grimvalor, a hack-and-slash game from Direlight Games, was released in 2018 and does everything the genre is known for while doing it exceptionally well. Grimvalor, which takes place in the Vallaris kingdom, has you hone your combat abilities while attempting to stop whatever evil is brewing there. Grimvalor is a very visually appealing game with gloomy castles, dark rooms, and a variety of bizarre creatures that hide in the shadows and try to murder you.
The game's controls are quite slick and enhance the playing experience. The different buttons are positioned in the corners to prevent users from inadvertently pressing the wrong one, and they all respond to commands quickly and without any lag time. The game places a strong emphasis on improving your weaponry and learning new moves. You only experience this after finishing the game. Additionally, you discover new weapons to use and modify, and you can use objects you come across on your travels to further improve your weaponry. Grimvalor has a soul bar that you should be aware of in addition to the health bar because it is used for all of your character's powerful moves. Both of these manoeuvres and Grimvalor's fighting in general are quite complicated.
Grimvalor places equal emphasis on defence and offence because letting larger foes and bosses hit you will result in you dying very soon. However, once you learn your opponent's movement patterns, it is simple to exploit them and do significant damage to your adversaries. Grimvalor is a fantastic game to play offline for extended stretches of time or little bursts of play, with strong combat and fantastic graphics.
With over one million downloads, Grimvalor is rated 4.6 out of 5 stars on Google Play Store.
3. AnimA ARPG (Free)
AnimA ARPG is an action role-playing game created by Redeev that has a challenging dungeon crawl with compelling obstacles to conquer in a dark fantasy environment with intense combat.
As the protagonist, it is your mission to explore this vast universe in an effort to find forgiveness. AnimA offers three character classes: Skirmish, Archery, and Sorcery. You can select one of these classes based on the unique skills and traits you want to have. For instance, you can learn the teleportation skill if you choose the sorcery class or the whirlwind skill if you choose the skirmish class.
You must overcome a variety of frightening enemies in each of AnimA's more than 40 levels, including terrifying demons, enormous beasts, evil dark knights, and many others in the abyss. Bosses are another obstacle, and the more boss battles you conquer, the more points you earn. Your goal in an ARPG, as one might anticipate, is to eliminate each boss you come across before facing the main antagonist. Even the bosses have fascinating backstories of their own, and these particular backstories contribute to giving the plot greater depth.
There are countless foes throughout the entire game. There are many different types of adversaries, including burnt beasts, electric monsters, and undead monsters. These enemies are difficult to kill because they are surrounded by auras that can reduce your power. You can choose from eight distinct upgradable gems and 200 items ranging from common and magical to uncommon and legendary. You can unlock over 45 skills and mix them with your specialization to form a powerful combination. Grinding is a crucial part of the gameplay because it aids in your victory in boss encounters. The boss battles, which get increasingly difficult as you continue through the game, are still the most difficult part of the fighting, which features a variety of attacks that can be obtained through a skill tree.
The system of control runs smoothly. As you gain skills, you can link the ones you want to use frequently to on-screen buttons, which improves gaming flow. Of course, the loot is AnimA's most alluring feature. Similar to Diablo, there are many different legendary artefacts to loot. To gain access to three extra character slots, two extra inventory slots, and a weapon upgrade, you can make a microtransaction for just $0.99. AnimA ARPG is guaranteed to keep you entertained because of its flawless gameplay, simple crafting system, straightforward controls, and action-packed combat.
With over one million downloads, AnimA ARPG is rated 4.3 out of 5 stars on Google Play Store.
4. Watcher Chronicles (Free)
Next on our list is Watcher Chronicles, a 2D soulslike game that is built to be completely merciless towards the user. The game takes place in Purgatory, where a group of fallen angels known as "The Walkers" are attempting to turn Purgatory into a new hell. The main objective of the game is to stop the Walkers from accomplishing their goal.
When you first play Watcher Chronicles, the 2D graphics and art style may make you think that it is an easy, gimmicky game. But you couldn't be more wrong. The game's AI is ruthless and you are bound to die many, many times in the game. But the challenging gameplay is what makes the game so interesting and makes you want to beat the game through any means necessary.
The game has a large and intricate map that can be explored in a non-linear fashion. It also features a local co-op mode, in which you can hook up two controllers to your device and take on the game with a friend. The combat is fast-paced, and much like the Souls franchise, you must make heavy use of blocking and dodging, trying to find the perfect time and moment to strike at your opponents and cause them damage. Watcher Chronicles also features magical abilities, allowing your character, for your instance, to control fire or become a necromancer. There are over twenty difficult bosses for you to beat, and dozens of interesting weapons to do it with.
With over ten thousand downloads, Watcher Chronicles is rated 4.1 out of 5 stars on Google Play Store.
5. Ronin: The Last Samurai (Free)
Next on our list is Ronin: The Last Samurai which is based loosely on the characters of Vagabond, the hugely popular manga which details the life of the great Ronin, Miyamoto Musashi. The gameplay in Ronin is fairly simple. You are given one button with which to both block and parry your enemy's hits, as well as to move around. The button on the right-hand side is for attacking. Tapping the button engages a light attack while holding the button for longer engages a heavy attack. You also have a special bar that fills up beside the attack button, which, when full, can be used to engage your special move.
Combat is of primary importance in Ronin. You cannot simply attack your opponents until they get stunned because they will hit back. More often than not, you will have to be on the defensive end, blocking and parrying your enemy's hits until you find the perfect moment to either counterattack, which deals heavy damage, or block the shot and get a hit in yourself. Opponents will be of different types. There are those that will attack you directly, at close range, but there will also be those that attack you at a distance. It is recommended you kill the latter ones first since they can cause a lot of damage. The game includes tons of different boss battles where you will face a variety of enemies, including zombies, Japanese gladiators, ninjas, and katana masters.
Ronin has a unique ink-and-wash art style that will transport you straight to feudal Japan. With amazing gameplay and many difficult challenges for you to traverse through, Ronin: The Last Samurai is a great game for anyone who is a fan of the Souls franchise.
With over five million downloads, Ronin: The Last Samurai is rated 4.5 out of 5 stars on Google Play Store.
6. Way of Retribution (Free)
The next game on our list is Way of Retribution. Clearly influenced by Dark Souls, Way of Retribution also has a storyline that juxtaposes light and darkness, while making no clear distinction as to what is good or bad. The balance of the world has been disturbed due to the ancient Gods falling to a dark soul, and now it is up to the user to bring peace back into the land which has now become an endless battlefield.
Way of Retribution features various types of combat systems. First, there is the story mode in which you must follow the plot of the game and figure out what exactly has caused your peaceful land to become home to chaos. Next, there is the co-op mode, in which you can team up with players online to battle monsters and bosses of various kinds. Thirdly, there is the PvP mode, in which you can engage in battle against other real-world players to test your mettle and see who comes out on top. The game features neat combat mechanics with a ton of different weapons for you to try out.
You also have full control over how your character looks and which attributes you want them to have. The character designs in Way of Retribution are unique and go with the medieval aesthetic the game is pushing for.
With over five hundred thousand downloads Way of Retribution is rated 3.4 out of 5 stars on Google Play Store.
7. Darkness Rises (Free)
The RPG Darkness Rises from NEXON Company has one of the best visuals currently available. The battle system and game mechanics are unsurpassed, plus the game offers amazing graphics. It is hardly surprising that the game's aesthetics are frequently likened to those of the venerable Souls series. The four character classes available to players are Assassin, Warrior, Berserker, and Wizard. These characters can be used to combat the Dark Forces that have been wreaking havoc on the earth. Great voice acting, action scenes, and cut scenes abound throughout the game, which makes you grow increasingly invested in the plot, the characters, and the final result as you play.
Each character has a distinct set of benefits and weaknesses, and the environment is also very well constructed. With the help of in-game money, players may customize their characters to their heart's content by changing how they look, upgrading their attributes, and purchasing new weapons. The game's battle sequences are incredible, and the touchscreen controls are flawless. The Soul Link Ability, which lets you take possession of a dead enemy's body and use it to fight for you in your army, is an intriguing feature of the game. A great playing experience is created by the game's mechanics and aesthetics.
When playing this game, you can select from a wide variety of characters and weapons as well as straightforward attacks and intricate combos. The game provides players with single and multiplayer online combat with other online users in addition to the adventure and story modes. Participate in cooperative raids to earn rewards. Every dungeon has a boss battle, which is a lot of fun to play and stays true to the dungeon crawler premise.
You don't need to be an expert tactician to succeed in Darkness Rises. Most of the time, all you need are high-level stats to almost guarantee victory in the levels you play.
With over fifteen million downloads, Darkness Rises is rated 4.5 out of 5 stars on Google Play Store.
8. Eternium (Free)
Eternium is the last game on our list of the top Android Souls-like games. RPG lovers all over the world adore Making Fun's 2014 release. Eternium presents you with a selection of character classes at the outset of the game, just like the majority of other RPGs do. You have a choice between the three classes of warrior, bounty hunter, and magician. Because it directly influences your basic and complicated attacks, abilities, and treasure, your character class has an effect on how you fight. The way the environment is created and the adversaries you encounter in Eternium are tributes to other classic RPGs like Diablo and Torchlight.
Two of the three planets you encounter when you first start the game are locked. These stand in for the three distinct acts that make up the plot. Since there is no pay-to-win system in place and the game can be played offline, it is incredibly user-friendly. The game does not include a stamina or energy meter that depletes quickly or that requires real money to refill.
The visuals in Eternium are excellent, especially considering that the game was launched almost ten years ago. The battle mechanisms are simple but engaging, just like the plot. RPG veterans will be familiar with what to anticipate from Eternium.
However, as the creators have made sure to put their distinctive twist to every aspect of the game, from the characters to the story to the sound design, this does not imply that the game is just another Dark Souls imitation. In Eternium, you can unlock uncommon, rare, epic, or legendary goods through an intriguing crafting system. Although it takes some time, you can speed it up by using gems, the in-game currency. As you progress through the game, you also encounter companions, some of whom accompany you on your mission. This is a wonderful feature.
With over ten million downloads, Eternium is rated 4.8 out of 5 stars on Google Play Store.
9. Pascal's Wager ($6.99)
Next on our list of the best Soulslike games for Android is Pascal's Wager by Giant Global. The setting of the story in Pascal's Wager is similar to that of the first Souls game. The world is shrouded in darkness and mist, when, thousands of years ago, the sun was swallowed by the sea, never to rise again. However, bringing light to this dark world was the Colossi, gigantic creatures who unshrouded the mist wherever they went. These beings were humanity's last hope of survival. After many years, however, the Colossi are plagued with an unknown illness, leading to their deaths and the world is beginning to be covered in darkness again. The main goal of the user is to save the remaining Colossi and figure out the dark secrets of the world they're in.
Solas, the world of Pascal's Wager, is filled with intricate details, as well as dark and monstrous creatures that you must fight on your journey. In true Soulslike fashion, every enemy you face is potentially deadly, and you must be extremely careful when you fight any of them. The combat mechanics of Pascal's Wager are unparalleled and are even better when you play the game using a controller.
One of the key ways in which Pascal's Wager diverts in its approach from the Souls franchise is the ability to shift characters. While in the Souls games you are locked into one character, and hence one playstyle, in Pascal's Wager you can shift between four varied and versatile characters which makes the gameplay very interesting and keeps you fresh while playing the game.
The game features console-like graphics and an incredibly sad, yet beautiful soundtrack. Overall, if you are a fan of the Souls games, Pascal's Wager is a must-play for you.
With over one hundred thousand downloads, Pascal's Wager is rated 3.8 out of 5 stars on Google Play Store.
10. Wayward Souls ($6.99)
Noodlecake's Wayward Souls is the next game on our list of the best Soulslike games for Android. The game is touted for its retro graphics, as well as its procedurally generated levels, which means that every time you play the game it will be a completely new experience for you since the levels you play will be randomly generated by the game.
Wayward Souls doesn't feature any particular storyline. This is completely unlike the Souls series which offers a rich and haunting plot. However, the purpose of Wayward Souls is completely different from that of the Souls series. While the latter is made to engross and engage you in the gameplay, storyline, and overall game environment, the former is made for quick playthroughs. This is also due to the change in device. The Souls series is available on PC and other consoles, while Wayward Souls is available on mobile.
The game has six characters for you to control, each one with a different playstyle, and a different set of equipment. It is essential for you to figure out which character you are most comfortable playing as, since Wayward Souls' combat mechanics place a lot of importance on timing, tactics, and positioning. The game has thirteen different area types for you to unlock, each with different terrain and a different challenge for users to play against.
Unlike other, similar RPGs, Wayward Souls doesn't place any emphasis on grinding out levels in order to beat the game. Instead, clearing levels is based solely on increasing the skill level of your character. The game also has a neat control scheme that makes it incredibly easy for you to control your character and fight the various monsters you will face in the game.
With over one hundred thousand downloads, Wayward Souls is rated 4.0 out of 5 stars on Google Play Store.