BlueStacks Roundups
The Top 5 Mobile Game Mods in BlueStacks X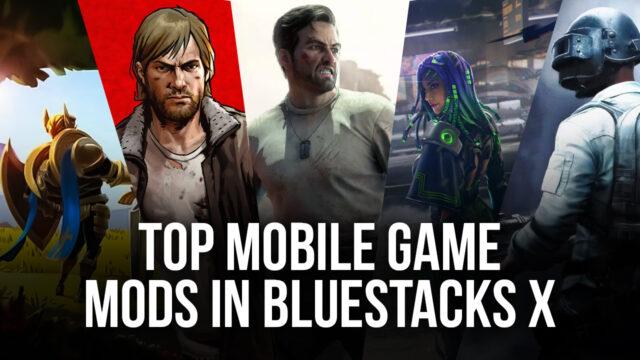 One of the most recent developments to release in BlueStacks X is the Mobile Game Modding feature which, through the power of the now.gg mobile cloud, lets players customize their favorite mobile games with a variety of different effects and filters through the Creator Studio, and then save and share these mods on the Creator Hub for everyone to download and try. And if other players try out your mods and decide they enjoy them, they could then leave them a like to show their support. In this manner, once your mod gets enough likes, it'll show up on the "Most Popular" section of the hub.
There are countless mobile game mods in the Creator's Hub already, some of which are genuinely great and hilarious, which is precisely what we wanted to talk about today. In this brief list, we want to shine a light on the top 5 mobile game mods that you can find on BlueStacks X, as well as to give a shout-out to their creators who, through their hard work and creativity, make these awesome games ever better.
1. Film Star by Katja
Game: State of Survival
Author: Katja
Our first and most popular entry goes to user "Katja", who created a State of Survival mod that customizes most of the screens in the "Explorer Trail" game mode. This mod adds fun visual effects to Victory, Defeat, and Battle scenes. Our favorite here is the Harley Quinn gif that pops up whenever we encounter a horde of the infected. What better way to get hyped for battle than a few seconds of watching our favorite deranged clowness?
2. Film Star by Natusiek for Garena Free Fire
Game: Free Fire
Author: Natusiek
Next up is the creation by user "Natusiek", who brings us a mod for Garena Free Fire, the massively popular mobile battle royale. It's no wonder that this mod got so popular this quickly, considering that it leverages off the current beef that Elon Musk has with Twitter after the former started to make moves towards acquiring the social media giant. This creation modifies the "Booyah", the Kill, and the Headshot screens, all of which feature hilarious gifs centered around the ongoing Twitter x Musk drama.
3. We Are Brother
Game: The Walking Dead: Road to Survival
Author: Olivia
In third place is user Olivia's creation that consists of a mod of the popular gacha RPG, The Walking Dead: Road to Survival. This mod adds a few funny gifs to a couple of the battle screens, including the "Win" and the "Wave Clear" segments. Respectively, we find the Agents "J" and "K" from Men in Black looking cool posing with their beefy guns for the first screen, and the popular soccer player Sergio Ramos doing a fist pump celebration for the second. The Upgrade screen also has a cool effect, where a couple of chilling zebras laud the player whenever they manage to level up.
4. Film Star by Komal for BGMI
Game: Battlegrounds Mobile India
Author: Komal
Of course, we can't really have a top 5 list without the latest Hollywood scandal making an appearance on this list. In number four, we have Komal's creation for Battlegrounds Mobile India, featuring the controversial Will Smith Slapgate scandal, where the hugely popular actor walked up to the stage and slapped Chris Rock after the latter joked about his wife, Jada Pinkett Smith's alopecia. With this mod, every time you get a kill in Battlegrounds, you'll be able to see Smith slapping Chris Rock. And if you imagine it hard enough, you might even be able to convince yourself that this is a way to slap any uppity players that think they can outplay you!
5. Film Star by Dajanape
Game: Lords Mobile
Author: Dajanape
Last but not least, we have a creation from user "Dajanape" for Lords Mobile, which revolves mostly around former USA president Donald Trump. For some reason, you guys really seem to like the gif of him dancing, which is great since, every time you win a battle in Lords Mobile, you'll get to see it. Conversely, if you're defeated in combat, you'll also see Trump looking bummed out and sad, which is a great way to take the edge off losing a battle, honestly. This mod also features cameos of Flash the sloth from Zootopia, as well as Harley Quinn from the latest Suicide Squad reboot.
And with that, we give closure to the 5 top mods that you can download and play right now on BlueStacks X. Keep in mind that these are just 5 out of hundreds of creations that are currently available to try in our Creator Hub. And if you don't want to try out a mod, you could always create your own through our Creator Studio. It only takes as much time as you're willing to invest in creating something unique and compelling—just think of all the likes and internet points that you'll get!
And as always, feel free to leave us your comments, thoughts, and suggestions in the section below!