BlueStacks Roundups
Top 10 Music-Based Android Games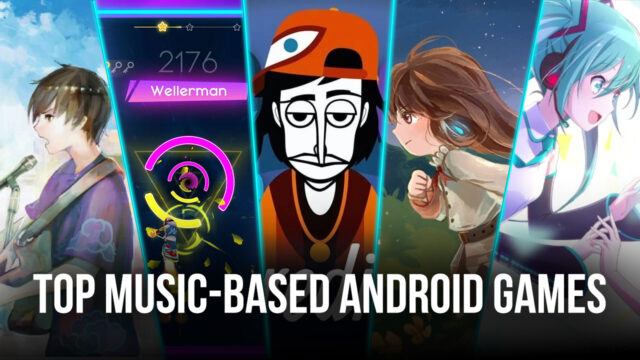 Music and games are both amazing and similar in many ways. Both are pieces of art that take a lot of time to make, and when made right, can be some of the most wonderful things you can ever experience. If the two are combined, the result is usually spectacular.
In this article, we list the ten best music-based games for Android.
1. Beatstar (Free)
The first game on our list of the best music-based games for Android is Beatstar, a rhythm-based game in which you can feel the music pulsate through your fingers. The basic premise of the game is the screen in-game being split into three rows, each with different instructions for the user to follow. The instructions include tapping, and swiping upwards, downwards, and sideways. These instructions are presented on the screen on the beat, and the user must tap or swipe on the beat in order to score in the game.
The game includes thousands of songs for users to play with and hundreds of songs being added regularly. The game includes hits from really popular contemporary artists such as Doja Cat, Avicii, Lil Nas X, etc., as well as old hits from bands such as Lynard Skynard. You must attain a certain score on the songs you play in order to unlock new songs.
Everyone can play Beatstar since it has a simple gameplay that is really easy to understand and get used to. The game plays very smoothly, and the pulsation you feel whenever you hit a beat correctly is very satisfying. The game also has leaderboards for you to rise to the top and to keep things interesting and competitive. You can also challenge your friends in the game in order to see who is the best amongst you all.
With over ten million downloads, Beatstar is rated 4.6 out of 5 stars on Google Play Store.
2. VOEZ (Free)
Next on our list is VOEZ, a rhythm game developed by Rayark, and released in 2016. Similar to the previous game on our list, the gameplay in VOEZ involves hitting notes successively as they come to you on your screen on the beat. There are different types of notes in the game that you must hit correctly. Some are tap notes, while some are slide notes, and others are hold notes. Tap notes must be tapped when they reach the horizontal line at the bottom of the screen. For slide notes, you must hold your finger on your horizontal line and move it up or down depending on the type of slide note. Lastly, hold notes must be held until the note ends.
Scores in VOEZ are given depending on how accurate you were while hitting your notes. There are several different scores that users can get such as 'Max Perfect', 'Perfect', 'OK', and 'Miss'. The game also has three different levels for each song which include Easy, Hard, and Special. There are hundreds of songs for users to play through and they span a range of genres, including Eurodance, trance music, pop music, etc.
You should play VOEZ for its very cute and interesting plotline that makes the game even more interesting to play. The basic plotline includes Chelsea, a schoolgirl, and her best friend, who, due to unforeseen circumstances end up fulfilling their childhood dream of starting a band – VOEZ.
With over one million downloads, VOEZ is rated 4.2 out of 5 stars on Google Play Store.
3. Lanota (Free)
Another game that intertwines rhythm-based gameplay, as well as an interesting plot line with several elements, is Lanota, released in 2016 by Noxy Games. The game's plot follows a devastating event known as El Niente, which rendered a large part of the world without sound and color. The only way to restore sound and color to these areas is through an artificially created crystal energy source known as Notalium. The main aim is for Fisica and Ritmo, the two lead characters of the game to retune Notalium since it has degenerated over the years and does not work as well as it used to.
The gameplay for Lanota is very simple. The game presents users with a circle in the middle of the screen, known as the Notalium Tuner, in which notes show up according to the music playing in the background. There are several types of notes, such as tap notes, slide notes, and hold notes. Once these notes hit the outer edge of the circle, the player must follow instructions and tap, hold, or slide, depending on which note it is. The Notalium Tuner also changes size and spins as you get further into the game.
The game also has a beautiful picture book to accompany the gameplay. The picture book takes you deeper into the story of Lanota, and you get to know how El Niente took place and how Notalium was made.
With over one million downloads, Lanota is rated 4.6 out of 5 stars on Google Play Store.
4. Cyber Surfer: Beat&Skateboard (Free)
Next on our list is Cyber Surfer by Badsnowball Limited. An incredibly interesting take on the endless-runner genre of games, Cyber Surfer intertwines the endless-running part with music and rhythm to make an addictive music-based game.
The game begins with the user choosing their character as well as the skateboard they want to use for surfing. For both of these, there are tons of options to choose from. The characters have unique character designs and the skateboards come in a variety of colors, so you can choose the ones you feel most inclined towards.
Once you are done selecting your character and their skateboard, you can jump right into the game. The game works on a similar basis to other rhythm games. There will be music playing in the background, and in front of you, there will be rings of different colors popping up, in accordance with the rhythm. Before the game begins, you will be assigned a particular color, and during the game, you must only hit the rings of the color assigned to you. If you hit other rings, your overall score will reduce.
Music aficionados will absolutely love playing Cyber Surfer as it has a collection of the greatest current pop hits, with artists ranging from Justin Bieber to Blackpink and BTS. With hundreds of different songs to play through, Cyber Surfer will keep you hooked for a long time.
With over ten million downloads, Cyber Surfer is rated 4.6 out of 5 stars on Google Play Store.
5. Giant Dancing Plushies ($3.99)
The next game on our list is Giant Dancing Plushies by Rogue Games Inc. With a bizarre yet intriguing premise, Giant Dancing Plushies is a great music-based game for you to play on your Android device. The game involves giant plushies which you must control as they stomp through roads, crushing cars, tanks, and whatever else stands in the way. The user must, however, control these plushies and make sure they stomp to the rhythm of whichever song is playing in the background.
The game is objective-based, and before each level begins you will be given an objective to complete, such as to stomp on a certain number of cars or tanks, or to collect a stipulated number of coins. Once you complete these objectives, your plushie is taken back to a UFO, the place of its origin, and you are given rewards for completing the level. While the game may sound easy to play, it isn't, since you have to make sure not to stomp on civilians, or to stomp on fire tanks.
The game can take in any audio input you want it to take, meaning you are not restricted to the game's in-built music library. You can connect the game to any audio application you want and transfer the songs you want to play the game to, into the game.
With over ten thousand downloads, Giant Dancing Plushies is rated 4.4 out of 5 stars on Google Play Store.
6. Epic Band Rock Star Music Game (Free)
Epic Band Rock Star is a game that incorporates music into the clicker genre of games to make a fun game that will keep you occupied for a while. Created by Tapps Games, Epic Band Rock Star allows you an insight into the experience of being a musician, all with the simple act of clicking buttons on your phone.
In the game, the user plays the role of a fledgling musician with a nascent career who must do everything possible in order to grow bigger and have a wider fan base. You begin this journey by playing at innocuous places such as bars and open mics. Click on the screen in order to play shows, and as you progress in the game you will find more things to add to your band and to your music repertoire as a whole. From tuning your instruments to adding more band members, you will have tons of opportunities to improve your band and its music.
The game has a cartoonish design and graphics that go really well with the easy-going nature of the game. The gameplay is smooth and easy to figure out, so you can get started with the game right as you download it, with no need for a long tutorial explaining how the game and controls work.
With over five hundred thousand downloads, Epic Band Rock Star is rated 4.2 out of 5 stars on Google Play Store.
7. HATSUNE MIKU: COLORFUL STAGE! (Free)
HATSUNE MIKU, created by SEGA, is another touch-based rhythm game in which you must tap, hold, and flick the screen in accordance with the beat of the music playing in the background. The plotline for HATSUNE MIKU, though, is unlike any of the games mentioned on this list. The plot surrounds a strange music track with no melody or vocals being passed around the youth of Shibuya, Japan. This track leads to the location of a secret place in which everyone can discover their true emotions through music.
HATSUNE MIKU is made up of several chapters of gameplay that unfold the plotline as you progress through the game. As mentioned, the gameplay is very simple and easy to learn, allowing you to dive right into the game. HATSUNE MIKU also has five different difficulty levels for you to play on, meaning you can master one level and progress to the next. The game also features both single-player and multiplayer modes, the latter allowing you to create a room with up to four friends with whom you can enjoy the game.
Playing HATSUNE MIKU has its own perks as the game also regularly offers virtual concerts that you can enjoy in real-time with all the players of the game across the world. You can collect character cards and build your repertoire of characters, and later customize them to your heart's content.
With over one million downloads, HATSUNE MIKU is rated 4.5 out of 5 stars on Google Play Store.
8. Magic Tiles 3 (Free)
Perhaps the most popular music-based Android game hare, next on our list is Amanotes' Magic Tiles 3. The game is very simple and so is the user interface, making it one of the most user-friendly games on this list. The game presents the user with four rows, each of them having some black tiles and some white tiles. The main aim is for the user to tap on all the black tiles while avoiding the white ones.
The tiles come at you in confluence with the music that is playing in the background, with each black tile representing a beat in the song. Tapping on the black tiles earns you points, but if you tap on the white tiles you lose points. You only finish a level if you have achieved a certain number of points. If you don't, you will have to repeat the level.
As mentioned, the user interface is very simple, and the graphics are clean and aesthetically pleasing. You can also play online in real-time with your friends or with random competitors to see who is the best amongst you. Magic Tiles 3 has thousands of songs to choose from and play through, ensuring that you will never be bored of this game.
With over five hundred million downloads, Magic Tiles 3 is rated 3.9 out of 5 stars on Google Play Store.
9. Incredibox ($4.99)
Next on our list is Incredibox, which has some of the most stunning graphics we have ever seen. The art style of this game is the first thing you notice as you begin playing it, and once you do, you are also struck by how creative the game is and how fun it is to play.
Incredibox is a beatboxing game in which you can create your own tracks based on eight different moods and atmospheres. There are various elements for you to use in your track such as kick, snare, clap, etc., all of which will be used to make your musical masterpiece. You can record these tracks and even export and upload them. If you feel like you don't yet have the technical mastery or the creative energy to create a track by yourself then you can use the game's automatic mode in order to create tracks for you, and you can sit back and enjoy as they play by themselves.
As mentioned, Incredibox has amazing graphics and is very interactive. Not only is it a fun game to play, but the sounds are very realistic too, meaning fledgling musicians can create tracks on the app and use them for their songs!
With over one hundred thousand downloads, Incredibox is rated 4.7 out of 5 stars on Google Play Store.
10. A Dance of Fire and Ice ($1.99)
The final game on our list is A Dance of Fire and Ice, an incredible rhythm-based game in which the user has only one control – to click on the screen when the timing is right. The game involves two revolving planets which are in perfect equilibrium, and the main aim of the game is to maintain this equilibrium for as long as possible, in rhythm.
While it is hard to describe the gameplay in words, the basic concept involves working your way through a maze-like path while maintaining the rhythm of the two spinning planets. The game has twenty different worlds for you to play through, each with different and challenging shapes and rhythms.
The game has new levels being added to it regularly, and there are several levels all ready for you to try to complete. Users can play A Dance of Fire and Ice as it is very well made in terms of its aesthetics and is incredibly beautiful to look at. Since it is a music-based game, it also has an incredible sound design that is wonderful to listen to.
With over one hundred thousand downloads, A Dance of Fire and Ice is rated 4.7 out of 5 stars on Google Play Store.