BlueStacks Roundups
Top 10 Android Games for Programmers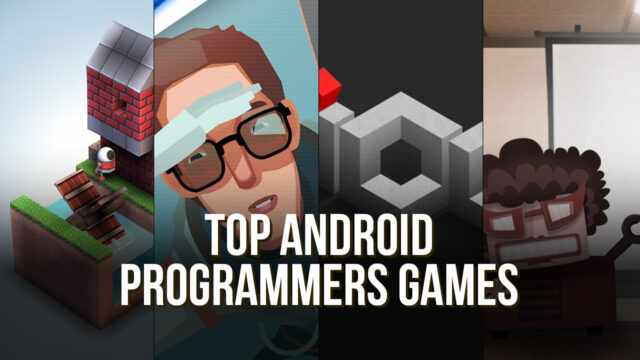 Although not all programmers are gamers, many who try video games are interested in learning more about how they are developed. This occurrence frequently piques their interest in learning more about how games function behind the scenes and leads them into the gaming world. There are many different sorts of little games that a learner might design while studying a programming language in order to better comprehend the computer language.
Although there is no direct link between playing video games and being a developer, playing some brainy puzzle games comes in helpful as we get into the actual programming. There are a variety of applications available these days that can help a child understand logical concepts more easily, and as a result, parents are increasingly recommending coding-enabled games to their children. When it comes to games, Android is the most popular platform. Whether you're a competitive programmer, a young child, or a parent seeking for games to help you improve your programming abilities, we've simplified the process by selecting the best Android games for programmers in 2022.
1. Human Resource Machine [ $4.99 ]
Human Resource Machine is an intriguing puzzle game that seeks to teach players fundamental visual programming logic. It has over 50K downloads and a fantastic 5-star average rating on the Google Play Store.
Human Resource Machine is a puzzle game with a simple goal: your employer grants you a job at the end of each level. Program your small office worker to automate it. You'll be promoted to the next level for another year of work at the massive office complex if you achieve. Robots are on their way to take your job, and the game will not stop testing you.
Human Resource has bright and sparkling images that give you a premium impression when playing. For someone who is new to programming, the game may appear challenging, but it may also help you dig into the world of coding and finally grasp the logic underlying the programming language. The game is being created by the same firm that brought you Water of Goo and Little Inferno, but this one is more focused on programming and might be the one for you if you love the genre.
2. while True: learn() [ $3.49 ]
while True: learn() is a puzzle/simulation game that puts your programming abilities to
the test while also warming up your reasoning. The game has over 10,000 downloads
and a 4.6 average rating on Google Play.
You play as a coder who discovers that their cat is exceptionally skilled at coding but
not so good at speaking the human language in this challenging game. Now you must master machine learning and use visual programming to create a cat-to-human voice
recognition system. The presence of Artificial Intelligence and Machine Learning indicates that the game uses advanced coding techniques and is designed for specialists in the industry. Despite the fact that the audience is naive, this game is one of the greatest in the category.
True: learn() is a unique and intriguing puzzle game to play that anyone interested in the mental processes behind computer programming should check out. The history of machine learning is fascinating, and the quest to teach a computer to understand a cat's thought process is extremely entertaining.
3. Code Karts Pre-coding for kids [ Free ]
If you want to introduce gaming and programming to your young siblings or even your child, Code Karts is a fun puzzle game. It has over 100K downloads and a 3.3 star rating on the Google Play Store.
Players speed through a series of logical challenges presented in the shape of a raceway in Code Karts, which introduces pre-coding to little children. Furthermore, while racing, it teaches youngsters the principles of coding. There's no shortage of instructional content for kids to appreciate with over 70 levels, a variety of perplexing obstacles, and two distinct game modes.
The goal is simple: guide the race car to the finish line using direction bricks. Kids will soon pick up on answers to more complex puzzles and will begin to learn important parts of code-based thinking through attentive observation of the track ahead and some logical thinking. This game is for kids who want to learn more about programming logic; it's a terrific approach to get tiny kids interested in programming.
4. Mekorama [ Free ]
Mekorama is a problem-solving mobile game for programmers that has over 1 million downloads and a 4.4 average rating in the Google Play Store.
Mekorama is a mobile puzzle game where you help a tiny robot stumble home. The game begins with a tutorial level, just like any other problem-solving game. That is the entire idea. The small robot, which is an adorable, almost clumsy little R2D2 like droid, is a key element of the game's fun. You are given 50 levels to conquer at first, which you must complete utilizing your spatial intelligence, deduction, and a nice 3-D perspective command provided by the game.
While the aesthetics, art, and graphics are all outstanding and virtually hard to criticize, some viewers felt the tale was lacking in depth. The game is tough to play for lengthy periods of time, but it does appear to be enjoyable if you play it to relax while experiencing this lovely narrative.
5. hocus. [ Free ]
On the Google Play Store, hocus is a game about illusions with over 10 million downloads and a 4.4 star rating.
The goal of this game is unusual; it consists of a series of 50 progressively tough tasks that include maneuvering a little cube across a linear framework in order to sink it into a hole. The puzzles are amazingly diverse while being visually consistent. Each is an impossible object, consisting of planes that would be impossible to exist if they were three-dimensional.
Simple chimes make up the audio, which adds to the game's cool atmosphere. There is no way to rotate or zoom in on the surroundings in the levels. It would be easy to overcomplicate a game like this, yet the design is simple, relying just on red and shades of grey to convey depth. hocus gives a bright and joyful experience with nothing to hide behind. And better yet, it doesn't even take up a lot of space, just like these top 10 Android games Under 1GB.
6. Infinity Loop [ Free ]
Infinity Loop is a peaceful game that will improve your logic skills. It has over 10 million downloads and a 4.5-star average rating.
Infinity Loop is a basic puzzle game in which you must rotate the parts that are spread out around the screen to build full and limitless designs. To rotate the pieces, simply tap them one by one. Your aim is to solve all of the problems and pass all of the levels.
Infinity Loop's unending character is what sets it apart; you'll spend a lot of time in front of your screen solving puzzles, therefore the soundtrack is crucial, and the game doesn't disappoint. It features soothing sounds that make it enjoyable to play the game.
The game is basic yet rewarding; if you want to unwind after an hour of rational programming, this is the game for you.
7. Algorithm City [ Free ]
Algorithm City is a fun and innovative coding game that teaches you the fundamentals of programming and what an algorithm is. It has over 100K downloads and a 3.9-star rating on the Google Play Store.
The game's basic premise is simple, which usually attracts children, and it is, of course, one of the games recommended for small children who appear to be interested in programming. By guiding the character and collecting golds and solving levels, the players learn the fundamentals of coding, such as command sequencing, functions, and loops.
There are many characters in the game like a penguin, fox, cow, ladybug, irate bird, hare, chicken, and so forth which can be gotten to through the shop screen. Calculation City highlights 51 levels in 4 parts. The Instructive Chapter has 6 levels, it shows how to go about things. The Simple Chapter has 15 levels, it shows the rudiments of coding. The Ordinary Chapter has 15 levels and shows circles by utilizing capacities while the Hard Chapter has 15 levels instructing capacities. Overall, the game is fun and is fun to start for anyone looking to dive into programming.
8. Astra [ Free ]
Astra is a collection of small 2-D hand-drawn games from different genres. The game has more than 100K downloads and an average rating of 4.3 on the google play store.
Assuming you appreciate looking around games, that will generally stretch your boundaries and power you to confront the troublesome conditions, Astra, a level-based orbital platformer, may be the one for you. It's enjoyable to play and elements a portion of unique mechanics in orbital platformers. You go all over the world and leap to different planets to endure the levels, bopping foes and seizing collectibles on the way
The graphics are stunning and very detailed, the music is peaceful with whimsical sound effects, the controls seem natural and allow you to play with one hand, and the gameplay is hard; it's a unique game that pushes you mentally and leaves you intrigued by the patterns around you.
9. Lightbot : Code Hour [ Free ]
Lightbot is another game for younger children who want to learn more about coding. On the Google Play Store, the game has over 1 million downloads and an average rating of 4.4 stars.
Lightbot : Code Hour is a puzzle game app aimed to help you learn the basics of programming. All you have to do is use coding commands to direct your robot pal to light up tiles and solve stages. It's completely free, and there are no in-app purchases. With so many languages to choose from and 20 levels to complete, there's always something new to learn.
Lightbot : Code Hour is an all-ages comfortable introduction to programming for youngsters who have never done it before. There are 20 levels in all. The full version of Lightbot features 50 levels for when you want more of a challenge. The game may be played in 28 different languages, making it more accessible.
10. 2048 [ Free ]
Despite hundreds of others attempting to copy it, 2048 leads the puzzle category in the marketplace as one of the most entertaining thinking games. Gabriele Cirulli designed the puzzle game in 2014, and it was subsequently converted to Android by Solebon LLC.
2048 is a math-based puzzle game that pushes the genre forward while also encouraging arithmetic abilities. It's also simple to use for younger gamers who are honing their cognitive abilities. Users must slide numbered tiles over a 44 grid, matching together identical numbers, in order to produce a cube that adds up to 2048. When users can no longer mix numbers, they will see their score.
At the same time, this game is both fascinating and enjoyable. It's not only a game about simple addition in order to get to 2048; it's also about finding patterns and improving your logical abilities over time. Overall, this is an excellent game for eliminating boredom.