Game Guides
Assassin's Creed: Rebellion – The Best Tips and Tricks For Defeating the Knights Templar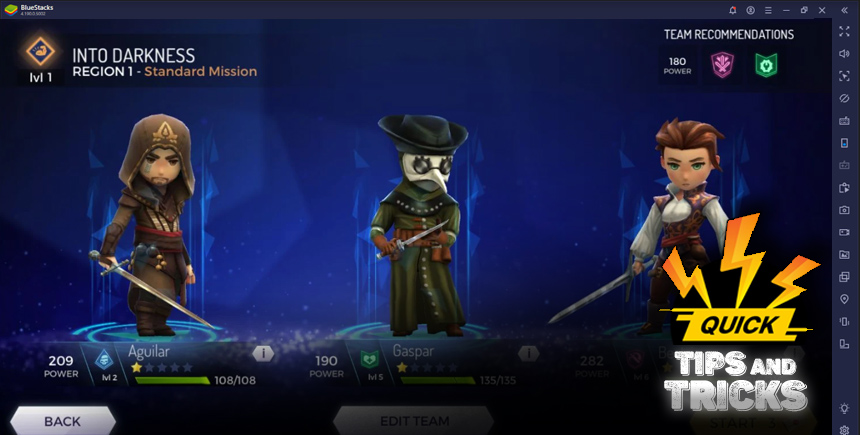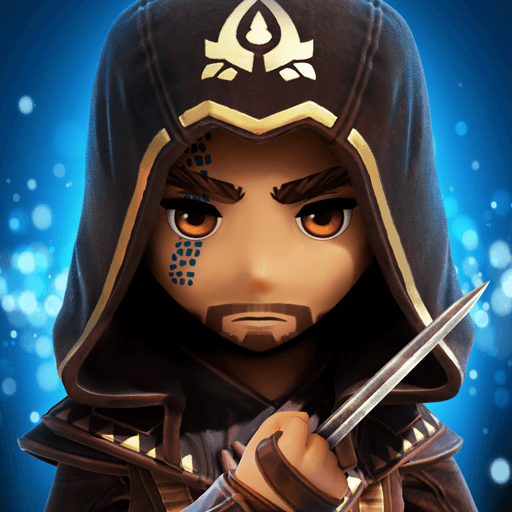 Assassin's Creed: Rebellion is a mobile gacha RPG with several interesting and unique mechanics, chief of which is the way missions and challenges are played. Instead of your usual missions where you simply have to defeat a series of enemies to win, levels in AC Rebellion are divided into exploration and combat sections. In this sense, you need to carefully consider all your options when playing and create specialized groups with the best characters, which will help you to overcome the obstacles in any map.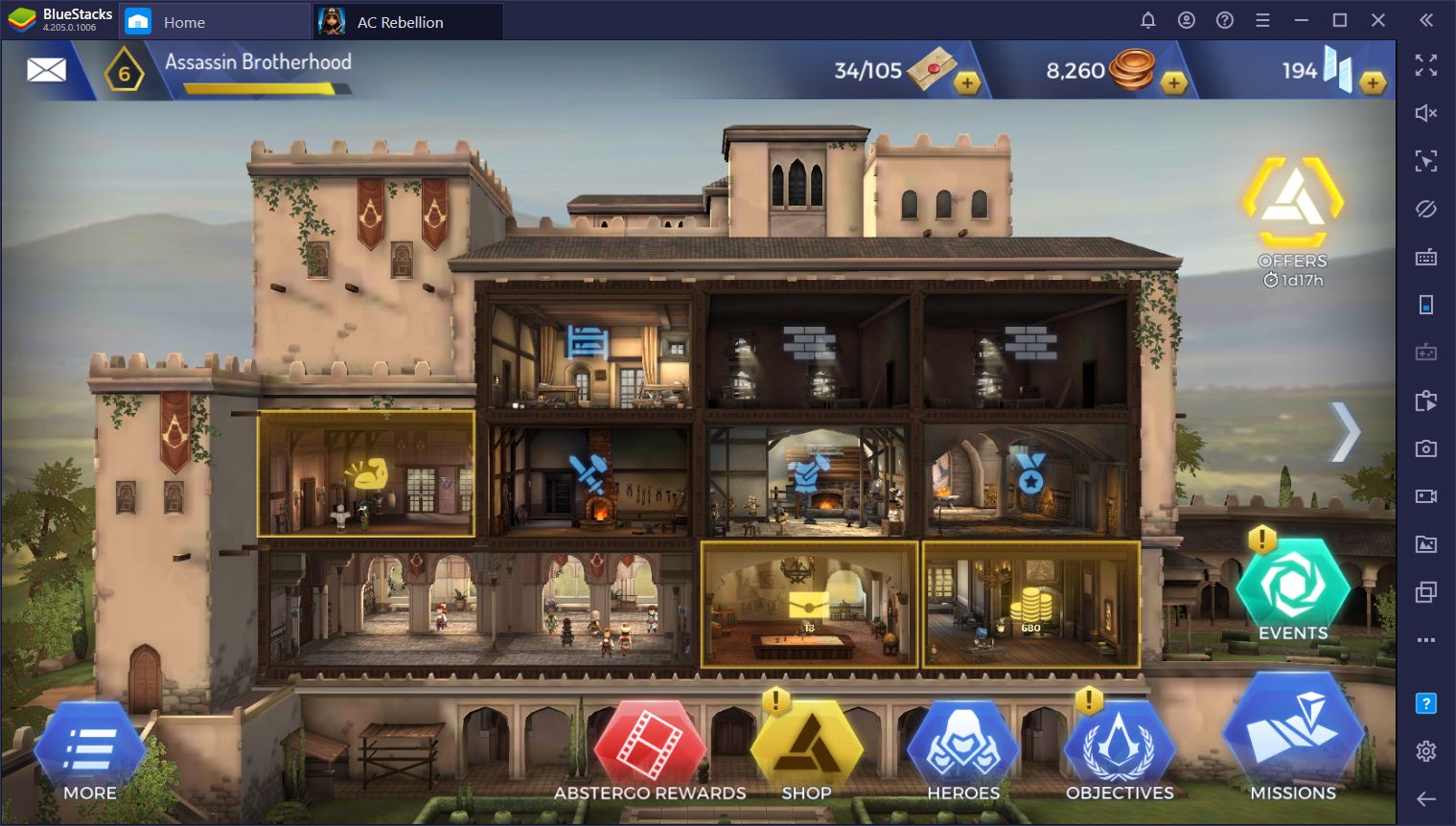 However, even with the best characters on your side, there's still much to consider when it comes to getting good in AC Rebellion. In this guide, we're going to share some useful tips and tricks to help get you started.
1. Use the Right Character for Every Job
Every mission in this game has different sets of challenges that must be dealt with accordingly. In this sense, even if you have unlocked the strongest characters that can defeat most enemies in a few hits, it still wouldn't be enough since you might also need to dodge traps and perform acrobatics. In this sense, while your upgraded Beatriz might be a powerhouse in combat, you'll need supporting characters like Aguilar, Mateo, or even Gaspar that can circumvent any nasty environmental hazards, as well as to keep your squad healed up in anticipation of future challenges.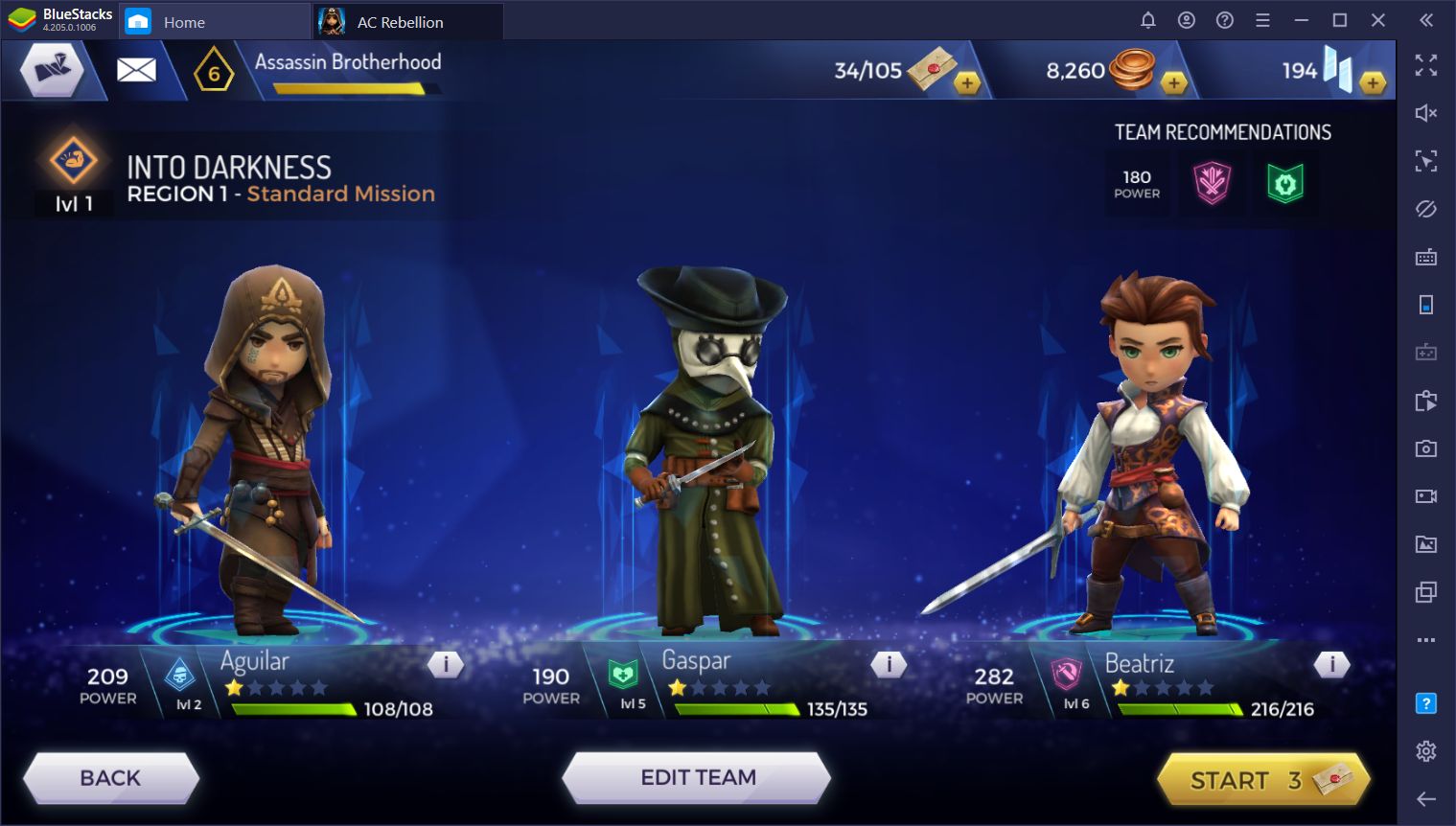 The election of the right characters extends far beyond combat, however. When it comes to assigning characters to the rooms in your HQ, you can benefit greatly from choosing the right heroes for the job in question. In this sense, for rooms like the Intel Room and Treasury, for example, a character with a high Production stat can generate resources quicker. Meanwhile, a character with a high Crafting stat can create gear in the Armorsmith and Weaponsmith faster than others.
It's important to use the right characters for the job in Assassin's Creed: Rebellion, regardless of what that job actually is.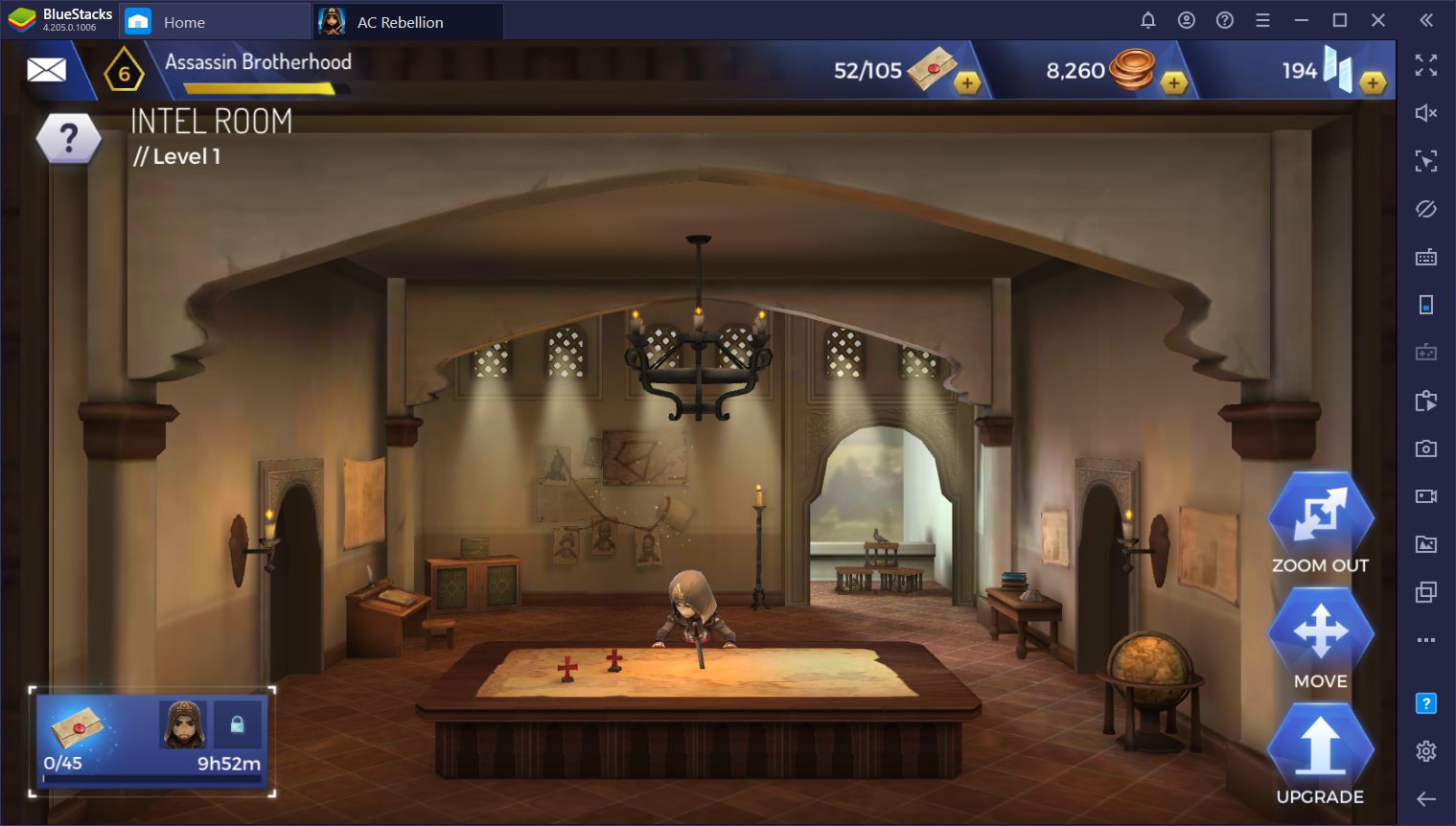 2. Develop Your HQ Efficiently
Now, when it comes to actually generating resources and getting things done in your HQ, it's important to have a plan for upgrading it in an efficient manner, with a focus on building the most important rooms first.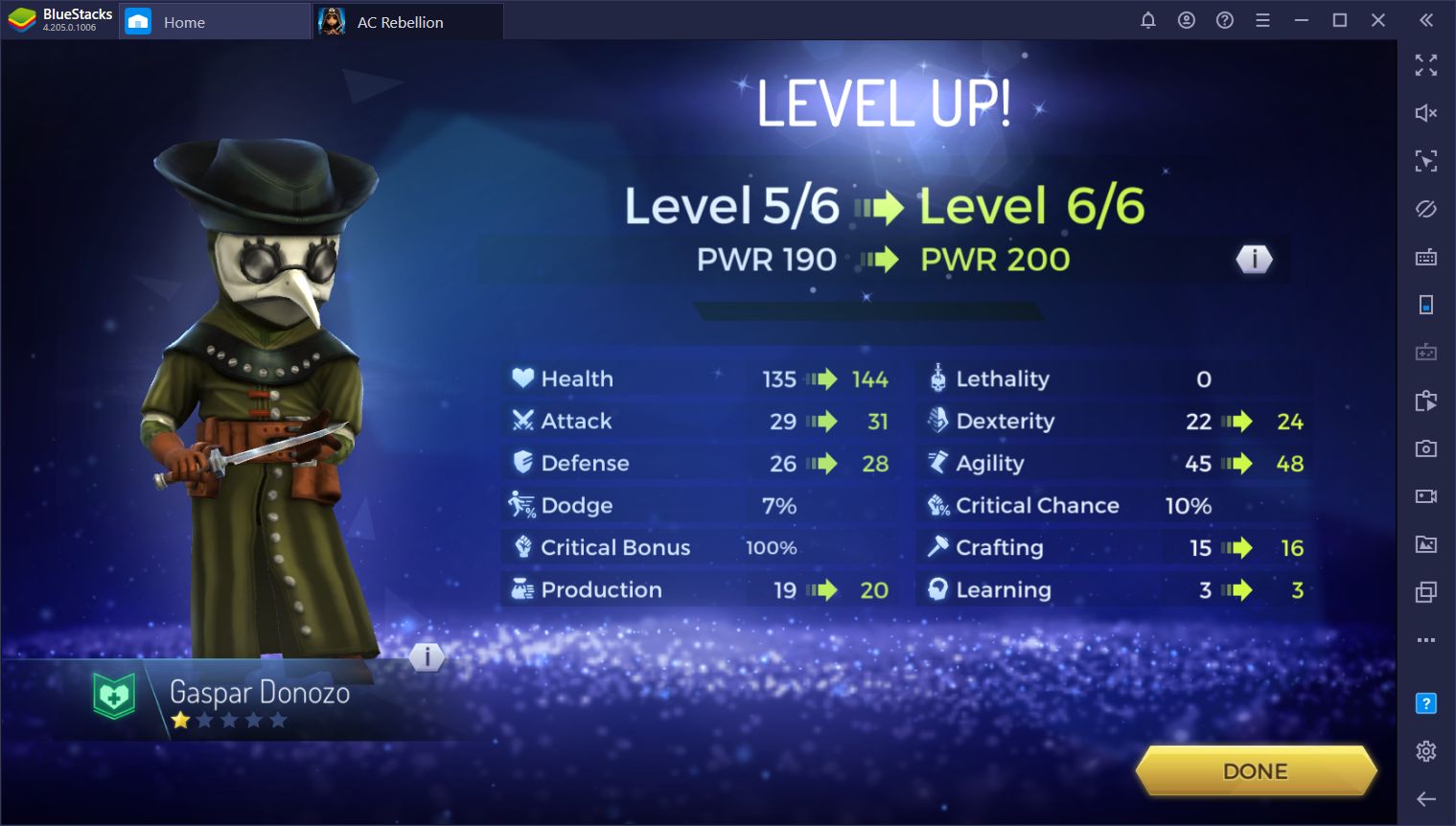 As a general rule of thumb, you'll want to build every single room as soon as they become available. However, upgrading them is an entirely different matter, especially considering that Wood is difficult to come by in the mid-game stages. In order to build them, all rooms require different amounts of Wood and Coins, and the cost in resources increases gradually as you upgrade your rooms even further.
We recommend keeping your Library and Intel Room at the highest level at all times. These rooms generate Codex and Intel, respectively, which are both essential resources. You don't need to pay as much attention to your Treasury, however, since Coins are easily obtainable from other sources. And when it comes to the Supply Room, we can't really recommend spending resources on it since you shouldn't be capping out on Wood nor Coins, anyway. Regardless, when you build it, a good idea would be to use it for Wood.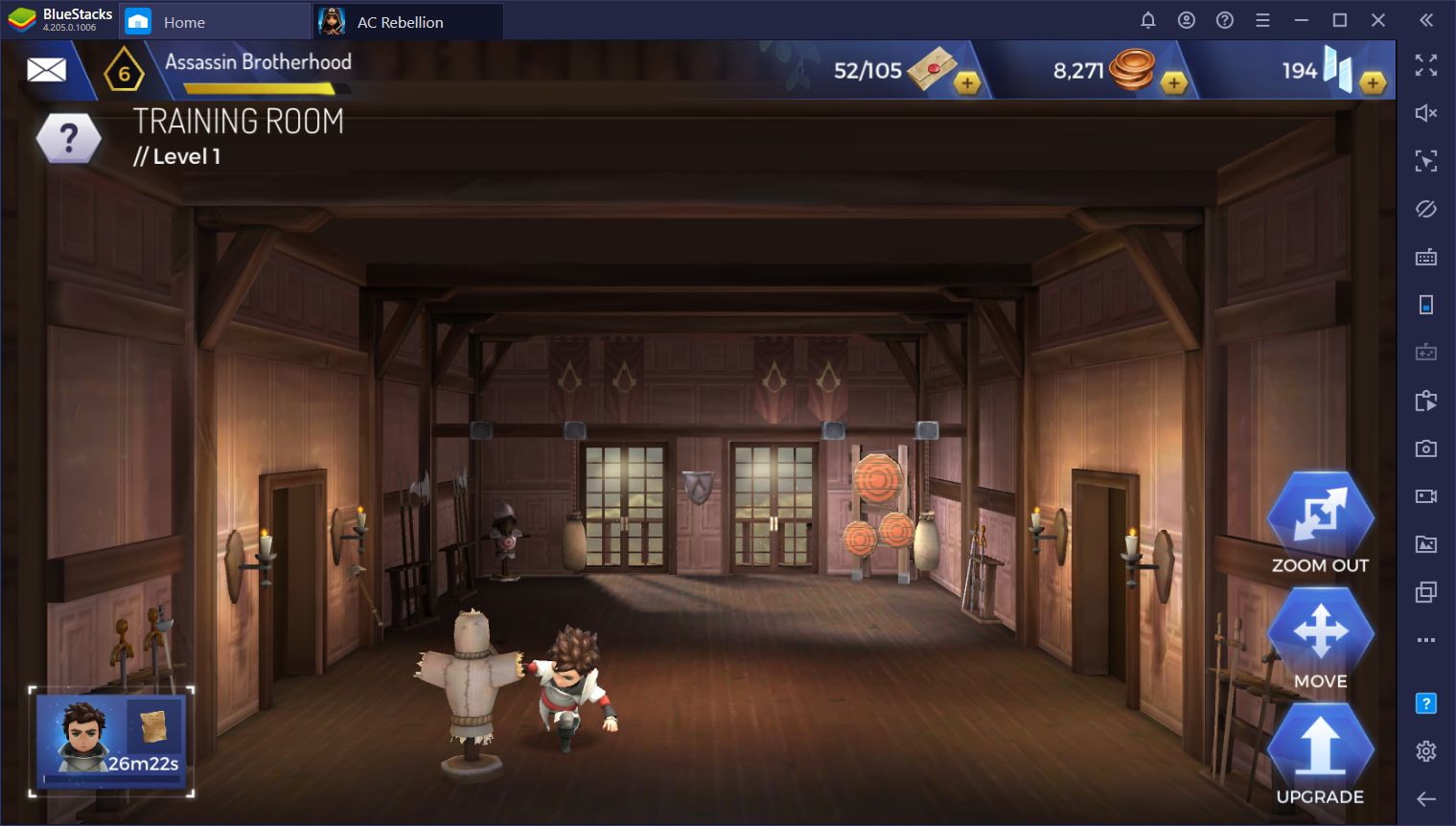 Lastly, if you have excess money to spend, we recommend dumping it on the Apothecary to create some extra potions.
3. Spend Your Intel Wisely (Especially at the Beginning)
One of the main constraints to your progress, in the beginning, is your Intel. This resource is used for going on missions and is generated automatically in your Intel Room. And as we mentioned above, you can assign characters to this room to speed up production.
Nevertheless, you have to be very stingy with your Intel at the beginning since you won't really have enough to spend on many missions. If you must choose what to spend your Intel on, we recommend using them for your daily quests first and foremost. These quests give you the best bang for your buck in terms of investment since they reward you with Helix, Intel, DNA cube fragments, and other awesome prizes.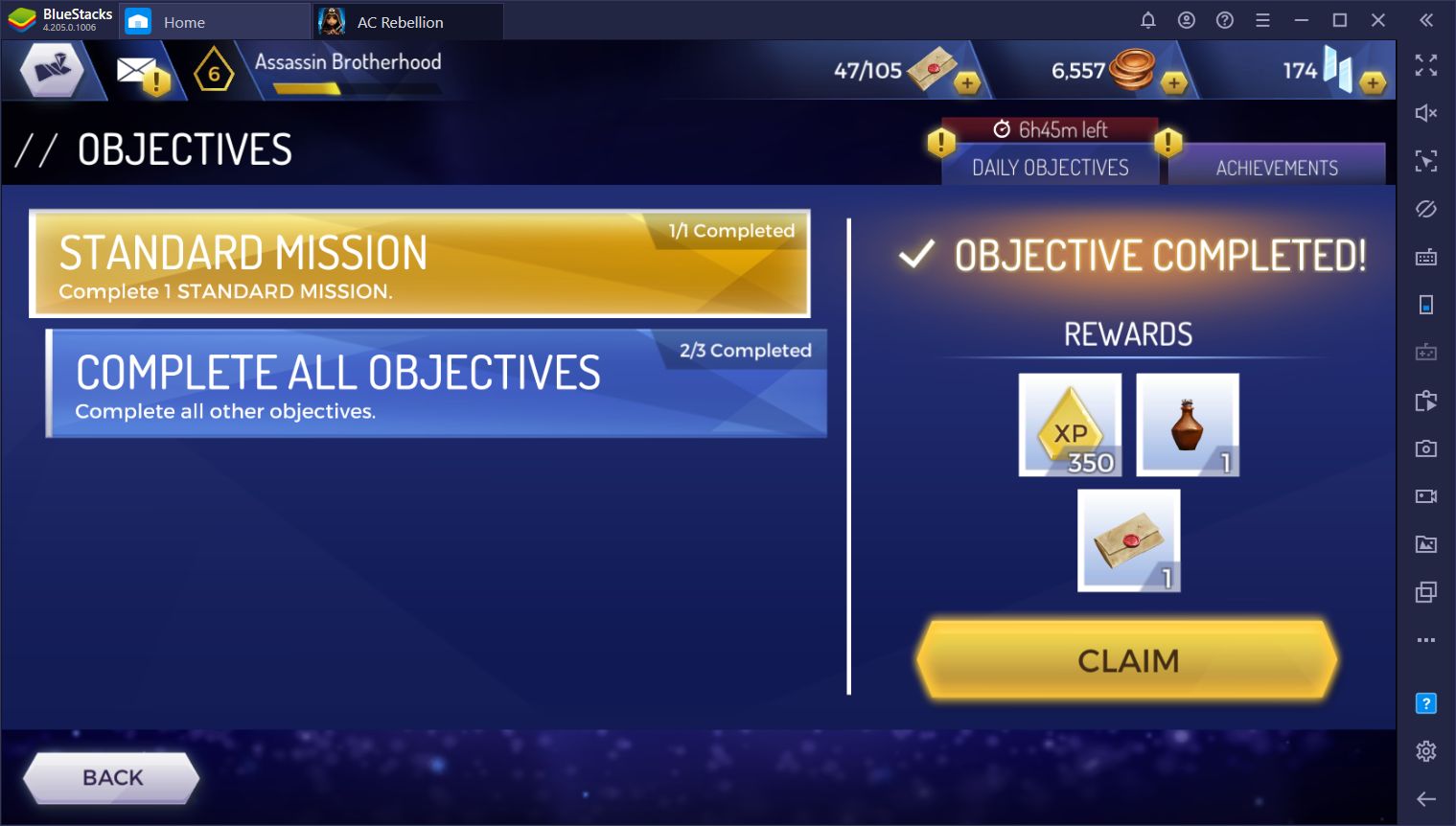 Your second priority should be using Intel to farm missions that grant fragments of the strongest characters in the game. This applies only to those who haven't unlocked the starter team that will carry them throughout most of the game yet. While there are better characters out there, some decent starter characters are Beatriz, Mateo, Luis, and Tereysa, among others.
If you don't feel like farming, we recommend using Intel to challenge and complete story missions. As you progress through the main campaign, you'll unlock other challenges that allow you to farm other useful materials and fragments.
Regardless of what you choose to use your Intel on, always try to 3-star your missions in the first attempt in order to work on your completion of the current region.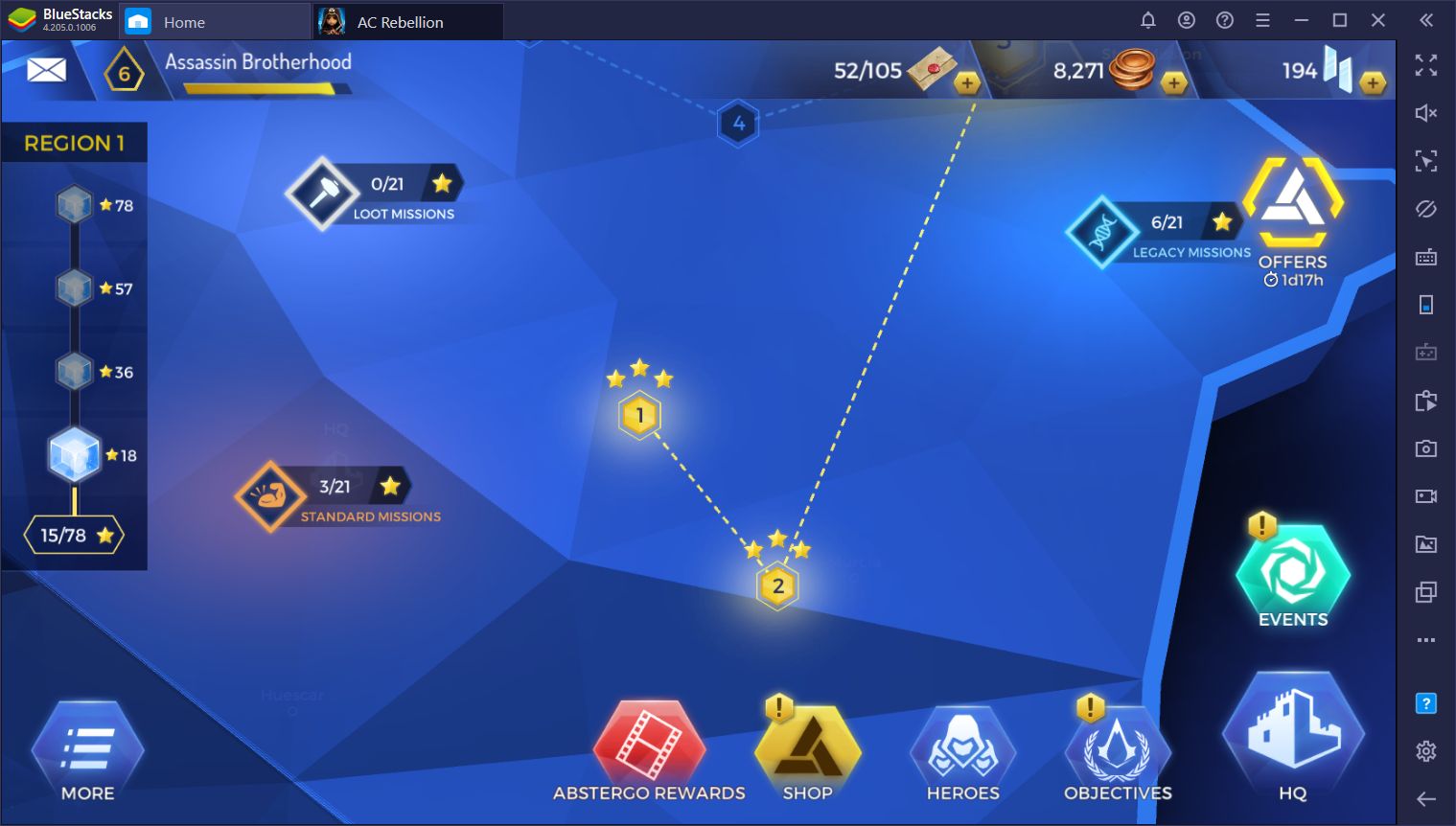 4. Attack Enemies With Their Backs Turned for Free Initiative
One quick combat tip for AC Rebellion that you might not know is centered around the Initiative mechanic. A character with initiative can score a free hit at the beginning of the fight with no drawbacks. However, this mechanic is usually restricted to characters with high weapon speed.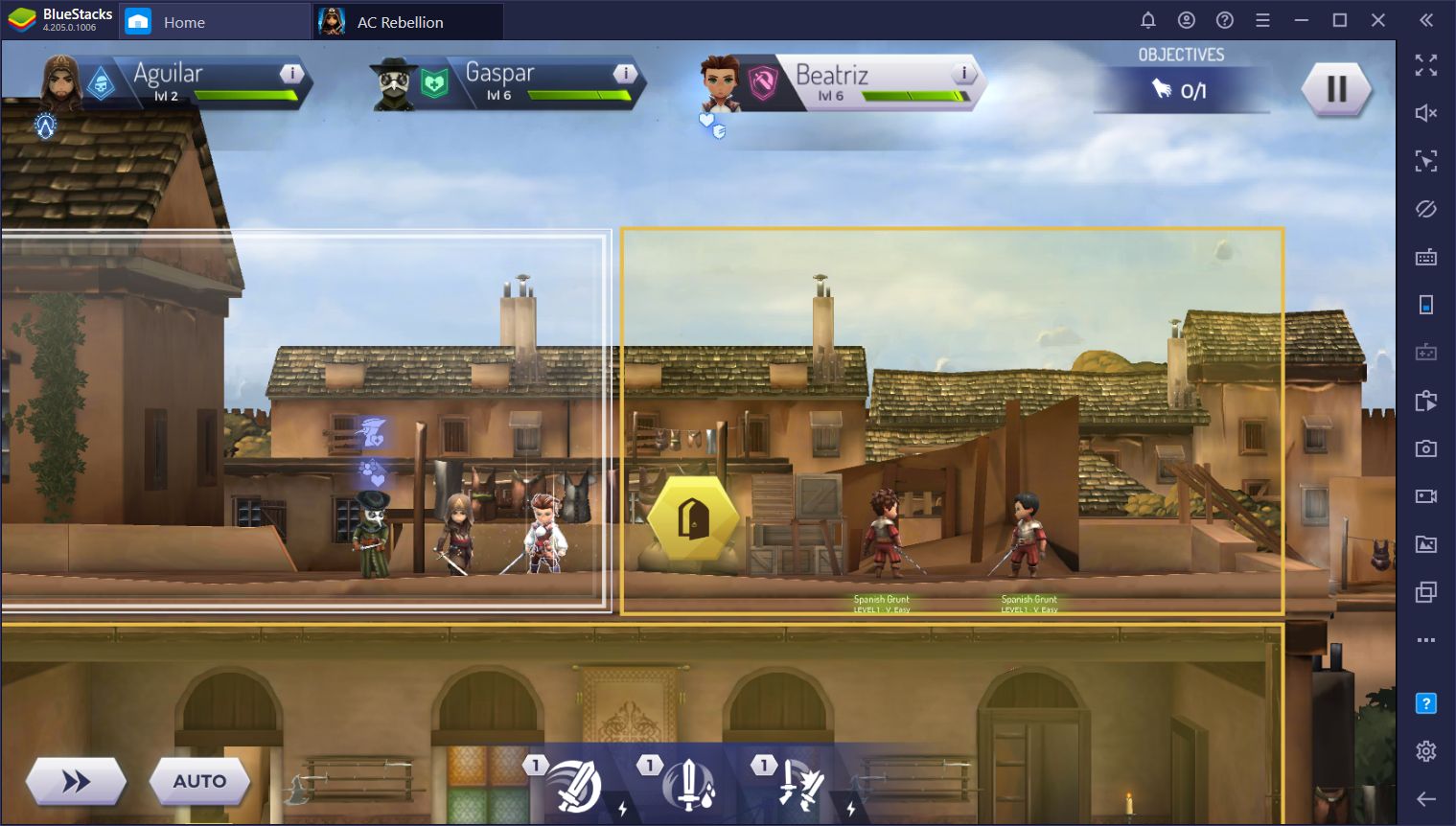 However, you can force an initiative attack regardless of your speed, with literally any character, by attacking an enemy from the back. If you see an enemy in the next room, and he's looking away from the entrance, feel free to go for the initiative attack instead of the stealth kill. If your character is strong enough, you can get an easy kill without having to use any of your limited abilities.
5. Aim to Complete Those Achievements!
Last but not least, remember to check your achievements frequently as this is a good source of fragments, Helix, and Intel early on. Most of these achievements consist of challenges that you will complete organically as you progress through the game, so you won't really need to focus on them too much. Nevertheless, you will need to access the menu and claim your rewards manually when you complete one of these tasks. You can access the achievements tab from the Missions menu, which is located on the bottom right of your screen.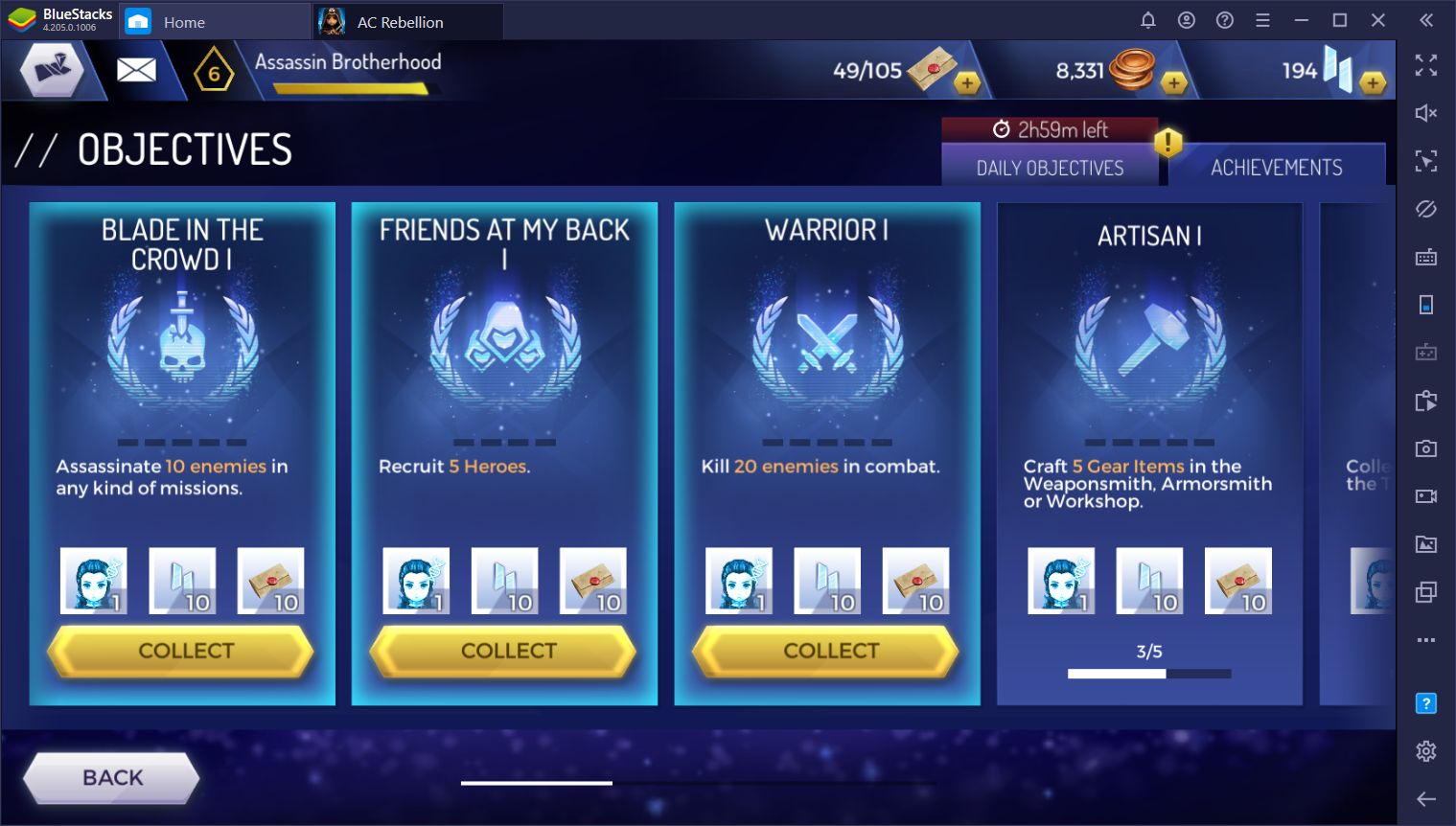 Between completing your achievements, farming specific missions, and efficiently upgrading your HQ, you'll be able to progress quickly in Assassin's Creed: Rebellion in record time. Let us know if you have any other awesome tips and tricks for this game in the comments below!