Game Guides
How to Play Battlegrounds Mobile India on PC with BlueStacks 5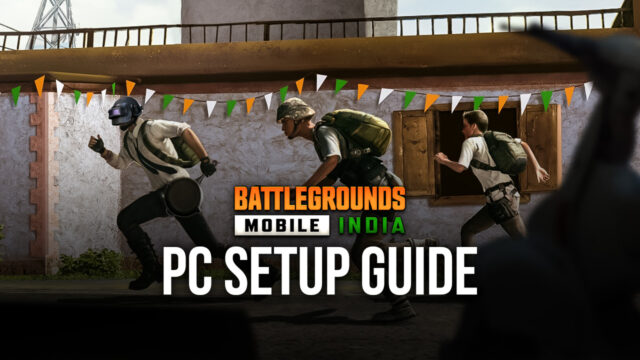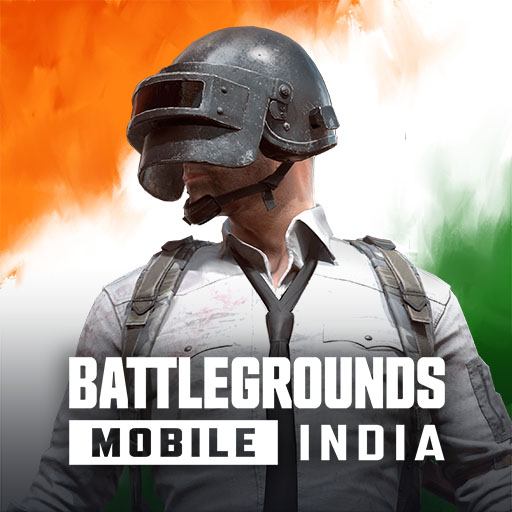 Battlegrounds Mobile India, the much anticipated Indian iteration of the beloved Battle Royale game, PUBG, is currently available for pre-registration and is set to be released by KRAFTON, the South Korean game development company behind the game, in the coming weeks. The game has commanded a lot of attention and fanfare, with over 7.6 million pre-registrations on the first day, and 20 million in the first week. Battlegrounds Mobile India currently works exclusively on BlueStacks 5, and if you'd like to enjoy the new game on your PC device, BlueStacks 5 is your best option.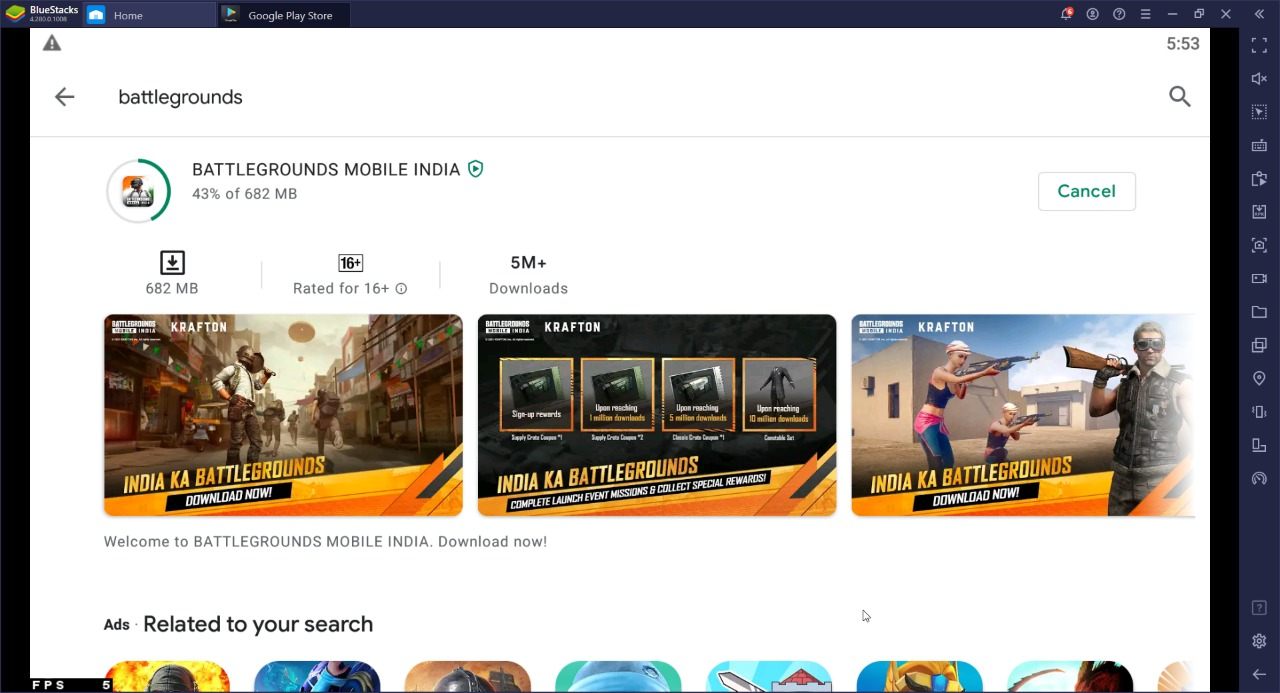 Downloading Battlegrounds Mobile India on PC
As mentioned earlier, BlueStacks 5 is the only emulator in the country currently capable of running Battlegrounds Mobile Underground. To install BGMI on your PC device, follow these steps:
Download and Install BlueStacks 5

on your computer.

Log into Google Play Store to access it using BlueStacks 5.

Using the search bar on the top-right, look for Battlegrounds Mobile India.

Since the game hasn't been fully released yet, it is only accessible to certain users. If it is unavailable to you, click on 'Pre-Register'.

If it is available to you, download the game and play using BlueStacks 5.
Win The Chicken Dinner with the Keymapping Tool
Playing Battlegrounds Mobile India on BlueStacks 5 allows you greater control over your movement and the timing of your aim, and other such things that make a huge difference in real-time games, and especially one as intense as Battlegrounds Mobile India. The game requires quick reactions and little to no time wasted, and playing on a PC allows you to do exactly that: optimize your reaction time and allow you to be more precise with your shots. Playing on a larger screen is also a bonus since it lets you view things much more clearly, and in a zoomed-in fashion, which is something mobile devices don't allow. BlueStacks also lets you customize controls, so you can choose any key for any action in the game, depending on your preference.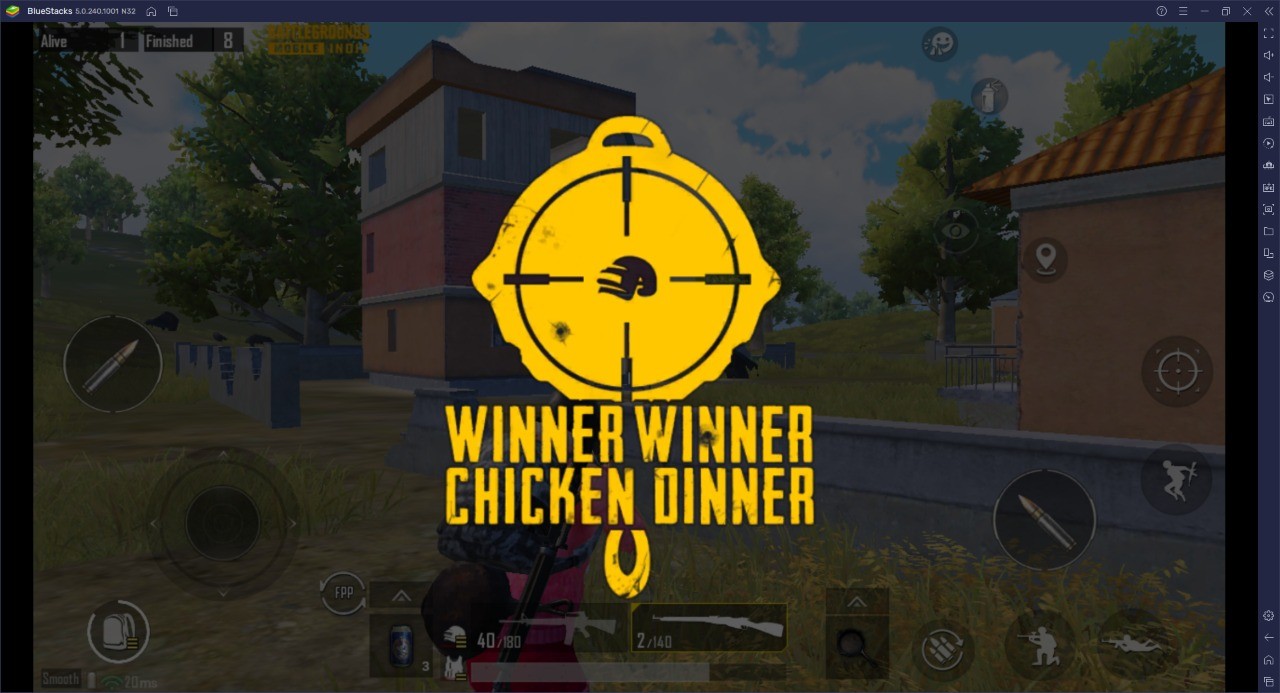 The "Keymapping" tool in particular grants a huge advantage to the user when playing BGMI using BlueStacks 5. The Keymapping Tool has become a staple of shooter and battle royale games on BlueStacks because of how much functionality it allows the user. Not only does it allow you to set shortcuts on the game map, reducing the time you spend travelling from one place to another in-game, it also gives you the specific advantages of using a keyboard and mouse when playing a Battle Royale game such as Battlegrounds Mobile India. There is also the 'Shooting Mode' – a part of the Keymapping Tool – which is triggered by pressing the default F1 key, after which you can aim and shoot with your mouse and the left mouse button. The D-Pad allows you to map your character's movement in the game, as well as simulate the analog stick in-game.
To know more about Keymapping and other control features available on BlueStacks, check out this article.
Perform Complex Actions with the Macro Tool
Another fantastic feature of BlueStacks is the BlueStacks Macro, which essentially automates any and all functions in-game that you would like it to automate. For example, to automate the reloading of all weapons in a game like BGMI the Macro feature becomes immensely useful. Macros are recorded by Ctrl + Shift + 7 on the BlueStacks app homepage, or by clicking on the clipboard icon on the panel on the right of the homepage. You can record a "Reloading All Weapons" Macro by going to the Macro page, and starting the recording, after which you reload your first weapon, and then the second, and so on, until all your weapons are reloaded. Now you must name this Macro and give it a key binding, which means that pressing this particular key will begin the Macro, and you will reload all your weapons in-game. BlueStacks also lets you merge, export, and import your macros, letting you play around with the feature and share it with fellow gamers. In fact, BlueStacks has a Macro community dedicated to creating and sharing Macros with fellow users, making gaming fun and functional for everyone. All of these features and much more await you if you play Battlegrounds Mobile India on BlueStacks 5.
To find more details about Battlegrounds Mobile India and its availability on BlueStacks 5 check out this article.
Differences Between BGMI and PUBG
The game features various arenas and styles of play, some the same as its predecessor, PUBG, and some that are new and unique to Battlegrounds Mobile India. In terms of detail as well, there are many similarities and some differences of note between the two games. Firstly, since PUBG was considered violent and not suited for children, Battlegrounds Mobile India has made some gameplay and visual tweaks to their game in order to make the game acceptable to parents. The first of these tweaks is the animation that triggers once a player is hit in the game. Although the game is still primarily about ammunition-centered warfare, KRAFTON has changed the default color, which was red in PUBG, to green in Battlegrounds Mobile India. Along with this, the game will now display feathers instead of a blood-splatter animation in order to not promote violence, which was one of the major criticisms faced by PUBG. Terminological changes make their way into Battlegrounds Mobile India as well, with "kills" now being called "finishes" to denote how many players you have been able to eliminate. Apart from this, although the gaming experience closely resembles that of PUBG, Battlegrounds Mobile India players will not be able to participate in any e-sports events hosted by PUBG.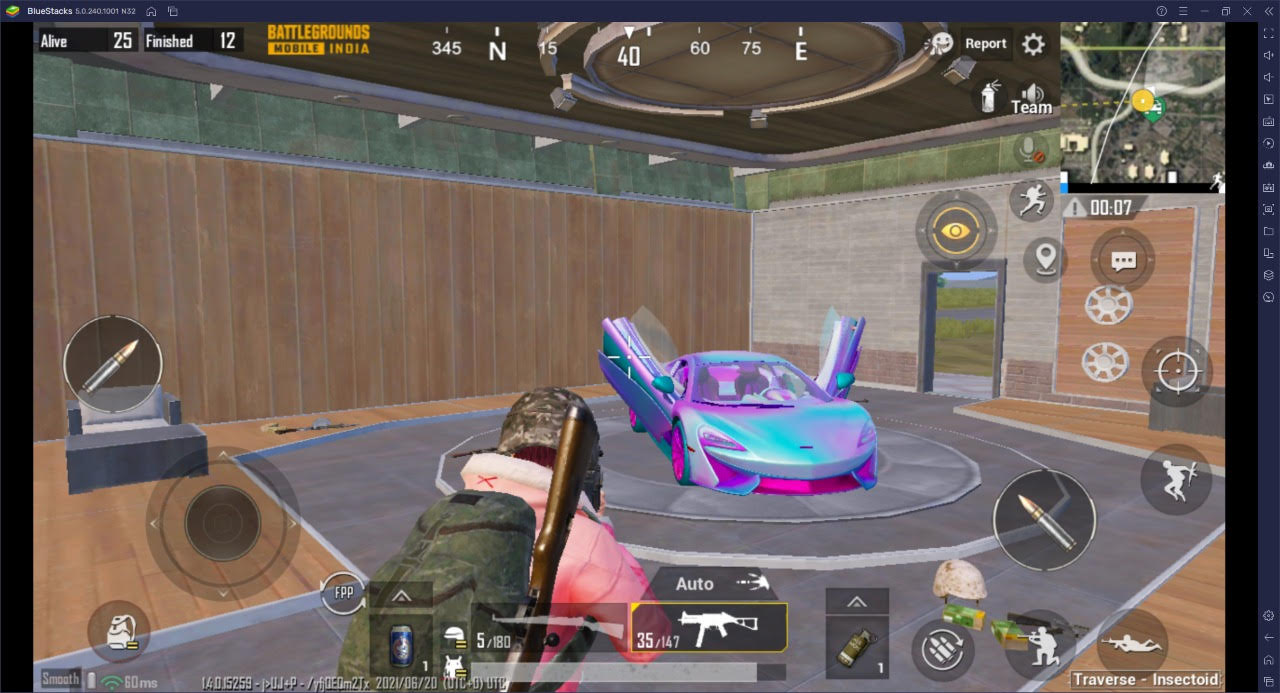 The game will also let you load and transfer all of your data from PUBG over to BGMI. After running the app, once the log-in menu shows up, all one needs to do is log in using the same platform (Facebook, Email, etc.) and credentials. An 'Account Data Transfer' pop-up will be shown in front of the user if they reside in India, and clicking on 'Yes' should transfer most, if not all of your PUBG data over to Battlegrounds Mobile India.
According to KRAFTON, users who pre-register for the game will be rewarded with four different rewards, including the Recon Mask, the Recon Outfit, the Celebration Expert Title, and 300 AG. The game remains free-to-play, and KRAFTON is expected to add new maps, character builds, and weapons to the game, although three of the most popular maps of PUBG – Erangel, Sanhok, and Miramar – were all seen in the background of the game's teasers. The Google Play Store game description for Battlegrounds Mobile India says the following about the various game modes that will be available in-game:
"More than pure combat, BATTLEGROUNDS MOBILE INDIA the free to play new game, is also a battle of wits, as you develop strategies to take on your enemies in a battle royale mode or a free fire fight or even a one-one TDM. Are you up for the challenge?"