Game Guides
Brave Dungeon: Roguelite IDLE RPG – The Best Tips and Tricks For Getting Good at This Idle Game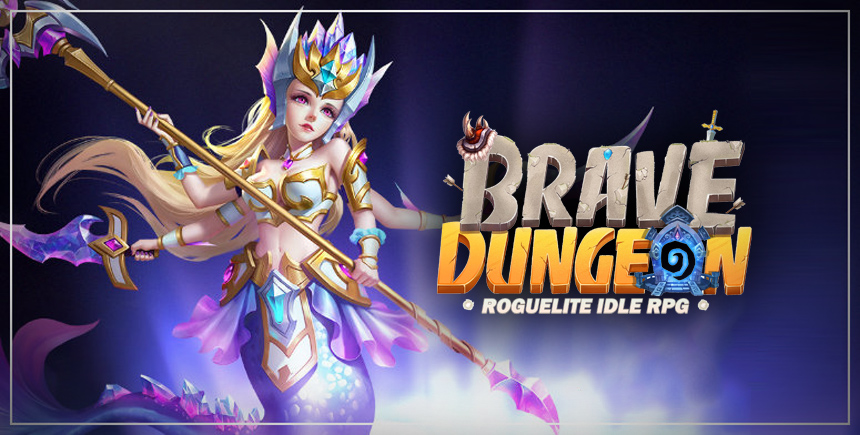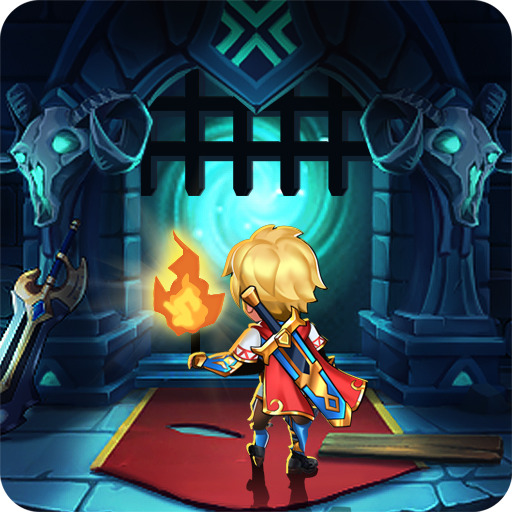 Brave Dungeon: Roguelite IDLE RPG is the idle new idle game that you'll definitely want to try if you're a fan of the genre. However, as we mentioned in our beginner's guide, this game is quite lacking in certain aspects, particularly the tutorial. New players are shown the very basics and then left to fend off for themselves. In this sense, if you're a veteran of this style of games, then you'll probably get used to it fairly quickly. However, the newcomers will definitely have a harder time learning what to do in order to proceed.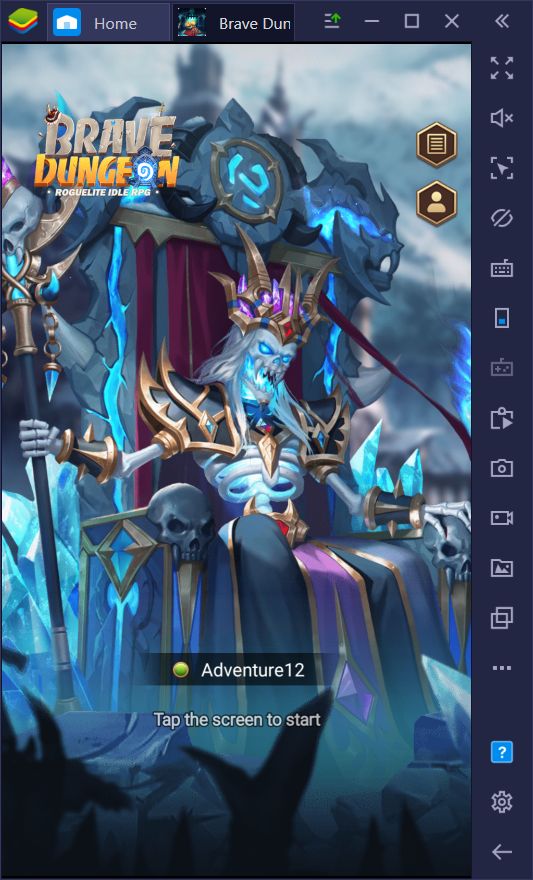 If you're completely new to Brave Dungeon, and idle RPGs, in general, we suggest taking a look at our beginner's guide first so that you can, at the very least, learn the general gist of the game. Once you're acquainted with the basic mechanics, check out the following tips and tricks that will help to speed up your progress.
Focus on Grinding Experience at the Beginning
While the main focus of the game revolves around exploring and clearing dungeons in Adventure Mode, you'll quickly run into a wall that impedes your progress. This happens at around the end of the 2nd dungeon as you'll need to be at level 35 to continue further. However, it's more likely that you'll be somewhere around level 32 if you've only been working on the story. And even if you DO have the required level to continue, there's a good chance that the monsters on stage 3 will be too tough for you to handle in your current state.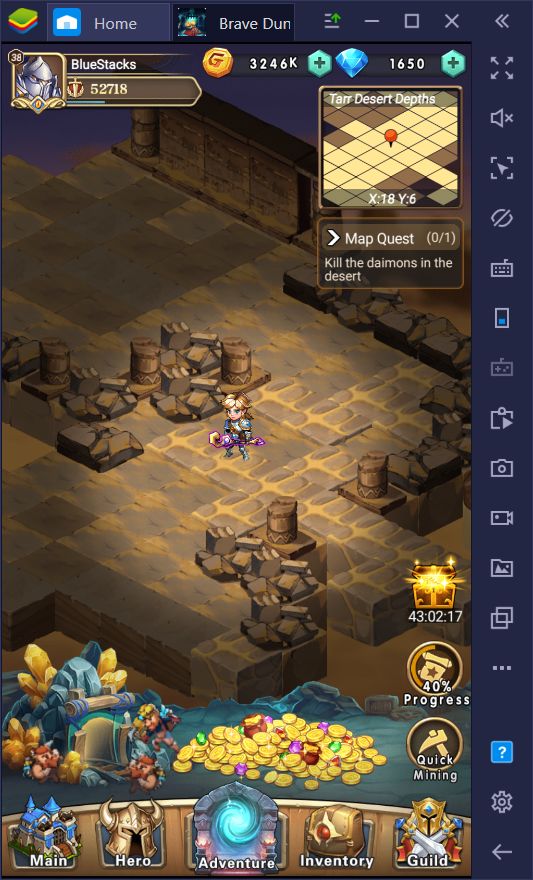 For this reason, one of the most important things that you'll need to do at the beginning is farming experience. Not only is this resource vital for improving your characters, but it also contributes towards increasing your account level. Leveling up your account is crucial because many of the game's additional features and game modes are locked behind these level requirements, including moving to new stages in Adventure Mode.
Unlike Adventure Mode, however, the additional game modes are paramount for grinding resources and materials that are necessary both for summoning new characters, as well as for further upgrading your squad. In this sense, while it's definitely possible to unlock different chapters in the main story very quickly, you'll need to spend some time grinding experience to gain access to all those game modes. At level 50, you can even unlock an Auto Chess mode; How cool is that?!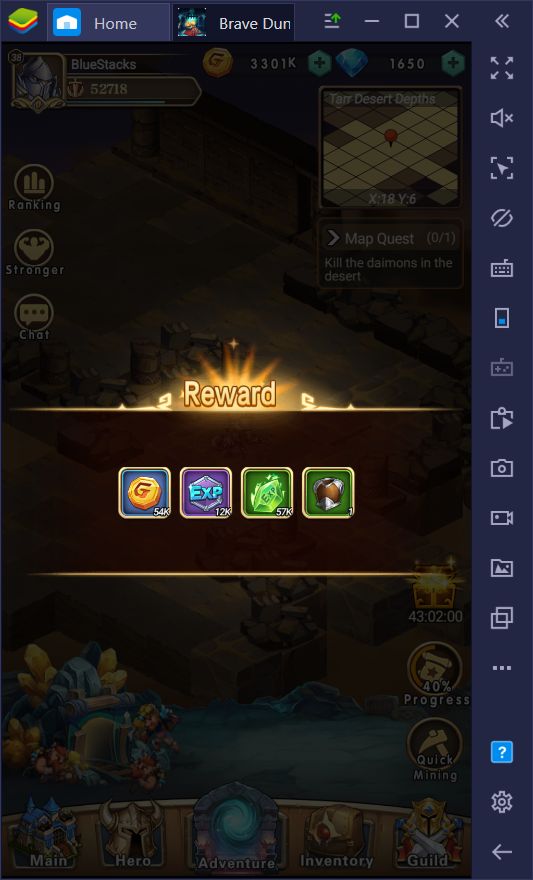 Complete Those Daily Tasks
Once you hit the aforementioned difficulty wall in stage 3, you'll need to find ways for upgrading your characters so that, hopefully, you may stand a chance against the enemies within. While the game doesn't do much of a good job elaborating in this aspect, the daily quests are a great source of resources, offering great materials such as gold, diamonds, and hero XP, which indirectly also contribute to leveling up your account. And as if that wasn't enough, once you complete all 10 daily quests, you will also receive a treasure map that leads you to a hidden pack with extra goodies.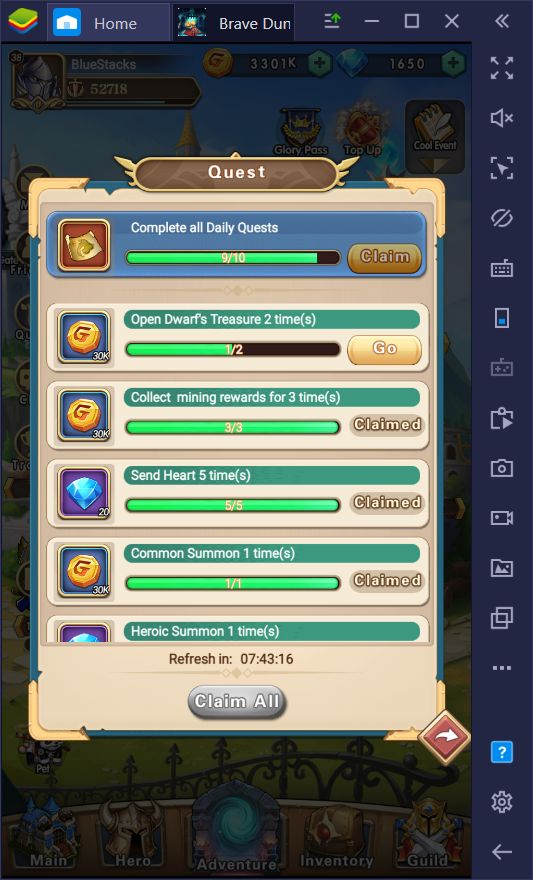 Luckily, completing the daily quests takes only a few minutes of your time, after which you can simply log off, if you wish, and let your mines generate resources for you. However, there are quite a few other things that you might want to do on a daily basis, including engaging in PvP, and running the daily dungeons, to name a couple. These tasks offer even more rewards on top of the ones from the daily quests, and can sometimes even be part of these daily missions themselves.
This brings us to our next point.
Participate in the Arena as Much as Possible
One of the biggest sources of diamonds, summoning vouchers, advance stones, gold, hero XP, and basically any other important material in the game is the Arena. As you fight and win matches in this place, you will climb the rankings in the current season, and receive lots of rewards for your efforts.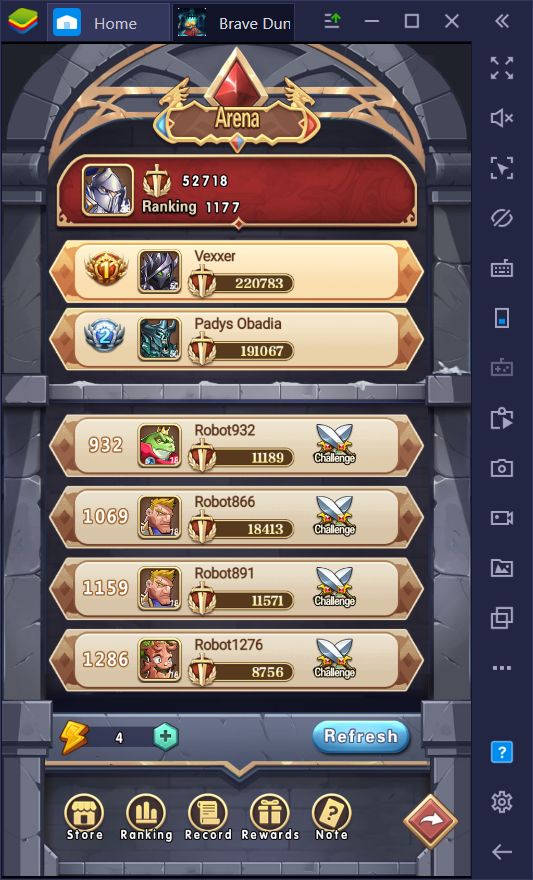 There are two types of prizes in the Arena: Trophy Prizes, and Ranking Prizes. The former are those rewards you receive from reaching certain milestones in the Arena, such as reaching certain ranks, and which can only be claimed once upon first completion. The latter prizes consist exclusively of Honor Coins (Arena currency) that are granted to the player upon every settlement. In other words, you'll receive a nice bonus depending on your standing at the moment the arena closes.
Regardless, playing in the Arena is important as you'll earn Honor Coins for your troubles, which you can trade in the Arena Store for useful items such as 4-star hero shards, heroic summoning vouchers, and even 5-star hero fragments, though the latter are quite rare and expensive, compared to the others. Nevertheless, fighting in the arena is a good way to score some of the best characters in Brave Dungeon.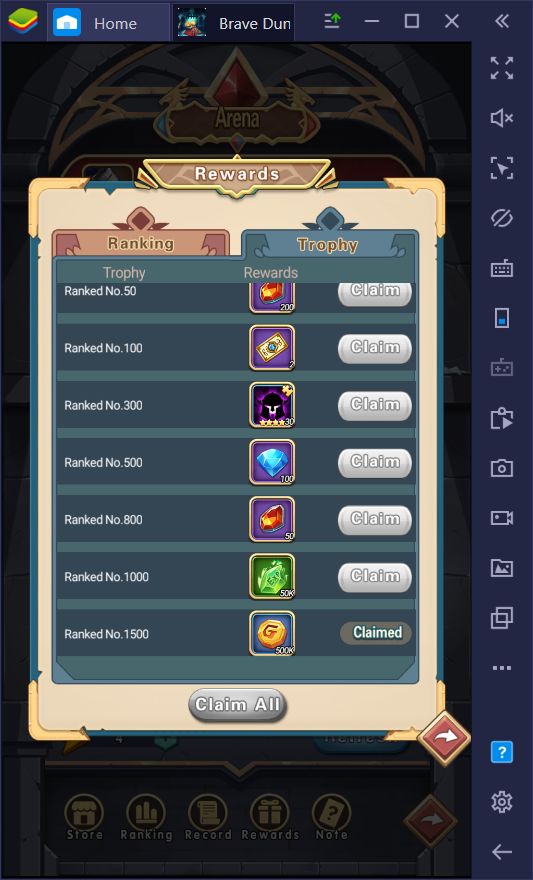 Don't Forget The Endless Tower
Another popular game mode that you'll be visiting quite frequently. The Endless Tower basically consists of countless floors with a single battle in each, which you must clear in order to advance. As you climb higher, the enemies will get tougher, though the rewards for clearing these fights will also increase, in turn.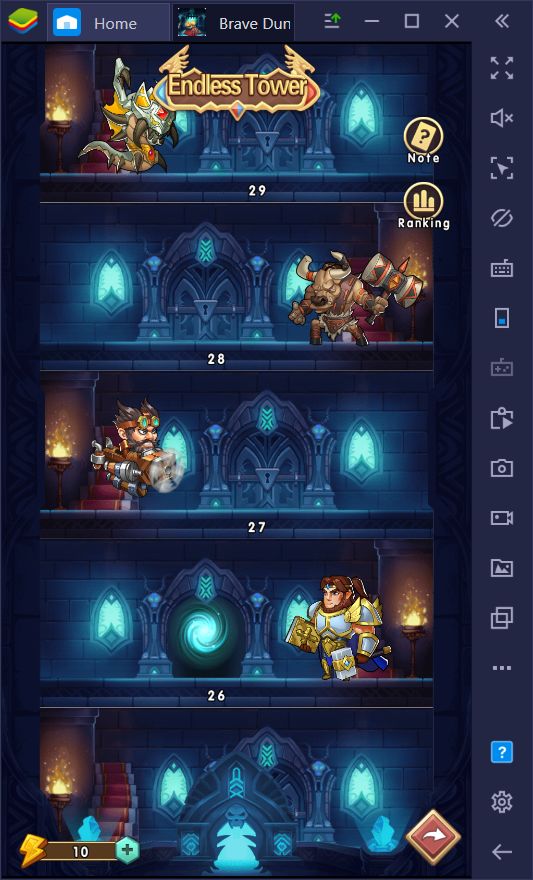 While entering and challenging the Endless Tower is free, you will lose Eternal Power if you fail to clear a floor. This resource regenerates at a rate of 1/hr and you can carry up to 10 units at any given time. Other than that, there aren't any other penalties for trying and failing, besides wasting your time, that is. Regardless, every floor in this game mode gives significant rewards including advance stones, hero XP, and gold. Moreover, every 5 floors, you'll get a chest with even more prizes, so it's always worth it to climb as high as you can.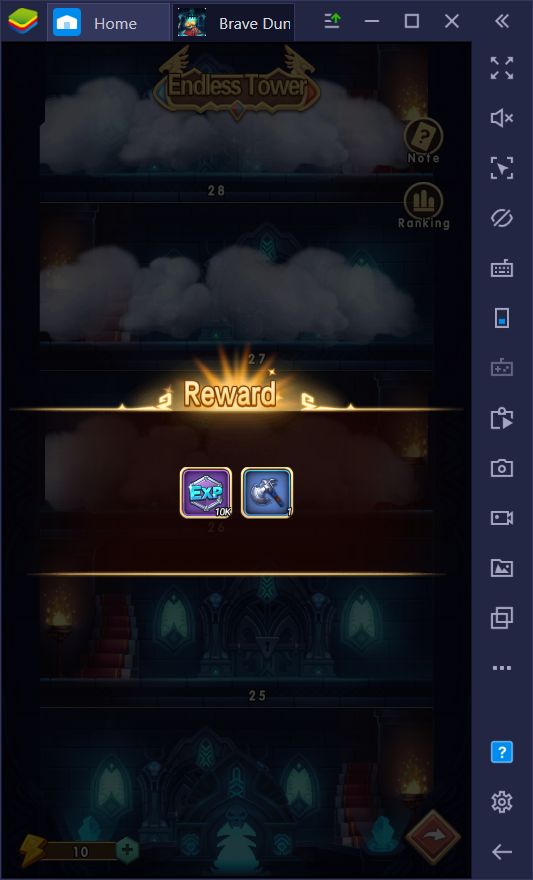 There's really not much to consider when it comes to getting good at Brave Dungeon, at least at the very beginning. However, most of these mechanics are poorly explained, which is something that is further complicated by the game's shoddy localization. Luckily, with the tips and tricks in this guide, you should be ready to start grinding and competing to be the best player in your server!