Game Guides
Candy Crush – All the Boosters and Special Candies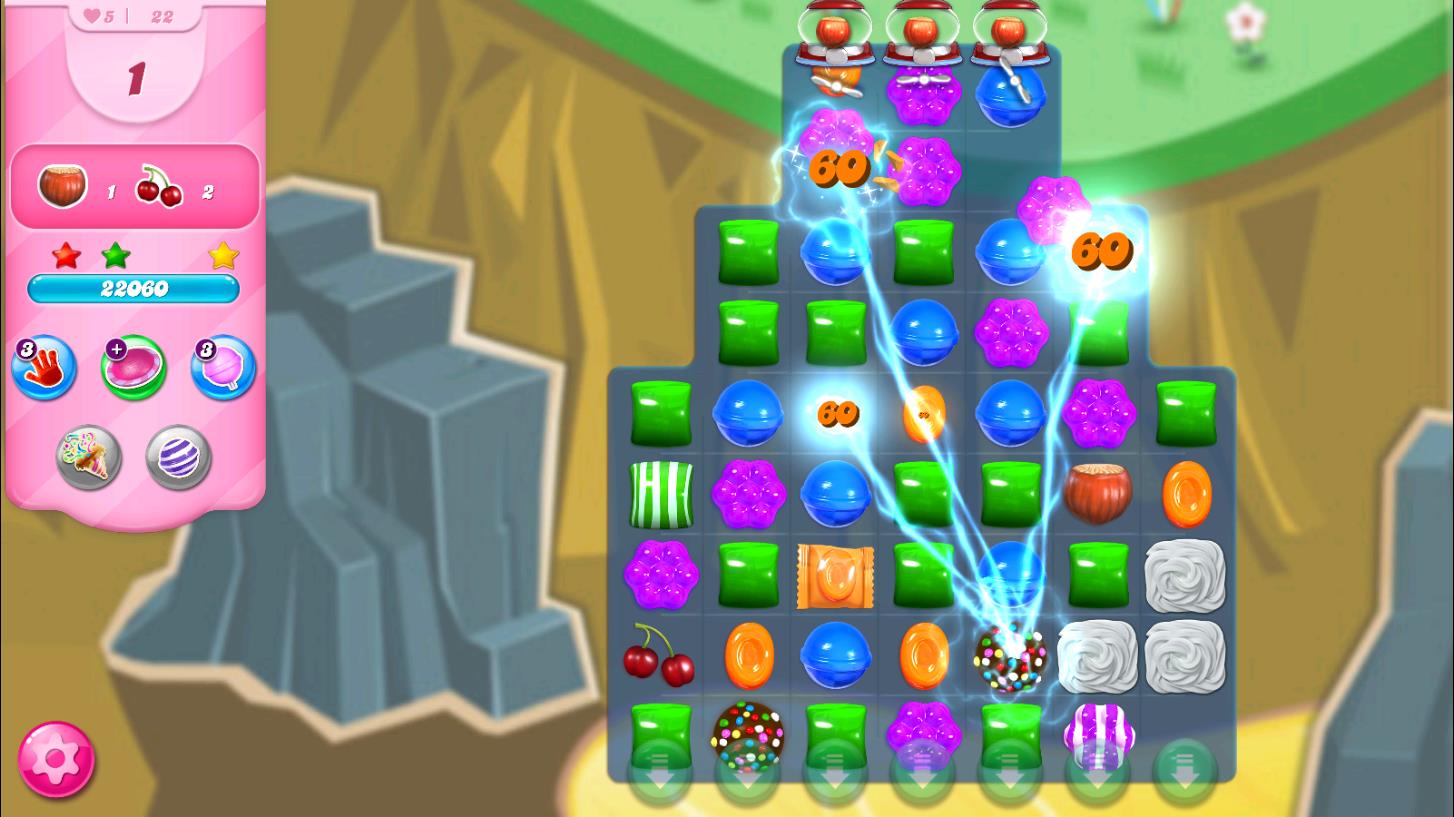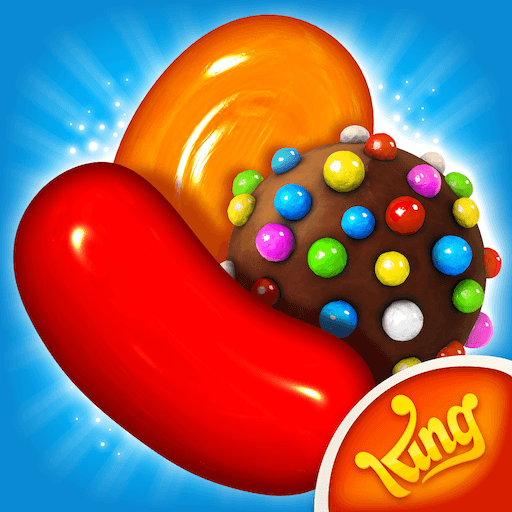 Candy Crush Saga is the match-three game where you'll have to combine candy pieces on the board to create explosions and complete a variety of different objectives. The game is played on a mission basis where each mission has a different set of elements, pieces, and conditions for completion, which will test your abilities to solve puzzles to the limit—sometimes even while playing against the clock!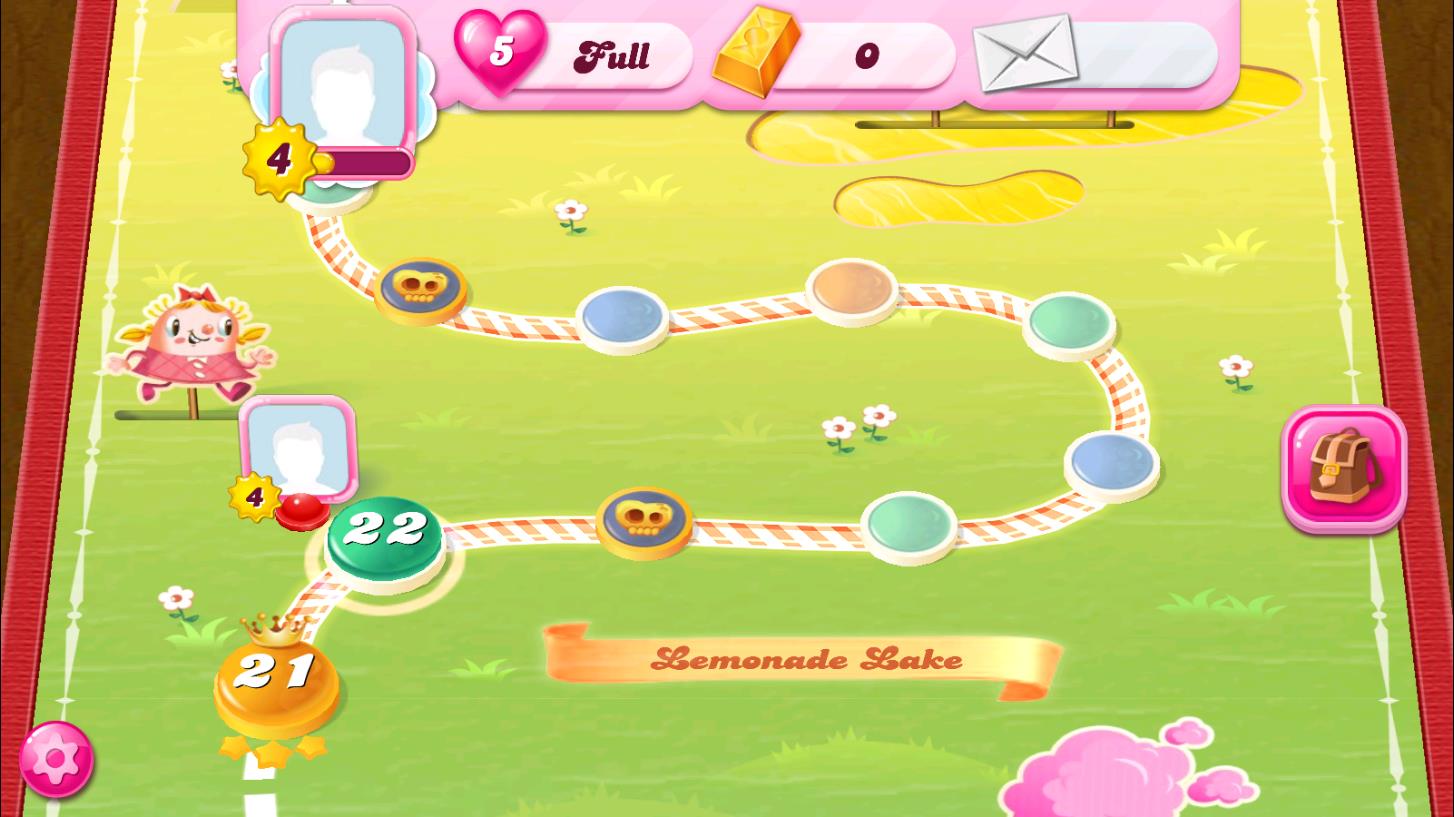 The way this game works is that, at any given moment, you can stack up to 5 lives, which are used for challenging a level. If you beat a level, then you don't lose a life. However, every time you fail to complete the objective of a mission in Candy Crush, you lose one life. Once you're out of lives, well, you're done playing for the moment. Luckily, your lives regenerate automatically at a rate of 30 mins per life. And while there are many methods to purchase lives or otherwise extend your playtime, these are usually reserved for those who pay real money. In this sense, safeguarding your lives is much more important than actually getting more of them.
However, if saving lives in Candy Crush is your objective, then you'll have to bring your A-game to the field and avoid losing rounds. Luckily, we have already written a guide with three basic tips and tricks that you can follow at any level in Candy Crush in order to win every level in the first try. Nevertheless, one of the most important tools, which we briefly mentioned on that occasion, are the special candies and boosters, as these are pivotal for unleashing gigantic chain reactions that could potentially clear the entire board with just a few moves.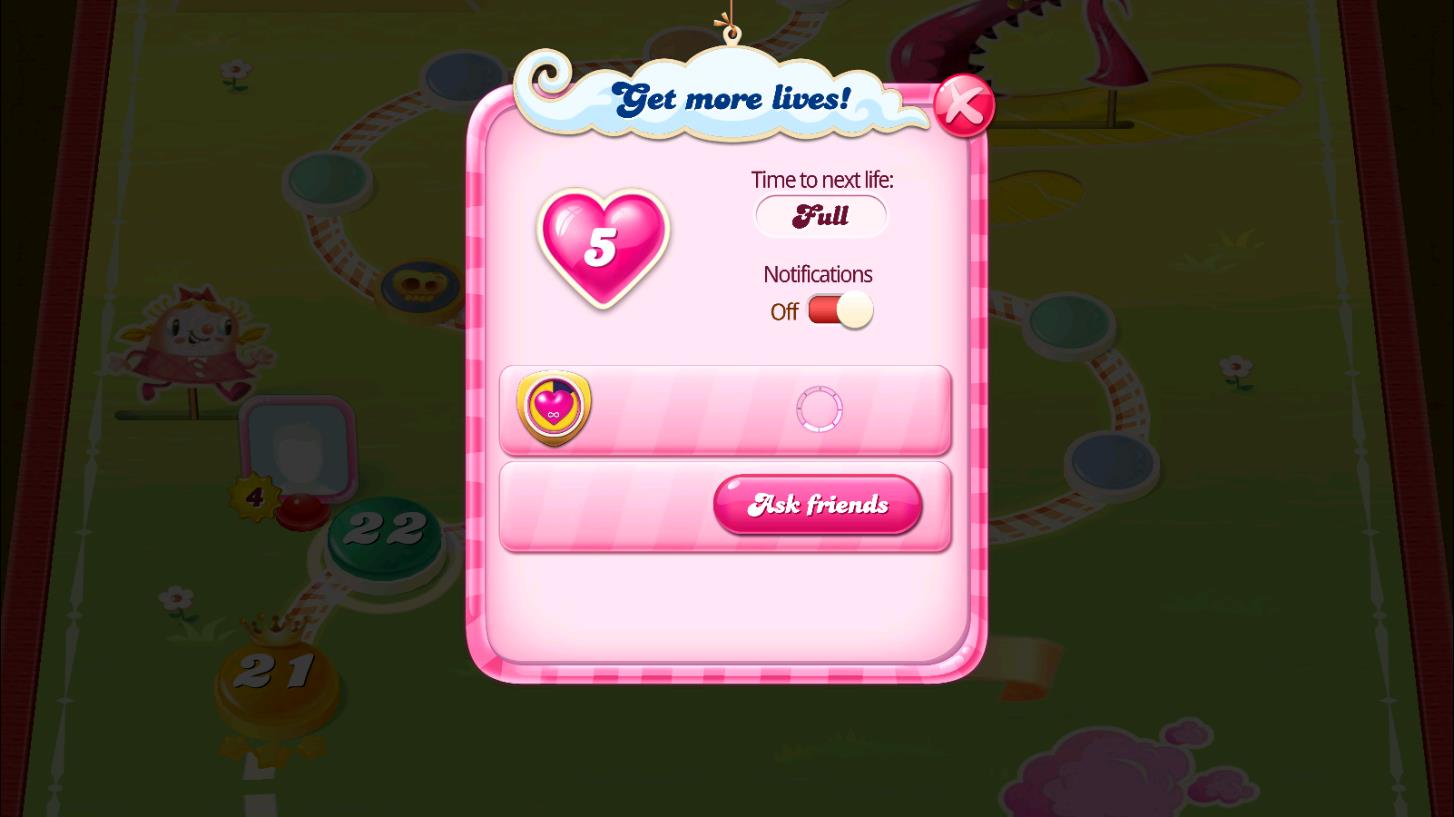 Let's start with the special candies first:
Special Candies in Candy Crush Saga
Most of these pieces are obtained by creating specific combinations on the board. When triggered, they produce different effects, which usually leads to clearing large chunks of the board. Some of these pieces, while useful, cannot be created from a combination and appear as a result of a booster, which we'll talk about shortly.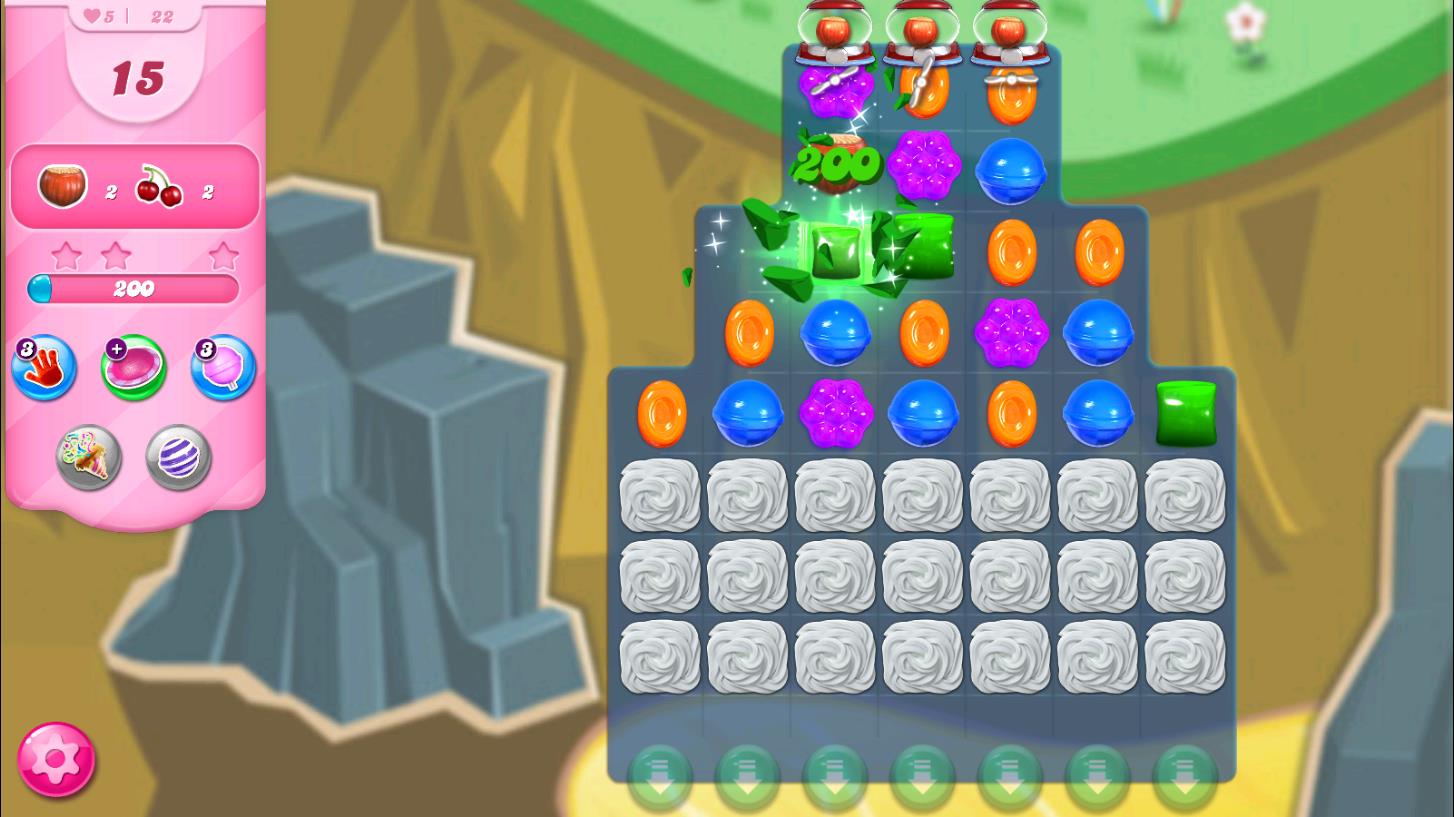 Striped Candies: The most basic special candy, obtained by combining 4 identical pieces in a row. When activated, they explode and clear the entire row or column, depending on the orientation of the striped candy. The direction in which the candy explodes is determined by the previous swipe from which it was created.
Wrapped Candies: Slightly more useful than striped candies, which are created by combining 5 pieces in either an L or T shape. When triggered, these pieces explode, taking out every single piece surrounding the wrapped candy.
Color Bomb: Obtained by combining 5 identical pieces in either a vertical or horizontal orientation. When combined with another piece of a certain color, the color bomb targets all the candy of the same color and explodes them. Useful for taking out many pieces of one color and causing a massive chain reaction in the process.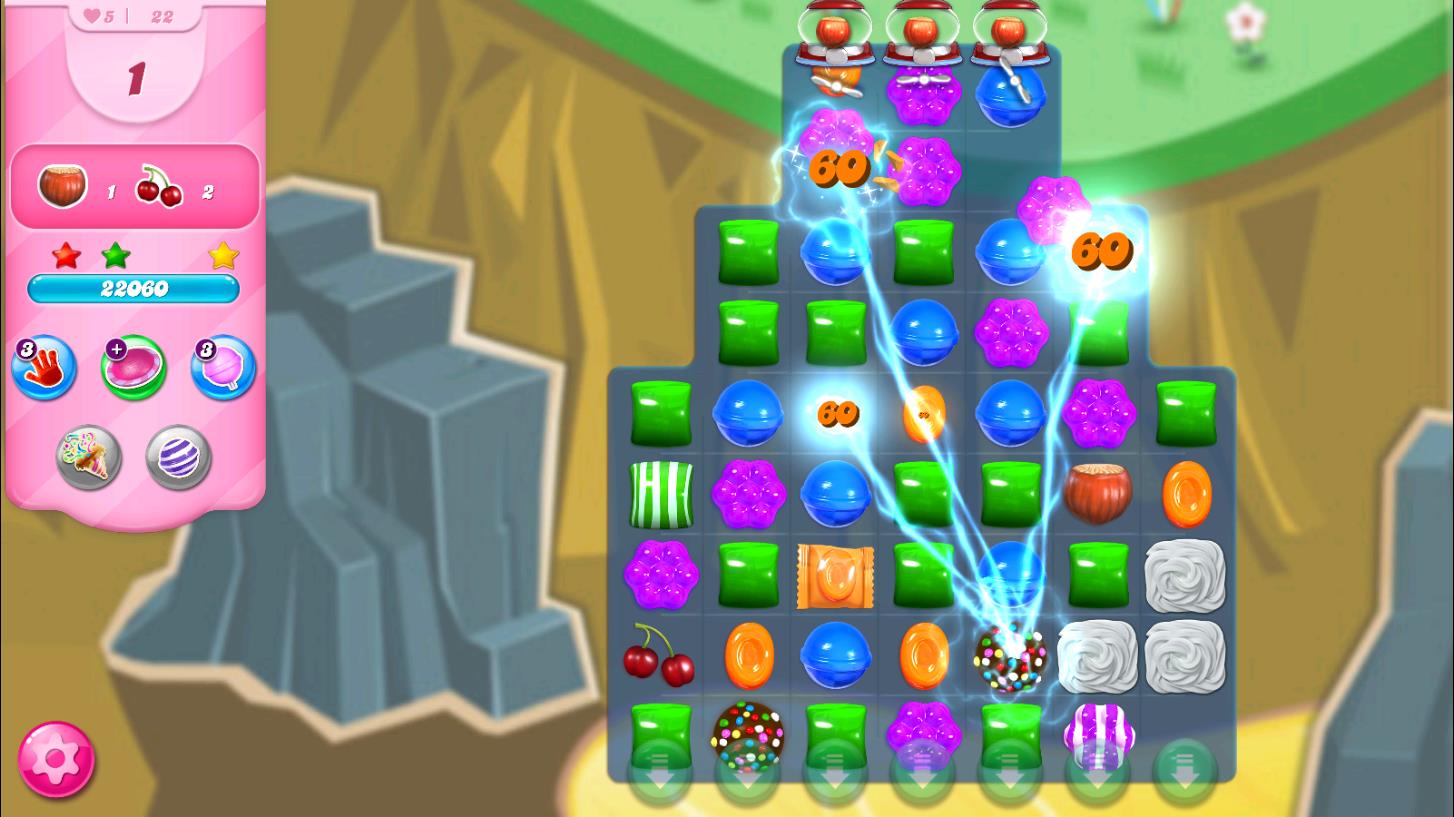 Jelly Fish: This piece cannot be created by normal means and appears only as a result of a candy cannon, or from using the corresponding booster. Once triggered, several fishes swim onto the board and destroy random pieces, which are usually mission objectives such as jellies.
Coconut Wheel: Like the Jelly Fish, Coconut Wheels only appear as a result of a booster. They function similar to striped candies but while also turning the first three pieces that it destroys into more striped candies, immediately activating them and causing a larger chain reaction.
Of all the pieces mentioned above, the first three can be combined together to create different, larger effects.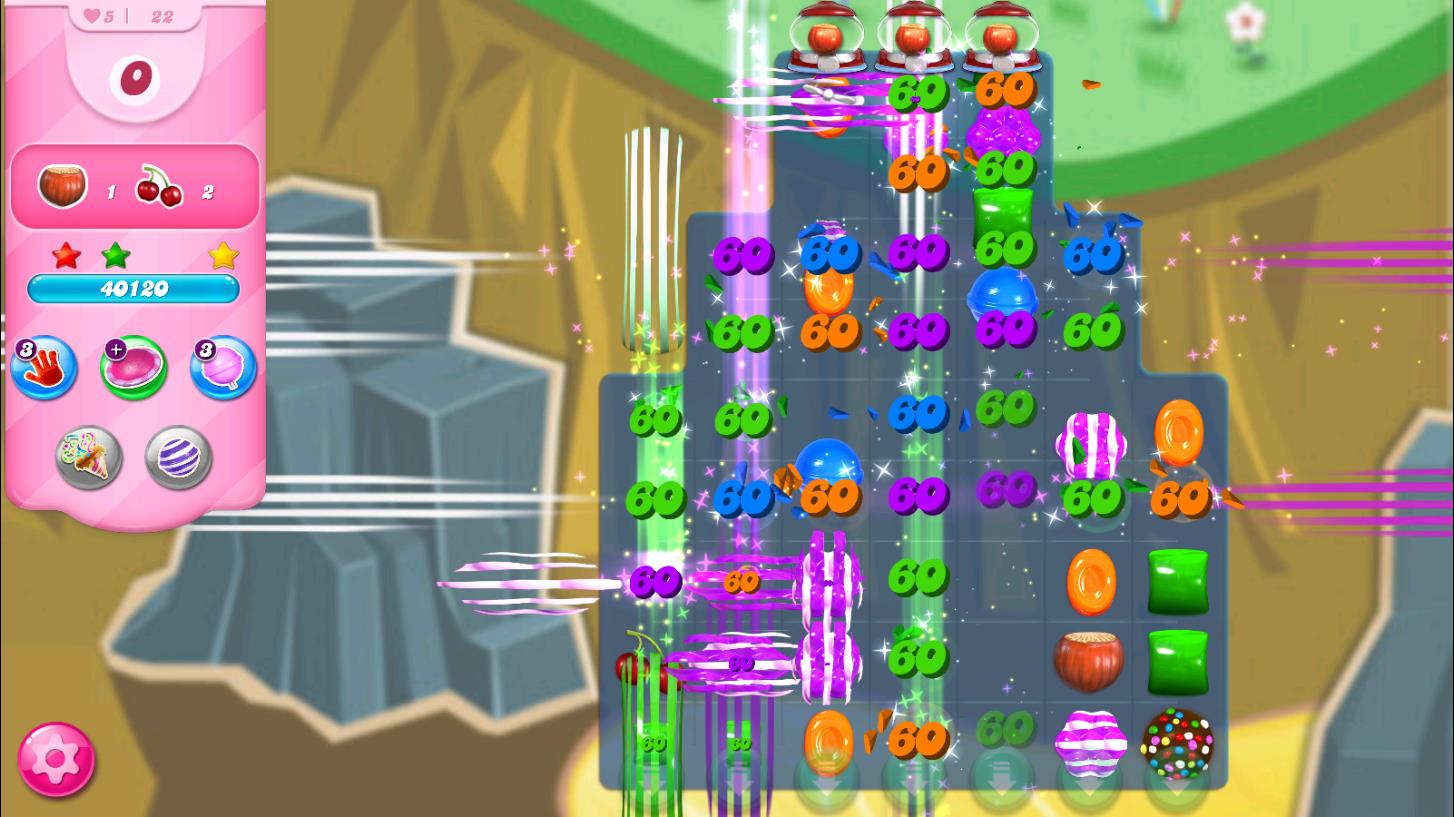 For instance, two striped candies can be combined to clear both rows and columns from the center of impact. Similarly, when two wrapped candies are combined, the explosion radius is increased from 3×3 to 4×4. Lastly, when two color bombs are combined, they sweep the entire board from left to right.
However, the most interesting combinations are when we mix two different special candies together. For instance, when combining a striped candy with a wrapped candy, the resulting explosion will clear 3 columns and 3 rows. However, when combining a color bomb with any of the other two pieces, the effect is much greater as, instead of clearing all the pieces of a specific color, the color bomb will, instead turn every single piece of the corresponding color into another special candy. For instance, if you combine a color bomb with a red wrapped candy, then all the red pieces on the board will be turned into wrapped candies and automatically activated, creating a massive chain reaction.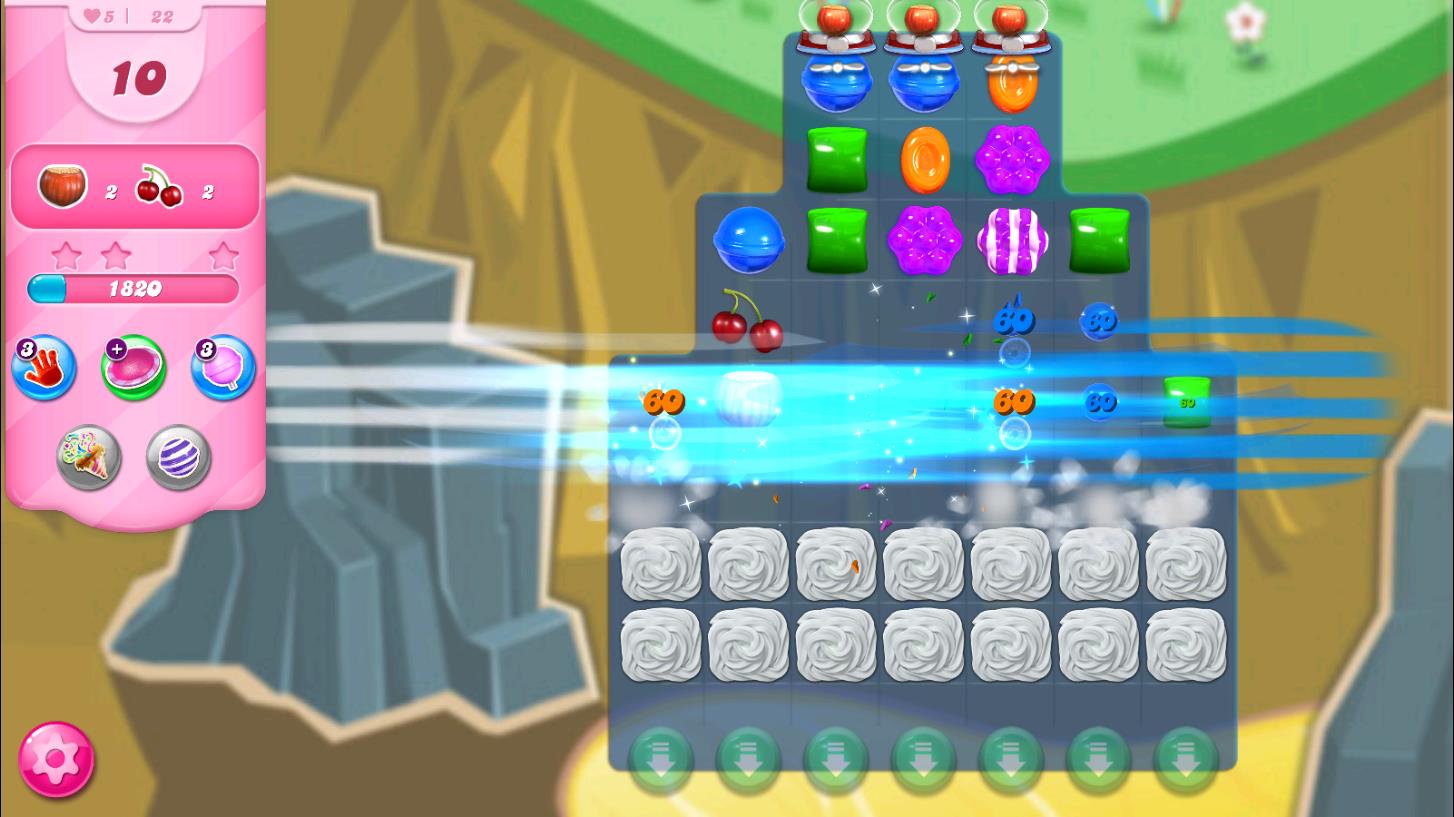 This last combination is the stuff that can easily clear levels with a single move.
Candy Crush Saga Boosters
These consist of bonuses that you can activate either before entering a level or during a specific mission to produce different effects. The Candy Crush pros consider using boosters using cheating, but frankly, we'll do anything it takes if it means safeguarding our lives. Some of the boosters available in Candy Crush Saga include the following: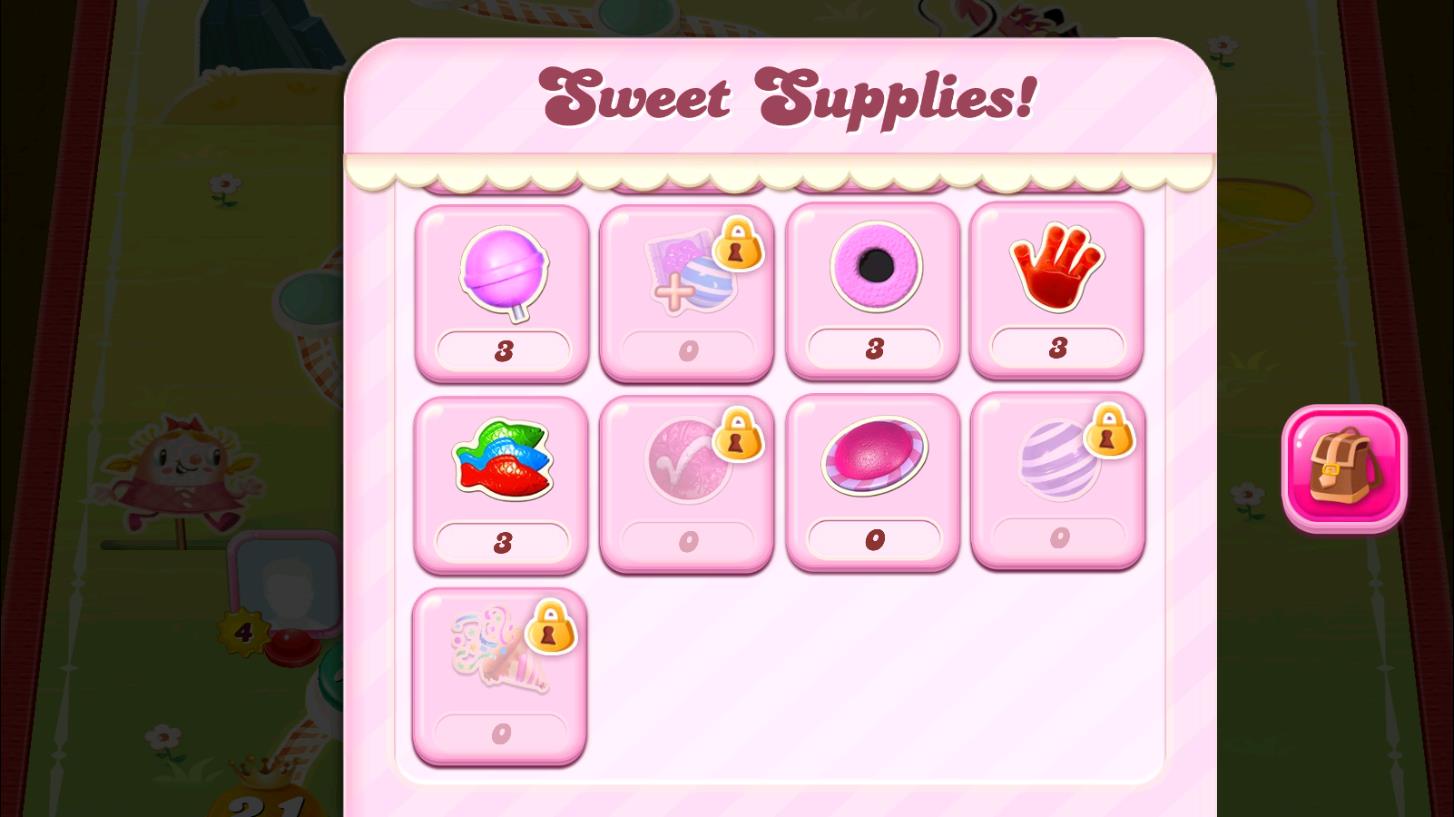 Lollipop Hammer: Used inside a level. Effective for destroying a single block of your choosing.
Color Bombs: Used before the level starts. It creates a single color bomb at the beginning of the round.
Coconut Wheel: Used before the level starts. Creates a Coconut Wheel at the beginning of the round.
Free Switch: Used during the level. It allows for combining two different candies and creating a combination that would usually result in failure (i.e. combining a red with a blue candy).
Jelly Fish: Used before the level starts. Creates several Jelly Fish at the beginning of the round.
Striped and Wrapped: Used before the level starts. Creates one wrapped candy and one striped candy at the beginning of the round.
Lucky Candy: Used before the level starts. Creates a special piece of candy of a random color that, when triggered, transforms into another special candy that would benefit the player the most for the current level. This candy can transform into striped, wrapped, or a normal candy piece of a specific color, depending on the current level.
UFO: Used during the level. Creates three wrapped candies at random locations, which promptly explode upon landing.
Party Popper Blaster: Used during the level. Clears the entire board and creates 4 random special candies. A veritable game-breaker!
Striped Candy: Used during the level. Turns a random piece into a striped candy.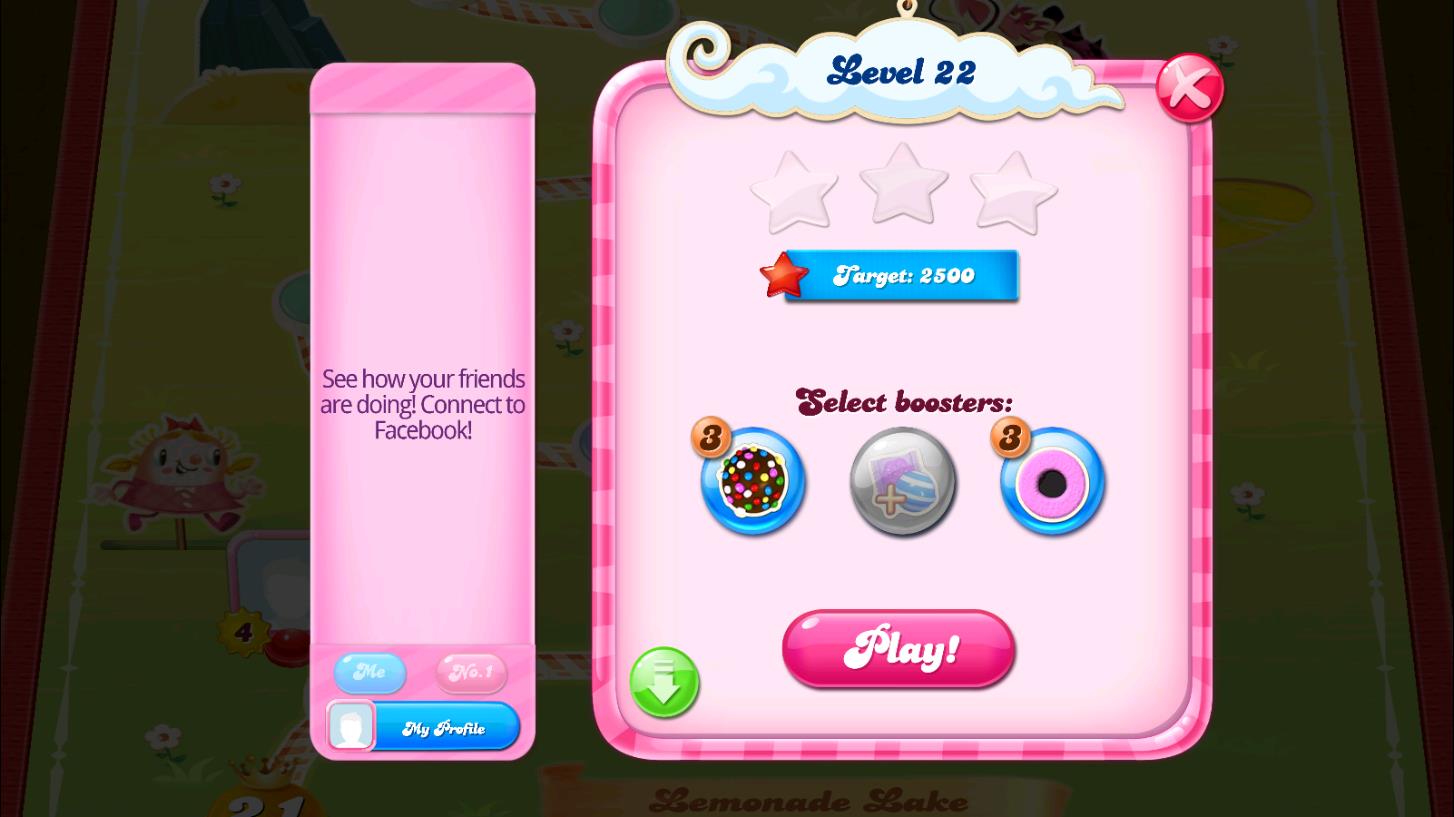 Both the boosters and special candies have the potential to help you clear the board and win levels with as few moves as possible. Learning what each of these tools can do is instrumental in mastering the game and maximizing your potential in Candy Crush.