Game Guides
Conflict Of Nations: World War 3 Review – How to Install this Game on PC With BlueStacks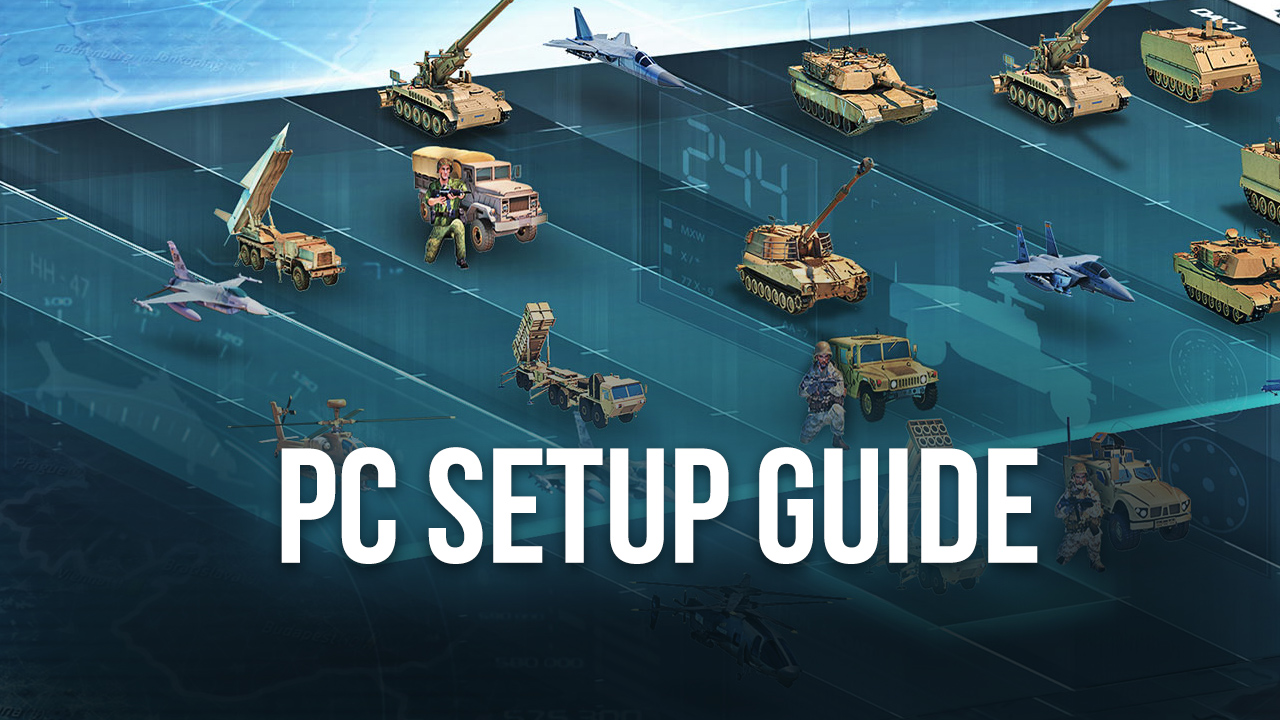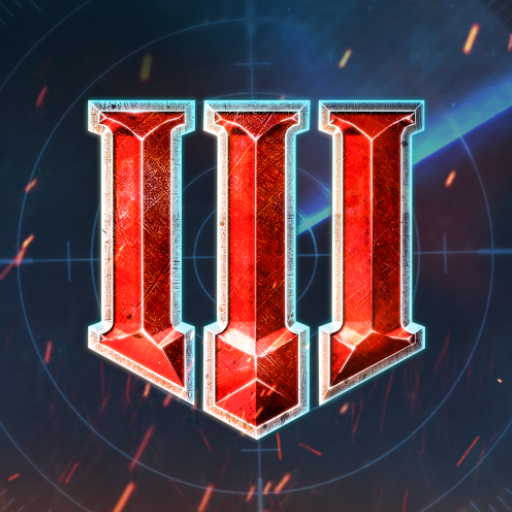 The Conflict of Nations games are some of the most ambitious strategy titles on the mobile gaming platform, outshining even some of the most popular and complex PC games. They're about on the par with the Civilization series in terms of depth, though their dynamics are more akin to that of Europa Universalis or Crusader Kings, where the main gameplay consists of players taking control of a nation and its military forces, and working to expand their influence across the globe to obtain world dominance.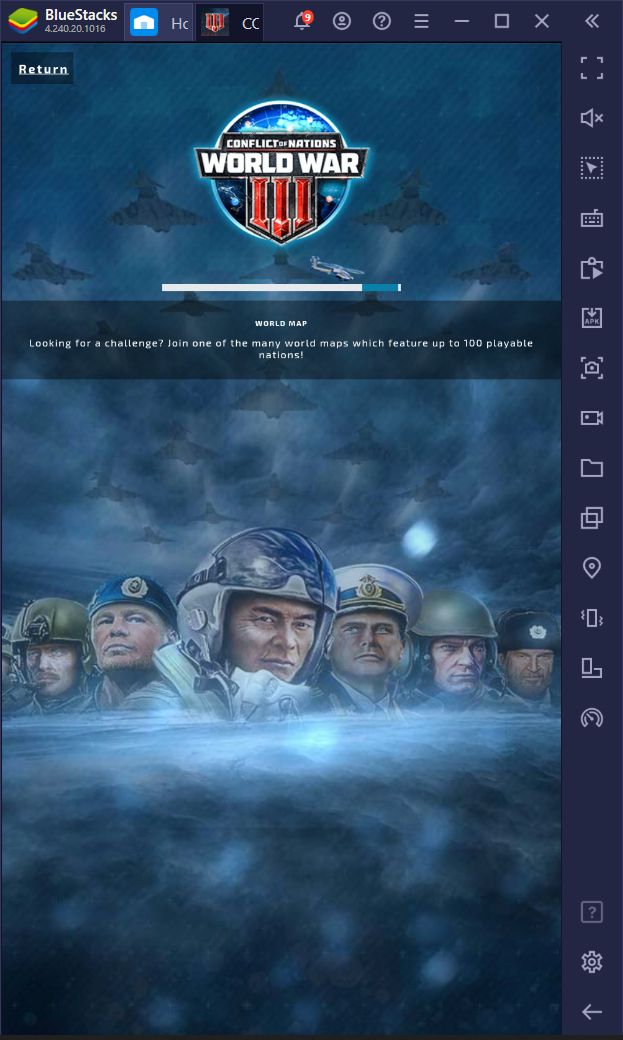 We have a lot to say about this game in this review. But first, let's talk about how you can enjoy the mobile version of this game on PC with BlueStacks.
Download and Play Conflict of Nations: World War 3 on PC
While this game has a browser version that you access from any computer, our Android emulator has several tools that can help to expedite your progress when you're playing Conflict of Nations: World War 3 on PC. To install it, simply follow these steps.
Go to

our website

and download BlueStacks, our Android app player. Run the installer and let it finish, after which the emulator will launch automatically.

Once loaded, you may use the search bar on the top right to look for Conflict of Nations in our Game Center.

Click on the game's portrait in the search results to install it, just like you would with an app on your phone.

Once installed, run the game by clicking on its new icon on the home screen.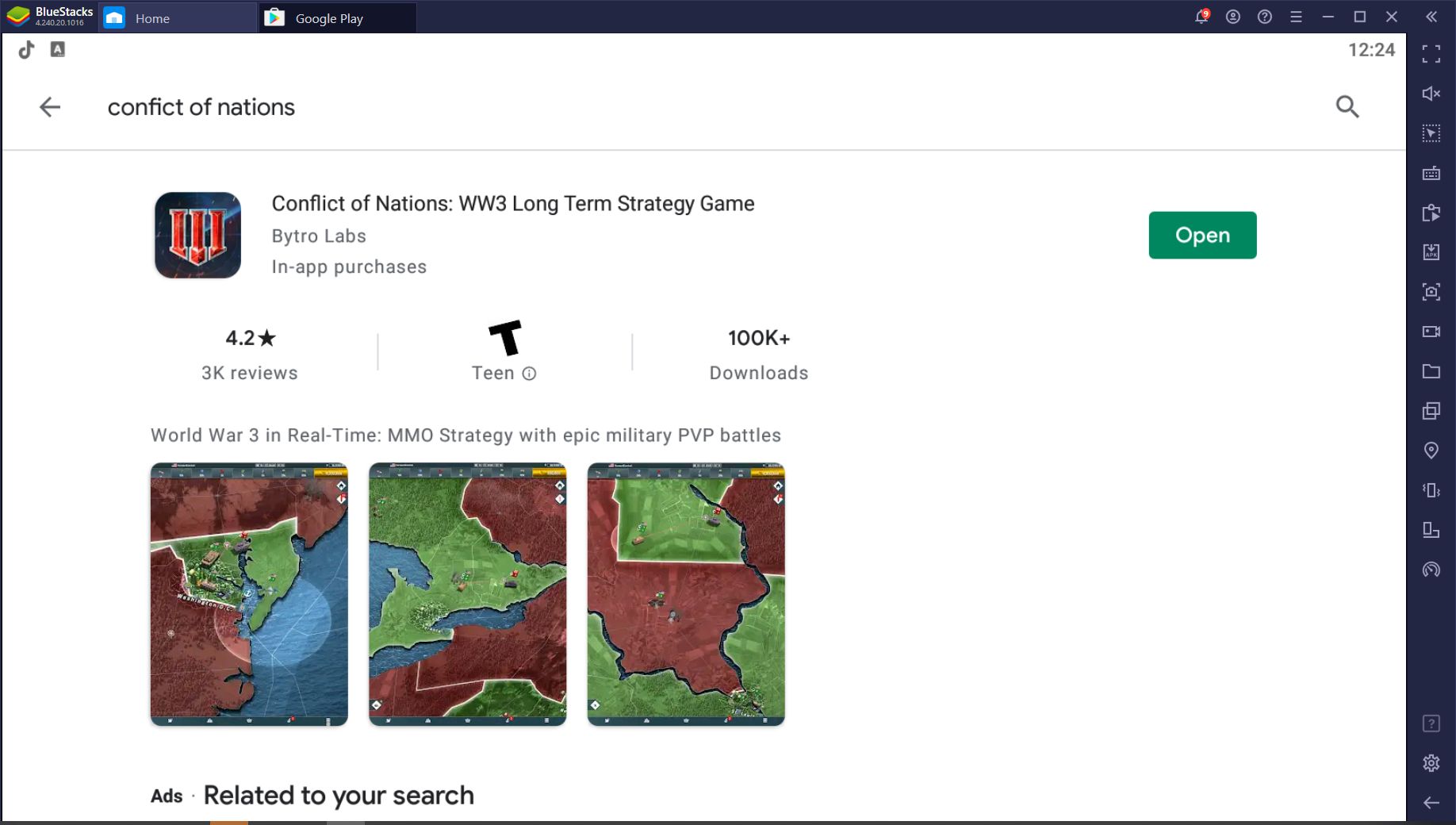 By playing Conflict of Nations: World War 3 on your computer with BlueStacks, you'll have access to tools like the Macro Recorder to help you automate parts of the game, as well as the Keymapping Tool to streamline your menu navigation by adding keyboard shortcuts to every function, among many others.
A Conflict Among Nations
Conflict of Nations: World War 3 is among some of the most popular entries in the series of strategy games developed by Bytro Labs, giving players the opportunity to choose from a very large variety of actual real world nations, and either collaborate with others to win the match, or go solo and attempt to take over the world by themselves. For every building they construct, or every nation they conquer, or basically every other action they perform, players will get Victory Points. Once a player has reached a certain limit of VPs, they will win the match.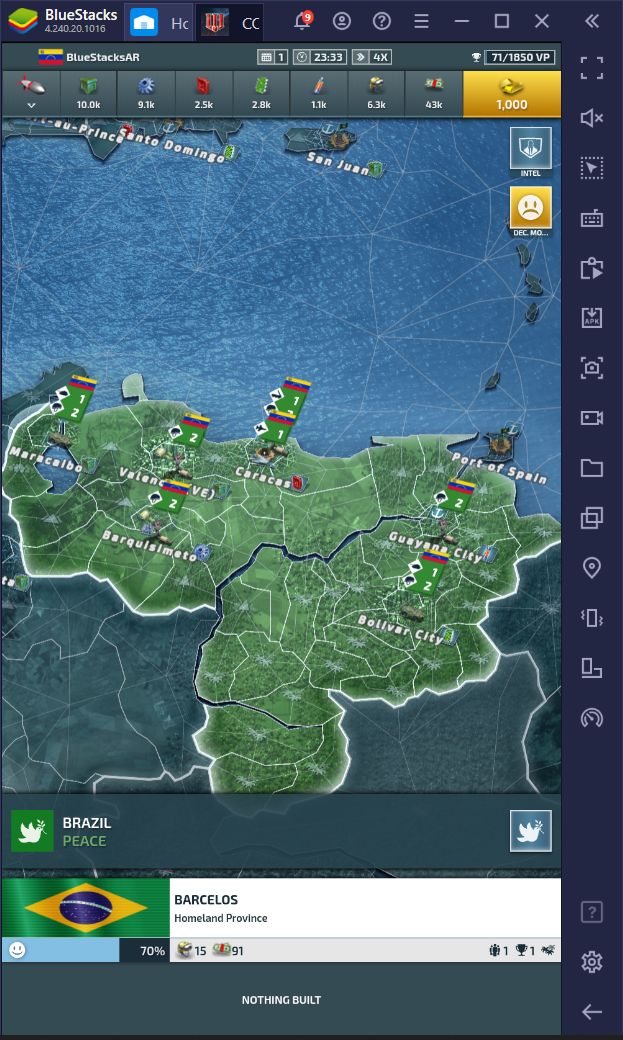 Every nation has its own military doctrine and special properties which, in turn, determine the units available to them. Furthermore, since the nations are direct references to real countries, they will also determine the starting points of the players on the map, and therefore the possible interactions that they may have with others throughout the match. For instance, the United States, for example, will always be on the Western hemisphere of the map, and will have Mexico and Canada as neighbors. And the same goes for all other nations according to their real life counterparts.
Warfare and Politics in Real-Time
Unlike continuous strategy war games like Rise of Kingdoms, Conflict of Nations: World War 3 is played in matches, each of which can be very long, depending on the settings. In a standard 1x configuration, every construction can take hours or days, and the same applies for training troops. Moreover, moving your soldiers and units across the map can take an equally long amount of time as the world is vast and there's a lot of terrain to cover. For this reason, it's not rare for matches to start very slowly, and then quickly opening up in subsequent days as more research options and units become available, and players start declaring war on each other.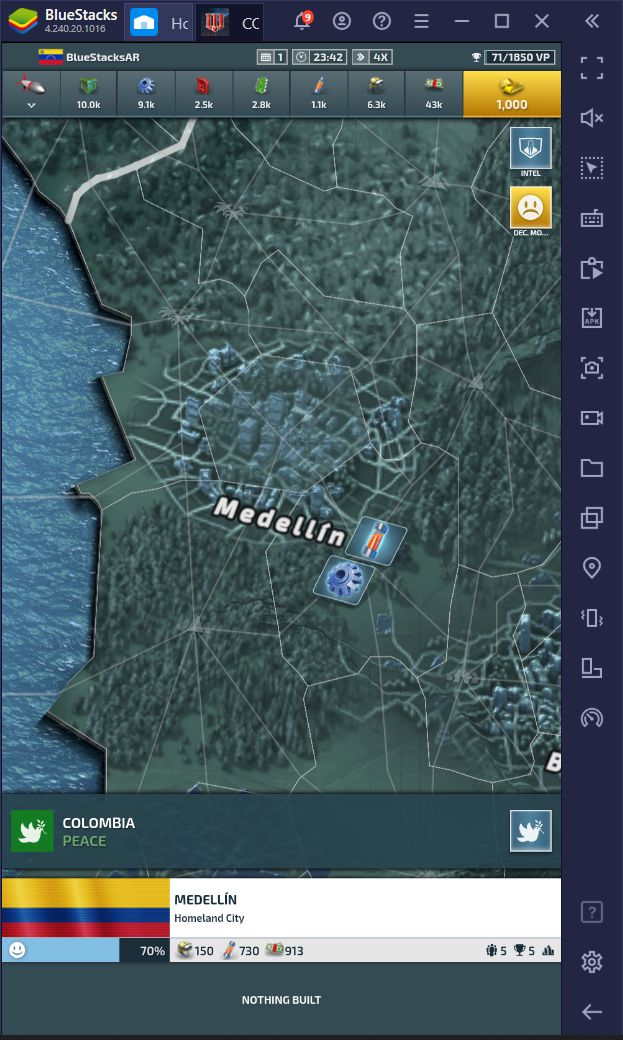 Uneasy Alliances
As you may have probably guessed by now, there's also a lot of strategy involved as individual efforts are often insufficient to win the match. Because of this, players will likely have to collaborate with their neighbors and establish coalitions to pool their efforts and protect from foreign threats. Whether you group up with your neighboring nations or with other players in the match that speak the same language, collaboration is crucial for surviving, at least in the beginning.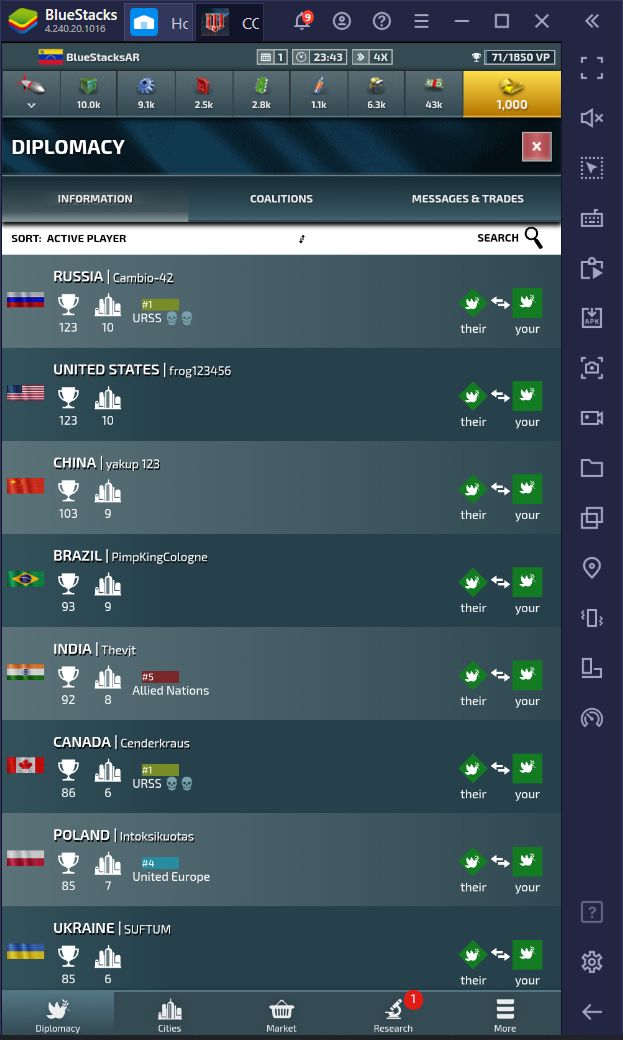 However, this isn't to say that there's no intrigue in Conflict of Nations—It's in the title itself! While you can rest easy at the beginning with your allies, this doesn't mean that they can't turn around and betray you later on and try to conquer your cities. These political betrayals are just another part of the game, and is something that can make it very enjoyable to some players.
Since this game is played in matches, alliances are not permanent, and can be easily broken if diplomatic relationships get strained between players. Though there definitely ARE inherent advantages to joining a coalition, such as working towards achieving a joint victory, or allowing your troops to freely move through allied nations' territories, alliances are quick to change in this game if players manage to strike a deal with other players for better advantages, and they won't hesitate to leave you in the dust if this happens.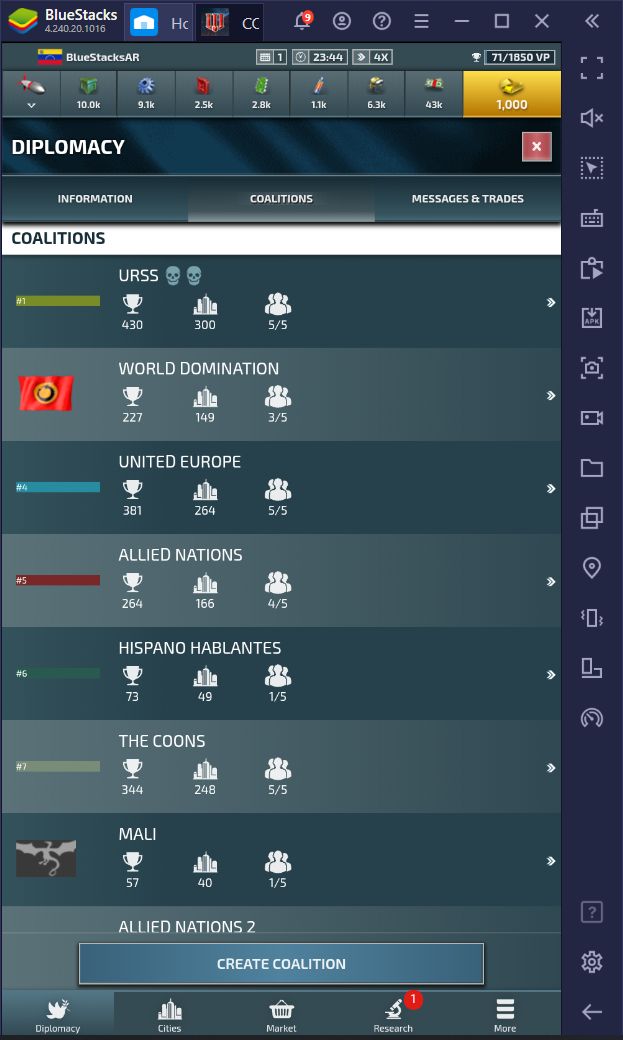 Luckily, just like everything in this game, abandoning alliances takes a long time, and all members will be notified. In this sense, there's always time to talk things out and come to better agreements before engaging in all-out war—not that we're complaining since warfare is easily one of the most exciting aspects of the game.
Intense and Strategic Military Combat
And speaking of which, the combat in Conflict of Nations: World War 3. Though you can't really see any thrilling or flashy animations, the mechanics behind every encounter are very deep and rooted in real-world military tactics. There are countless factors that affect the outcome of every encounter, such as troop stack size within a single area, the terrain you're fighting on, the types of troops involved in the fight, and whether or not you have any support buildings constructed nearby. You need to be mindful even if you're fighting near urban zones since accidental civilian casualties will count as crimes against humanity and will negatively impact morale, production, and other factors.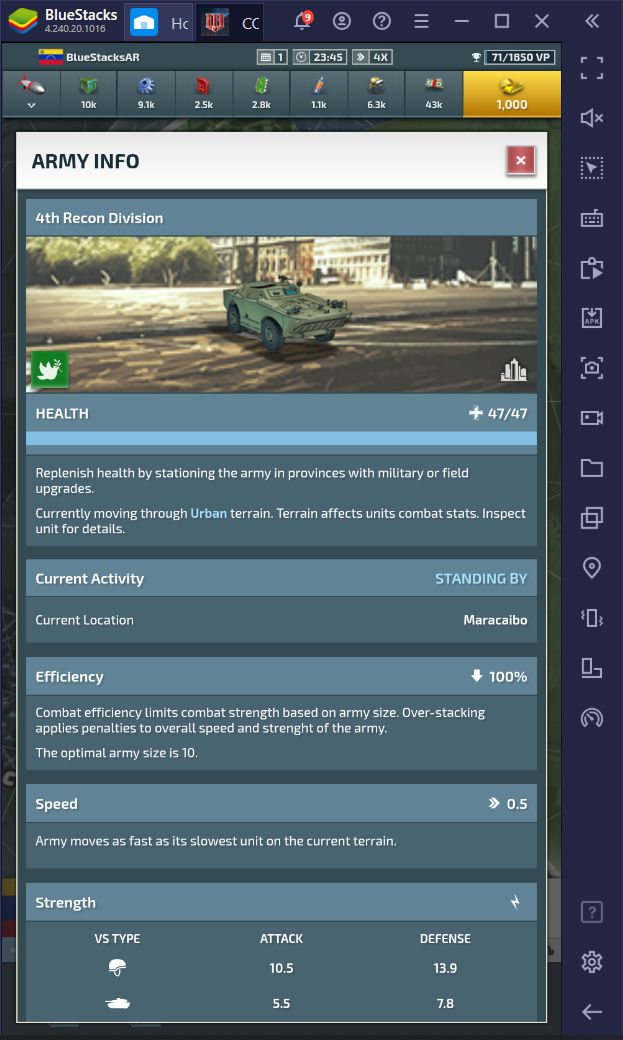 There's honestly quite a lot to consider when it comes to playing Conflict of Nations; too much to put in a single review of the game. If you're a new player, you will probably feel overwhelmed the first time you play it. Heck, you won't understand it the second, third, or perhaps even on the fourth match. However, the more you play, the more you'll learn. We recommend linking up with a good coalition that can show you the ropes if you're not sure how to proceed. Regardless, the best way to learn is by doing so get in there and start playing!