Game Guides
Dislyte Beginners Guide and Tips for New Players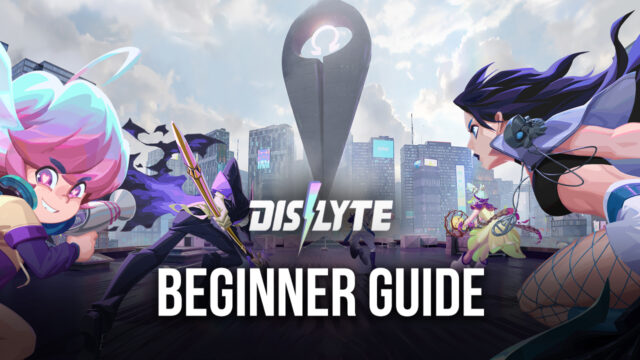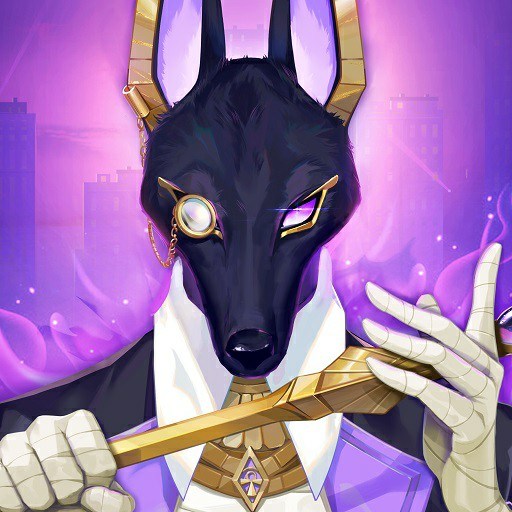 Dislyte has just launched globally on 10th May 2022 as a free-to-play application on both Google Play Store as well as iOS App Store. The LilithGames produced turn-based RPG is classified as a stylized RPG mixed with hero collector elements. The characters of Dislyte are called Espers, who are those humans who have received the power of Gods of all religions and origins like Chinese, Nordic, Korean, Christian, etc. Players can experience thematic and visually pleasing gameplay featuring special animations for all of Esper's abilities and ultimate moves.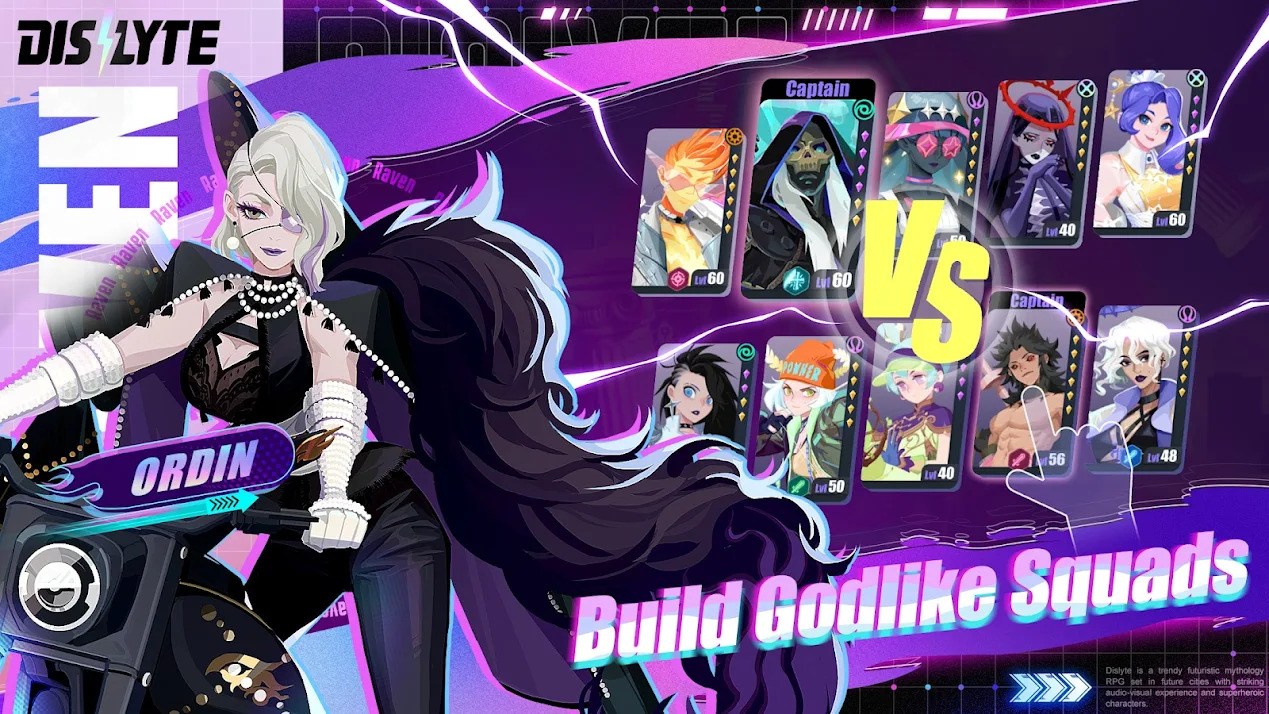 Dislyte is an upbeat punk'em stylized RPG that makes use of the modern monikers and is more targeted toward the youth of Gen Z. Players can also experience original soundtracks produced or licensed by LilithGames, especially for Dislyte. The story of the game is very direct as the invasion of Miracles has caused disruption and chaos on Earth. The Miracles are outer-worldly forces and 2 organizations on Earth – The Union and The Shadow Decree have different views on how they want to use their power. This is a classic story of Good V/S Evil and the Espers in the universe of Dislyte are divided between both the organizations.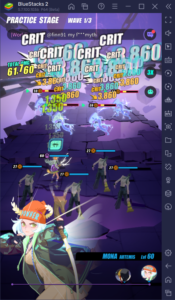 Like other RPGs, there are many new and differentiating factors that Dislyte brings to the genre. The core gameplay remains the fun and strategic turn-based style just the way we like it. There are various systems in Dislyte which have their own mechanics and depth attached to them. We hope to clear the basic doubts that many players who are new to Dislyte as well as the genre might have when playing such games. We want players to explore the game by themselves to truly have fun but for the sake of efficiency and knowledge, players can take the help of this Beginners Guide which will provide clarity on the different systems available in Dislyte to make fast progress in-game. We highly recommend playing Dislyte on your PC with BlueStacks for an optimized gaming experience.
Echo – The Summoning System
Dislyte is a hero collector game where the characters are called "Espers". These Espers are available to be collected in different ways in-game but the most used way is the gacha system called Echo. Echo is the summoning system where players can summon different rarities of Espers using different summoning currencies that they have earned or claimed. There exist 3 main banners currently at the launch of the game: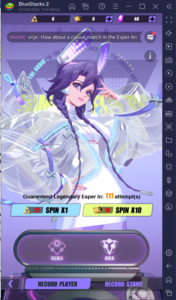 Beginner's Benefits Banner

– Players can summon 3-5 Star espers but only a maximum of 10 times at the start of the game and players are guaranteed to summon 1 legendary esper between Li Ling or Tang Xuan.

Normal Summoning Banner

– Players can summon 3–5 Star Espers on this banner and there is no expiration date for this banner.

Rate-Up Summoning Banner

– Players can summon 3-5 Star Espers on this banner and the specific rate-up Esper of the banner have a higher chance of being summoned. There is usually an expiry date for these banners.
Players can summon different rarity of Espers at different rates available in the game from the above-mentioned 3 banners. The rates are highly dependent on the rarity of the Esper being summoned, with the highest rarity espers having the lowest probability of being summoned while the lowest rarity espers have the highest probability of being summoned. The currency used for summoning on these banners is called Records. These Records come in different types with each type having a different use attached to it:
Gold Record

– Records used for summoning on every banner.

Flow Record

– Records used for summoning only Flow elemental espers of 3-5 Star rarity. Used solely through the Echo system and not used on banners.

Wind Record

– Records used for summoning only Wind elemental espers of 3-5 Star rarity. Used solely through the Echo system and not used on banners.

Inferno Record

– Records used for summoning only Inferno elemental espers of 3-5 Star rarity. Used solely through the Echo system and not used on banners.

Shimmer Record

– Records used for summoning only Shimmer elemental espers of 3-5 Star rarity. Used solely through the Echo system and not used on banners.

Platinum Record

– Records used for summoning only espers of 4-5 Star rarity. Used solely through the Echo system and not used on banners.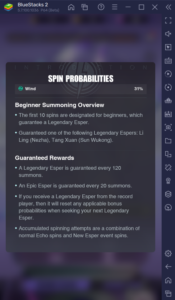 The Pity system in Dislyte exists in 2 different parts:
Hard Pity:

Players are guaranteed to obtain a legendary grade, Esper, within 121 summons. If the player does not get a legendary Esper within 120 summons, then the next summon will be guaranteed to be a legendary Esper.

Soft Pity:

Players are guaranteed to obtain an Epic grade, Esper, within 20 summons. If the player does not summon an Epic Esper within 19 summons, then the next summon is guaranteed to be an Epic Esper.
Different Currencies in Dislyte
If you have started playing Dislyte, you might have noticed that various different currencies exist in the game and each currency has a specific purpose or multiple purposes attached to it. These currencies also have a certain limit and can either be refilled over time or can be purchased. All gacha games or RPG games have these currencies to make the different systems that exist in these games simpler to understand. In Dislyte, we will be taking a look at the 3 main currencies used for making progression in-game: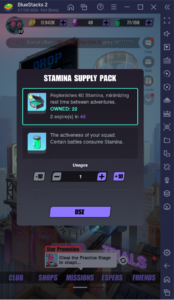 Stamina is one of the most used currencies if not the most used in Dislyte. It's the primary currency used for playing the game and is required for all types of game modes – Story Mode, Sonic Miracle, Ritual Miracle, Cube Miracle, etc. Players can get more Stamina by purchasing it using their Crystals, through Gold Shop if they are lucky, or through Friendship shop 2 times per day. Players also get Stamina recharged automatically as time progresses at the rate of 1 Stamina per 5 minutes. Stamina can also be obtained via Stamina Supply Packs which are available through events, quests, maintenance rewards, etc.
Crystals are the most premium currency that is used for majorly summoning on the Echo system. Players can purchase Gold Records at the rate of 200 Crystals for 1 Gold Record in the Resource Shop. Another major use and something which we recommend for new players is to use Crystals to replenish Stamina. Keep in mind that if you buy more Stamina using Crystals in a single day, the cost will drastically increase with each purchase. Hence, do not waste Crystals by purchasing more Stamina in a single day. Crystals can be obtained through daily quests, missions, events, dispatch missions, maintenance rewards, etc.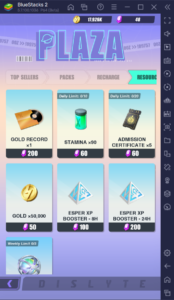 Gold is also one of the most easily obtained currencies in-game but that is because it is used quite abundantly and frequently. Gold is used primarily for upgrading your relics, which are the equipment you equip on your Espers. It is also used for the various enhancement processes for your Espers. Gold is obtained from grinding and farming different Story/Ritual Miracle stages in the game. It is also obtained from selling relics, daily quests, etc.
Tips on Making Your Espers Stronger
Espers are your characters which you collect and summon from the different areas of the game. Espers are the key to progressing faster and more efficiently. The stronger your espers, the faster you can clear higher-level content and progress to mid-late game. In the early game, players get their first Epic Esper – Mona (Artemis) after they complete the tutorial. Mona is one of the best Esper for early-late game players, as she has 2 AOE targeting skills that target all enemies. We highly recommend players to enhance Mona on top priority before any esper, even if they are legendary grade. Mona will help new players to farm the various story stages to give EXP to other low-level espers and level them up.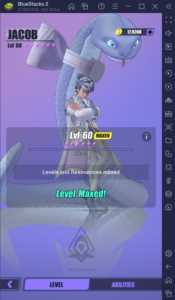 Every player can take 5 espers in battles and hence, they will need to have a strong party of 5 espers to clear any content available in the game. There are various methods to empower and enhance your espers like the following:
Leveling Up is the main way to enhance your Esper and make them stronger. Leveling up increases the base stats of the Esper by a huge number. Each Esper can be leveled to their maximum potential depending on their current Star level. For example, a 3-Star Esper can only be leveled till Level 30 maximum while a 4-Star Esper can be leveled till Level 40 maximum. Players can level up their Espers by providing them with EXP which can be achieved by taking them into battles in the different areas of the game but most notably from the Practice Stages in Story Mode. Another method to increase the level is by feeding Espers with Experimons which are XP filled monsters and come in different rarities.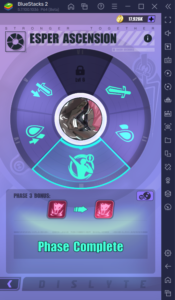 Ascension is also a very important part of making your Esper strong as ascending them not only increases their base stats percentage-wise but also the 3rd ascension enhances certain abilities of every Esper. Hence, making sure your Espers that you use in the early game are at least ascended till their 3rd phase is highly recommended. Ascension materials can be gathered from the Sonic Miracles and are element specific. The higher the Ascension phase, the higher rarity of Ascension materials required.
Resonance is a sure shot method of enhancing the base stats of your Espers but it is also quite an expensive one. This method requires players to feed a duplicate copy of the Esper they want to enhance. This duplicate copy is easier to obtain in the case of Rare espers but quite difficult for Epic and Legendary espers as the probability to summon them is also quite low. However, once done, players can choose which of the base stat they want to increase – Attack, Defense, or Health (HP).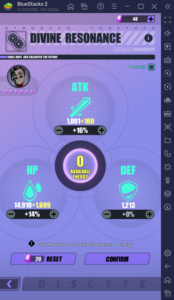 Promotion means increasing the Star value of your Esper which not only increases the base stats but also increases the level cap of that Esper. As we already said in the Level Up section, levels are directly correlated to the Star value of the Esper. Promotion of Espers can be done manually or automatically using the "Auto-Promote" button. Once an Esper reaches its current max level, he/she is eligible to be promoted if players can feed the similar grade and number of Espers or Starimons respective to the Star level. For example, a 3-Star Level 30 Esper will require 3 x 3-Star Esper/Starimon to promote to 4-Star.
Ability Enhancement refers to upgrading the abilities of the particular Esper using Gold and Abilimons. Abilimons come in different rarities and are used for upgrading the skills of that particular rarity of Espers. For example, Epic Abilimons can only upgrade the skills of Epic rarity Espers. These are quite rare to obtain and are usually quite limited in nature, especially the Legendary grade Abilimons.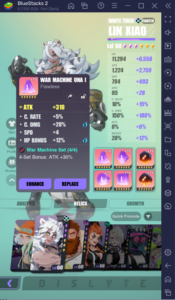 Relics are those materials that can be engraved on Espers to increase their stats and provide them additional effects depending on the set and type of relic being used. Consider them like Equipment or Gear from other similar RPG titles. Relics also come in different sets, rarities, stars, and slots. They are primarily obtained from the Ritual Miracle by defeating the various dungeon bosses but can also be obtained via Cube Miracle, Relic Forge, Events, etc.
Missions
Missions come in different sub-sections. These are divided into 3 main sections:
Courses
Quests
Achievements
Courses, further are bifurcated into 7 different sub-courses:
Recon Plan
Star Promotion
Point War
Growth Plan
Ritual Miracle
Sonic Miracle
Infinite Miracle
Courses are designed to give new players a detailed and practical use of the different content available in Dislyte. It also gives players a generous amount of rewards upon completion of these courses.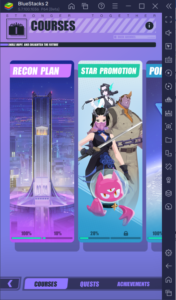 Quests are your daily missions which you receive at the start of every day when the server resets. They are not challenging and can be completed quite easily and in a short duration of time. They are one of the most consistent sources of rewards as they reset daily. The daily missions and the rewards obtained by completing them are as follows:
Complete any Story Stage.

Clear any Ritual Miracle stage.

Successfully enhance Relics 1 time(s).

Give out Friendship Points 5 times.

Clear any Sonic Miracle Stage.

Win any battle in Point War.

Take Part in 1 Expedition.

Complete 1 Bounty Mission(s).
Rewards – 20,000 x Gold + 10 M-Pass EXP, Rare Experimon x 1 + 15 M-Pass EXP, 30 x Crystal + Stamina Supply Box x 1 + 20 M-Pass EXP, 30,000 x Gold + 25 M-Pass EXP, 70 x Crystal + Rare Starimon x 1 + 30 M-Pass EXP.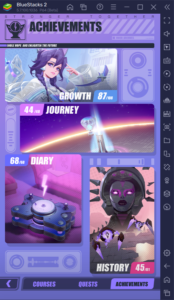 Achievements are further divided into 4 categories:
Growth
Journey
Diary
History
Players can complete them at any point in time and they only offer 1-time clear rewards. These can be quite tedious to complete and will likely take very long, so do not be disheartened if you feel you cannot complete all of them.
To Play Dislyte on your PC with BlueStacks using a keyboard and mouse for the most optimized and lag-free gameplay experience is highly recommended.