Game Guides
How to Build a Strong Army in Evony: The King's Return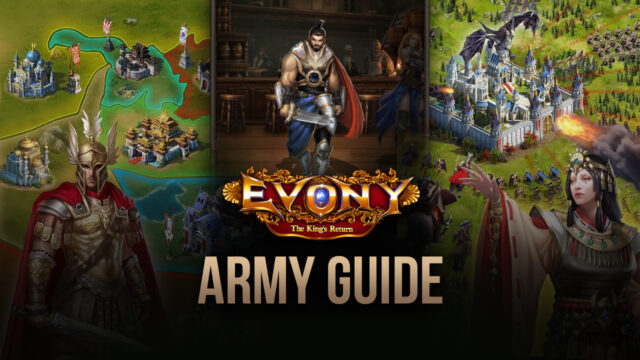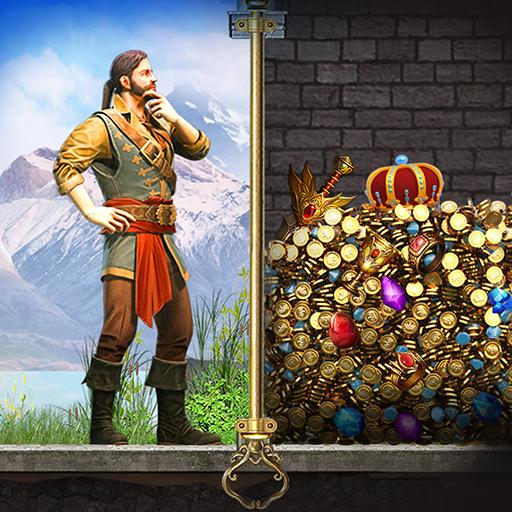 A strong army is a crucial part of an empire. The soldiers are responsible for manifesting the power of the empire through military operations within and beyond the territories. With that said, it is paramount to invest plenty of resources in ensuring that your empire's army is formidable enough to fight hostile groups, occupy new territory, as well as attack other empires.
In this guide, we'll explain all of the things that you need to know about nurturing your army in Evony: The King's Return. Primarily, we will be discussing the ordinary troops as well as the generals that strengthen them for battle.
The Basic Troops
In Evony, there are three types of soldiers that make up your entire army and these are:
Ground Troops – these are soldiers who fight enemies face-to-face. Because of this, they generally have a higher defense and HP stats. They are trained in the

barracks

.

Ranged Troops – these are soldiers who fight enemies from a distance. Compared to ground troops, they have low defense and HP stats but they have a higher attack stat. They are trained in

archer camps

.

Mounted Troops – these are essentially tougher versions of ground troops considering that they have very high damage and HP. These characteristics make them useful for attack-focused strategies. They are trained in

stables

.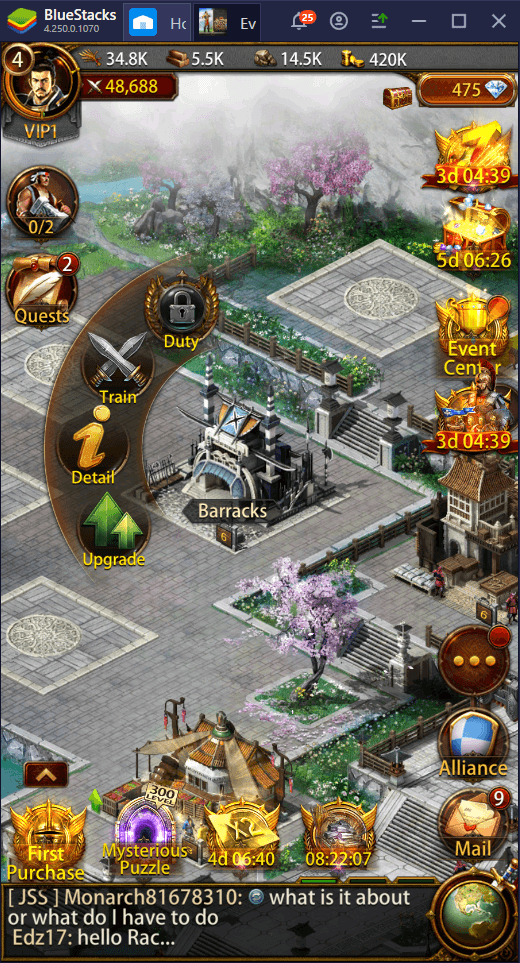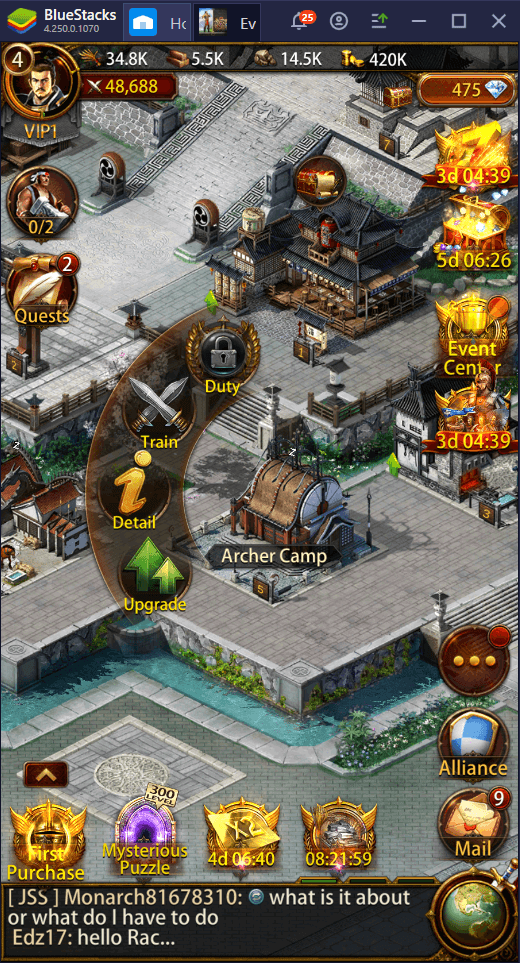 Training troops require three essential resources: food, lumber, and stone. Note that some troops only require one resource to train (i.e. Level 1 ground troops only require food). However, you will eventually unlock stronger variants of each troop and these variants often require more than one resource to train. So, how do you unlock these more powerful versions of troops?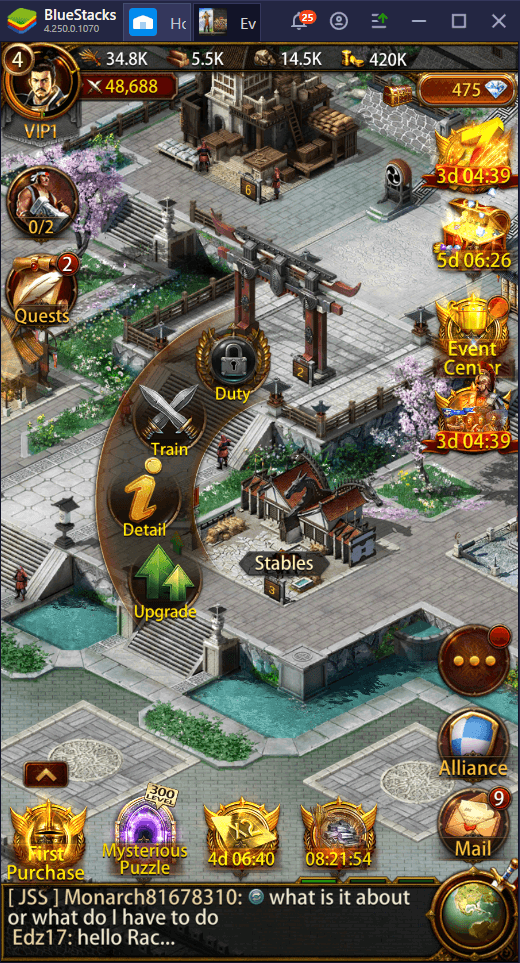 Upgrading Troops
Recall that there are three different buildings that each train a specific type of troop. Upon upgrading these buildings up to a certain level, you actually unlock a new tier of troops. This new tier is a stronger but more expensive version of the previous tier.
For instance, the Level 1 version of a ground troop is named "Warriors". A single warrior has a base damage of 100 and takes up 160 units of food to train.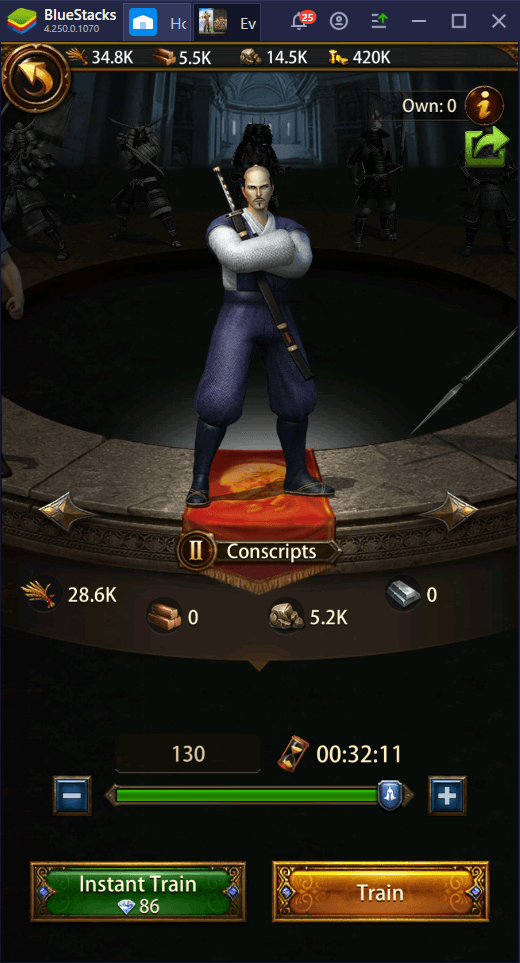 On the other hand, the Level 2 version of a ground troop is named "Conscripts". These troops are more powerful than warriors considering that they have an increased base damage of 140. The main drawback is that it takes 220 units of food and 40 pieces of stone to train just one Conscript.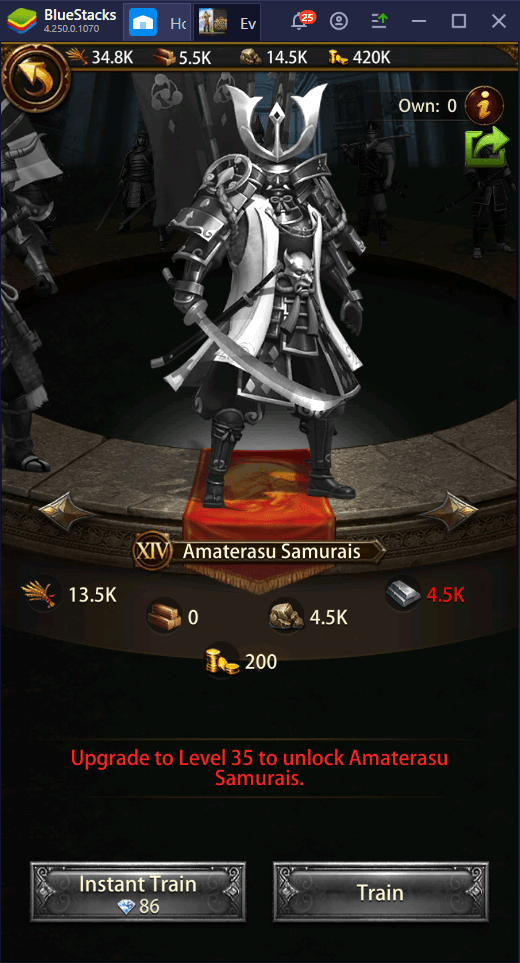 Note that as the tier becomes stronger, the more expensive they are to train. However, do not be dissuaded in spending more resources to train these stronger variants because the trade-offs will benefit your empire's military in the long run.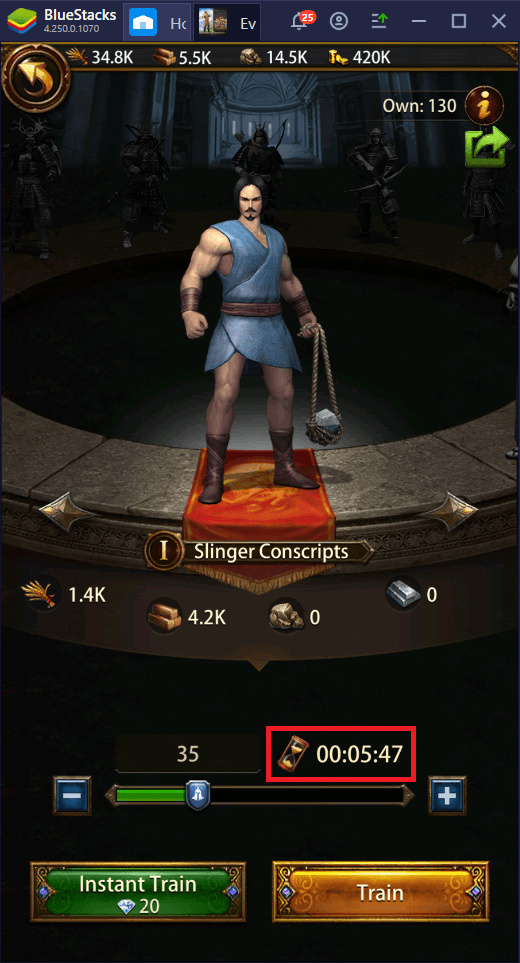 When training your army regardless of their tiers, the training time, as well as troop capacity, can become an issue. To resolve this, you can use special items called "speedups", which can dramatically reduce training times. You earn speedups by completing quests or Mysterious Puzzles.
Recruiting Generals
A large army can easily falter if it does not have a skilled leader (i.e. 20,000+ Persians vs. 300 Spartans). With that said, it is important to properly recruit a general for your army. The main way to recruit a general is to find one in the tavern.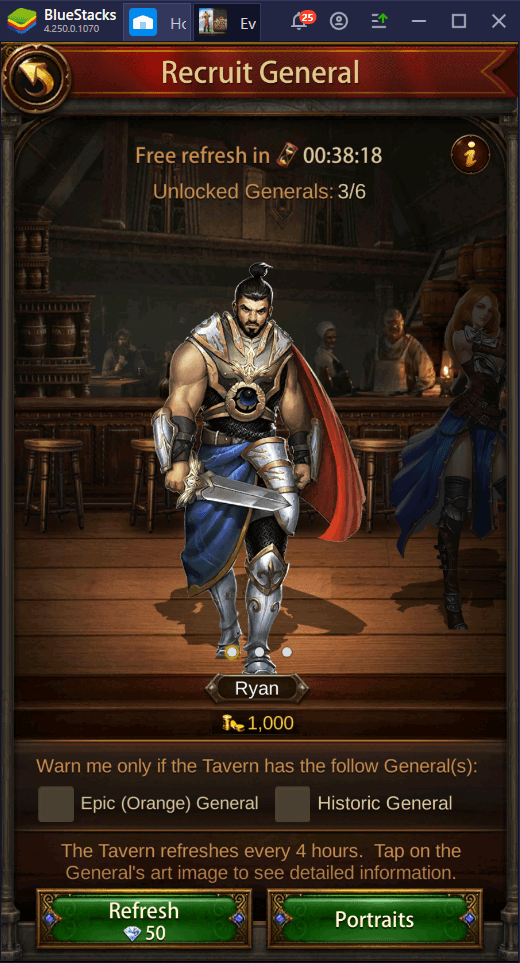 The tavern is a special building located near the empire's Keep. The tavern spawns three generals and you can use gold to recruit one or all of them. Do note that the tavern only retains these three generals for four hours. After four hours, the tavern spawns a new set of three generals.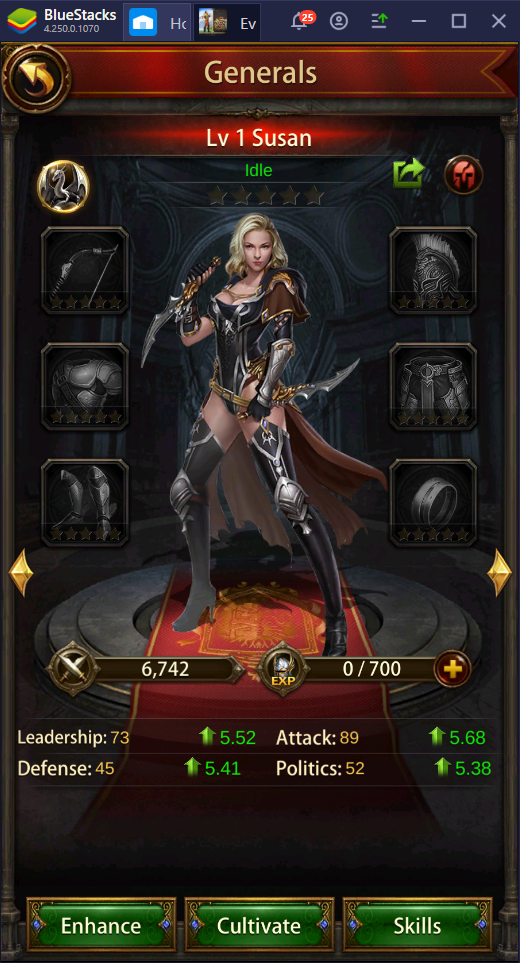 The main benefit of generals is that they give your troops buffs while marching to battle. These benefits are additional HP, marching speed, attack, and defense. The degree of the buffs that the soldiers will receive depends entirely on the general.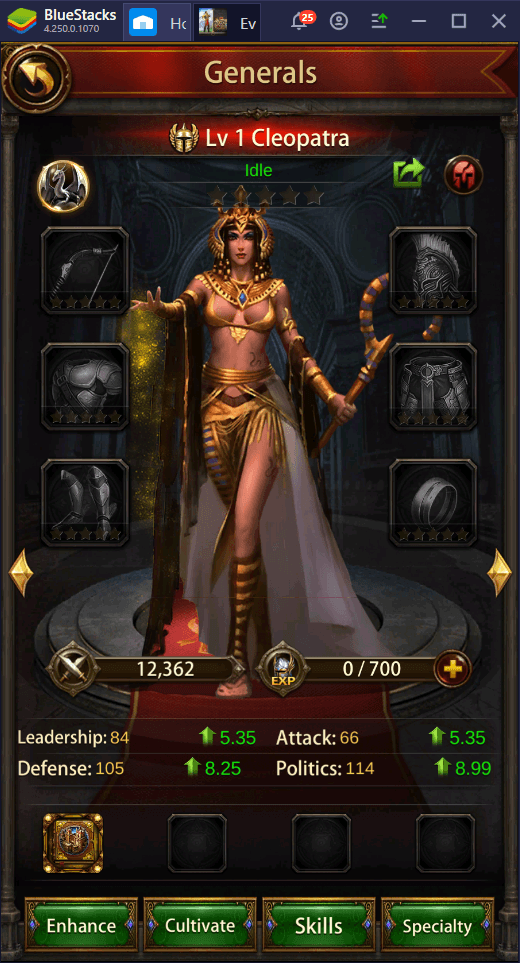 Regular generals will give troops a fair amount of buffs. However, the awesome thing with Evony is that you can actually recruit real historical figures like Cleopatra and Spartacus as your general. These historical generals usually give higher buffs than the regular ones.
Upgrading Generals
If you want to upgrade the amount of the buffs that your general gives, you can spend either gems or gold coins via the "Cultivate" option. Cultivating general costs 6,000 gold coins or 20 gems.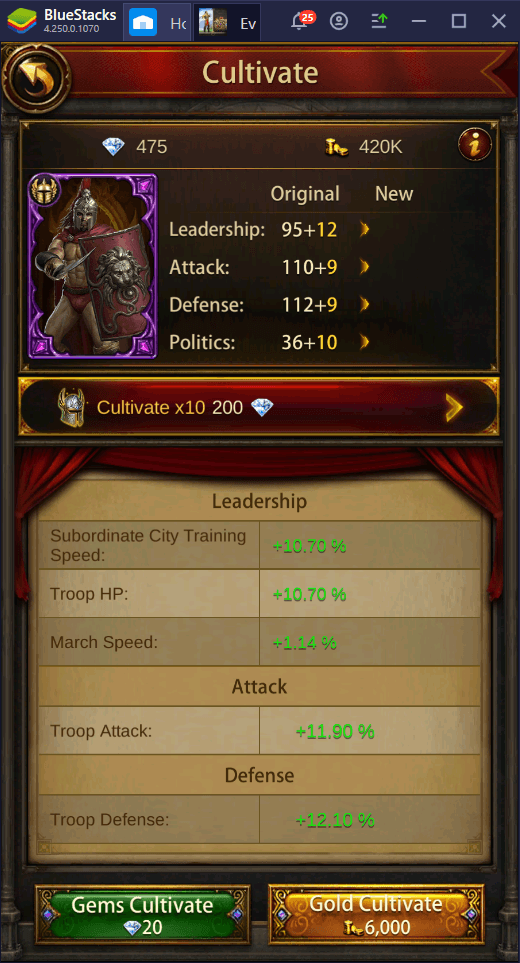 You can keep spending coins or gems until the cultivation eventually reaches its limit. More specifically, the amount of points added from cultivation cannot be higher than the base value of the stats. So if the base attack stat of your general is 100, you can no longer cultivate them after adding 100 more points from previous cultivations.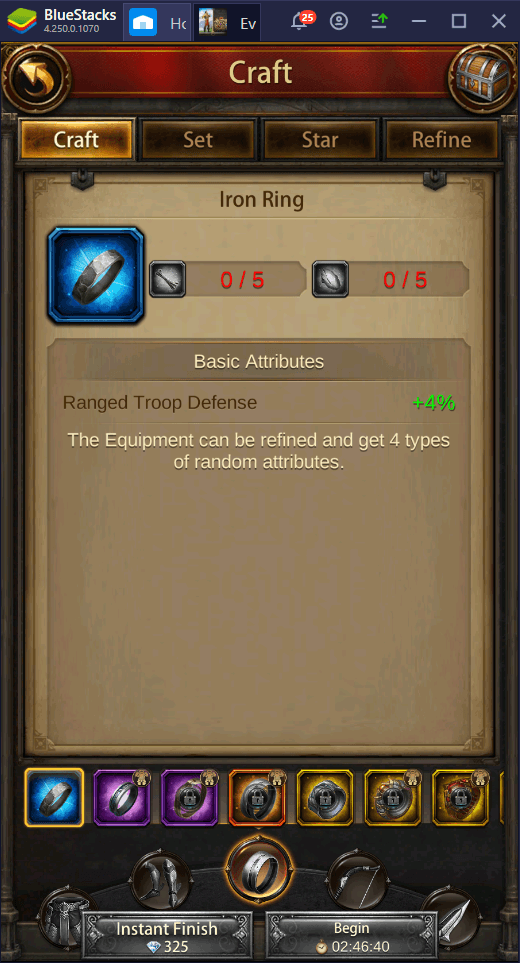 Moreover, you can even give your general some battle gear to boost specific attributes. Gear can be crafted in the Forge, which can only be built after your Keep reaches Level 7.