Game Guides
Beginner's Guide for Hero Cantare With WEBTOON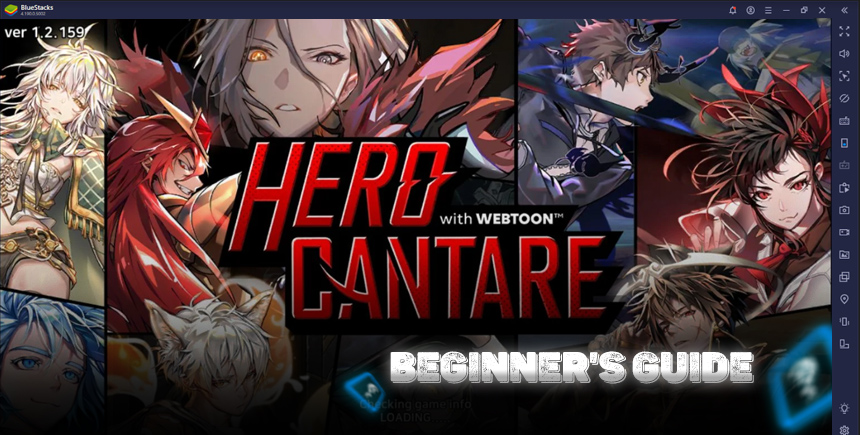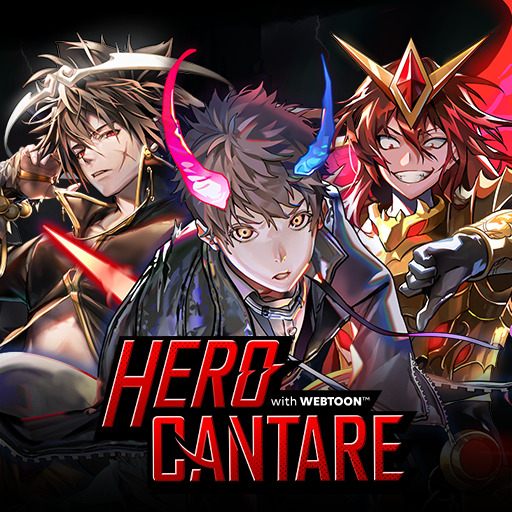 As of today, gacha games are a dime a dozen. The proliferation of this genre in the mobile platform is such that it has frequently become a host to many copycats and derivative titles that add nothing new to the table. However, every once in a while, some daring developers step up and, while offering some of the standard gacha gameplay, they manage to reinvent the wheel with unique mechanics and features that help their games to stand out among the rest.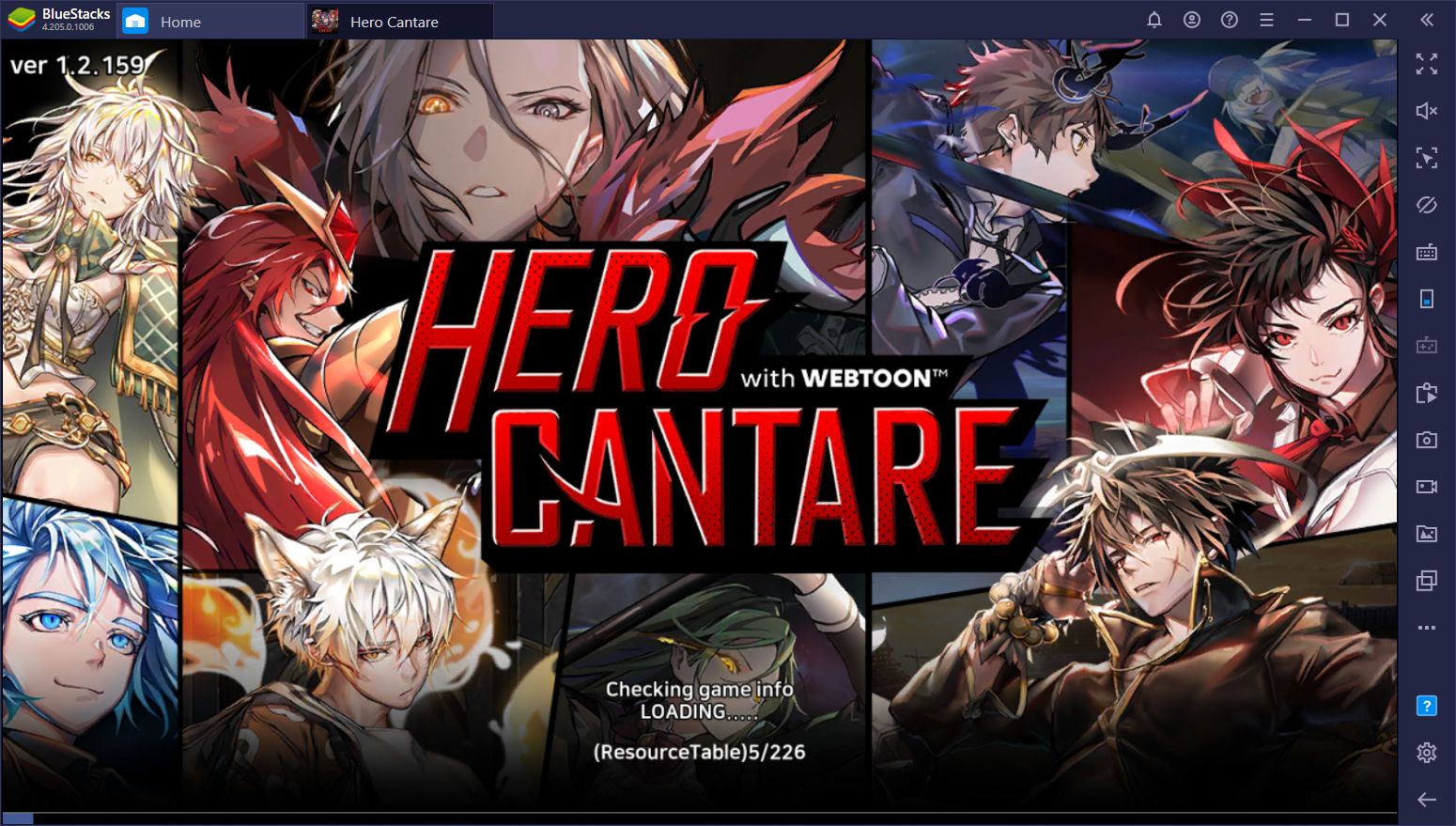 Hero Cantare With WEBTOON is one of such unique creations that, as a turn-based gacha RPG, offers several distinguishing features such as its awesome block-based combat system, as well as a unique and impressive comic book art style with some of the best hand-drawn visuals we´ve seen in a game of this caliber. If you're into awesome games with good stories, and with plenty of eye candy to keep you glued to your screen, then you're in for a treat with Hero Cantare.
This article is meant to serve as an introduction to the game's combat system and basic mechanics. Even if you're a veteran to gacha and RPG games, in general, odds are that you haven't seen a combat system like the one in Hero Cantare before. In this sense, if you're looking to get started on the right foot, then you're going to need this beginner's guide.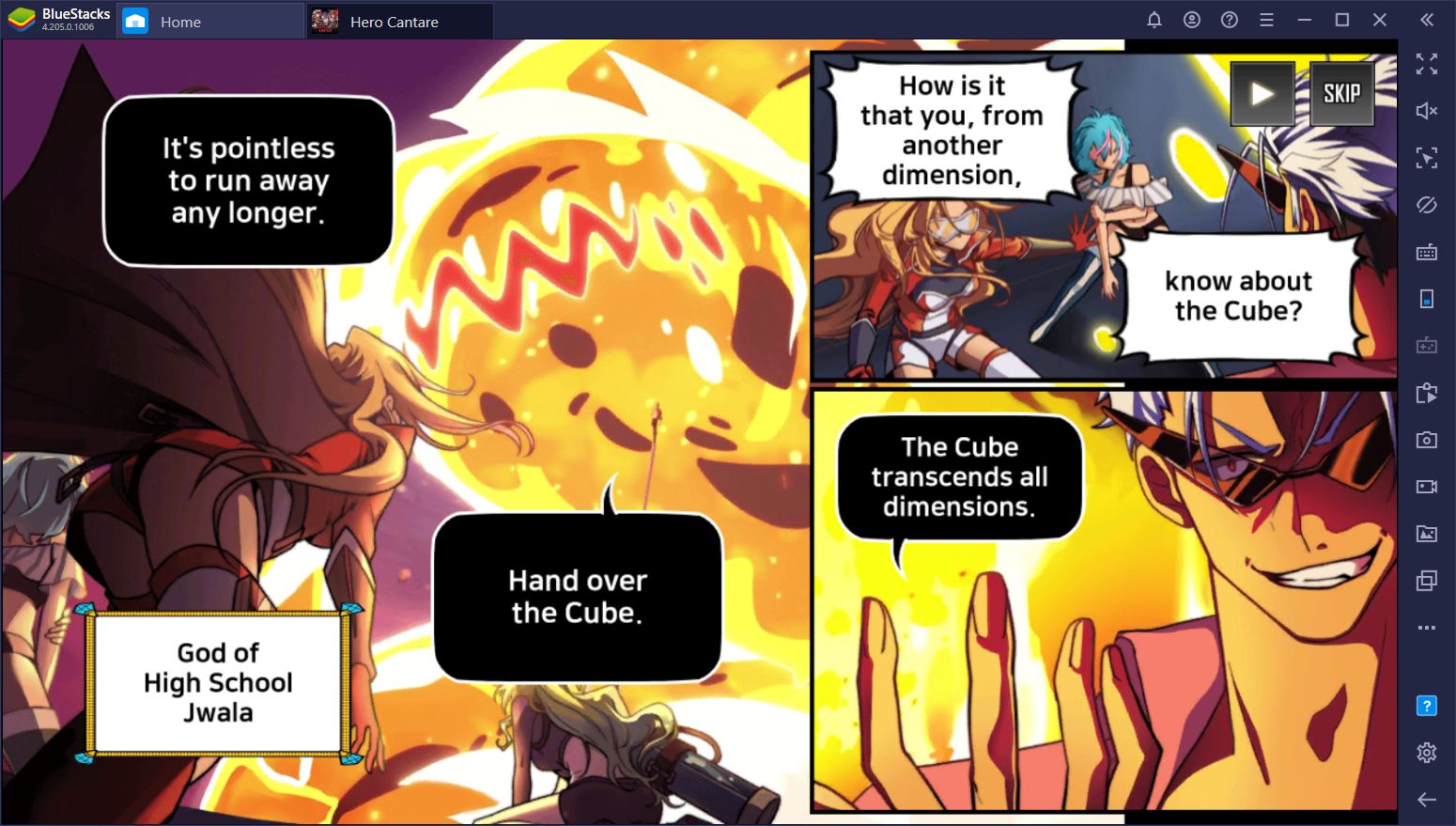 1. A Block-Based Combat System
Hero Cantare stands out among the other gacha RPGs thanks to its unique combat system that relies on blocks instead of regular commands that you select from a menu screen. This system is similar to the one in The Seven Deadly Sins: Grand Cross, except that instead of cards, you have blocks that you can stack on top of each other to create different effects.
Every character in Hero Cantare has 3 main skills, all of which are accessed in combat through the block system. These skills are divided by levels, up to level 3. While the higher-level skills can certainly be more powerful than their lesser counterparts, the lower-level skills often have unique effects that can help to set up the field to deal tons of damage with a good finisher skill.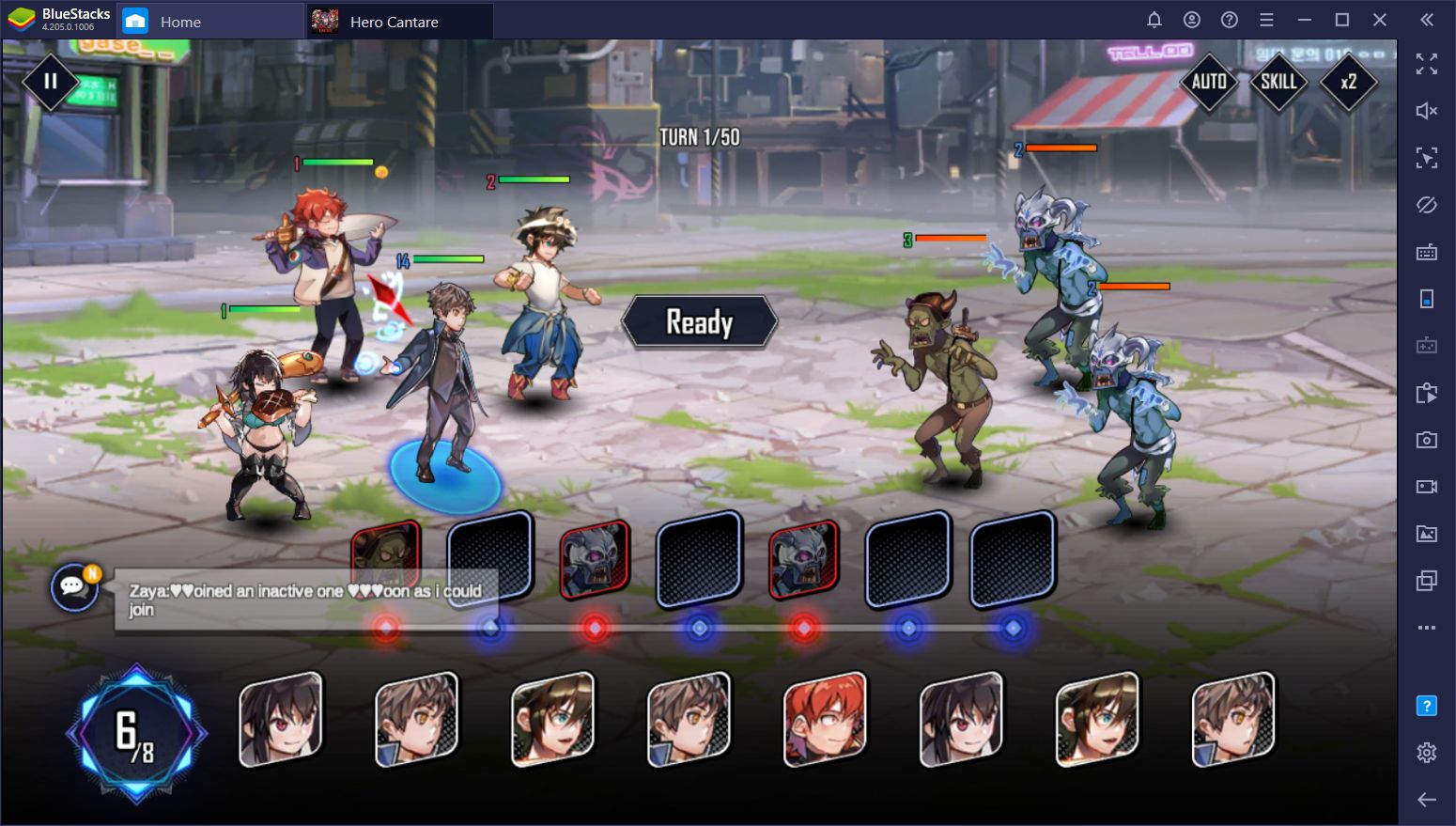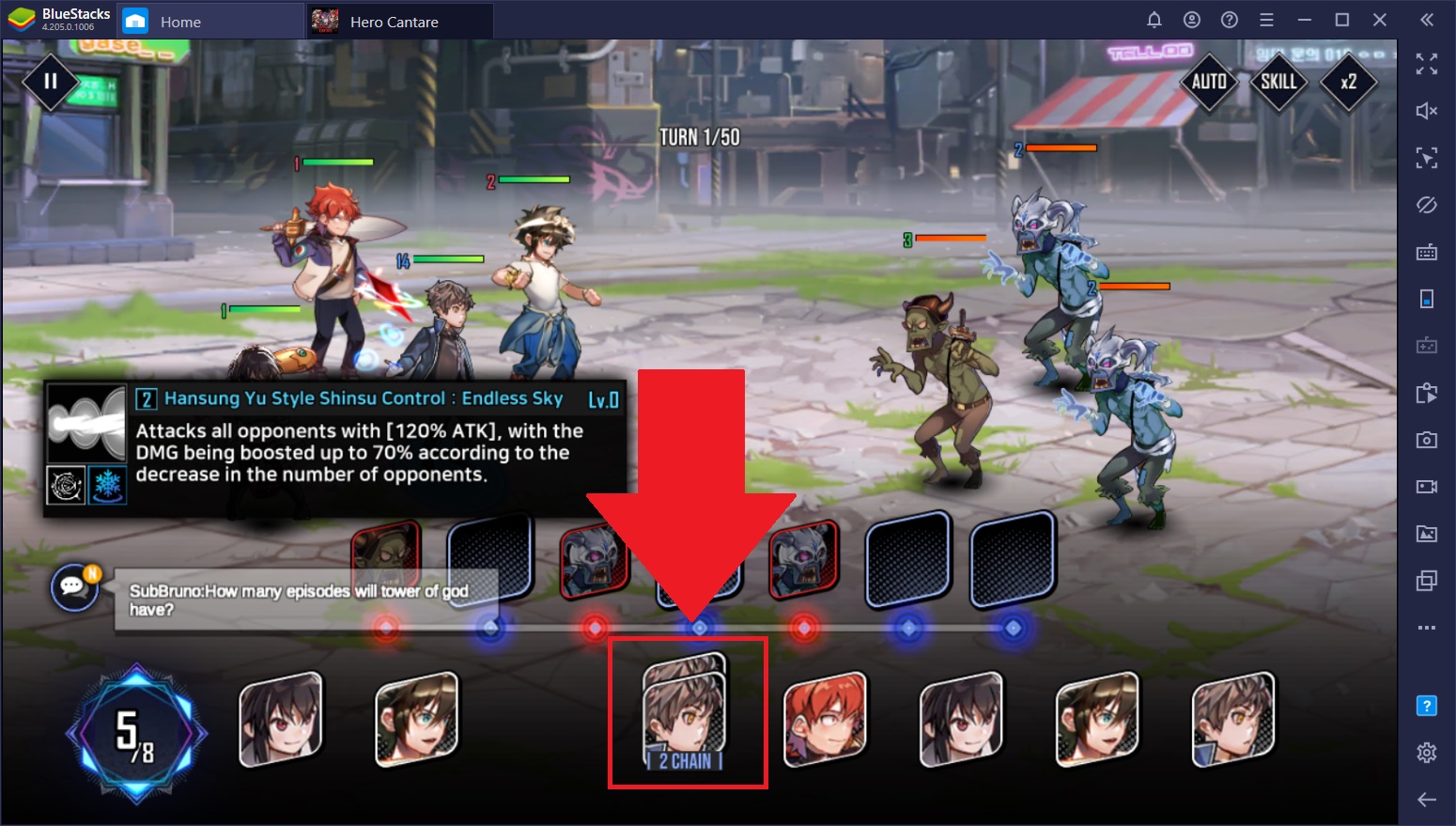 Your skills in combat are represented by blocks with the character's portraits on them. You have a limited number of slots that you can add blocks to on every turn, which limits the number of moves you can unleash. If you add a single block to one of your move slots, you will unleash the corresponding level 1 skill when you execute your commands. In order to access the level 2 and level 3 skills, you must drag individual blocks on top of other identical pieces in your hand to combine and stack them.
Stacking the blocks in your hand requires mana, a resource that replenishes every turn. Stacking two individual blocks to create a level 2 skill requires 1 point of mana, while stacking another identical block on a level 2 skill requires 2 points of mana. In this sense, creating a level 3 skill requires a collective total of 3 MP.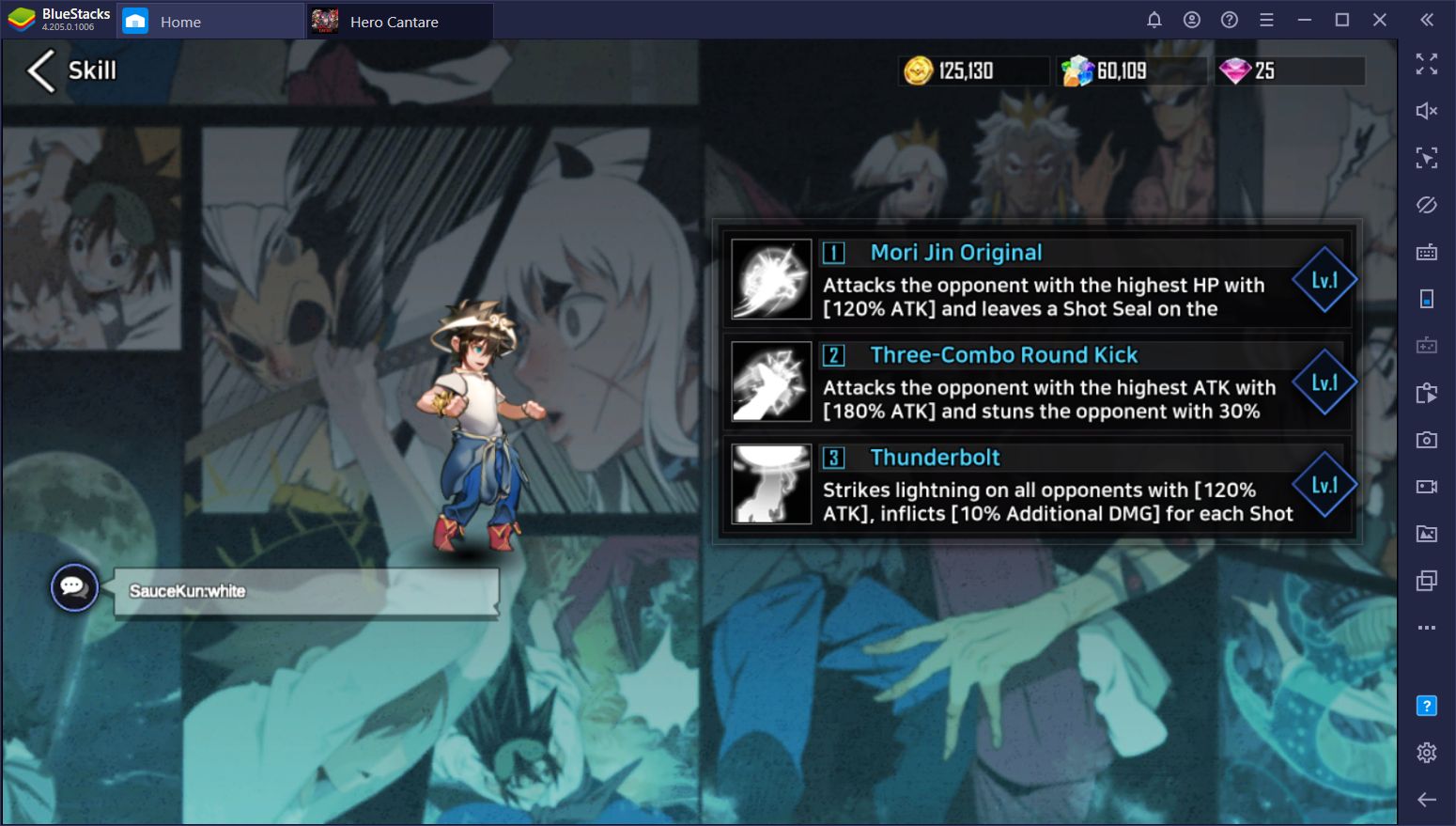 It's important to read exactly what every skill can do in combat, as higher-level skills are not always the optimal answer to any situation.
For example, consider the Hardcore Leveling Warrior character; his level 1 skill doesn't do much damage (100% of his ATK), but it generates a Lucky Coin Seal per use, of which he can carry a maximum of 10. His level 3 skill, while quite stronger than its level-1 counterpart on its own (220% of his ATK), does 30% increased damage for every Lucky Coin Seal that the character has on hand. In this sense, a good idea would be to spam the level 1 skill until you have 10 lucky coins, followed by a level 3 skill to deal a massive attack with a damage potential of 220 + (30*10)%. This damage is enough to destroy any enemy at the beginning.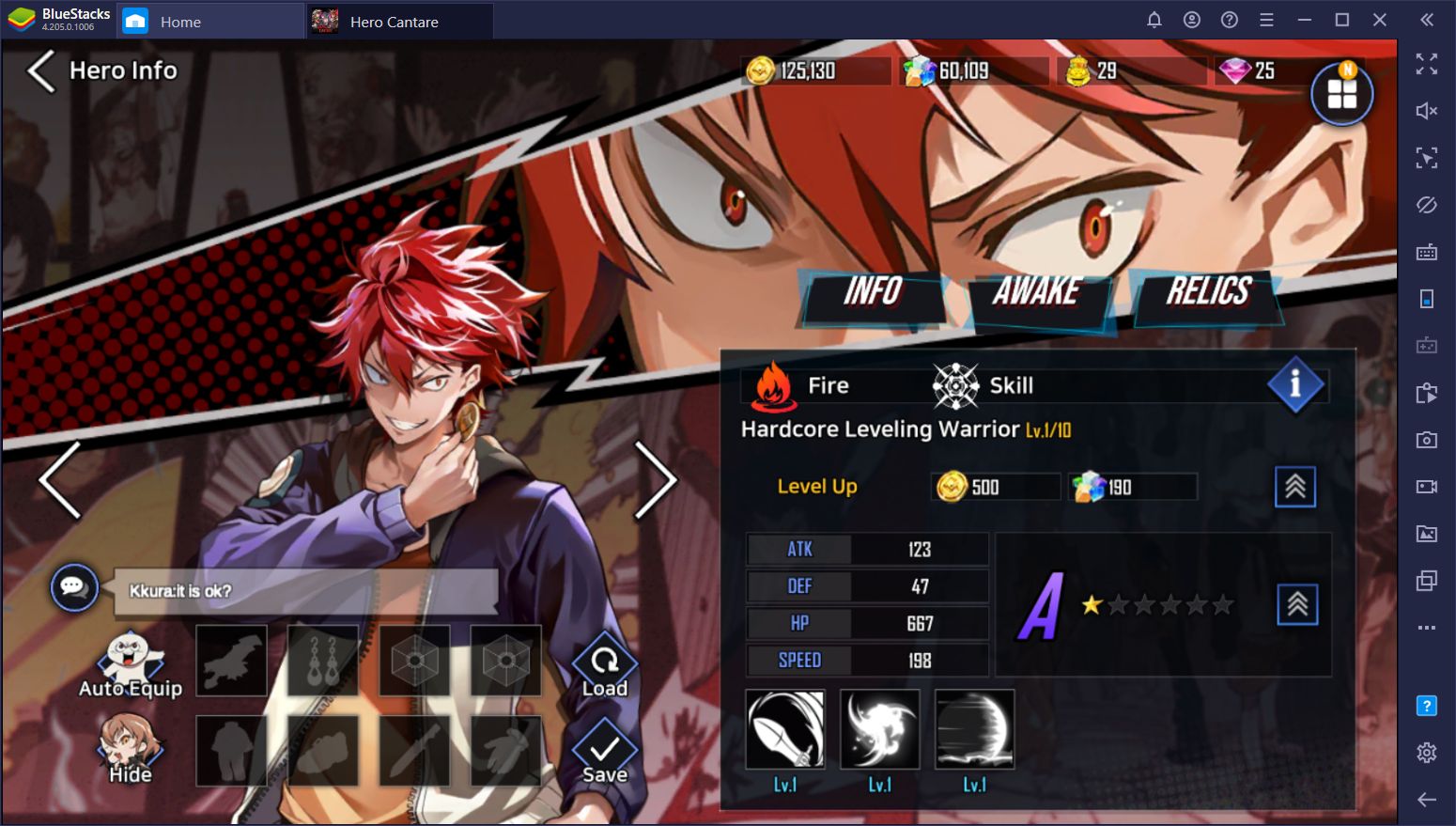 You can hold up to 8 blocks in your hand at any given time, and a maximum of 2 MP per character on the field. Make sure to combine the blocks whenever you have the opportunity, even if you don't plan on using them on that round. In this manner, you will always have powerful moves on hand for when the opportunity to exploit a vulnerability arrives.
2. A Wide Variety of Unlockable Characters
There are over 60 characters that you can summon in Hero Cantare, all of which have their own stats and skills, as well as their unique rarities. These heroes go from A-rank up to a maximum of SS-rank, with the latter almost always being the strongest in terms of stats, as well as skills.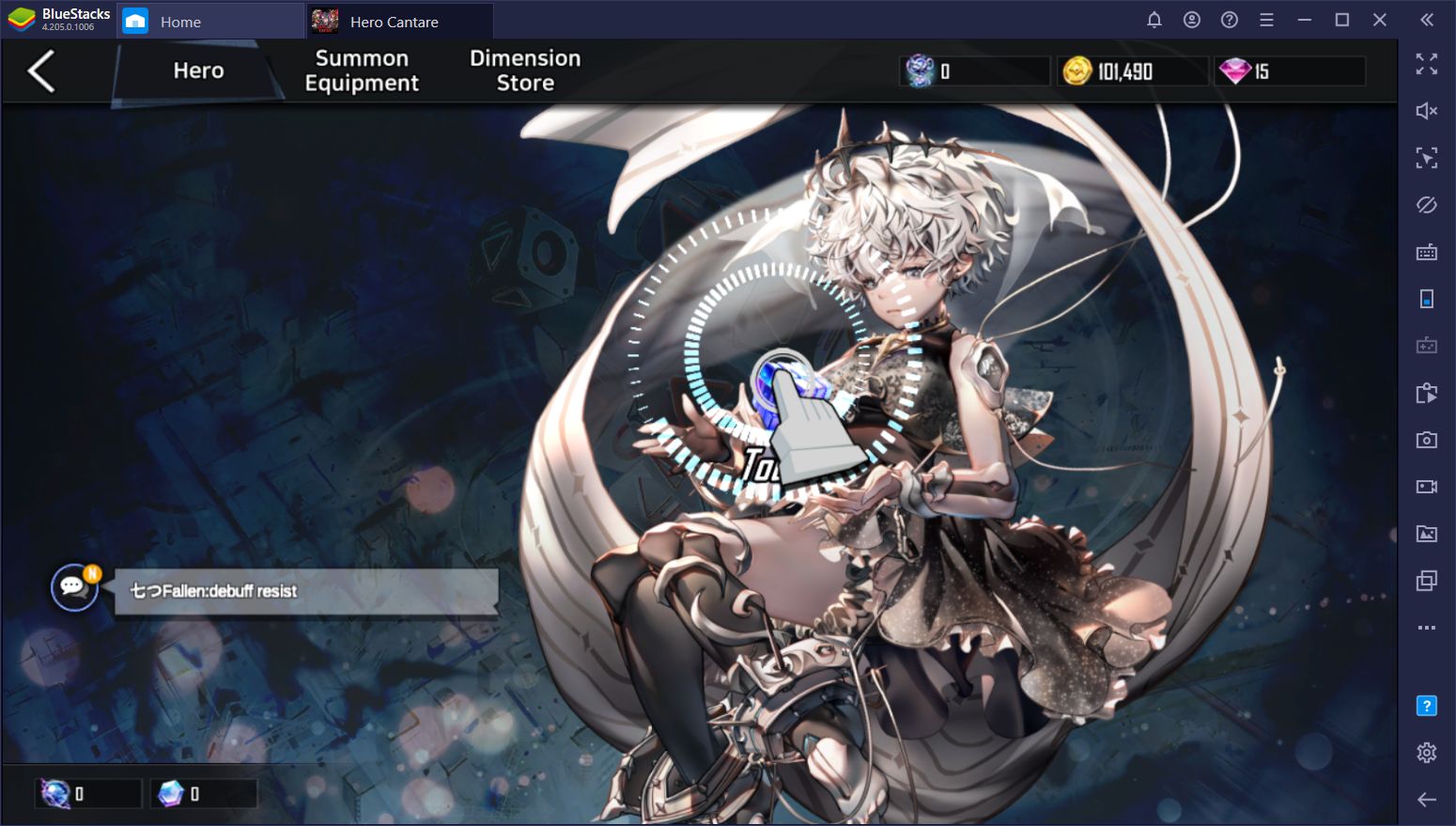 This variety of characters is what makes Hero Cantare so interesting as you'll always have something to work for, even after completing the main game. In fact, once you're done with the story, you will still need to continue playing to unlock the strongest characters, which will be necessary if you want to participate and dominate in PvP.
Like with most gacha games, rerolling in Hero Cantare is commonplace as players often use this method for unlocking the best characters in the game from the very beginning. In fact, if you play Hero Cantare on PC with BlueStacks, you will be able to reroll much faster by using multiple accounts simultaneously. We will talk about this in another article, so feel free to check out our blog if you want to learn more about how to unlock the strongest heroes in the game.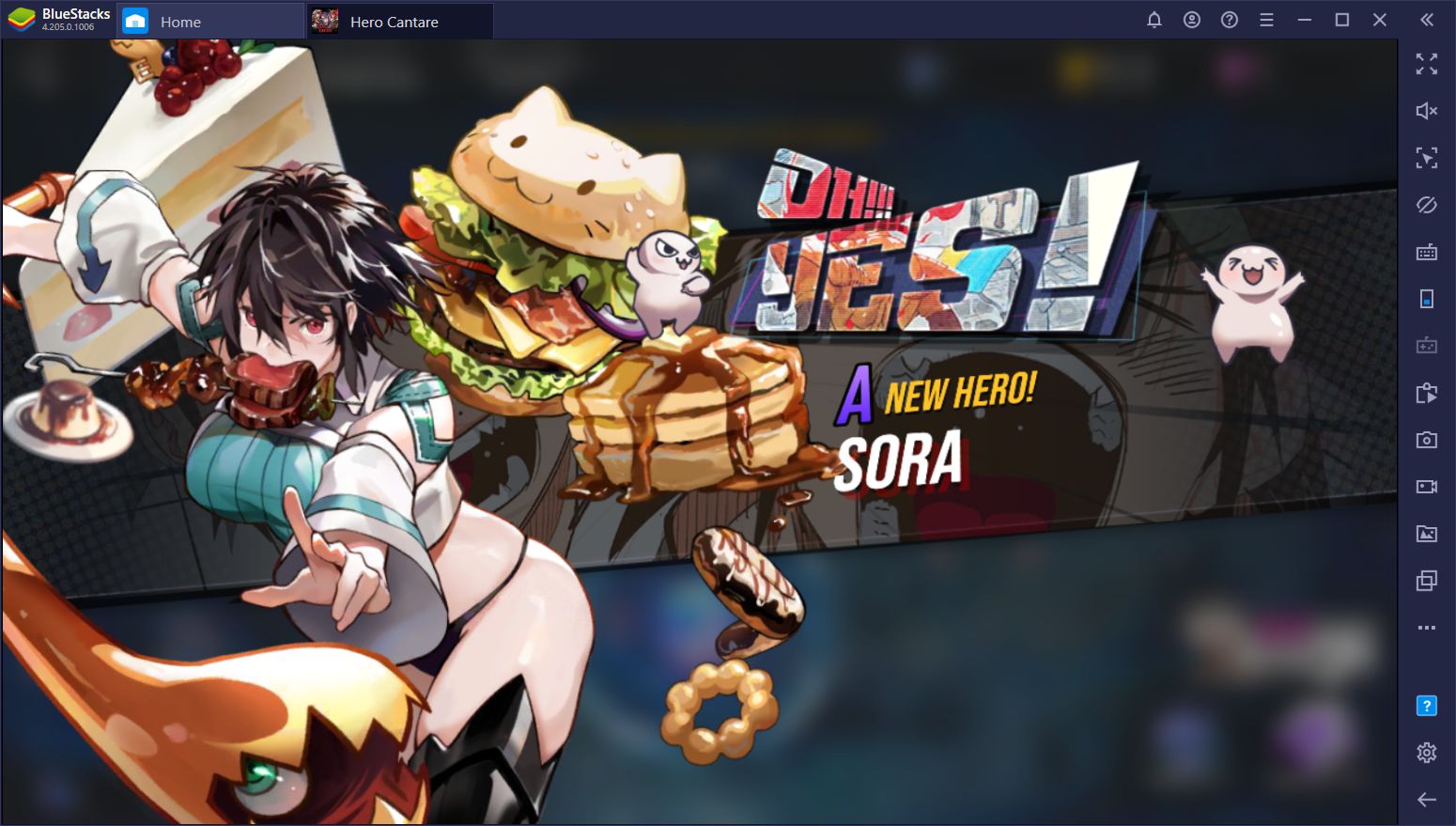 3. The AFK Grinding System
Finally, one other important system that Hero Cantare offers is its AFK grinding feature, through which your characters can grind for up to 24 hours while you're offline and gather resources in your stead. This is a great way to keep your characters leveled up as you'll farm resources such as Level-up Materials and Gold, even while you're offline. However, make sure to log into the game at least once per day to claim your rewards since, if your farming rewards are full, you will stop receiving materials.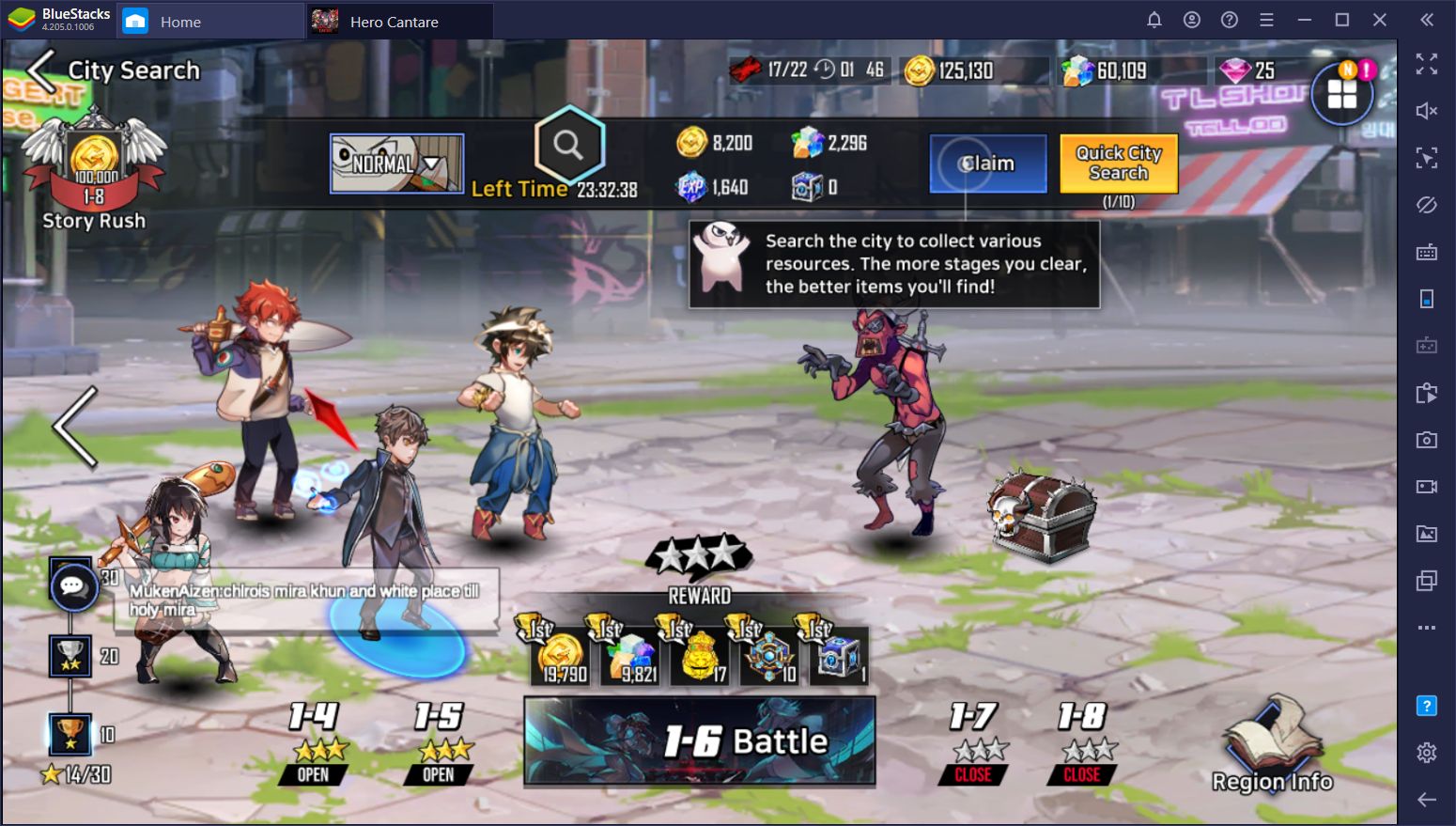 Hero Cantare is an awesome gacha RPG with lots of mechanics and an interesting combat system. If you're into turn-based combat coupled with some of the best visuals and art style, then this game will definitely be right up your alley.