Game Guides
Hustle Castle: Fantasy Kingdom Beginner's Guide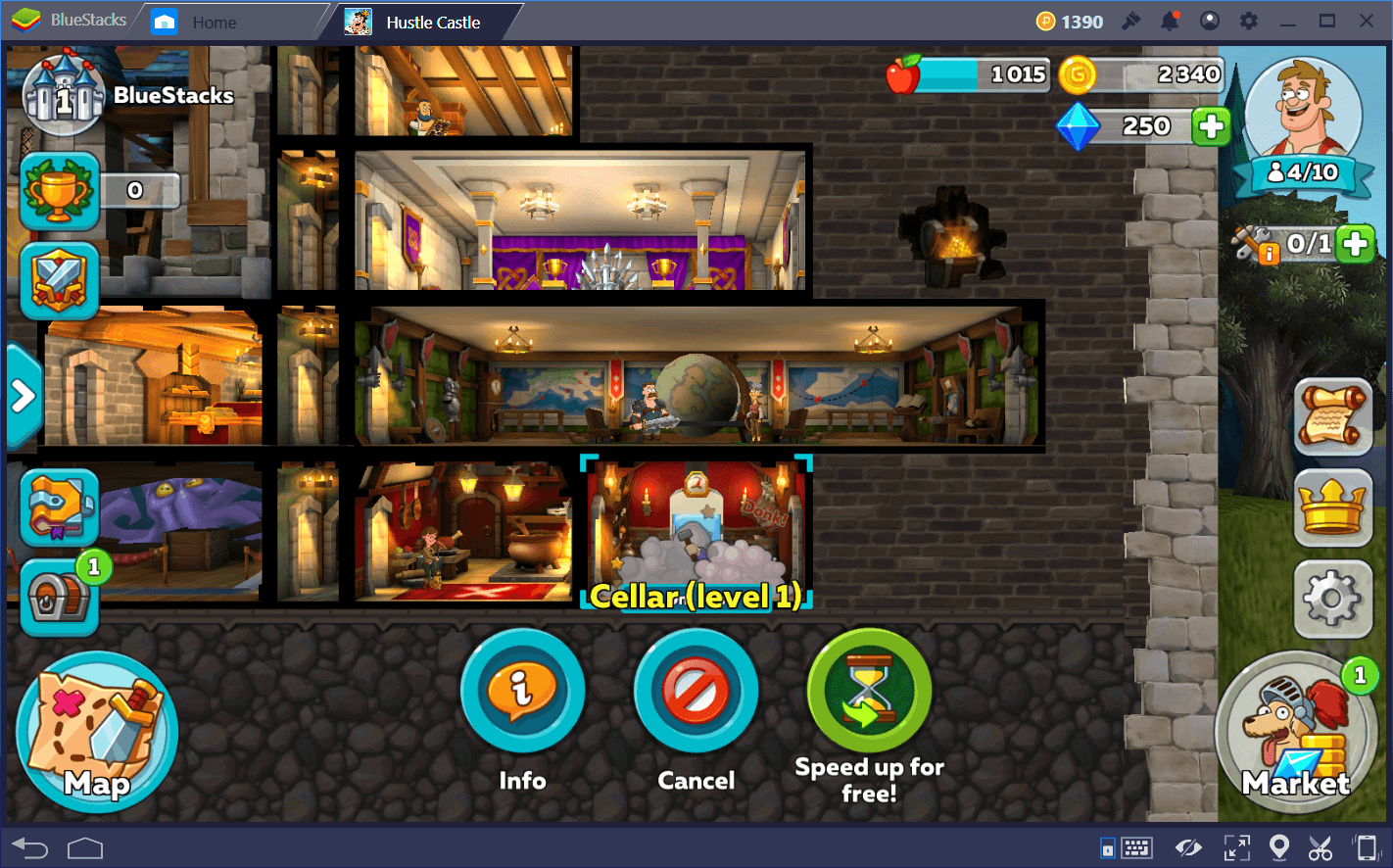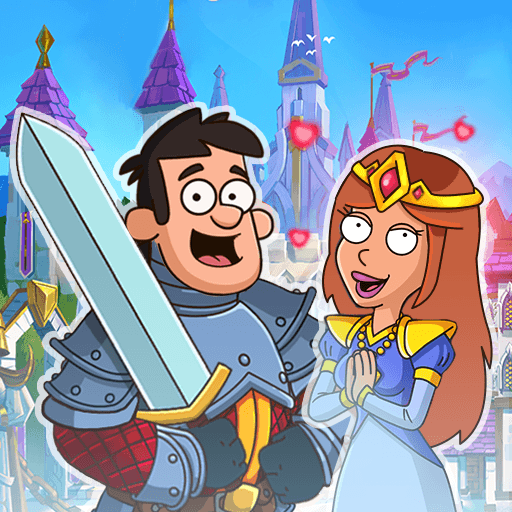 Hustle Castle has garnered quite a reputation since it came out last year in November. While initially looking like something of a Conquest game, it actually takes gameplay elements from several other popular (and not-so-popular) games such as Fallout Shelter, and Clash of Clans, among others, and adds its own unique spin to create an entirely new beast. The result is a game that requires castle management like Fallout Shelter's vault building mechanics, combined with real-time battles like Lords Mobile, that allow the use of skills with the use of on-screen buttons much like with Iron Throne. You can also Play Hustle Castle in your browser on your PC or mobile without downloading. Click and Play instantly!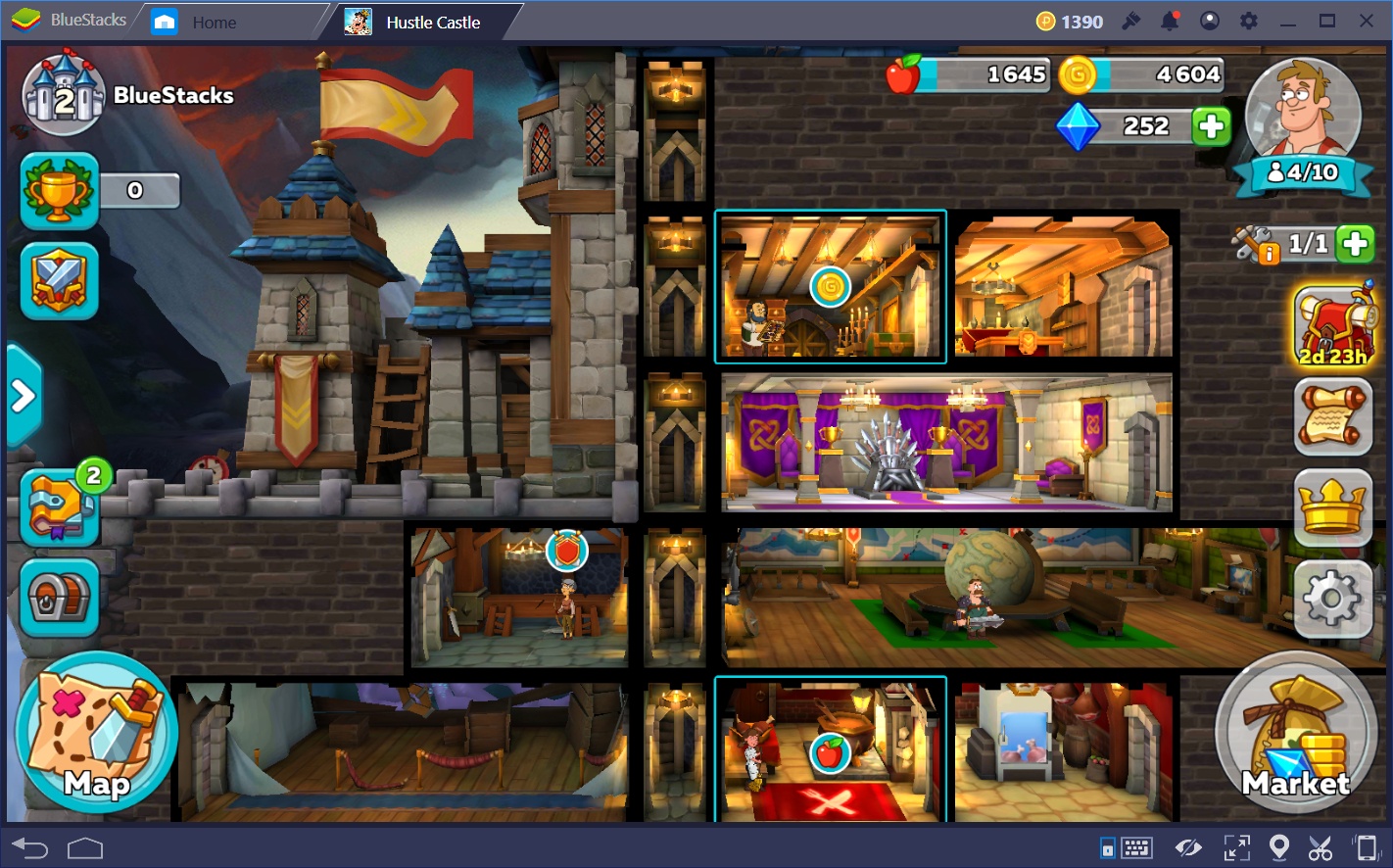 Nevertheless, the castle building mechanic is, by far, the most engaging aspect of Hustle Castle, and allows you to create awesome bases, filled with tons of fun-looking rooms, all of which, of course, serve many purposes. Speaking of looks, if you're a fan of Family Guy, you'll find that the art style is very similar to the one in the hit animated series, as well as in all other Seth Macfarlane shows. Furthermore, if you're a fan of pop culture and memes, you'll also have plenty of fun with the game since it is filled to the brim with references (though not in an obnoxious way).
Regardless, like any other game, Hustle Castle has a certain degree of strategy to it, which is where this guide comes in. Read on to discover how to get started on the right foot in Hustle Castle, so that you can create an amazing base and make your way through the PvE and PvP leaderboards.
Getting Started
The game starts off with a very serious plot, told in a light-hearted manner. Your ironclad forces are attacking a mean-looking dragon on a bridge, which they dispatch with relative ease thanks to your help. After the battle is won and the dragon lies defeated, a spell cast by the game's antagonist, the Abyss Lord, sweeps across your castle, destroying everything in its wake, and dragging your beloved away. It is now your duty to build up your base of operations, train your dwellers, and steel yourself for the ultimate battle against the Abyss Lord to rescue your princess from his grasp.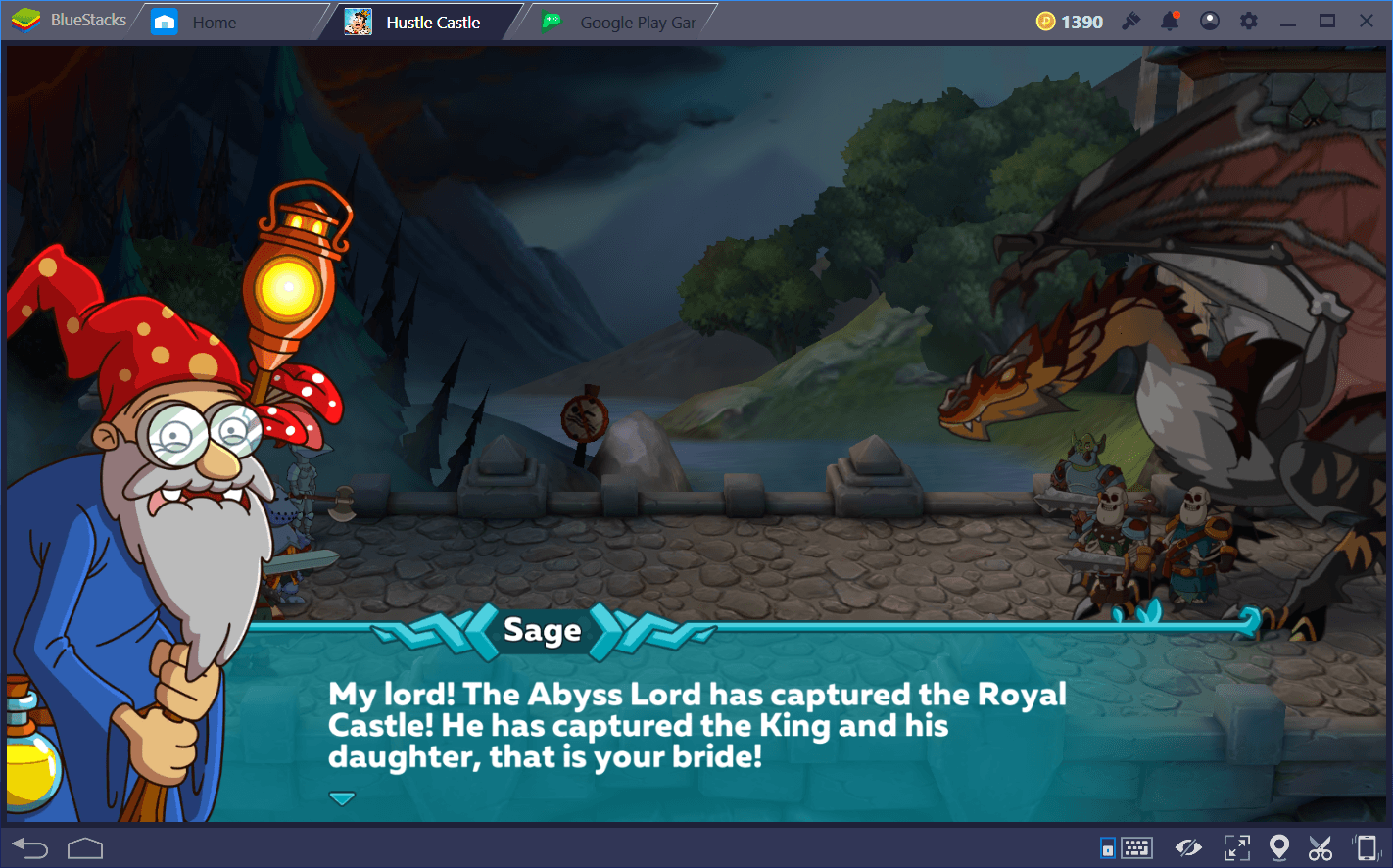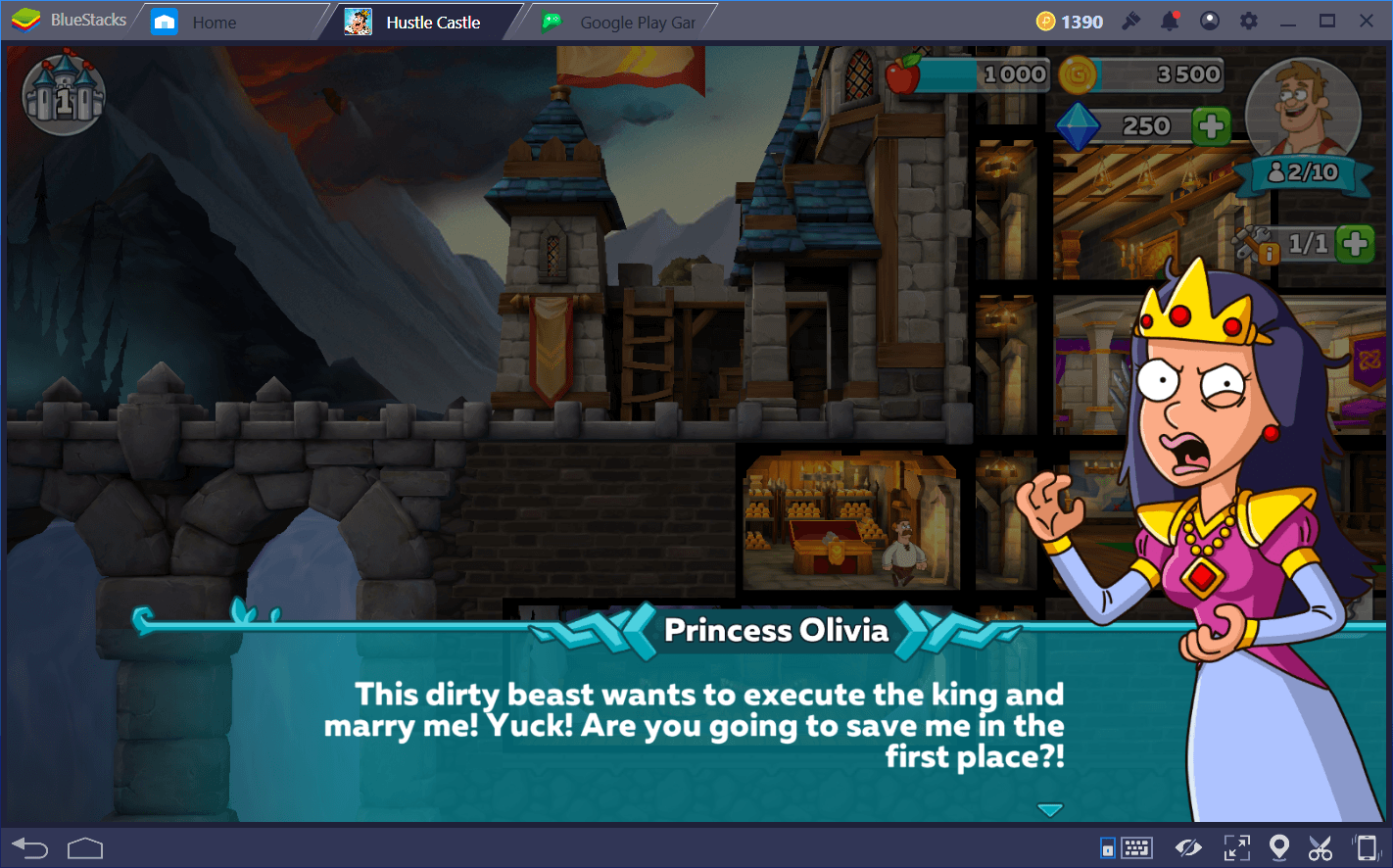 Or so the game would have you think, since, after the tutorial is done, you're left to your own devices and the sense of urgency is gone as you have a blast building your base and taking the fight to the enemy's armies.
Right at the beginning, you're shown a tutorial on how to build rooms, train your dwellers, and engage in combat, among others. However, after this tutorial is done, you're given free reign of your castle and its development. What you do next will determine, in great part, your success in the game. This isn't to say that Hustle Castle is particularly complex. However, if you know what you're doing, you can create an awesome castle that is not only very efficient but also looks good while allowing you to kick Orc butt.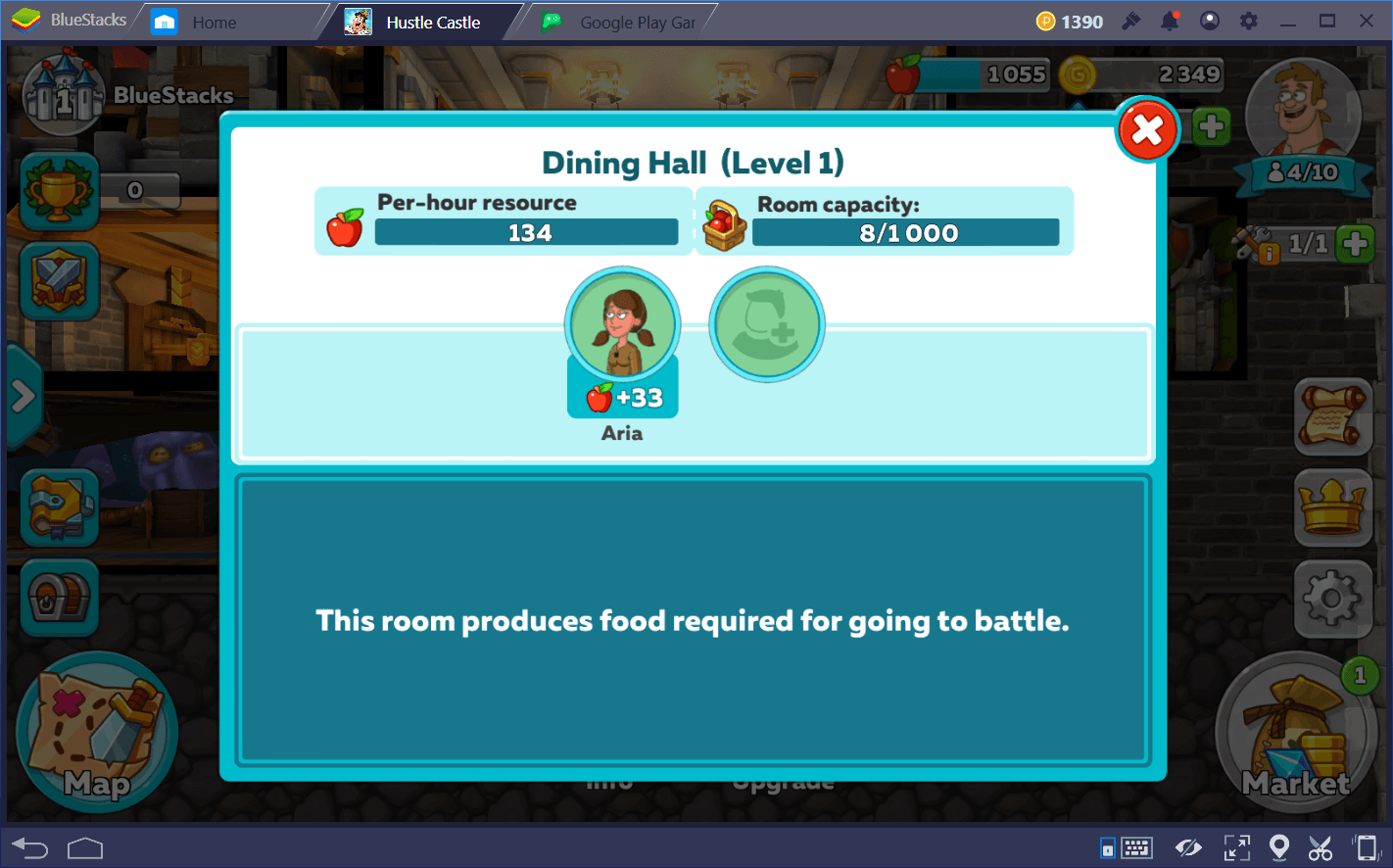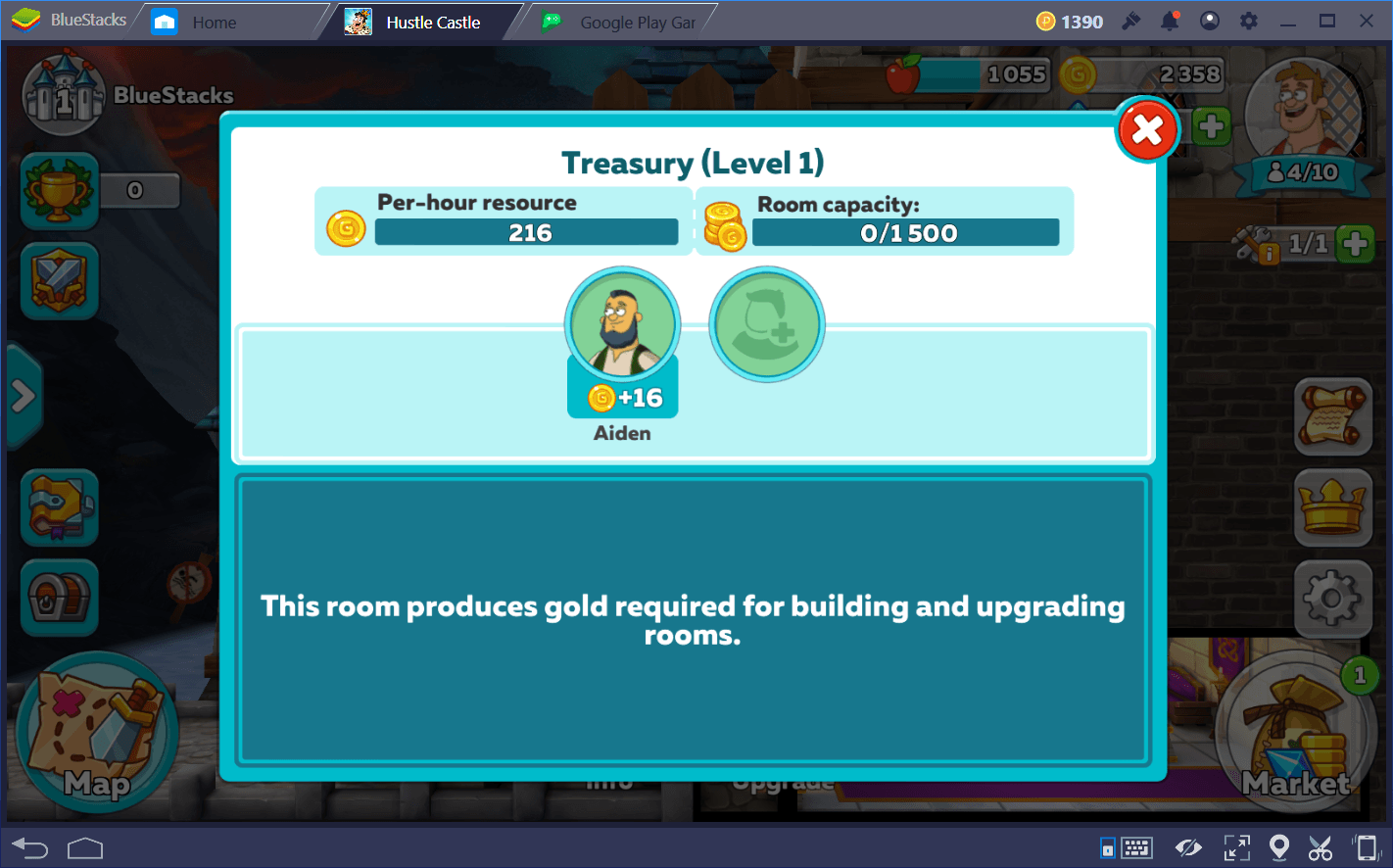 In this sense, the first thing you'll want to do is begin upgrading your existing rooms, especially the Dining Hall and Treasury you built in the tutorial. Through prompt upgrading of these two rooms, you will optimize your influx of gold and food, which will provide resources to fight the enemy and to build and upgrade your rooms, respectively. In order to build new rooms, all you need to do is go to the Market and, as long as you have enough gold, just click on the room you want, and set it down on any of your castle's free slot. After production commences, feel free to click on the accelerate button whenever it's available; it's a free way to speed up your construction and instantly finish any pending projects. Why wait? Play Hustle Castle instantly on your browser without downloading anything. Click, and start playing now.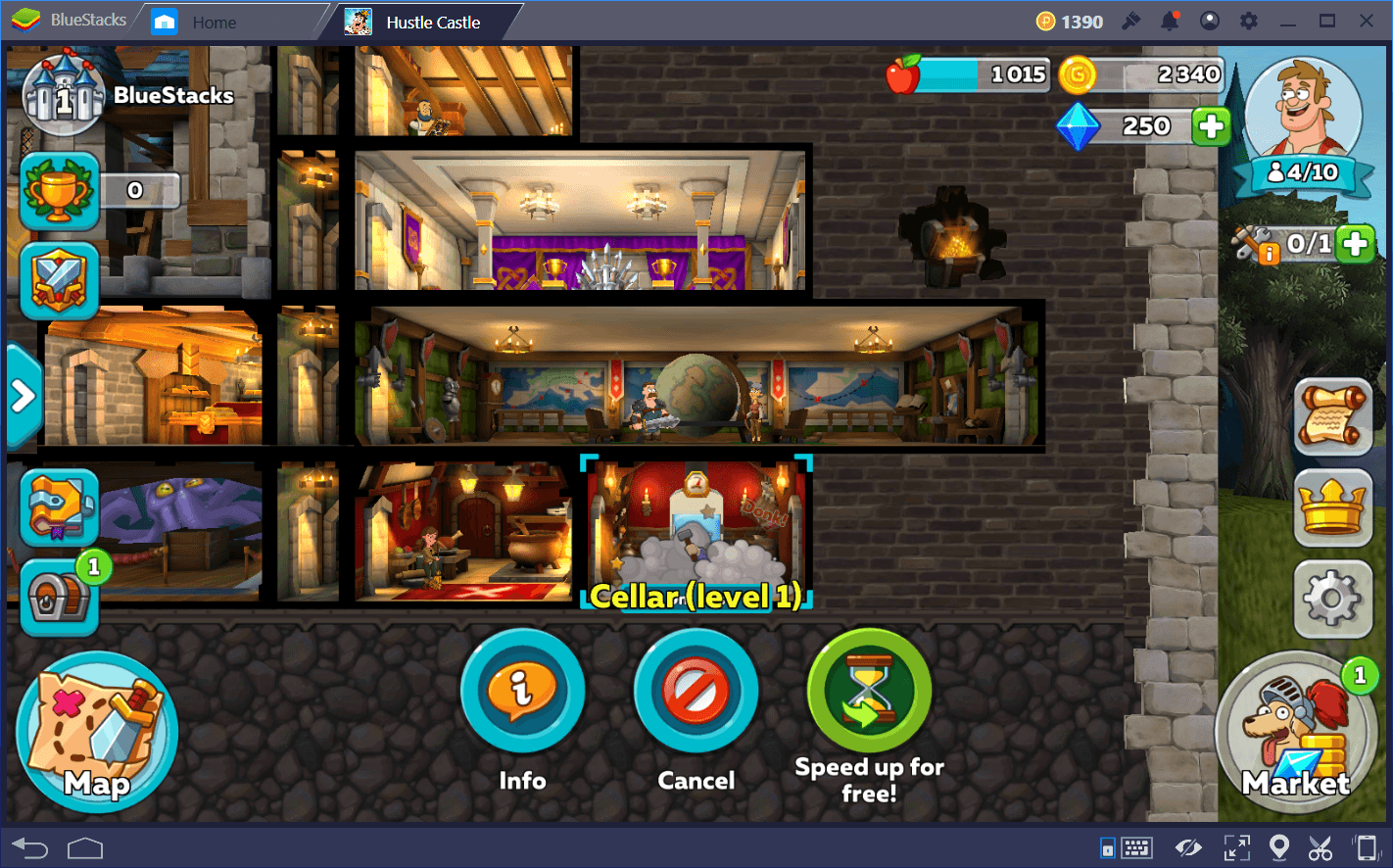 Readying for Combat
Now that your base of operation has all the essentials to keep you stocked on resources, for the time being, we must focus on preparing your dwellers for combat. In Hustle Castle, all the Player versus Environment (PvE) combat is waged in stages that you can choose on the map screen. By clicking on any stage, you can find an indicator of the enemy's strength, as well as the number of enemies you will be going up against, which will give you an idea on whether you'll be successful, or end up defeated.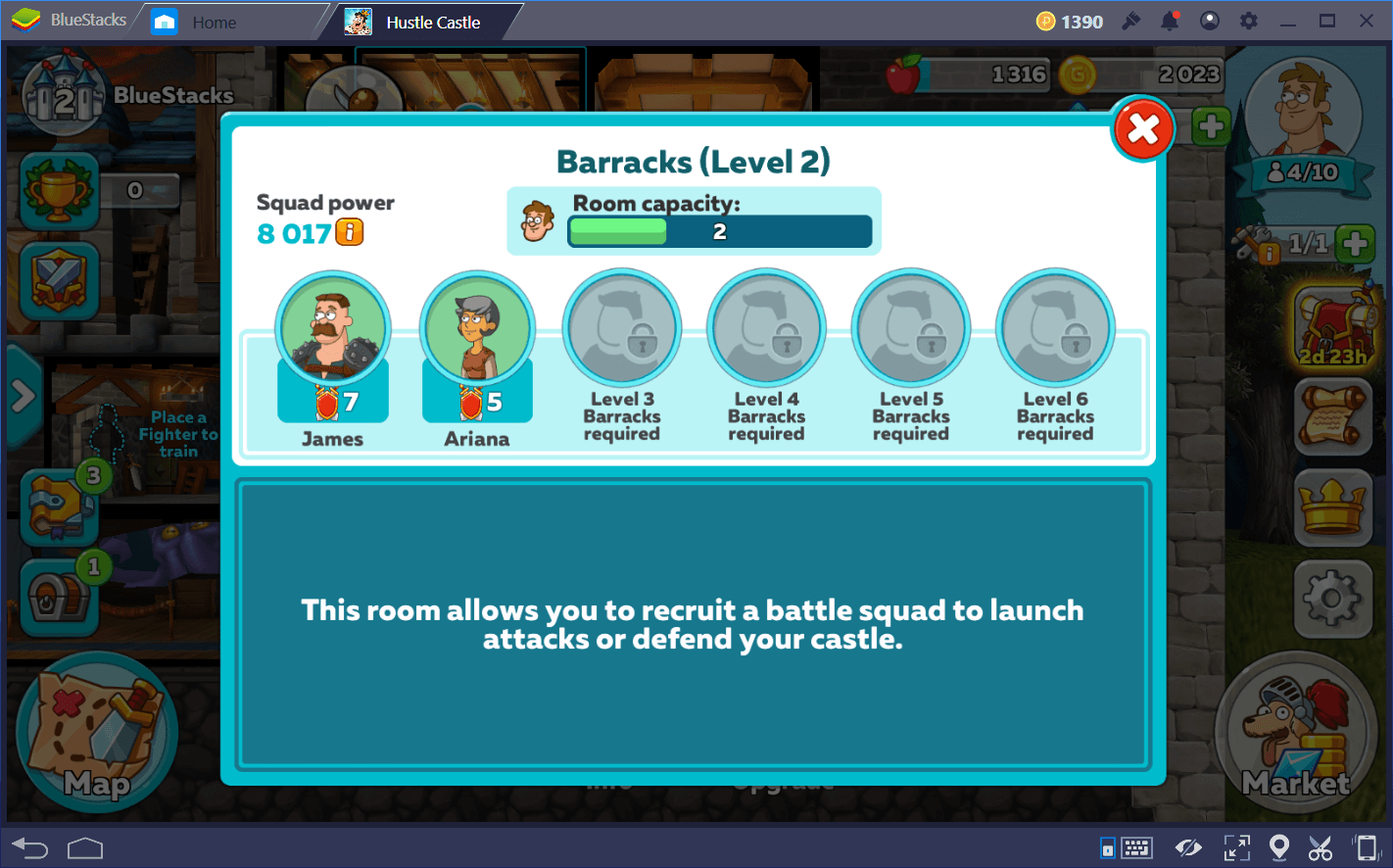 When it comes to combat, it's not enough to simply equip your units for combat. In order to have them form a squad that will take on the enemy forces, you must first gather them in the Barracks. This room has no other purpose than serving as a gathering point for your troops before they set out for combat. Upon assigning dwellers to the Barracks, they will show up on your forces when you're selecting a stage to clear. In this sense, if you have two dwellers assigned for combat, but one of them is currently in the Fighter Training Room, for example, they will not be available to help in combat until they are assigned to the Barracks.
This last tip is important to always keep in mind since, if you're like us, you most likely tried to tackle a stage, only to have a lone archer go up against three burly orcs, which obviously ended with the defeat of our forces, and us scratching our heads in confusion. Suffice to say, we had our swordsman in the training room, at the time, so he wasn't available for combat.
Keeping Your Dwellers Happy
Like in Fallout Shelter, your dwellers' mood will affect the rate at which you produce food and gold. You can consult your happiness meter by clicking on your portrait in the upper right corner.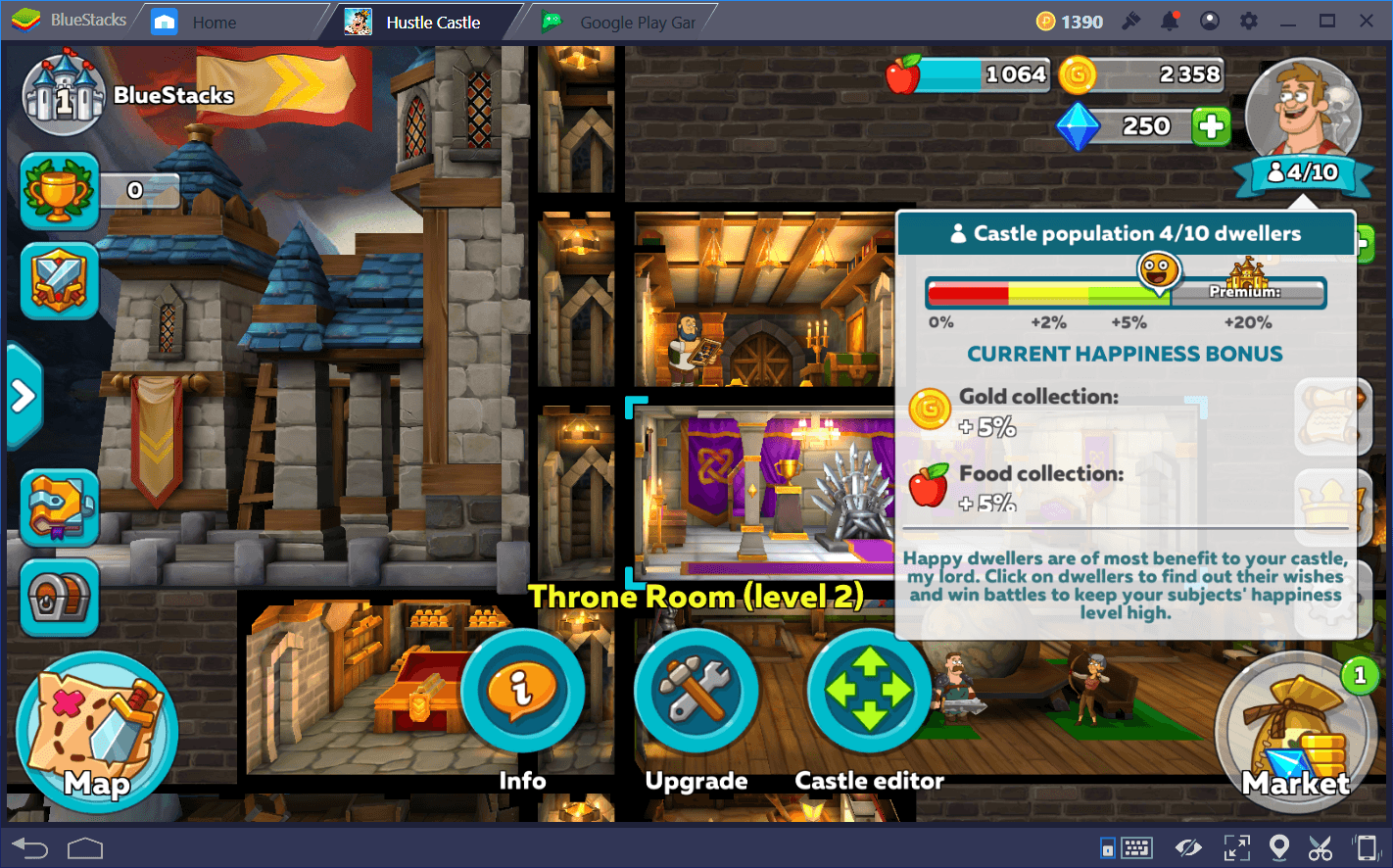 As you can see in the screenshot above, our dwellers are currently very happy, which grants our castle a 5% bonus to food and gold collection.
In order to keep your citizens happy, all you need to do is click on the text and emotion bubbles that appear from time to time above their heads. By doing this, you will receive points that will go towards your mood meter, which will eventually grant you better bonuses for your effort. However, keep in mind that happiness drops rather quickly, so be sure to always click on those emotion bubbles to keep your base topped off on happiness!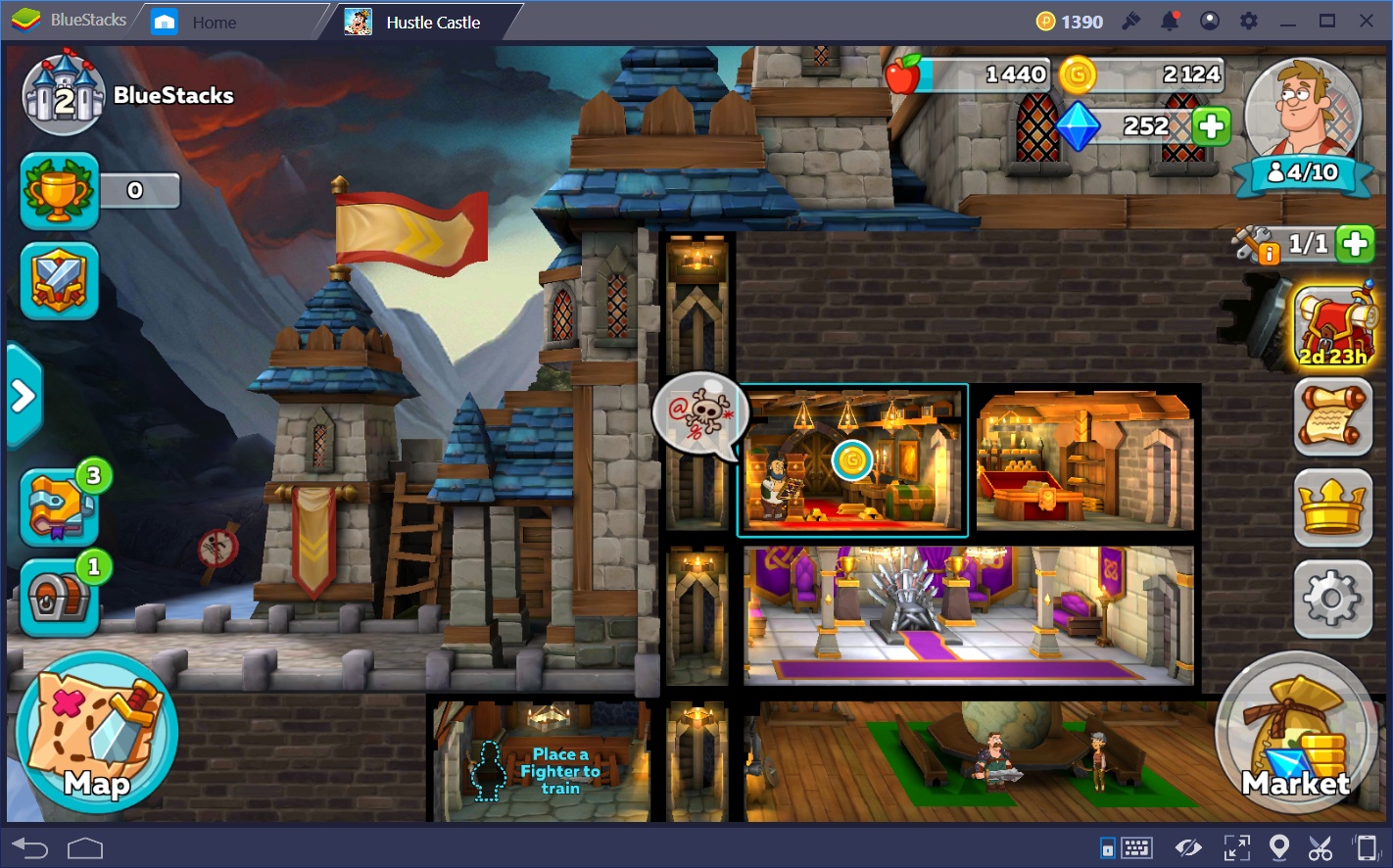 This is all you need to know in order to get started in Hustle Castle. There is much more to this game, which we'll get to in other guides. Stick around if you want to learn more about Hustle Castle! Play Hustle Castle on your PC or mobile without downloads! Click and start playing instantly for a smooth and hassle-free experience.