Game Guides
Idle Mafia – Tycoon Manager on PC: How to Get Started With Your Mafia Empire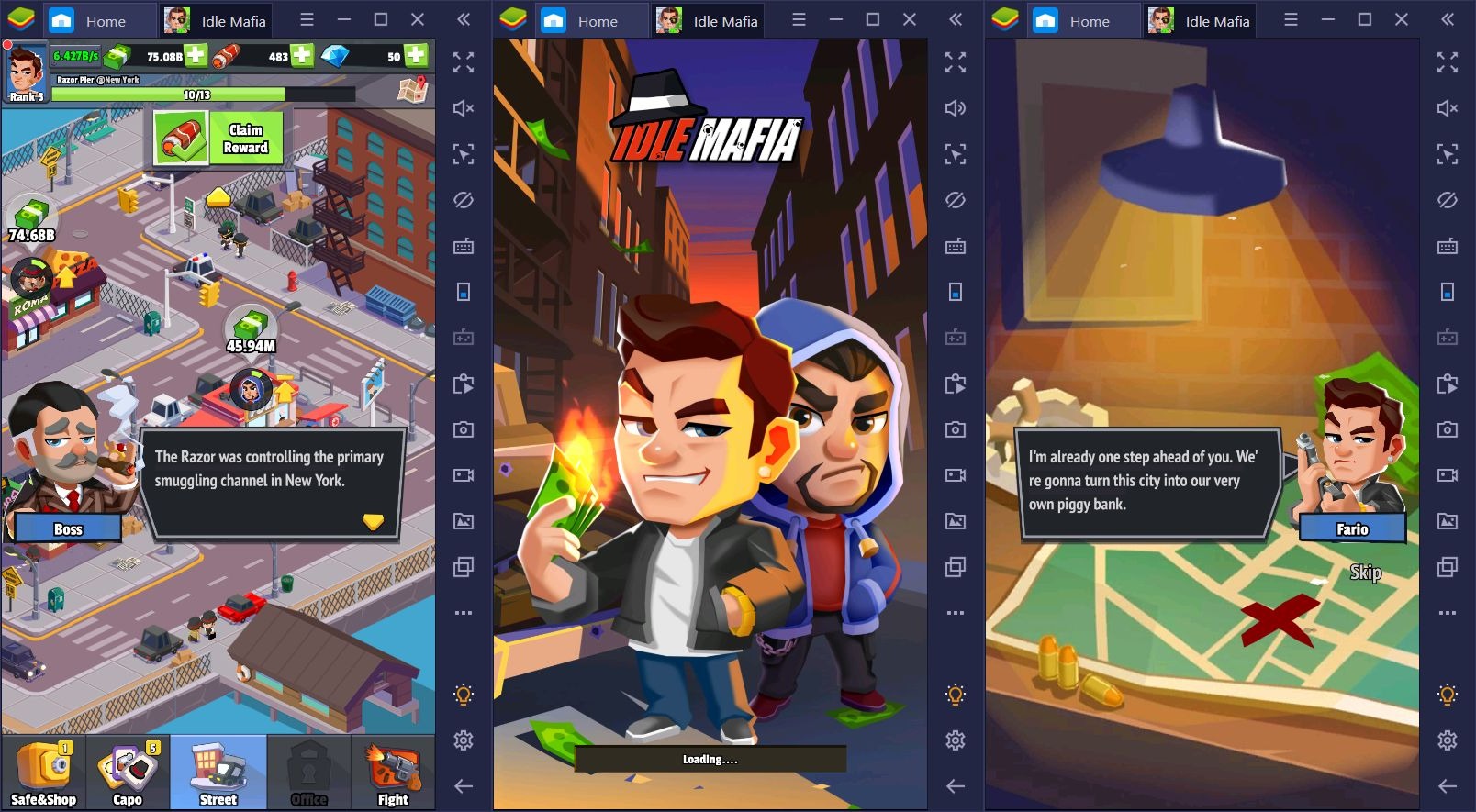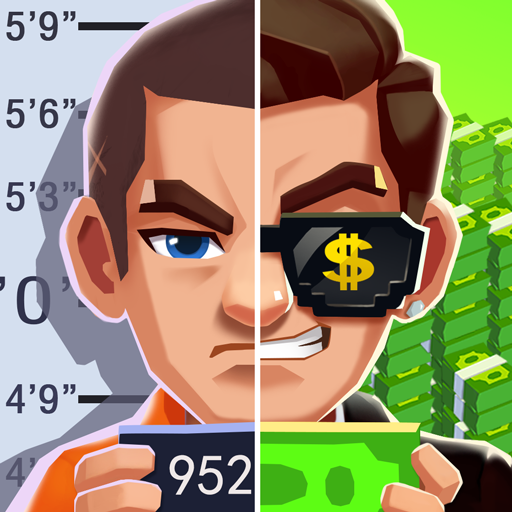 Mafia games have been surprisingly prevalent as of late, with advertisements for the omnipresent Mafia City popping up frequently in social media. Even if you haven't played them, there's a good chance you've actually heard of them, and perhaps know what they're about. It's this very popularity that spawns other games that take a similar concept and add their own personal touch to them, creating unique products that, while looking similar to the original, are actually quite different and interesting in their own right.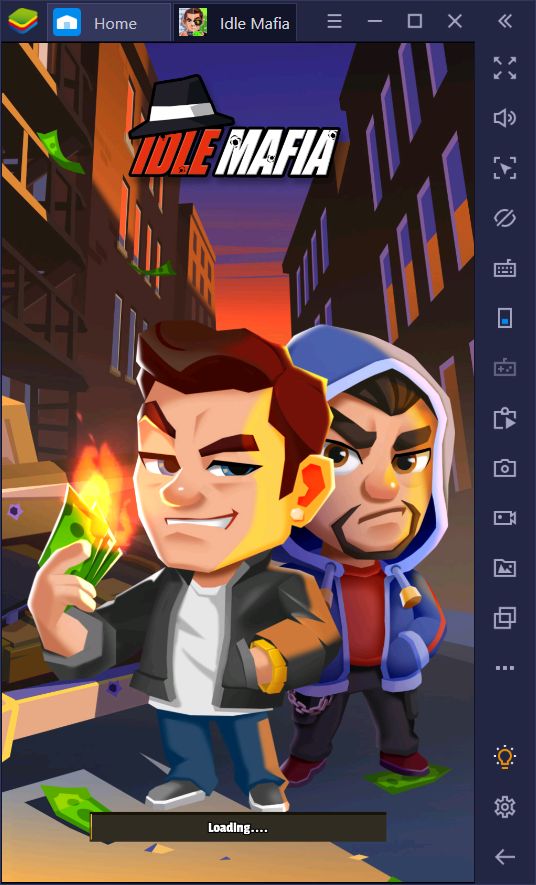 Idle Mafia – Tycoon Manager is one of such original creations that borrows elements from many different genres of mobile games and presents them in a unique package. This is a bit of a casual game designed to be played sporadically, especially since the bulk of its gameplay is automated, and there are many features that you can activate to further increase this automation. In this sense, it plays more like a management game where you must place all the pieces in each stage so that they produce resources, fight the enemy, and complete all the objectives in order to proceed.
Idle Mafia starts off quite simple, and frankly, it doesn't get too complex throughout. Nevertheless, there are quite a few things you should know before getting started, especially if you want to progress as fast as possible. In this beginner's guide, we're going to talk about some of the basic aspects of this mafia game, as well as give a few tips and tricks for newcomers.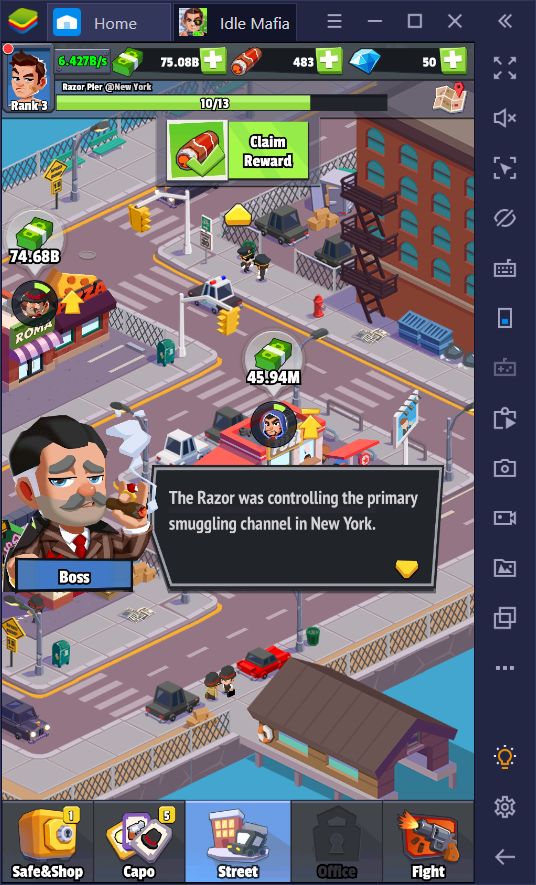 Getting Started in Idle Mafia
Your journey starts as you take control of Fario, a local mobster under the command of the one they call "The Boss." As a member of the Hammer Gang, it's your objective to expand your influence across the streets of New York, and take the city back from the Razor Gang, your long-time rival in the mafia underworld. In order to do this, however, you'll need to take over businesses, upgrade them, make lots of money, and then drive the enemy gang out of the city, street by street.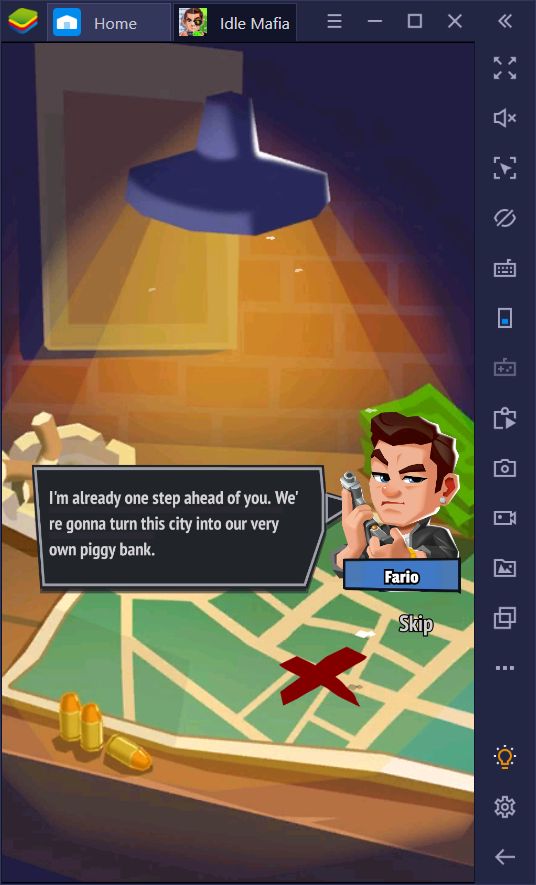 Idle Mafia is played by stages in which you must fulfill a series of objectives before being able to move on. As you progress through the game, stages will have more objectives that will involve tasks of increasing complexity, including engaging the enemy gangs in direct combat to drive them out and take their businesses. However, the vast majority of challenges will usually revolve around making a specific amount of money.
Making Money
Money is earned in Idle Mafia from the different buildings you "acquire" from your enemies. These places produce an amount of cash automatically, which you must claim before they're able to produce more. While all it takes is a single click to take your money, this can get tiring quite quickly as you'll simply find yourself clicking on a building for some time in order to make enough money.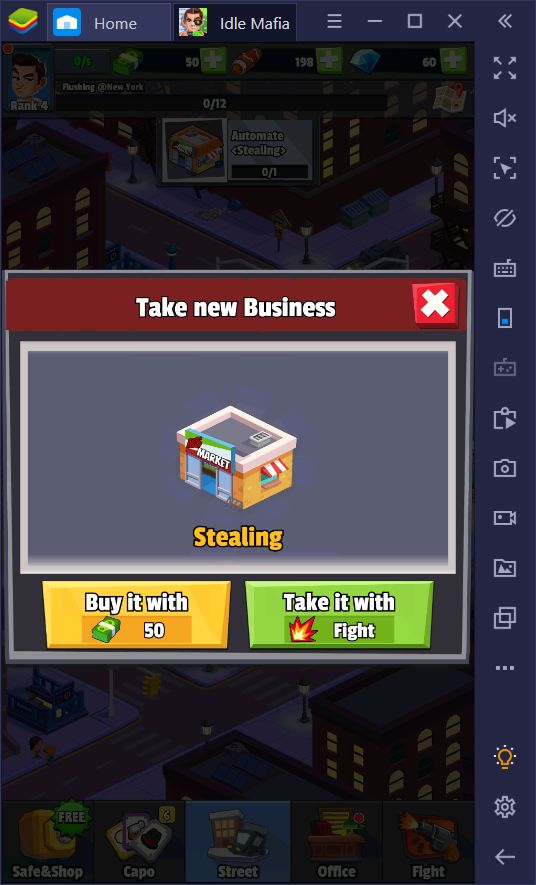 Luckily, by completing levels, you will unlock the Capos feature, who are your faithful mobsters that work tirelessly in your stead. These units will become the backbone of your organization and will help you in virtually any task, whether it's fighting against other gangsters or running the business that you claim, they will be a crucial part of your mafia empire, especially once you upgrade them and unlock their best skills.
Aside from their looks, every Capo has their own unique attributes and types, which determines their overall usefulness. However, when it comes to making money, they are quite important since, once assigned to a business, they will automate their production, allowing you to focus on other parts of the game without having to click ceaselessly to claim your money.
Using your Capos effectively is the best way to make money in Idle Mafia.
Fighting and Taking Buildings
While producing money in Idle Mafia is essentially automatic, you will first have to take over a business before you can assign a Capo to it and get to work. In some cases, you can purchase the building with cash. However, in most situations, you will have to fight against the enemy and drive them out using your squad of loyal mobsters.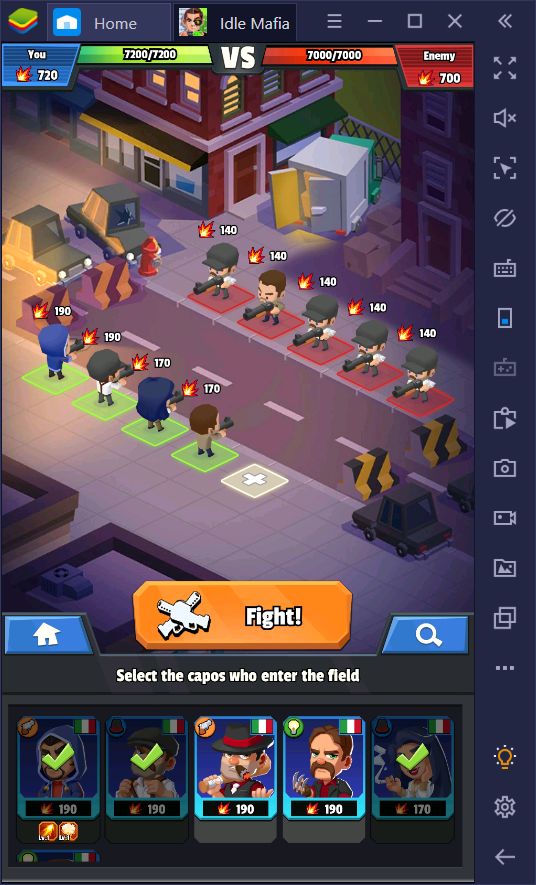 Luckily, just like making money, fighting is automated in this game and your characters will handle most of the dirty work for you. Despite this fact, you will still have to consider your formation and the abilities of each Capo in order to emerge victorious in combat. Every Capo has different skills and passives and, while some of them are suited purely to the business part of your mafia empire, others have powerful skills that they can use in battle to overpower their enemies.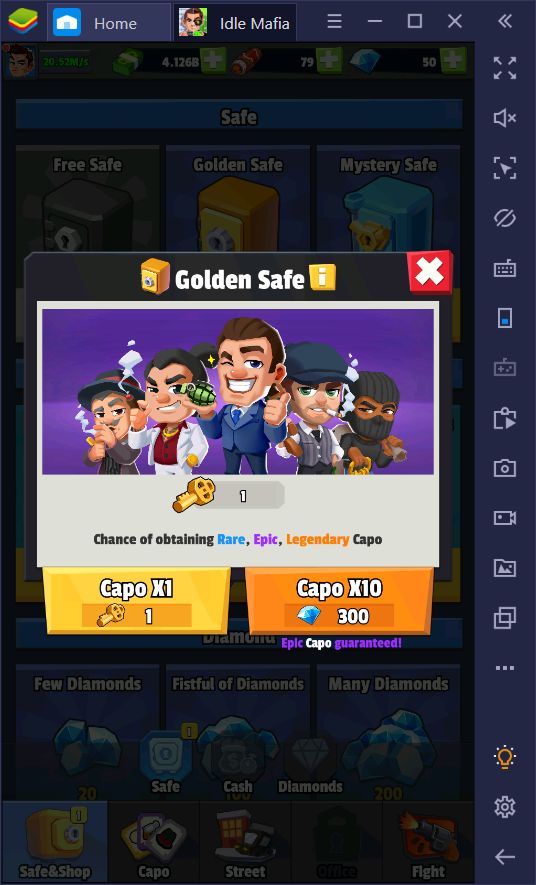 Your starter Capo, Gianluca, is a Str-type character with two powerful combat skills that will help to carry you to victory in the first few stages. His abilities allow him to deal bursts of damage to single targets, as well as ample damage to the entire enemy group. Like Gianluca, however, there are other Capos that have similar skills that give them a dramatically-higher DPS output, in relation to the others. In order to unlock them, however, you will need to farm vault keys that are used for summoning them in Idle Mafia's gacha system. Alternatively, you may pay for summoning attempts with diamonds, the game's premium currency.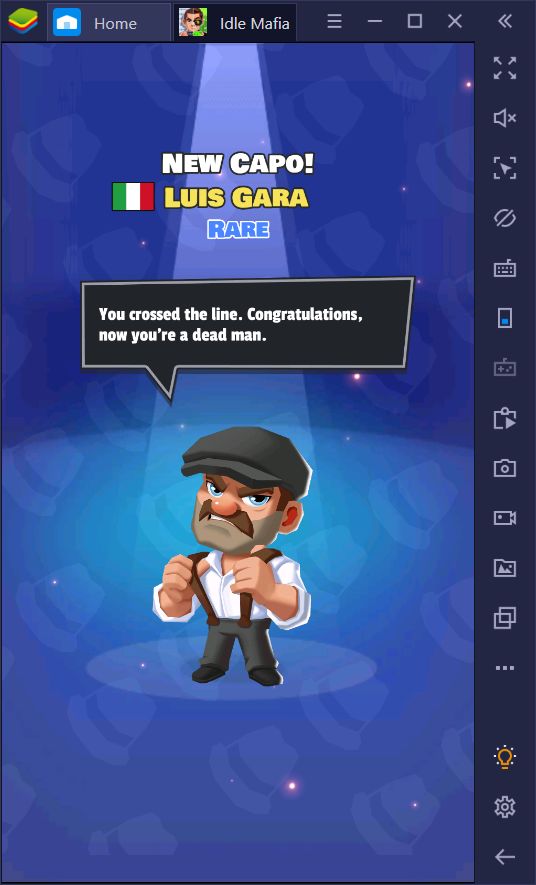 The main premise of Idle Mafia – Tycoon Manager is to, like the name suggests, manage your characters and resources in order to complete the tasks in every level and take New York back from the Razor Gang. With the info we've shared in this beginner's guide, you're now ready to begin on the path of conquest on the right foot.