Game Guides
MARVEL Contest of Champions Pro Tips For Starters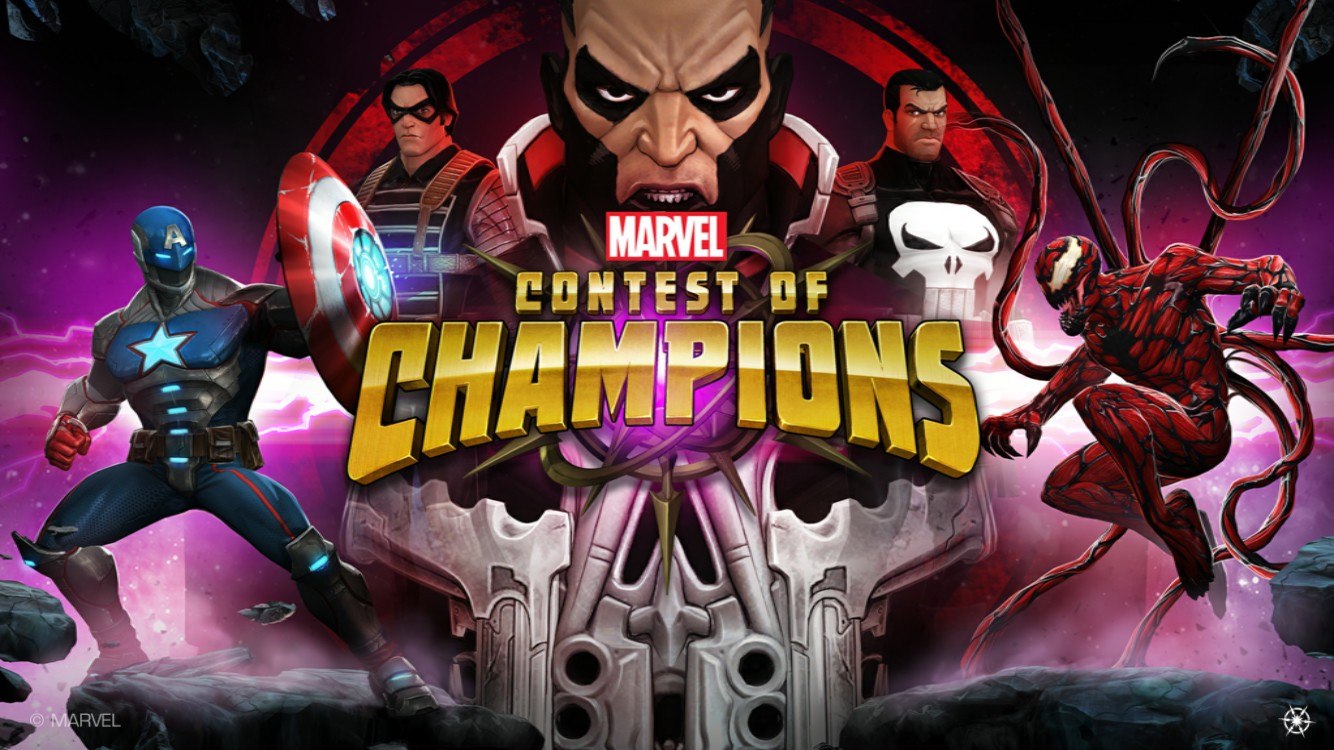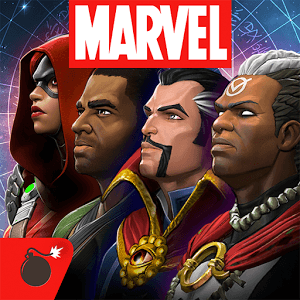 Marvel Contest of Champions is not just about fighting against superheroes. There are multiple ways you can use to get more heroes and empower them. You don't even have to follow the story of the game: You can try many activities that don't require you to use energy points. In this guide, we'll talk about some of the tips you'll find very useful for the Marvel Contest of Champions and that will also make your gaming experience even more enjoyable.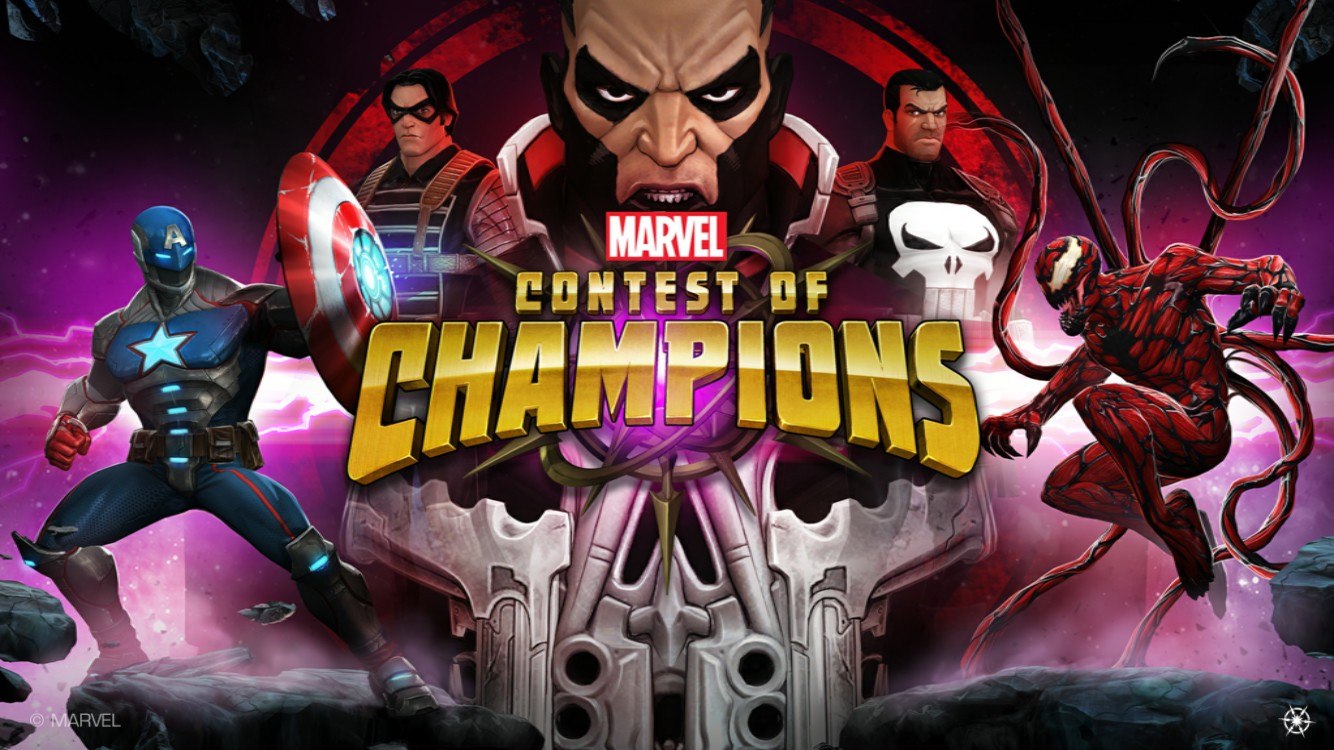 Get Your Free Crystals, Know Your Crystals
Crystals are one of the most important items in Marvel Contest of Champions. You will be using them to summon new champions and to strengthen existing ones. A different type of crystal is used for each of these processes. First, let's take a look at the most important crystals in the game and what they do.
| | |
| --- | --- |
| CRYSTAL NAME | GIVES / AWARDS |
| Alliance Crystal | Gives boosts to champions. It can only be purchased from the Alliance Store, one per day. |
| Arena Crystal | Award of the arena matches. May award rare 5-star heroes. |
| 2, 3, 4, 5, 6-Star Crystal | Awards a 2, 3, 4, 5, and 6-star champion respectively. Used for summons. |
| Quest Crystal | Gives ISO-8 and Energy. Provided at the end of quests, as a reward. |
There are more than 50 crystal types in the game, but these are the most important ones you need to know. With the exception of two, you can buy all the Marvel Contest of Champions crystals for real money or earn them as an activity prize. However, these two crystals are completely free. The first of these is the "green" free crystal. You can claim one every 4 hours. It awards consumable items and gold – you cannot summon a champion with this.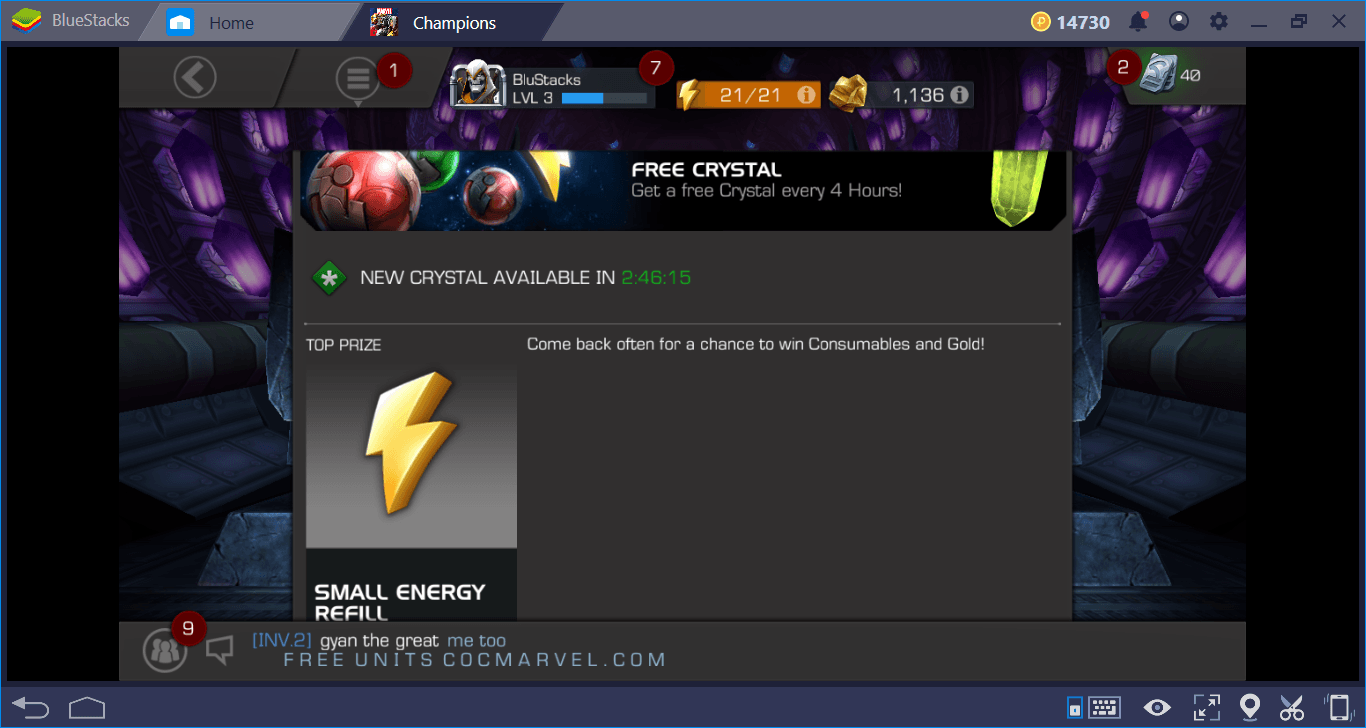 The other one is the "yellow" crystal, which you can claim for free every 24 hours. It awards 2 and 3-star heroes. In other words, you can win a new champion every 24 hours.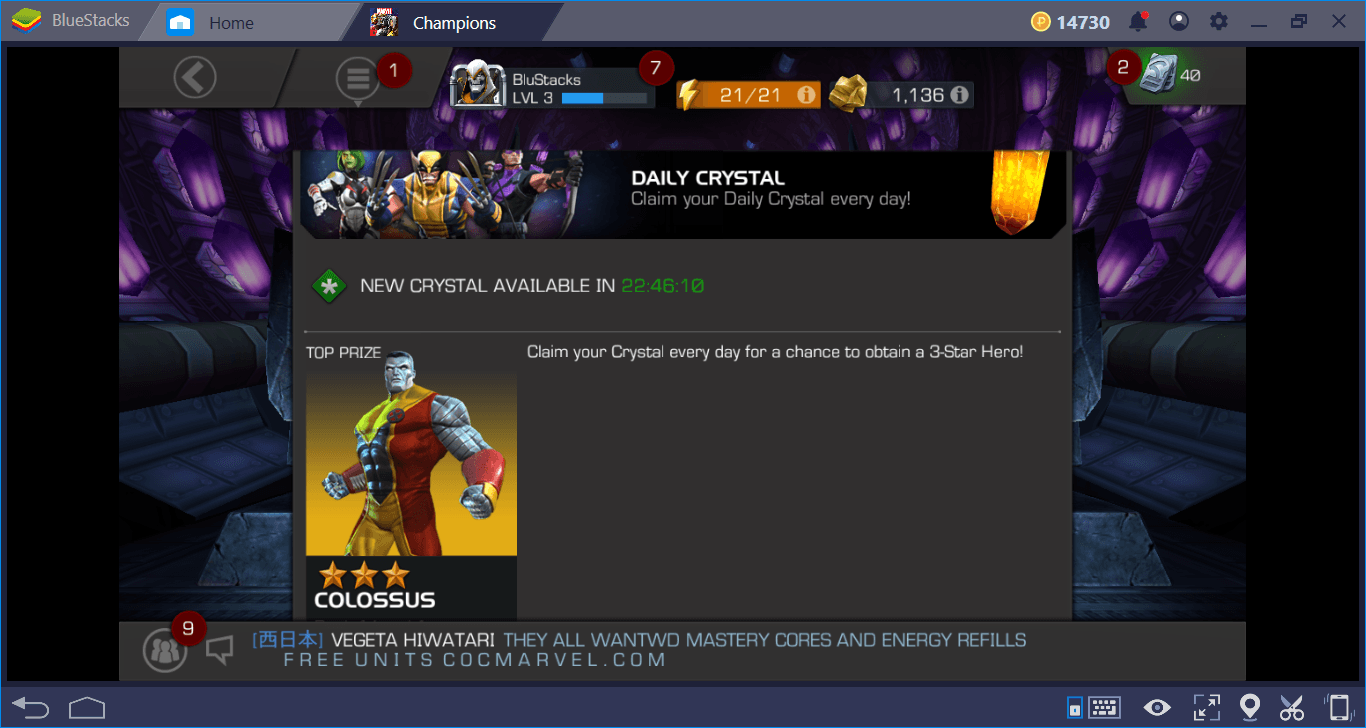 Keep Calm and Continue To Replay
After completing half of Act 1, you'll find that fights are becoming increasingly challenging. You can browse our other guides for some combat tips that will benefit you. However, you will soon be faced with a competitor you cannot defeat – unless you choose to summon high-level heroes with real money, your current hero roster will be insufficient to proceed sooner or later.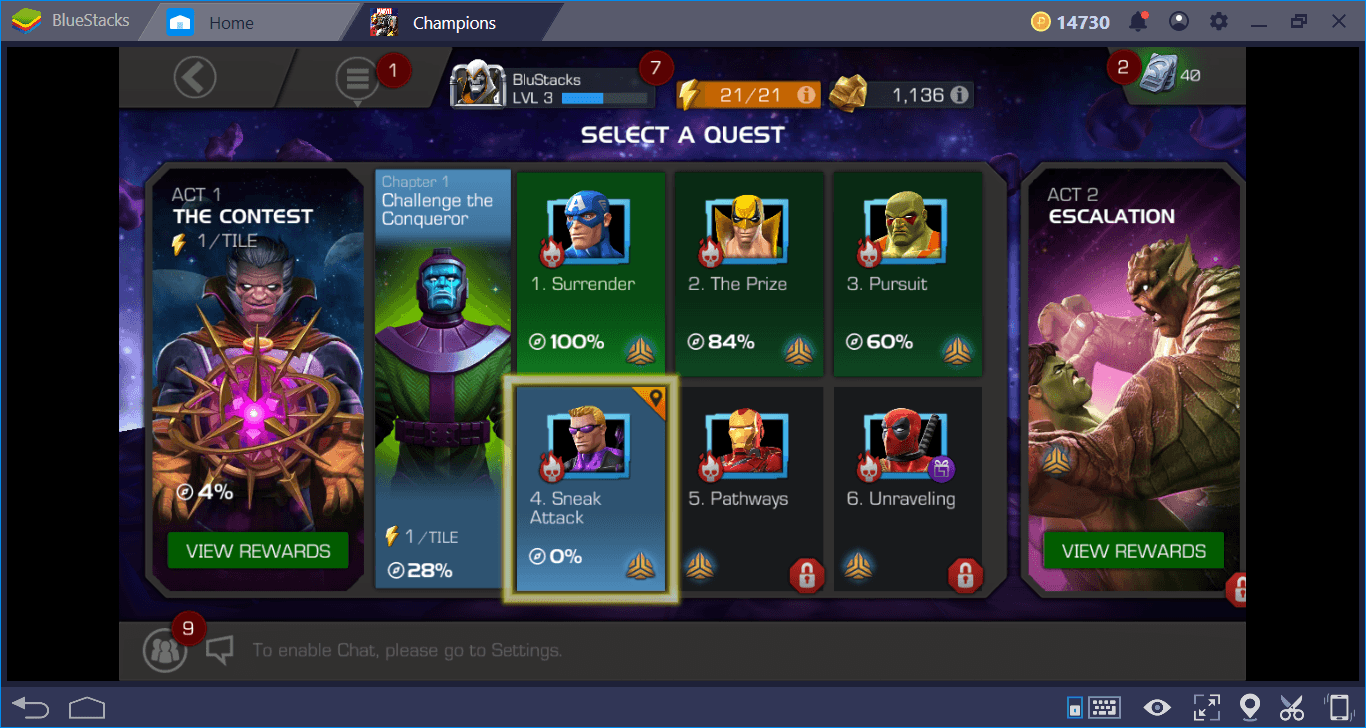 You can replay even 100% completed episodes. If an episode doesn't look 100% complete, this means there's still something you can do.
You don't need to purchase heroes from the in-game store to solve this problem. To reinforce your current roster, you can re-play the completed tasks. You will continue to win prizes. And you can use these rewards to strengthen your heroes.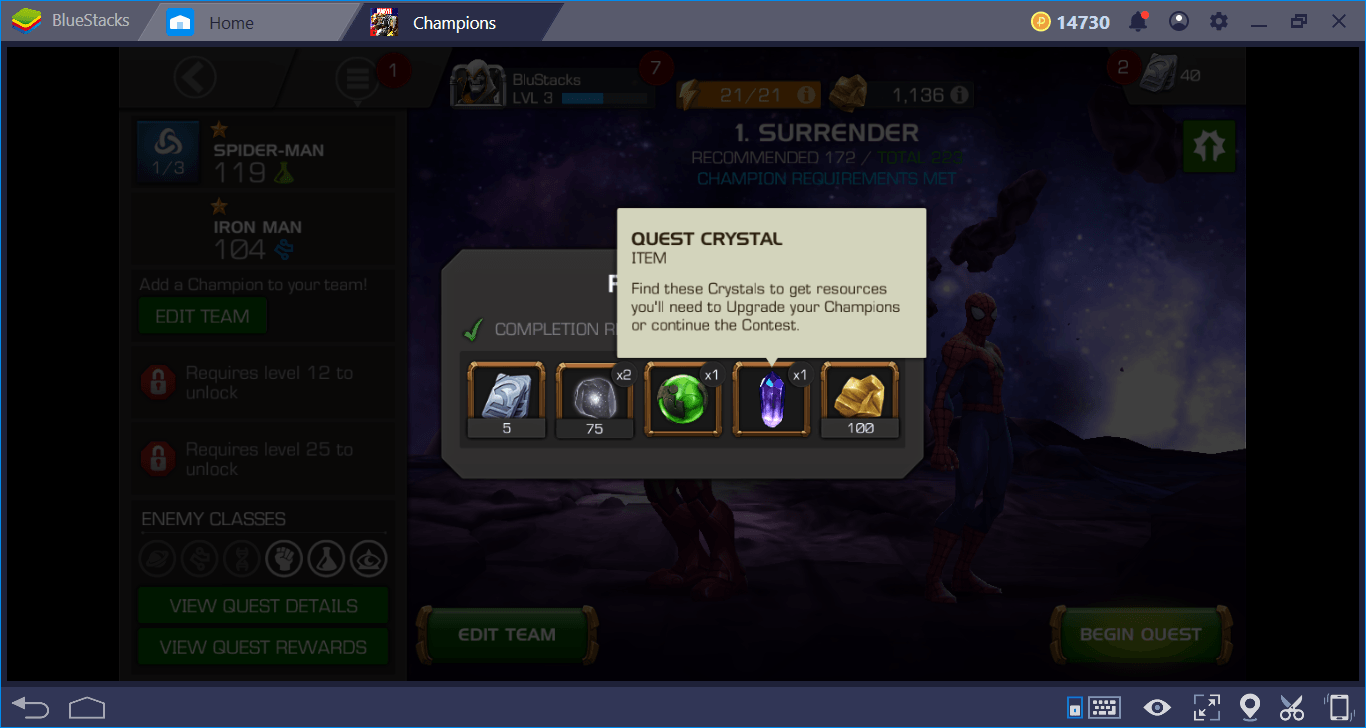 In short, you can strengthen your hero roster completely free with a little patience. If you're having a hard time with a certain quest, don't bother – your heroes aren't strong enough for that mission. Instead, reinforce them with rewards that you get from the replayed missions.
Don't Forget To Use Boosters
Note that if you need extra help to complete difficult tasks, you can use various "boosts". If you join an alliance, you can start earning crystals that give these boosts, as mentioned above. These are powerful buffs and they can help you to win even the most challenging fights. However, unlike class bonuses, you need to purchase them with in-game currencies.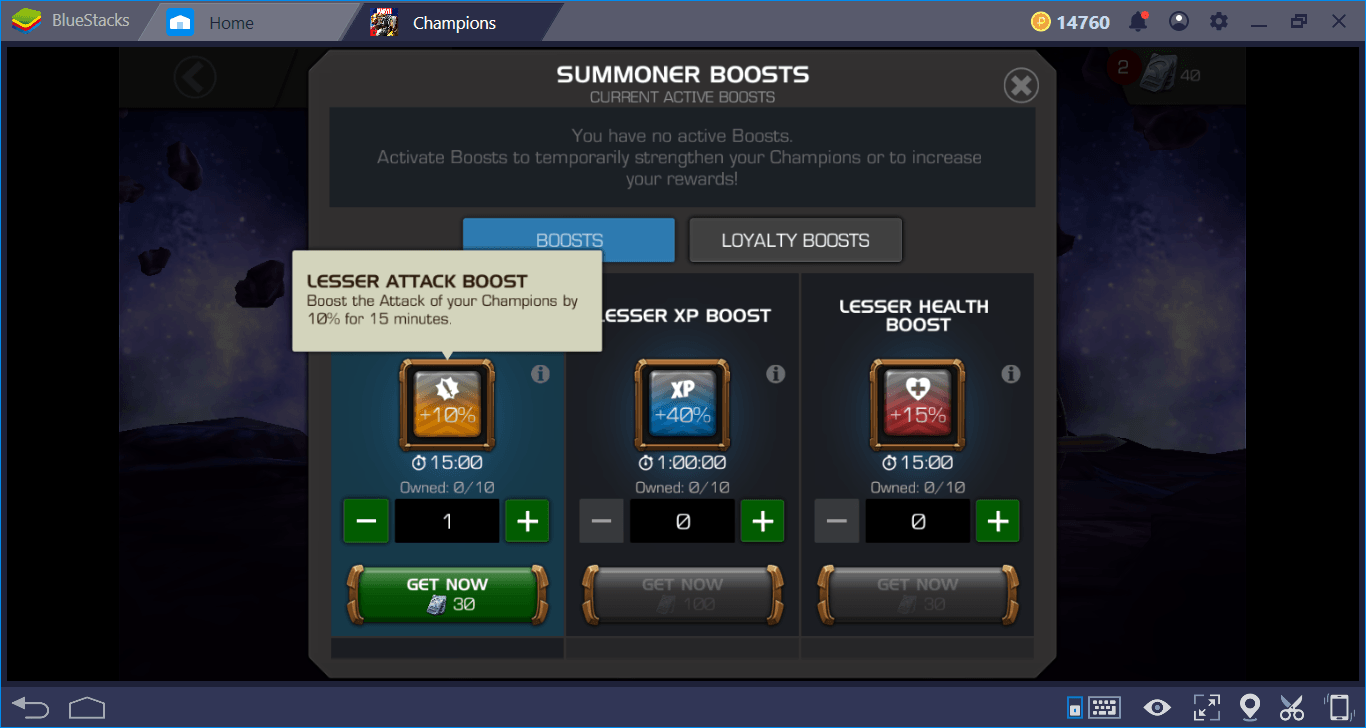 Beginners usually don't know where this screen is. Before you start a fight, you can buy boosts by pressing the green button on the top right. Beginners can also get an XP boost for free for 7 days.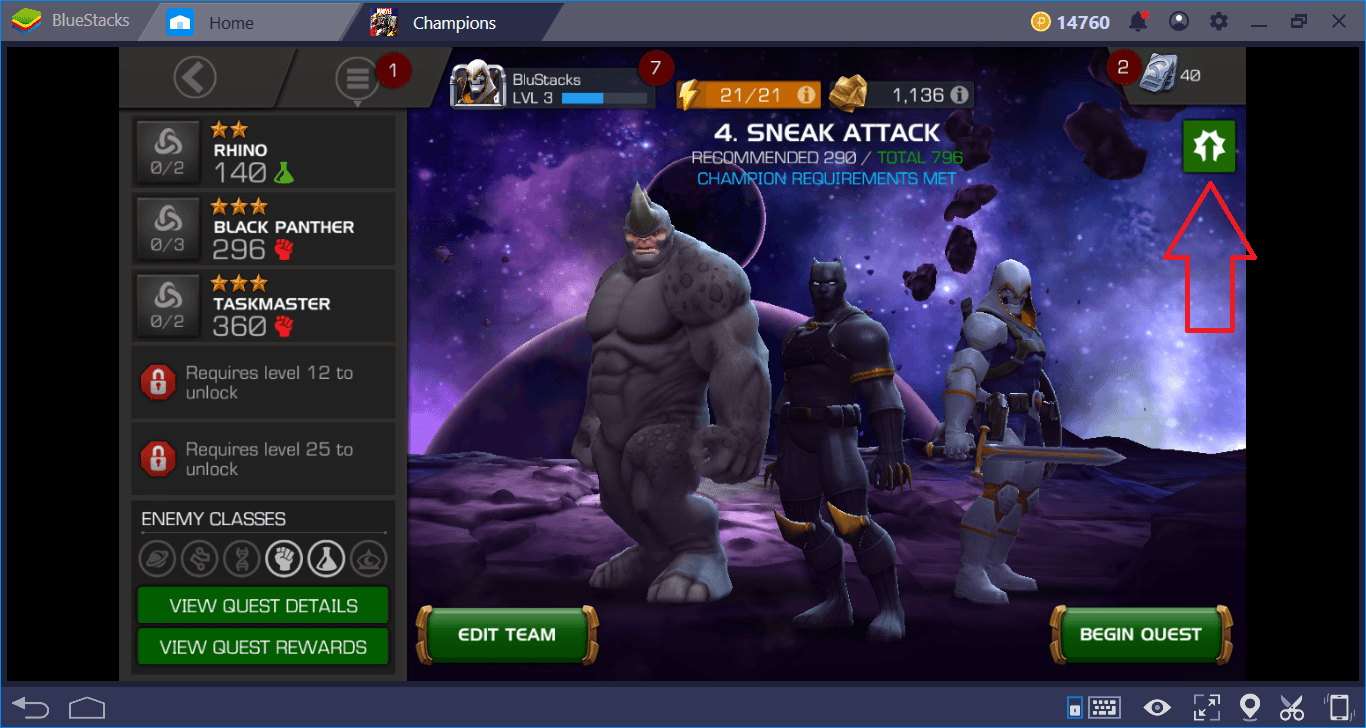 Do Not Miss Out Daily Login Rewards
Every day you log in to Marvel Contest of Champions, you receive a free gift. These are all very useful things, but what's really important is the gift at the end of the seventh day: A free premium hero summon crystal.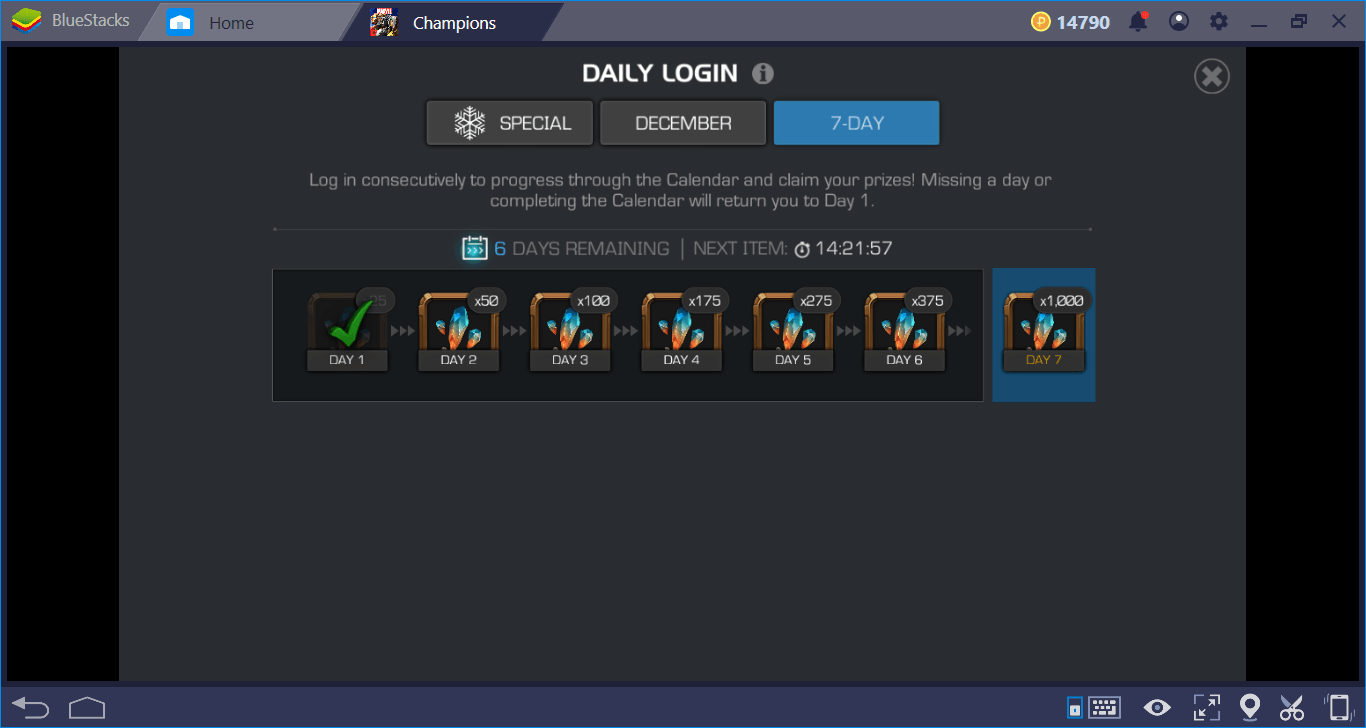 Moreover, due to a special event for December 2018, you will earn a free 5-star hero crystal on the 12th day. So 12 days after starting the game, you can have two 5-star heroes completely for free. Therefore, do not forget to collect daily login rewards every day.
Complete Arena Matches, Get More Summoning Crystals
Even if you don't like PvP, we advise you to complete arena matches. This is because 3v3 matches have a useful reward: a 2-star hero crystal.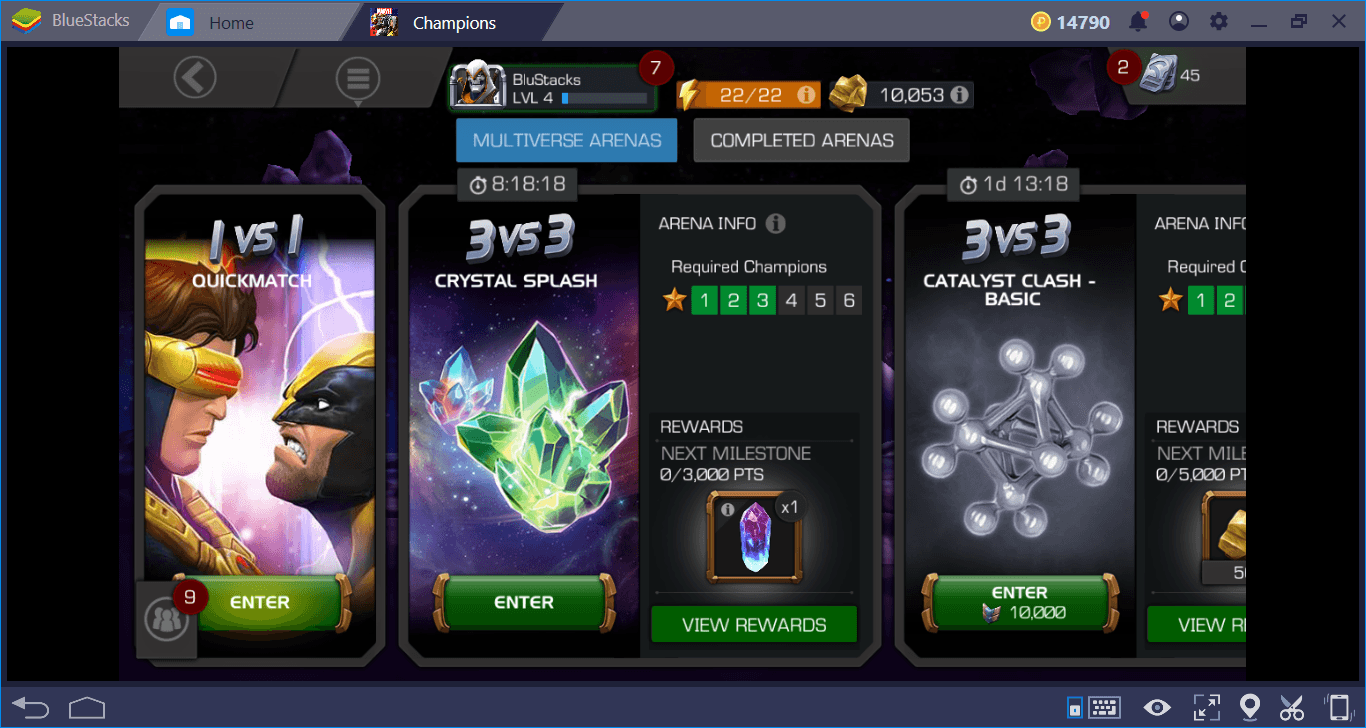 Every match you win will get you this crystal. In other words, you can achieve a regular 2-star hero flow to your roster. You can use these heroes to reinforce your current roster as we have explained in our leveling guide. Finally, let's have a look at one more interesting free way to get a premium hero: When you join an alliance for the first time, you get a free premium summon crystal. Therefore, your first job should be joining an alliance.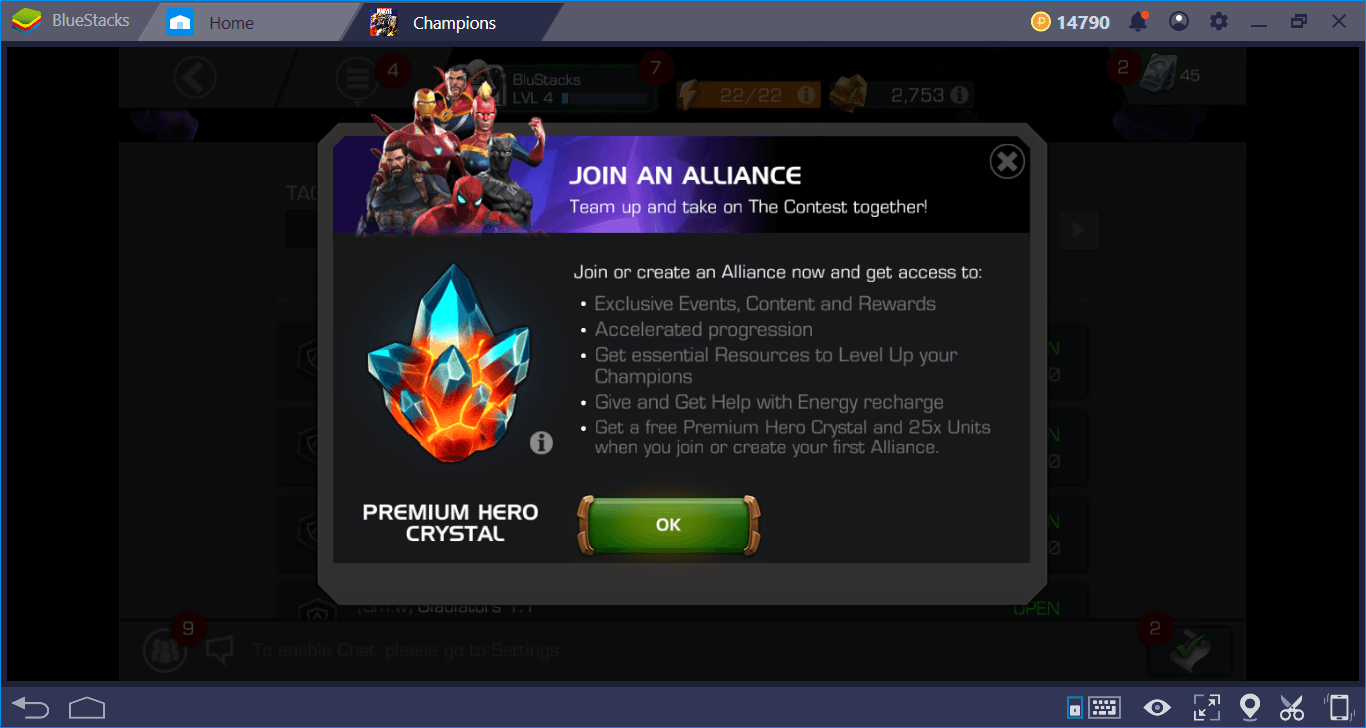 Focus On 3-Star And More Heroes
By completing the quests and using the free methods we have mentioned above, a large number of heroes you get will be 1 and 2-stars. Don't waste time and resources to upgrade them: Even if you have the resources to upgrade a 2-star hero, its is always a better idea to use them for top-tier heroes. You can sell or accumulate 1 and 2-star heroes to win various prizes. This is a progressive system: When you get access to 4-star heroes, start using your resources for them and forget about 3-star ones. When you find 5-star heroes, transfer your resources to them. Never spend resources for low tier heroes – it will last long, and you're able to collect all 5-star heroes if you are patient enough.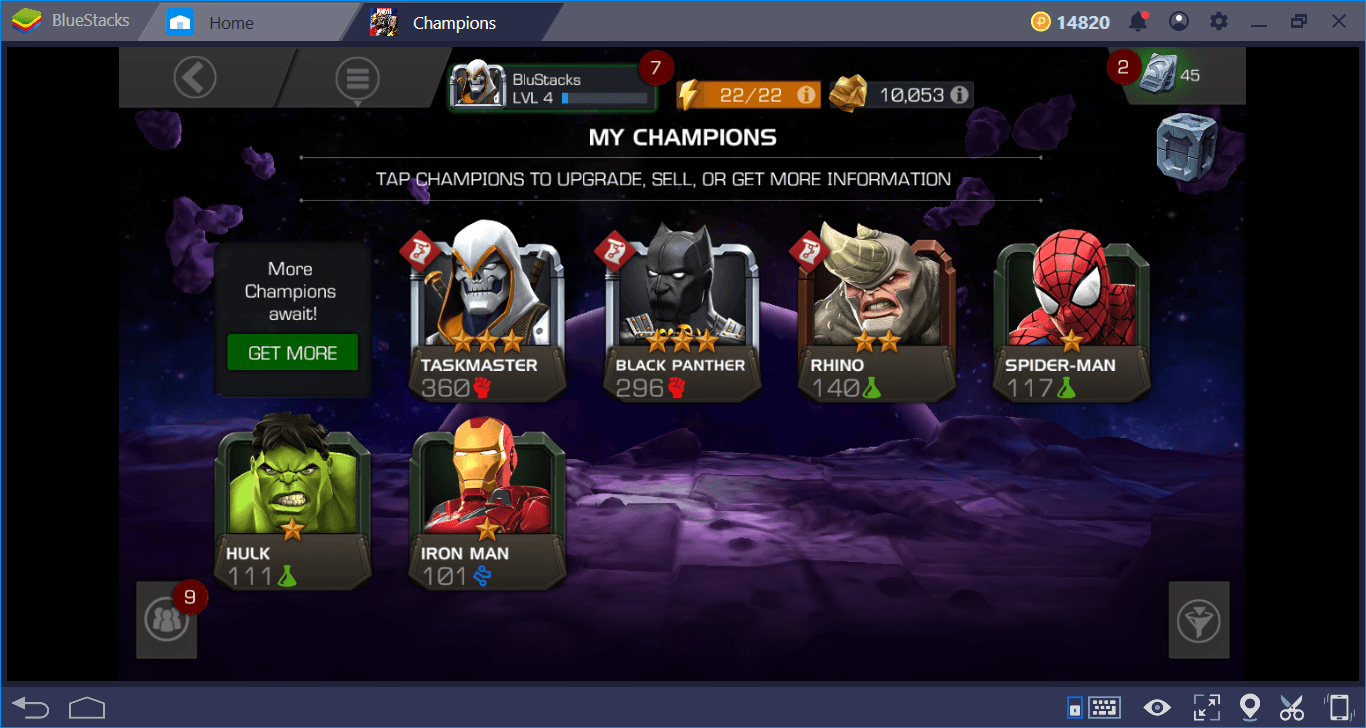 If you liked our Marvel Contest of Champions tips guide, don't forget to check out our other guides too. We have shared many insights and recommendations that will make your gameplay easier. If you have any advice, do not forget to leave us a comment. Now, you can save the galaxy more quickly and effectively – good luck!