Game Guides
Tips and Tricks to Score Big on the myVEGAS Slots – Free Casino!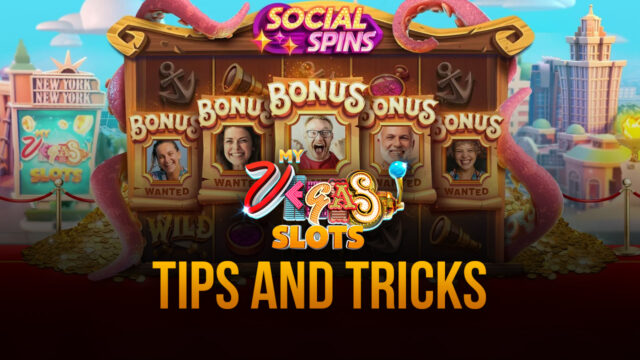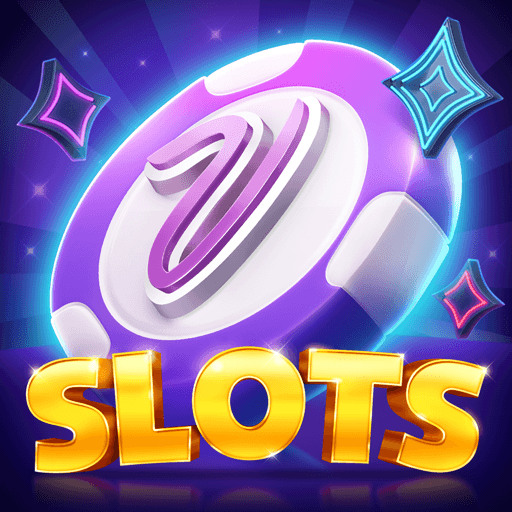 Casino games offer tons of satisfaction for literally no effort. Video slot machines, in particular, are some of the most flashy pieces of gaming, especially when you get lucky and win big. Whenever you get a jackpot or a special bonus, the screen lights up, music blares, and everything is drowned out by the cacophony of coins pouring from the prize slot. The video game version of these slot machines is also quite the spectacle, capturing perfectly the best parts of their real life counterparts.
myVEGAS Slots is one of the most popular video slot machine apps on the Play Store, most of which is due to its wide variety of game modes and mechanics, as well as due to giving players the same adrenaline rush of earning tons of cash, except at literally no risk since you won't ever lose your real hard-earned money in the process. And the best part is that you can actually trade in the points you get from playing for real prizes, which is the game's way of rewarding its most loyal users.
However, despite being a free video slot game, the myVEGAS app is still a mobile title, which means that it has its own odds and ends that you'll need to learn about in order to progress and maximize your earnings. And in this guide, we'll go over a handful of tips and tricks that you can use for this exact purpose.
Try to Login at Least Once Every Day
When it comes to striking it rich in the myVEGAS app, you're mostly relying on your own luck, especially for striking the jackpot. However, there are a few ways to claim some free rewards to help speed up your gameplay, and even to let you continue to play when you're out of chips for the slot machines.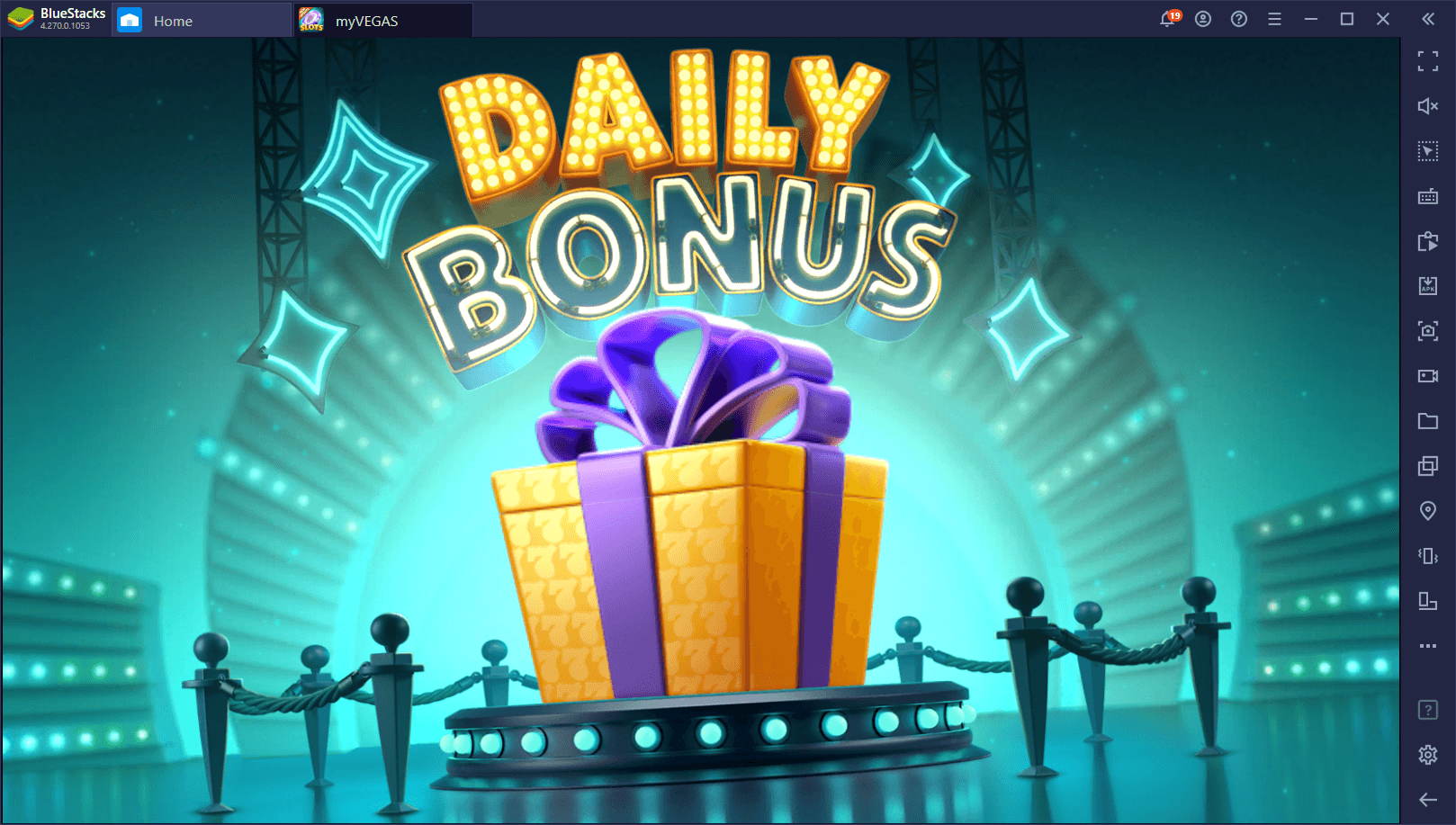 The most common and easy way to get some free loot is simply by logging in on a daily basis. Whenever you hop online for the first time each day, you'll receive a few free prizes that include chips and MVP points. The chips are used in your day-to-day activities, and you'll need to pay varying amounts of them every time you want to spin the slot machines.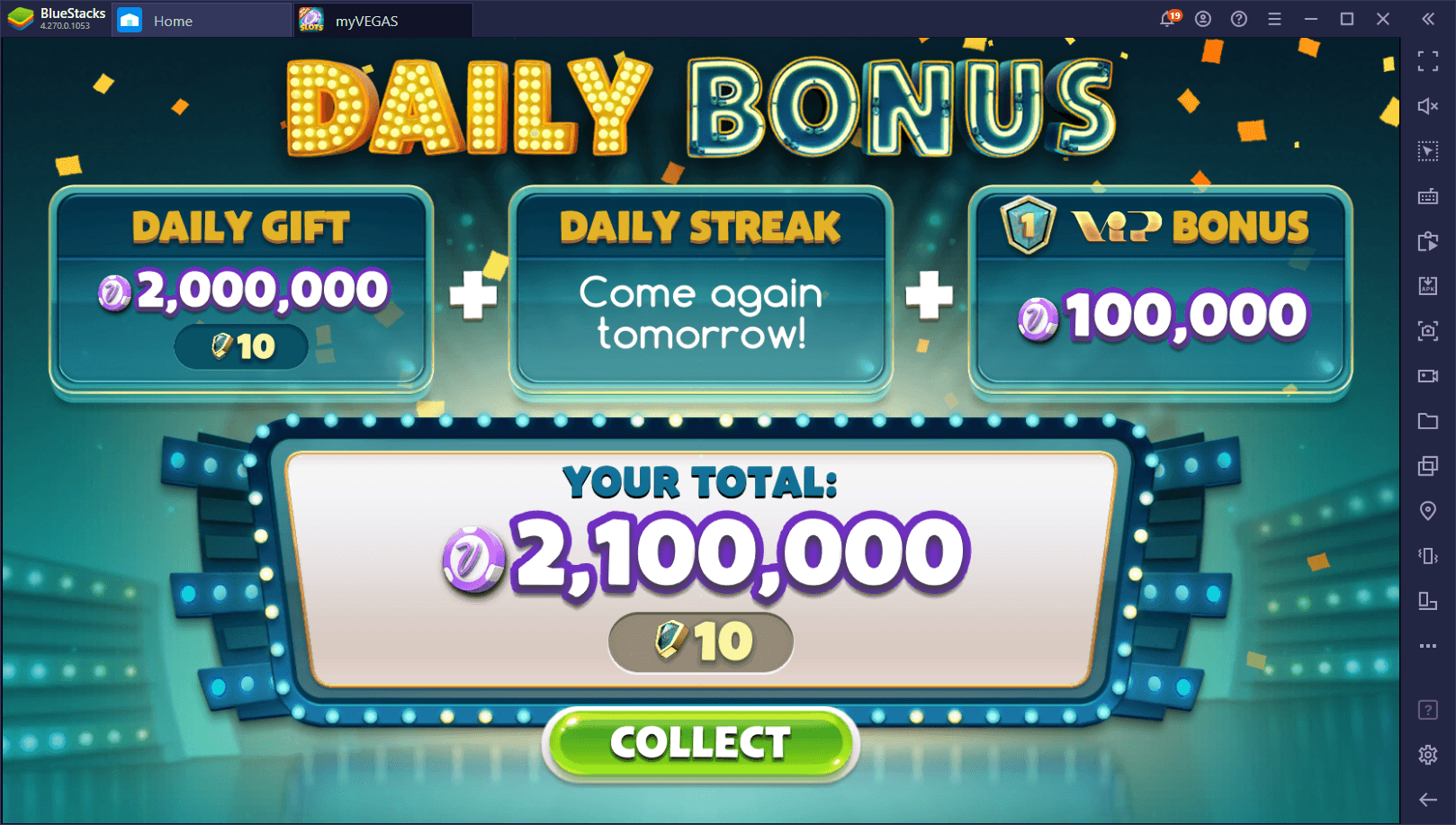 The MVP points, on the other hand, are very important since they will allow you to increase your VIP status in the game. These VIP ranks confer special bonuses such as bonus multipliers that will significantly increase your earnings whenever you get lucky in the slot machines. However, these bonuses are only active for a limited period after you increase your rank, so you need to make the most of them whenever possible.
One of the best benefits of being a VIP is that, once you're high enough level, you will get access to the High Roller's Room, in which you will find a veritable ton of new game modes, all chock full of awesome prizes.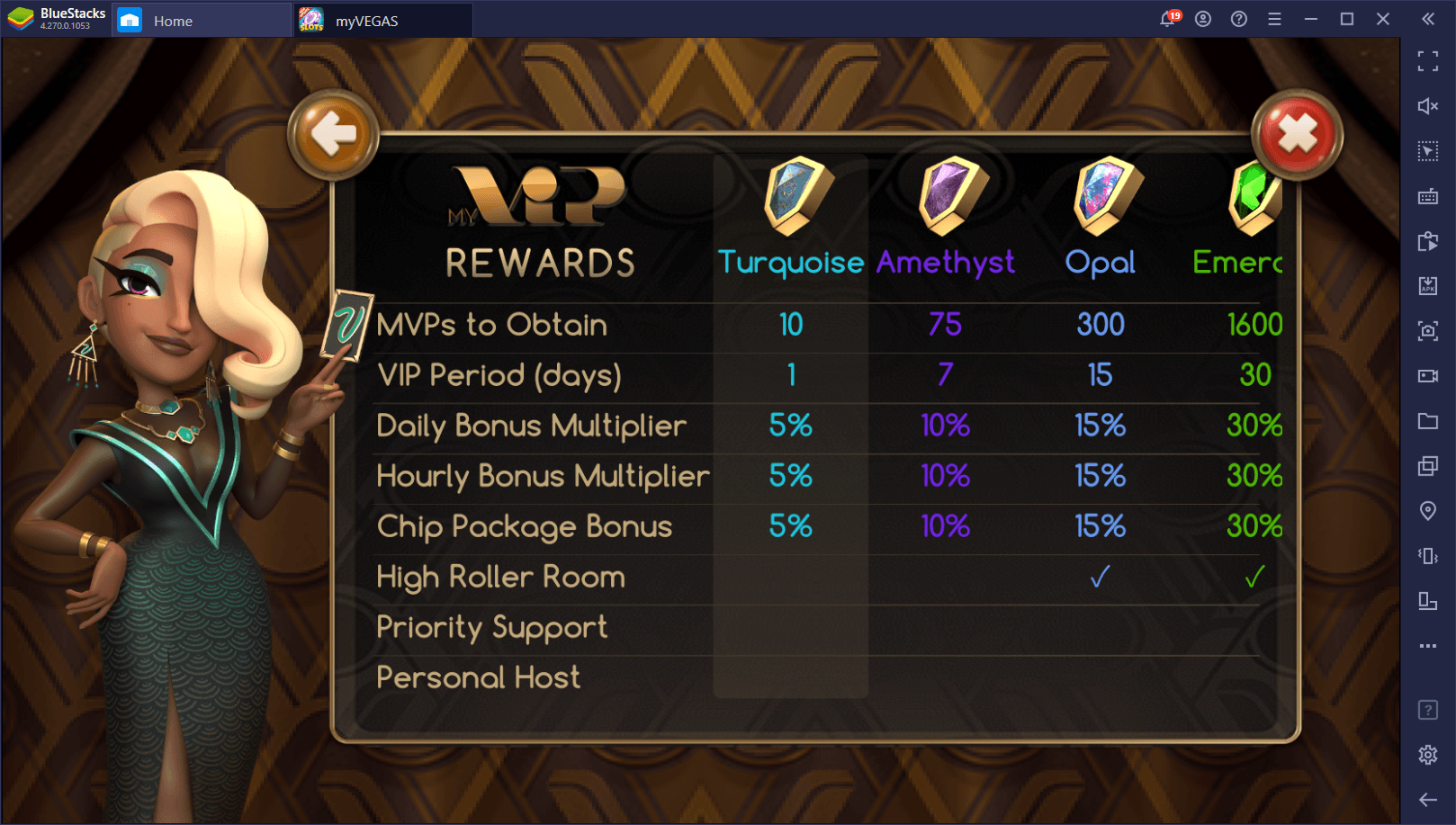 So in short, try to login every day without fail, especially because the more consecutive days you hop into the game, the better the rewards!
Collect Loyalty Points By Staying Online and Active
One of the most rewarding aspects of myVEGAS Slots isn't even the game itself, but rather the rewards you get for being active, through a system called "Loyalty Points".
For every moment you spend online and active in the game, you'll see a timer start to fill up on the upper left corner. Once full, you will level up and automatically receive a sizable bounty of Loyalty Points. These points are some of the most valuable currency in the game since you can trade them in for real prizes such as discounts, free services at certain resorts, and other goodies at many different popular locations around the globe. The next time you have a vacation planned, check out the Loyalty Store in myVEGAS Slots to see if there are any awesome packages you can cash.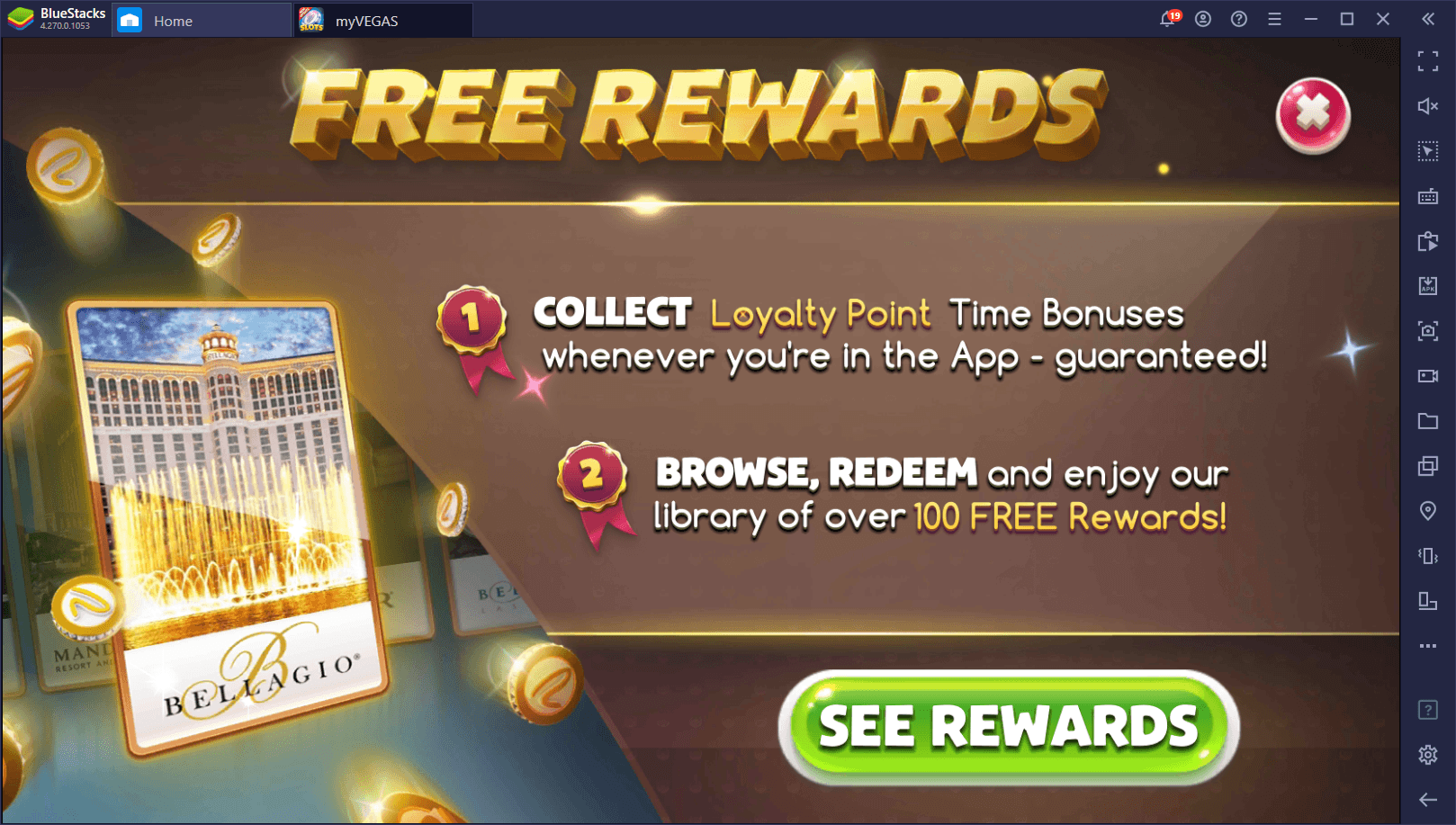 At the beginning, however, just focus on racking up those Loyalty Points.
Farm Unlimited Loyalty Points Automatically With the Macro Recorder
And speaking of saving up points, despite being so easy to farm and obtain, simply by being online, the big caveat is that you actually have to be active—leaving the game running and going AFK isn't enough this time around. In this sense, if you want to save up those points, you have to actually be clicking on stuff on your screen.
However, if you're playing the myVEGAS Slots app on PC with BlueStacks, you can actually automate the grind for Loyalty Points with the Macro Recorder, one of the best tools that our emulator has to offer.
This feature allows you to record macros that, with the press of a button, allow you to easily reproduce a set of actions and commands. For myVEGAS Slots, this means that you can effectively automate the Loyalty Points grind by recording and using a macro and setting it to loop automatically.
Here's a quick rundown on how to create this macro: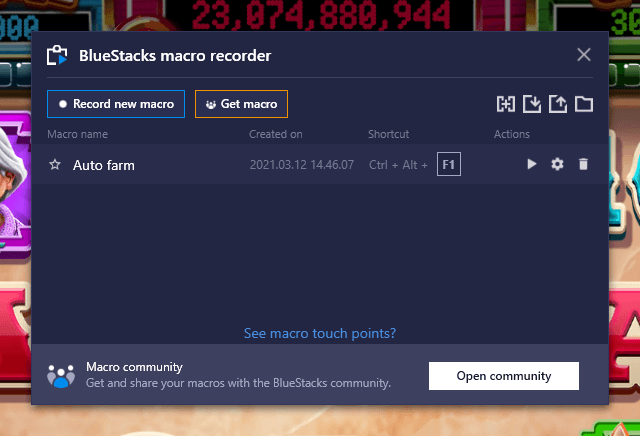 While in-game, access the Macro Recorder by pressing Ctrl + Shift + 7 and click on "Record new macro"

With the recorder running, click once on any part of the screen, and stop the recorder.

Give your new macro a name such as "Auto Farm", and then click on the gear icon beside it.

To make your macro repeat, click on the "Infinitely until stopped" box in the macro properties section.

To activate your macro, simply press the key combination you gave it and watch it work its magic.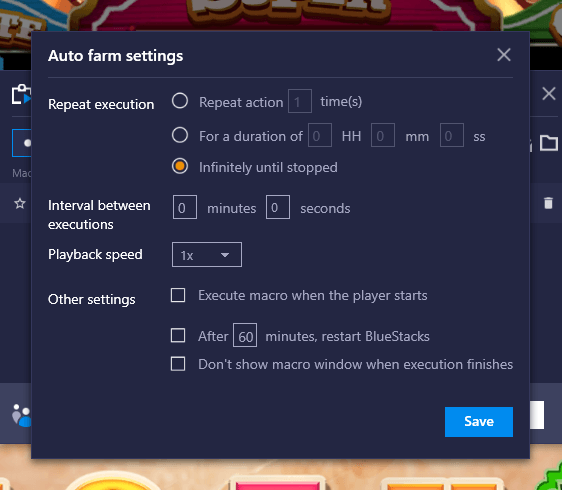 As long as this macro is running, you'll be automatically farming Loyalty Points, which makes it great for when you want to go AFK, but still want to keep farming.
Use the Keymapping Tool to Get the Real Video Slot Machine Experience
Last but not least, another great BlueStacks tool that can help improve your experience with this game is the Keymapping Tool.
This feature lets you configure keyboard control schemes for any mobile game so that you can play it using your PC peripherals instead of having to tap and swipe at your screen. For myVEGAS Slots, a good keyboard setup can definitely enhance your game and get you closer to that authentic "Vegas experience" by letting you play by pushing physical buttons, just like in a real video slot machine. Just remember to go fullscreen by pressing F11 to further increase the immersion factor.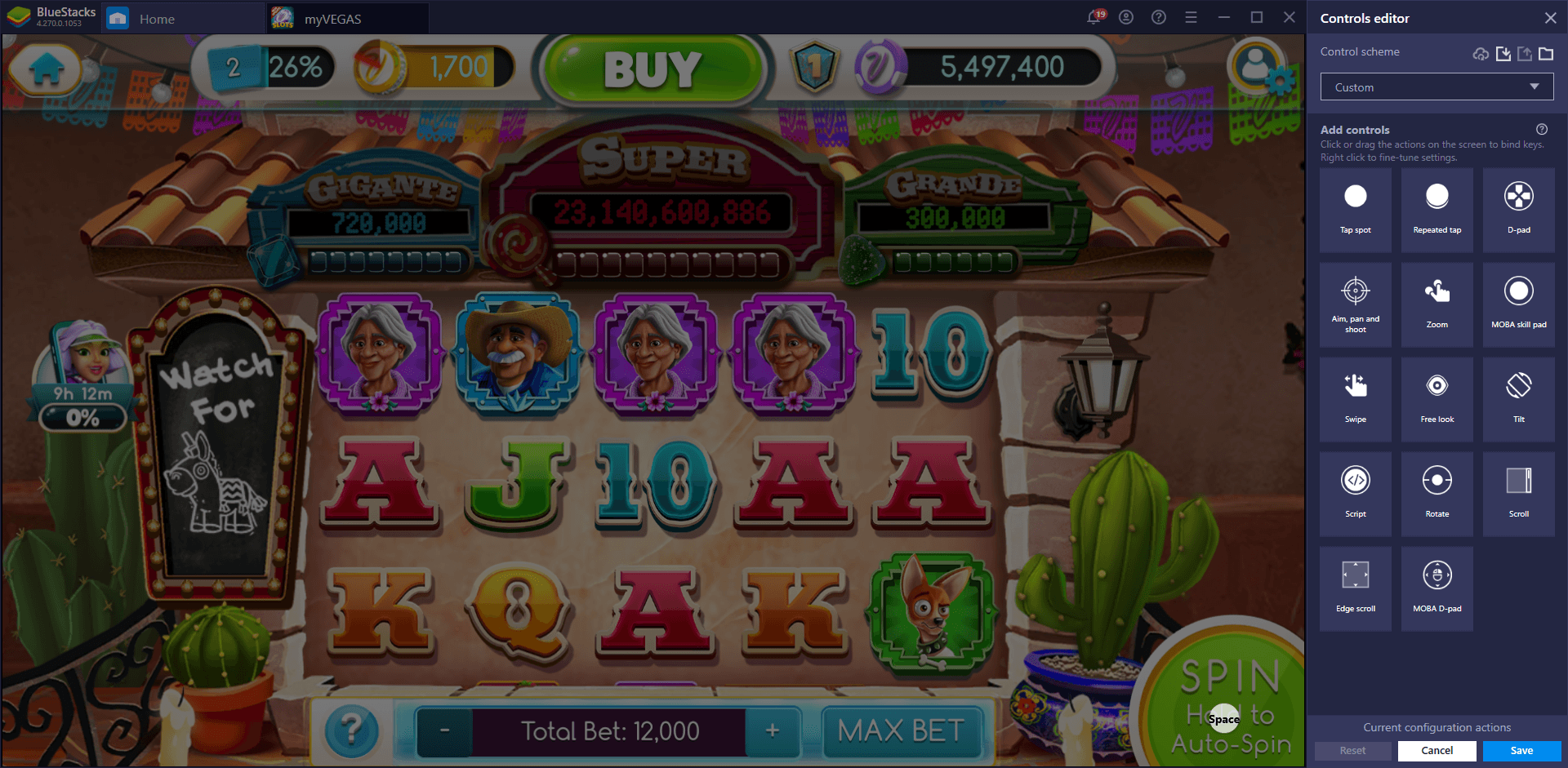 And that's it for our myVEGAS Slots app tips and tricks. If you have any other useful tidbits to share, feel free to leave them in the comments below!