Game Guides
Nova Empire: Space Commander on PC – Beginner's Guide for Dominating the Galaxy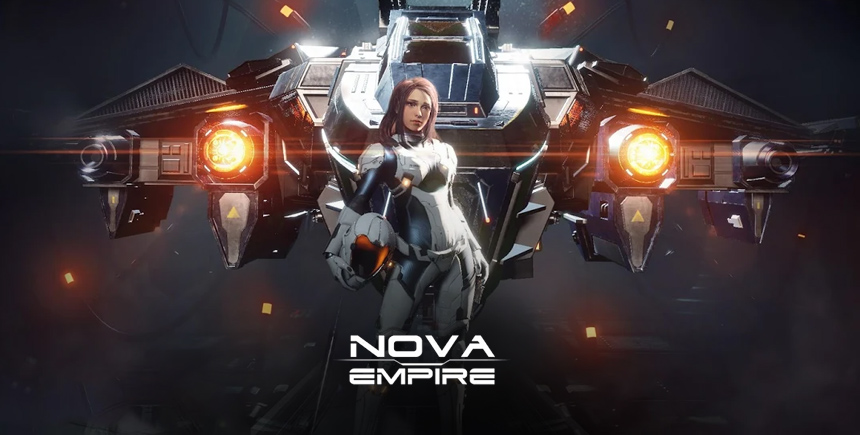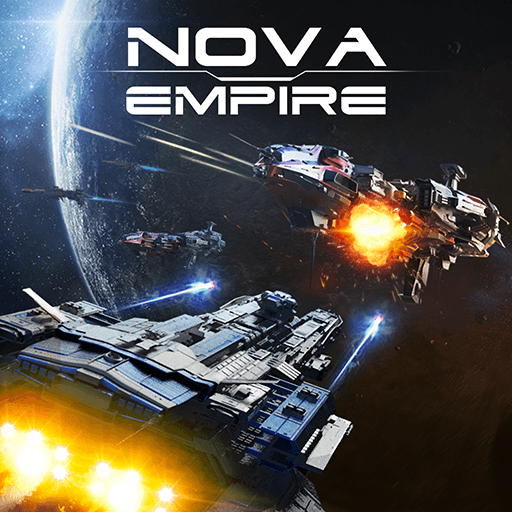 The conquest genre of mobile games took to the stars in Nova Empire: Space Commander. This game will see you traveling to distant star systems within the galaxy and spreading your colonies far and wide into the vast expanses of outer space. This game is quite unique in the fact that, instead of having an immobile base like in most conquest games such as Rise of Kingdoms and Guns of Glory, your space station can jump to other systems and explore countless planets in search of resources and other valuables.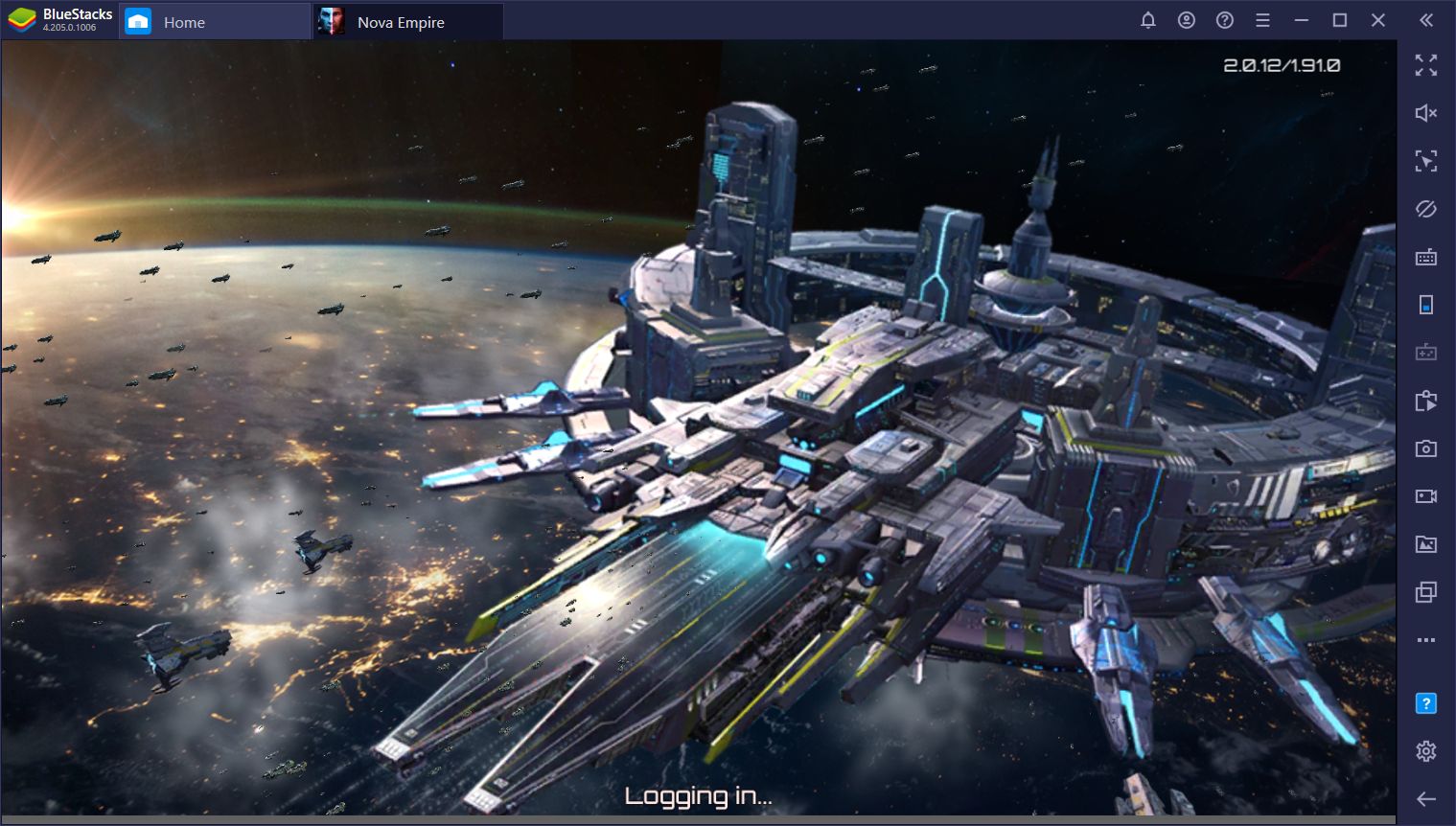 However, this new element of exploration that is seldom present in other games in the same genre makes playing Nova Empire a bit different than the rest. While most of your gameplay will be centered around gathering resources, developing your space station, and building ships for your fleet, you will also have to consider the way the territory is split by the different alliances and pirate NPCs that roam the galaxy.
In this guide, we're going to explain the basics of Nova Empire, as well as show you how to get started in this galactic conquest game.
The Different Types of Resources in the Game
As we mentioned above, one of the things you'll be doing the most in this game is gathering resources. These materials are used for nearly every task; from powering your base and building new structures, to researching tech, building ships, and scanning planets and systems, among many others. In this sense, you're gonna need every little bit of materials that you can get your hands on.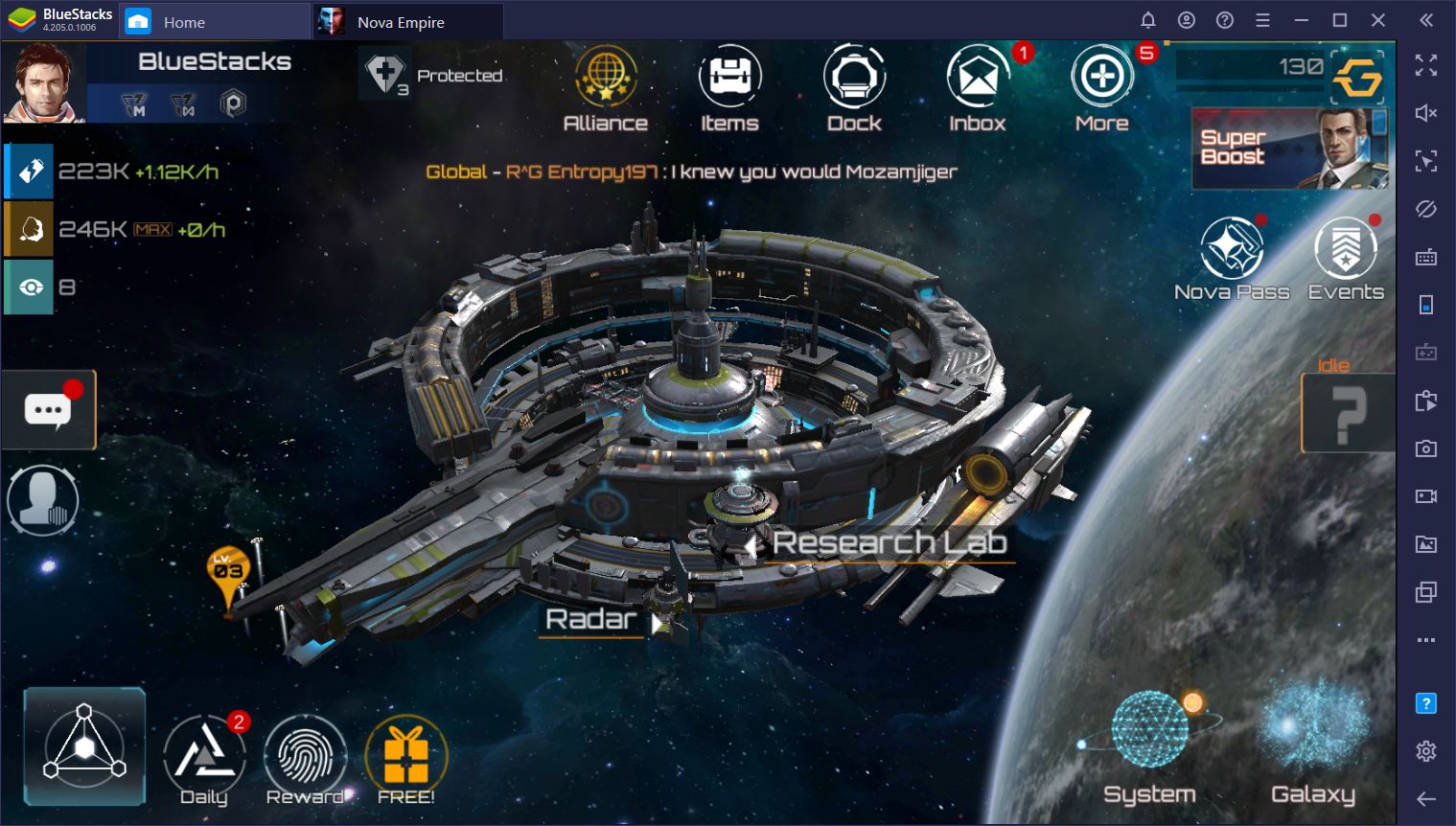 The four primary resources in Nova Empire are the following:
Energy: One of the most basic resources in the game, used for nearly everything that has to do with your space station. From building new facilities to researching tech and keeping the lights on, you're going to need as much energy as you can produce.
Minerals: Like energy, minerals are also quite common and used for many different projects on your space station. It's also used as an upkeep resource for your current fleet.
Crystals: While not as common as energy and minerals, crystals are also quite important. However, it's more of a mid-game resource since it's used for constructing the larger ships and stronger weapons.
Alloy: The most uncommon material, used for building the largest ships such as the Cruisers. It's also required for developing some of the most advanced techs in the game.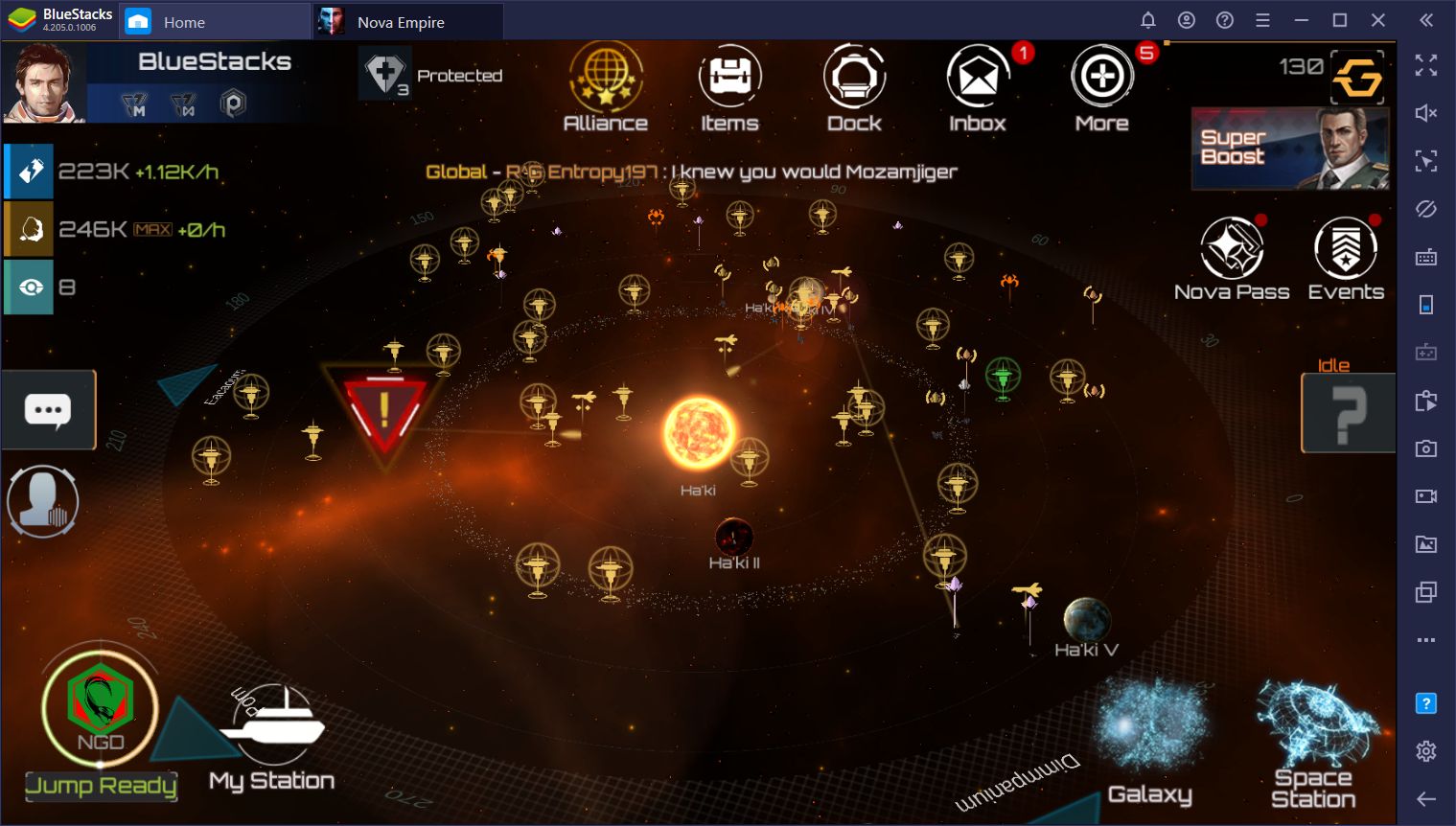 With the exception of Alloy, these materials can be farmed by scanning planets and from fighting pirates in space. They can also be found in ship debris after destroying enemies on the system map. Energy and Minerals, however, can also be produced in your space station through the Energy Plant and the Workshop buildings, respectively. The latter, in particular, is quite important as you will need tons of it throughout the entire game.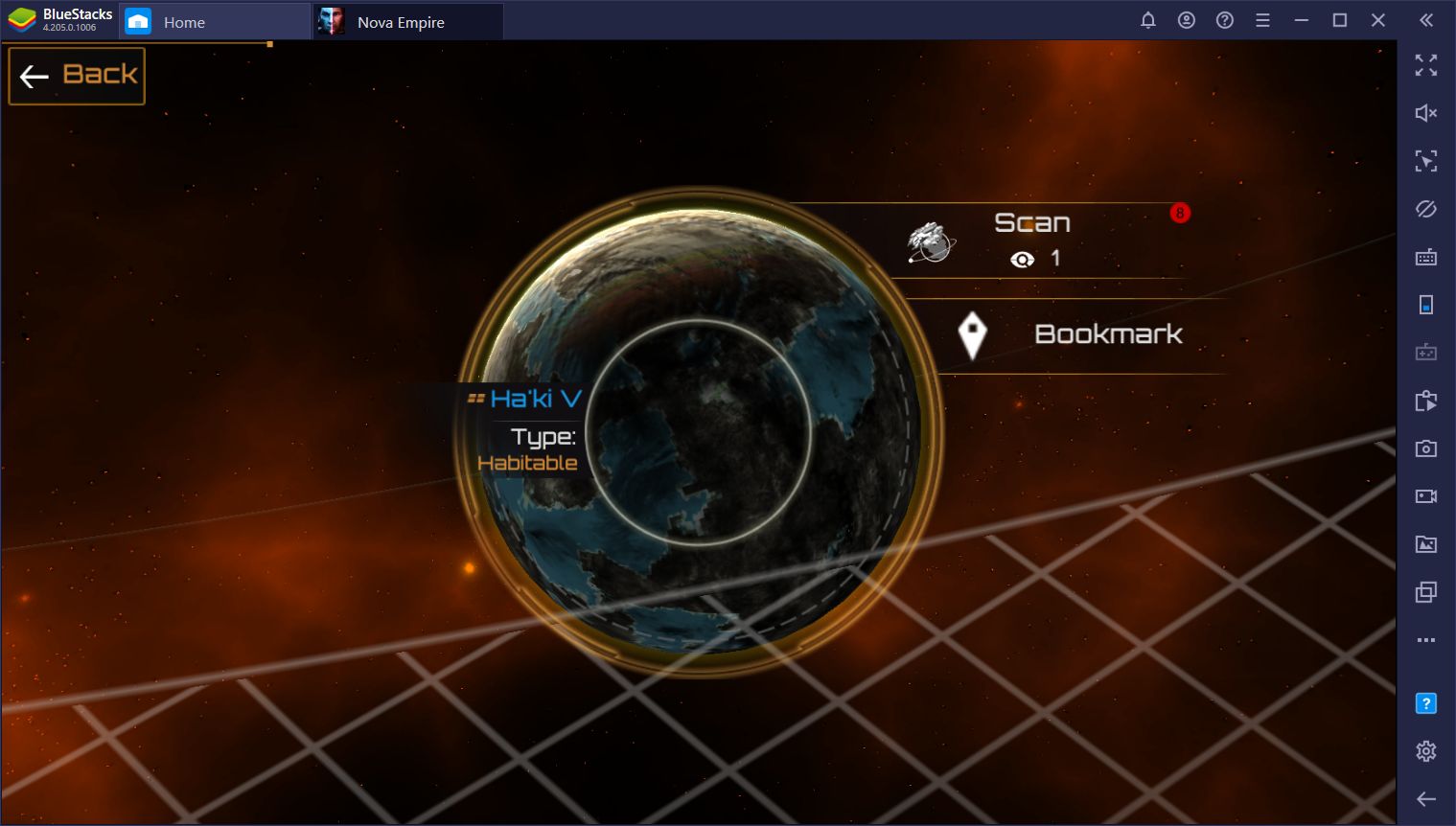 Alloy, on the other hand, can only be obtained from boxes, by killing the strongest pirates out there, and from your Trading Post once it reaches level 16.
Your Space Station
Your main base of operations during your adventures through the galaxy. Your space station is modular and has many different slots where you can construct additional buildings for specific purposes. As you upgrade your station core, you will gain access to additional modules with slots for advanced buildings. Furthermore, this is the place where you will research technologies, recruit new admirals, build more ships, and basically dominate the galaxy.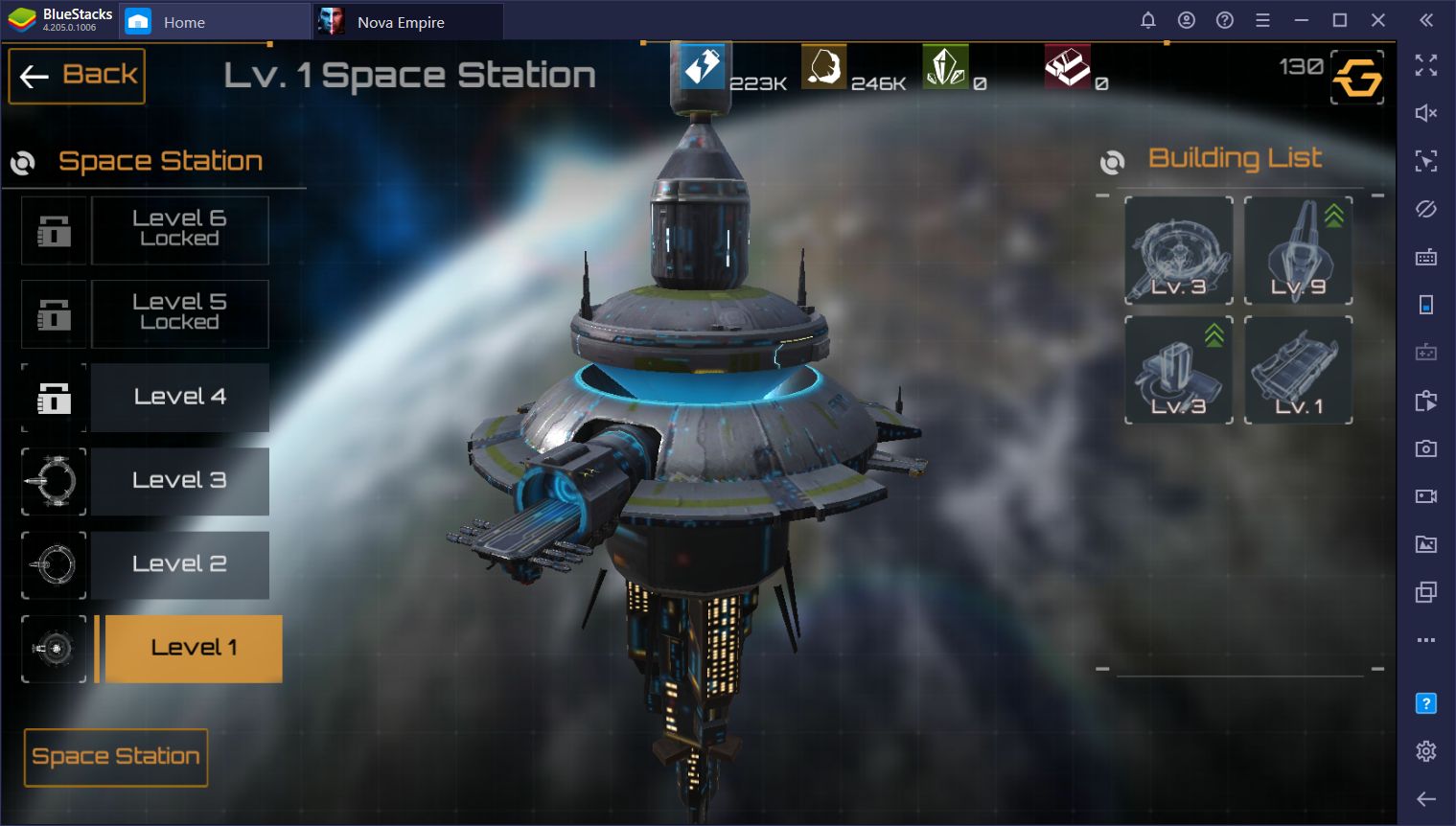 However, you will need tons of resources, as well as a constant supply of energy to keep your space station running. In this sense, while constructing buildings and researching upgrades is crucial, you will have to secure an adequate supply chain of resources to keep everything flowing smoothly.
Exploring the Galaxy
Farming and gathering in Nova Empire are a bit different than in other games. While you can produce Energy and Minerals from your base, you will need to actively gather the other two once you start requiring them for other projects.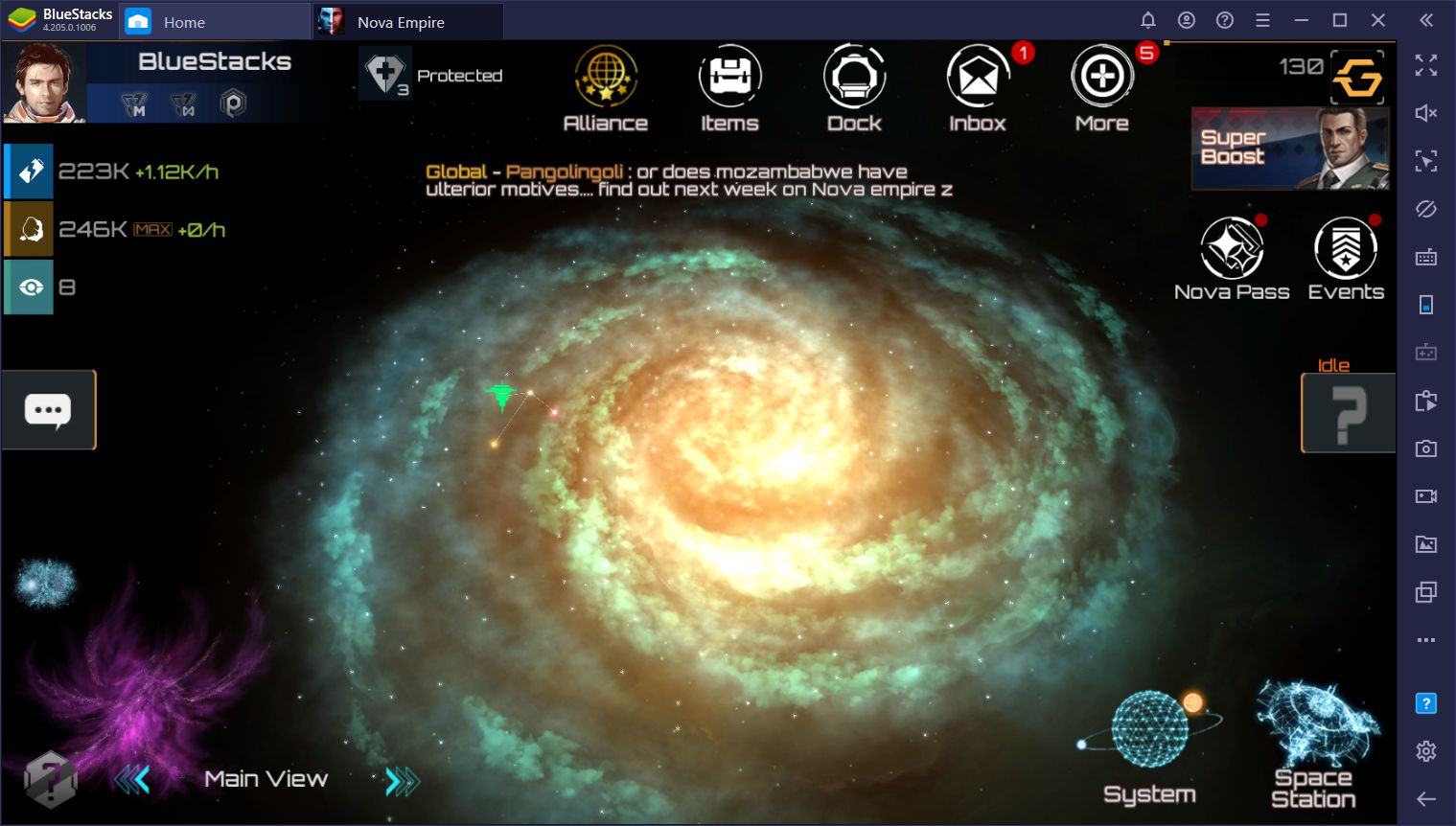 The first way in which you can earn special materials in this game is simply by exploring the galaxy. By scanning planets, attacking pirates, and looting debris, you will be able to retrieve a little bit of the four main materials. Moreover, by sending out worker ships to any of the resource deposits strewn throughout the system, you can gather lots of specific materials, which will be your main method of farming minerals early on in the game.
However, you're not limited to the deposits and planet in your current system as your space station can freely jump to other systems. While this move has a cooldown period and will leave you open to attackers after moving away from your home system, it's a good option for when you want to move for any reason. If you're joining an alliance, there's a good chance that you will be asked to move to their system so that you can be closer to your comrades.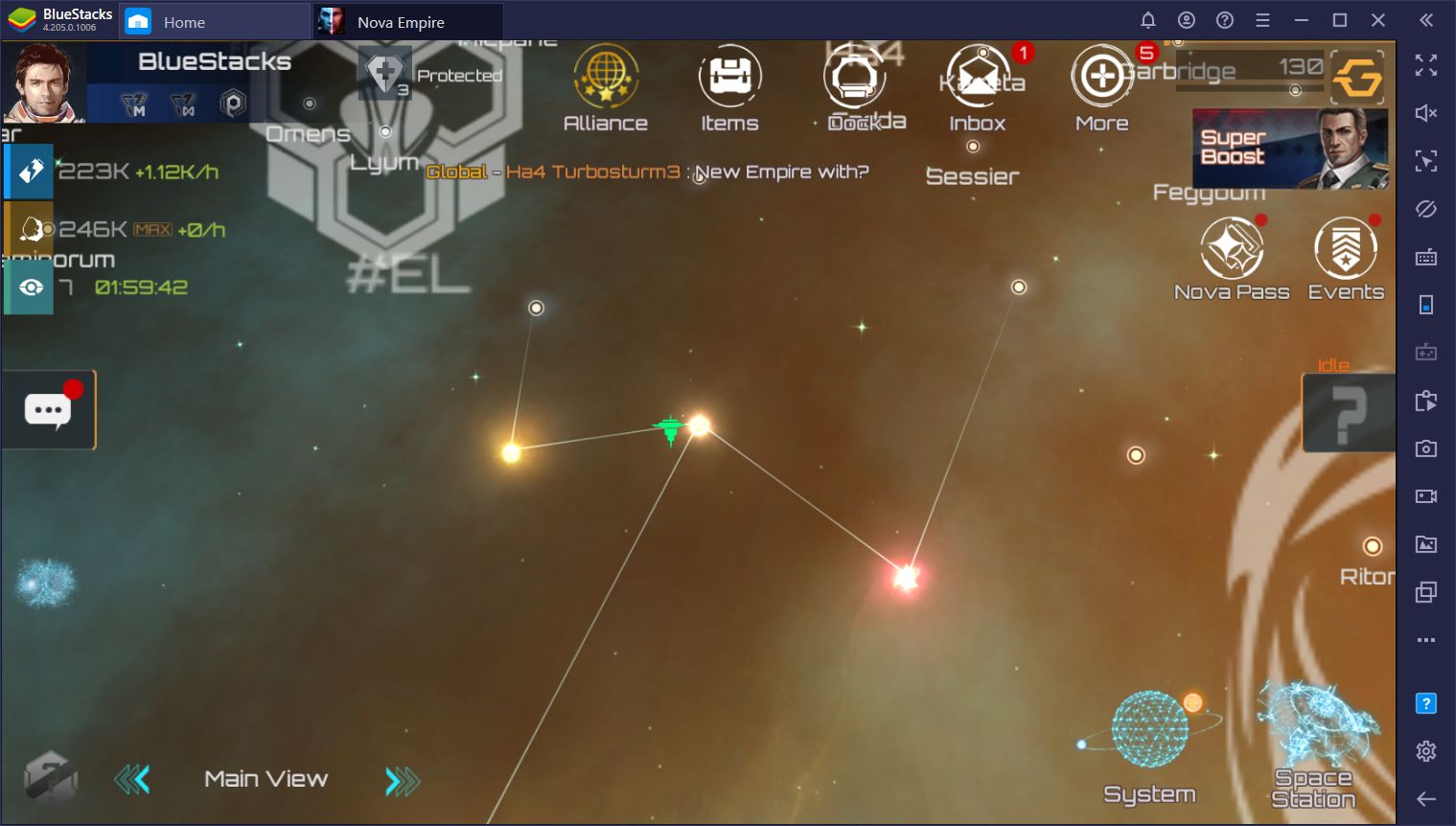 Your Fleets
All of your expeditions into outer space, whether for gathering or attacking, are performed by your fleets. These are the Nova Empire equivalent of march slots in other conquest games. You can only send out as many simultaneous expeditions as your fleet capacity allows. In the beginning, you're limited to only one fleet slot, though you can upgrade this by working on developing your space station, as well as by researching specific technologies.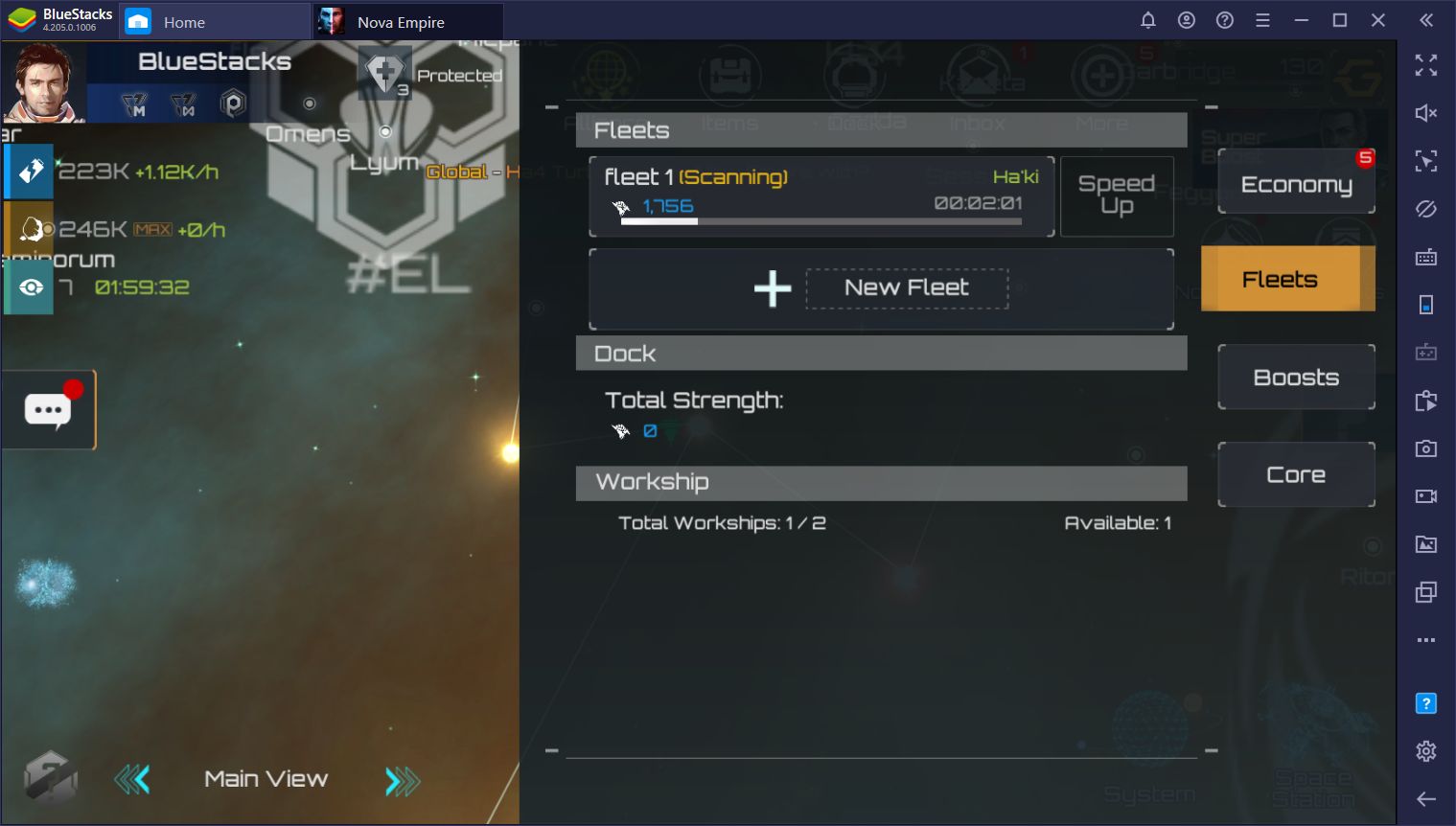 Every fleet is led by an admiral, which is the game's version of hero characters. These admirals can help in many ways, either by providing passive bonuses that increase the stats of your ships or by providing other types of bonuses such as increasing the fleet size, their damage, leadership, and damage reduction, among a few others. Admirals come in different rarities, with the rarer characters providing better bonuses. You can recruit these characters from the Naval Academy at a rate of one per day, though you will always have up to three different characters to choose from.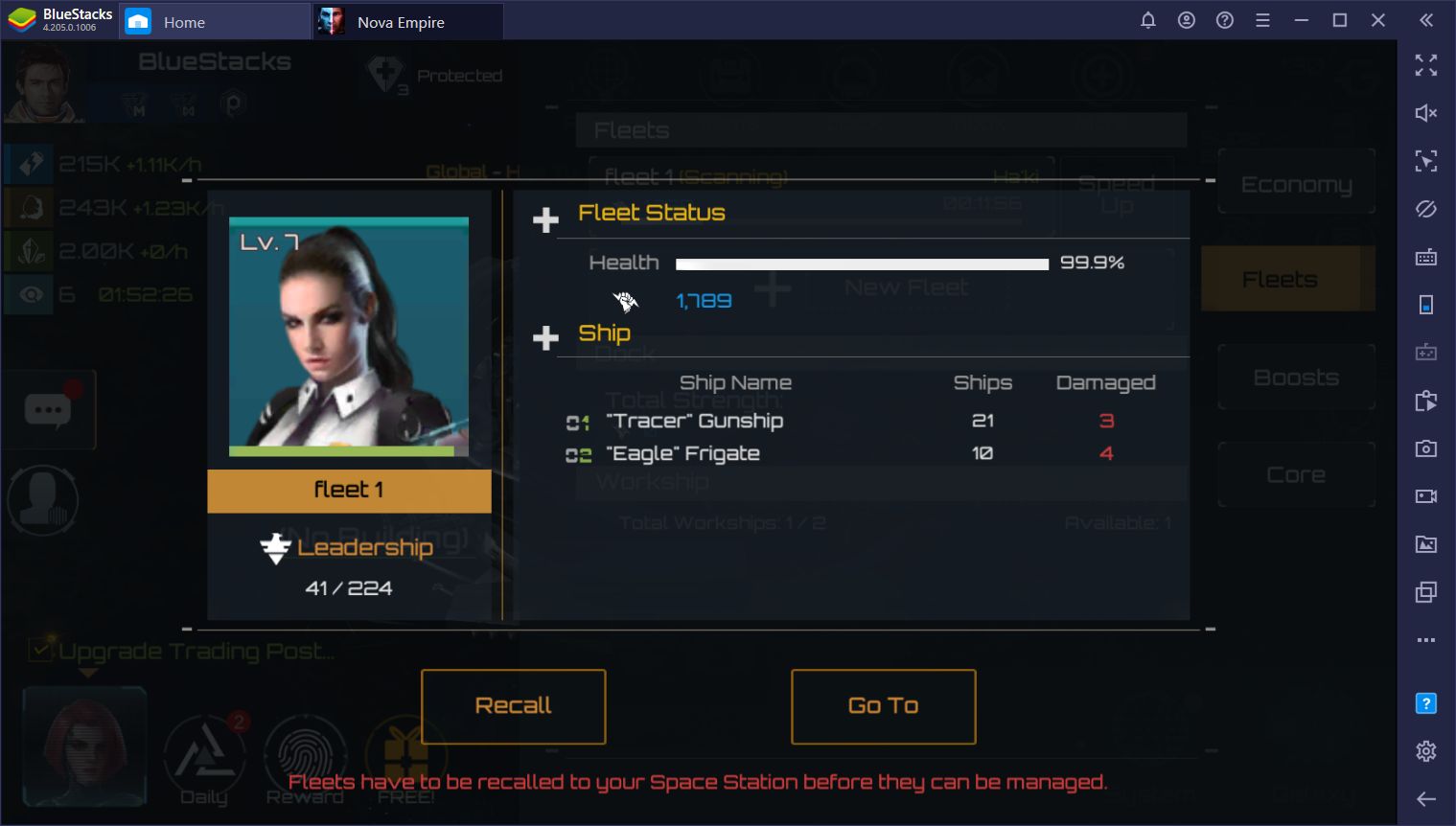 While Nova Empire is definitely a conquest game in most of its aspects, it's awesome setting and presentation make it feel like an entirely different game altogether. However, it's not very beginner-friendly since its tutorial is somewhat lackluster. Luckily, with this beginner's guide, you're set to get started in your journey for galactic domination!