Game Guides
Operation: New Earth on PC– The First Line of Defense Against Aliens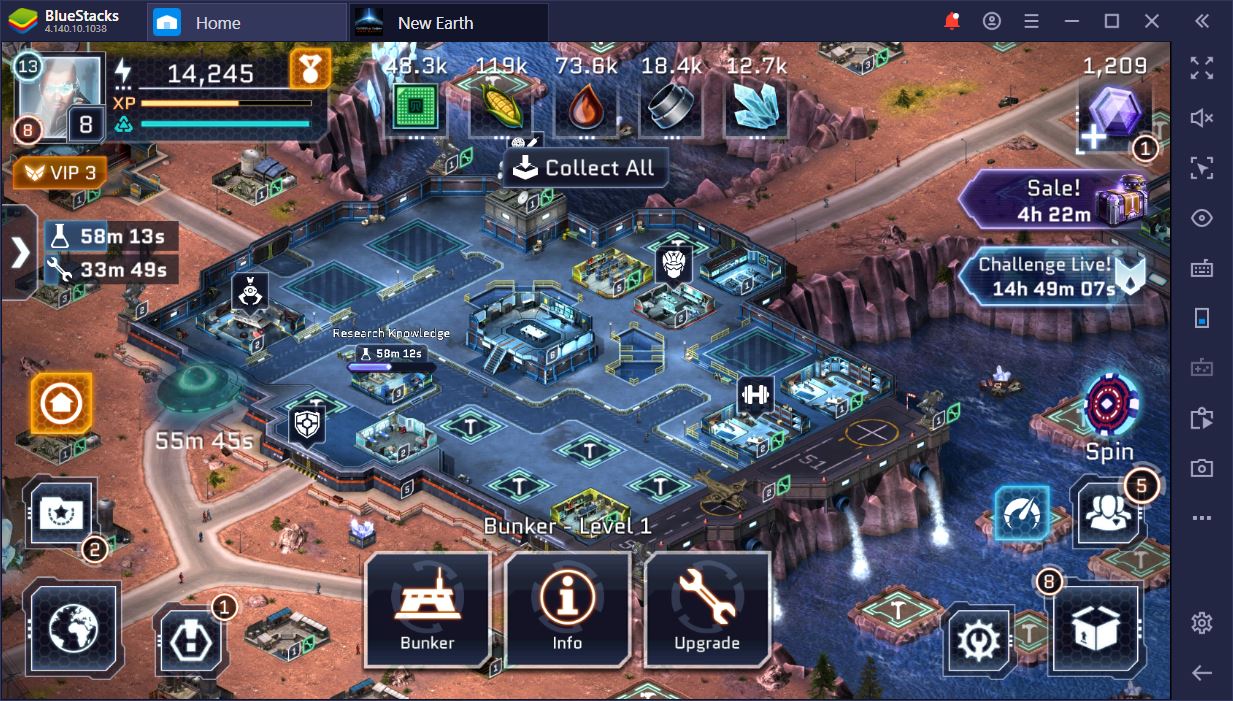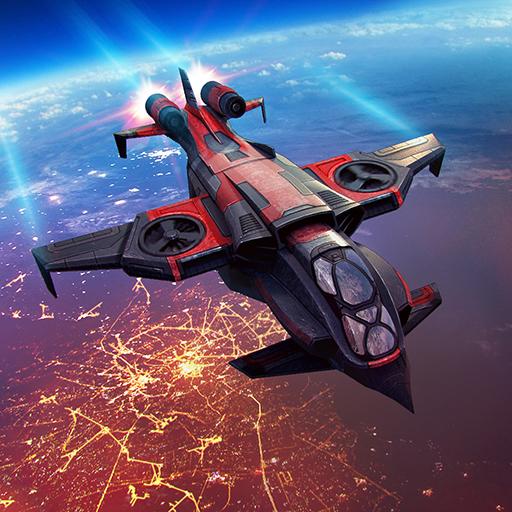 A mobile strategy game where you get to fight off Alien invaders? Yes, please. As we mentioned in our Operation: New Earth game review, the setting of this game universe is incredibly promising. The mechanics and graphics are just as inviting, while, admittedly, other aspects of this MMORTS are less enticing. Sometimes, you have to make due with what's around. After all, one can't possibly choose when they invaded by an alien race.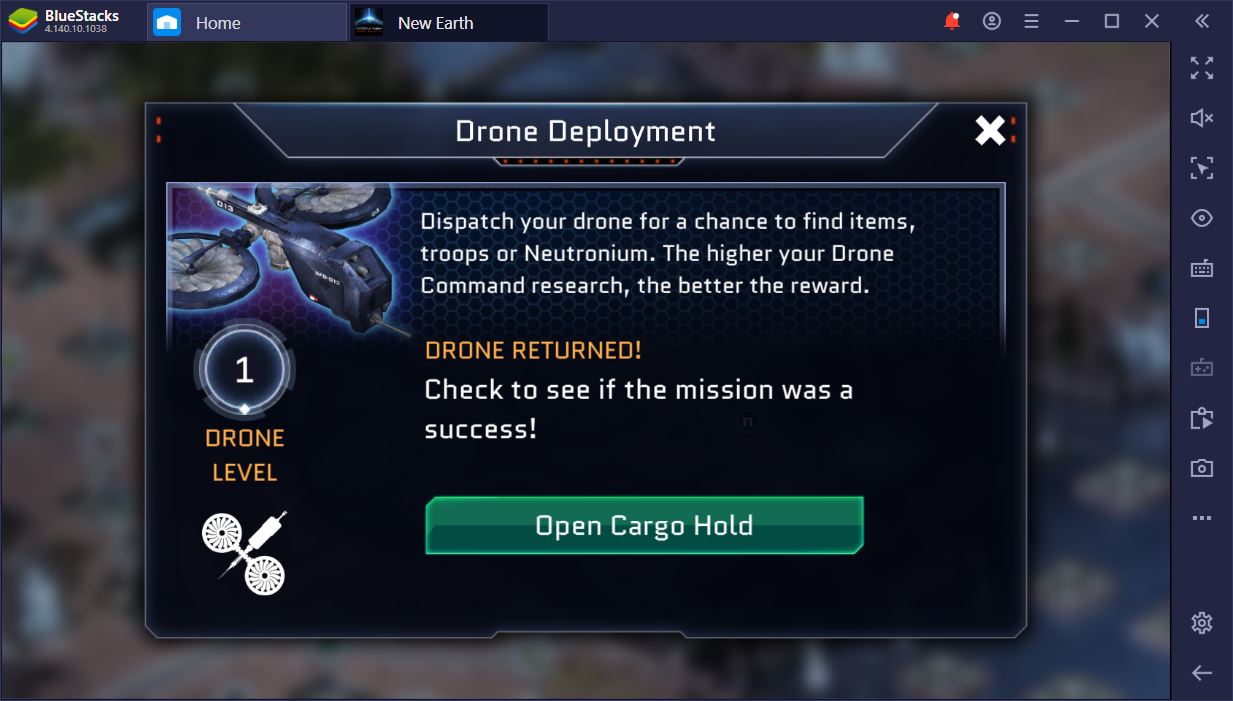 In ONE, knowledge is power. The more you know about yourself and your opponent(s), the greater your odds of being successful against competing factions, as well as when fighting NPC enemies. If "know thyself" is one of the greatest maxims of personal development, "know your enemy" is the cornerstone of intelligent warfare. To become a great general in Operation: New Earth, you need to master both dynamics.
Non-Player Character Enemies
Although Alien Activity won't actually attack you, these map events can spawn even in your locked territory. The more you play, the more annoying they get, because they can essentially give your opponents the chance to teleport in the gap left behind by these NPCs once they're dead. AAs range from level 1 to 9. The higher the level, the harder it will be for you to down them.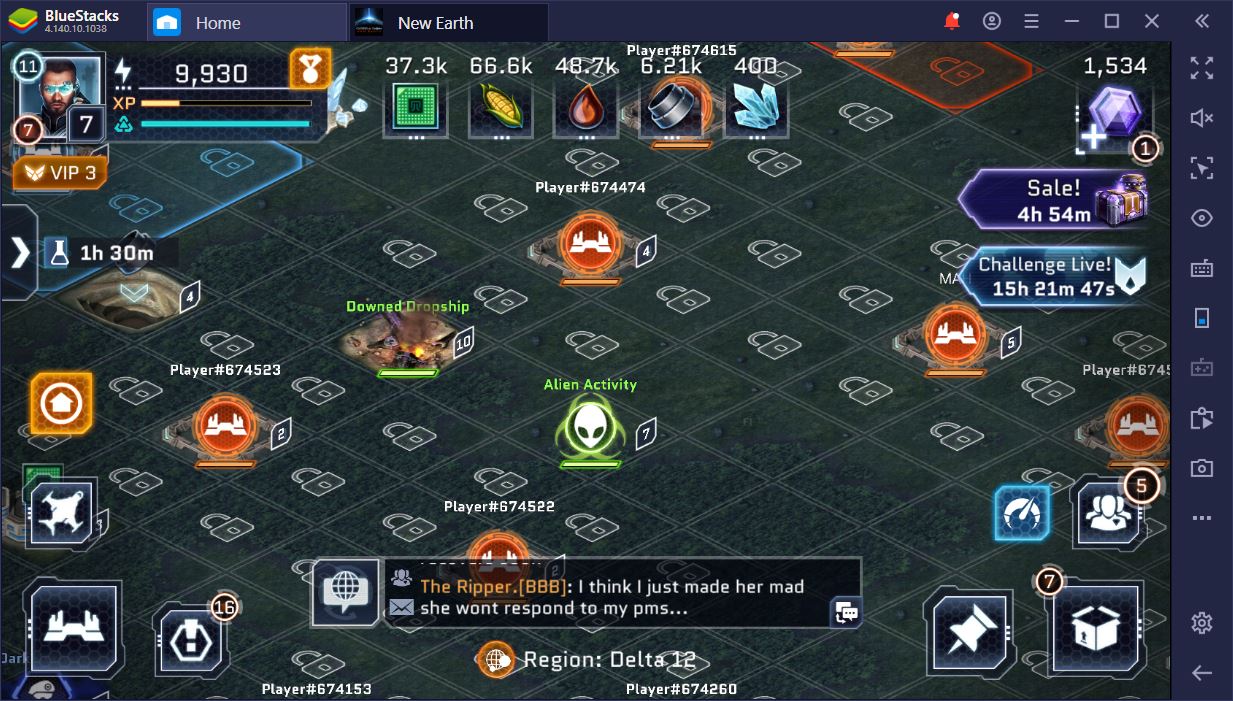 Starting with level 5, Alien Activity also gives out a shared cache that everyone in your Alliance can claim for a limited amount of time. If you defeat one, you'll enjoy goodies such as Alien Tech, Power Cores, Armor, and Data Disks. In addition, whenever there are in-game events, you'll see more Downed Dropships and Dark Activity nodes spawning around you. The first are quite difficult to defeat since they're basically the OP version of Alien Activity, so they can lie around for months without being challenged.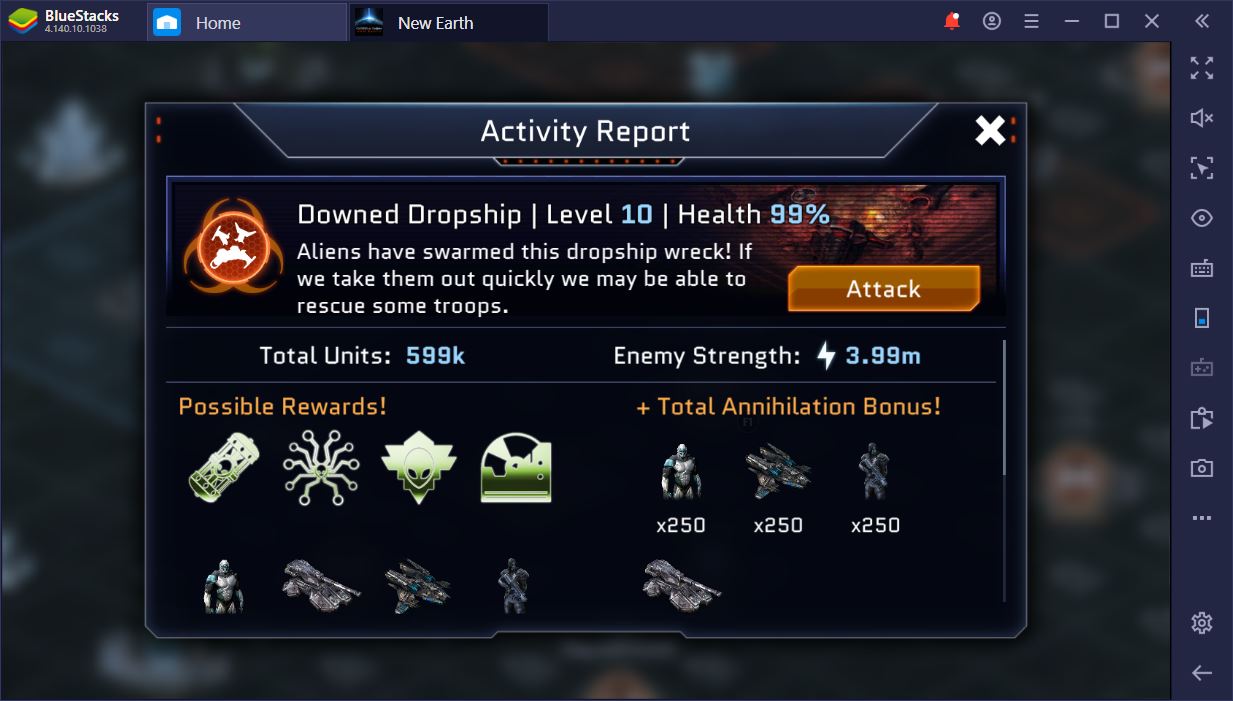 Dark Activity, on the other hand, can be approached given appropriate army strength. We wouldn't recommend you do them on your own, though. They'll easily be able to wipe out a small army. Your best bet is to wait and build the Situation room, for which you need your HQ to be level 10. We advise you to carefully weigh the strength of everything you want to attack before giving the order.
As a rule, make sure you're at least 2x to 3x stronger than your NPC adversary. Remember that the more people you can get to help you out, the better.
Play to Your Strengths
In our guide to playing Operation: New Earth on PC with BlueStacks, we talked a bit about how you can use this emulator to grow your base much, much faster than you would on a mobile device. However, before you consider taking over the deserted new world, you should first get to know your buildings, resources, and troops.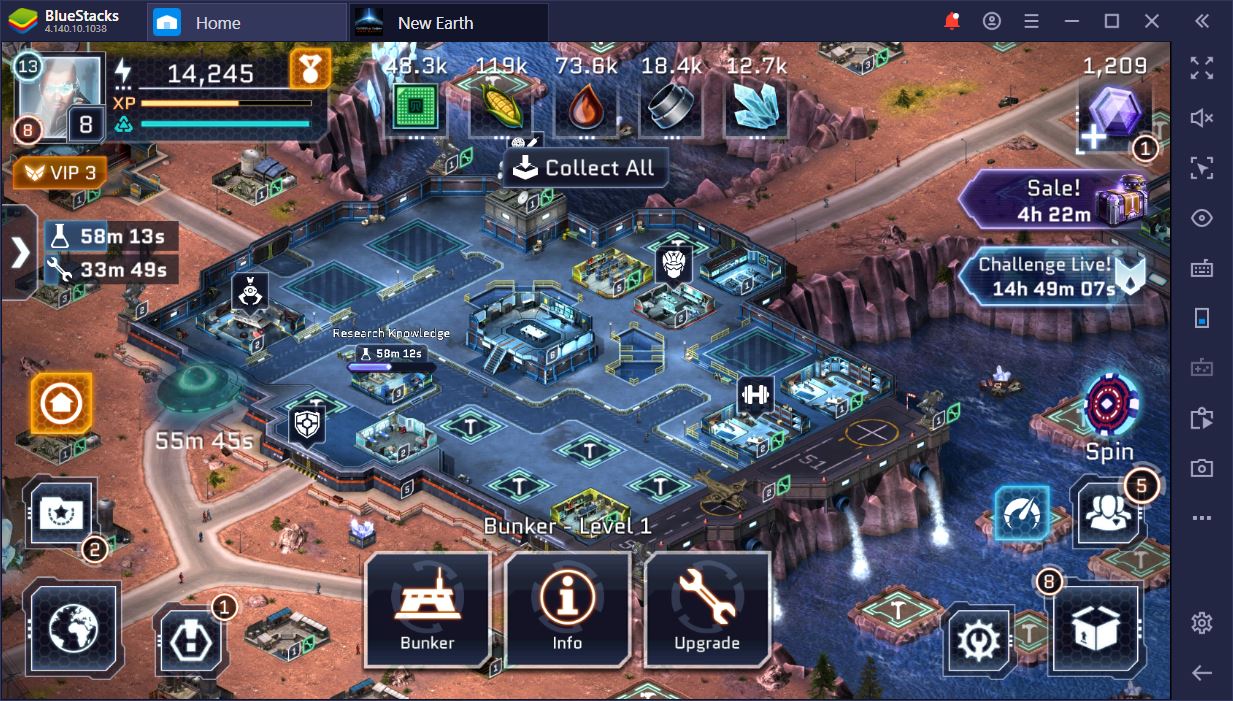 The Resource Nest
You have 4 types of farmable resources in ONE: alloy, oil, food, and tech. There's also neutronium, but you can't really farm it in the same way as the others. Each of these materials has its own building that produces it. Ideally, you want to rush the Alloy Refinery and Oil Rig to max level as soon as possible, with the others following closely behind. If you're following our guide to growing your HQ, you don't need to prioritize them that much. The Engineering bay should also be included here, since it increases your Outpost's Neutronium production.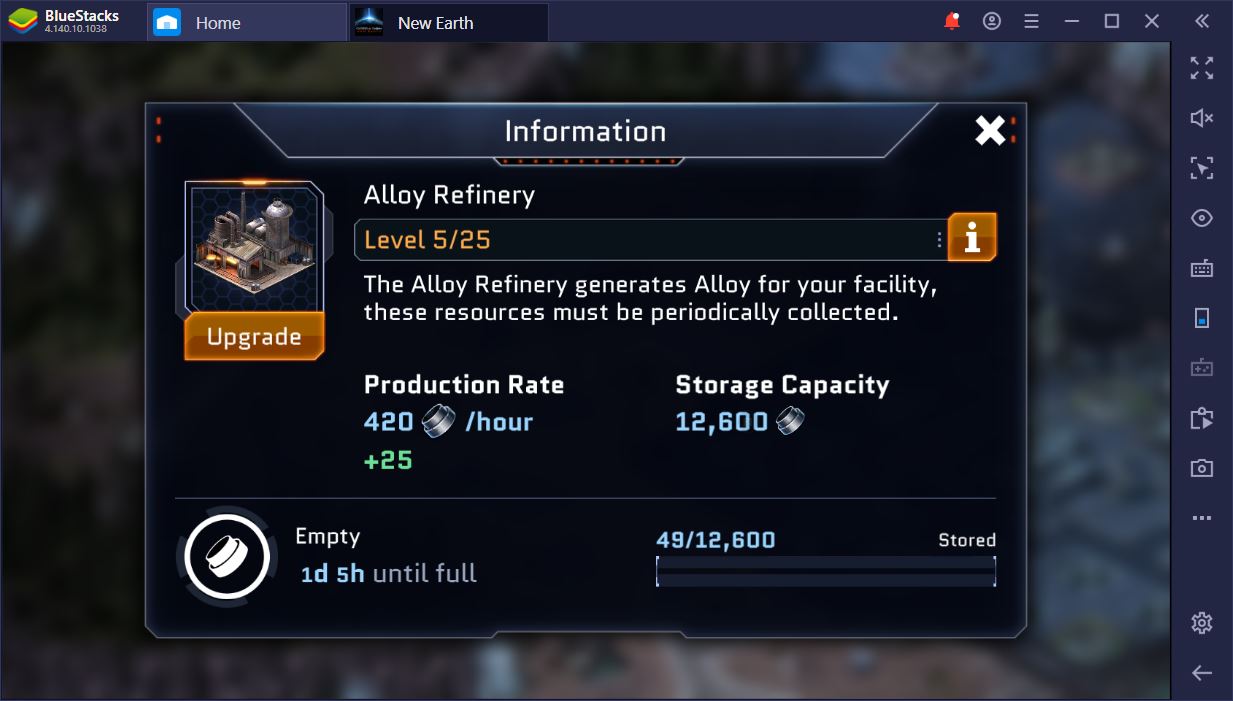 The Cooperation Structures
There are three buildings in this game that let you interact with other players. The Global Network can be used to trade resources with allies in exchange for a small tax (which can be lowered with the help of research), while the Security Station makes it possible for you to send and receive backup armies in case of an attack. The higher its level, the stronger the reinforcement, the bigger the upset when your opponents are crushed.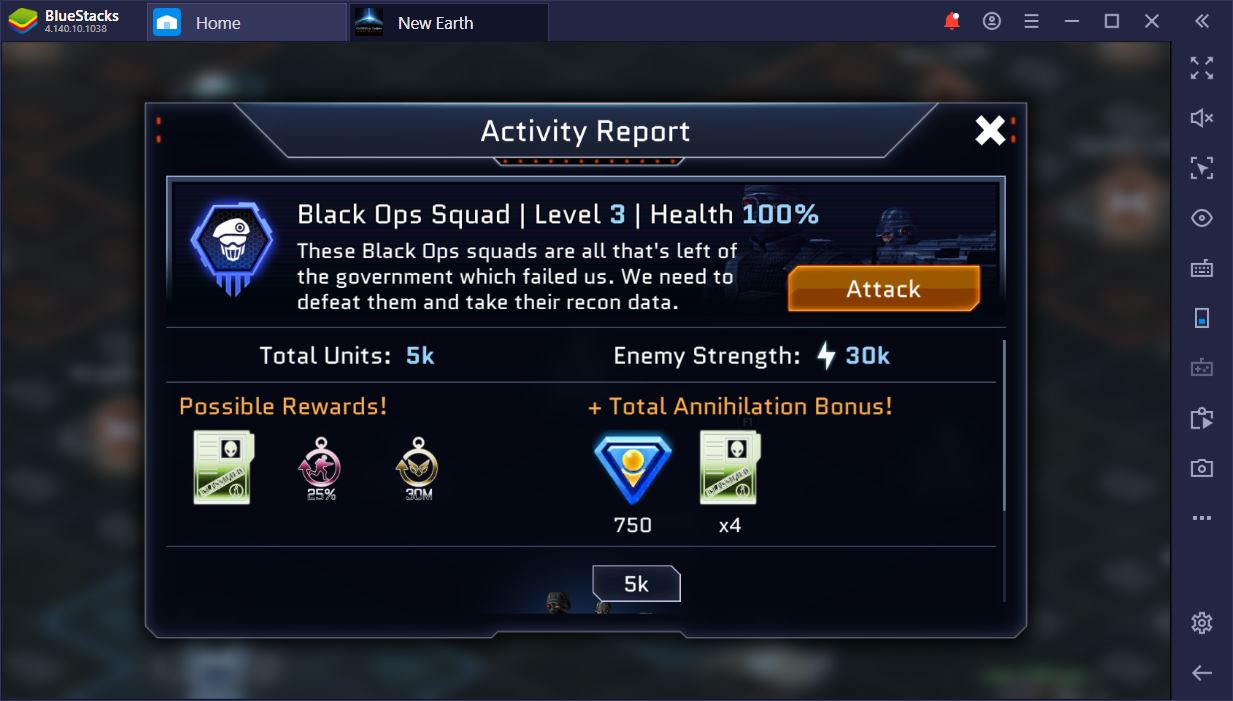 The Situation Room is a mechanic of its own. If you want to set up large, coordinated attacks against other players, this is where you can synchronize them. When dropships offer too little power to defeat the late-gamers, rallies give everyone in the alliance a chance to pitch in with some army. To upgrade the Situation Room, you'll need Classified Documents that drop from successfully attacking and defeating Dark Activity NPCs.
Army Production
You can recruit and upgrade troops in the Factory (for vehicles) and Barracks (for infantry), while the Wall makes it possible for you to increase your defense in case of an attack. To ensure that you get the most value from your army, your Medical Bay should always be maxed out, since this is where your injured can be healed and become part of your force once more. It works well for both vehicles and people.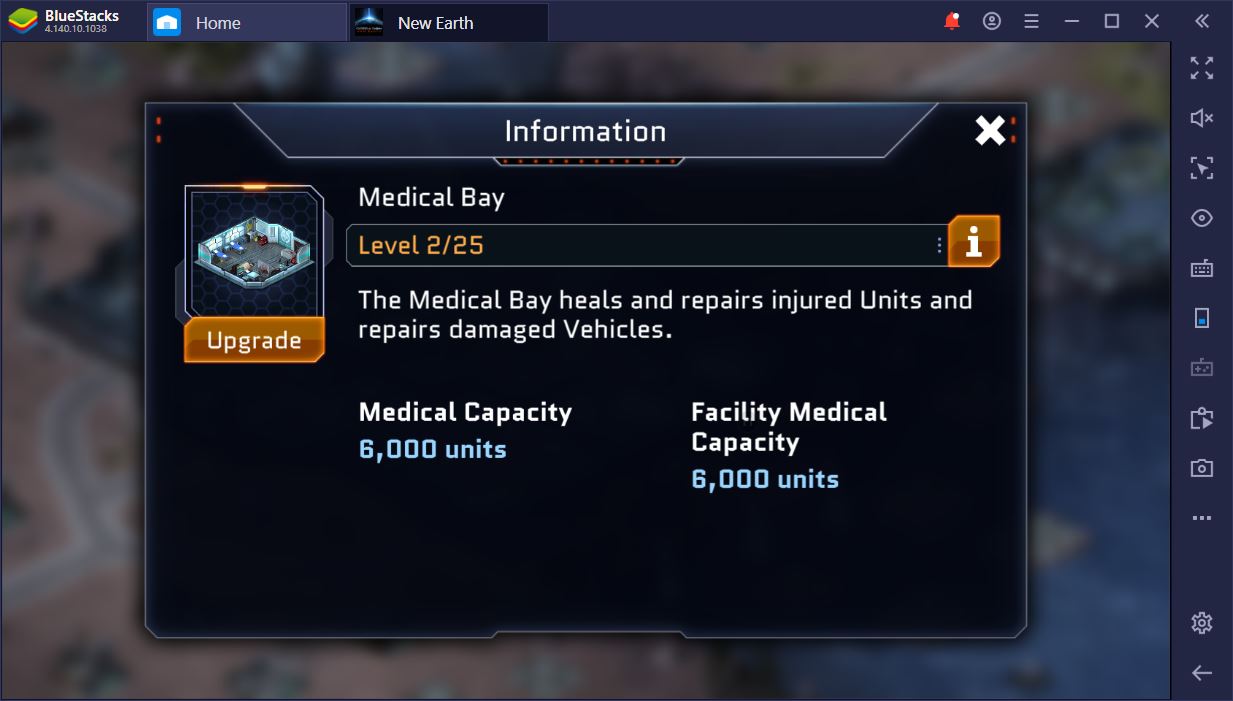 Defense Capacity
The Satellite Uplink will let you know if anybody's taking a closer look at your base or, indeed, sending army your way, while the Bunker makes it possible for you to safely hide troops. The latter, alongside your Turrets, can ensure that your enemy loses a lot of troops and power if you pay close attention to their attacks.
The Turrets need some men to be effective – so leave out 20 or so T1 infantry between each enemy attack to maximize their losses, while everything else is safely hidden in the bunker.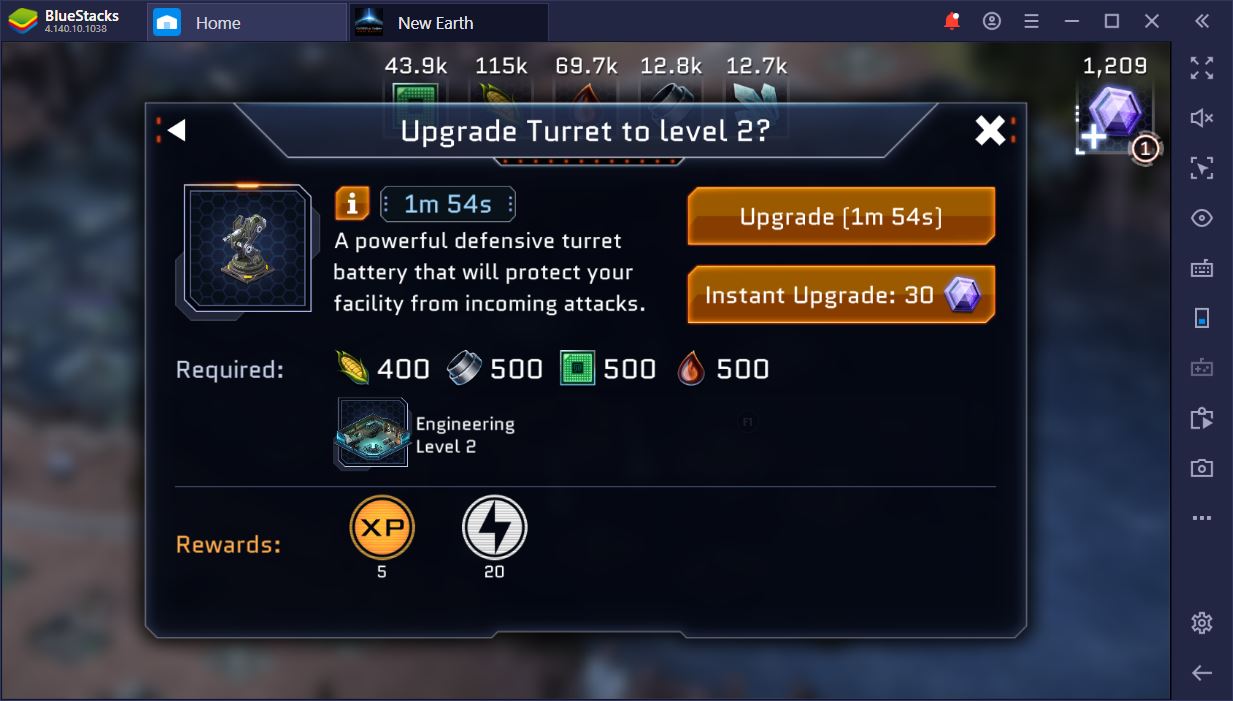 The Critical Buildings
Last, but definitely not least, there are four structures that are instrumental to your growth potential and strength. The first two are the Airstrip, which increases the number and size of the armies you can send out, and the Research Lab, which will significantly improve your progression given the right strategy. The next two are your Headquarters and the Command Post.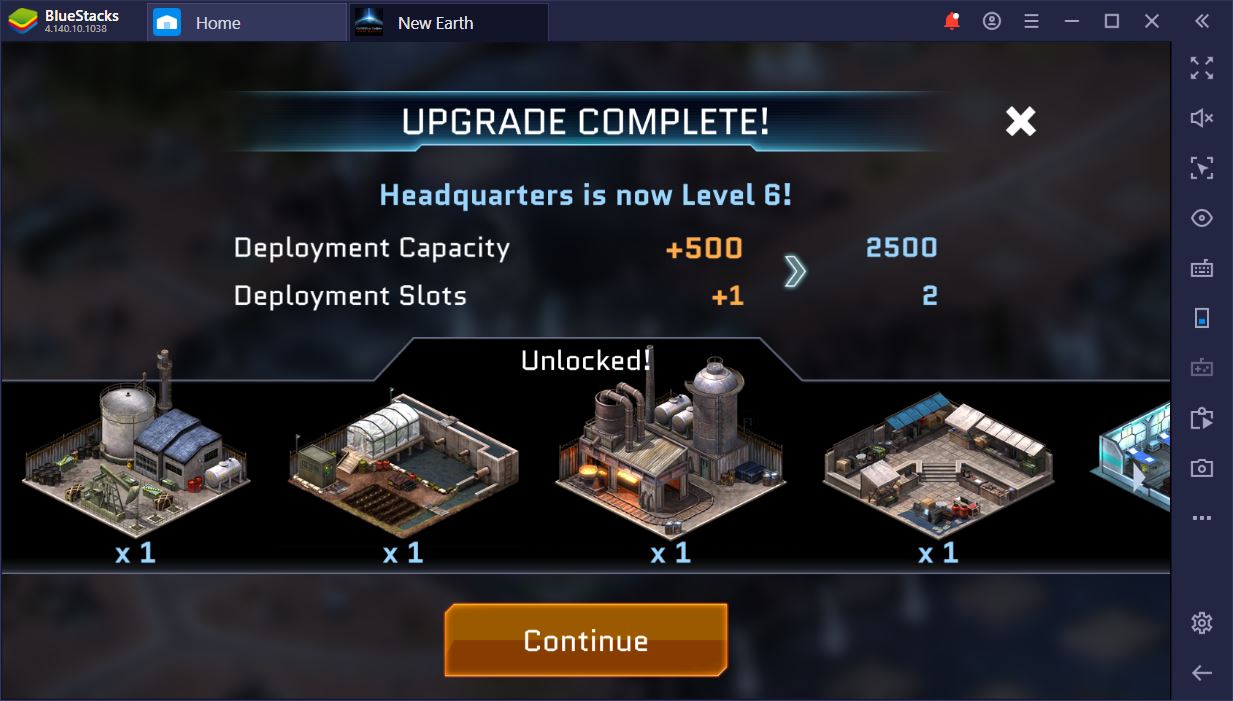 We left the most important ones for last, since the HQ is the central structure that determines how far the other ones can be upgraded. To ensure a steady progression, make sure that all other constructions are maxed out before triggering that lengthy HQ upgrade. The Command Post is essentially a HQ for your hero alone, since it gives you the possibility to gear them and assign their skills.
With this knowledge, you'll have an easier time developing your base, as well as assessing when and if you should engage an enemy. If you're also playing Operation: New Earth on PC, we'd love to hear which buildings you think are underrated and why in the comments section below.