Game Guides
Primitive Brothers: Endless Evolution on PC – Automate Your Progress with BlueStacks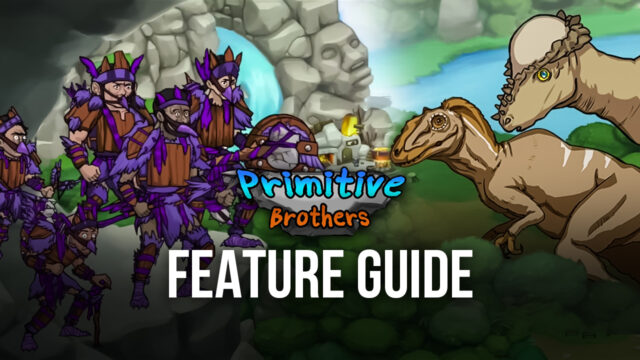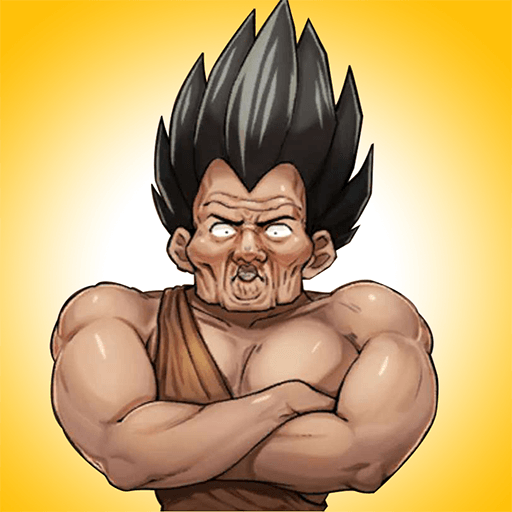 Clicker games are the quintessential gaming experience, encompassing the most basic aspects of the medium and turning it into entertaining and satisfactory experiences, especially as you get further into the games and see as your characters grow stronger and become much more effective. In other words, the premise of games like these boils down to one simple concept: "You click on the screen and things happen".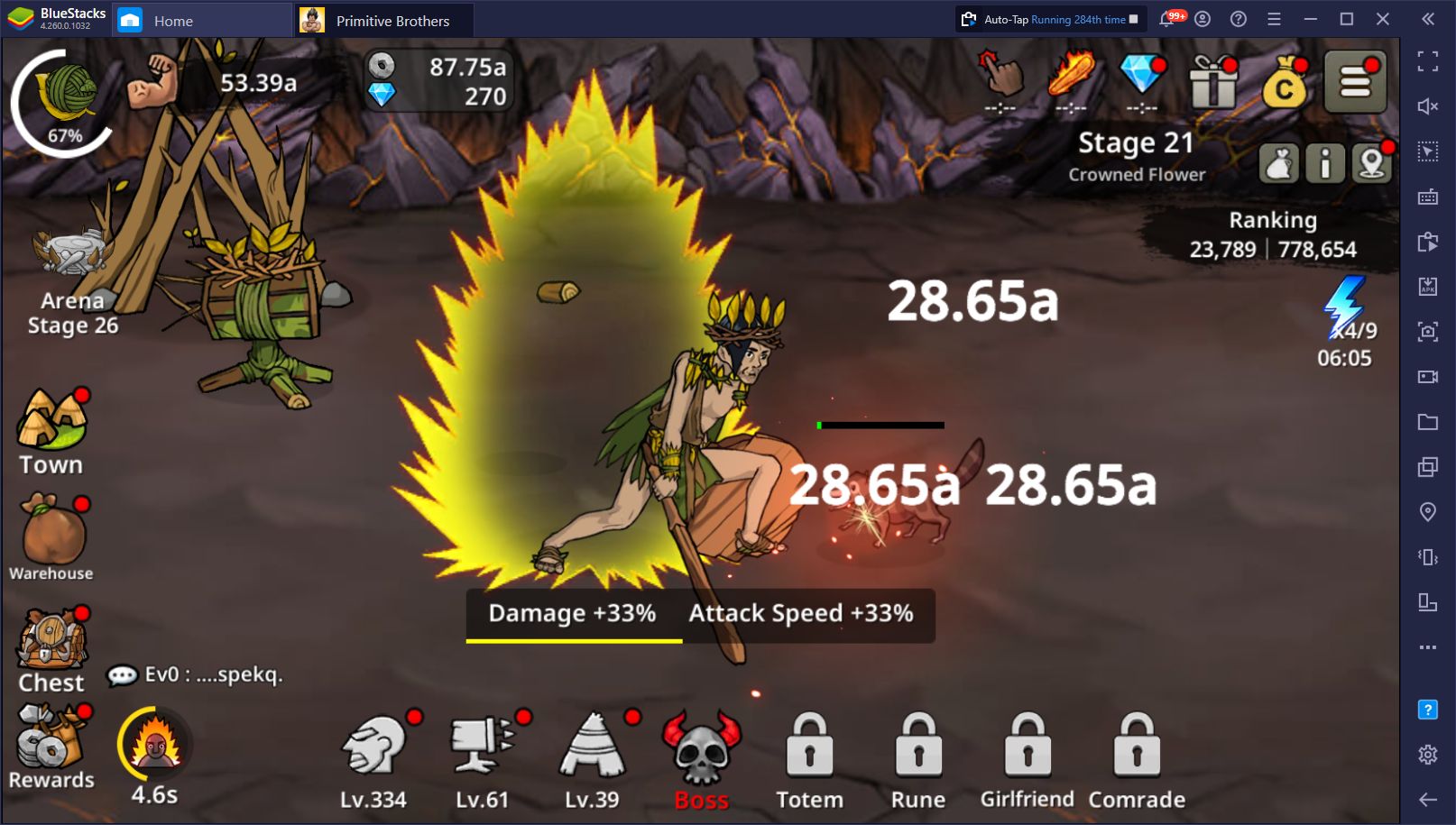 Primitive Brothers is the latest clicker game to grace the market, released a few weeks ago in December. This game sees you taking control of a person that crash lands on a mysterious island where the local fauna strips him of all his possessions, leaving him naked and penniless to survive in the wild. To do this, the man takes up a stick, the only weapon he could find, and starts enacting his revenge on the local wildlife, one click at a time.
The objective of Primitive Brothers is to defeat monsters by constantly clicking on the screen, and then take the resources they drop and use them to level up your character, as well as purchase a wide variety of upgrades. Every click is an attack that your character launches. Suffice to say, you'll be clicking a LOT in order to progress, which can get a bit cumbersome, especially if you're playing on your phone, since you won't be able to use it for anything else while you're tapping away at your screen.
Luckily, if you want to progress in this game, but don't feel like sinking countless hours into tapping on your phone screen, you can easily install Primitive Brothers on PC with BlueStacks, and click on using your mouse instead of endlessly tapping on your phone. And what's more, by playing on our emulator, you'll even get access to a variety of tools that can even help you to automate the gameplay, allowing you to continue using your PC while your character continues fighting and farming.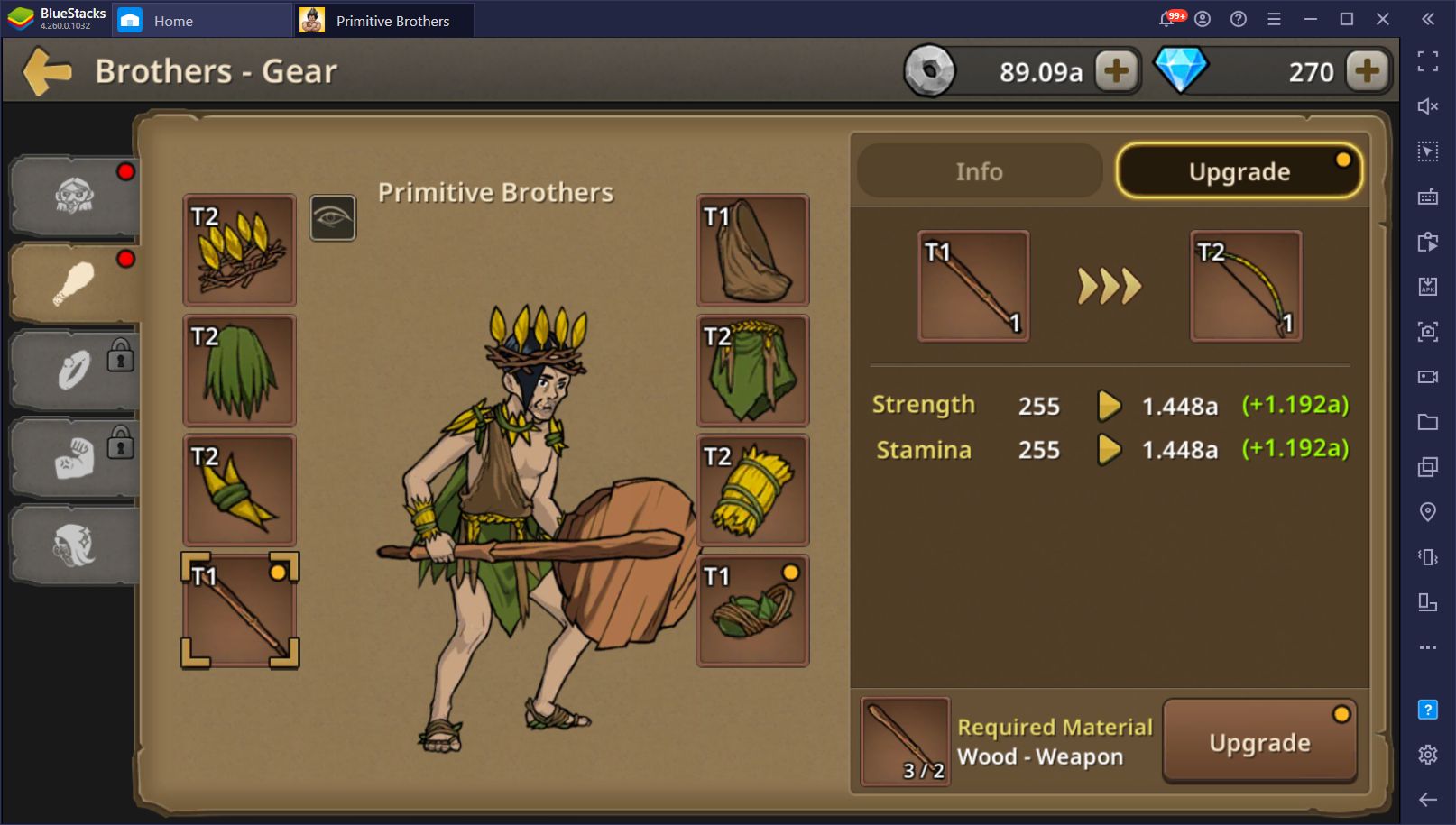 In this article, we're going to show you exactly how to use our BlueStacks tools to automate the gameplay in Primitive Brothers and take your farming to a whole new level. However, we recommend first taking a look at our BlueStacks setup guideto learn how to install and play this clicker game on your PC.
With that being said, let's start!
Turbo Boost Your Clicking With the Keymapping Tool
As we said a few moments ago, one click of your mouse in this game equates to one attack, and since the point is to simply grind as much as you can, you'll have to click nonstop. Luckily, if you're playing Primitive Brothers on PC with BlueStacks, you can use the Keymapping Tool and its many functions to significantly speed up this process.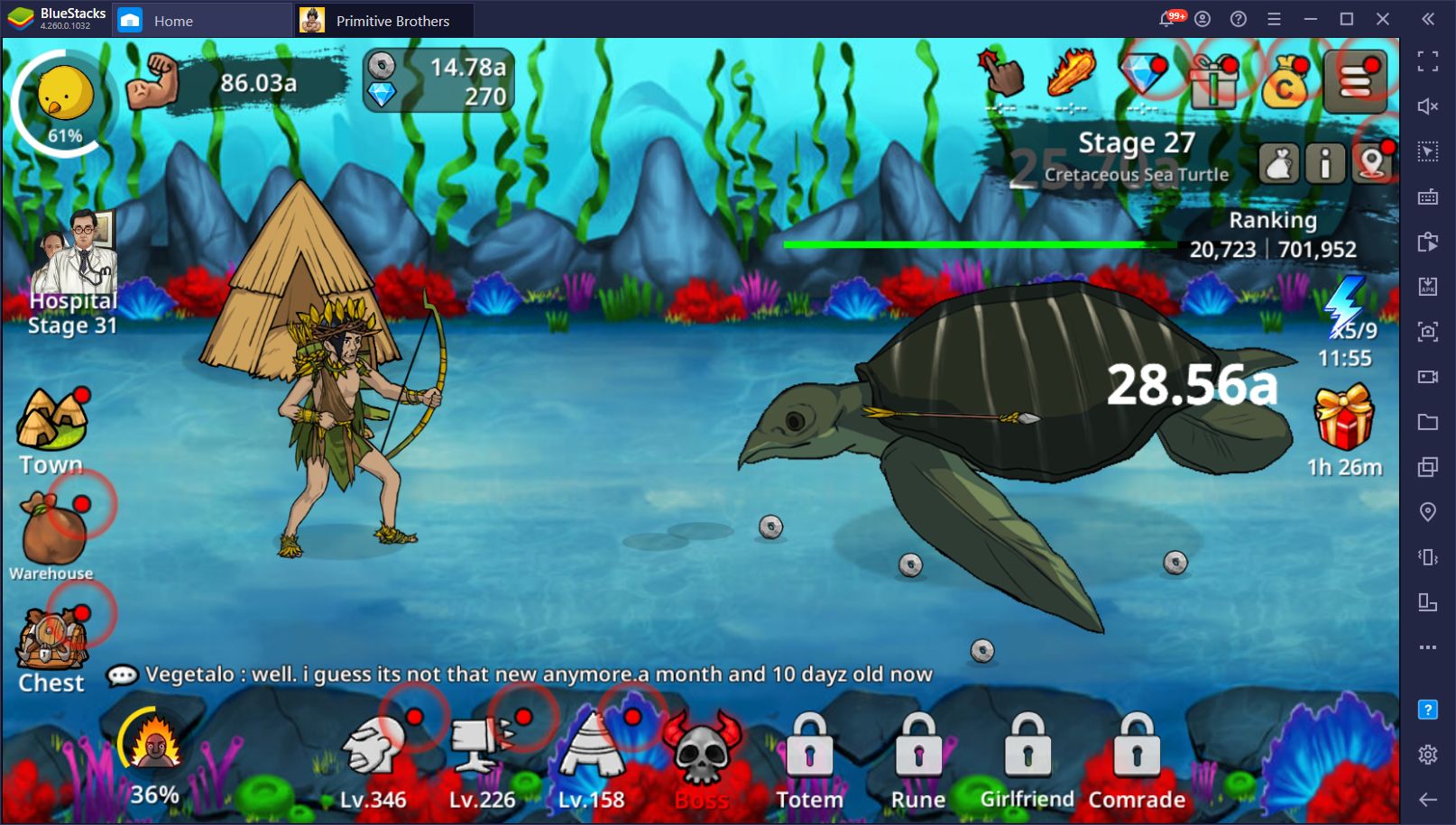 This tool allows you to create customizable control schemes for any mobile game, letting you control the action with your keyboard. For Primitive Brothers, however, we only care about one specific function of the Keymapping Tool: The Repeated Tap function. This aspect lets you click on a specific part of the screen repeatedly, by simply pressing a button once.
Are you seeing where we're going with this?
If you're playing Primitive Brothers on PC, you can place the Repeated Tap function anywhere on the screen, configure it to tap 20 times, and bind it to a button on your keyboard. Afterward, every time you press the corresponding button, your character will unleash a flurry of attacks.
From that point, you can simply press the button once every few seconds instead of mashing it relentlessly, and have your character attack faster than ever with nearly no effort.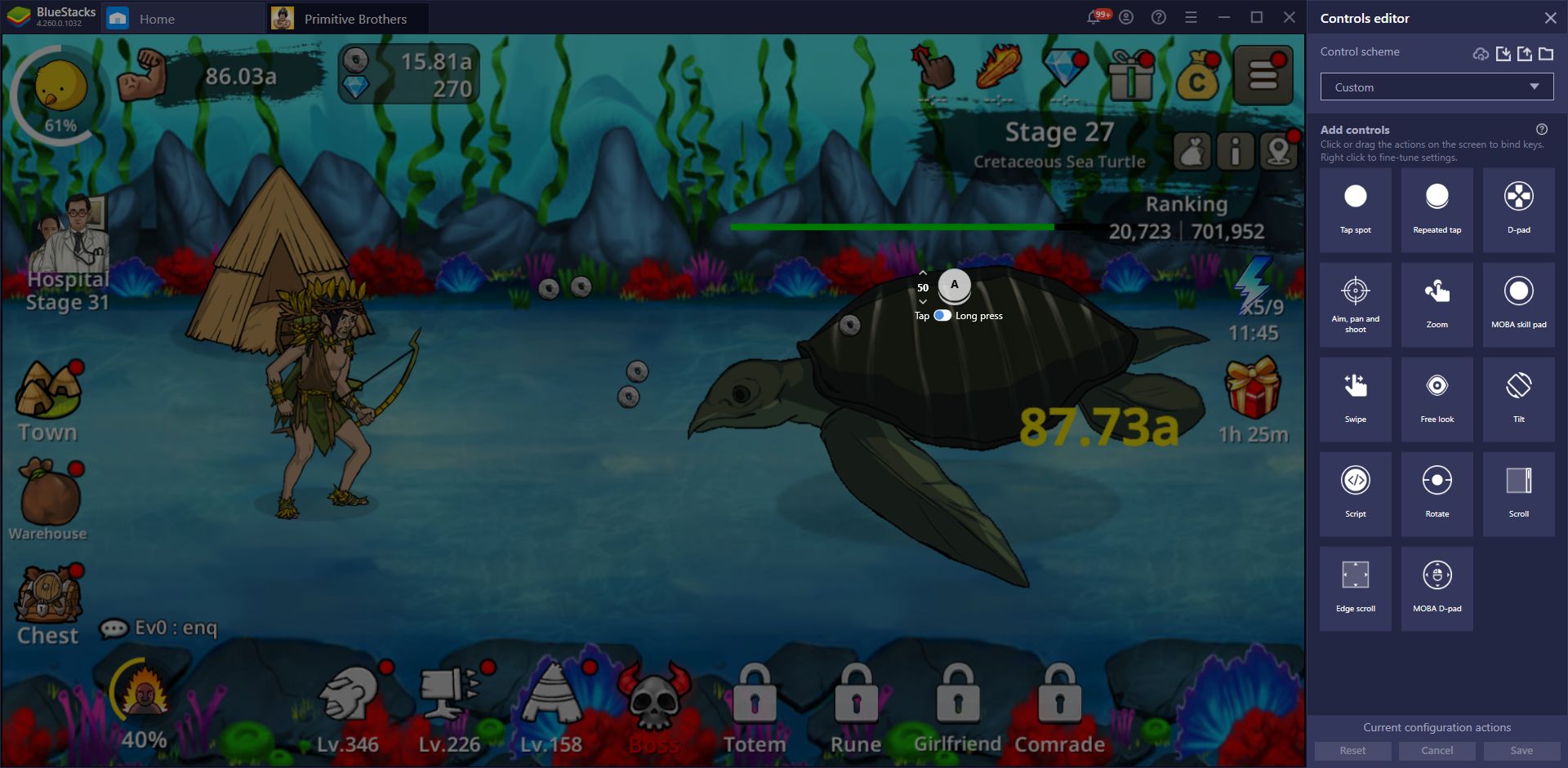 This tool is perfect for those who still want to play Primitive Brothers manually, but don't actually want to wear down their buttons with endless mashing. If you want to completely automate the game, however, then we're going to need to bring out the big guns…
Completely Automate the Grind With the Macro Recorder
Now, if you REALLY want to play with power, then you're definitely going to need the Macro Recorder. If you thought clicking 20 times in a second via the Keymapping Tool was useful enough, imagine if you didn't have to click at all, and still grind like a pro in Primitive Brothers—that's what the Macro Recorder is all about.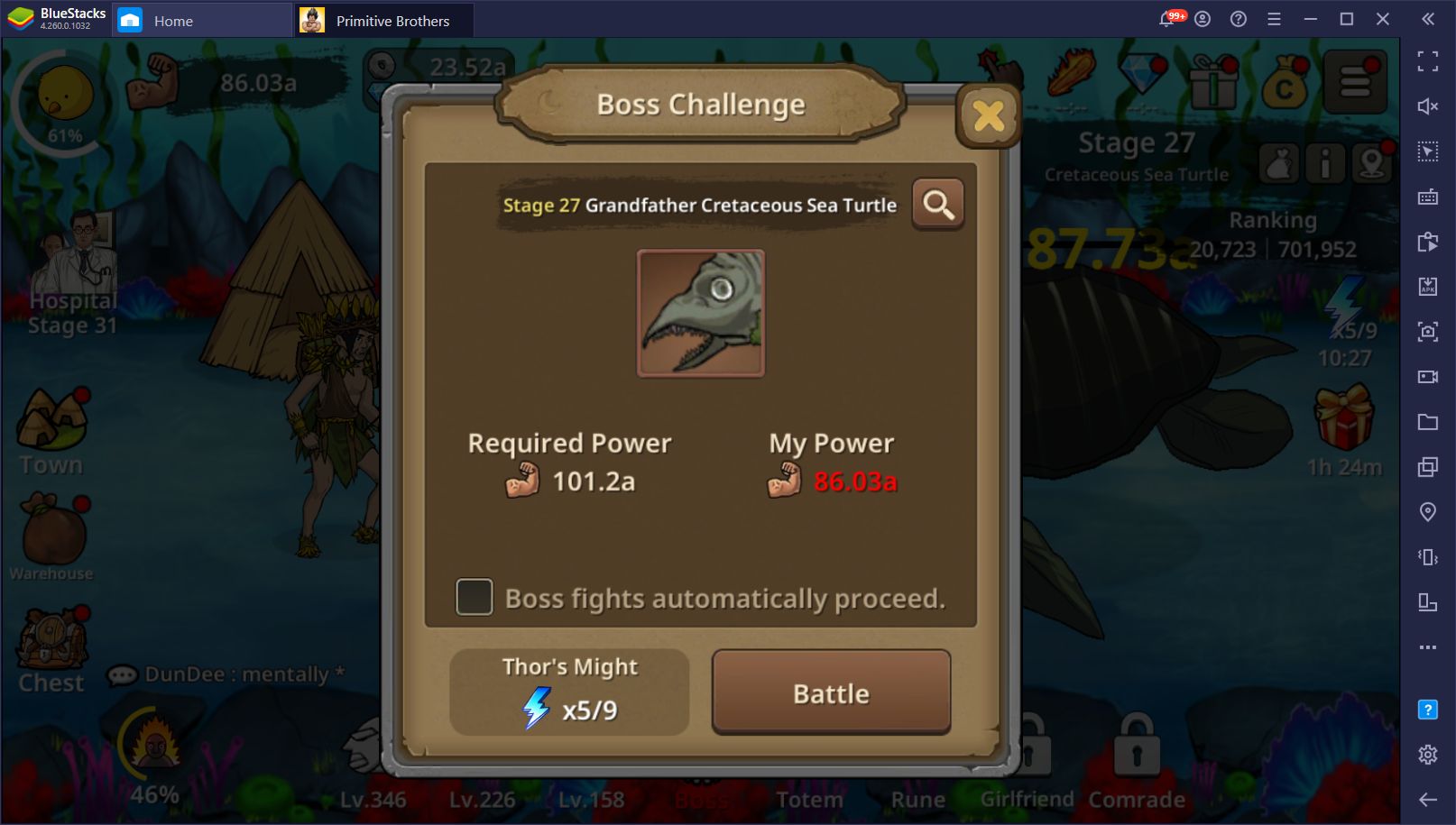 As its name suggests, this tool allows you to record yourself performing any kinds of actions, and then use the resulting macro to automate the process in any future attempts. In other words, you can record yourself clicking the screen a few times, and then use this macro to automate the clicking, with the press of a button.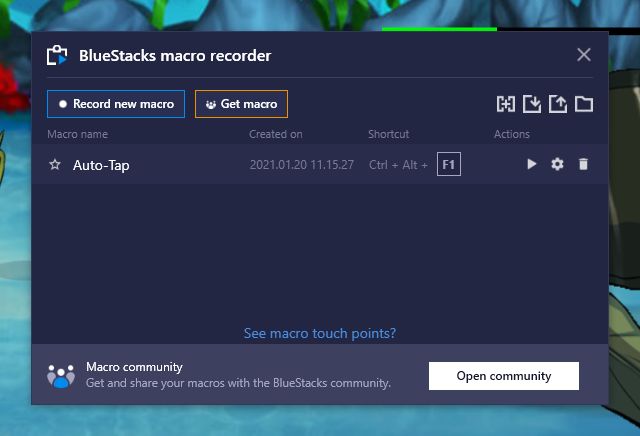 Sounds good, right? But here's the best part: You can configure your macros to loop infinitely until stopped, which means that, effectively, you can completely automate the main gameplay in Primitive Brothers. And all you need to do is record yourself clicking on the screen, configuring the macro so that it repeats indefinitely, and just sitting back while the game plays itself. These macros even work while the emulator is in the background, which means that you can continue using your PC while your character is grinding away. In fact, we're doing it right now as we're writing this article!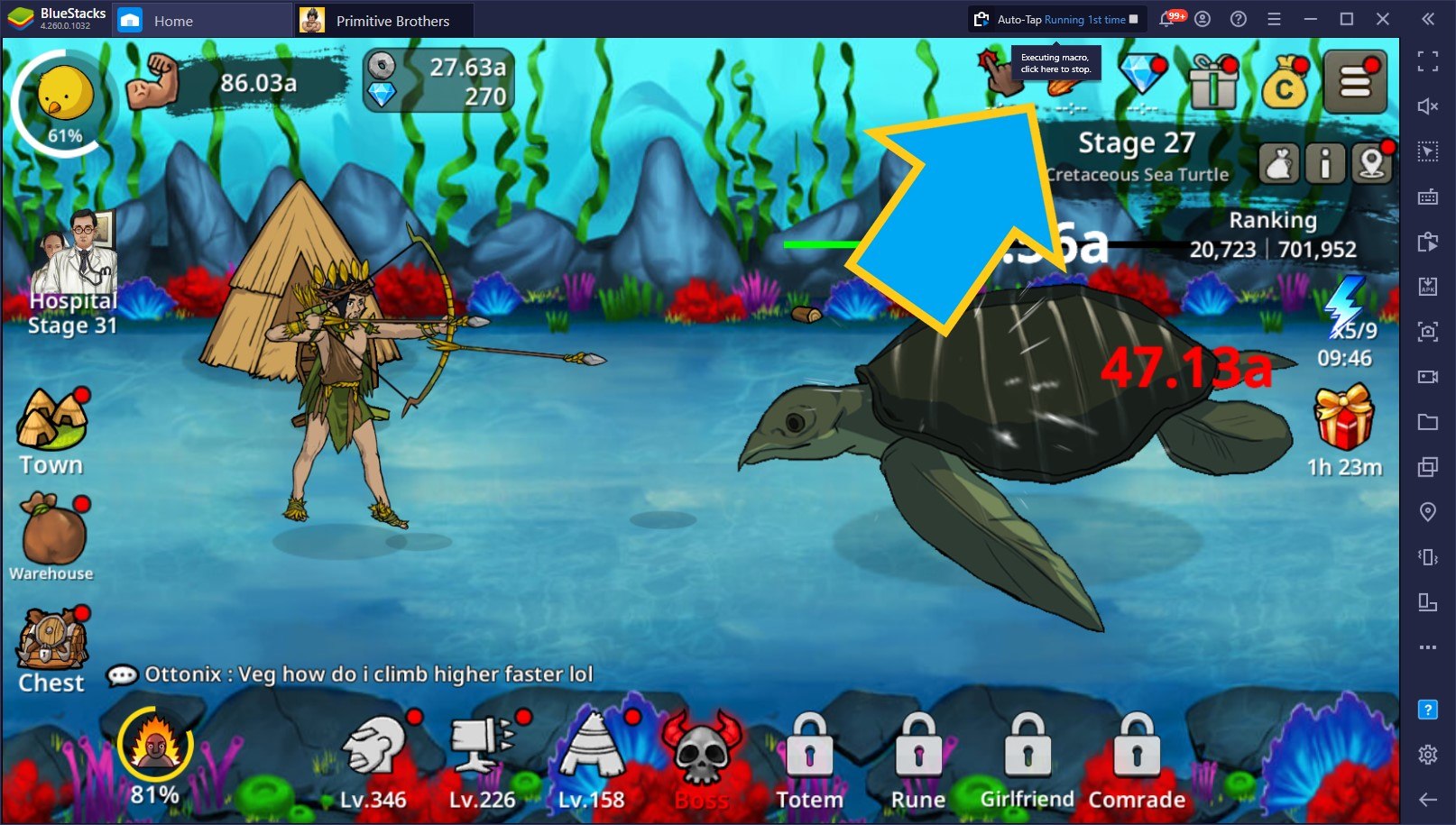 With the Macro Recorder and the Keymapping Tool, you really don't need anything else when it comes to progressing in Primitive Brothers. Just configure a Repeated Tap function, record a macro using it, and you're set. All that's left is to sit back and watch as your numbers climb to the skies.
Have you already tried playing Primitive Brothers on PC with BlueStacks? What did you think of our awesome tools for this clicker game? Feel free to leave us a comment in the section below if you have any thoughts or opinions!