Game Guides
Ragnarok Origin Class Guide – How to Choose the Best Class For Your Play Style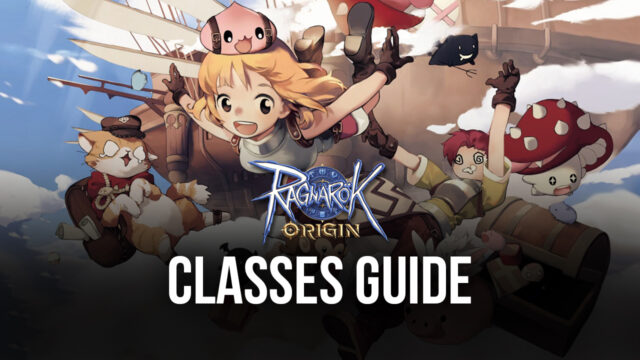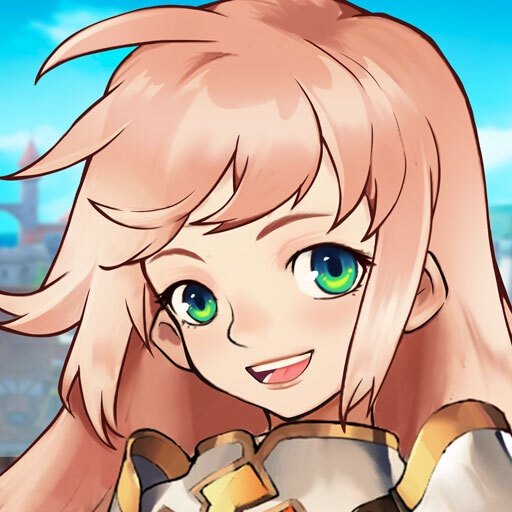 Ragnarok Online is a game known for offering many different and interesting mechanics to all its players, chief of which was the class and job system. In contrast with other games in the genre, players in RO start off as a base Adventurer class, instead of selecting their starter class when creating their character. Furthermore, after reaching level 10, they can decide which class to change into and then proceed into another, more specialized job later on. And since Ragnarok Origin is basically a mobile remake of the original game, the same very much applies here.
As is expected, while all players start off similarly and must play through the tutorial before changing classes, your choice of class will heavily influence your general play style, and potentially your enjoyment of the game. This is because classes in Ragnarok Origin are very distinct from one another, and each has something to offer to any group.
Those of you who are familiar with the original RO will already be acquainted with the classes in Ragnarok Origin, particularly since they are basically the same this time around. However, the newcomers to the game will quickly find that the class system is quite intricate, and knowing which one to choose can be challenging, especially if you're new to the genre. For this reason, we've decided to create a class guide for Ragnarok Origin, where we'll give a quick overview of every class and give our personal recommendations about each.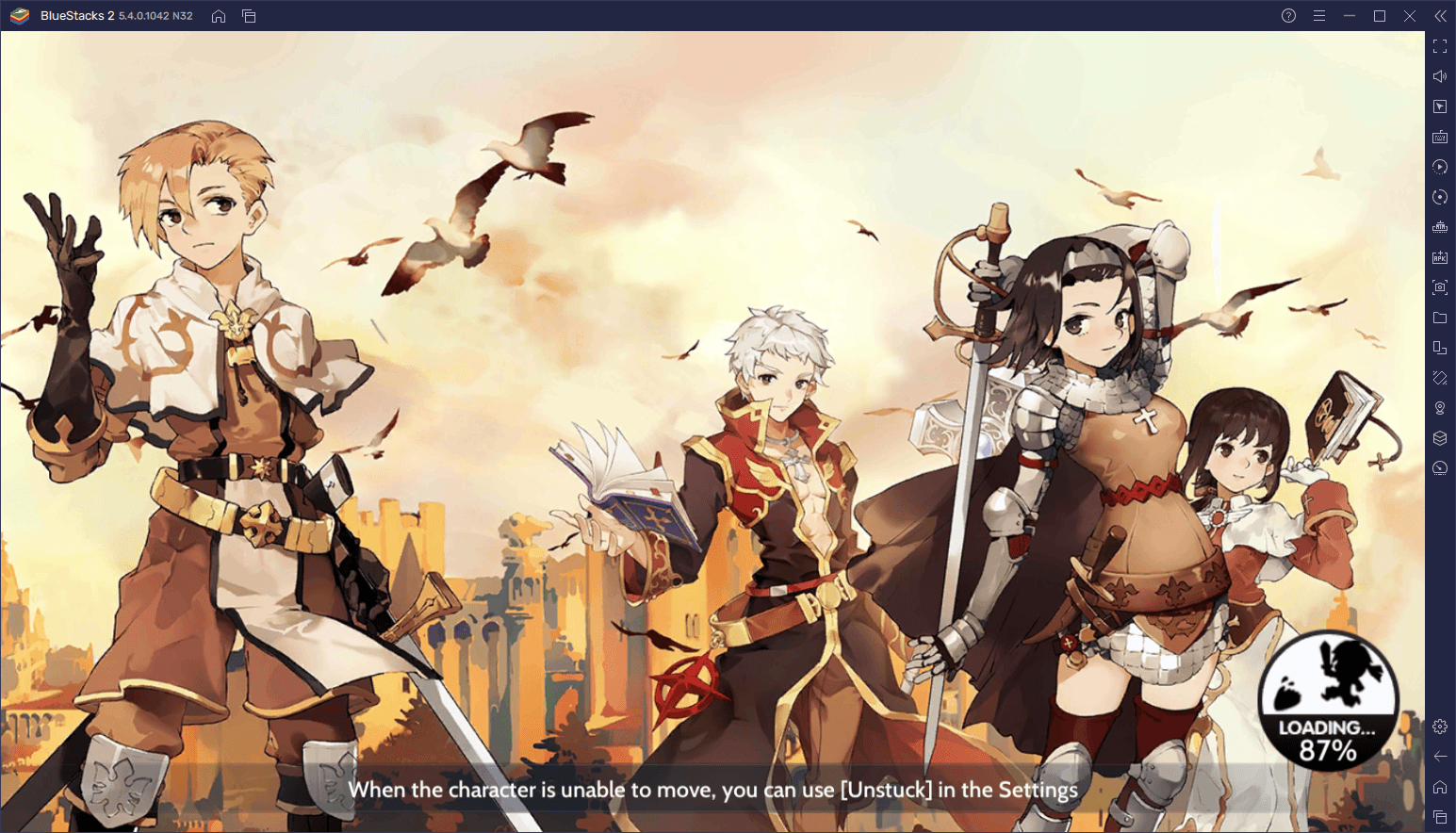 Swordsman
Main Stats: STR, AGI, DEX
Historically, the Swordsman has always been the most user-friendly class in Ragnarok, ideal for beginners. This ease is due to the class' defensive stats, combined with skills that can not only stun and knock enemies around but also taunt and keep the enemies away from the Swordsman's allies.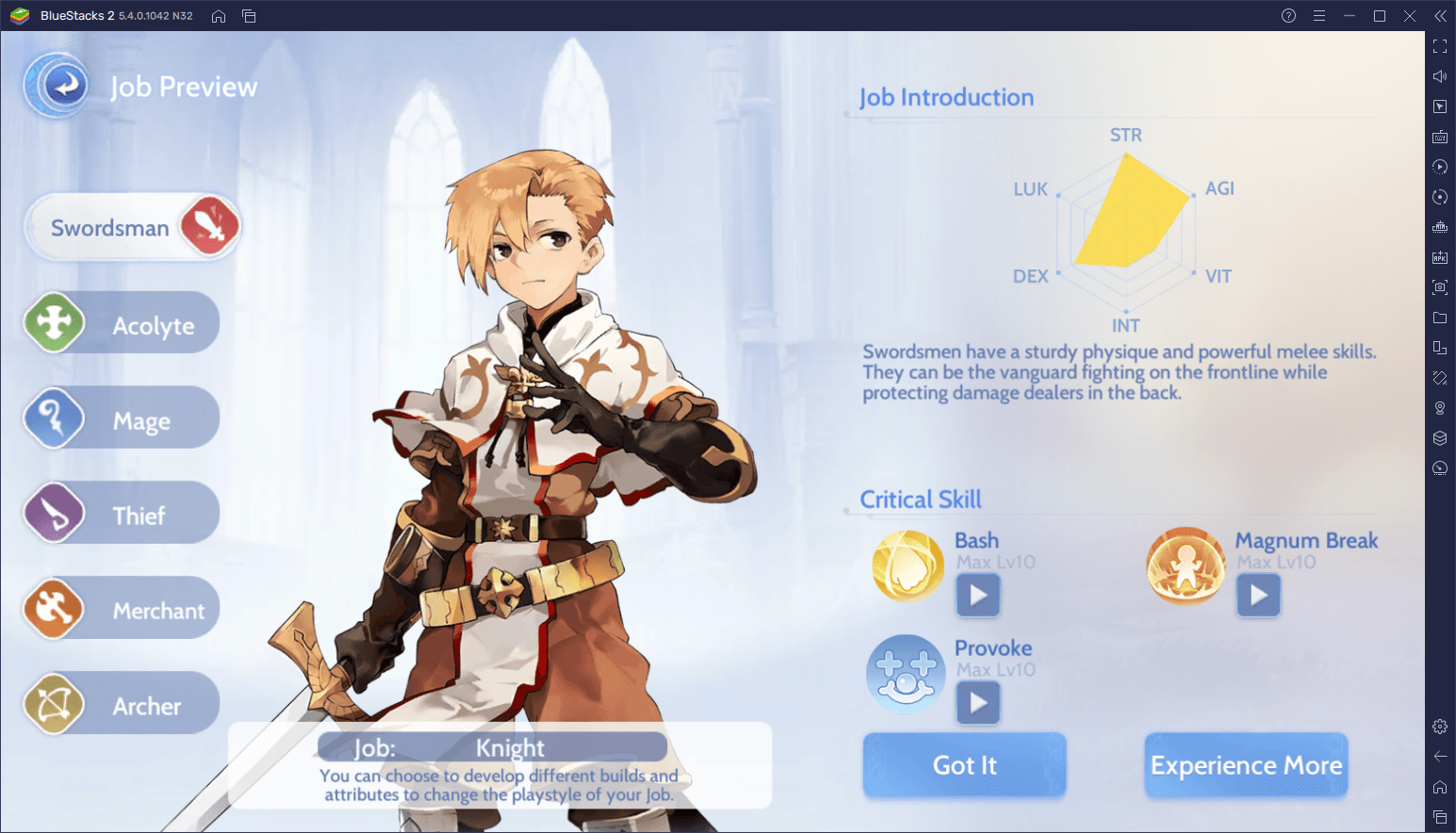 This class can transition into a Knight, and then into a Lord Knight. And though they are used mostly defensively, you can also build them offensively by keeping a balance between their three main stats.
Acolyte
Main Stats: INT, DEX
One of the most important classes of any group due to their powerful healing skills, as well as due to the buffs they can bestow to their allies. Their supportive design makes them a bit boring to use, though, as their solo kill times can be quite high due to their meager offense. Nevertheless, Acolytes can build offensively and boost their farming potential, though they will never equal that of a more offense-oriented job.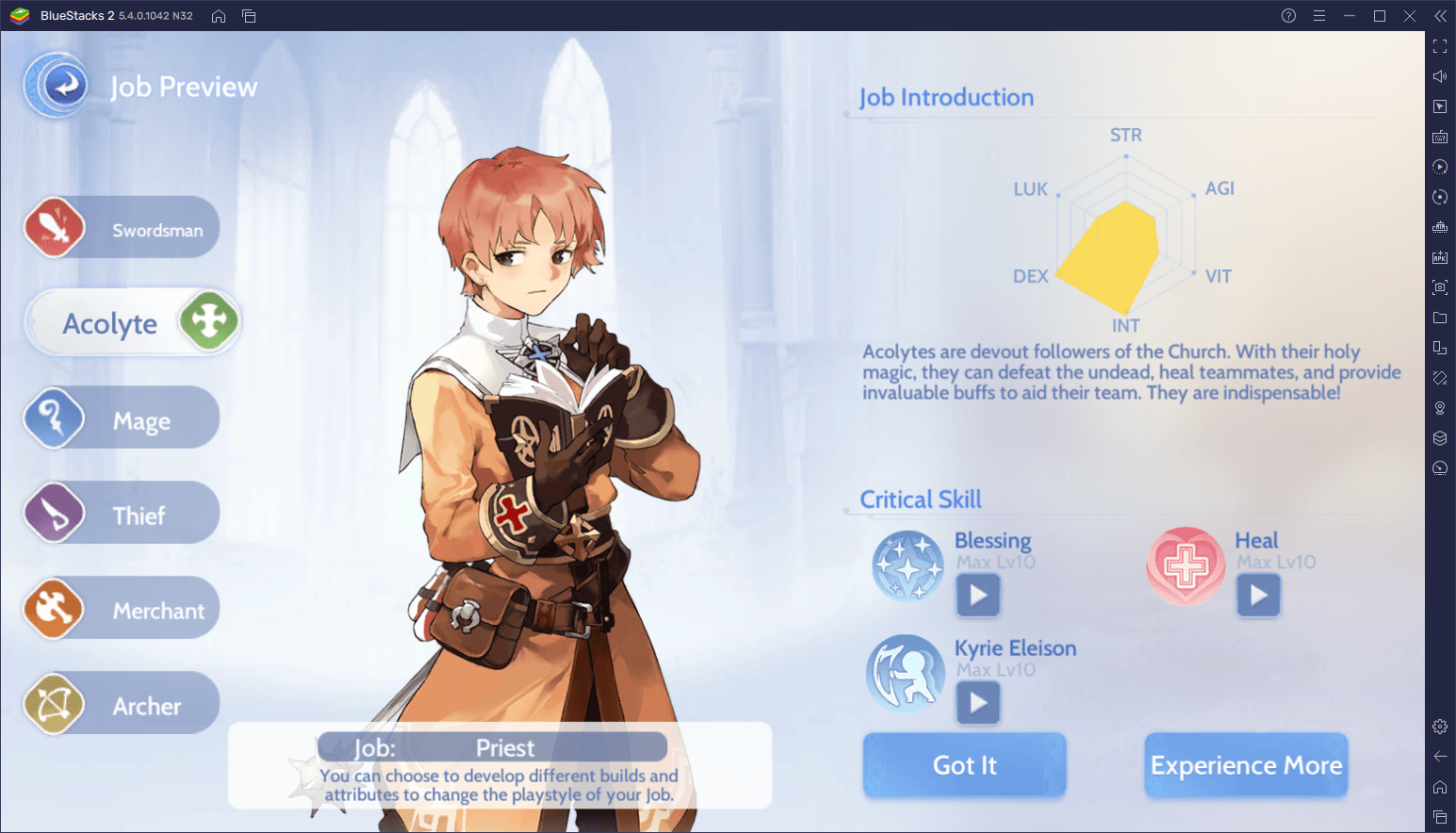 Acolytes can transition to Priest, and then High Priest. These advanced jobs further boost the Acolyte's utility and make them the best healers in both PvP and PvE.
Mage
Main Stats: INT, DEX
Unrivaled masters of elemental destruction who can obliterate their enemies with devastating spells. However, they're quite fragile and difficult to play correctly, especially due to their longer casting times. Luckily, by striking a balance between DEX and INT, the Mage can achieve acceptable cast times and decent damage.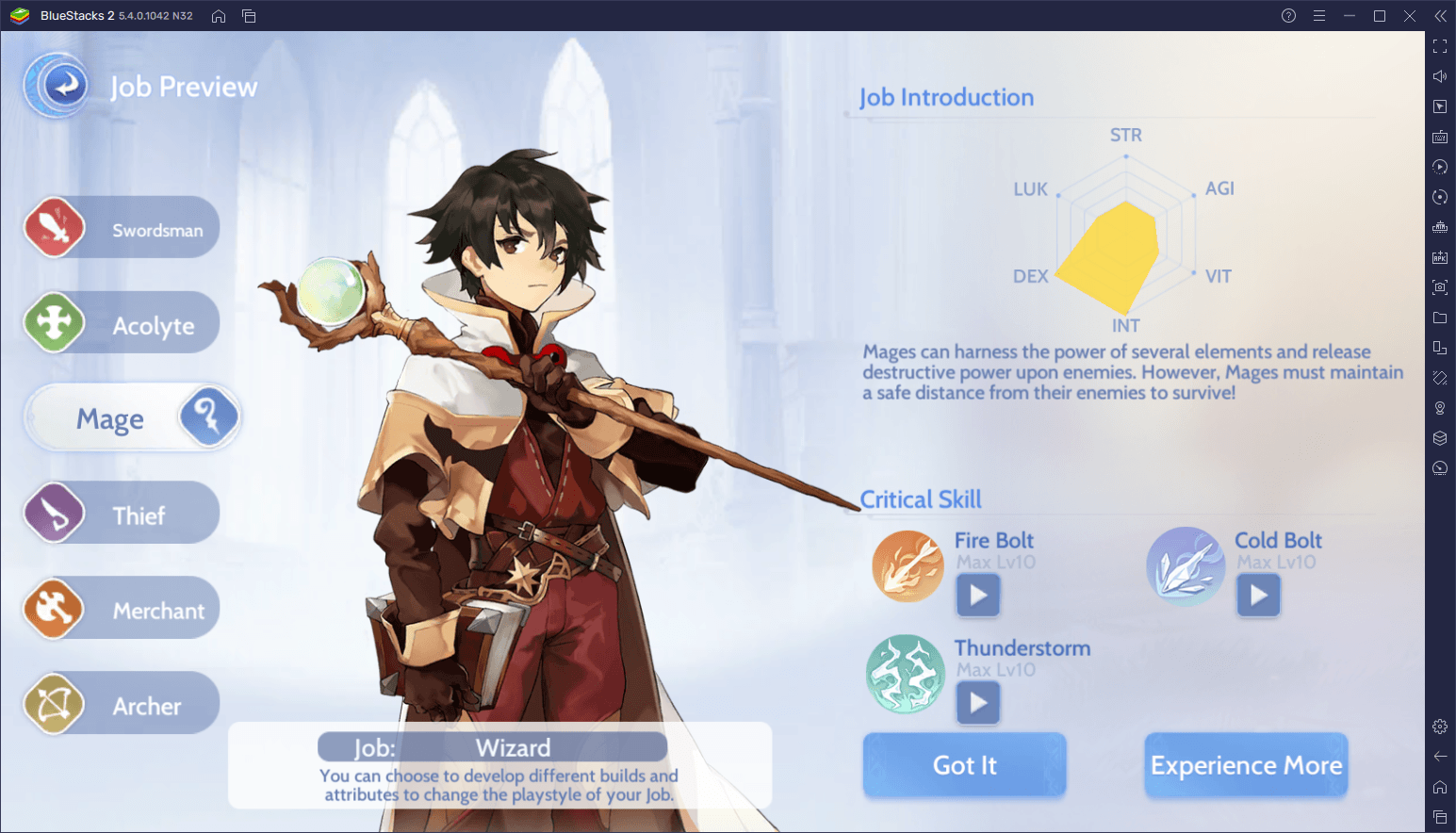 Mages can transition into Wizard, and then High Wizard, which is when they will acquire even stronger spells, including AoE skills to eradicate entire hordes of enemies.
Thief
Main Stats: STR, AGI
The opportunist class also happens to be one of the best physical DPS in the game, easily surpassing the Swordsman and even Archer classes, given the right conditions. Thieves are quite difficult to use, especially during solo play since they deal the most damage when left free to target the enemy's weaknesses.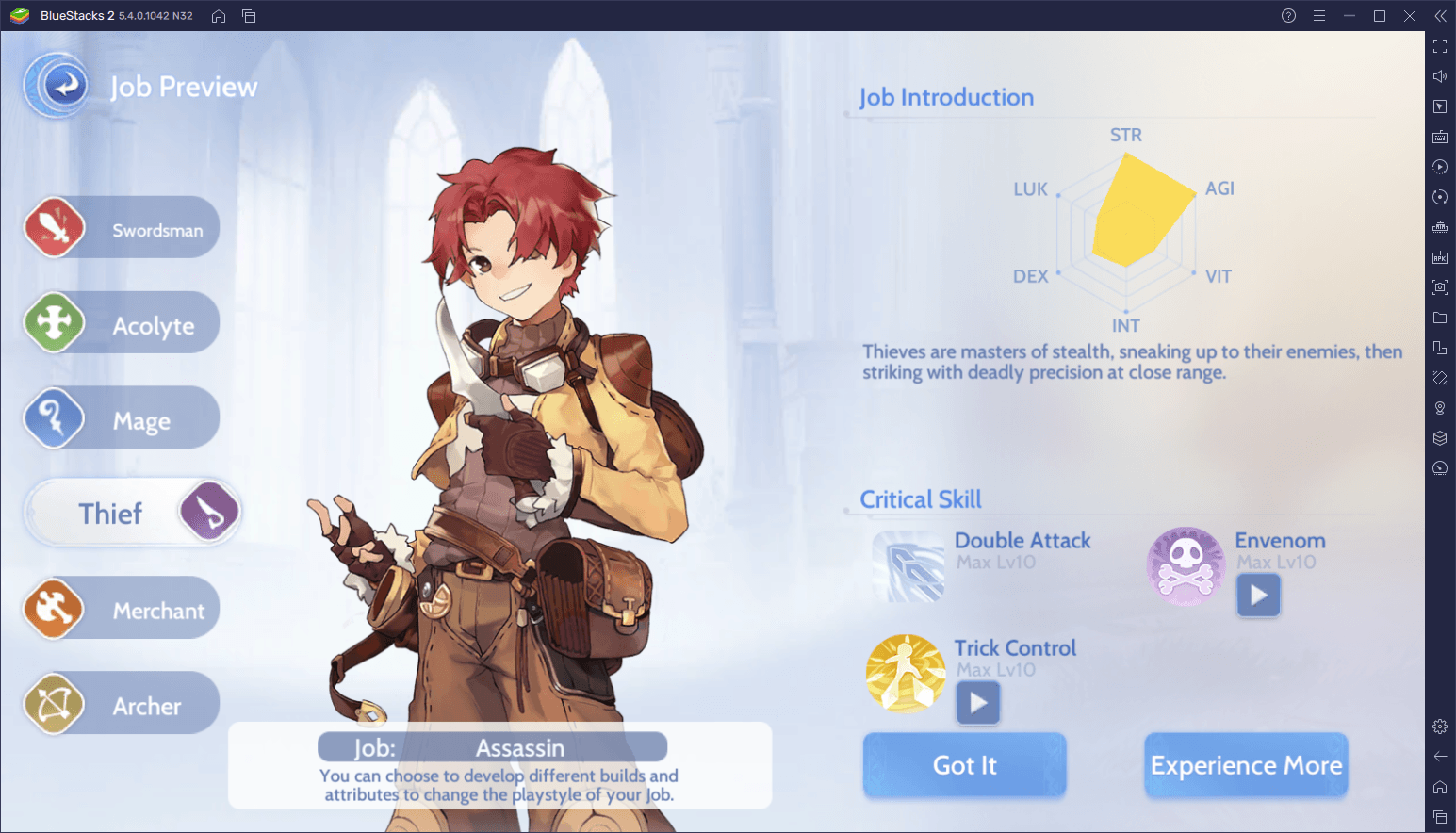 The Thief can change into an Assassin, and then into an Assassin Cross, gaining stealth abilities and other skills that can cause chaos and confusion on the battlefield, elements in which they can thrive by exploiting the enemy's weaknesses when they're distracted.
Merchant
Main Stats: STR, AGI, DEX
Merchants are quirky and unique classes in the fact that their strengths don't necessarily reside in the battlefield, but in the trading aspect of the game. As such, this class has skills that allow the user to make money. And though they can also deal devastating damage, later on, they do so at a monetary cost, usually.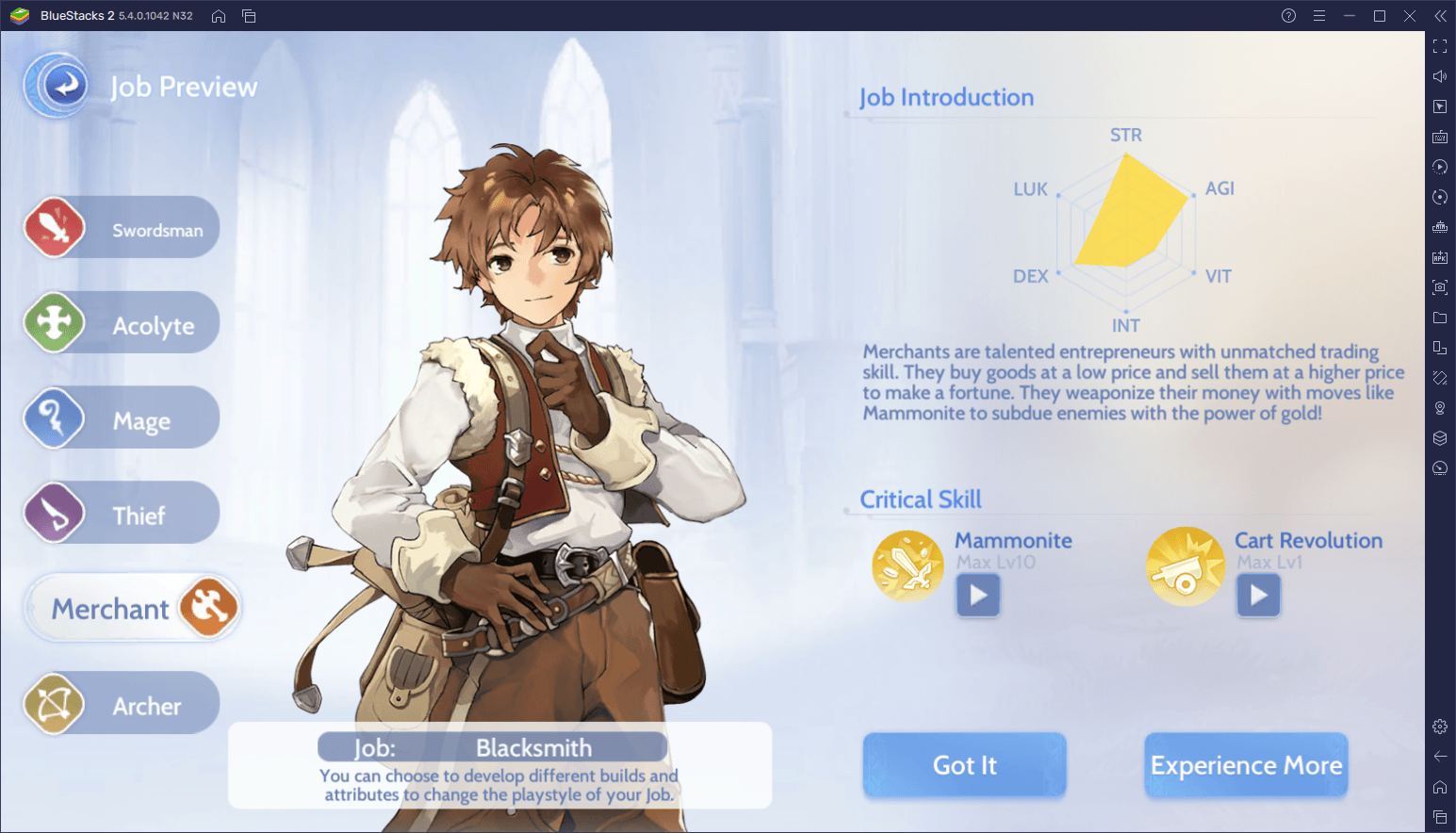 Merchants can change into Blacksmith, and then Whitesmith. If you're serious about efficiency, we recommend starting off with a Merchant. Though their playstyle might not be the most powerful, they can help you to make money, which in turn can help you to gear up quickly and keep your inventory stocked with useful items.
Archer
Main Stats: AGI, DEX
And last but not least, we have the Archer, which performs a similar role to Thieves, but in a very different way. For starters, Archers are ranged classes that can wield mighty bows to strike foes from afar. Their skills revolve around charged shots that can achieve many effects, such as launching two arrows at the same time, pushing enemies back with a mighty arrow, or mowing down all enemies in a cone pattern with a volley of arrows.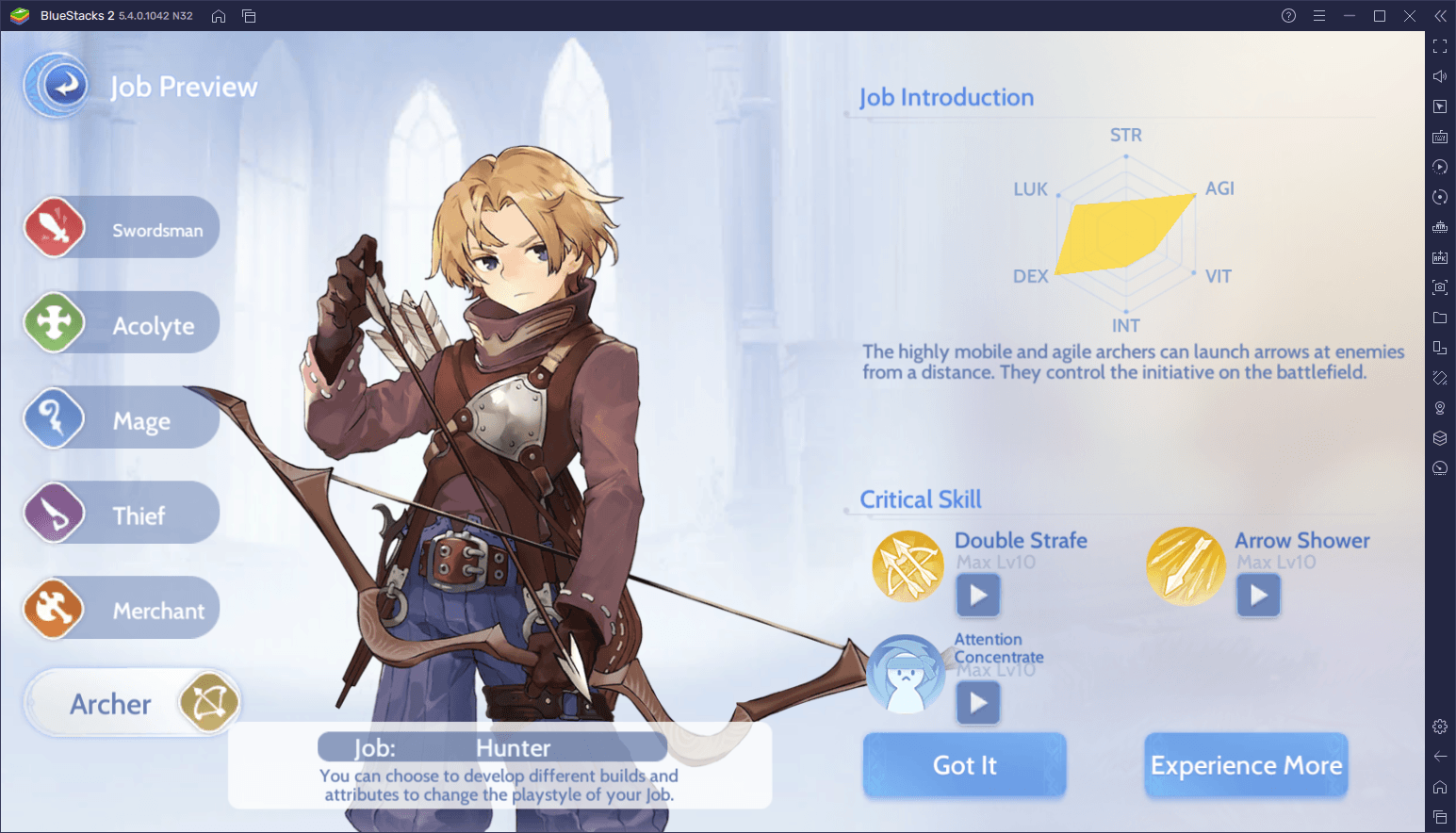 Later on, Archers can turn into Hunters, and then into Snipers, gaining the ability to deploy and utilize various useful (and lethal) traps, as well as gaining a Falcon pet that can assist in combat with multiple skills. The Sniper has the particularity that it specializes in single powerful skills, as opposed to raining arrows on the enemies. In this sense, they're potentially the strongest class in Ragnarok Origin in terms of sheer burst damage, alongside Mages. For this reason, Archers are ideal units for solo play.
Your choice of initial class in Ragnarok Origin will obviously vary depending on your play style. Nevertheless, the safest choice is, usually, the Swordsman as it's a great entry-level choice for beginners. However, the best class for solo play is, without a doubt, the Archer. Regardless, if you want to engage in group content, you will find that Acolytes are some of the most solicited members of a party. Conversely, if you want to deal big damage with a bit of complexity and depth, the Mage and Thief classes are always good choices as well. Lastly, Merchants are as many masters of making money as they are at spending it. Still, they're great farmers that you'll want to have on your roster at all times.