Game Guides
Tips and Tricks to Win More in Scatter Slots – Slot Machines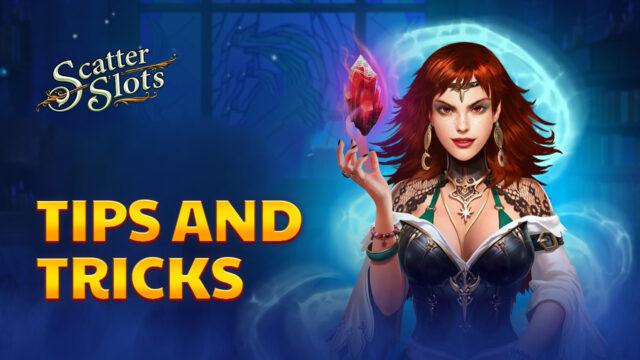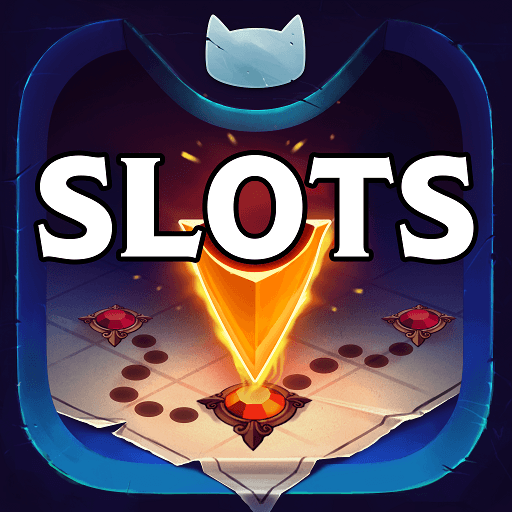 When you play Scatter Slots – Slot Machines, the main goal is to win as many jackpots as possible. Fortunately, the game does not only limit you to spinning a slot machine perpetually but rather gives your various game modes and events to win coins. In this guide, let's take a look at the other interesting ways to become rich in Scatter Slots.
Tables of Contents
Before continuing, make sure to check out the beginner's guide to know the fundamentals of the game and also install Scatter Slots – Slot Machines on your PC or Mac with BlueStacks. Now let's dive into the first tip to win more coins, which is choosing the best mission type.
Knowing Mission Types
Progress in Scatter Slots is done through completing levels. To complete each level, you must choose and accomplish one of three missions or in other words "choosing your destiny". The mission type dictates the objective you need to complete to finish the level.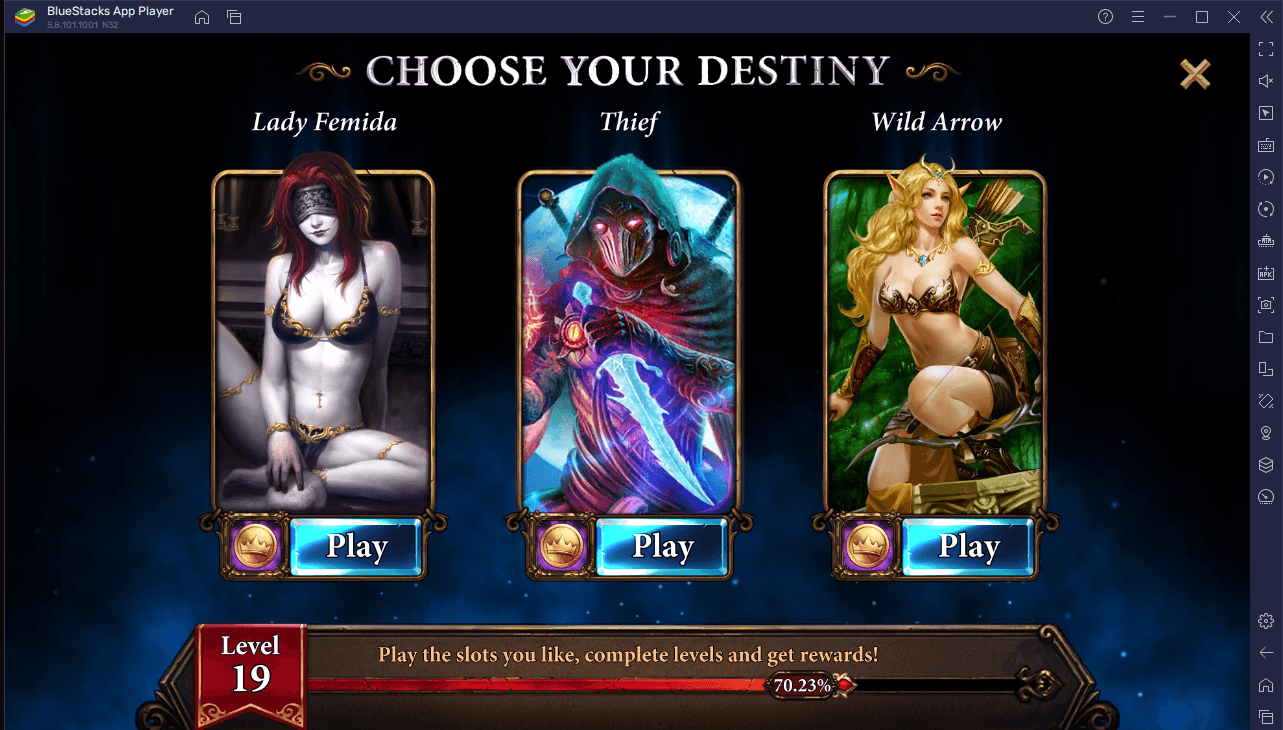 There are currently 12 mission types in Scatter Slots. Every level presents you with one or more of these mission types and the strategy then is to pick the easiest mission type to complete among the choices.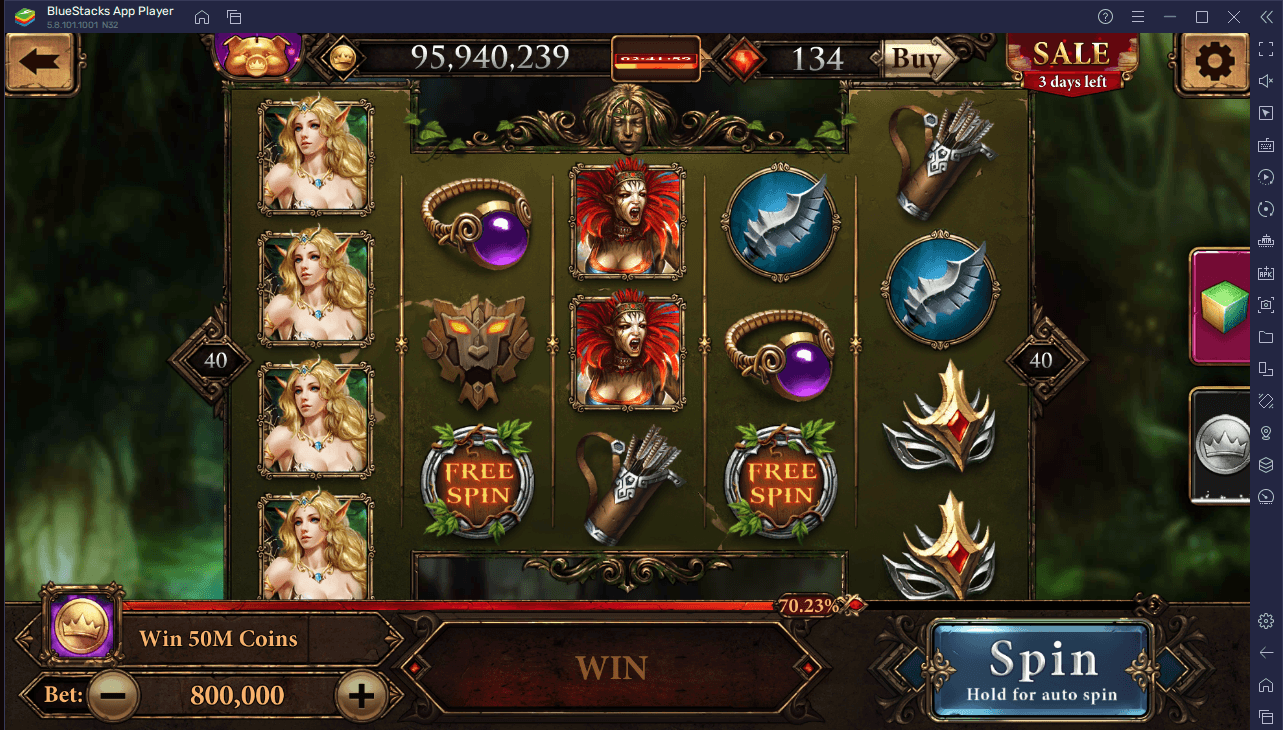 | | |
| --- | --- |
| Mission Type | Objective |
| Melt the Ice | Hit winning combinations to melt all the ice on the slot machine |
| Cut the Ropes | Hit winning combinations to cut ropes on the slot machine |
| Win on the Free Spins | Win the required number of coins using only free spins. Coins won from regular, or bonus game spins are not counted. |
| Win on the Bonus Game | Win the required number of coins using only bonus game spins. Coins won from regular or free spins (including free spins won from the bonus game) are not counted. |
| Collect Icons | Collect the required number of icons on any part of the slot machine. Icons need not be collected from winning combinations. |
| Win Icons | Collect the required number of icons only from winning combinations. |
| Win on Respins | Win the required number of icons from respins. Respins are given when you nearly reach a winning combination (i.e., one step from free spins). |
| Win in a Row | Get winning combinations in the required times in a row. |
| Do Spins | Do the required number of spins regardless of bet amount. This is arguable the easiest mission type. |
| Free Coins | Keep spinning until the timer stops or until you spin the required amount of times. All spins in this mission type are free. |
| Win Coins | Win the required number of coins. |
| Do Max Bets | Spin the required number of times with the maximum possible bet. |
Bonus Room
The Bonus Room is a small collection of games that you can play to quickly win coins. It contains at least three games.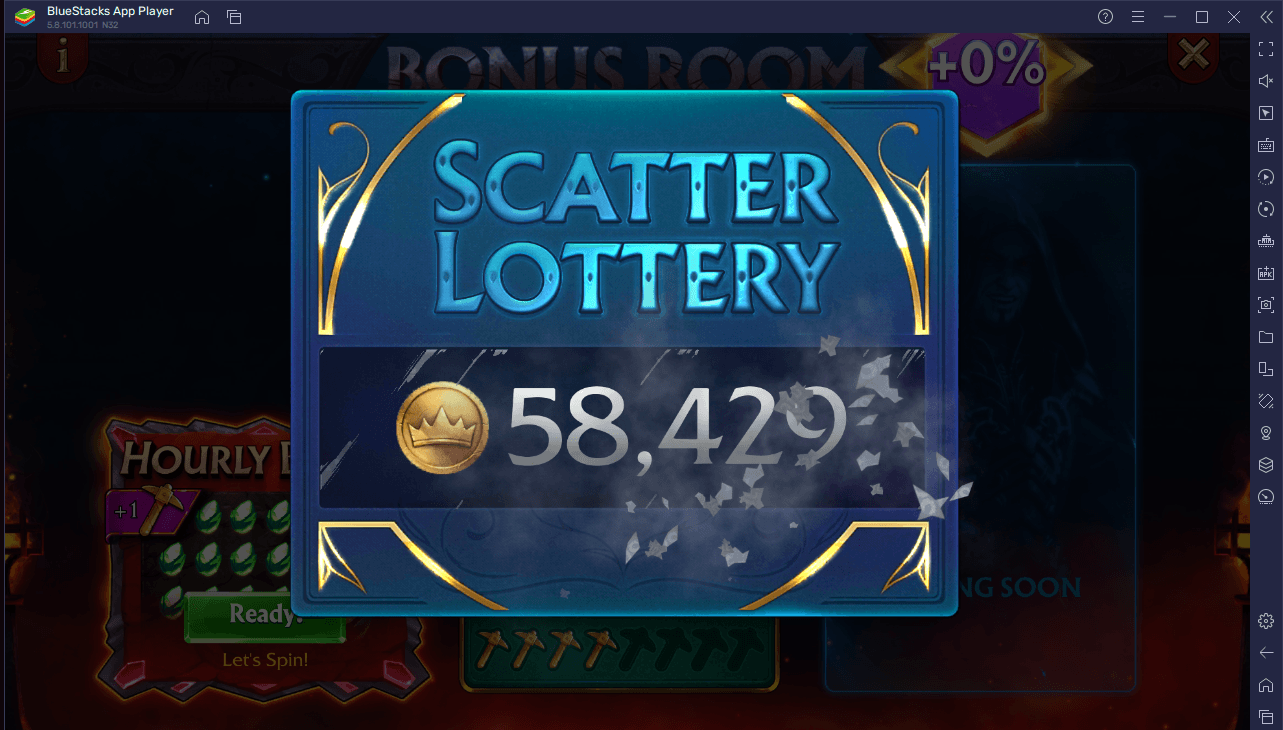 Scatter Lottery – scratch the card to win up to 3,600,000 coins. A new scratch card becomes available 15 minutes after playing.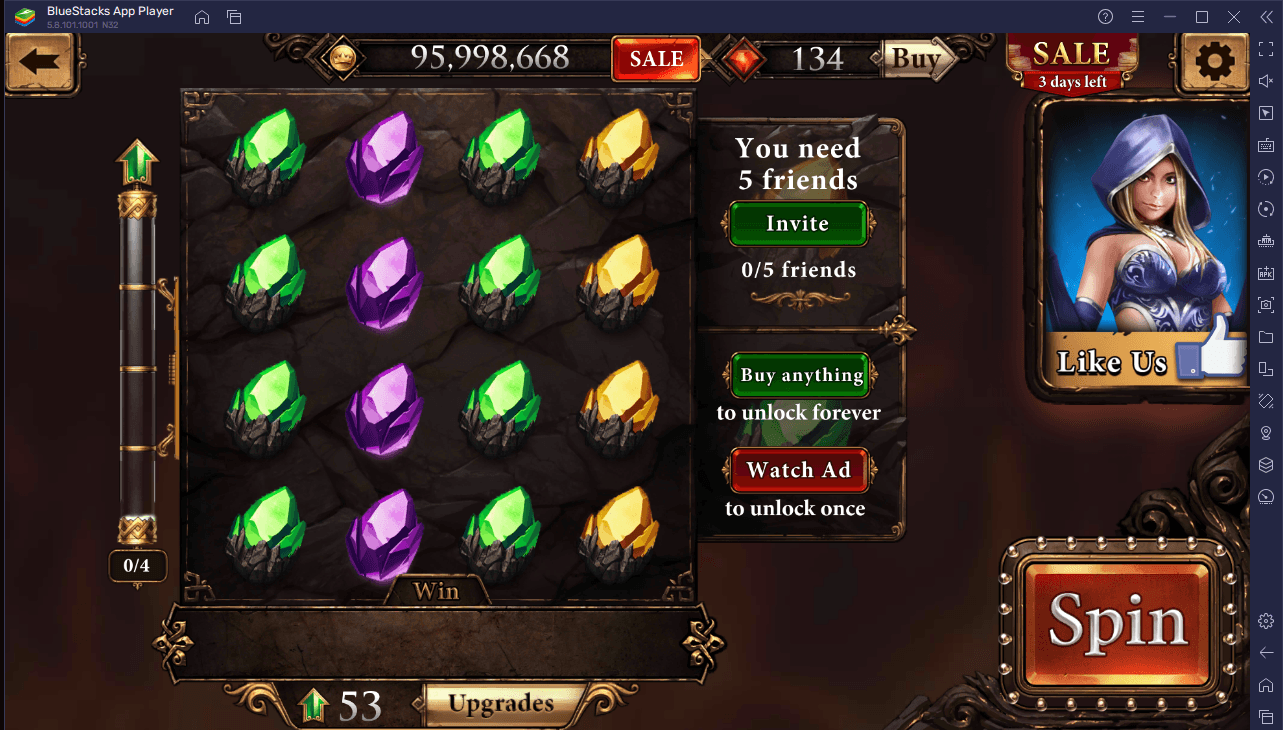 Hourly Bonus – in this mode, you are given 30 seconds to make as many spins as possible. The number of coins you win depends on the number of gems that you get winning combinations for at the end of the 30 seconds.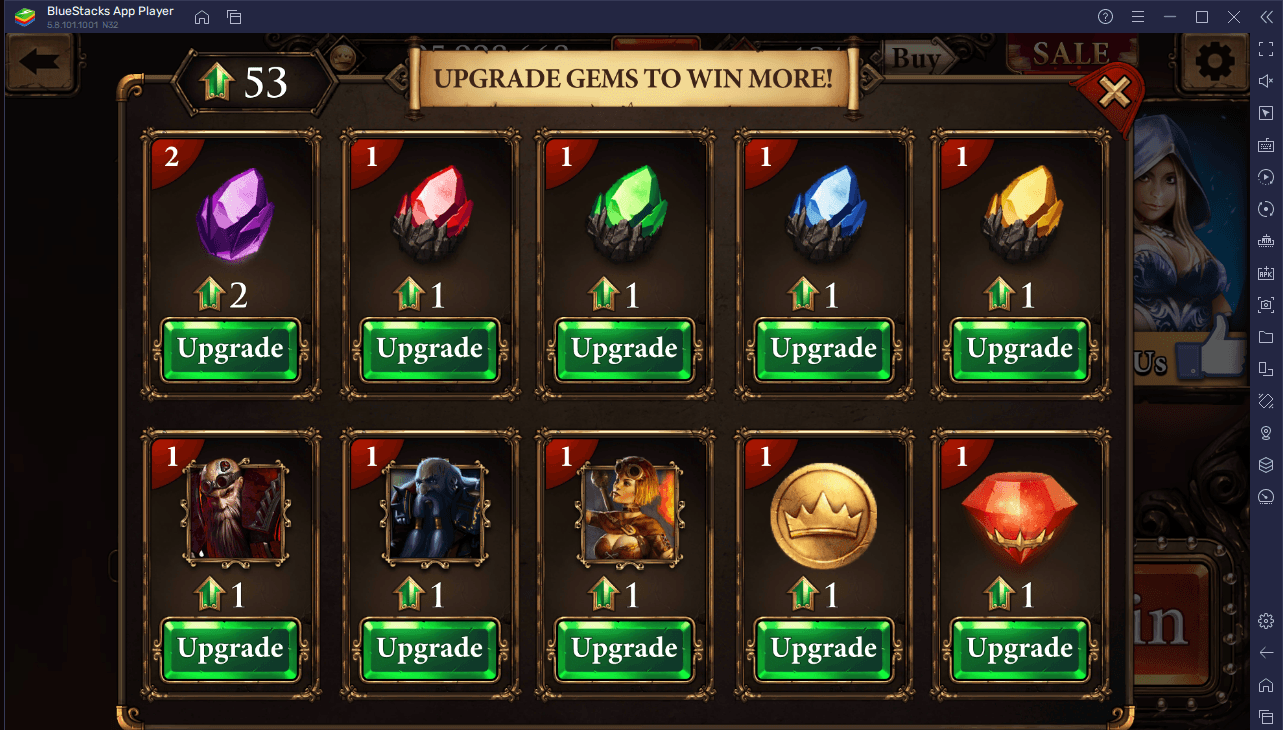 As you keep playing, you earn upgrade points that you can spend to upgrade the payout of certain gems. Hourly bonus becomes available again an hour after playing.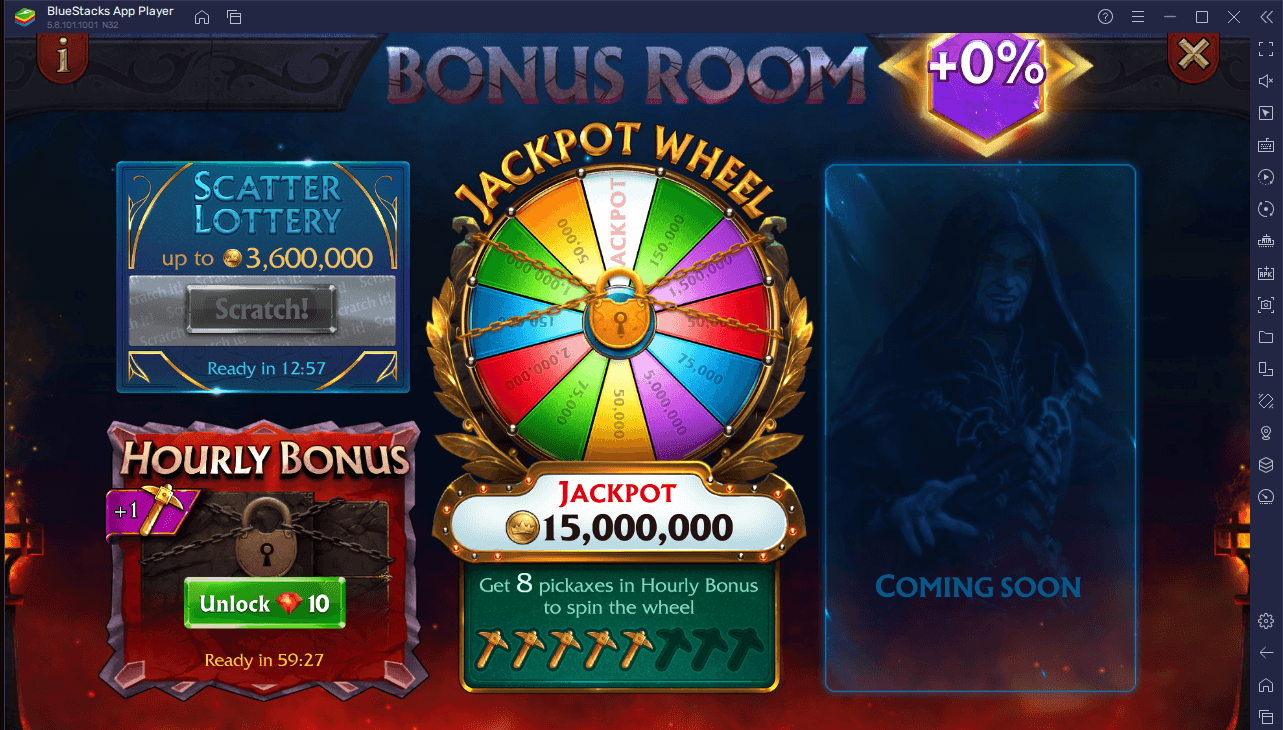 Jackpot Wheel – once you collect at least 8 pickaxes from playing Hourly Bonus, you can spin the jackpot wheel. Spinning the jackpot wheel 3 days in a row unlocks a huge bonus reward.
Royal Daily Adventure
Explore various islands and harvest rewards from them by playing the royal daily adventure.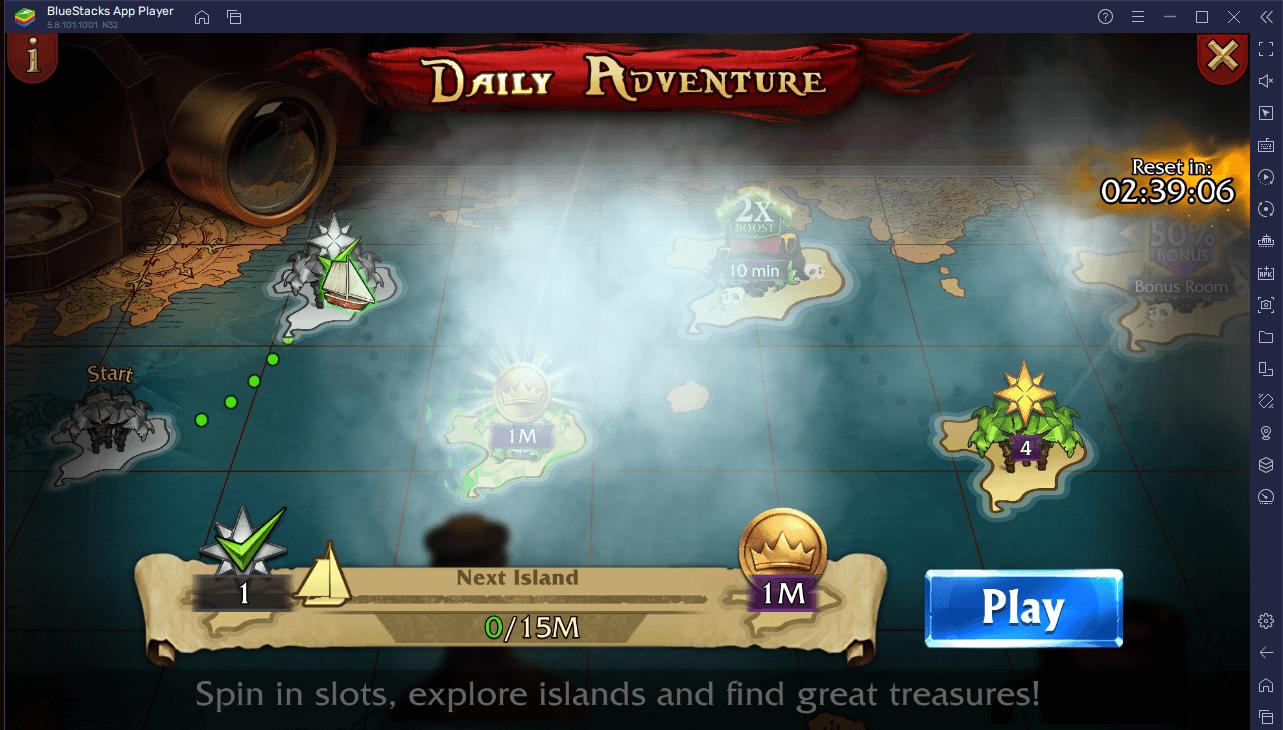 The daily adventure works very similarly to regular levels in that you spin slots and complete missions to move to the next island. Additionally, you also choose mission types in daily adventure as well. Playing slots continuously fills up a progress bar until you unlock the next island. Increasing your bets per spin multiplies the progress bar and makes you move islands faster.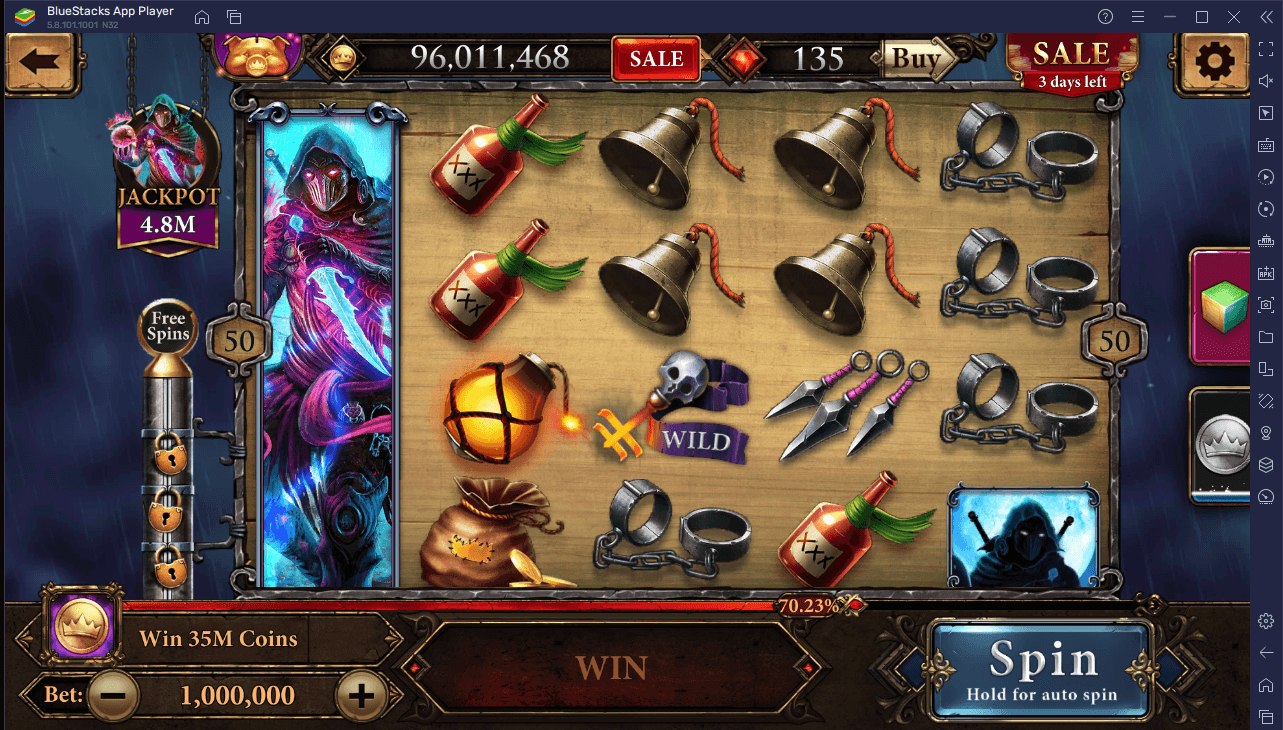 You only have 24 hours to explore all islands in the royal daily adventure until a new adventure is given. The rewards from the islands include a large amount of coins (up to 1,000,000 coins) and boosters for slot winnings and bonus room winnings. An extremely huge bonus reward of 100,000,000,000,000 coins are given when you manage to explore all islands within the time limit.
XP Boosts
Some of the rewards of royal daily adventure are boosters. These boosters multiply your winnings and help you complete missions much faster. Generally, boosters work for all mission types except for: Melt the Ice, Cut the Ropes, and Do Max Bet.
Boosters come in different multiplier values: 2x, 3x, 4x, 5x, and 10x. Not only can you get them from daily adventures but you can also get them from the game's many limited-time events. Boosters automatically take effect whenever you press the "Spin" button and becomes active until its timer runs out. There is no option to pause the timer so once you activate the boost, you must play as much as possible to maximize the booster's benefits.
Free Coins
Opportunities to win free coins can also be found outside the game.
Scatter Slots' developer, Murka, actively posts opportunities for freebies on their Facebook and Instagram fan pages. Once you follow these pages, you can edit your notifications settings to ensure that posts related to Scatter Slots always appear first on your timeline. Additionally, you can also take special tasks and quizzes through their chat bot.