Game Guides
Where to Get More Gold, Pink Gems, and other Resources in Shining Nikki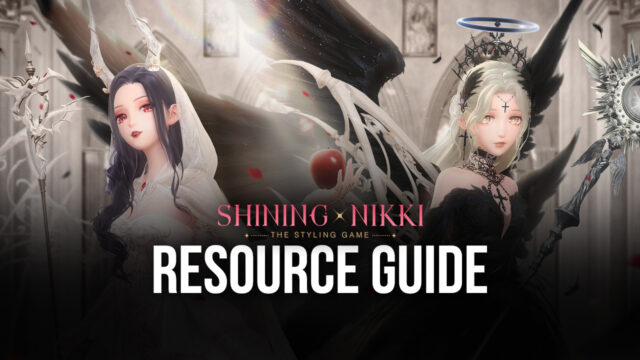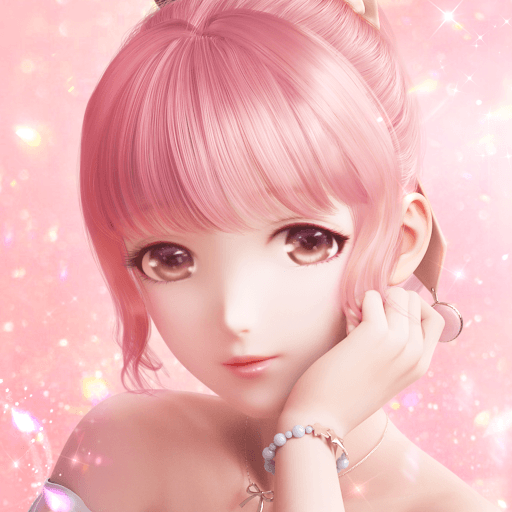 As you accompany Nikki in her adventure to save Miraland, you are mainly going to utilize two resources: gold and Pink Gems. Gold is mainly going to be used for purchasing majority of clothes in Apple Apparel. Additionally, it is also used to upgrade various things such as the Designer's Reflection. Pink Gems, on the other hand, are much rarer than gold and you can use this to buy certain extraordinary clothes for Nikki in Apple Apparel. Aside from that, you can also use Pink Gems to instantly refill stamina to continue the journey.
Gold and Pink Gems are just the fundamental resources in the game. You will eventually collect more other unique items that will eventually be required to upgrade Nikki's styling capabilities. By other unique items, we mean things that can be used to upgrade the Designer's Reflection and even new clothes that cannot be purchased from the stores.
In this guide, we'll talk about the places that you should visit or objectives that you should accomplish to easily earn resources. Generally, completing story quests as well as miscellaneous quests can be a source of the resources. However, this guide will talk about sources that can be easily overlooked, such as the Benefits Center.
Benefits Center
The Benefits Center can be accessed from Shining Nikki's main menu. Find and click on the icon that says "Benefits". The Center is a hub that you can easily visit to easily acquire rewards.
7-Day Login
In the 7-Day Login, you can acquire new clothes, accessories, and hairstyles for Nikki just by logging in every day for a week.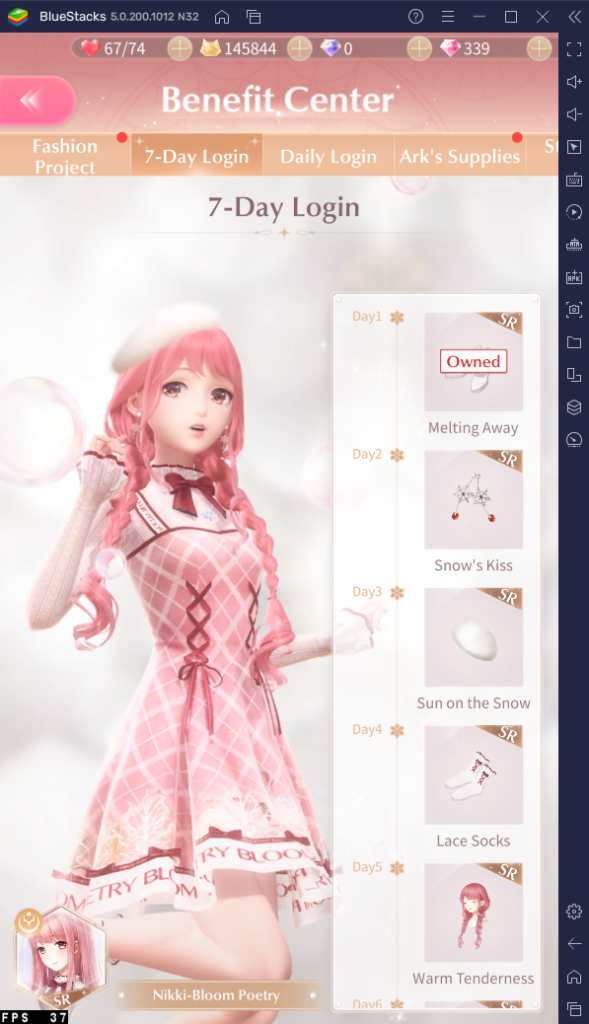 All the clothes that you redeem per login makes up one piece of a clothing set that Nikki can then use for styling battles.
Daily Login
The Daily Login is like the 7-Day Login except that this one lasts for a whole month. The mechanics are the same.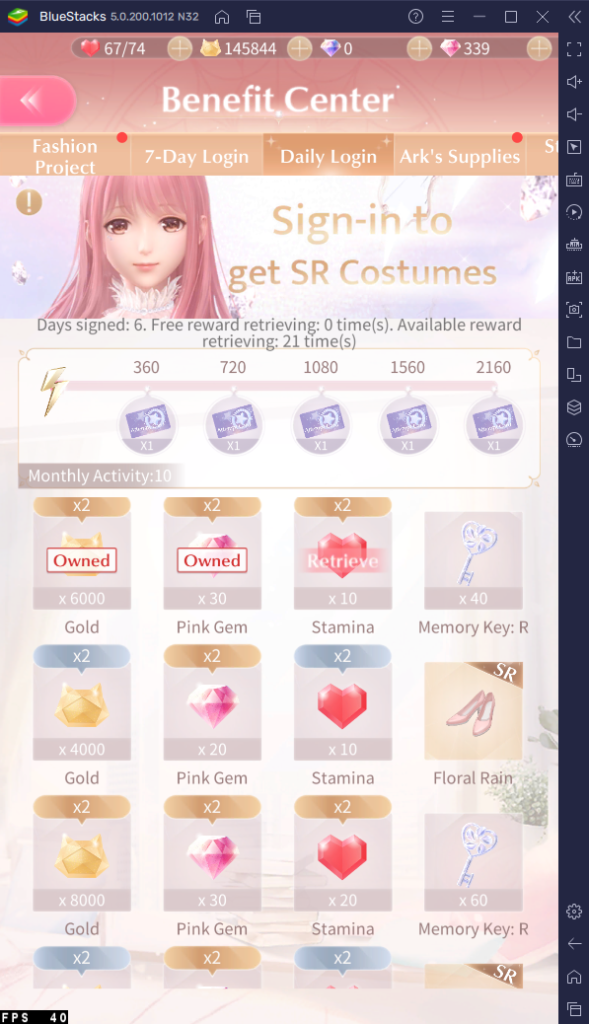 Every day you log in to retrieve rewards albeit for the Daily Login, you obtain gold, Pink Gems, stamina, or Memory Keys (used to rank up Designers Reflections). Additionally, you can also obtain new clothes for Nikki as a Daily Login reward however you will have to wait some time for it to show up in Apple Apparel. The table of rewards refreshes its inventory once the first day of the month arrives. With that, you need to ensure that you sign in every day to claim the reward set for that day.
If you miss claiming a Daily Login reward, you spend Pink Gems to claim it. Although, do note that you will have to spend more and more gems as you keep retrieving overdue rewards.
If you are low on Pink Gems, you can use Retro Sign-ins instead. Retro Sign-ins can be earned by completing Activity Tasks (tasks found under Today's Schedule). Doing so will fill up a progress bar and you earn one Retro Sign-in once the bar passes a certain threshold.
Ark's Supplies
Have you run out of stamina and currently too short on Pink Gems to buy more? Need not worry as you can obtain free stamina from the Ark's Supplies.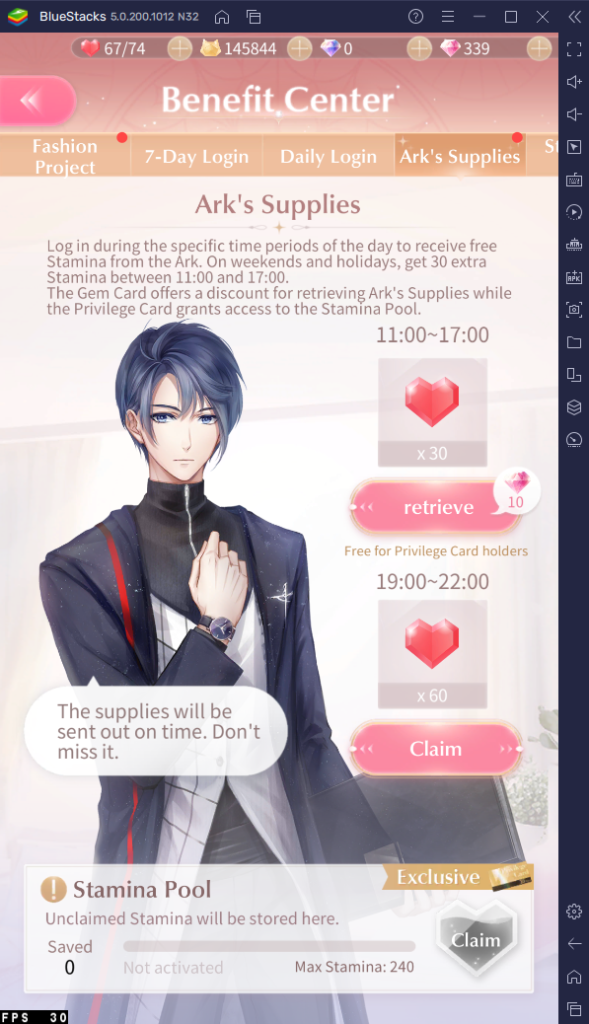 All you need to do is to sign in within a specific time period to claim the free stamina. There are two opportunities to obtain the free rewards so always take note of the time periods. During weekends and holidays, you receive 30 extra stamina but only when you log in between 11:00 to 17:00.
Memory Archive
When you unlock new items for the first time and also when you complete clothing sets, the game rewards you with Index Points, which can ultimately be used to level up your Index Collection Level. The Memory Archive can be accessed in the main menu by finding and clicking on the icon labelled "Index".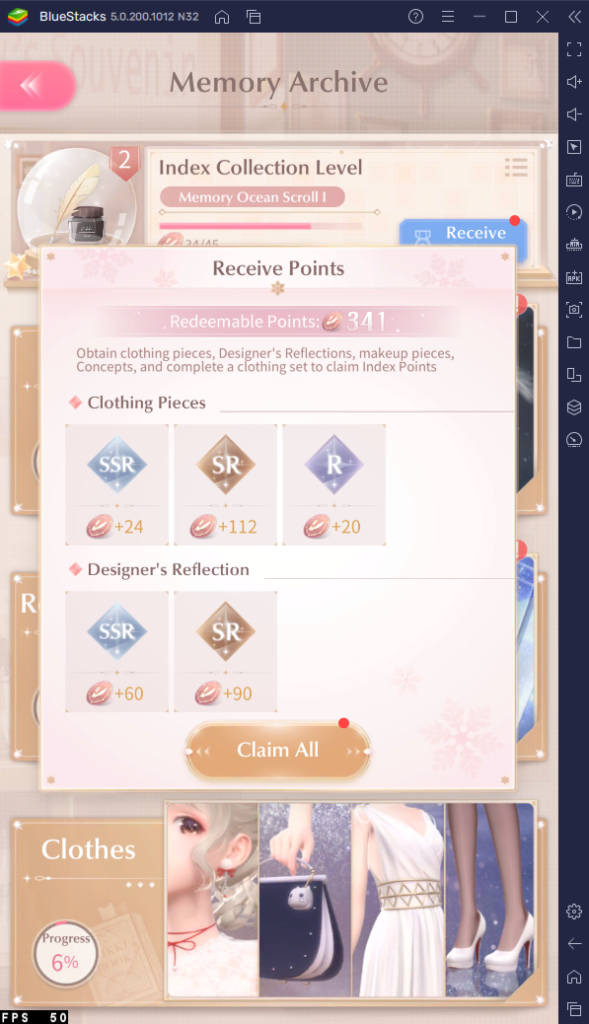 Below is a table of items that can reward you with Index Points after unlocking them for the first time in the game. Note that the amount of Index Points you receive is dependent on the rarity of the item that was just unlocked.
Clothing Sets (also includes awakened sets)
UR – 240 points
SSR – 100 points
SR – 30 points
R – 2 points
Designer's Reflection
UR – 120 points
SSR – 60 points
SR – 30 points
Makeup such as: Foundation, Eyelashes, Eyebrows, Contact Lens, Lips
UR – 60 points
SSR – 20 points
SR – 10 points
R – 5 points
Clothes such as: Hairstyles, Dresses, Coats, Tops, Bottoms, Hosiery, Shoes, Accessories
UR – 24 points
SSR – 8 points
SR – 4 points
R – 2 points
Concepts
UR – 360 points
SSR – 60 points
SR – 30 points
R – 15 points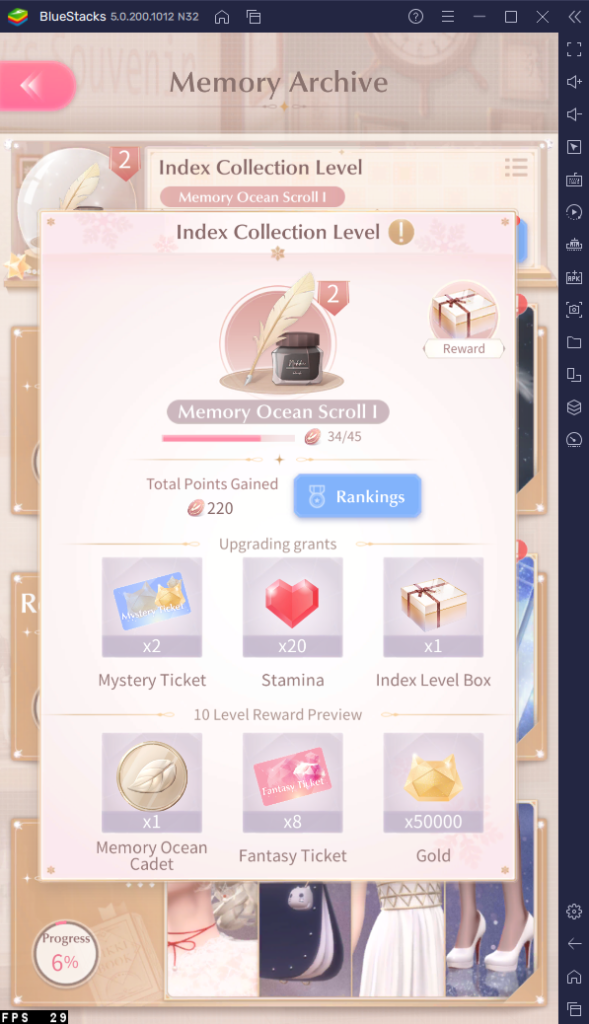 Successfully leveling up your Index Collection Level gives you rewards such as Mystery Tickets, stamina, as well as an Index Level Box (contains either 5 Flower of Odes or 60 Guild Coins). Note that the rewards become bigger and better as you progress higher Index Collection Levels.
Complete Tasks
Tasks are a set of challenges that you can accomplish to obtain rewards. You can access this set from the main menu by finding and clicking on the icon labelled "Tasks".
Today's Schedule
The tasks found in Today's Schedule are essentially Shining Nikki's rendition of daily quests or challenges found in traditional RPGs. These tasks are also known as Activity Tasks.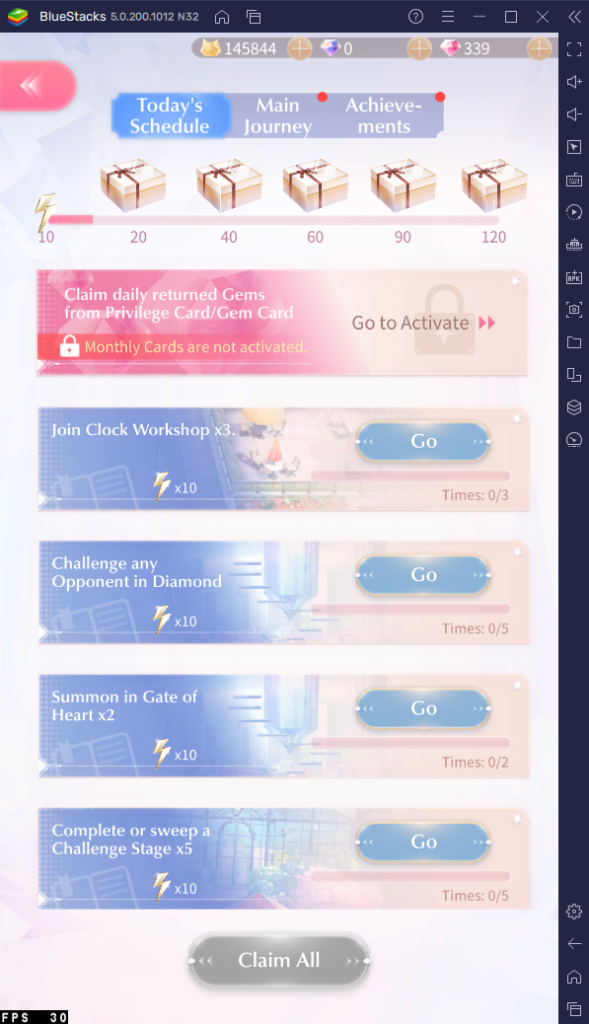 Completing the Activity Tasks grants you activity points. After earning enough points, you receive a gift that contains Pink Gems as well as gold. Completing more tasks means unlocking more gifts that yield more gems and gold.
If you recall from earlier, completing enough Activity Tasks also rewards you with Retro Sign-in which allows you to claim overdue daily rewards.
Main Journey
Playing through the game's main story also comes with its own set of challenges.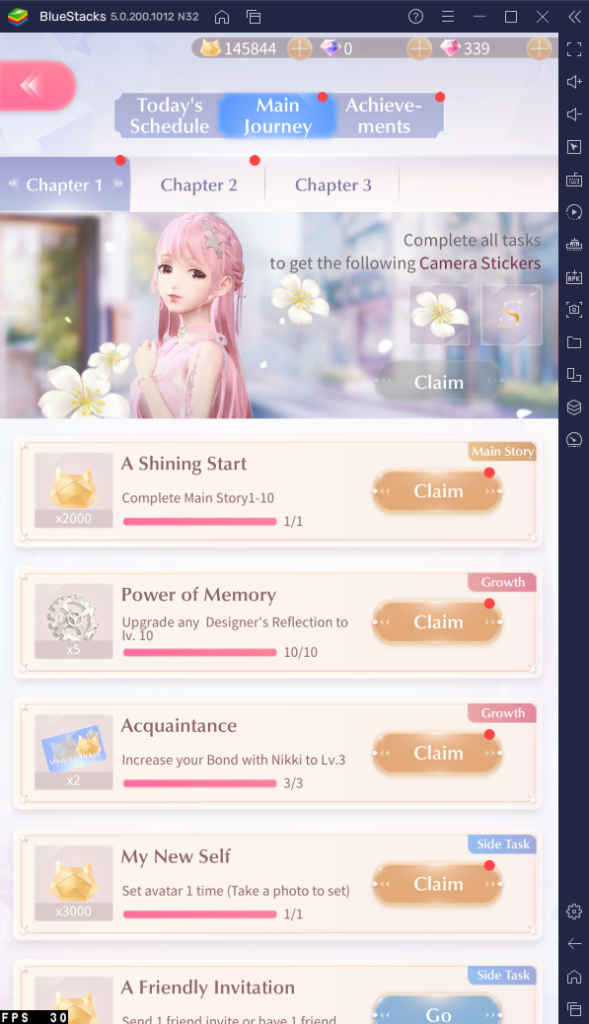 Each story chapter has its own challenges and completing them rewards you with items such as gold, Mystery Tickets, Poetries of Time, and the like. Completing all of the challenges of a particular chapter rewards you with stickers that can be placed while Nikki is posing for a camera.
Achievements
Major milestones that you achieve ever since you start the game for the first time are kept track in the Achievements section.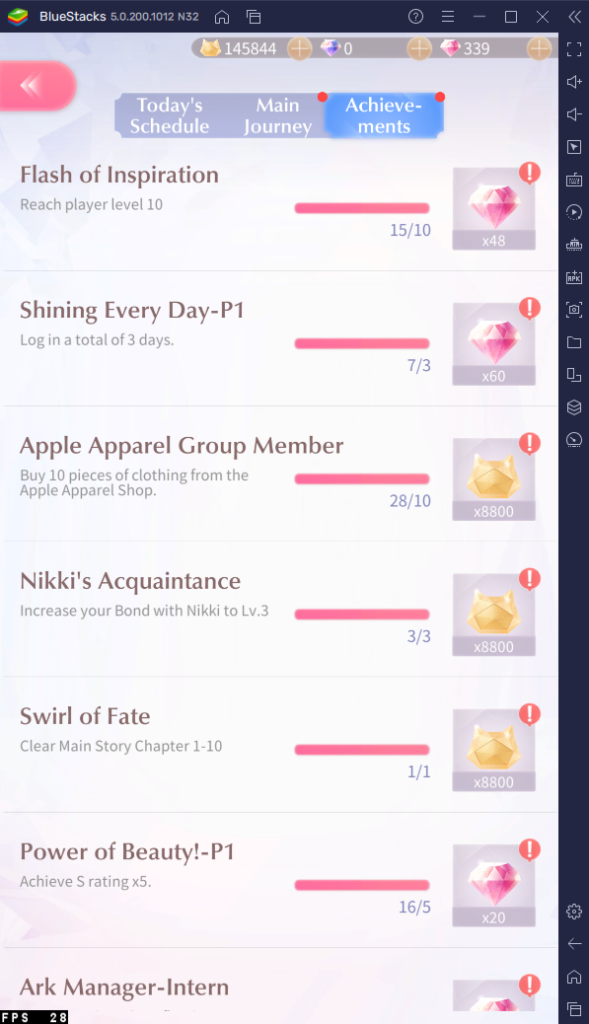 Attaining an achievement can reward you with plenty of gold and Pink Gems. Moreover, you can also be rewarded with Memory Keys, and items that you can use to upgrade Designer Reflections (i.e., Time Travel)