Game Guides
How to Play Shining Nikki on Your PC or Mac with BlueStacks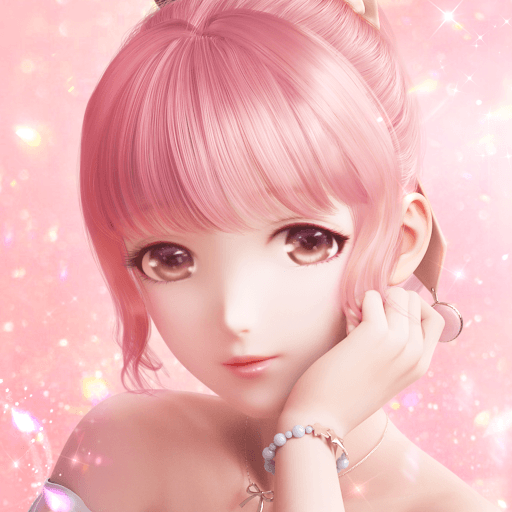 Shining Nikki by Papergames is the visually stunning sequel to Love Nikki-Dress UP Queen. In this game, you play as a stylist who accompanies Nikki on a daring adventure to the save the fashion-oriented world of Miraland from upcoming peril. Shining Nikki's gameplay mainly consists of dressing up Nikki with a multitude of clothing options to prepare her for 'styling battles' – a battle in which the one with the most grandiose appearance and enthusiasm wins.
If you have a knack for fashion games or are the type of player who likes character creation and customization, then it is high time to enter the world of Shining Nikki. And you can experience it all with astonishingly detailed 3D graphics – a huge departure from the graphical style of the previous games. Express the stylist within you now by installing Shining Nikki on Your PC or Mac with BlueStacks!
How to Install Shining Nikki
Download and install BlueStacks

on your PC.

Complete Google Sign-in to access the Play Store or do it later.

Look for

Shining Nikki

in the search bar at the top-right corner.

Click to install

Shining Nikki

from the search results.

Complete Google Sign-in (if you skipped step 2) to install

Shining Nikki
Click the Shining Nikki icon on the home screen to start playing.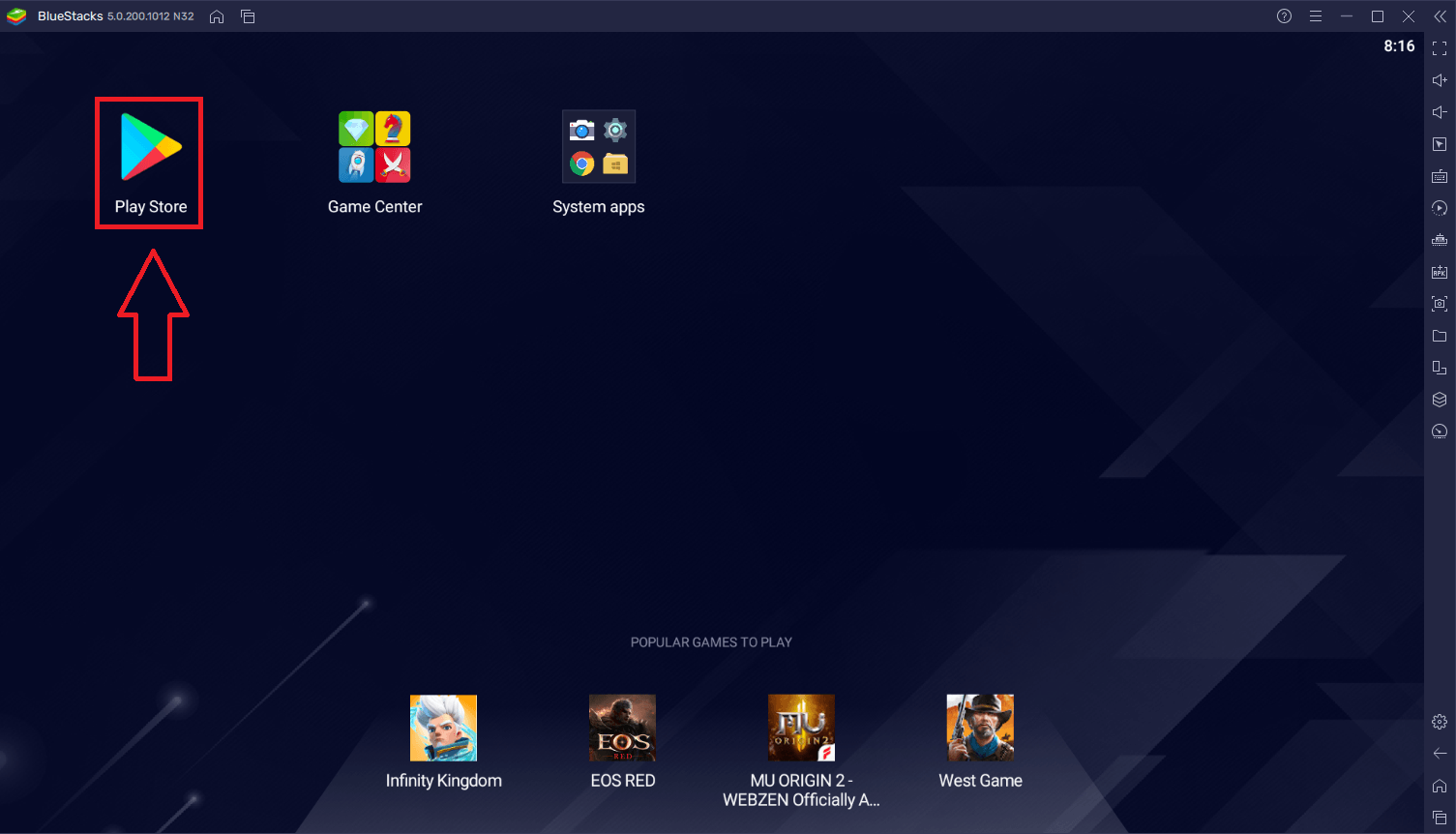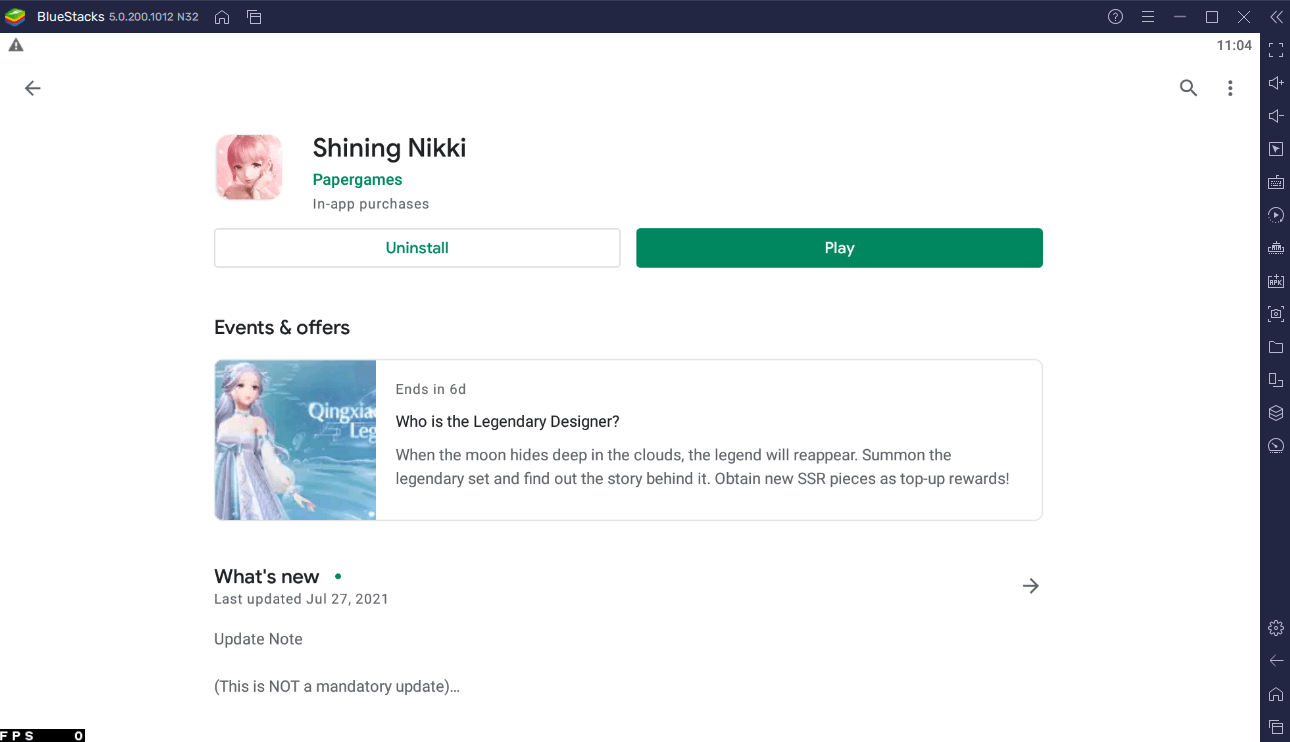 Become an Extraordinary Stylist
Miraland is a fascinating world where most, if not all people are very fixated on physical beauty and are adept at the art of styling. In fact, people in this world are defined by their beauty alone and that is quantified through a variable known as Styling Power. What is even more interesting is that people often deal conflicts with styling battles in which the person who shines the most beauty wins.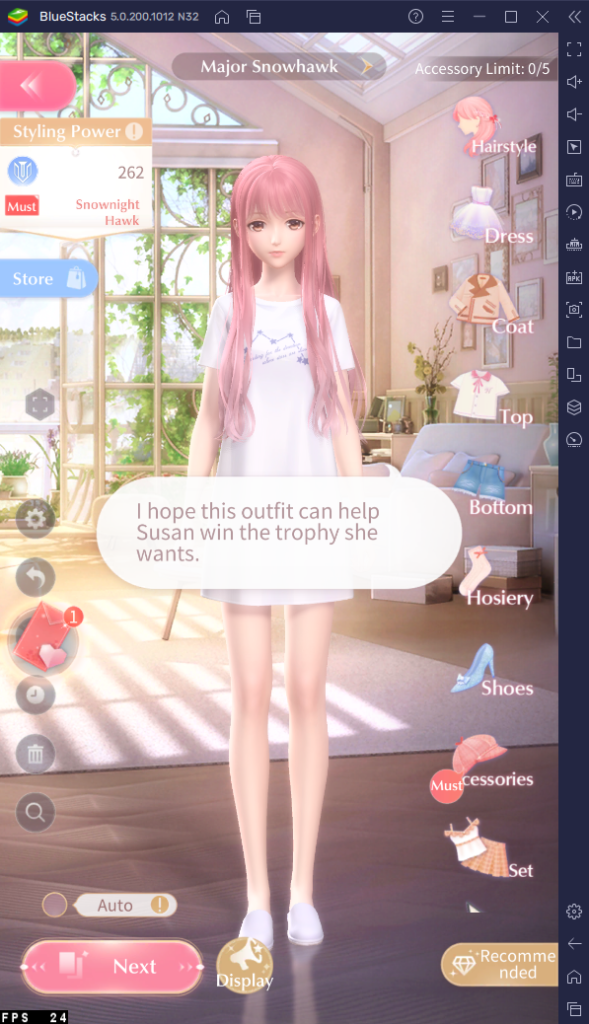 In Shining Nikki, you get to influence Nikki's Styling Power by dressing her up with a variety of clothes and accessories. From tons of makeup options, beautiful accessories, and a myriad of exquisitely designed clothes, it is simply an understatement to say that Shining Nikki has a lot of clothes for Nikki to wear.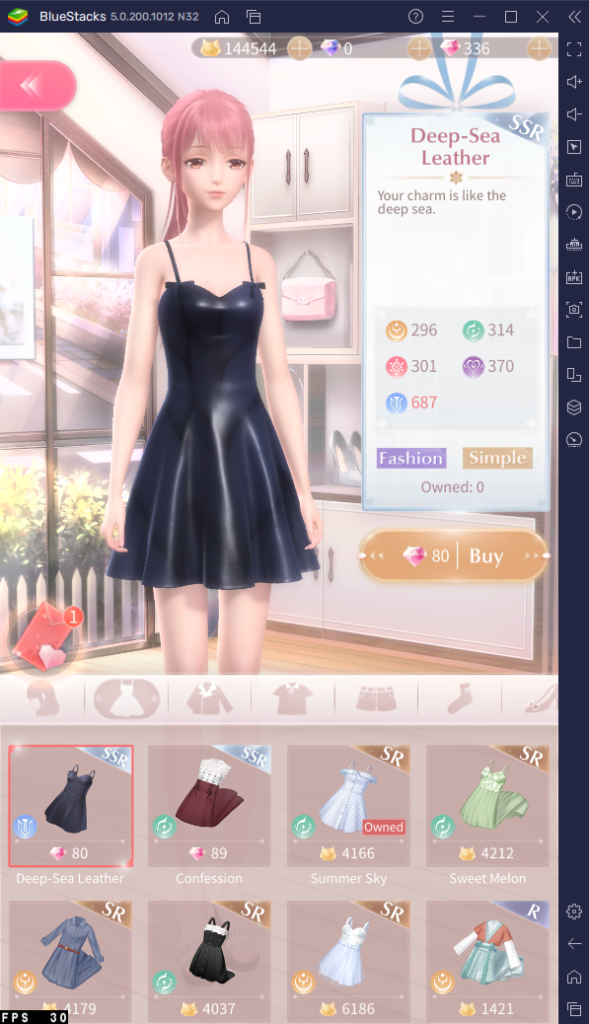 Most of Nikki's clothes can be bought from Miraland's top clothing store, Apple Apparel. In that store, you will find plenty of clothes of varying styles that you can purchase with either gold (main currency) or Pink Gems (premium currency). The more expensive the clothes are, the more points that it will add to Nikki's styling power.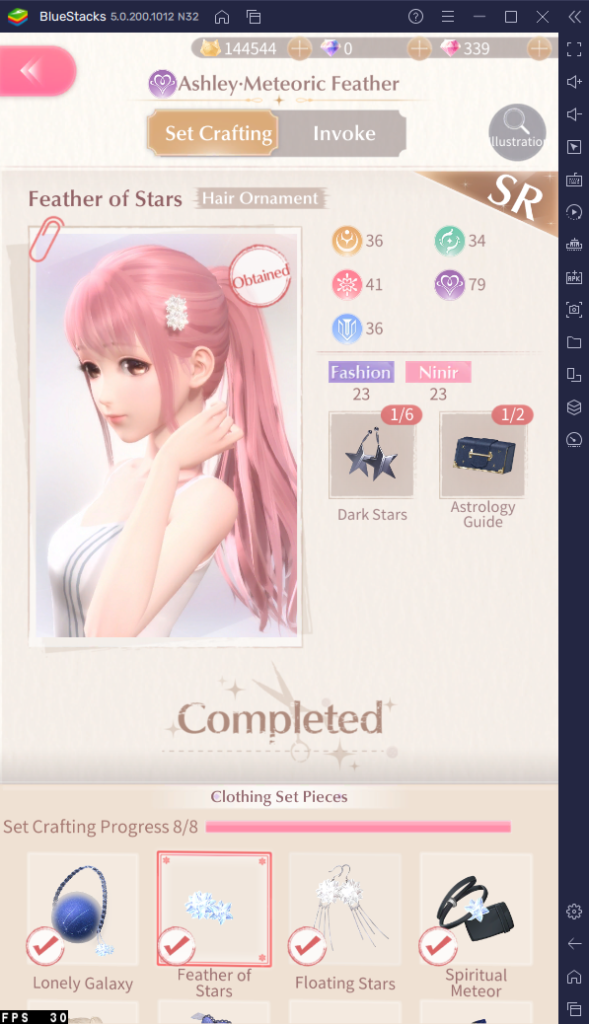 Aside from Apple Apparel, you can also craft clothing sets for Nikki. Crafting pieces of the clothing sets requires you to garner certain materials first. Upon completing a set, you are rewarded with what is known as a Designer's Reflection.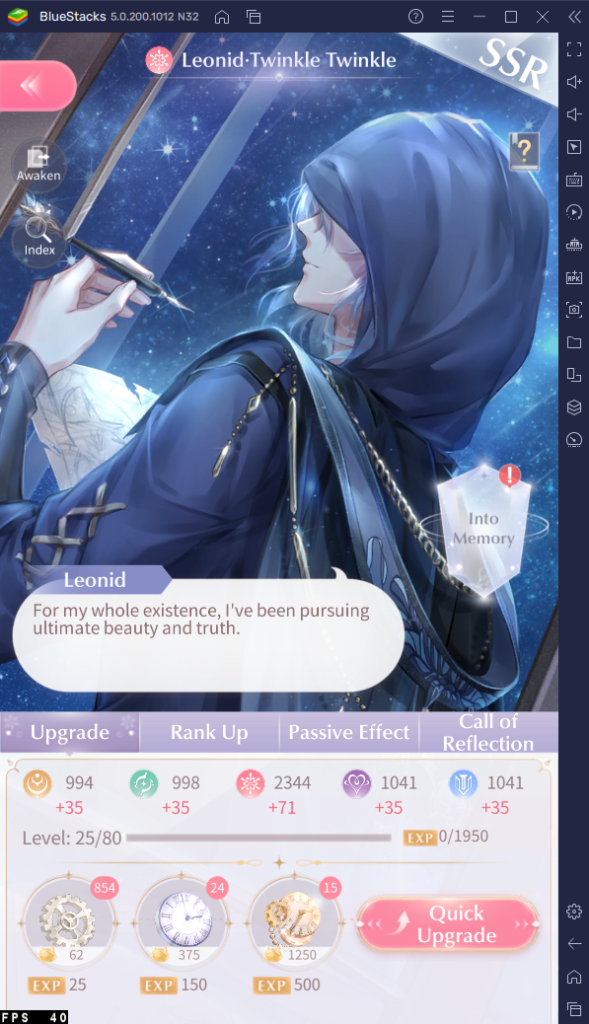 The Designer's Reflection is essentially preserved memories of a stylist, and you can think of this as a "power-up" that gives you an immense boost during styling battles. Reflections can be upgraded through a place called the Ark.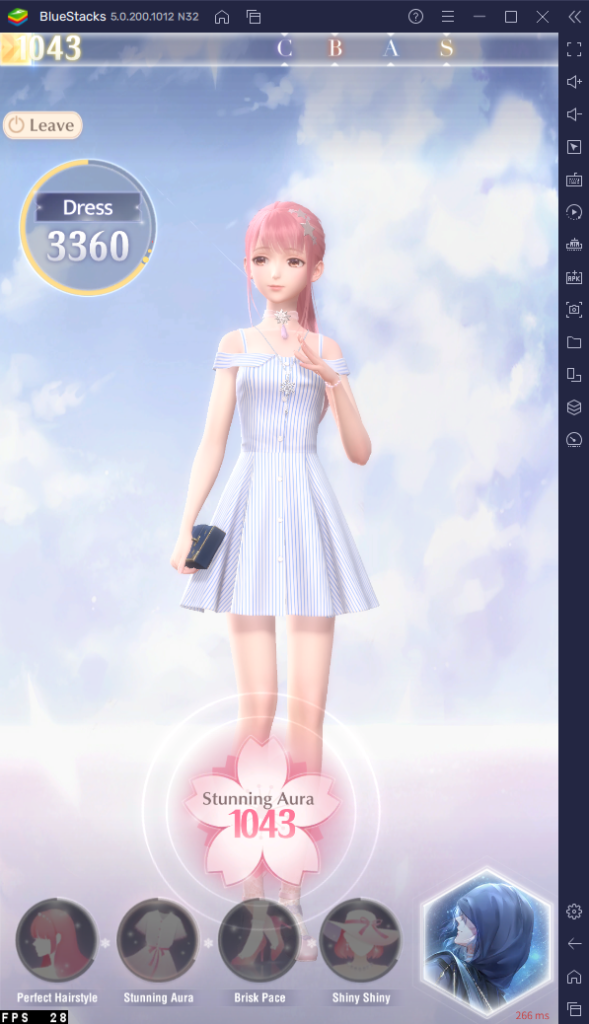 Styling battles are the main form of "combat" in Shining Nikki and it involves you ensuring that Nikki poses and expresses her beauty flawlessly to the point where her opponent is defeated or a certain grade is met. Nikki's winning the styling battle heavily depends on her Styling Power, which is often directly tied to the clothes that she is wearing. You can know more about Styling Power and winning styling battles through this separate guide.
Express Your Creativity with Nikki
If you just want to experiment different clothing combinations for Nikki, you can do so in the Dressing Room.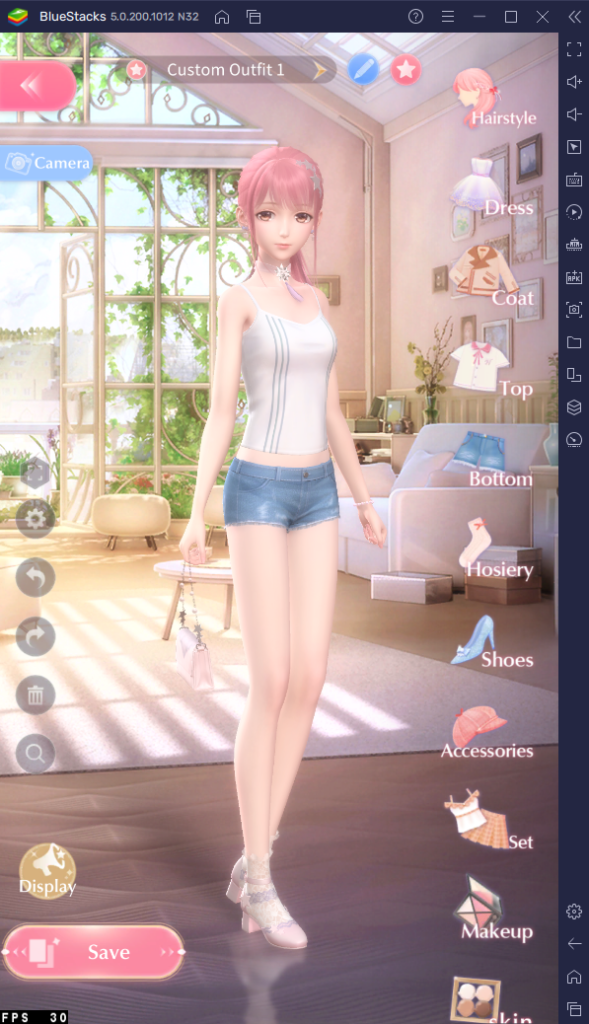 In the Dressing Room, you can dress up Nikki with any clothes without having to worry about Styling Power. You can even save your custom outfit in case that you want to use it for future styling battles. But perhaps the most interesting feature of the styling room is the Camera.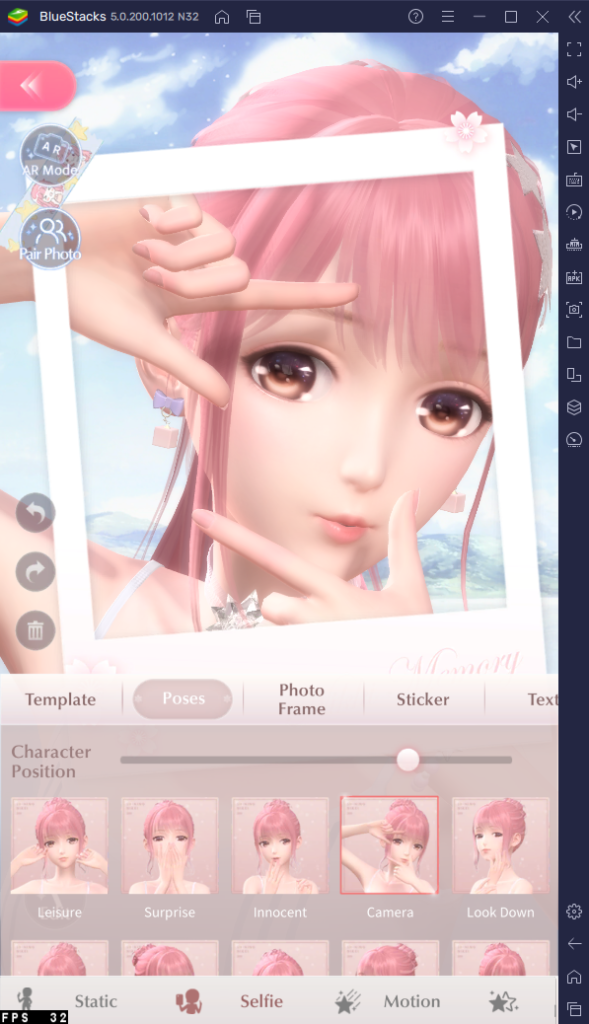 The Camera allows you to take a picture of Nikki wearing the outfit that you chose for her and you are even given plenty of editing options. You can choose a template, pose, frame; add stickers, text, filter; and you can edit the background, lighting, and even the wind speed which affects the directions of Nikki's hair flow.
Additionally, you can also have two Nikkis at the same time in one photo with the 'Pair Photo' feature. With this, you can show off two different outfits with just one image.
Bond with Nikki in Her Home
When you are not playing quests, you can instead choose to hang out with Nikki in her house. Here, you can bond with Nikki through several ways to permanently upgrade her Styling Power.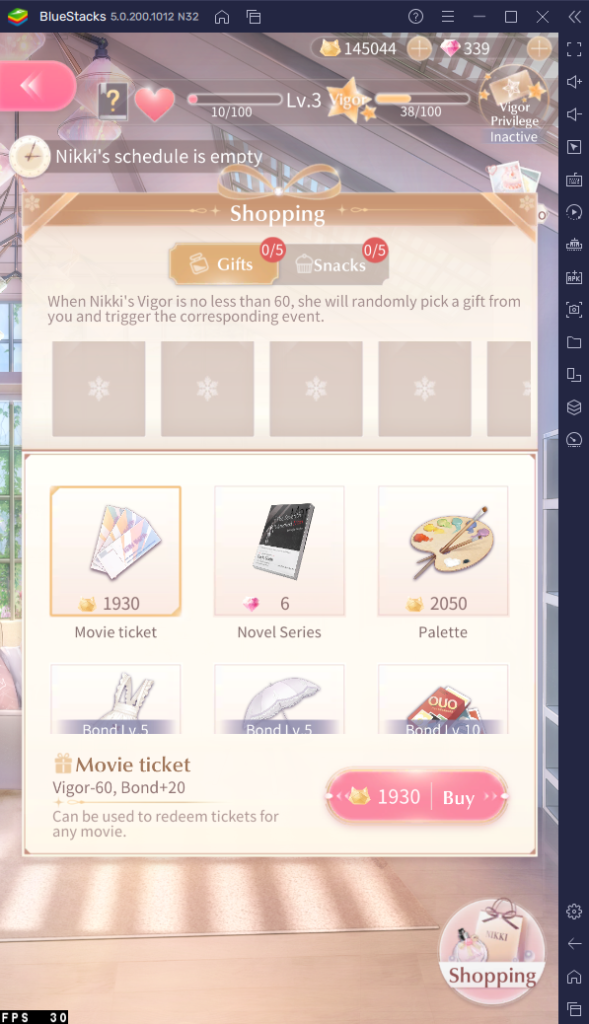 You can increase your bond with her by buying presents for her. You can also buy snacks for her which refills Nikki's vigor. Restoring her vigor is required for her to be able to consume the gifts that you give her.
Additionally, you can also increase your bond with her through certain events that happen in her home. Do note that Nikki is only active in her home when she is awake; otherwise, she is asleep and can only be interactable again once she is awake. The times where she is active or not heavily relies on your server time.
Starting the Journey
Shining Nikki boasts plenty of game modes that are categorized into 'Solo' and 'Team'.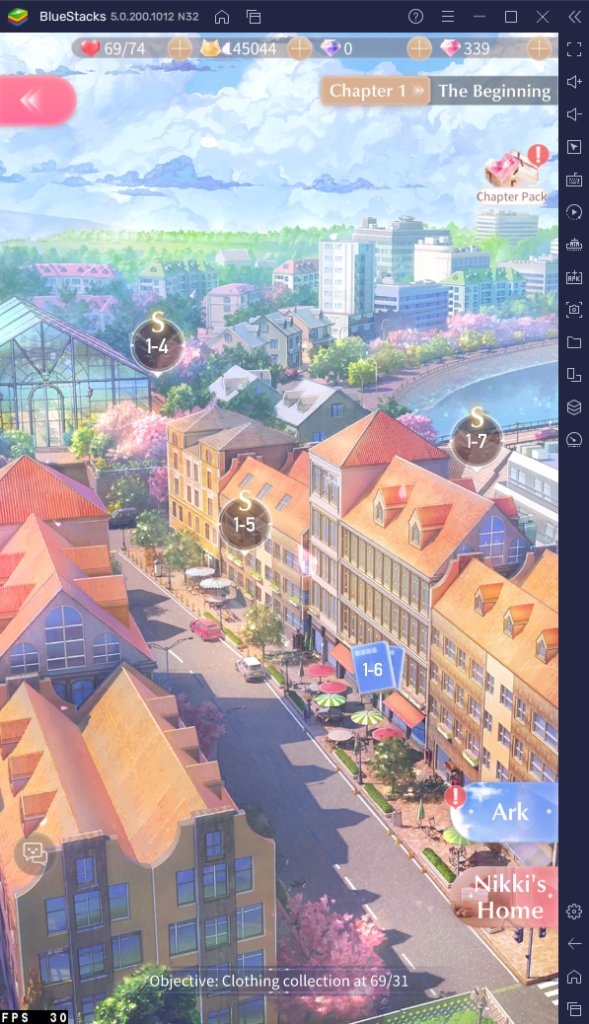 The main story is the game's cream of the crop and is likely where you are going to spend most of your in-game time on. In the story quests, you experience through multiple chapters of an adventure to save Miraland from an impending danger that only Nikki can stop.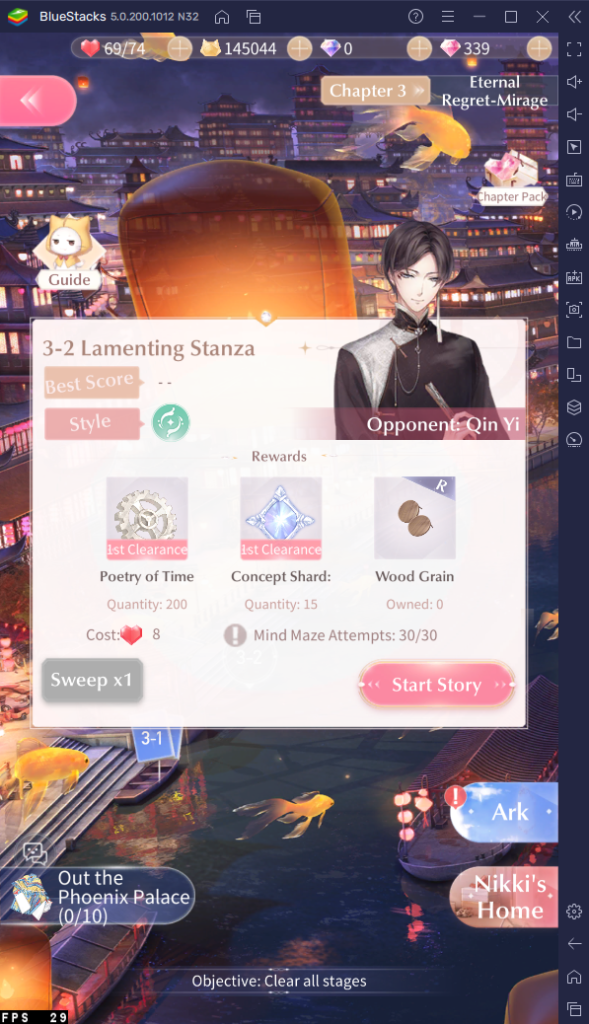 In the Mind Maze, you enter the mysterious Spirit World where you can discover unknown stories of past stylists through their Designer's Reflection. The Mind Maze functions similarly to the main story insofar as it has its own set of quests. Completing Mind Maze quests rewards you with clothing sets belonging to the stylist whose reflection you are exploring. You receive 10 challenge attempts for the Mind Maze every time the server clock hits 5:00. You can store a maximum of 30 attempts.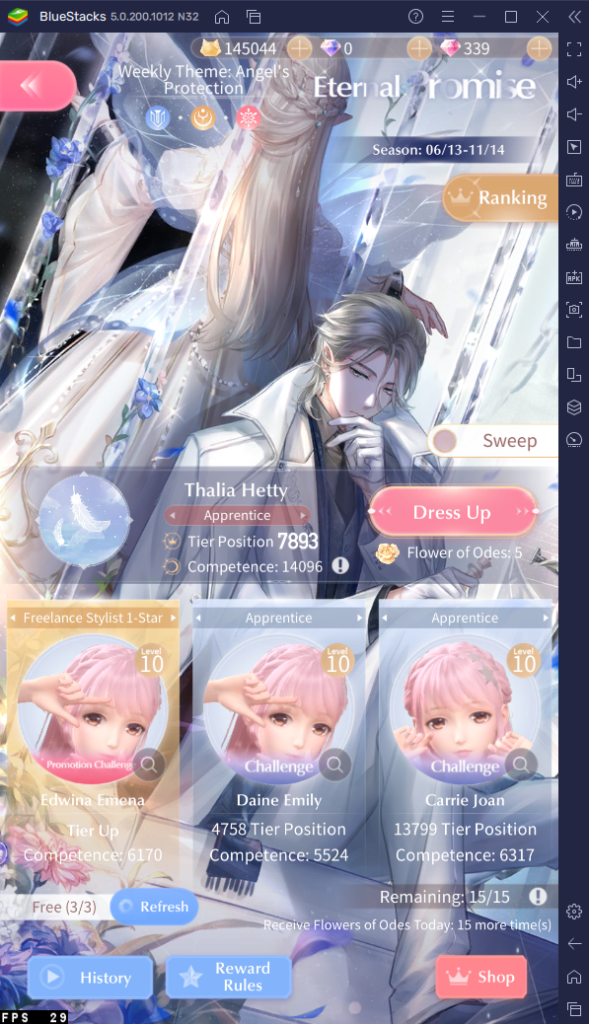 The Diamond Arena is where you can show off your styling prowess by competing with other players in styling battles. Every week, the arena gives out different outfit themes and you must create an outfit based on this theme before stepping into battle with other players. Winning battles gives your rewards as well as increases your ranking in the Shining Nikki leaderboards.
Show Off Your Styling Skills with BlueStacks
Shining Nikki is a one-of-a-kind styling game and your styling experience can be even better when you play the game on your PC or Mac with BlueStacks.
With BlueStacks, you can play the game from the comfort of your own computer as well have access to awesome features that can enhance the way you play. For instance, BlueStacks offers a Macros feature that allows you to bind certain in-game actions to any key on your keyboard. This can be extremely helpful for styling battles where reaction time is quite critical so easy access to buttons is immensely helpful.
Additionally, you can use BlueStacks' Multi-Instance tool to completely relive the Shining Nikki experience and handle a new account from a separate Android instance. But what makes this even better is the fact that you can run more than one instance at time, giving you unique multitasking capabilities.
Express the stylist within you now by playing Shining Nikki on your PC or Mac with BlueStacks. What's your favorite outfit in Shining Nikki? Let us know in the comments down below.