Game Guides
SINoALICE – A Comprehensive List of All the Weapons in the Game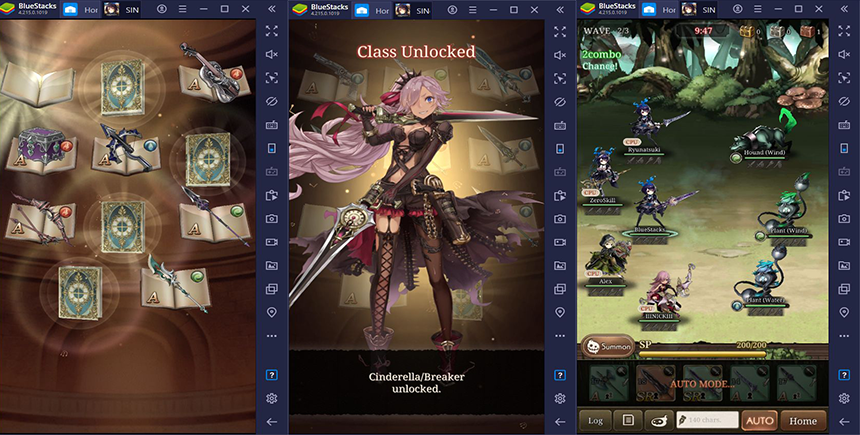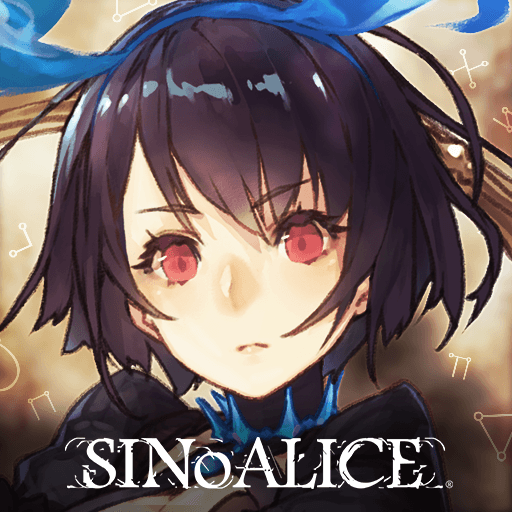 SINoALICE is a unique gacha RPG where the focus is on collecting many different types of weapons, which grant your characters lots of awesome and powerful skills for defeating the enemy. These weapons fall into different categories depending on their types which, in turn, also determines their purpose in combat.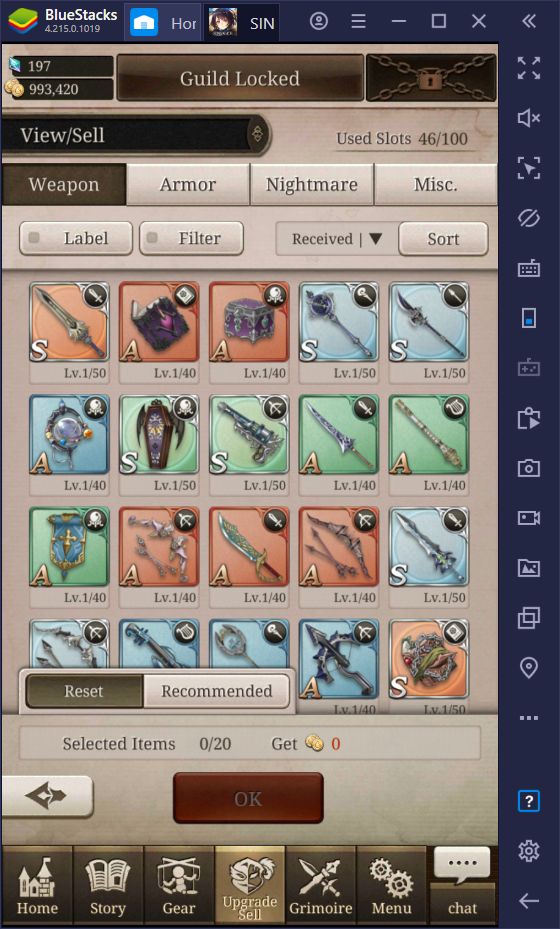 The different weapon types in SINoALICE include the following:
Swords: Single-target Physical skills.
Bows/Guns: Single-target Magical skills.
Hammers: AoE Physical skills.
Spears: AoE Magical skills.
Staves: Healing skills.
Instruments: Support and buffing skills.
Tomes: Debuffing skills.
Orbs: AoE Magical skills.
Additionally, weapons are divided into different rarities, which determine their strength in combat. These rarities go from as low as A-tier, up to L-tier. In between, we can find the S and SR tiers, which are the ones you'll be using mostly in combat, at least until you obtain the means to upgrade them to L-tier.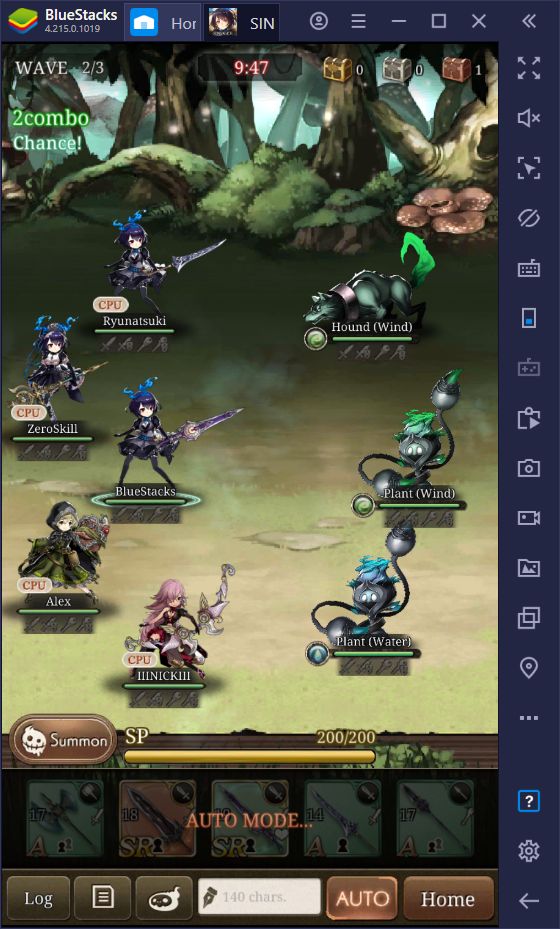 Categories aside, there are many, many weapons in SINoALICE, which makes choosing between them quite difficult. Moreover, since the game doesn't have any type of in-game catalog or encyclopedia that you can consult, knowing whether or not there are more weapons to find is nearly impossible. Because of this, we decided to create a list of most weapons that you can find in the game's global release, conveniently separated by rarity and type.
List of "SR" Weapons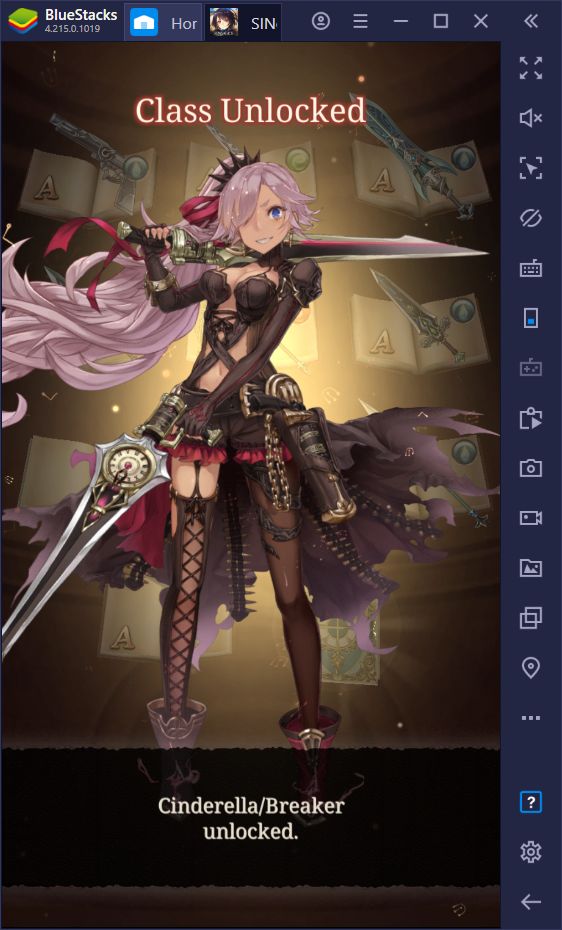 Swords
*Blade of Depravity – Wind – Unlocks Cinderella Breaker
Shameless Ambition – Fire
Swordsmith's Spellbook – Fire
False Victor – Water
Sympathetic Blade – Wind
Hammers
Retainer's Hammer – Fire
Warden's Mallet – Fire
Soul Shell – Water
The Lord's Hammer – Water
Gluttonous God's Rod – Wind
Hammer of Endtimes – Wind
Bows/Guns
Tracker's Bow – Fire
Accursed Gun – Fire
The Destroyer – Water
Death God's Bow – Water
Substitute Bow – Wind
Holy Knight's Pistol – Wind
Polearms
Ceremonial Spear – Fire
Hunter's Soul – Fire
Holy Dragon Lance – Water
Dwarven Spear – Water
Artisan's Spear – Wind
Gluttonous Scythe – Wind
Staves
*Staff of Bondage – Water – Unlocks Alice Cleric
Rise Staff – Fire
Irreconcilable Enemy – Fire
Naive Miracle Staff – Water
Ginger Sage (Part I) – Wind
Ginger Sage (Part II) – Wind
Tomes
Tome of Absolution – Fire
Demonic Arm – Fire
Omniscient Book – Water
Record of Humanity – Water
Imperial Scout's Notes – Wind
Knight's Diary – Wind
Instruments
*Fiddle of Delusion – Fire – Unlocks Gretel Minstrel
Harpy's Harp – Fire
Sealed Water – Water
Discord – Water
Insect Harp – Wind
Ancient Violin – Wind
Orbs
Astrologer's Manastone – Fire
Rebirth Gem – Fire
Fool's Desire – Water
Dragon God's Prayer – Water
Lusty God's Lantern – Wind
Time Remaining – Wind
List of "S" Weapons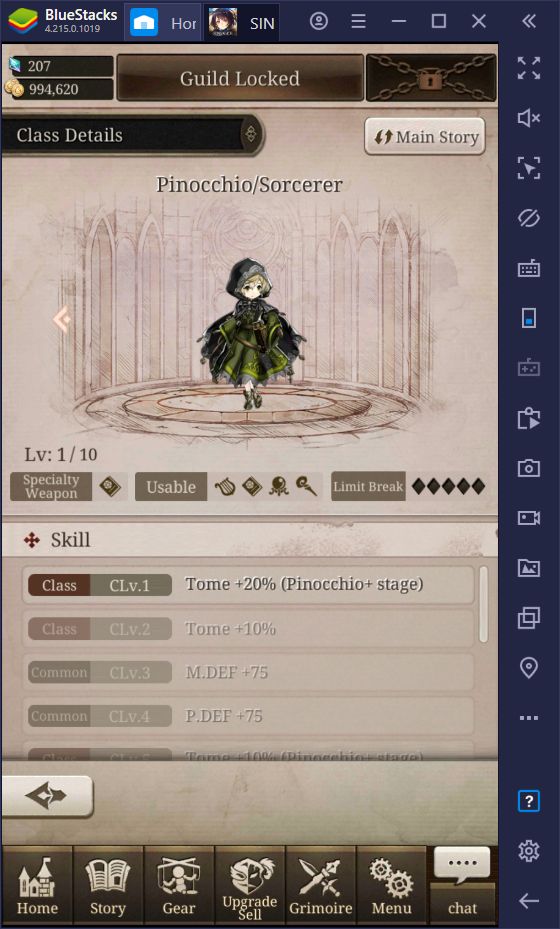 Swords
Fencer's Foil – Fire
Embodiment of Love – Fire
Gourmand's Special – Water
Nocturne's Sword – Water
Silent Desire – Wind
Hero's Sword – Wind
Hammers
Meat Pulverizer – Fire
Grudge Hammer – Fire
Revolutionary's Maul – Water
Death and Agony – Water
Waking Nightmare – Wind
Death's Remains – Wind
Bows/Guns
Princess' Pillage – Fire
Ancient Elven Bow – Fire
Death's Grandeur – Water
Big Bad Bow – Water
Savage Crossbow – Wind
Werewolf's Lie – Wind
Polearms
Illusionary Scythe – Fire
Thirst for War – Fire
The Lost Spear – Water
Alternate Life – Water
Jester's Scythe – Wind
Demon Spear – Wind
Staves
*Staff of Masochism – Water – Unlocks Cleric Princess Kaguya
Staff of Submission – Fire
Monk's Staff – Fire
Engraved Blue Staff – Water
Sands of Time – Wind
Cumbersome Staff – Wind
Tomes
*Tome of Dependence – Fire – Unlocks Pinocchio Sorcerer
Book of Regret – Fire
Torture Doctrine – Water
Flood Records – Water
Book of Judgment – Wind
Wiseman's Notes – Wind
Instruments
War Song's Echo – Fire
Slothful God's Harp – Fire
Burning Satiation – Water
Origin of Control – Water
Devil's Fife – Wind
Pink Harp – Wind
Orbs
One Wish – Fire
Dark Puppet – Fire
Mirror to the World – Water
Petals of Resurrection – Water
Cursed Chains – Wind
Faithful Follower – Wind
List of "A" Weapons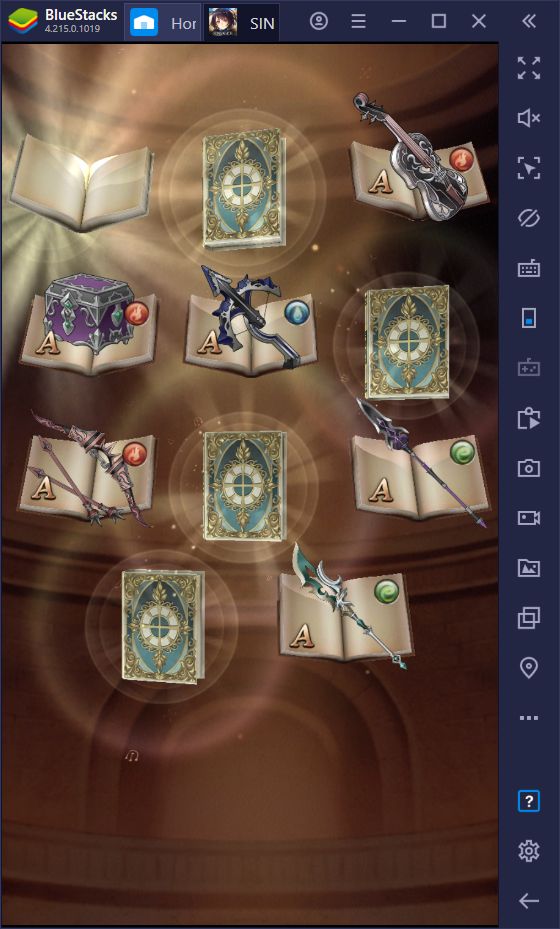 Swords
Sword of Necessary Evil – Fire
Dagger of the Covenant – Fire
Sword of Sacrifice – Water
Loving Blades – Water
The Unwilling – Wind
Tragedy of the Wicked – Wind
Hammers
Strongman's Hammer – Fire
Assassin's Kit – Fire
Oblivion's Intent – Water
Maul of Carnage – Water
Hammer of Brutality – Wind
Oracle Knight's Axe – Wind
Bows/Guns
Farmer's Bow – Fire
Calamitous Bow – Fire
Fairy Blaster – Water
Vigilante's Pride – Water
Ruined Gun – Wind
Precise Bow – Wind
Polearms
The Wolf's Offering – Fire
Dragon Scythe – Fire
Decimation – Water
Maiden's Purity – Water
Spear of Love and Hate – Wind
Holy Lance – Wind
Staves
Scepter of Power – Fire
Apprentice's Staff – Fire
Devilish Staff – Water
Staff of Insanity – Water
White Lightning Staff – Wind
Staff of the Wise – Wind
Tomes
Otherworldly Chronicles – Fire
Chaotic Desire – Fire
Tome of Visions – Water
Study of Yggdrasil – Water
Foreign Book – Wind
White Tome – Wind
Instruments
Poet's Harp – Fire
Lovely Violin – Fire
Blessed Violin – Water
Reluctant Rendezvous – Water
The Bard and the Fairy – Wind
Flute of Excess – Wind
Orbs
Tunnel Treasure Chest – Fire
Scales of Fortune – Fire
Fairy Song – Water
Crystal Ball – Water
Puppeteer's Magic – Wind
Zealot's Grudge – Wind
A Note on Weapons and Skills
It's important to consider that, while the rarity of the weapons in SINoALICE will directly affect their power in combat, the skills available to the player in battle is directly dependent on the specific weapons that you have equipped.
Every weapon comes with three skills:
Story Skills: Available only in Story Mode.
Coliseum Skills: Available only in the Coliseum.
Coliseum Support Skills: Passive skills. Available only in the Coliseum.
While the base damage of an attack is determined both by the rarity of the weapon combined with the character's class, every skill has its own damage value, as well. For instance, the Blade of Depravity (SR) has the Tornado of Leeching attack, which deals "great" physical damage to 1 enemy and uses part of the damage to restore the user's HP. Meanwhile, the Shameless Ambition (SR) has the Torch of Destruction attack, which deals "massive" physical damage to 1 enemy.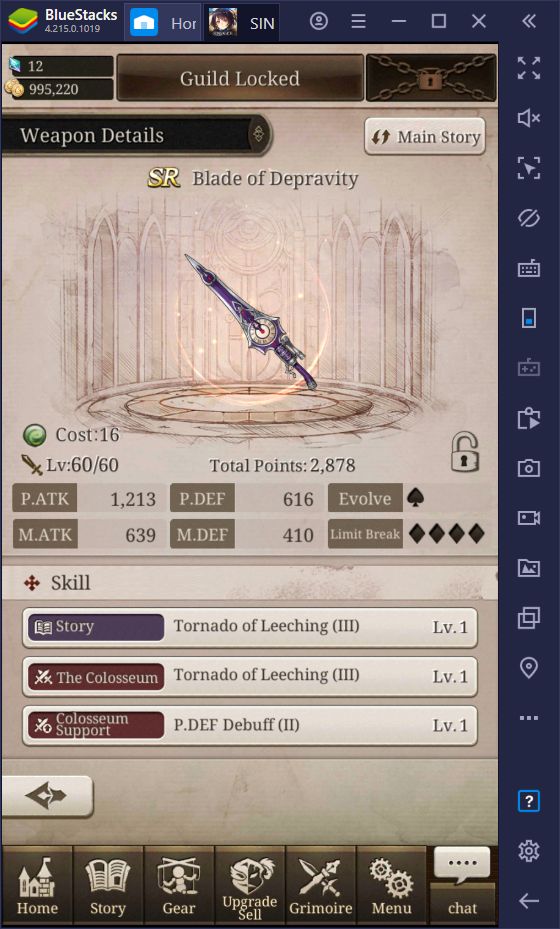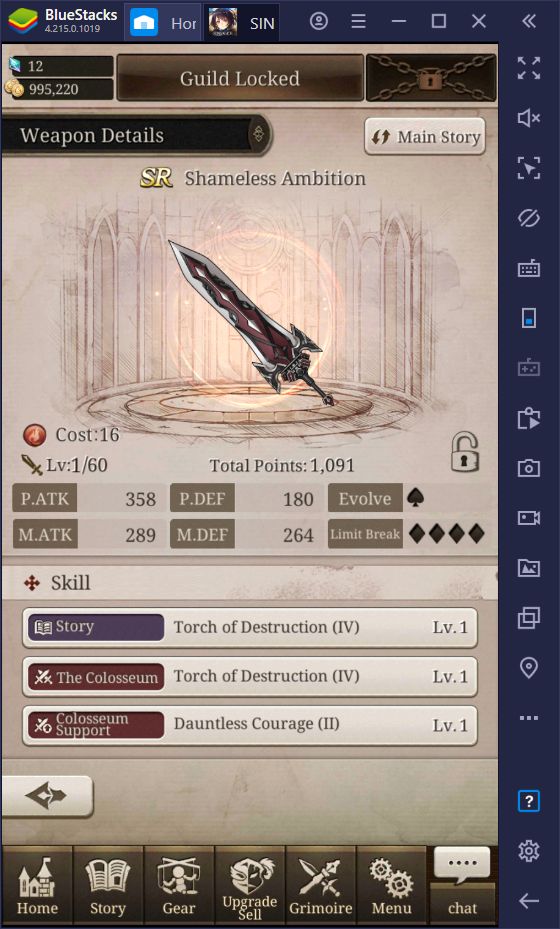 It's important to consider the skills of every weapon when it comes to choosing the best arms for your grid in SINoALICE. If you don't know where to start, we suggest taking a look at our tier lists and reroll guide, where you can learn about the best starter weapons, as well as how to reroll and unlock them from the very beginning of the game.