Game Guides
Star Trek Timelines: The Best Crew Recommendations for F2P Players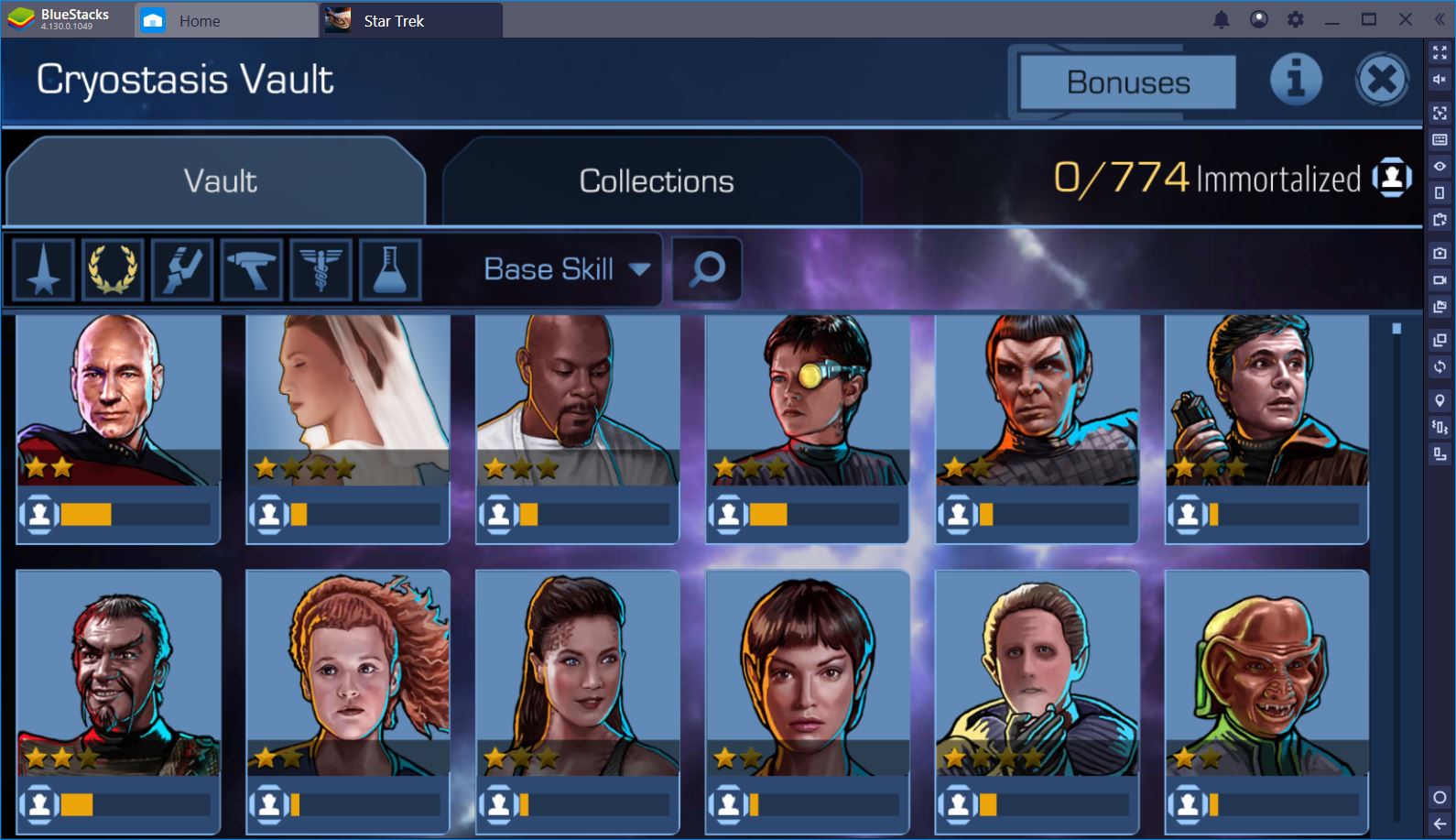 Perhaps the best measure of your strength in Star Trek Timelines is your crew. Although you might be tempted to think that ships are more important in this strategy game, it's actually the characters you obtain and upgrade that allow you to discover new content in PvE and defeat others in PvP.
The good news is that, even as an F2P player, you still have access to top tier crew that can be used to complete challenges and missions, as well as earn more resources. You just have to be smart about it because, remember, you only have 100 crew slots to work with.
An Overview of Cadet Challenges
One of the best ways to get ahead in Star Trek Timelines is to complete a Cadet Challenge every day. You have 6 attempts to do so per challenge, but you need a specific combination of characters to excel and reap the maximum rewards.
So far, there are 5 different challenges as follows:
A Certain Formality
Only common and uncommon crew with the Female trait can participate.
Adv: A Certain Formality
Only rare crew with the Female trait can participate.
Ex Astris Scientia
Only common and uncommon crew with the Starfleet trait can participate, regardless of gender.
The United Federation
Only common and uncommon crew who are Alien (non-Human) can participate, regardless of gender.
Adv: The United Federation
Only rare crew who are Alien or part Alien can participate, regardless of gender.
Overall, those characters who are Alien or part Alien, as well as Female are preferable for the purpose of completing Cadet Challenges. The Starfleet trait is a welcome plus, but quite rare in this combination.
The Best Uncommon Crew
As an F2P player, these crew members will do most of the heavy lifting for you, especially during the early- and mid-game. As such, you should aim to collect and upgrade the following characters for each skill:
Command
Ensign Ro has a great command stat when maxed and is also an Alien, Female, Starfleet. Alternatively, you can combine Ensign Sito Jaxa (the best choice here) with Nurse Paris for most medical challenges and missions.
Security
Lt. Tasha Yar is your best choice is terms of the Security stat, but she is obviously not an Alien. As such, you'll likely have to pair her up for most challenges and either Security Chief Worf or his son, KDF Alexander, are good options.
Diplomacy
Unfortunately, there are no strong crew members in Diplomacy that are also Female, Alien, and Starfleet. Nevertheless, a combination between Dabo Girl Leeta and Enterprise-D Captain Picard will do for most diplomacy challenges.
Engineering
Either Ensign Seska or Lt. Naomi Wildman have a decent Engineering stat, as well as all the prerequisite traits for Cadet Challenges. You can choose either one (or both) for your crew, but you might find it easier to gear the former.
Science
Lt. Jadzia Dax is the easiest character to obtain that fits the profile here. Better, but rarer options include Ensign Pazlar and Festive Jadzia.
Medical
CMO Crusher is relatively easy to obtain and has a decent Medical stat, but she is not an Alien, so she must be accompanied by one. Ideally, you'd want to go for Nurse Kes, but, if you're worried that she might take too long to immortalize, you can also use Dr. Phlox, which is slightly less attractive, but much cheaper to upgrade.
The Best Rare Crew
These four female crew members are absolute keepers because they are everything you need to successfully deal with advanced Cadet Challenges. Certainly, they can be a pain to obtain, but, once you have them, you should do your best to rank (use Honorable Citations), train, and gear them.
Sniper Ezri Dax + Dr. Selar
Ezri Dax has great stats for both Medical and Security missions and challenges. Because she is not a Nurse or Physician, though, you will sometimes have to couple her with one. Our recommendation is Dr. Selar because she's also pretty good in Gauntlet rounds.
Lt. Saavik
A fantastic Alien, Female, and Starfleet crew member, Lt. Saavik also has amazing stats for Command and Science challenges. If you ever find her, don't let her go for anything in the world.
Vedek Winn Adami/Lwaxana Troi
Both of these ladies are fantastic for Command and Diplomacy challenges, but they can be difficult to obtain and upgrade. A third option is Senator Cretak, but her other traits are incomparable to those of Adami or Troi, so she might be less useful in campaign missions overall.
Maquis Takeover Torres
Phenomenal in Engineering and weekend challenges, this version of Torres is also not too difficult to obtain. You'll be able to obtain one copy of her during Episode 2 on the Galaxy Map, so make sure you side with the Maquis on this one. You might not agree to their philosophy, but, roleplay aside, you really don't want to miss on Torres over some galactic squabbles.
Once you have most or all of these Uncommon and Rare crew members, you're ready to tackle most missions and all Cadet Challenges. Soon enough, you'll be able to use your newly gained resources to find even better characters, which, of course, you will also need to prioritize for the sake of limited slots. If it ever becomes a problem, our recommendations for super rare crew include EV Suit Tucker, Augment Riker, Vic Fontaine DIP, Phlox SEC, Subcommander T'Rul ENG, and, of course, Ambassador Sarek.
If you already own the skeleton crew to successfully complete all Cadet Challenges, though, you no longer have to hold yourself to such a strict standard in terms of character choices. You can choose these super rares or you can use others. Like with ships, at this point, it's more about enjoying yourself than min-maxing… unless, of course, you're a big fan of min-maxing. Otherwise, if you find that you're having a difficult time leaving the early game, don't forget to check out our 10 tips and tricks to transition from beginner to pro!