Game Guides
Stormbound: Kingdom Wars – How to Play This Awesome CCG on PC with BlueStacks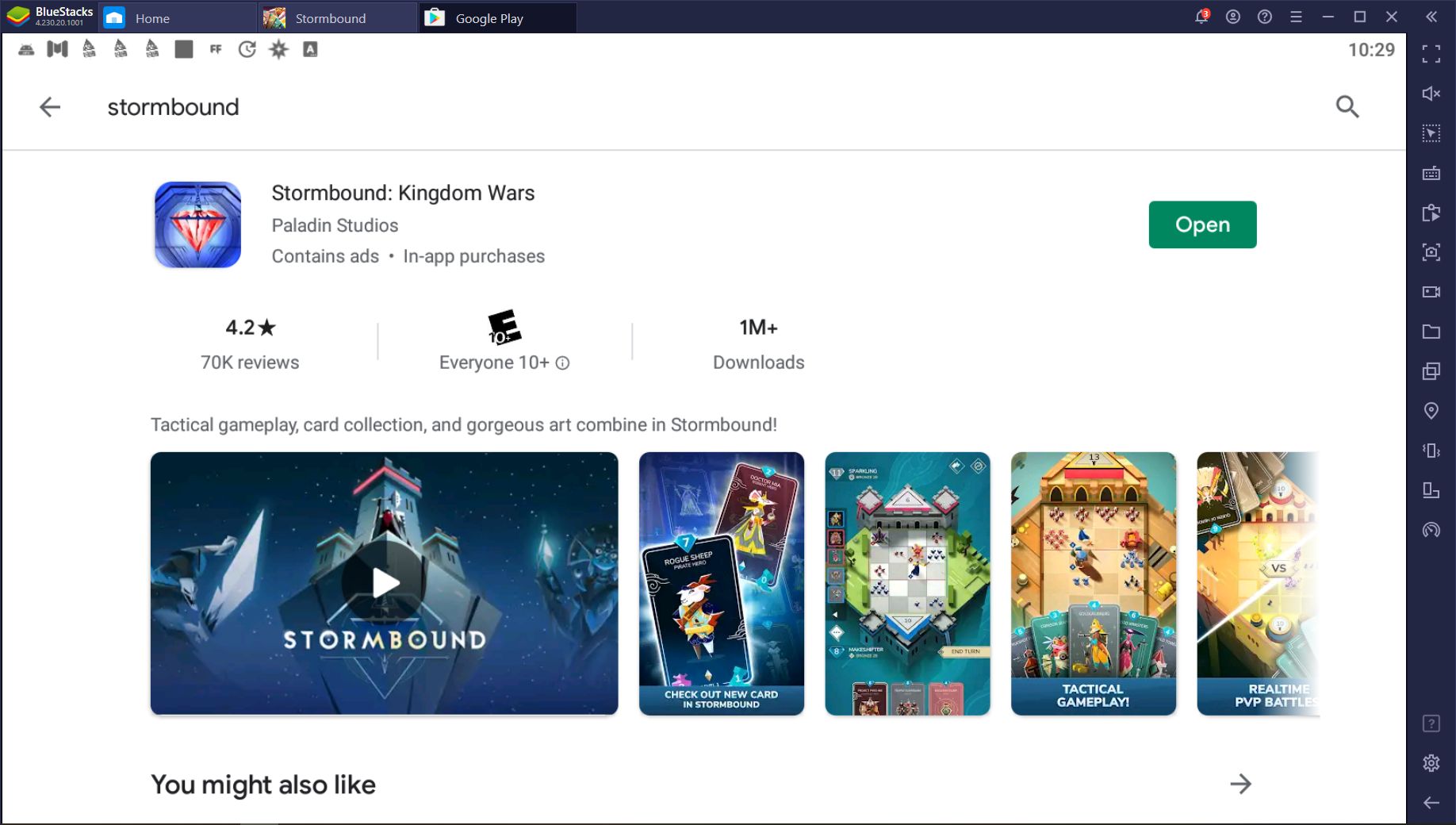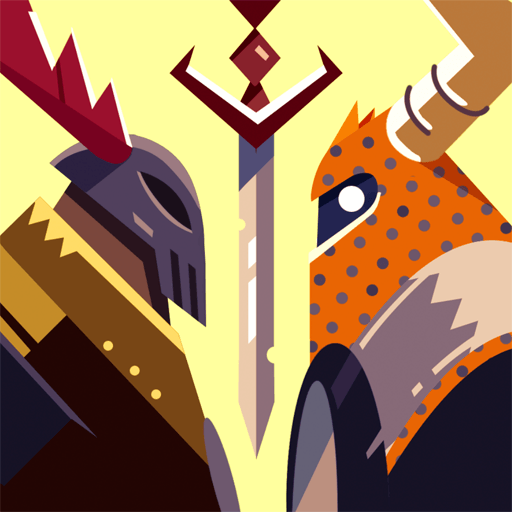 There are average games that play it safe and offer a good time with familiar elements, while there are also games that push the boundaries of the genre to the limit and explore new territories. And then there are games like Stormbound: Kingdom Wars that go crazy and experiment with different elements from multiple genres, and create a Franken-game that may or may not be cool and fun to play. Luckily, Stormbound is definitely very fun to play and offers a very different experience from other strategy games.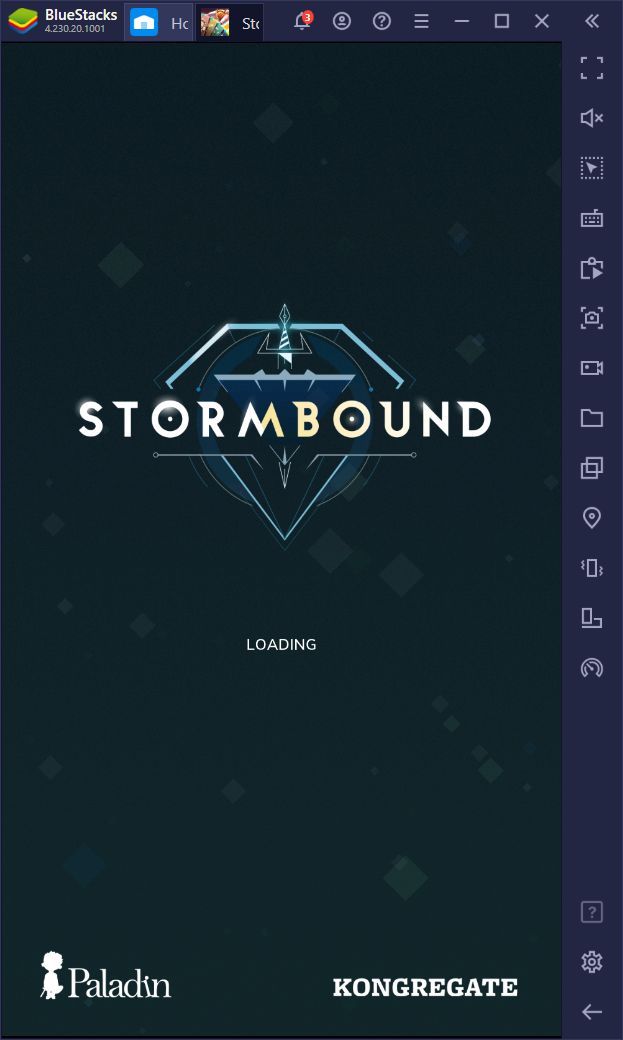 In a nutshell, Stormbound is a game that borrows elements from titles like Clash Royale, but also from games like Hearthstone with its card-based approach and mana system. It's a turn based CCG where the objective is to play different cards to defeat the enemy's defenses and reduce their HP to 0, similar to Revolve8 or Magic: ManaStrike, but with turns instead of real-time combat.
It goes without saying that the mishmash of features in Stormbound and systems is very interesting to explore and untangle as you unlock stronger cards and build better decks. However, despite its gameplay being quite simple and designed for mobile devices, you can definitely have a much better time by playing it on your PC, with the best graphics, a silky smooth framerate, and the largest monitor that you can afford. And in this article, we'll show you exactly how to install and play Stormbound on PC.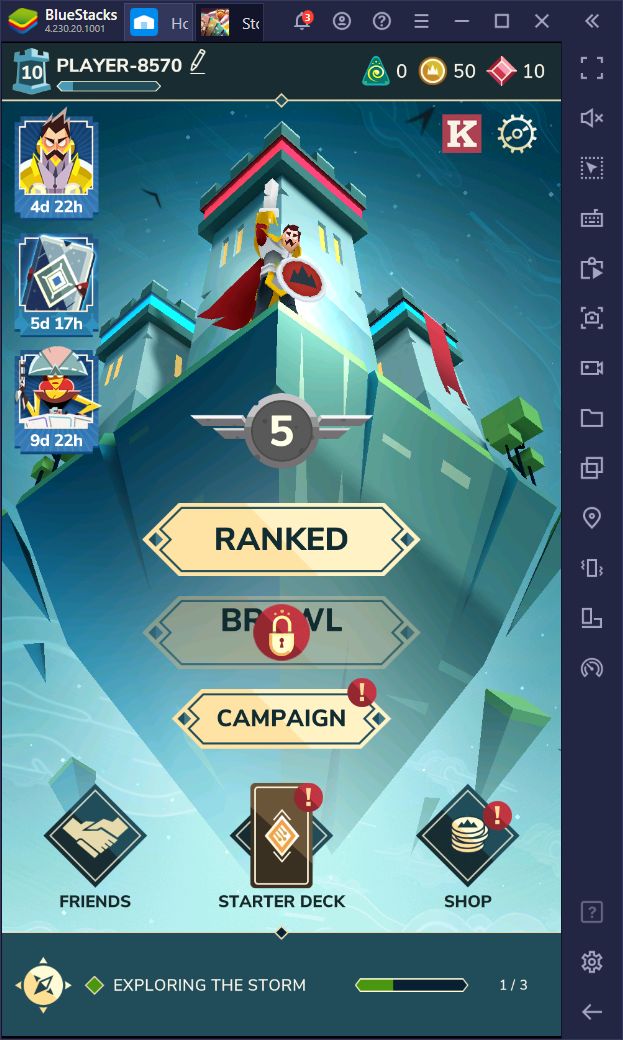 Installing and Playing Stormbound on PC
In order to start enjoying this game on your computer, you'll need an Android emulator. Luckily, while there are quite a few of these on the market, the best one is definitely BlueStacks, both due to its features and tools to help improve your experience, as well as its compatibility and performance with most mobile games.
Here's a step-by-step guide on how to get started:
Go to our website and download the latest version of BlueStacks; it's free and quick. Run the installer and let it finish, after which the app player will run automatically.
Once BlueStacks has loaded and you're on the home screen, use the search function to look for Stormbound in the Game Center.
Click on the game's portrait to go to its Play Store page and install it like you would on a regular smartphone.
Once installed, you'll find the game's icon on the BlueStacks home screen. Click on it to launch it and start playing.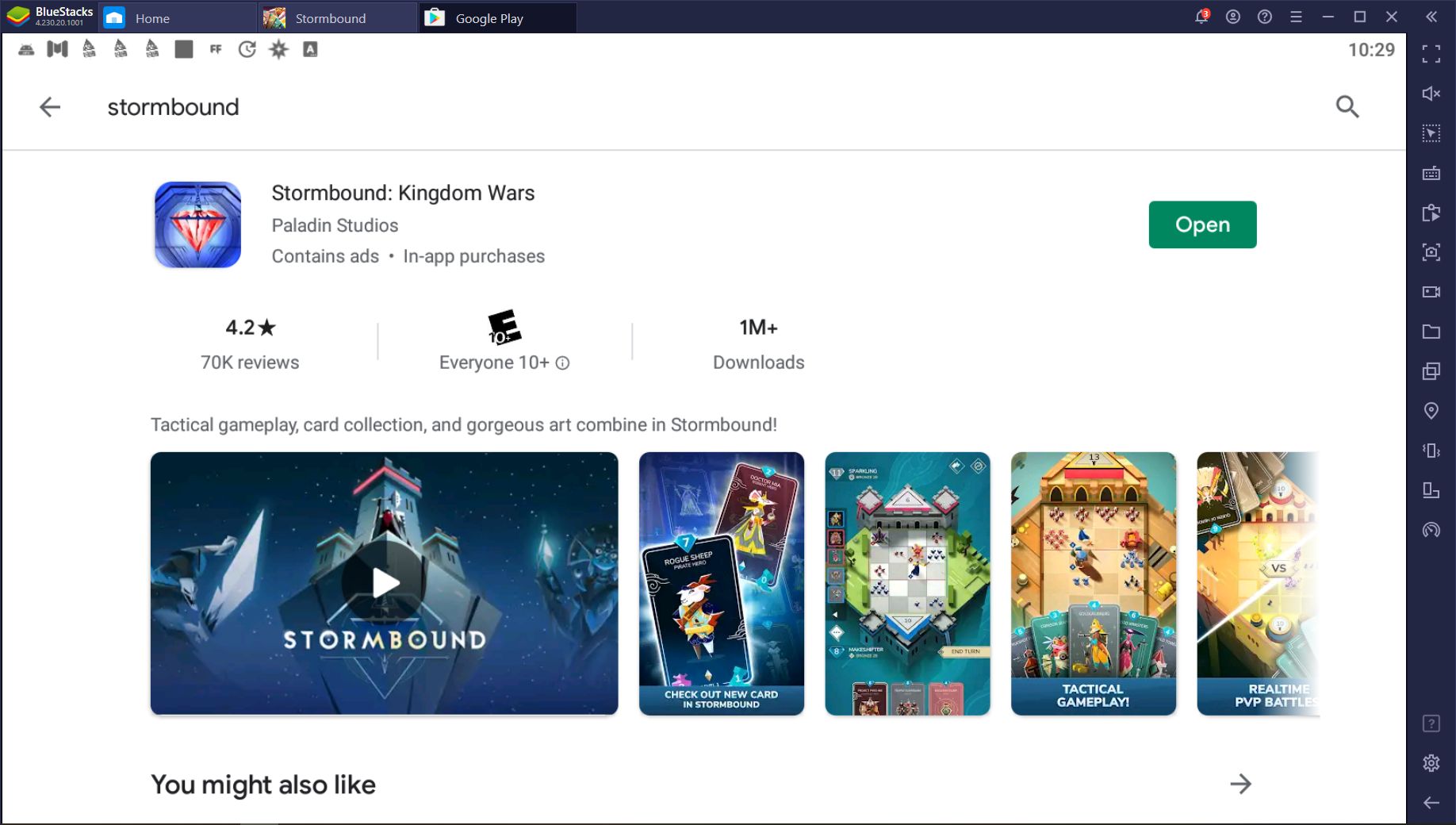 Stormbound is a pretty small game, which means that you can get started in just a matter of minutes. Setting up BlueStacks is quite easy; simply let the installer do all the work, and before you know it, you'll be playing your favorite Android games on your PC, and with lots of features to improve your gameplay experience.
Benefits of Playing Stormbound on PC
Well, aside from playing on a large monitor instead of your cramped phone screen, BlueStacks simply has the best performance on the market, surpassing even the strongest and most expensive phones on the market. Our app player is at least six times faster than a Galaxy S10. As long as you fulfill the recommended requirements, which are quite low by today's standards, you'll enjoy the best framerate, with no lag or slowdowns of any kind, and without the restrictions of mobile devices such as battery drainage, or overheating.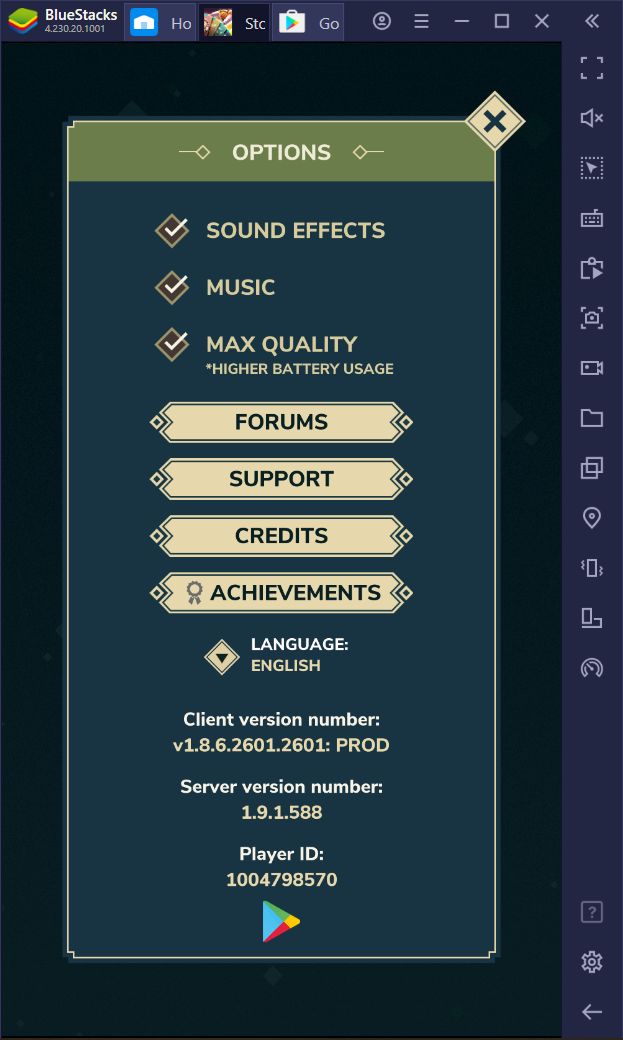 With that being said, the first thing you ought to do when playing Stormbound on PC is head to the settings menu in-game and set the graphics to "Max Quality". The difference between the default settings and the best graphics is staggering; not only does it look better, but it also runs significantly better, clocking in at a smooth 60 FPS.
Graphics and performance aside, playing Stormbound on PC also grants you access to your mouse and keyboard. In this manner, instead of tapping, sliding, and fumbling about on your phone screen with your fingers, which can sometimes lead to mistakes that can cost you the match, you can use your mouse to select and play the correct cards for every occasion on the field. These superior controls, combined with a much larger screen, make BlueStacks the best way to enjoy Stormbound.
Share Your Best Moments
For a while now, card games like Hearthstone have been some of the most chill titles to stream while interacting with your audience, and Stormbound is no exception. In this sense, if you're a content creator or a streamer, BlueStacks has a couple of tools in place that could make it easier for you to set up your game for streaming purposes or to capture your best moments in clips.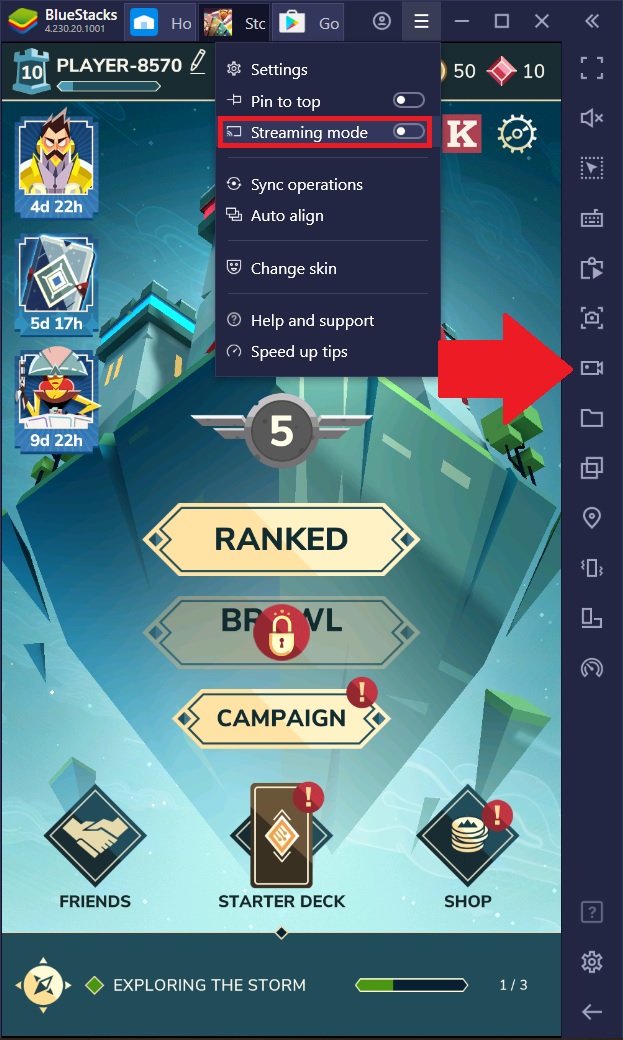 Namely, the "Streaming Mode", which is activated from the BlueStacks menu on the top right, makes your game pop out from the BlueStacks frame into a window that you can easily capture with your favorite broadcasting software. Moreover, the BlueStacks Recorder (Ctrl + Shift + R) also allows you to clip your best moments and save them as .mp4 files that you can edit or share raw with your friends.
For these and many other reasons, BlueStacks is definitely the platform of choice when it comes to enjoying Stormbound. Not only do you get a larger monitor, and mouse and keyboard support, but you also gain access to plenty of tools to enhance your gaming experience.
Have you already tried out Stormbound on PC with BlueStacks? Let us know your opinions and thoughts in the comments below!