Game Guides
Vikingard on PC - How to Use BlueStacks to Enhance Your Gameplay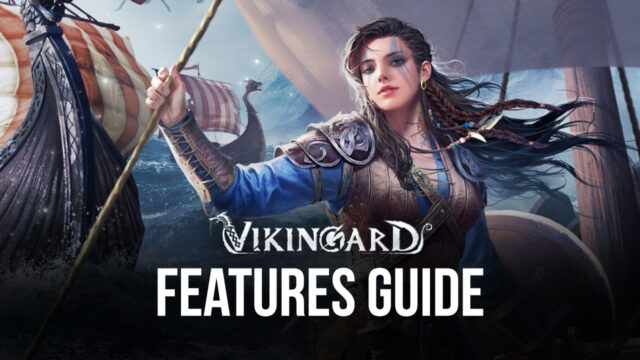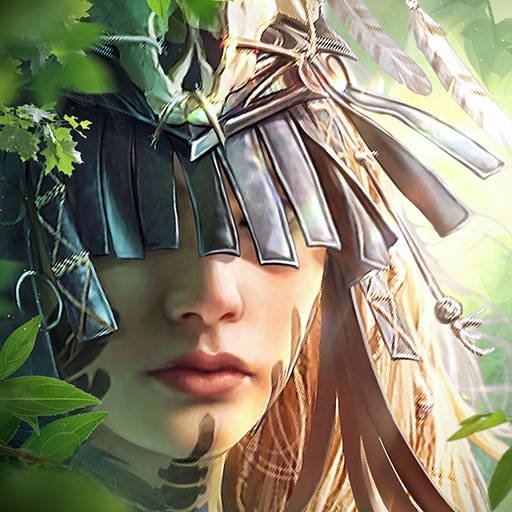 Vikingard is a brand new game by Netease that puts you at the head of your own clan of vikings, working and fighting to restore your name and territory by hunting down those who wronged you, and also fighting and engaging against other clans to conquer them, or establish alliances. The game has some light city-building aspects where you can work on developing your own town in order to produce resources and house your soldiers, as well as a combat aspect that revolves around charging into battle and trampling your enemies. And while these battles mostly boil down to who has the highest attack numbers, you can also mash a button to make your troops charge faster, increasing their power and giving them an edge in combat.
Aside from these two main aspects, Vikingard also has a variety of game modes and aspects with which you can engage, either for expanding your influence, or growing your power, or even to unlock additional features and obtain valuable treasures for your heroes. Similarly, you can also unlock a wide variety of Hersirs, powerful units that can lead your armies to battle, and which confer passive bonuses to your troops to enhance their effectiveness when charging at the enemy.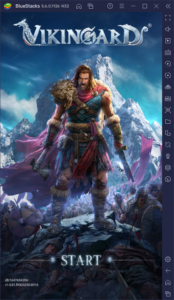 This game has a lot to see and do, which is why you'll definitely want to play Vikingard on PC with BlueStacks. In this sense, not only do you get the best graphics and performance by playing it on your large computer monitor and with your superior hardware, respectively, but you'll also get access to a wide variety of tools to enhance your experience even further.
Max Out Your Graphics and Performance
Games like Vikingard often look pretty good by default, particularly since they feature mostly hand-drawn portraits, characters, and environments, which can be very appealing, even on low-end phones. However, this game features adjustable graphical settings to enhance its visuals even further, at additional hardware cost. Luckily, if you're playing on BlueStacks, you can easily set your graphics to the maximum settings, without worrying about lag, slowdown, or any overheating and battery drainage, unlike if you were playing on your mobile phone.
However, in order to get the best graphics and frame rate, you will need to perform a few adjustments both to your emulator, as well as in-game. Here's a quick breakdown of what you need to do.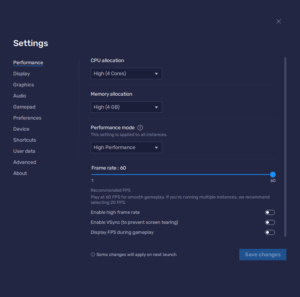 Go to your BlueStacks settings, and navigate to the "Performance" tab.

Set your emulator to have 4GB of RAM, 4 CPU cores, performance mode on "High performance", and frame rate limit to at least 60 FPS. Click on "Save changes" after making your changes.

Launch Vikingard and go to the in-game settings by clicking on your avatar.

Set the graphics to "Ultra HD".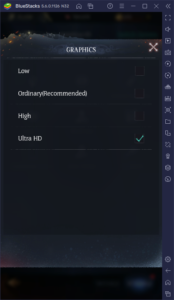 After you select the graphical setting in-game, you'll get a notification that your device might overheat, but since you're playing on PC instead of on your phone, you won't really have to worry about this. In this sense, you can get the very best experience with this game, without any of the drawbacks.
Get The Best Controls With the Keymapping Tool
While it does have lots of different systems and game modes, Vikingard is actually quite simplistic in its playstyle. Most of the actions outside of combat take place through menus and other screens, while the combat itself merely consists of mashing a single button to make your army gain more momentum when charging. Nevertheless, despite its simplicity, you can enjoy Vikingard much more on PC since, not only do you get to play it on your big screen, but you'll also have access to keyboard and mouse controls, thanks to the Keymapping Tool.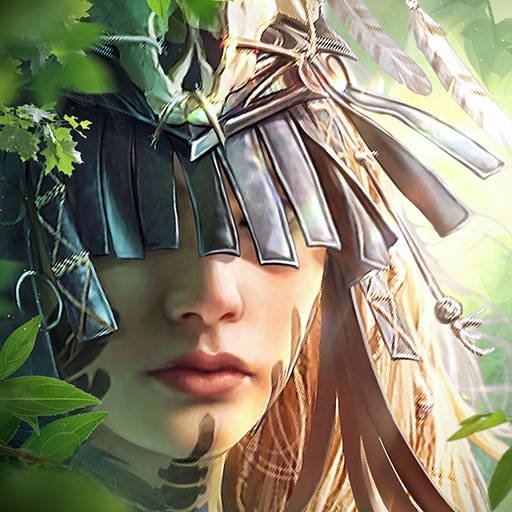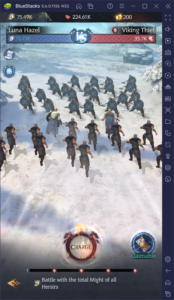 The BlueStacks Keymapping Tool is a feature with which you can create customizable and versatile control schemes for any mobile game on your PC, using your mouse and keyboard. With this feature, instead of having to manually click back and forth across the screen, you can control most of the action using keyboard shortcuts. And especially when it comes to the battle system in Vikingard, instead of having to mash a button, you can simply hold it down and let BlueStacks repeatedly tap the charge button for you.
You can open the Keymapping Tool by pressing Ctrl + Shift + A, which will give you access to the Advances Editor. On this screen, you can view your current bindings, modify them, and add new ones. However, at this moment, Vikingard doesn't have any controls by default, so you'll have to create your own scheme, which you can do by dragging and dropping the different functions from the rightmost panel.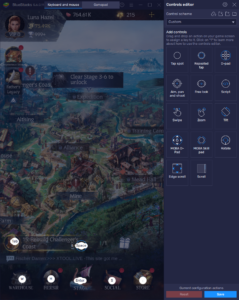 Check out the image above to get an idea of how to set up some basic controls for this game, as this will cover most of the basic functions at the beginning. Nevertheless, feel free to continue adding your own controls as you progress, so that the control scheme covers even more functions.
BlueStacks is the best way to enjoy games like Vikingard on PC. Whether you're looking for the best graphics and performance, or for the most comfort when enjoying your favorite mobile games, our Android app player has you covered. For this reason, make sure to check out our PC setup guide for Vikingard to learn how to get started with installing this game on your computer.